Slow food pilgrims who take their hunger, scrip and staff to Bologna and environs know that it's possible to find interesting, well-balanced Lambrusco from artisanal producers and go-ahead co-operatives. We are talking frothy and refreshing wines that one can sip on the piazza or enjoy with a pizza. Little of the quality Lambrusco escapes Emilia-Romagna, however, and the reputation of the wine has lapsed.
We are talking frothy and refreshing wines that one can sip on the piazza or enjoy with a pizza.
Camillo Donati's version is a happily serious little warbler from the land of Verdi. Camillo prunes the vines severely in order to acquire grapes with greater concentration, farms biodynamically and picks at full maturity. Vinification takes place with the maceration of the grapes on the skins to obtain a wine rich in colour and body. After a gentle pressing of the grapes the must is repeatedly pumped over to extract the most possible colour and body. The wine undergoes an entirely natural fermentation – no yeasts, no enzymes, no sugar added. It is then left to rest until December or January. This process allows the wine to filter naturally from impure substances. The resultant wine is then transferred to bottles where it continues its fermentation until dryness.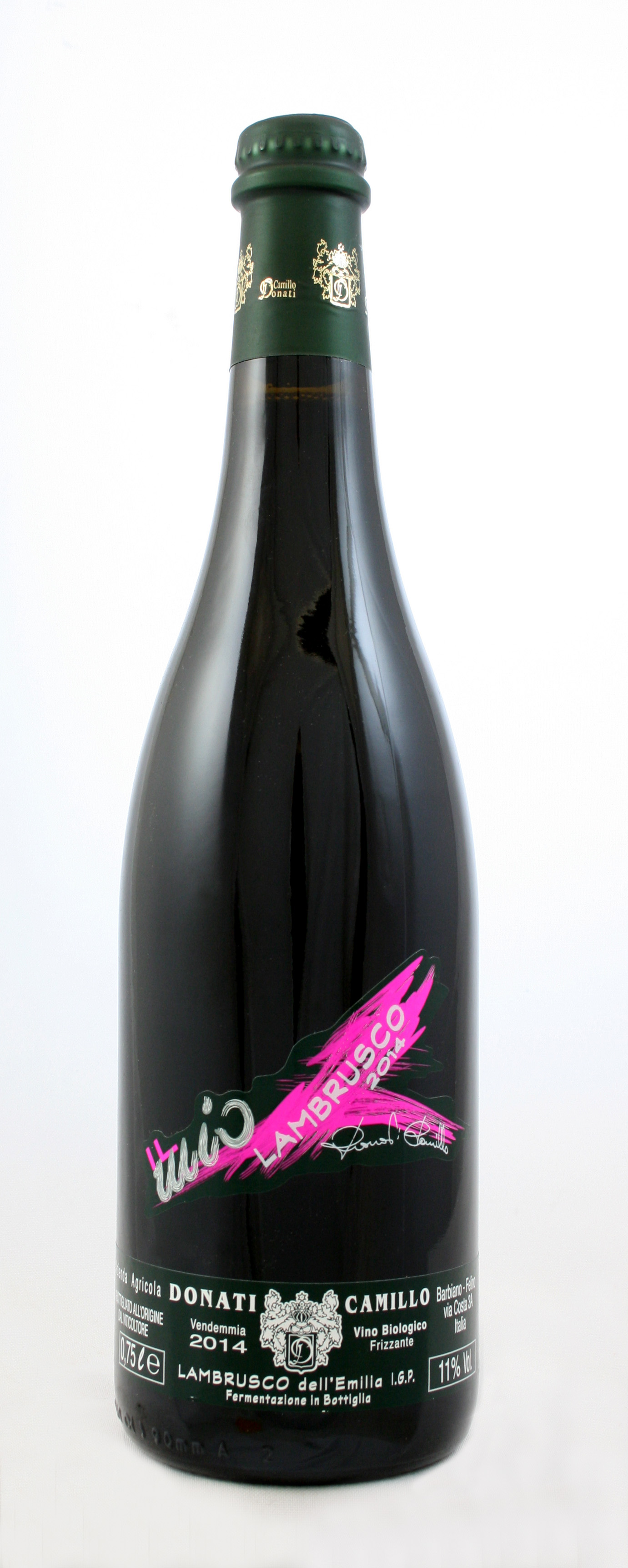 Flick open the crown cap (the approved seal) and pour it a proper wine glass to see a wine with inky dark purple colour, and persistent raspberry-colour froth. Black plum and strawberry aromas tickle the nose with a touch of fizz and the dark cherry-berry flavours are shaped by crisp acidity and distinct peach-stone bitterness in the finish. And a decent amount of tannin.
This is an excerpt of an interview for Louis/Dressner conducted by Kevin McKenna in 2011, and translated by Pietro Straccia:
Red like wrath, sparkling like life itself, as clear as friendship, Lambrusco invites to a high-toned bouquet with this land's such different flavours blending them in a unique hymn of joy, the bright joy of this Lambrusco. In these lands only, finds its birth a wine which merges with air, rich of scents and chants while merely pouring it out. These are not ordinary hymns, on the contrary they are lively, sparkling, uncommon arias inspired by Verdi's operas. Only the places that inspired Giuseppe Verdi's music could generate such a wine… it has the power of a companion's song, of a friendly drink, of a debate between old experts in food and women. This Lambrusco only is able to arouse strong emotions, to move your soul, to always surprise."
A little about Donati. The farm is around thirty miles south of Parma positioned on rolling hills around 300 metres above sea level. As well as being organic and biodynamic in the vineyard to achieve the best balance for the vines, there is nothing added at all in the winery. These are thus very natural sparkling wines. 
On his decision to make pet nats Camillo remarks:
"Sparkling wines had been made the same way for centuries, but in the 70's everyone started producing frizzante wines with the charmat method. I believe that charmat kills the wine. A dead wine goes into the bottle, and many, many preservatives are needed to keep the wine going for 6 or 7 months. On the other hand, a natural frizzante wine can last 10, 15, 20 years. Logically, you will no longer have predominant fruit after the 3 or 4 years where the secondary and tertiary aromas surface, but the wine is alive and it ages and matures slowly, just like we do.
If I kill a wine beforehand just so that I don't have sediments or to have clarity, then what is the point? Charmat is a dead wine that cannot go beyond 6 months to a year. After that it becomes undrinkable because it's dead. A chemical preservative is not capable of sustaining something dead." 
Your day and night "on the Lam" would pair wonderfully with cooked salumi such as Mortadella di Bologna and the typical deep fried with a splash of lard bread puffs of Modena/Reggio Emilia/Parma, known as gnocco fritto (or torta fritta in Parma). Often served along with gnocco fritto are the small baked bread discs known as tigelle, that have a texture similar to piadina, the signature flatbread of Romagna, which is the area stretching from Bologna to Fellini's hometown of Rimini on the Adriatic. Another Modenese specialty that works beautifully is borlengo, a flatbread rubbed with cured lard, rosemary, pancetta. And maybe some porcini with garlic and herbs (lambporcini?)
Quick definition: Bring your lambruscos to the slaughter.
2018 IGT Emilia Lambrusco Frizzante
*
Interested in finding more about the wines of Camillo Donati? Contact us directly:
shop@lescaves.co.uk |  sales@lescaves.co.uk | 01483 538820