The Carso is that thin slice of land connecting Trieste to the main mass of Friuli-Venezia-Giulia. Officially speaking, this is Italy, but, as is the case all along Italy's border with Slovenia, the wine culture transcends national boundaries. Winegrowing in the Carso extends well beyond the border into Slovenia (as does winegrowing in the Collio further north), and its trio of peculiar local grapes – the white varieties Vitovska and Malvasia and a strain of the red Refosco known as Terrano/Teran – are uniquely Slavic contributions to the "Italian" viticultural whole.
The heavy limestone content of the soils likely gave the zone its name (Carso is thought to be derived from a Celtic word meaning "land of rock"), and it lends the wines, both white and red, a firm acidic backbone and mouth-watering minerality. On the white side, this means flinty, fragrant accompaniments to fresh seafood in Trieste, Muggia, and other fishing towns along Friuli's Adriatic basin, while the red Terrano is a high-acid companion to the heartier, Slavic-and-Austrian-inflected food further inland (you'd be surprised how good a tart, tongue-piercing red like Terrano can be as a contrast to the richness of Stinco di Vitello). The Zidarich farm is located in Prepotto, near Duino Aurisina, which is a small and characteristic village of the Carso area. The landscape is extremely varied. The vegetation of the environment is very different and enhances the peculiarity of this territory dedicated to viticulture. Jagged chalky rock is the keynote of Carso viticulture, which is carried out on small terraces of red, iron-rich soil that have been reclaimed from the woodland.
Azienda Zidarich was founded in 1988. Benjamin Zidarich revolutionised his father's company by expanding the vineyards and focusing on native grape varieties, Vitovska, Malvasia and Teran. The Carso area is often affected by the Bora, a cold and violent local wind that can exceed 120 km/h. On the plateau, the climate is fairly continental and benefits from the mild weather that blows up from the Mediterranean Sea.
Benjamin uses a mixture of Guyot and alberello training systems with 4 – 5 buds per plant. The vines are aged between 6 and 30 years old and are planted at a vine density of 8,000 to 10,000 plants per hectare. He has been practising organic for some time and also applies biodynamic treatments to the vineyards. The vineyards are ploughed annually to maintain their health.
This is wine that defines or rather describes its terroir. It possesses a driving minerality, the essence of pure stone, capturing both the sunshine of his vineyards and the cool depth of his cellar hewn out of local stone.
Benjamin manually harvests the Vitovska grapes in 15 kg crates, usually between late September and early October, and destems them. Fermentation proceeds naturally with indigenous yeasts and no temperature control. With the Kamen, both fermentation and (18-day) maceration occur in stone (KAMEN) vat with daily punchdowns. Kamen means stone. Benjamin has always been fascinated by the natural beauty and unique characteristics of the Carso stone. For many years, he looked for a viable alternative to oak barrels and finally decided to experiment with vinifying in stone vats, a practice that dates back to prehistoric times. Over the last century, similar stone containers were used to preserve various foods, including wine, as they maintain constant temperatures. By creating these stone vats, he also wanted to strengthen the winery's relationship with the region and terroirs, using a natural material and local artisans. Marko and Kristjan Zidarich were responsible for sculpting the stone into a single vat made of 5 pieces stacked one upon the next.
After ferment the Kamen is left on the fine lees and aged in medium and large Slavonian oak barrels for 20-24 months, and bottled without filtration and fining and minimal sulphur addition.
The Kamen has a most attractive mid-gold colour, aromas of chamomile, fruit pith and wet limestone, gentle entry in the mouth and initially reserved palate that moves between apricot-stone-fruit, cool minerals, golden spice and savoury-smoky elements. It finishes on a strong bitter phenolic note and medicinal nuances of fennel and wild herbs and spices.
This is wine that defines or rather describes its terroir. It possesses a driving minerality, the essence of pure stone, capturing both the sunshine of his vineyards and the cool depth of his cellar hewn out of local stone.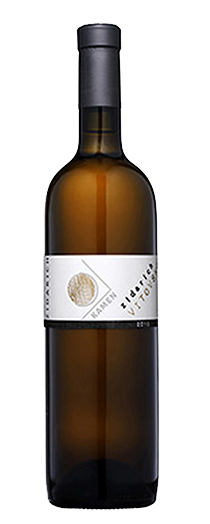 2018 Vitovska "Kamen"
*
Interested in finding more about the wines of Zidarich? Contact us directly:
shop@lescaves.co.uk |  sales@lescaves.co.uk | 01483 538820
*Note: We are still open for business, doing deliveries, and keen to help everyone with their booze needs in this difficult time. Natural wine lovers can visit our online shop and order online!