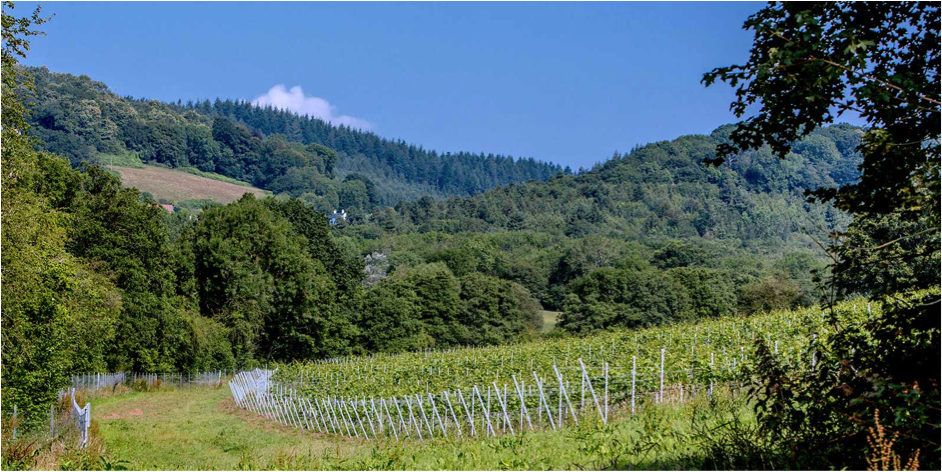 Is there more to life than Welsh Albarino?
Yes, Welsh still and sparkling wines also.
Ancre Hill Estates, owned by Richard and Joy Morris, comprises two vineyard sites on the edge of Monmouth, south-east Wales with some 30,000 vines planted on approximately 12-hectares (29.5 acres) and a state-of-the-art, modern winery. The business has evolved from the first plantings in 2006 and 2007 at Ancre Hill, which now extends to about 4 hectares of mature vines to include Newton Court Farm, purchased in 2014, the same year as the new winery was built at Ancre Hill, where a further 8 hectares of Pinot Noir and Chardonnay has been planted.
All the land was former grazing pasture – never used for agriculture and the soils are healthy and well-nourished. Ancre Hill apply a holistic approach to all activities in vineyard and winery, and practise conscientious biodynamics. The preps are stirred by hand, in rain water and sprayed strictly under the correct conditions. Only with this level of detail and personal involvement can biodynamic practices allow the vines to find the balance of life forces necessary for healthy growth and quality of production. The use of sulphur is kept to a minimum with the addition of wild plant tisanes made on the estate. Raw milk is used as a vine treatment, as it contains antiseptic properties and enzymes that act as fungal control and give foliar nutrition to the plant. Insecticides, pesticides and herbicides are not used at all, with weeds ploughed out from under the vines. A programme of cultivation provides the soil with aeration necessary for the development of a healthy micro-organism population, negating the need for petrochemical fertilisers. Co-plantation and the promotion of wild flora and fauna help maintain the balance of the eco-system and soils.  The vineyards look in great condition with the vines showing the virtue of a reasoned and progressive farming techniques.
Ancre Hill apply a holistic approach to all activities in vineyard and winery, and practise conscientious biodynamics.
Soils here are sandstone and ancient mudstone. The Ancre Hill vineyard has a vein of limestone running through it, whereas the vineyard at the farm is sandier.
Extensive canopy management is practiced, maximising air flow through the canopy and sun and light exposure to suit the season. This is further assisted by the Geneva Double Curtain trellising system designed for cooler climates.
The remarkable winery building, opened by The Duchess of Cornwall in July 2015, is an extension of the philosophy in the vineyard. Natural materials have been used over synthetic ones wherever possible with the walls constructed from straw bales and a living, green roof, both providing temperature and humidity regulation. Waste water is treated by a series of ecological pools and plantings which also provide many of the plants used in the tisane treatments in the vineyard. The building has an exceptional thermal performance with internal temperatures operating in an approximate 8 degrees centigrade range whatever the external temperature
The style of wine at Ancre Hill Estates continues to evolve, with small batch fermentations occurring almost entirely in oak barrels and concrete eggs. There are also a number of squat concrete fermenters, named after the seven dwarves. Fermentations are solely carried out by wild yeasts and bacteria, with the avoidance of filtration and fining for the finished wines wherever possible.
Ancre Hill has become renowned for its orange wine called (appropriately) Orange Wine.
The wines, as with the grapes, are fully Demeter certified, adhering to the strictest production criteria. Working in this way not only creates better wines qualitatively, but wines of greater integrity and sustainability. As with many natural wines, lengthy cuvaison and ageing on the lees, contributes to the texture and age-worthiness of the wines.
Three sparkling wines, an orange and pet nat are produced annually. In clement vintages there is also a Pinot Noir, a Chardonnay and a pale Rosé (from Pinot Noir). Each wine undergoes whole bunch pressing on long cycles to produce the best quality free-run juice. The base wines are spontaneously fermented with natural yeasts, and have an elevage on the lees with regular stirring before spending a minimum of 12 months in Austrian oak, concrete eggs from Burgundy or stainless steel. After tirage the wines may experience a further five years ageing on the lees.
The NV Blanc de Noirs is pure Pinot Noir from two vintages (13 and 14 in this case), fermented in barrels, concrete egg and stainless steel with an elevage of over 12 months for the base wine aged for typically 4 years on lees. This type of lengthy elevage, gives the wine its natural structure. The wine is bottled without dosage. Feather light, apple-skin and brazil nut on the nose, ripe red apple and citrus on the palate, with tension and precision to it. Excellent with a wide range of foods, such as seafood, mushrooms and fruit puddings.
The 2013 Sparkling Rosé, 100 % Pinot Noir, is normally a single vintage wine and made in a similar fashion to the above. A beautiful balance of delicate red fruit and brioche notes with luxurious, soft perfumed nose, delicate berries & soft bubbles on palate, layered, some mushroom on back palate, subtle balance of strawberries and texture on the finish. A fine mousse with real zing and energy to it.
The 2013 Blanc de Blancs (100% Chardonnay) is fermented in barrels and foudre and aged for up to five years on the lees. A stunning wine with exquisite purity and great length and zero dosage. A delicate nose of wildflowers, honey, lemon zest and sweet pear leads into a deliciously mouth-filling palate with crisp, lemon, grapefruit and cox's apple, zippy tingling acidity, but with perfect poise & balance. A suitably long finish leaves your mouth watering and keen for another sip to explore the many dimensions of this wine. This cuvée previously won the Bollicine del Mondo, being voted the "Best White Sparkling Wine in the World".
The still 2018 Chardonnay is whole-bunch pressed, fermented in stainless steel and oak barrel. Aged on gross lees for a minimum of fifteen months, the wine undergoes natural malo, is bottled without filtration and fining and with a small addition of SO2. A balance between delicateness and power with bright minerality, the aromas and flavours are of light lemon, ripe green apple, wet stone, and white flowers displaying hints of honeysuckle & discreet vanilla.
Whole bunch maceration for 50-days characterises the ebulliently fruit 2018 Pinot Noir. Fermentation finished in oak and stainless for 10 months further ageing on the gross lees. Light but intense – fragrant strawberry and cherries merge with liquorice and sweet spice. On first encounter, the wine reminds one of a Gamay from the Auvergne. As it develops it morphs into something more akin to a Crozes-Hermitage with discernible notes of black olives and herbs. Would work with charcuterie, and, of course, lamb any which way.
Made from second pressing Blanc de Noirs production, the skins for the 2018 Rosé are left with the juice for 4-6 hours. This is followed by fermentation in stainless steel and concrete egg, then ageing on gross lees for 6 months minimum, with natural malo, no filtration or fining. The wine is incredibly pale, on the vin gris-meets-onion-skin end of the rose spectrum with flavours of wild strawberry, red cherry and marked by tart redcurrant freshness, perfect for antipasti or crab linguini.
Ancre Hill has become renowned for its orange wine called (appropriately) Orange Wine. Could this be the only skin contact Albarino made in Wales? We certainly think it could be. There is a dash of Chardonnay in there as well. The grapes receive 100% whole-bunch carbonic maceration for around 50 days. Fermentation finishes in oak and stainless steel with ageing on gross lees for a minimum of 10 months, with natural MLF, no filtration or fining. No sulphur added here either. Deep, savoury, with nectarine, tangerine, bruised apple and pear fruits, hints of hay & camomile. Try with pea risotto, pork belly with caramelised apple, or runny cheese.
Finally, there is the Pet Nat (NV). Made from the Triomphe grape (the first variety planted on the estate), it is made by blending the juice of the new vintage with the previous vintage base wine whilst it is still fermenting. Primary fermentation finishes in bottle producing a lightly fizzy wine of between 2 and 3 bar pressure. Nothing added to this wine at all. Incredibly purple– Triomphe is a teinturier grape – with sour cherry and blackberry jam nose and slightly herbal/medicinal back-note. Truly, the Welsh Lambrusco Rosso, with a real sweet & sour character to it and great sappy freshness.
NV Blanc de Noirs
2013 Sparkling Rosé
2013 Blanc de Blancs
NV Pet Nat
2019 Orange Wine (available from late October)
2018 Chardonnay
2018 Rosé
2018 Pinot Noir
*
Interested in finding more about the wines mentioned? Contact us directly:
shop@lescaves.co.uk |  sales@lescaves.co.uk | 01483 538820
*Note: We are still open for business, doing deliveries, and keen to help everyone with their booze needs in this difficult time. Natural wine lovers can visit our online shop and order online!