A Swift Retrospective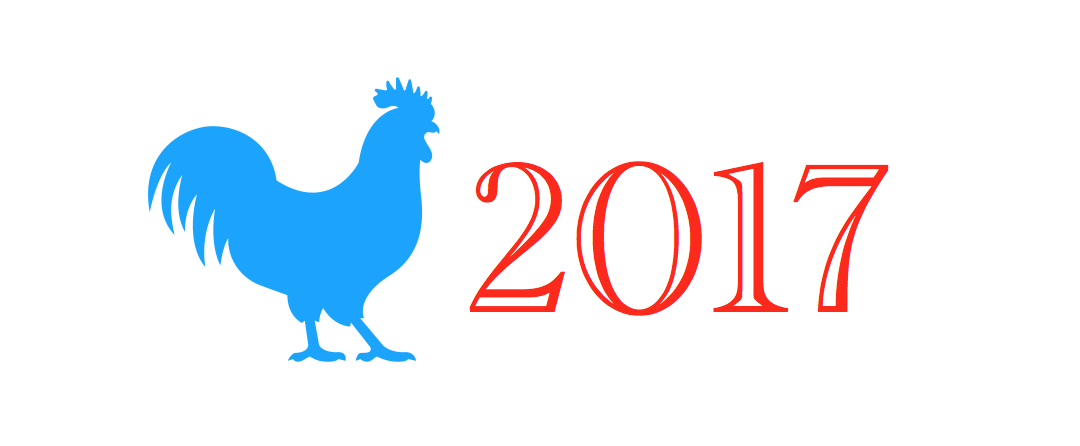 It was not the best of times, it was not nearly the worst of times, despite the fact that a sociopathic orange person was wreaking daily fresh hell in the White House and Brexit shenanigans continued to entertain and appal in equal measure.
It was the year of some pretty tragic vintages in many wine regions, following on from an equally problematic 2016 vintage. Yet, everyone sucked it up, more or less. Judging by the ever-bullish wine press who must have swallowed Gottfried Leibniz Theodicy hook, line and sinker, that we live in the best of all possible worlds (this assertion parodied by Voltaire in Candide in the character of Pangloss), the wine industry must always be going onwards and upwards.
The early part of 2017 was typically somnolent, so we kept ourselves awake on the blog by anatomising so-called "wine science" and debunked the debunkers. After the turkey and the new year's resolution cometh the seasonal debunking. Articles/rants about natural and biodynamic wine appeared in clusters like the proverbial London buses. A slew of definitive scientific research seemed to disprove, at a single stroke, a cherished theory or philosophy. Minerality? Doesn't exist! Terroir? Give me a break! The Marie Thun calendar (fruit, flower, root, leaf days) affecting the aromas and tastes of wines? Complete lunacy. It is not whether these confident assertions, repeated in trade magazines and in the social media, hold water; the methodologies used to make the definitive assertions are as flawed as that which they purport to disprove.
Les Caves decanted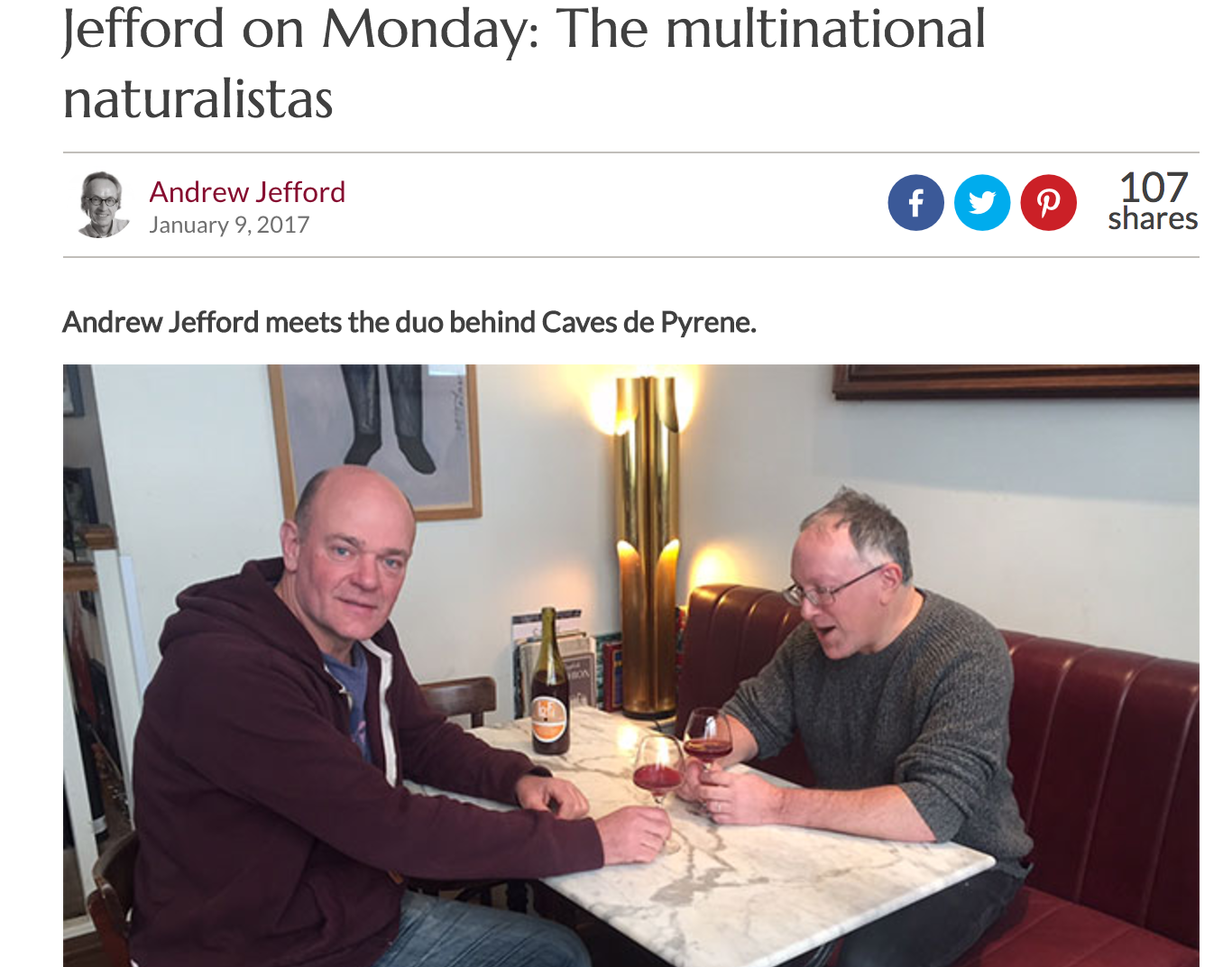 A lovely article about Les Caves was written by Andrew Jefford for Decanter magazine. Many years ago, Andrew interviewed Eric and me, when Les Caves was but three men and one woman paddling around in a tiny business boat in the vast unruly ocean of wine, plugging the wines of Gascony. Oddballs and amateurs that we were. Andrew subsequently categorised us as the extreme outliers of the natural wine movement, people who implicitly (and uncritically) believed that wine should be right rather than good. In real life we are idealistic, self-critical, and definitely not ascetic nor swivel-eyed. It does no good to fly the flag for undrinkable wines, simply because they are made without additives. We do talk about what is good (for us), and what we love to drink and what feels real in terms of wine. Over the years natural wine has graduated from the fringe interest to the non-commercial mainstream and a wider acceptance, and although some commentators and growers refuse to be convinced and believe that the wines are an aberration (in other words that natural is not natural), and the people who sell them and drink them are either labouring under a huge misapprehension or have climbed on a bandwagon and are riding it for all its worth.
Frick-asee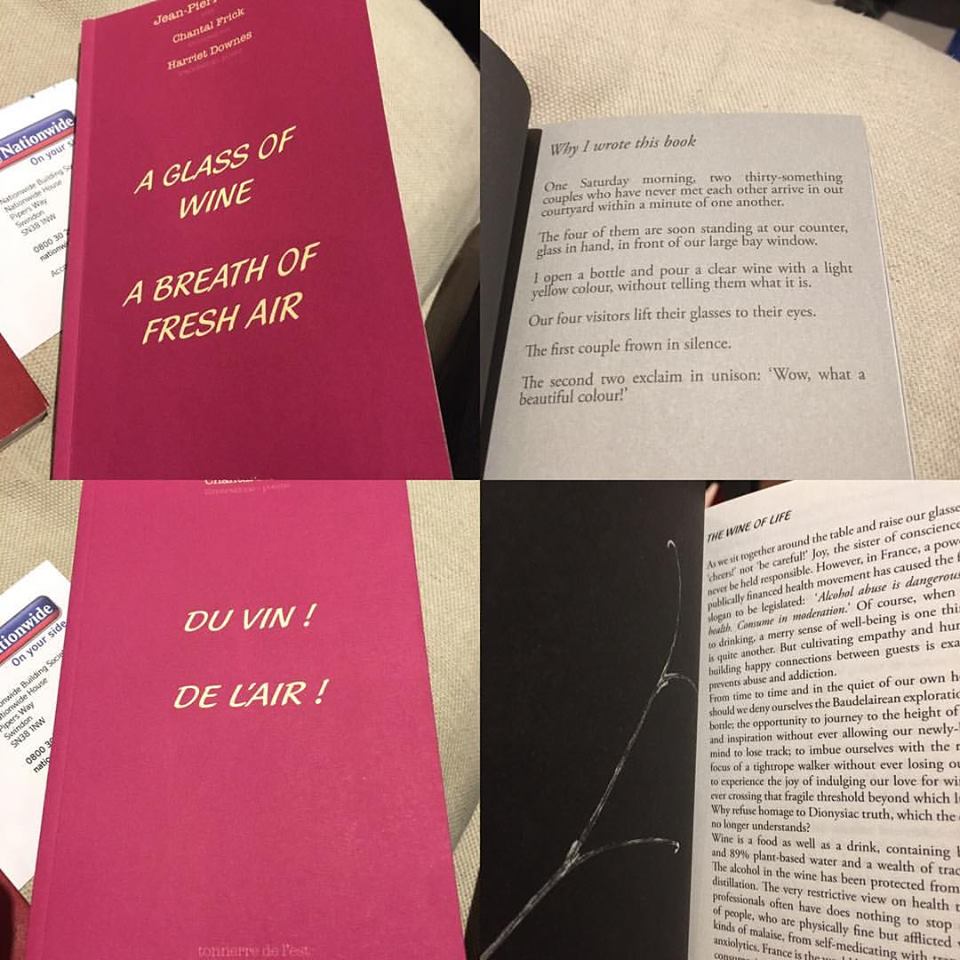 One of the highlights of February was the launch of Jean-Pierre Frick's book Du Vin, De L'Air at Terroirs. After the book-signing and tasting there was a hearty Alsatian wine dinner prepared by chef Michal.
The book itself, a slim but beautifully-presented volume with illustrations by Chantal Frick, contains fascinating and provocative philosophical and political insights into the psychology of tasting, and discusses what is real and natural, what is energy, what is biodynamics, and what is terroir and appellation. Jean-Pierre is deeply invested in his local culture but also brings a wider perspective to bear, for he is not only a farmer, but also a scientist, a natural philosopher (invoking Goethe), and someone concerned for the future of man and the planet.
The book was apparently inspired by observing how different people react to the same wine. If we are what we eat, we are also what we drink, and how we appreciate wine indicates (to a greater or less extent) what our values are and the way we approach life. J-P sees various wine responses as emblematic of certain social and philosophic tensions. He implies that orthodoxies result from continuous classification and compartmentalization.
Jean-Pierre was typically interesting and provocative and one of the most instructive moments during the wine dinner was the opportunity to taste two versions of his Riesling Grand Cru Steinert, one bottled with zero sulphur and one with just a small amount. The wines were from the 2012, so had had plenty of time to develop in the bottle. The difference was striking – the no sulphur Riesling was vivid and crunchy, the one with sulphur was soft and almost flat by comparison. Make of that what you will – and we did.
Also in February, we participated in a Spanish growers' tasting at The Tate Modern called Viñateros, wherein a group of importers invited around fifty key new-wave artisan growers from 25 different Spanish wine regions to pour a selection of their wines to an audience of trade buyers and press. The rationale behind the event was not only to highlight the work of the individual growers, but also to raise wider questions about the very nature of DO, terroir and how more progressive farming and winemaking methods and espousing indigenous varieties can revitalise people's interest in Spanish wines.
On a personal note this was a grand year for Jurassic epiphanies, many revolving around the wines of Bruyère/Houillon, Domaine des Miroirs and Jean-François Ganevat respectively. A few likeminded Jura-philes convened at The Remedy Bar for Ganbrukenjouillon!, a medley of iconic hits from the land of vin jaune and Comte. This noshing and sloshing was followed up a few months later by a Bottled Films BYO Podcast, whereby many of the same crew met to taste and talk about their favourite wines from that region.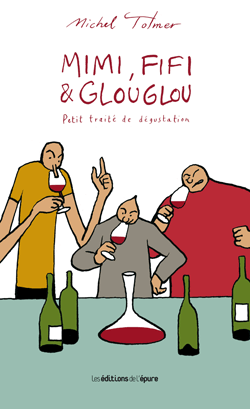 The English translation of the cult cartoon book Mimi, Fifi and Glouglou came out eventually – and just in time for the Real Wine Fair. It was a privilege to be involved in this project. And a lot of fun. Mimi, Fifi and Glouglou? Three differently sized-and-shaped chaps, brimming with bonhomie, joie de vivre and je ne sais quoi as well as a sociopathic nerdishness that makes them drink wine, think wine, talk wine and dream wine. They are the three musketeers and occasional superheroes of wineupmanship; if a little learning is a dangerous thing then they have a lot of little learning. Tasting is their metier, and blind tasting their delicious boot-camp. Rumours that the characters are based on three Caves de Pyrenees are completely unfounded!
I interviewed Michel Tolmer at the Real Wine Fair, ambushing him with un petit degustation aveugle (a little blind tasting). Let's just say he didn't thank me! He did sign, however, many copies of his books, sketching a personalised cartoon for each recipient.
Getting Real in May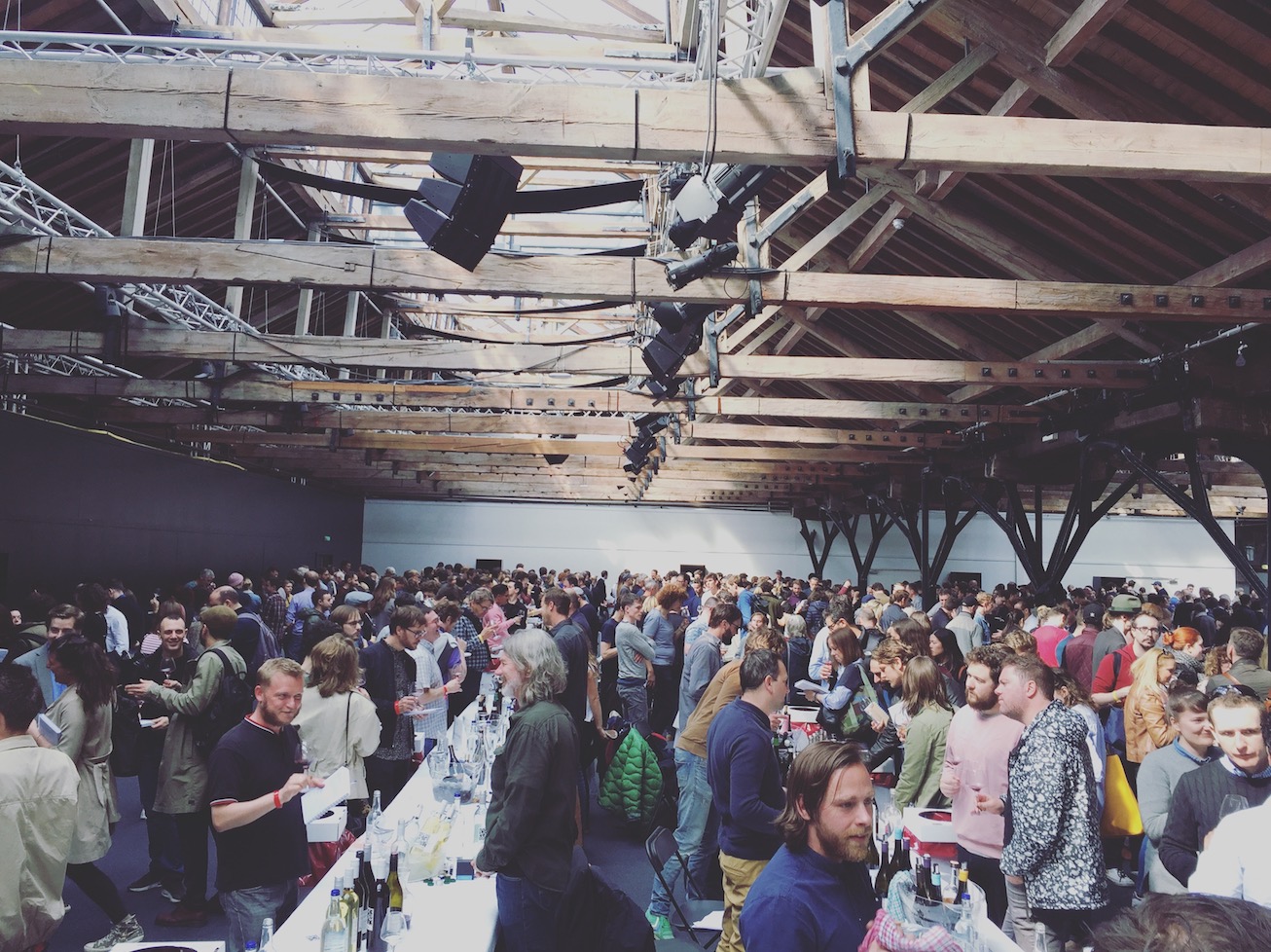 The Real Wine Fair itself was another beautiful event, one brilliantly organised by our pr department. Take a bow, guys. Thankfully, weather held fine on the Sunday and the wines were similarly shiny. As per usual Real Wine took place in May at Tobacco Dock, and this year featured a record number of growers (170) from corners of the globe. A big hug for Yoshi Sato who took a 40-hour flight from New Zealand to be with us, and for Ton Mata to be the first to arrive on the Sunday and set up. Real super troopers! There was the usual enthusiastic mingle of public and trade, some wonderful street stalls hosted by restaurants and suppliers dispensing delicious morsels (those pies at Quality Chop House…!), and captivating educational seminars. The Chad Stock masterclass on wine faults was brilliant and thought-provoking, and Carla Capalbo's Georgian presentation was particularly interesting and illuminating.
The Fair is always more than a two-day tasting. We were delighted to welcome four stalwarts of the natural wine bar world: Bar Brutal, The Four Horsemen, Le Verre Volé and Embla, each of whom cooked up a storm in our various restaurants on the two evenings of the fair. Meanwhile, The Real Wine Month promotion, where natural wines were poured by the glass and highlighted on wine lists and shop shelves, involved nearly three hundred restaurants, bars and retailers throughout the UK including Scotland and Ireland.
Sherry amour and more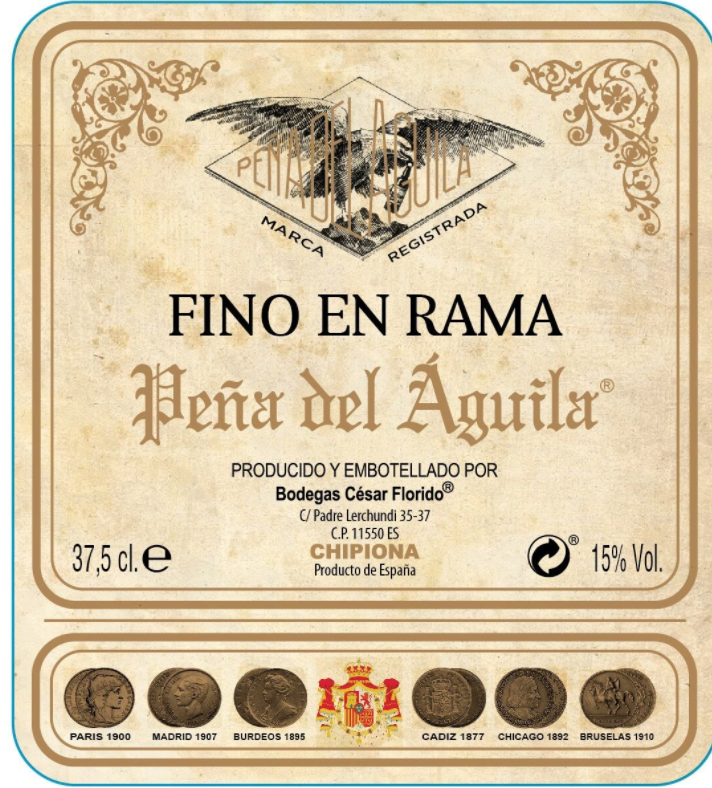 David's to-ing and fro-ing in Jerez yielded not only our first en rama sherry, but also saw the addition to our portfolio of the experimental non-fortified wines of Ramiro Ibanez under the label, Cota 45. Cota 45 is not the most powerful hand gun in the world, but it is a new/old way of looking at the region and the wines. UBE won knobe – the flor-ce is with these proto-sherries, which are still white wines made under flor from numerous old Palomino clones, rediscovering styles of Manzanilla that were made in the 18th and early 19th centuries. We have since graduated to more autumnal styles. Quantities are minimal, impact is maximal.
We showed these, and the always wonderful and complex oxidative wines of Emilio Hidalgo and Sanchez Ayala, at The Great Sherry Tasting at Oxo 2 later in the year. Despite this, and other efforts to bang the drum, it is pretty clear that "good" sherry is still underrated and somewhat unappreciated. Work in progress to instill the message about "real sherry".
On the blog, we were tackling hot topics such as orange wines, the no-sulphur issue, rising alcohols and pet nat. The topics may be on trend, but we are not about following movements or trends. Wines become good for a reason; and sudden popularity needs to develop root systems to become sustainable popularity. Otherwise, there was also an article on humour in wine (not an oxymoron!), while, in an extended piece, I reflected on the changes I had seen in 30 years in the wine trade. (One Score and Ten Years in the Wine Trade).
The Oregon Trail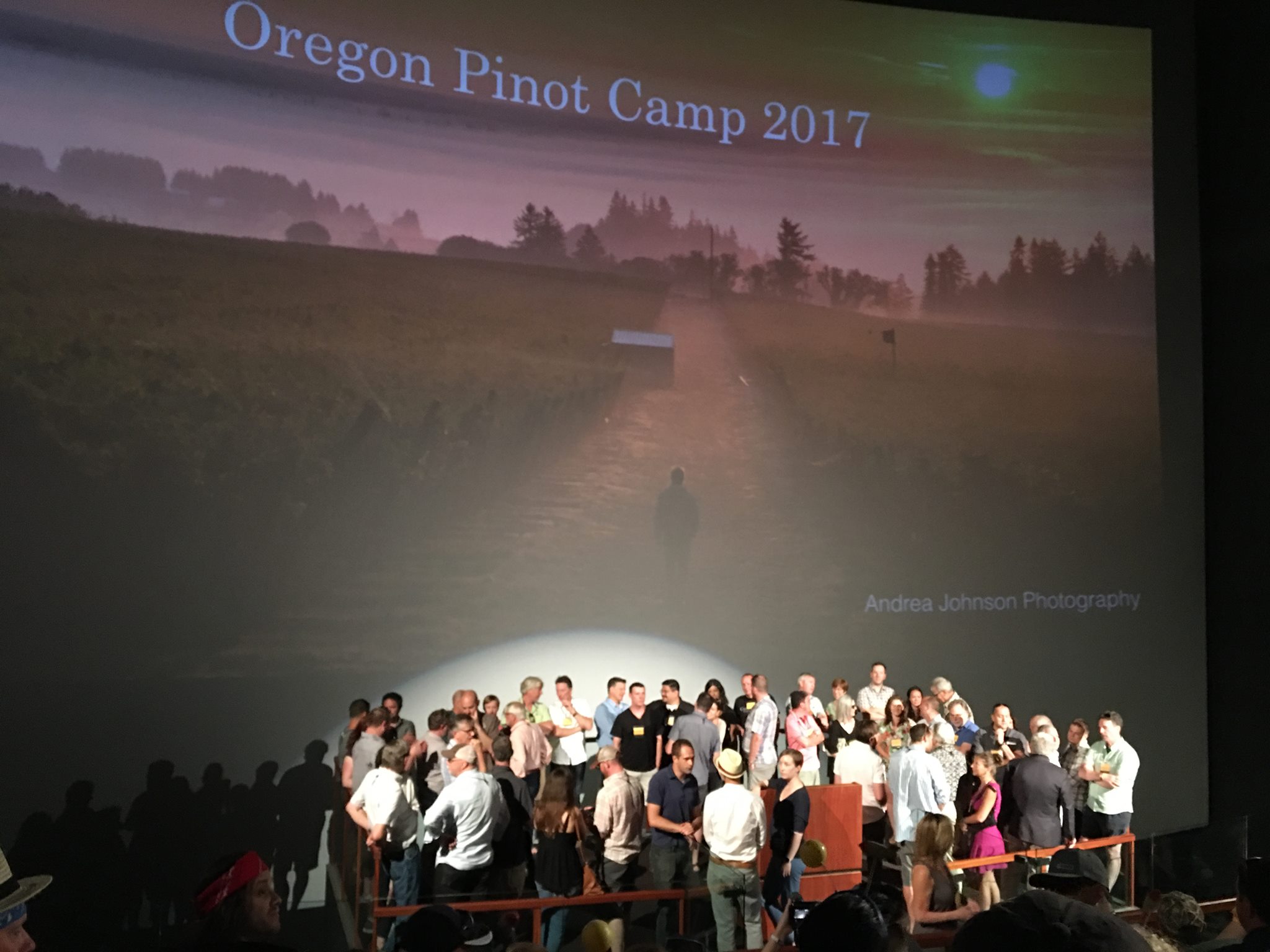 In June it was off to Oregon Pinot Camp for me, an educational and often hilarious experience (such was the camaraderie and the craziness of the Canucks), out of which several magazine articles and blogs would arise. The value of recycling! Oregon was a blast, but, more seriously, deserves greater recognition for wines made from varieties other than Pinot Noir. Pinot is the bread-and-butter, and when done well, is the most eloquent grape in terms of capturing the unique terroir of the region.
Books and media
Throughout the course of the year we interviewed – amongst others – Simon Woolf who has been writing a book about skin contact wines called The Amber Revolution; the entertaining Burgenland-law-unto-himself, Christian Tschida; Heidi Nam Knudsen of Ottolenghi, who has put together some of London's most compelling wine lists; Derek Morrison of The Good Wine Shop, erstwhile organiser of Grower Champagne Month and also brains behind BYO Broadcast; Amaya Cervera, knowledgeable and articulate Spanish wine journalist, and Ben Walgate, soon to produce England's first qvevri wine in the wilds of East Sussex.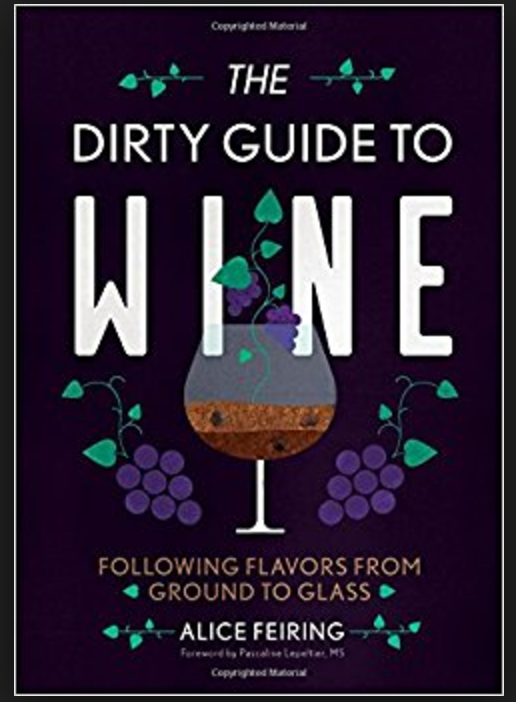 Our wine books of the year were the highly original and intuitively clever Dirty Wine by Alice Feiring; the beautifully presented Tasting Georgia, A Food and Wine Journey in the Caucasus by Carla Capalbo (with recipes that work!) and Wine Revolution by Jane Anson, which featured profiles of fifty of our organic, biodynamic and natural producers.
Blogs we liked include The Feiring Line, Wine Anorak, David Crossley's Wide World of Wine.
The BYO Podcast – referred to elsewhere – is a lovely addition to the wine media, and captures all that is best about friends talking about wine.
Wine Buying – The Year of Retrenchment
This past year, with financial uncertainty and a falling £, we reined in the buying more than somewhat, however there were several intriguing newcomers to welcome. We adopted our first Slovenians (Burja in Vipava; Nando in Goriska Brda and Zorjan from Stajerska); took on one estate from Hungary (Hetszolo in Tokaj), and strengthened our southern Italian selection with great value – and mostly natural – wines from Iole Rabasco, Marina Palusci, AA Caravaglio and Antica Enotria. There was also a natural skin-contact (natch) Retsina from Georgas in Attica. And, as trickling purveyors of extreme oddities, we also brought you non-fortified sherries, Oregon Trousseau, a Moscato d'Asti fermented dry under flor, and, of course, Savoie Chardonnay fermented in a concrete pyramid! And Antonino Caravaglio provided the ultimate tick-the-box wine – an island wine, a volcanic terroir wine, a new grape (to us) wine, a skin contact wine and an amphora wine. And the wine? It's good!
More prosaically, we also started shipping our first wines in key keg, namely Chenin from Nicolas Reau, Gamay from Botheland, Mauzac from Laurent Cazottes and a Cotes du Rhone from Vignerons d'Estezargues. Several others are in the offing.
Señor Canadas, wearing his buyer's sombrero, visited Argentina to take the thundering pulse of Malbecistan. In the end, deliciousness proved elusive; there were encouraging shimmers and glimmers, but most ended in full oak mirages.
Other news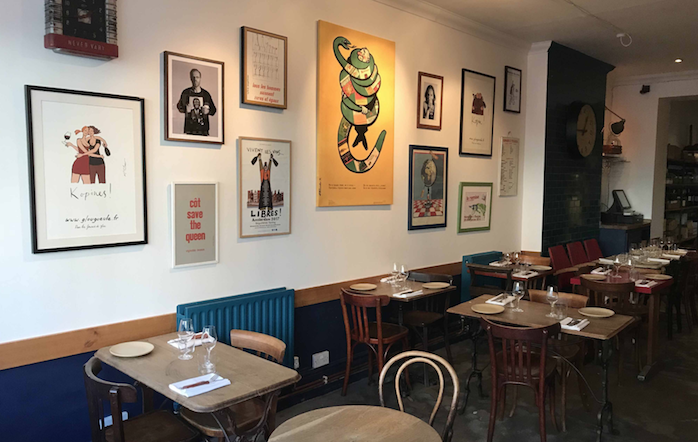 Speaking of key kegs brings us to the recent opening of Terroirs, East Dulwich, or TED for short. With a tasty menu of Terroirs classics from the kitchen headed by chef Michal, a wine list of 300 references, and the aforementioned key kegs providing exceptional value by the glass and carafe, the good burghers of East Dulwich can fill their boots, glasses and stomachs.
Our fortnightly newsletters (supplemented by the very local "Pewsletter" for Les Cavistes) contained news about regular events in the various wine bars, a "Decants" section focusing on a single wine or grower, the self-styled Great Grape Alphabet, looking at examples of some of the lesser-known varieties that we list and love, and our "wine words of the week", the definition of which may necessitate massive revisions in a certain famous wine encyclopaedia. Or maybe not.
We bade a very fond retirement farewell to Patricia Sliwa who for many a year traipsed the length and breadth of this sceptr'd isle on behalf of Les Cavistes. Patricia was indefatigable, driving unfeasible distances hither and yon in all weathers on this country's motorways, and during – and because of – her travels and travails – she developed an encyclopaedic knowledge of the ins-and-outs of the great Travel Inn empire. She even went to the Isle of Man on several occasions – but it was closed. Patricia's customers adored her; she was efficient, precise, friendly and loyal and her great sense of humour, French pas-de-bull-merde-meets-English irony endeared her to all.
The Future
2018 – The Real Wine Fair is putting its feet up, returning in 2019. Although we are concerned about outwearing our welcome, growers and visitors seem to deeply appreciate this event. That said, there are far too many fairs and mega-tastings, both generic (surely their time is past) and artisan. They are more like social events.
A word, however, for Label Grand Karakterre in Vienna, the brainchild of Marko Kovac, a Croatian importer and distributor, and Niko Dukan. Marko has the enviable knack of bringing together people from across the globe. The event is focused, the quality is superb, it maintains that feeling of spontaneity and generosity that we're missing at a lot of bigger wine tastings.
And we have a birthday to celebrate. Les Caves de Pyrene turns 30. That is what is known as old vines in New Zealand.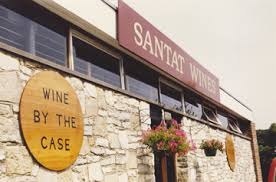 Way back in the day in 1988 when Tim Berners-Lee was plotting the world wide web, Mehran Karimi Nasseri, "the terminal man", decided to stay at Charles De Gaulle Airport in Paris, where he would continue to reside until August 1, 2006 and Celine Dion won the Eurovision Song Contest for Switzerland, Eric founded Santat Wines, later to be known as Les Caves de Pyrene. The rest, as they say, is history, although there are a few moments when that history might have been snuffed out. The wobbly financial tight-rope was negotiated and now we are a player in the great wine game. Four people have become forty plus, the tentacles of the wine company stretch oversees to Spain, Italy and Australia, the wine bars have gathered world renown, as has the Real Wine Fair which is a truly international event and illustrates the pulling power of real artisan wine.
Without revealing too much there will be a mixture of small events, tastings, trips to vineyards, promotions and, at some point, celebrations of our big 3-0.