Decanting Cava Acequion, Rafa Bernabe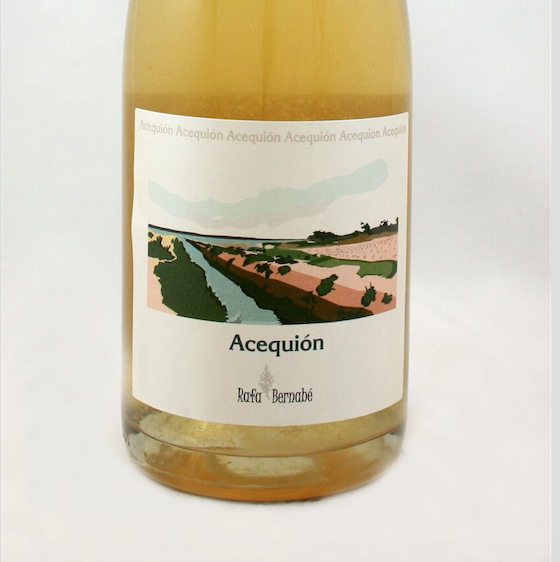 The best things come to he who waits. And waits. And this pet nat kept us, and Rafa Bernabe, waiting. Unlike jam tomorrow, it eventually arrived. The wine is espumoso elaborado por método ancestral as we say in English. So, we are back to our favourite Moscatel (you say Zibibbo, I say Muscat of Alexandria etc) grown on the sand dunes by the sunny Med, fermented with indigenous yeasts in vat and bottled with the natural sugars. The yeasts then do their work in the bottle gobbling up the sugar and giving off bubbles. Nothing is added to manipulate the fermentation and conversion process. In the end the wine fermented out to bone-dry (0.4 g/l residual) and a wee bit of SO2 was added before bottling. The steely dryness and salty grapefruit pithiness of the wine gives it impressive gastronomic clout. I also think that a pet nat that undergoes a very long fermentation can stand toe-to-toe with top quality champagne.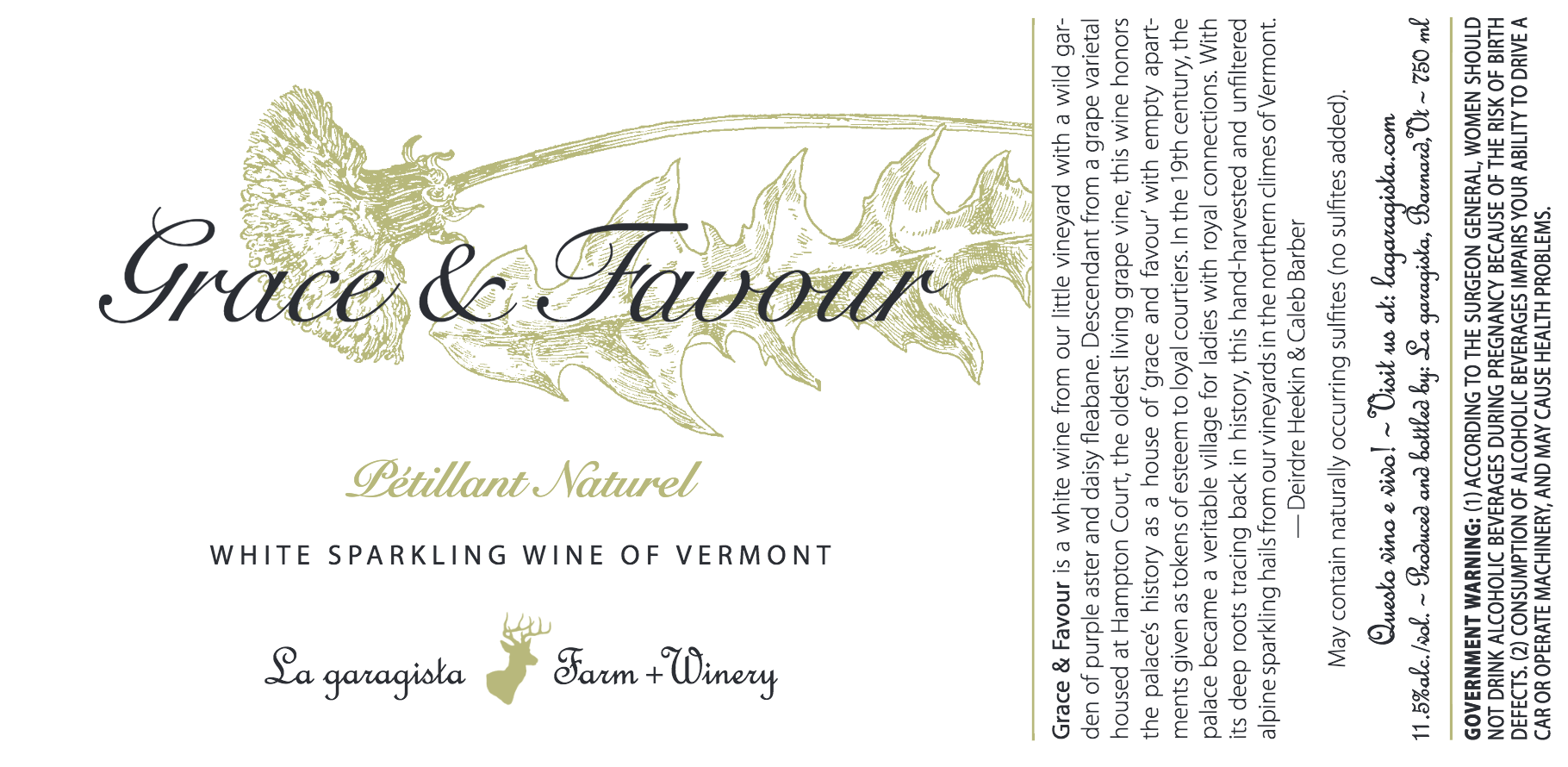 If you like aromatic pet nat (we do, we do) try the stunning Grace & Favour Pet Nat from La Garagista from the hybrid La Crescent grape (distant relation to Muscat of Homburg which is how Lady Bracknell would pronounce Hamburg in a supercilious fashion), wildly floral with flavours of orange marmalade, cloves, wild mint and strawberry leaf.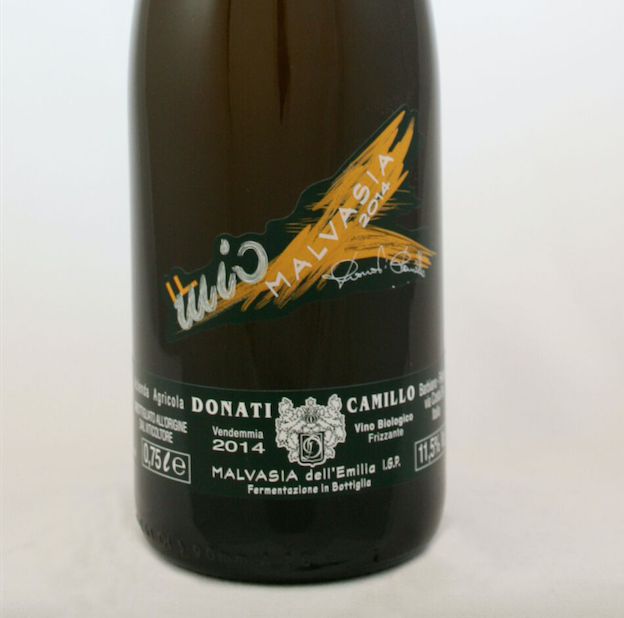 The Malvasia secco from Camillo Donati is one of those sparklers where spring flowers are entwined with autumn windfall. Malvasia, from northern Italy, usually reminds me of orange blossom honey over drooping orchard fruits coated with sweet spice and pepper. Amber and hazy to a fault (lava lamp alert), wafting aromas of tangerine and musk mixed with pollen. Donati's Malvasia wine prickles, skitters and scythes across the palate unveiling the texture of bleached apricot skins and the sensation of warm peach, as well as delicate impressions of sweet grass, jasmine and tea-rose – all teased along with breezy orange citrus. The finish is ale and hearty, refreshing to the last hoppy drop.
Focus on… New Radelaide wines
Folk Wine – "Gently Does It"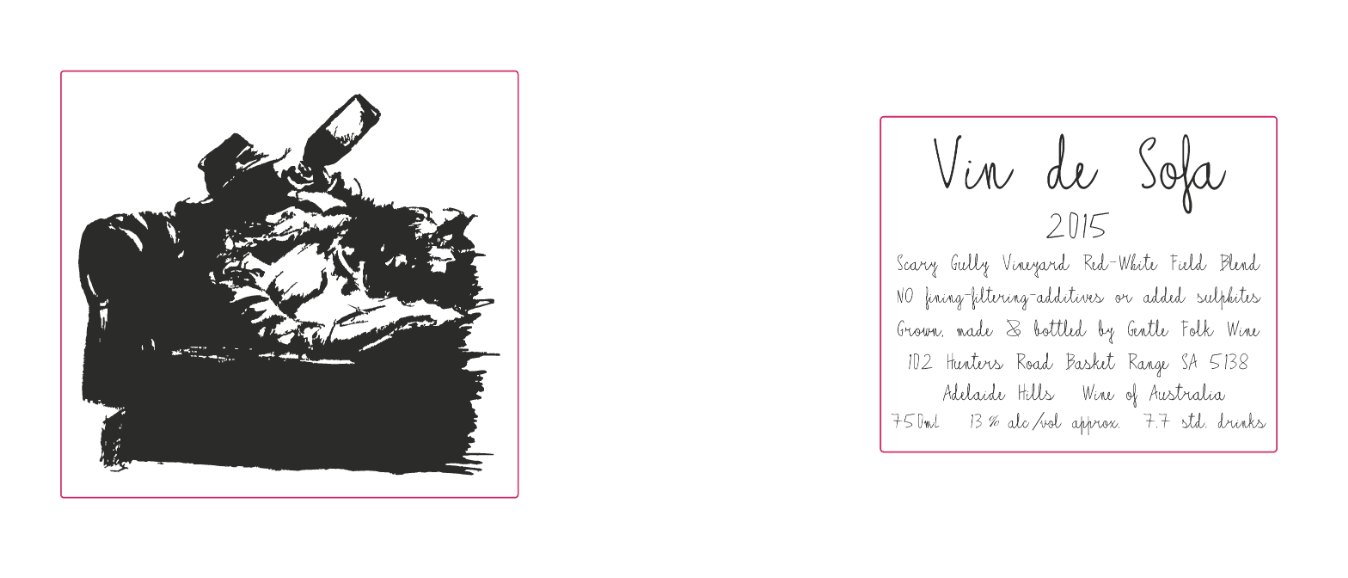 When you come across wines with names like Vin de Sofa and Rainbow Juice you know that you are dealing with vignerons who take quaffability seriously. Gareth and Rainbo, the gentle folk in question, work in the Basket Range in the Adelaide Hills, lovingly hand-crafting some more than decent throat-charmers. Their own vineyards have a fair lick of altitude – 600 metres plus in them thar hills – which provides the freshness and focus for fruit-driven wines, particularly important when you are growing Pinot Noir and aromatic varieties such as Riesling and Gewurztraminer. The dark side is allowed – Gareth also makes a powerful wine called Basket Range Red – being an equal blend of Cabernet Sauvignon, Merlot and Petit Verdot from a hot, north-facing vineyard, but most of the wines are partly or wholly whole-bunch, often undergoing a carbonic maceration in the process. The touch is gentle (for want of a better word), the wines are lively and gulpable. It all starts with the farming which is organic with some biodynamic practices, the yields ranging from 15-30 hl/ha and the gentle use of old barrels to ferment and mature the wine. These are wines sans maquillage. On the gaily-painted flipside let's take a look at the abovementioned delightfully named Rainbow Juice and Vin de Sofa. To call them red wines is not strictly accurate – they are part of the popular new wave of juicy Aussie wines where grapes of all creeds and colours are co-fermented and the result are reds that are roses by any other name. Grape to gullet – do not pass go!
In the pipeline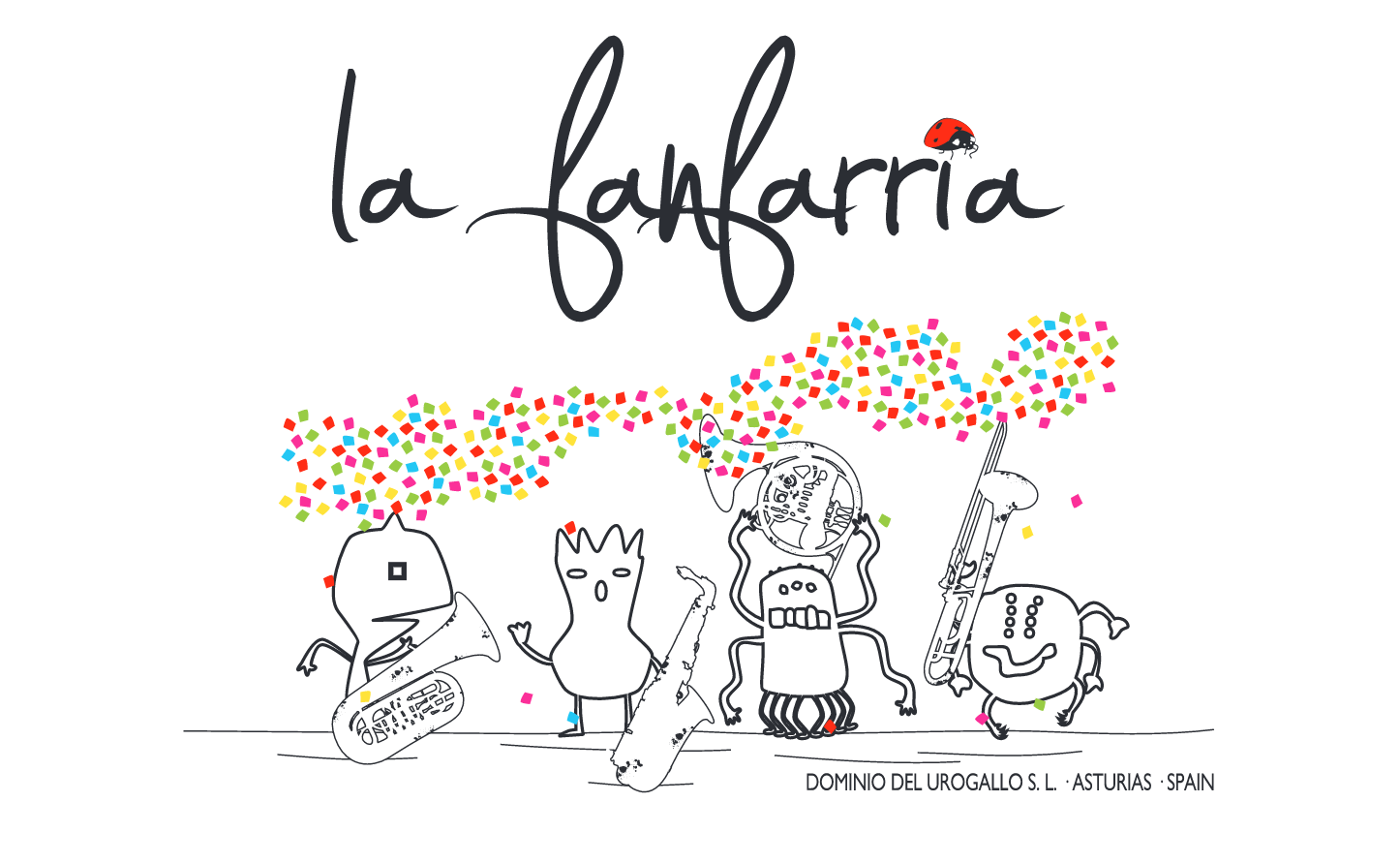 Coming soon – wines from Cangas. Cangas? No, nothing to rue – and not yet more Australian outback happy-hoppy grog, but viños from the Asturias region of northern Spain. Think steep slatey, quartz-flecked precipitous terraced vineyards, old vines and autochthonous grapes, vinified singly and in blends. Two whites and five reds will be wending their ways hitherwards from the hand of Nicolas Marcos at Dominio del Urogallo. We start with a brace of La Fanfarrias featuring the Albarin grape in blanco and tinto form. Not to be confused with Albarino – as if you would. The white version also includes Albillo (you can call them Al), whilst the red is partnered with Mencia. The other reds feature old vines Verdejo Tinto, which is another name from the Trousseau grape. And there's Carrasquin also and a glut of co-planted oddities in cuvees called Pesico, Cadario, Zorrina and Retortoira. Nicolas works organically with some biodynamic preparations, ferments with native yeasts and ages in small barrels. He's fighting for a DO for this tiny region with only a handful of growers. Cangas he fix it? Yes, he cangas!
Ficheing for information…
Part One in a series that looks behind the scenes at how wine companies go about providing service to their customers.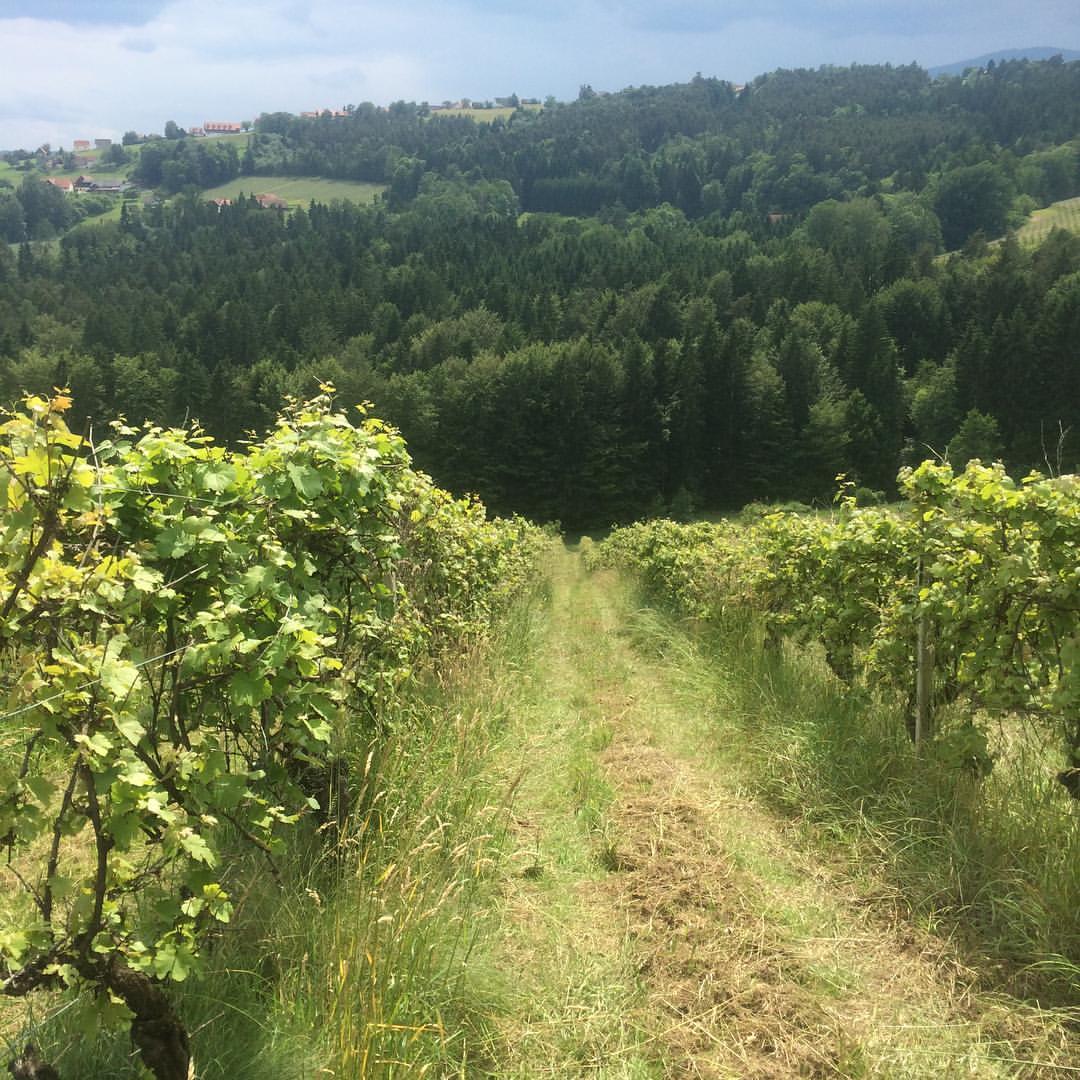 We want information, information, information (The Prisoner)
There is no substitute for standing in a vineyard and shaking the clay from the soles of your shoes. To share the same space as the vines, to feel the heat or the breeze or maybe the heat of the breeze, to rub the dirt between your fingers and smell it – this is what animates the wine for you and gives the wherewithal for the story. Having one's senses ravished and lavished by nature's blandishments and communicating your love for a place and its wine is not always enough to melt the heart of the stonier-than-thou wine buyer. We live in an age of maximal information, where knowledge is power even if that knowledge is essentially meaningless. But information is also a kind of bulwark, the armour against being stumped by a difficult question, for example, and if you believe that wine is a puzzle to be unpicked, a kind of mosaic of causes and effects, then the information provided by a fairly detailed fiche technique will give you part of the picture.
As there is no one fiche template that rules them all, it is necessary to devise one that fits various requirements and winnows out the irrelevant material. Fundamentally, it should contain factual information, leavened with a bit of local history and a touch of credo, and include an all-purpose tasting note that can be freely cannibalised for a wine list. It should be preferably no more than a page to a view with information divided between viticulture/farming practice and vinification. One should start with location, location, location. One can't talk about wine confidently until one has a clear idea where it fits into its country and region of origin before one gets to the niceties such as the exact location of the winery and vineyards.
After the general, the specifics. It is necessary to have a brief description of the topography and the macro-and-mesoclimate as they are the precursors for the local wine styles. Then we look even more closely at matters such as terroir, soil type, microclimate, altitude and exposition as these will impress themselves on the fabric of the wines themselves. The age of vines, the management of the vineyard (training, canopy work) and the nature of the farming. Organic and biodynamic viticulture is important to us; vignerons have so many different approaches and the vagaries of each vintage present so many new challenges that it is useful to have an idea of their methods in the vines.
Vinification sounds tedious, but the questions we are asked most often by our customers relate to technical aspects of winemaking. Information should include hand-versus-machine harvesting, size of yields, and selection of grapes, as these will combine to determine the final quality of the material that the winemaker will be working with. Thereafter the dozens of winemaking choices and interventions – stems/ no stems; preferment maceration; settling/decantation; open/closed tanks, to the nature of the yeasts (wild versus cultured) temperature control (versus ambient); the substance and shape of the vessel for fermentation; malo/non malo and all the numerous additions/subtractions through to the bottling. Wood ageing intrigues and exercises sommeliers greatly – the proportion of new to used oak, the length of maturation, the use of lees..
Then there are the numbers – abv, residual sugar (more significant in whites, sweet and sparkling wines), total acidity, ph, SO2 (free and total). Retailers increasingly will want to know about fining regimes and additions on behalf of vegetarian and vegan customers. Natural wine aficionados would prefer to be assured that the SO2 totals are lower than the limits set by organic and biodynamic regulatory bodies.
The final information would be a tasting note to indicate the style of the wine. These can be so generic as to be meaningless, or so specific as to be ridiculously personal. The note should be a precis of what the drinker might want to ask you – dry or off dry, light, medium, full, fresh, aromatic or mouthfilling and most important of all – an interesting and imaginative food recommendation (or a classic one).
For all this many vignerons do not care for being interrogated about their practices and motives. They feel that the process of information-gathering does not do justice to the more profound alchemical (dare one say) transformations between vine and bottle. For them it is never a numbers game, nor do they studiously – if ever – tick the winemakers' boxes. Instead they work through intuition, responding to the needs of the wine. To have it reduced to a process on a fact-sheet is like saying the wine is a product that can be summarised in a pat formula. So when we read a fiche technique we should always understand that this is merely the thin outer shell of truth. And occasionally a vigneron might have made some of this up just to get us off his/her back!
Les Caves and competitions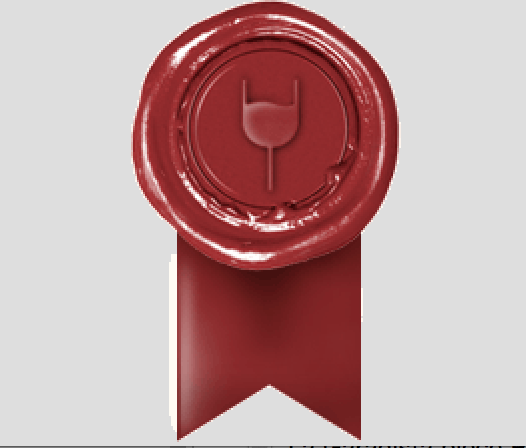 I received an e-mail recently from a customer regarding one of the larger international wine awards: "Such and such has won the award for Best On-Trade Distributor/Best Agent/Best Wine List…" You weren't even shortlisted. Why?"
I like to think that the question was motivated by loyalty towards CDP with the underlying assumption that said customer believed that had we been shortlisted winning would have been a cinch. You don't win if you don't enter – and we don't. Nor do we encourage our growers to submit wines for competition – it is very expensive and unproductive to say the least. This is nothing to do with being parsimonious or Presbyterian. We have gratefully received numerous accolades and the praise of our peers in the past, however, we examined the rationale behind awards in general, and the impulse that feeds them, and decided that the whole rumpus-bumpus was a kind of grand due-paying. Awards competitions generate money for parts of the wine trade, attract sponsorship and to make people feel good about what they do. I am not against that, but what does it have to do with us?
What makes a company strong is the quality of growers it has in its portfolio, the dedication of its sales team and the service back-up. And a desire to improve in every aspect of its delivery (including education and training).