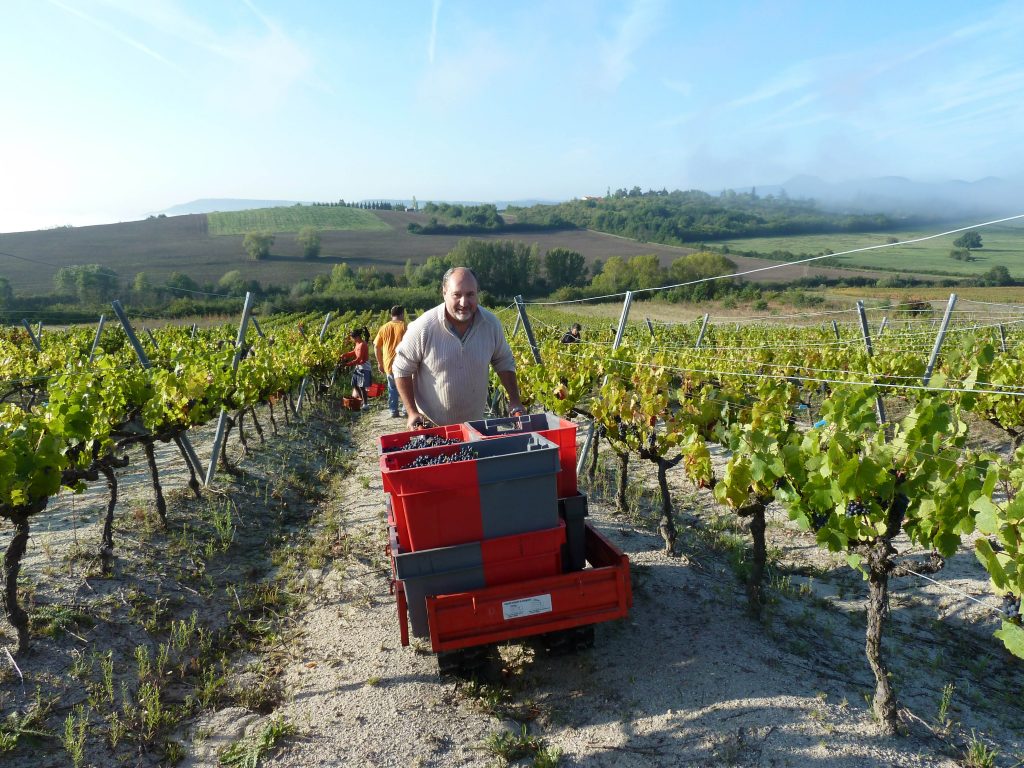 Jean Maupertuis tends 3.8 hectares of vines in the commune of Saint-Georges-sur-Allier and La Roche Noir in Auvergne. He works principally with a local version of Gamay referred to as "Gamay d'Auvergne", but also owns a little bit of Chardonnay, Pinot Noir and a tiny amount of Noirfleurien, an ancient local varietal found only in his neighbouring village of Mirefleurs. Most of his vines are on the venerable side, ranging from 40 to 100 + years. For a short period, Jean formed a groupement agricole et commercial with two partners, which was called Domaine de Peyra. This enterprise did not work, and over the years, he acquired a small parcel of Chardonnay called Puy Long, and in 2011 doubled his holdings with two new parcels in the commune of Riom: 1.8 hectares of Gamay planted on sand (La Plage –"the beach") and 1.5 hectares of Pinot Noir planted on marl (Neyrou). Jean was drawn to natural wine through Marcel Lapierre, although it took some time for him to familiarise himself with this approach to winemaking. He then visited Pierre Overnoy and Jean Thevenet and decided he wanted to emulate them. Setting up such an undertaking in Auvergne was certainly an uphill battle at first. The wines of this region were completely unknown and on the verge of disappearing. After phylloxera, Gamay became the dominant grape for all replanting in this region, but this local version of Gamay is decidedly more rustic and late-blooming, with a noticeable peppery-spice quality.
How do you like them grapes: Gamay d'Auvergne, Gamay à Jus Blanc, Pinot Noir, Noirfleurien, Chardonnay.
In the vineyard: The geological landscape of the region is extremely varied with different soil compositions. Not only does one have granite, clay and limestone, marl and sand, but the shift in soil types can often be seen every few hundred metres. This is largely due to the volcanic eruptions of the past which spread the material around. Each year he works the soils of every other row, and let grass and wild flowers grow free in the other. This helps reduce vigour of the vines. The vines are trained according to a local method called "en lyre" which further ensures low yields and great concentration. Jean doesn't use chemical fertilizers, insecticides or herbicides in the vineyard, preferring to work his soils and develop their indigenous microflora. He works organically, but is not certified. Everything is hand harvested and manually sorted before reaching the cellar.
In the winery: The red wines undergo cold semi-carbonic maceration with half of the grapes destemmed. Fermentation starts in tank and then the wine is moved to old barrels. All fermentations are natural. No sulphur is added at any stage and the wine go into bottle without filtration or fining. The Chardonnay is straight-pressed and settle and undergoes a natural malo. No sulphur used here either.
QI: Although the 20th century marked a sharp decline in viticulture here, the Auvergne was once one of the biggest and most important wine producing regions in France. Wine was produced from the Middle Ages onwards and was extremely popular in Paris (as it is again!): they were wines of royalty, and Louis XVI was reportedly a big fan of the wines of Madargues. By the 17th and 18th century, many of the best slopes had been planted with vines. By the 19th century, the department of the Puy-de-Dôme was the third largest wine producer in France, just behind L'Hérault and L'Aude. The beginning of the decline was as a direct result of phylloxera. Local farmers started planting vines all over the plains, which were much less suitable terroirs for quality wine. And because of increased demand for wine, high yields were emphasized to produce as much as possible. Auvergne had very quickly become a producer of bulk wine and when phylloxera did eventually make it to Auvergne at the beginning of the 20th century, it was followed almost immediately by World War 1, the viticultural momentum had been completely lost, and there was no consequent effort to replant more vines in the area.
"Les Pierres Noires" is from an ancient parcel of Gamay d'Auvergne and an ancient local grape variety, Noirfleurien (10%), planted at the foot of an old volcano.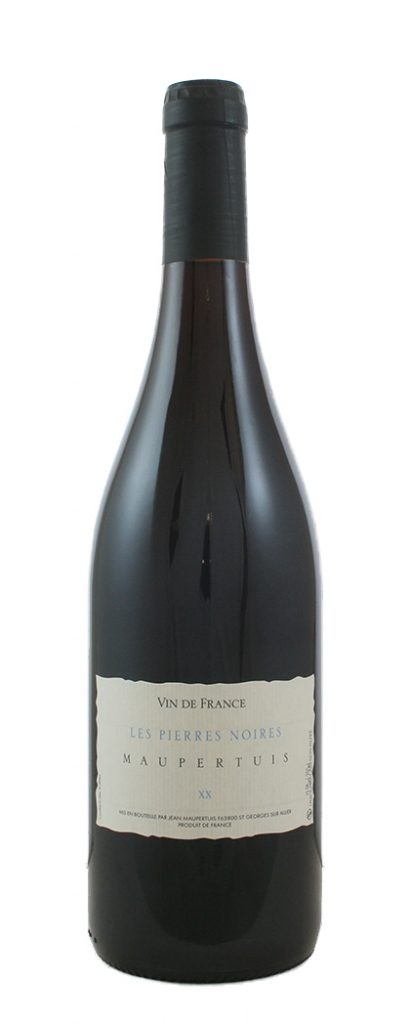 The Key Wines:
Chardonnay Puy Long
Gamay La Plage
Gamay Pierres Noires
Pinot Noir Neyrou
VdF Pink Bulles
Food match: The pink Pet Nat as an aperitif or with fresh fruit desserts, the Chardonnay with river trout or wild salmon, the reds with charcuterie or grilled meats.
Philosophy: Respecting the unique terroirs of this part of the Auvergne through chemical-free farming and winemaking.
Interested in trying the wines of Domaine Maupertuis? Contact us directly:
shop@lescaves.co.uk |  sales@lescaves.co.uk |
01483 538820