Too much and too little wine. Give him none, he cannot find truth; give him too much, the same. 
—Blaise Pascal (born in Clermont-Ferrand)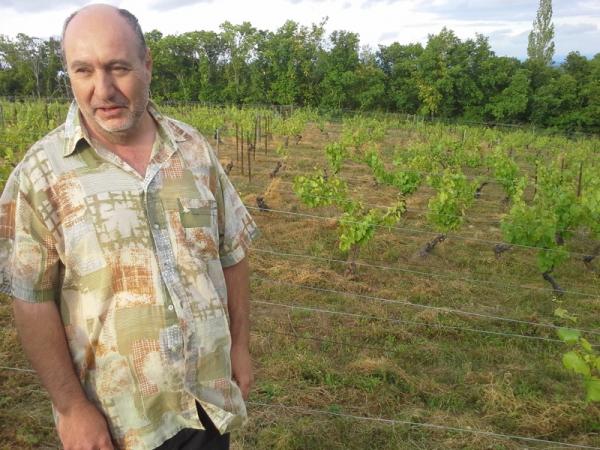 Jean Maupertuis tends 3.8 hectares of vines in the commune of Saint-Georges-sur-Allier and La Roche Noir in Auvergne. He works principally with a local version of Gamay referred to as "Gamay d'Auvergne", but also owns a little bit of Chardonnay, Pinot Noir and a tiny amount of Noirfleurien, an ancient local varietal found only in his neighboring village of Mirefleurs. Most of his vines are on the venerable side, ranging from 40 to 100 + years.
Jean doesn't use chemical fertilizers, insecticides or herbicides in the vineyard, preferring to work his soils and develop their indigenous microflora. Everything is hand harvested and manually sorted before reaching the cellar. Most of Jean's wines are vinified through carbonic maceration, which permits him to avoid adding sulphur at bottling.
Setting up such an undertaking in Auvergne was an uphill battle at first. The wines of this region were completely unknown and on the verge of disappearing.
As mentioned he is based in Saint-Georges-sur-Allier, about 15km south-west of Clermont-Ferrand. In 1995, he took over 3.5 hectares of vines from of a pre-existing estate. For a short period, Jean formed a groupement agricole et commercial with two partners, which was called Domaine de Peyra. This enterprise did not work, and over the years, he acquired a small parcel of Chardonnay called Puy Long, and in 2011 doubled his holdings with two new parcels in the commune of Riom: 1.8 hectares of Gamay planted on sand (La Plage) and 1.5 hectares of Pinot Noir planted on marl (Neyrou).
A former computer scientist, Jean always loved wine, and to that end he bought a small parcel for fun in 1992, before finally leaving his job to study oenology in Macon. Jean was drawn to natural wine through Marcel Lapierre, although it took some time for him to familiarise himself with this approach to winemaking. He then visited Pierre Overnoy and Jean Thevenet and decided he wanted to emulate them. Setting up such an undertaking in Auvergne was certainly an uphill battle at first. The wines of this region were completely unknown and on the verge of disappearing.
Although the 20th century marked a sharp decline in viticulture here, the Auvergne was once one of the biggest and most important wine producing regions in France. Wine was produced from the Middle Ages onwards and was extremely popular in Paris (as it is again!): they were wines of royalty, and Louis XVI was reportedly a big fan of the wines of Madargues. By the 17th and 18th century, many of the best slopes had been planted with vines. By the 19th century, the department of the Puy-de-Dôme was the third largest wine producer in France, just behind L'Hérault and L'Aude. The beginning of the decline was as a direct result of phylloxera. Local farmers started planting vines all over the plains, which were much less suitable terroirs for quality wine. And because of increased demand for wine, high yields were emphasized to produce as much as possible. Auvergne had very quickly become a producer of bulk wine and when phylloxera did eventually make it to Auvergne at the beginning of the 20th century, it was followed almost immediately by World War 1, the viticultural momentum had been completely lost, and there was no consequent effort to replant more vines in the area.
After phylloxera, Gamay became the dominant grape for all replanting, but this Gamay is decidedly more rustic and late-blooming, with a noticeable peppery-spice quality. The geological landscape of the region is extremely varied with different soil compositions. Not only does one have granite, clay and limestone, marl and sand, but the shift in soil types can often be seen every few hundred metres. This is largely due to the volcanic eruptions of the past which spread the material around.
When Jean took over the vines in Saint-Georges they were in good shape and it was easy to farm organically. They were already between 30 and 60 years old, and the prior owner only used a very light and rare amount of herbicide on the rows. Each year he works the soils of every other row, and let grass grow free in the other. This helps reduce vigour of the vines.
The wines are labelled Vin de France. They used to be Côtes d'Auvergne VDQS label for a long time but mounting pressures from the cave co-operative and certain vignerons, specifically their aversion to unfiltered wines, forced Jean to change his labelling.
His winemaking is simple and involves handpicking of the grapes in 20kg boxes which are emptied into cement vats and covered with CO2 while waiting for the start of the fermentation which is spontaneous. The maceration is technically semi-carbonic as Jean leaves the juice that flows naturally into the bottom of the vat. Then he doesn't touch anything (no pump-overs) and the grapes stay like this for around three weeks. The temperature of the grapes and the must is cool – the grapes themselves are normally harvested in October.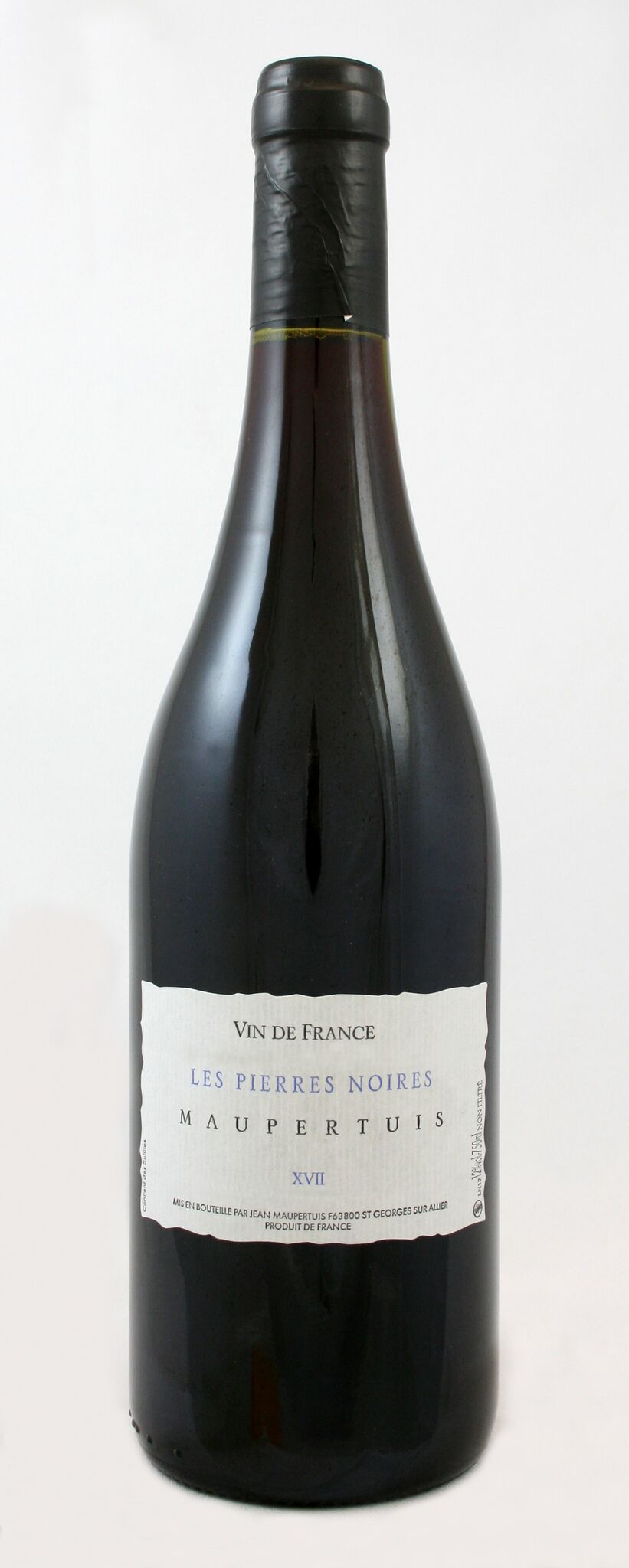 Les Pierre Noires is made from the 80 to 100-year-old Gamay (with a soupçon of Noirfleurien) vines grown on volcanic soil on a high-altitude slope (450 + metres). 'Les Pierre Noires', meaning black stones, refers to the black volcanic (basaltic) soil found in the vineyard. A touch of the barnyard when the wine is first opened combined with some floral notes. This dissipates quickly but leaves behind a topsoil smell that accompanies the raspberry notes. Sour cherry and pomegranate seed flavours mingle with earthiness too. The finish is peppery, savoury and more than a touch smoky. A remarkable living mountain Gamay. a Gamay as nature intended, organic, unfiltered and unsulphured, as prickly as a hedgehog with ants in his pants, a dark pickled damson strut across the tongue, and you should drink it with alacrity from a pot Lyonnais with some tripoux or "Truffade", a baked mixture of sliced potatoes and Tome de Cantal cheese.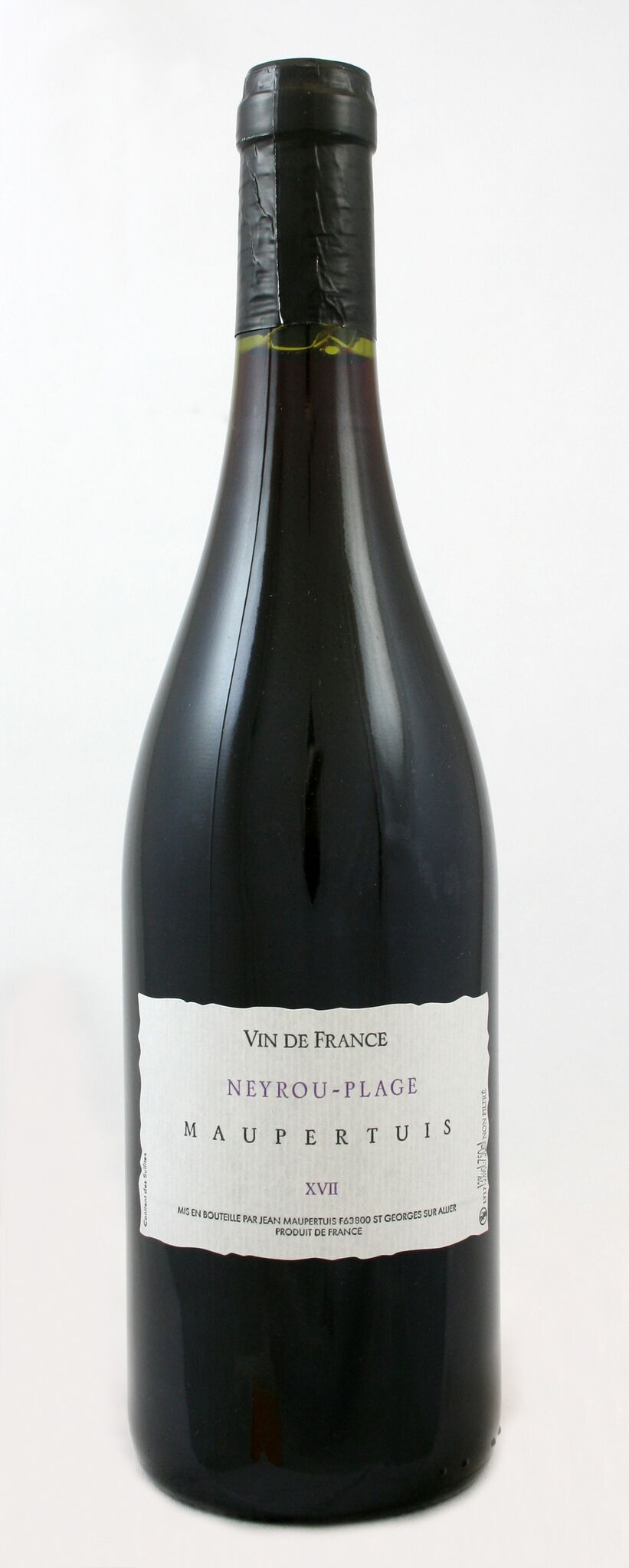 Neyrou is 100% Pinot Noir from a vineyard, where the composition of soil changes dramatically from sand to clay. Auvergne landscape is bipolar, interposing hills of extinct volcanoes and risen ancient sea-bed of limestone. The vines are trained en lyre – double trellis with empty space in the middle, which looks like an ancient harp. It is a traditional trellising that concentrates grapes but requires additional hands-on work. Mechanical work is impossible with en lyre.
La Plage is 100% Auvergne Gamay. This is a relatively new cuvée from the Madargues Cru in Riom. La Plage, meaning "the beach", is completely sandy on top with limestone underneath. The vines are also trained en lyre. In 2017 the grapes from these vineyards were blended. The result – a wine with bright red sappy fruit and crunchiness.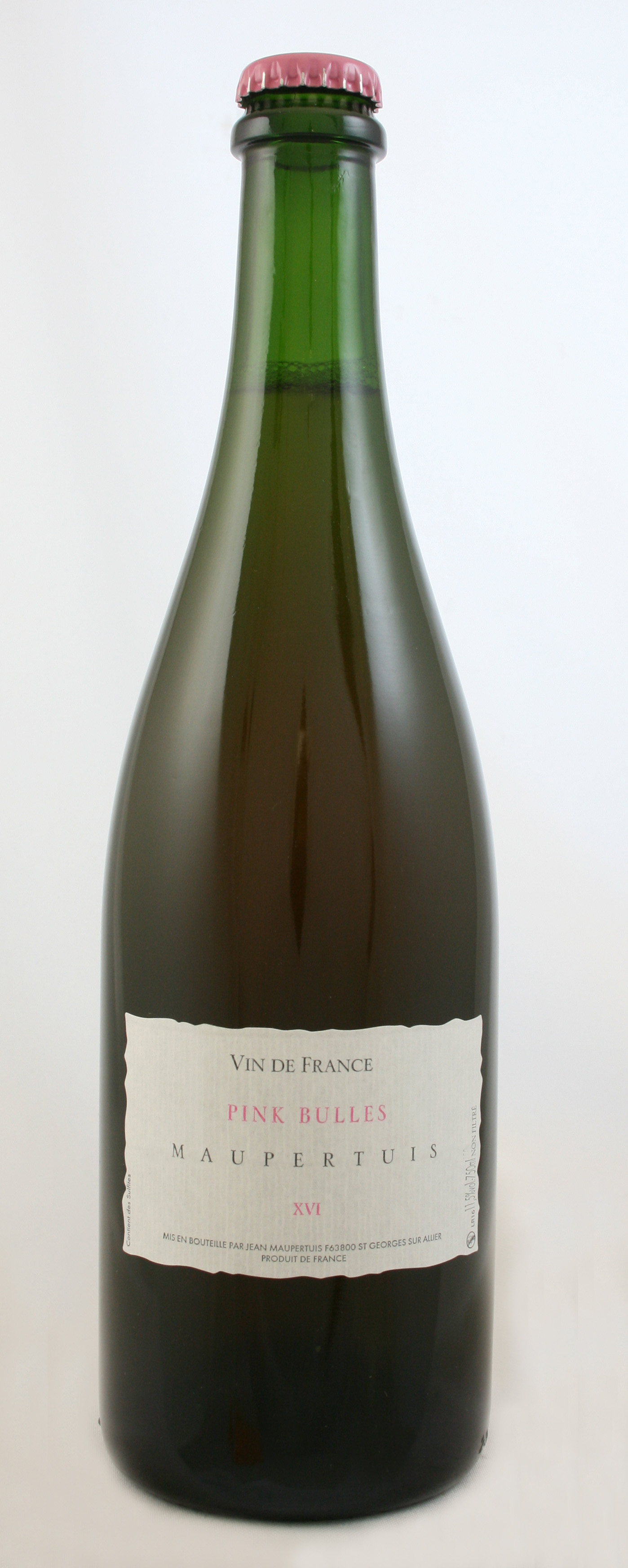 Then there is Maupertuis Pink Bulles – this Auvergnat (pun intended) hails from the bullseye of France, where the Loire bubbles up, so to speak. All grapes lead to Gamay here, and this is a pale, pert frothsome pink with nice freshness and a touch of residual sugar. We fondly recall the 09 version of this wine which triple fermented in the winery. The alcoholic fermentation lasts eight days – only wild yeasts are used. Temperature is 15°-20°, then it is reduced to 6°-7° to stop the process. Bottling takes place before the first fermentation has finished. Fermentation (now in bottle) is started up again and ends at a temperature of at 10°-12°. The bottles spend some weeks on the 'pupitre' (rack in which the bottles are turned regularly) in order to bring the deposit to the neck of the bottle. Degorgement is manual.
Dare we say that this wine has vulcanicity? We daren't.
If that isn't natural enough, there is no malolactic, no filtering, no fining and no sulphur. Dare we say that this wine has vulcanicity? We daren't. Pink grapefruit colour, initial aromas of barley sugar, mango and peach skin, sweet and sour flavours on the palate, nice notes of astringency and crushed minerals on the finish.