This is a series profiling the producers on our list who make natural wines. Within this series I will be highlighting some of the extraordinary and rare bottles and vintages that have helped to shape our appreciation of natural wines over the years. Previous posts from our 100 Great Natural Wines series:
Champagne
The sparkling wines of champagne are made by the traditional method and one could argue whether or not this is a natural process. Within this style, however, there are markedly different approaches, and the small artisan producers farm their vines organically or biodynamically with the intention of harvesting the healthiest, best quality grapes possible.
The wines, whether they are non-vintage or vintage, are always of a single year – no need for reserve wine to give the product depth or long lees ageing to soften the acidity. They are either extra brut or brut nature, the ripeness and richness of the fruit is all they need. They taste less autolytic and more mineral and structured; the bubbles tend to softer and the terroir more apparent. These are great gastronomic wines from the Champagne region, deserve to be mulled over and consumed from a proper wine glass.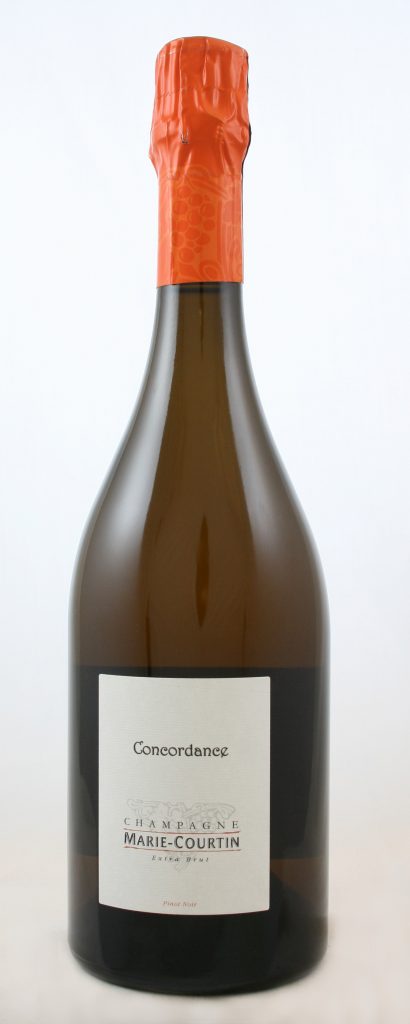 CONCORDANCE EXTRA BRUT
Marie-Courtin
Champagne Marie Courtin is located in the village of Polisot in the Côte des Bars, in the southern part of the Champagne region. With its slightly warmer temperatures, this area is particularly prized for its Pinot Noir grapes. Combined with the Kimmeridgean limestone subsoils, the champagnes retain a freshness similar to Chablis, which is actually closer to Polisot than Reims! In fact, many of the Grand Marques source their Pinot Noir from the Côte des Bars because of this unique combination of texture and delineation that the sub-zone provides.
Dominique Moreau created the estate in 2005 with a vision to produce a series of single-vineyard, single varietal, single vintage Champagnes from biodynamically-grown grapes (Demeter-certified since 2010) that are farmed and elaborated with meticulous care. This philosophy is in stark contrast with the predominant mindset in Champagne which is all about blending grapes, vineyards and vintages (for a consistent product), and with a tendency towards very high yields and full-on chemical treatments.
Dominique named her estate after her grandmother, Marie Courtin, whom she describes as a "woman of the earth". Most of her wines come from a hillside vineyard of 40-45-year-old and are massale-selection Pinot Noir in Polisot (located the next town over from Celles-sur-Ource, where Aurélien Gerbais lives and works). The combination of low yields, clay-limestone soils (with bands of Kimmeridgian) and an east/southeast exposure gives the wines both power and cut, with an intense brininess and minerality at their core.
The estate makes several cuvées, the largest of which are called "Résonance" and "Efflorescence", the former fermented in stainless steel, the latter in used barriques. The grapes for Efflorescence tend to come from the bottom of the hill, which she says "has greater power and potential". At harvest, the grapes are all harvested by hand. The wines are fermented with natural yeasts that have been selected from their vineyards and cultivated separately. These native yeasts are used for both the primary and secondary fermentations. Lastly, there is no dosage added upon disgorgement.
The style of all her wines is super-energetic and chiselled, though with an underlying power from both her viticultural practices and the terroirs and varietals that she exploits.
These are spectacular wines at the table as they combine multiple vectors of complexity, power and delineation that all play off each other depending on the dishes they are served with.
Along with Dominique's intense dedication to the care of her vineyards and her winemaking, she also embraces a spiritual philosophy in her production and viticulture. In one particular technique, she uses pendulums (often used in energy healing practices) in both the vineyard and cellar to aid in evaluating both the evolution of the grapes on the vine as well as the wine during élévage. She explains that the pendulum changes its natural rhythm and swing based on the energy emitted from a living being, whether person, vineyard, or wine.
The names of the wines carry spiritual significance for Dominique as well. "Résonance" refers to the balancing energies of earth and sky that affect the creation of a wine from its surrounding terroir. For Dominique, "Efflorescence" refers to "something that evolves in perpetuity". Starting with the evolution encouraged by the small oxygen exchange in barrel, she feels that this wine in particular will show a very different face at each stage of its development in bottle. She recommends that both wines be served in traditional white wine glasses to allow for their development through increased aeration.
Concordance is 100% Pinot Noir. And you could almost decant this because if ever a fizz was a fully-fledged golden textural wine then this is it. Harvest is from massale selection vines of 50 years from a single, 2.5-hectare parcel from top of the hill where the fruit is ripest. Fermented and aged in neutral wood without any sulphur used. Yeasts cultivated from estate vines are used for both primary and secondary fermentations. Malolactic occurs naturally. Bottled after three years on the lees without the addition of sulphur and a no dosage disgorgement. This no-sulphur cuvée is only made in certain years when Dominique deems the fruit impeccable enough.
Hence the name "Concordance" – everything must be in perfect alignment for this cuvée to come about.
The bouquet offers up a fine blend of apple, tart orange, warm biscuits, lovely minerality and a gentle top note of yeastiness. The wine is deep, full-bodied and quite complex on the palate, with pinpoint bubbles, crisp acids and lovely mineral drive resulting in a long and zesty finish. Notes of apricot, orange peel, chamomile, smoke and a host of yellow orchard fruit flavours. Having said that, the wine never shows the same two times in a row.
Why we love it: This is as near as champagne gets to meditation wine. A gastronomic wine that speaks of its origin, a stunning example of natural Pinot Noir.
If you like this: Allégeance, a Pinot Noir from massale-vines with two days of maceration and disgorged after five years, has a shiny orange-bronze colour and a remarkable density and purity of flavour.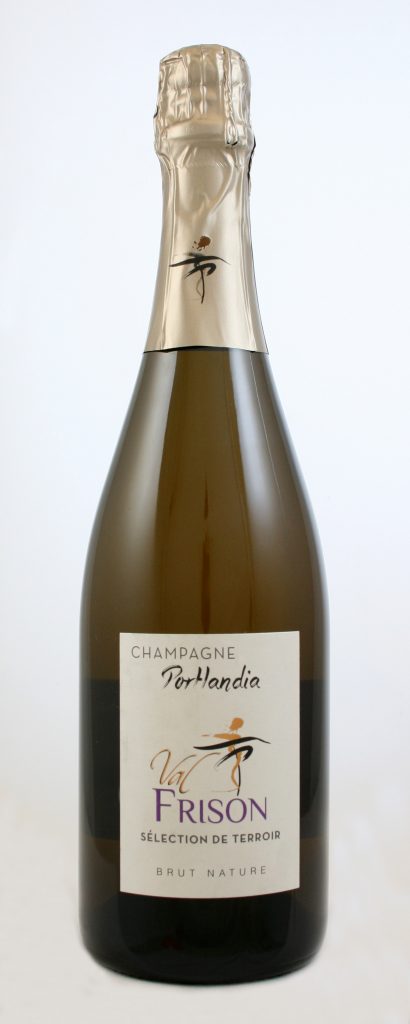 PORTLANDIA BLANC DE NOIRS BRUT NATURE
Val Frison
South of Reims and Epernay one comes to the Aube, where so many of the best small artisan growers plough their furrows and ply their trade. The champagnes from this region tend to be more vinous, and worthier to be released earlier.
The operation is run by Valerie herself, taking on occasional workers to help depending on the time of year. Her family have grown grapes here for generations, initially relying on the whims of négociants before her grandfather set up a co-operative to ensure the local grapes would be sold. Her sister is now the chair of that co-operative, and Valerie and her then-husband continued to sell their grapes through it, alongside teaching oenology, until their decision to start farming organically meant taking control of the rest of the winemaking process and selling under their own label.
Valerie lives in the small village of Ville-sur-Arce and the three parcels of vines she owns, across one hectare in total, are close by. This part of Champagne is not far at all from Chablis, and much of Valerie's vineyard shares the Kimmeridgian soil famous in that region. Some parcels here express more fruit, some reveal greater minerality. The parcels are vinified separately and blended to create the balance that she believes shows the wines at their best. Grapes and vintages are not currently blended, however: the two main cuvees are the 100% Chardonnay, 'Lalore', and the 100% Pinot Noir, Goustan – both Brut Nature with zero dosage.
This is only the second edition of this cuvée, one grown on Portlandian limestone with a high proportion of chalk and lots of small white stones. Composed of 75 % Pinot Noir 25 % Chardonnay (The vines are co-planted in this plot, so are picked, crushed and vinified together), the grapes are pressed, before fermenting and ageing in old oak barrels from Chablis. After the second fermentation, the wine is left on the lees 24 months before disgorgement.
This is an exquisite racy wine as befits a wine that originates from limestone soils. Bread and caramelised pears on nose. Palate full of citrus, sour apples and hint of butter.
Things to drink when you're in Portland. And elsewhere
Why we love it: The Pinot and the Chardonnay working in concert – minerals and intense chalkiness combined with laser-like acidity.
If you like this: Lalore Blanc de Blancs is sourced from two vineyard parcels of different exposures in Les Cotannes whose soils are made up of Portlandian limestone. Fermented in used Chablis barrels, it spends approximately 24 months before bottling without dosage. Beautiful texture and fine bubbles reveal a herbal palate that reminds one of wild rocket. The terroir inflection is reminiscent of superior white Burgundy.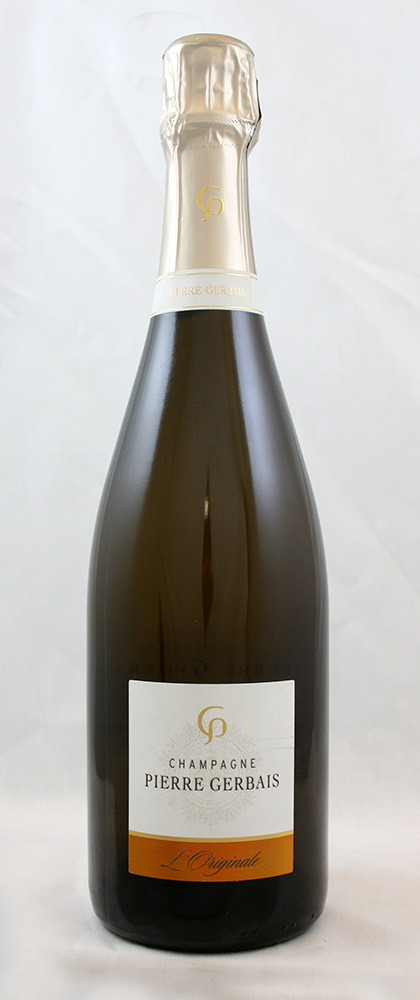 L'ORIGINALE
Champagne Pierre Gerbais
Champagne Pierre Gerbais is a fourth generation domaine in the Aube. It is spearheaded today by the youthful Aurélien Gerbais, a winemaker who is unnervingly self- assured for his age, yet soft-spoken and humble. At Gerbais there are old vines, organic vineyard management, intelligence, respect, passion, relevance, training and drive enough to take this house to the very top of a small band of visionary champagne makers in the Aube who include Aurélien's friend and neighbour Cédric Bouchard, and the small houses of Marie-Courtin, Jacques Lassaigne, Ulysse Collin, Horiot, Vouette et Sorbée, etc.
Many of the vineyards in the Aube were planted after WWII when a steep and sudden rise in champagne sales required an increase in the production of grapes. With vineyards the Aubois found a modicum of affluence, and with the affluence they found luxury trappings. Not Aurélien's grandfather Pierre who was so enamoured with the terroir of Celles-sur-Ource that he just kept on buying vineyards. It is in most part thanks to him that the Gerbais family now owns 18 hectares, 10 hectares of Pinot Noir, 4 hectares of Chardonnay, and a rarity, 4 hectares of Pinot Blanc (Vrai), including some centenarian vines.
Located in Celles-sur-Ource in the Cote des Bars in southern Champagne, the vines are planted on the sun-drenched slopes of the valley of the River Ource on the Kimmeridgean soils of clay and limestone with fossilised shells (exogyra virgula), the same soil type as one sees in Chablis. Indeed. this region seems closer to the Burgundy in respect to geography, geology and even philosophy. The domaine is certified by Ampelos – the farming is chemical-free and sustainable.
L'Originale is from a combination of Pinot Blanc Vrai vineyards, but predominantly one which is 110 years old, called "Les Proles"
Aged on the lees for 36 months and with a low dosage (3-4 g), this is a stunning wine with white fleshed fruit and depth of flavour from old vines. The wine opens with a refreshing but deep and intense apple fruit on the nose. Pure, straight and fresh on the palate, this is a very mineral and refreshing Champagne of great finesse.
Why we love it: These venerable Pinot Blanc vines bequeath a kind of buttery minerality to this wine that is almost unique.
If you like this: Gerbais' L'Audace Brut Nature is 100% unsulphured Pinot Noir from a vineyard planted in 1960. These vines are always the last to be harvested. opens pure, deep, fresh and mineral on the nose, and indicates a remarkable complexity of flavours. Full-bodied, very pure and salty on the palate, this is a refreshing and very persistent Pinot with a great purity and tension.
To be continued…
*
Interested in finding more about the wines mentioned? Contact us directly:
shop@lescaves.co.uk |  sales@lescaves.co.uk | 01483 538820