This is a series profiling the producers on our list who make natural wines. Within this series I will be highlighting some of the extraordinary and rare bottles and vintages that have helped to shape our appreciation of natural wines over the years. Previous posts from our 100 Great Natural Wines series:
Beaujolais
In July 1395, the Duke of Burgundy, Philippe the Bold, outlawed the cultivation of Gamay as being "a very bad and disloyal plant" (a very Trump-esque sounding pronouncement) due in part to the variety occupying land that could be used for the more "elegant" Pinot Noir. 60 years later, Philippe the Good, issued another edict against Gamay in which he stated the reasoning for the ban is that "The Dukes of Burgundy are known as the lords of the best wines in Christendom. We will maintain our reputation". The edicts had the effect of pushing Gamay plantings southward, out of the main region of Burgundy and into the granite-based soils of Beaujolais where the grape thrived.
Fast forward in time. Gamay came a special over-cropper during the mass-production of Beaujolais Nouveau in the 1970s & 1980s. The outcome? Yeast-cultured, sulphur-heavy bubblegum juice with that bore little relation to wine and consequently badly undermined the reputation of the entire region. Growers such as Marcel Lapierre, Jean Foillard and George Descombes understood the true nature and potential of the grape, and began to make better wines accordingly, and they in turn influenced a whole new generation.
Beaujolais. Beau-jolle-lais! Roll those syllables around the mouth, because in this region we find the origins of the modern natural wine movement.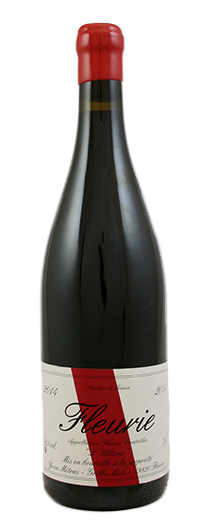 FLEURIE ULTIME 
Yvon Metras
Perched at the top of La Madone, whisper it not, are some of the vines that make the Yvon Metras Fleuries. Like Voldemort we do not dare say their names (oops, already done so). These are wonderfully pure, but difficult-to-know wines. And even more difficult to buy. We will bathe in their symbolic glory.
1988 was the first vintage vinified by Yvon Métras at a family domaine run by generations of winemakers. He withdrew from the cooperative winery to join the gang of Jules Chauvet's followers, whose "leader" was Marcel Lapierre. The way the 5-hectare vineyard is cultivated is the same as that of the other disciples: no chemicals, ploughing, severe pruning, low yields and exceptional terroirs with iconic parcels like "Grille Midi" or "La Madonne". It's from these parcels that he sometimes vinifies the "Ultime cuvée", a wine that greatly contributed to his reputation as a top winemaker. Needless to say, the perfectly ripe grapes are hand-picked and vinified with whole bunches before undergoing semi-carbonic maceration. This older vine Fleurie has stones for bones, gripping granitic minerality that chisels the straightest of lines across the tongue. And the merest suggestion of cherrystones and gooseberries. Don't expect any change from this wine unless you serve it from the carafe.
Ultime is the supernaculum from 120 + year old vines, a wine that needs to tarry awhile in the Seven Sleeper's Den before you take your date with density (sic). Sometimes, to paraphrase Nicolas Joly, it is more important to be true than to be beautiful. Or to be nice. Or to be understood. The challenge of challenging wines is to find the right moment when their granite physiognomy cracks (a little), to have patience and allow the wine to come to you.
Ultime is like reaching the summit of a mountain, expecting jaw-dropping views and finding the panorama shrouded in mist and cloud. And then, one time, for a few instants, the mist melts and all is revealed.
Metras' wines are always in their own time and place. The Beaujolais are charming, but are as fine as the wines of Fleurie. The Moulin-à-Vent is enchanting, arguably the most approachable of the cuvées. The old vines Fleurie, simply called Fleurie, has yielded innumerable epiphanies, somehow balancing discreet floral aromatics with a spine of rocky intensity.
Why we love it: A wine that is entirely wrapped around itself. It will only emerge in its own time; it cannot be coaxed. One must have patience. But the rewards are great.
If you like this: Bojo is natch the go-to region for 50 shades of glou. Most of our growers are trying to achieve a style that is more than solo-varietal Gamay per se. Over the years, with the many changes of ownership the Cambon vineyard had fallen into disrepair until Marcel Lapierre and Jean-Claude Chanudet decided to purchase it in 1995 and began the daunting job of restoring the estate to a working winery and vineyard. The chateau is now owned and administered by Marcel's wife, Marie, and son, Mathieu, in association with Jean-Claude Chanudet. It comprises 13 hectares of Gamay vines located mainly in Morgon as well as a small parcel in Cotes du Py. The average age of the vines is 60 years.
This may be called Beaujolais, but sports more serious raiment of a cru wine. Aromas of cherry, raspberry and slightly creamy blackcurrant. The palate is velvety and meaty, yet fresh with cherries, redcurrants and raspberries notes, hints of dried herbs and balanced acidity.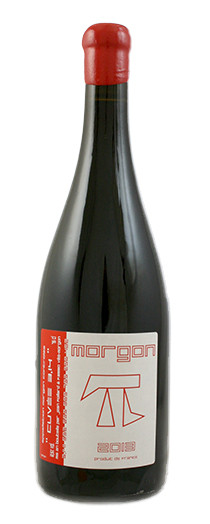 MORGON 3.14 
Domaine Foillard
The fabled Côte du Py is a climate of the Morgon appellation where the vineyards grow on slopes with crumbly schists soil that give Gamay a unique expression. The hill is actually an extinct volcano, with lots of different types of soils depending of the plots. If the appellation of Morgon is known for one thing, it would have to be the soil. Crumbling granite and ancient schist are trademarks of the regions soil, even sandstone makes an appearance to enhance vines with a perfumed edge.
Jean Foillard and is universally recognised as one of the very best Beaujolais producers, and is/was one of the band of four of Morgon with Guy Breton, Jean-Paul Thevenet and the late Marcel Lapierre, who are all disciples and practitioners of the works of Jules Chauvet on non-sulphured vinification. Jean met Jules Chauvet early in his career and became an unofficial member of "La Bande a Marcel". Chauvet's mantra was that winemaking should be a natural process. He felt that great winemaking started in the vineyard with vigorous canopy management, absolutely no use of chemicals on the vines, low or no use of sulphur etc. To Jean, this all made sense and he's remained true to these philosophies ever since.
Jean makes his Morgon Côte du Py every year. It is a wine that truly reflects the vintage, dark and powerful in hotter years, restrained and elegant in the cooler ones, always worthy of ageing. In exceptional vintages, he makes a wine called ? (or 3.14) from a tiny plot of the oldest vines.
The soil is primarily granitic, but one particular feature here is the famed roche pourrie – or "rotted rock" – a layer of disintegrating underlying schistous rock, containing iron oxide and trace elements including of particular significance manganese, which help to contribute to the particular characteristics of Morgon wines. The sector between the villages of Villié-Morgon and Bas-Morgon contains the famed Mont-du-Py, from where come the very best Morgon wines. These have such an individual bouquet that the French have invented a word to describe it -morgonner.
These granite and schist soils sit on an alluvial fan at the highest point above the town and impart great complexity.
The estate comprises nearly fourteen hectares. Foillard's Morgons are usually deep, structured, and complex, with a velvety lushness that makes them irresistible when young despite their aging potential. Jean raises his wines in older barrels sourced from top estates in Burgundy, a logical decision for someone crafting Gamay in a Burgundian style.
It is the passion and dedication of vignerons like this that have brought pride back to the crus of the Beaujolais.
3.14 is whole-cluster fermented from a vineyard planted on schist and granite soils at which is over 100 years old. High up on the slopes this is the pie in the sky, or the Py in the ski. So rare and sought after is this wine, that allocations are strict. Everyone receives precisely 22/7 bottles, also known as a slice of pi.
Why we love it: It has an aerial intensity and a brilliant perfume that is shocking for Morgon.
If you like this: Julien Guillot's Beaujolais-Villages "Les Pierres Bleues" originates from a parcel of red clay over limestone, the soils also comprising dark blue metamorphic rock. The blue stones originate from a geological fault-line that stretches from the southern part of Beaujolais, close to Lyon, and runs up to Côte de Py. The vines are 100 years old. The warm 2015 vintage posed problems for many growers in the Beaujolais and Burgundy regions, resulting in countless jammy, alcoholic wines. Julien has a beautiful touch; he captures the power of the vintage, the minerality of old vines Gamay and the intensity provided by stony nature of this particular parcel of vines and allows them to flourish in the framework of natural winemaking. The wine has superb energy and coiled power, and ideally, you would sit on it for ten years. Out-pying the Py.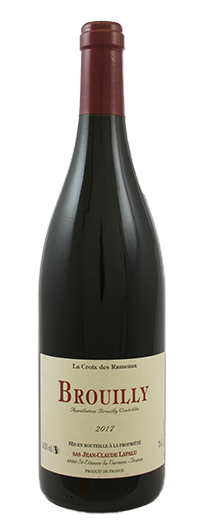 LA CROIX DES RAMEAUX 
Jean-Claude Lapalu
Jean-Claude Lapalu is a third-generation winemaker but only began his own domaine in 1996. Previously, his family had been grape growers selling to the local cooperative. He didn't have a clear idea of the wines he wanted to make at that stage, only an idea of the wines he didn't want to make. It took him 5 or 6 years to dispense the additives and interventions he'd learned about at the wine school he attended in Charentay. In total he owns around 12 hectares of vines in total, most of which are old (60–80 years), and which are farmed organically and is now into official conversion to biodynamics.
I've always thought of Brouilly as one quaff away from straight Beau Jolly, in other words red wine red lolly. With Jean-Claude Lapalu's wine you can detect the fists behind the fruit. Here is one of the new crew of sternly-made rock steady cru Beaujolais.
La Croix des Rameaux is a tiny single exposed parcel at altitude of 80-year-old vines planted on 30-40cm of granite sand over a granite and schist base, where the respective terroirs of Brouilly and Cote de Brouilly collide. Minimal intervention in the vineyards allows the grapes to express their full potential and create wines that are truly expressive of their terroir.
Grapes are hand-picked and sorted, loaded by conveyor to avoid damage, and given neither SO2 nor cultured yeasts during the fermentation. During the 10-20-day maceration a wooden grill is used to enhance extraction. is the combination of two cuvées, one made by carbonic maceration, the other a traditional vinification with destemmed grapes, (Jean-Claude only uses indigenous yeasts and doesn't use any sulphur during vinification) The two cuvées are then assembled after their malolactic fermentation and spend the winter in stainless steel tanks. There is weight, but no heaviness. The dark red fruits on the nose and palate can't disguise a probing minerality; if ever granite was translated into liquid this is the case.
Jean-Claude's Brouilly Vieilles Vignes and Eau Forte (VDF) are worth the detour, both are lighter in colour.
Why we love it: Because it allows us to make fanciful comparisons such as Rhone meets Burgundy or Priorat meets Beaujolais. The wine is so wholesome, again managing to retain impressive old vines high-toned minerality with depth of fruit.
If you like this: Rémi Dufaitre is another star of the Beaujolais region and has spent a number of years working as a vineyard worker at estates run by vignerons making conventional, non-natural wines. However, during a stint working for his cousin Jean-Louis Dutraive, (the first natural wine-maker in Fleurie to go organic), he learned more and more about the natural approach and focused on learning as much as he could from the natural wine-making vignerons' that he met during this time. Rémi and his wife Laurence started purchasing their first hectares of vineyards around Brouilly in 2006 and their vineyards now comprise 11 hectares. Remi worked the soils according to organic principles right from the start but sold his grapes to the local coop until he felt the indigenous yeast population was healthy enough to make his own wine in the way he wanted. Beaujolais-Villages Prémices, from a parcel of old vines on granitic sandy soils, has lightness and elegance balanced with a healthy dose of minerality and complexity that, along with its beautiful bright fruit and mineral tension, makes this one for serious Gamay drinkers. His Brouilly is lovely and he makes one of the best Beaujolais Nouveau I have ever tried.
To be continued…
*
If this post has rendered you game for Gamay, why not contact us directly?
shop@lescaves.co.uk |  sales@lescaves.co.uk | 01483 538820*
*Note: We are still open for business, doing deliveries, and keen to help everyone with their booze needs in this difficult time. Natural wine lovers can visit our online shop and order online!