This is a series profiling the producers on our list who make natural wines. Within this series I will be highlighting some of the extraordinary and rare bottles and vintages that have helped to shape our appreciation of natural wines over the years. Previous posts from our 100 Great Natural Wines series:
South West France is an arbitrary designation. For our purposes it includes Bergerac, which is contiguous with Bordeaux and other proximate satellites on the Lot & Garonne such as Buzet and Duras, extends along the Atlantic through Gascony and the Landes eventually reaching the Pyrenean foothills of Jurançon, Béarn and Irouléguy. We also move inland along the rivers to Cahors, Marcillac and the Aveyron, and south east to Fronton and after that Gaillac. Despite the variety of climates and soils, grapes and traditions, the wines of this amorphous region have become increasingly homogenous, the winemakers seemingly looking to Bordeaux and modern techniques for their inspiration.
The natural wine culture also lags behind most of the rest of France; there is no critical mass of growers in any single appellation to drive this agenda.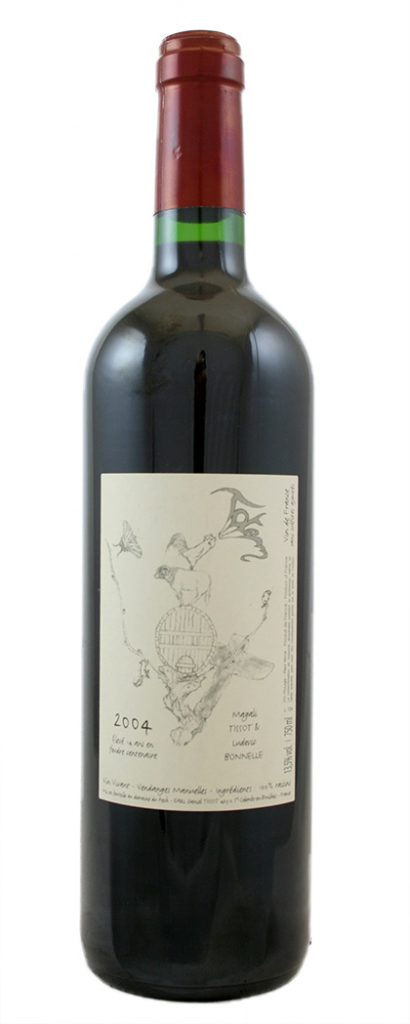 2004 'TOTEM' BUZET, DOMANIE DU PECH
Totem Poles Apart
And now for a blast from the past. Buzet Totem, Domaine du Pech 2004. The blend is 50% Merlot and an even split of the two Cabs, but this ain't no Bordeaux facsimile.
The estate was originally founded in 1978 by Daniel Tissot, son of a long-standing winemaking family in Jura. In 1997 the estate was taken over by his daughter Magali and her boyfriend Ludovic Bonnelle, he of the permanently windswept hair.
Domaine du Pech now comprises 17ha situated on the slopes of Sainte-Colombe-en-Bruilhois in the extreme south east of the appellation. The calcareous white gravels in this area have excellent drainage and the consequent reflection of light and accumulation of heat ensures optimal maturity for the grapes.
Whilst it is mature, Totem is not over the hill. The plums have evolved into prunes, there are secondary notes of leather and there is something of the tawny port to it, but no caramelisation to it, just sheer honest vitality.
In 2003, the all-important transition to converting the winery to biodynamics began, with initial reductions of doses of copper and sulphur and using medicinal plants to make preparations; this was also the year the first manual harvest took place. In 2005 the winery was certified biodynamic. Ludovic is proactive in the vineyard, tending the vines, removing leaves from the canopy to allow circulation of air. Horses are also used now to plough between the rows.
Winemaking is old school. The grapes are destemmed and foot-pressed in the traditional way. Totem has a 30-day cuvaison in wooden vat, an indigenous, ambient ferment, and then spends 14 years slumbering in a 200-year-old foudre, before being finally bottled without filtration, fining or sulphur added. So crazy that it works. A wine to bring a smile to the recently-retired Bob Parker's craggy visage.
Whilst it is mature, Totem is not over the hill. The plums have evolved into prunes, there are secondary notes of leather and there is something of the tawny port to it, but no caramelisation to it, just sheer honest vitality.
Le Pech Abuse is hewn from the same rustic cloth and sports a rustic mien. Ripe hedgerow fruit, meaty/umami back notes, a bold mouthful of spice and good natural acidity.
Why we love this: If classic Bordeaux took a wrong turning in its youth it would end up in this place. Which is a good place to be.
If you like this: Try its Bergerac alter ego, La Gloire de Mon Père, from Chateau Tour des Gendres. The De Conti family set the standard for organic farming in the 80s and early 90s, reanimating previous lifeless soils by means of systematic applications of tisanes and other plant-based remedies. Their different cuvées reveal a mixture of the new and old. The glou-ey La Vigne d'Albert, for example, references Albert de Conti, who in the 1960s always used grapes from this parcel to produce his own regular-home-drinking, 'vin de l'année' wine, which he vinified without sulphur. This wine is therefore an homage by the de Conti family to their grand-father, father and uncle respectively, by making a wine in exactly the same, natural way in which Albert made his wines, and in the fresh, fruity, low-in alcohol-style that he loved. La Gloire de Mon Père, conversely, is a smooth, elegant number sheathed in just the right amount of oak. It may not be what we would term a fully-fledged natural wine, but it is certainly a fine one.
Luc de Conti's close friend, Pascal Verhaeghe, has also assayed a natural wine at his domaine, Château du Cèdre, called Cahors Extra Libre. Made from 95% Malbec and 5% Merlot. The wine has bright fragrances of black fruits and spices as well as mint and green pepper. On the palate the tannins are light, giving freshness and it has a bold, blackberry-flavour character.

VIN D'AUTAN, DOMAINE PLAGEOLES
The late late harvest show
Tradition is not a return to an obsolete past, but rather the permanence of its origins through time —Frederik Tristan
Robert Plageoles believed in rediscovering what had been lost. Not for him the slavish adherence to global varietals; he grubbed up his plantings of Sauvignon and concentrated instead on the native Mauzac, in which he has found the potential for a whole range of styles. Mauzac, when dry (or sec tendre to be precise) can produce a fascinating soft style redolent of pears, white cherries and angelica; it is also responsible for sparkling wines (Mauzac Nature) and an array of others ranging from the off dry (Roux) to the unique piercingly-dry sherry-like Vin de Voile. This vin jaune style is made from the first pressing, which is fermented in old oak and returned to the same barrel where it remains for a further seven years, losing about 20% of volume. After a year the must develops a thin veil (voile) of mould which protects it from the air. The flavour is delicate, reminiscent of salt-dry amontillado, and it possesses the acidity to age half a century. This curious wine would go well with a soup of haricots beans laced with truffle oil or a Roquefort salad with wet walnuts.
The Vin d'Autan, on the other hand, is made in vintages when the grapes can shrivel and raisin in the warm autumn winds. The flagship of this domain, is made from Ondenc, a grape variety originally from the Tarn Valley and which had been widespread in the southwest region of France since the Middle Ages. Phylloxera, however, almost wiped it out. Dr. Guyot, who invented cane pruning (taille Guyot as it is called in France), used to say that Ondenc produced wines that could rival the best Sauternes. Robert Plageoles replanted almost five acres (2 ha) of it in 1985.
A wine of passion and tradition, of sheer concentration and also rare brilliance.
The Plageoles don't just stop there. They also perpetuate a way of working which was prevalent in Gaillac from the 12th to the 18th century. Robert, an avid reader of old manuscripts, has found writings on this type of work in some forgotten archives. While the way they prune the vines combines tradition and new methods (gobelet and trellising), when the grapes are ripe, the vintners go through the vineyards and pinch the peduncles to stop the sap from flowing to the fruits. The grapes then slowly dry out, thanks to the Autan wind, which blows from the southeast. Later they are carefully picked and left to desiccate even further on straw mats, with a method similar to the one used to make straw wines. After pressing, the grapes ferment and the elevage in concrete tanks lasts 12 months. Plageoles always refused to use wood barrels for the elevage, as they want to keep the purity of the fruit and the characteristics of the terroir.
Leaving the overripe grapes on the vine and the subsequent drying out of the fruits on straw mats dramatically reduce the yield. In 2001, for example, it was only 0.45 ton/acre (6hl/ha). "This is a climatological wine," says Plageoles, which explains why it is not always consistent in style. According to Paul Strang, Plageoles describes it as "a nul autre comparable, il est le vin du vent et de l'esprit." They order these things better in France (I wish I'd said that too)!
Why we love this: A wine of passion and tradition, of sheer concentration and also rare brilliance.
If you like this: Cut from the same desiccating nobility Jean-Bernard Larrieu's Jurançon Vent Balaguèr is a "wilderness of sweets" to quote the poet. Vent Balaguer means "southern wind" in Occitan. (the warm autumn wind that comes from Spain, up from behind the Pyrenees). For this cuvée Petit Manseng grapes are late-harvested and then put in trays to perfect the process of "passerillage". These trays are laid outside on the sun during the hot and sunny days and brought inside the winery in damp and rainy weather. Besides dehydrating, the grapes change in colour, turning from a golden-yellow to russet and brown. Their flavour also changes and hints of apricot, candied orange peel and medlar fruit appear. Intense, profound nose, returning to haunt one with its multiple nuances: wood, honeydew, apricot jam, confit of orange and lemon, Corinth raisins, blond tobacco and spiced bread. The mouth is lively, spicy with cooked fruits, also floral with superlative concentration. The tactile sensation is unctuous and rounded, giving the impression of biting into perfectly ripe grapes with poised citric notes. The vanillin flavours are integrated into a rich texture and enrobed by a truly noble acidity. The finish is long and harmonious with mirabelle plum, peach and apricot. This is an extraordinary wine with exquisite equilibrium that will last for decades.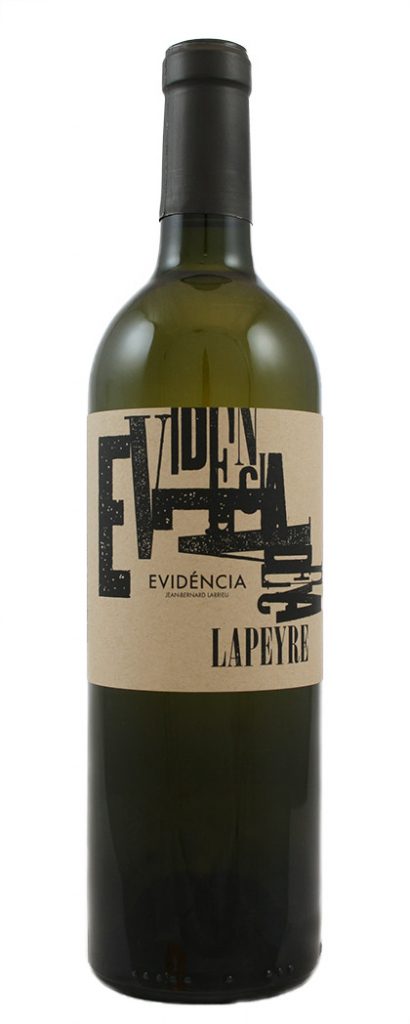 'EVIDENCIA', Clos LAPEYRE 
Natural eureka
There are truths on this side of the Pyrenees, which are falsehoods on the other. —Blaise Pascal
Jean-Bernard is the third generation of the Larrieu family to run this 17-hectare estate. Jean-Bernard's grandfather, Jean, bought the estate in 1920, and his son (Jean-Bernard's father, Marcel)), took over from him. Jean and Marcel ran the family estate using polyculture (vines, cattle and fruit, with their hillside-grown strawberries being, at one time, one of the principal sources of revenue for the family, vines were planted but the grapes used to be sold directly to the local cooperative, indeed the first vinification took place in the year 1985), which was the year in which Jean-Bernard decided to found the winemaking estate of 'Clos Lapeyre', after completing his studies in viticulture and winemaking.
A high diversity of sands, silts, limestone and clay form the variety of terroirs, as well as galets (pudding stones) which help grape-ripening by reflecting the heat of the sun back onto the vines. Jurançon has a long growing season from May to October with dry mild autumns.
Viticulture at Clos Lapeyre is now organic with some biodynamic practices. In total there are 18 hectares on very steep slopes, facing south. Working the soils in spring between the vines helps airflow and deep rooting.
As with the best dry Jurançon wines, this combines lucid tropical fruit flavours with a wonderful crystalline acidity.
Having made a variety of Jurançon wines – Jurancon sec from 100% Gros Manseng, and Jurançon, a Moelleux style from a late harvest version of the same, an old vines dry wine containing Petit Manseng and Courbu and Magendia (meaning the best in Occitan) from Petit Manseng harvested at the end of October/early November, Jean-Bernard started experimenting with more natural winemaking to produce an orange wine and now zero-sulphur cuvée called Evidençia (as in "Behold! I have done it.") From the Vitatge Viehl vineyard (planted with Gros & Petit Manseng plus some old Courbu), this is a selection of three of the best barrels which are naturally vinified, and bottled with zero sulphur added. Natural boxes ticked include indigenous yeasts, old oak ageing before assemblage, then three months in fibreglass tank before being bottled in January. Despite the rich spicy malo character and dry honey notes this has truly amazing acidity and crystalline citrus fruits. A natural wine to bring you to your Pyreknees.
Why we love this: As with the best dry Jurançon wines, this combines lucid tropical fruit flavours with a wonderful crystalline acidity. We also love this blend wherein the three grapes so perfectly complement each other.
If you like this: Try top of the Pyrenean pops Hegoxuri from Domaine Arretxea. Michel Riouspeyrous is a native Basque. He met his Alsatian future wife Thérèse while on a charity mission to Africa. On their return to France they got married and decided to start their own domaine by renting two hectares of vineyards. Domaine Arretxea was born in 1989. Arretxea (from the Basque arre meaning stone and xea house) is a small six-hectare domaine entirely planted on south-facing terraces in Irouléguy. Michel and Thérèse practise organic viticulture throughout their vineyard & use biodynamics in particular on the plot where they grow white grapes. The Hegoxuri, made from 50% Gros Manseng, 40% Petit Manseng & 10% Petit Courbu, is partially fermented in foudre, part in 600-litre demi-muid and part in stainless tank, is remarkable from its golden straw colour to its subtle nose where white flowers mingle harmoniously with extremely fresh exotic fruits.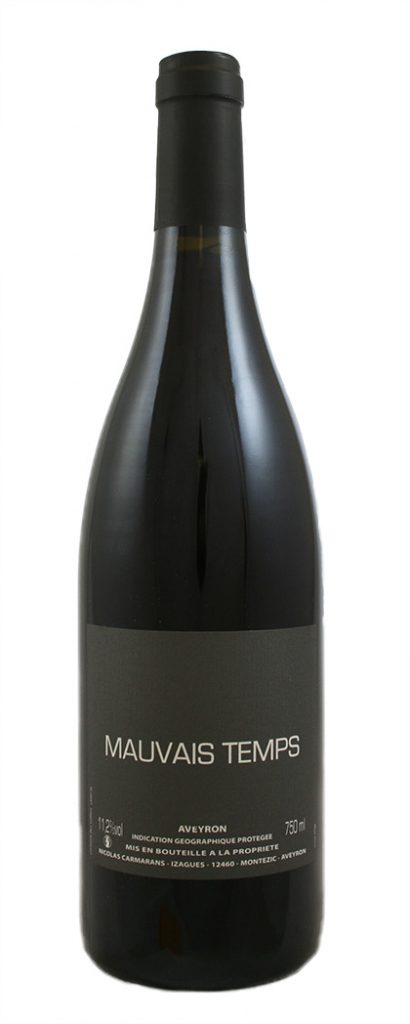 'MAUVAIS TEMPS', NICOLAS CARMARANS
Bad weather friend
Nicolas Carmarans is located in the Aveyron, South West France. Before he bought this vineyard in 2003, Nicolas was a wine merchant in the 5th arrondissement of Paris, selling natural wines. He then opened Café de Nouvelle Marie.
Mauvais Temps refers to the mountain on which the vineyards are located and refers to the fact that the weather is invariably bad. The vines are around forty-five years old and sit on slopes of granitic sand terraced with dry stone walling at an altitude of 500 metres above sea level with excellent exposure. The blend in this wine varies between 30-50% of Negret de Banhars (thought to be connected to Malbec), Fer Servadou – called Mansois in neighbouring Marcillac and known as Braucol in the textbooks – and the two Cabernets. This vineyard is precious in that it holds around 30% of the entire planting of the aforementioned Negret de Banhars. Grapes are harvested by hand, and placed in whole clusters in wooden barrels where they undergo a semi-carbonic maceration and then age for a further eight months in 3-5 year-old Burgundy barrels (care of Philippe Pacalet) before release. This is sappy to the nth degree, cool-climate red stone-fruit meeting stone, earth and herbs to vivid effect. A beautiful wine that comes from a wild and beautiful place.
A beautiful wine that comes from a wild and beautiful place.
Nico's other main red, Maximus, is natural minimalism in a glass. Scarcely venturing north of 11% it nevertheless sports brilliant purple raiment and positively billows with berry fruit. There is the usual graphite/slatey undertow and yeasty seasoning, but, like so many of Nico's wines it is a lipsmacker. After destemming the grapes are fermented in tank. Delightful red fruit flavours abound amidst the sturdiness of the wine; raspberries and cherries on top of a layer of cool stones and pungent medicinality. It has a sanguine quality that gets the pulses racing; it is good will amplified in a glass; it is the earth, water, grass and stones churned into a ruby-hued liquid; Keats's beaker of the warm-with-a-mitigating-cool-microclimate-south! I can almost feel the cholesterol dissolving now.
Why we love this: We sometimes downplay effortless drinkability as a noble virtue. The Mauvais Temps' simplicity is its virtue, simple purity, simple precision, simple thirst-quencher.
If you like this: Château Plaisance has been making reckonable wines in the Fronton region for years, from juicy gluggers to more profound terroir wines. Based in the village of Vacquiers in the south-eastern part of the appellation, the utterly jovial Marc Penavayre makes wines that are a sheer joy to drink. The vines are planted on the highest terrace of the Tarn at an altitude of about 200m. The soil is composed of alluvial deposits, essentially pebbles, gravel and silt. These deposits provide a check to the vine's vigour which is what is needed to produce quality grapes. A relatively recent addition to the wine portfolio is Serr da Beg, which in Breton means: "On se tait et on déguste". . . "let's just shut up and taste". Serr da Beg is pure Négrette sans soufre. The wine is dark, earthy, sanguine and very moreish, a sapid reminder of the virtues of south west French wines.
*
Interested in finding more about the wines mentioned? Contact us directly:
shop@lescaves.co.uk |  sales@lescaves.co.uk | 01483 538820
*Note: We are still open for business, doing deliveries, and keen to help everyone with their booze needs in this difficult time. Natural wine lovers can visit our online shop and order online!