This is a series profiling the producers on our list who make natural wines. Within this series I will be highlighting some of the extraordinary and rare bottles and vintages that have helped to shape our appreciation of natural wines over the years. Previous posts from our 100 Great Natural Wines series:
We're in Syrah country. No disrespect to the other local denizens such as Viognier, Marsanne and Roussanne. Hereabouts Dr Mistral cleanses the vines, which are often located on steep walled terraces. Granite sandy soils dominate and give a particular accent to the Syrah. The Northern Rhone is not a hotbed of biodynamics or natural winemaking; the growers mentioned below are the exception rather than the rule.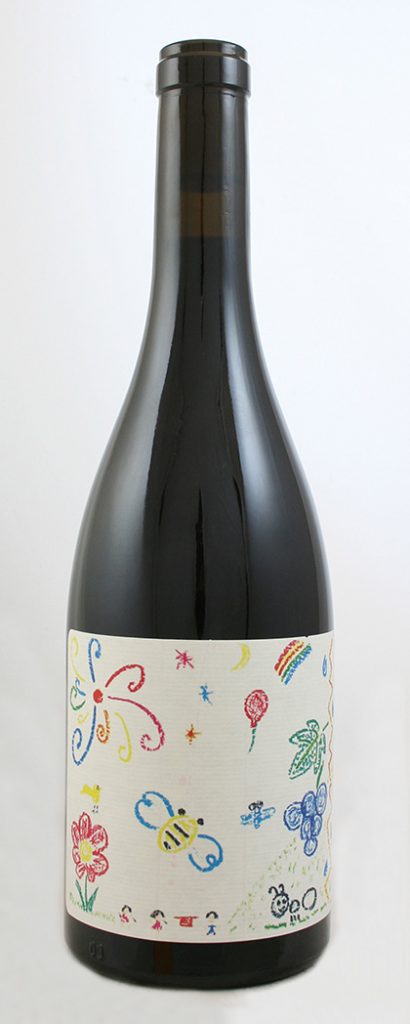 2015 CORNAS ~ HIROTAKE OOKA
Granity's Rainbow
Hirotake studied Chemistry and Biology at college in Japan, but decided midway through his studies that he wanted to make wine and consequently left home for oenology school in Bordeaux.
There he became enamoured with the wines of the Northern Rhône and upon graduation approached Thierry Allemand for a position, but none were available. He ended up working with winemaker Jean-Louis Grippat and when Grippat's vines were acquired by Guigal, worked his way up to manage the Hermitage and St Jo vineyards for Domaines Grippat and Vallouit, whilst simultaneously spending his weekends working with Allemand. He became increasingly convinced that wine should be made without additives. When a position opened in the early 2000's with Allemand, Hirotake left Guigal and purchased a few vines and a winery in the town of Saint-Peray and starting making various wines in tiny quantities under La Grande Colline label.
On all occasions I rolled every mineral atom of this dark purple liquid around my mouth ensuring that it visited each nook and cranny of my palate.
The Cornas was a youthful beast to put it mildly, but like so many great wines offered glimmers of charm underneath its nervous minerality and taut tannins.
The grapes for the wine were grown on decomposed granite soils and macerated in tank.  After the natural fermentation the juice spent 24 months in old barrels before bottling. On opening this wine initially tasted like dry granite scrapings with an afterthought of blackcurrant. Day two, mirabile dictu, it transmogrified into a sheer beauty, billowing bountifully from the glass, with floral-fruity aromas and lovely smoked blueberry fruit underpinned by crunchy acidity. This is a beautiful natural red, so precociously purple, interfusing sweet floral (violet, cherry-blossom) aromas with hedgerow fruits and herbs. There's also the characterful Syrah note of marinated purple olives, here a sweet note, there a bitter one and mineral salts in abundance. A young unmediated wine with the wisdom of centuries of terroir. Rarer than rare and we will never see its like again.
Hirotake also made a wine called Canon, a veritable baby combination of Syrah and Grenache from mica-schist and granite soils on a 2.5 ha plot. Winemaking involved whole grapes with a few days of carbonic maceration and punching down each day and 15 to 20 days of maceration in tank. The wine was then aged for 24 months in fibreglass tank sans filtration, fining and sulphur. Lots of blueberry fruit here and a touch of liquorice and thyme. One for the fridge. A delight.
Why we love this: The wines of Cornas are uncompromisingly rustic in their youth, but this offers glimpses of grace and aromatic detonations on first acquaintance, before unfolding its secrets.
If you like this: Cuvée Salto is an ebullient red from Hélène & Christophe Comte who farm biodynamically and make natural wines from a range of grape varieties from their 13 ha of vines in Valvignières in the Ardèche. The Salto has more than a flavour of the northern Rhône, being an intensely inky brilliant blend of Syrah, Viognier and Merlot, an elegant crush of flowers, berries and minerals.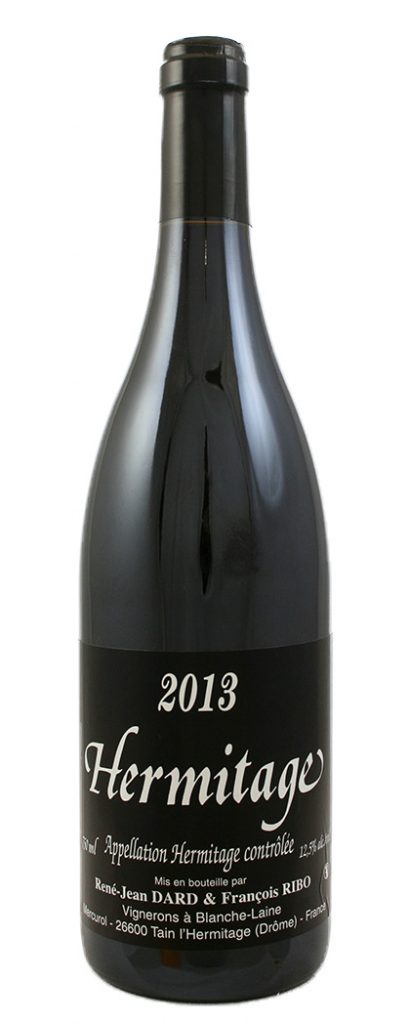 HERMITAGE ROUGE ~ DARD & RIBO
"Granite-Daddy"
Take a tasty bottle of wine with impeccable provenance, wallop it with a hefty London restaurant mark-up and most people would be deterred from spending their hard-earned. Some wines are worthy exceptions, made in such tiny quantities and capable of delivering epiphanies without fail, that you should fork out whenever you see them on the list. I know I did – three times. Hermitage Rouge, Dard & Ribo, is a constant thing of beauty and a joy for a very long time. What is different with D & R is that they view Syrah as a grape giving elegant and pleasant wines, rather than sturdy, big, tannic wines. They want their wines to appeal quickly, rather than requiring years of cellar-slumber to dissipate the tannins. They even make a cuvée called "C'est le Printemps" that is released in the spring following the harvest, almost like a nouveau of Syrah, one that dances joyously across the tongue with the merest hint of spritz.
And then there is Hermitage. A sinewy red with rocky dark fruit that is at ease with itself. Bouquet of barbed brilliance and a hatful of chapeaux for D & R's ethereal H-Boss for its bouquet of violets, tapenade, dill, wild thyme followed by a splash of granite juice and lingering impressions of gently crushed fruit.
Equally as good are the single vineyard Crozes-Hermitages: Les Baties and Les Pins. Once again, liquidised granite rocks are to the fore. Les Pins is a striking example of the peppercorn flavour accent called rotundone, a terpenic compound. Les Baties bursts with vivid blackcurrants and blackberries generously dusted with garrigue herbs.
"What we like is natural wine because it's alive, wine that does not necessarily have to be kept – just drunk and drunk again."
(François Ribo, quoted in John Livingstone-Learmonth's The Wines of the Northern Rhône p.382)
Amen to that.
Why we love this: Why we love these wines would be more accurate. They are so moreish. Bertrand Celce talking to René-Jean Dard: "They are not looking to make great wines, but wines that let themselves drink well. Japanese word for that, he adds is Nomiyasui, which could be translated as drinkability, the ability to be drunk with ease and pleasure. Wine is not made for tasting, he says, it's made to be swallowed and fully enjoyed. He noticed for example that in the tastings where Dard & Ribo wines took part, there has been occasionally lots of criticism and flak against them, but at the end of the day their bottles were the ones with the lowest wine left, while the supposedly-good had remained pretty much full. This speaks volumes on which wines were loved beyond formal criticisms."
If you like this: Paul Estève's Saint-Joseph Rouge Madloba from Domaine des Miquettes, a Syrah fermented and aged in terracotta amphora. The method may be Georgian, but the wine is pure – very pure – northern Rhône. The nose reveals a beautiful expression of pepper, spice, violet and a hint of smoky minerality. The palate has bitter cherry and boysenberry flavours with very good energy and depth, and a spine of acidity adds focus and structure. Fine-grained tannins are present, adding shape to the appealingly sweet, lingering berry flavours.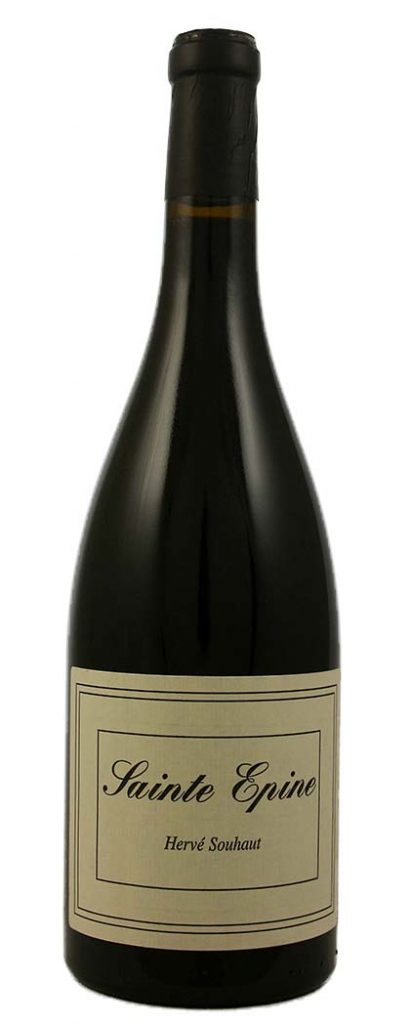 SAINT-JOSEPH SAINTE EPINE ~ HERVE SOUHAUT
Que Syrah-Syrah
Hervé Souhaut created Domaine Romaneaux-Destezet in 1993. Hervé works 5-hectares of old and ancient vines—between 50 to 100 years-old. He is very fortunate to own two vineyards in the Rhône Valley just opposite the storied hills of Hermitage in Saint Joseph. This region is widely recognized as being one of the finest areas for wine production on the planet; thanks in part to its elevation, ancient vineyard sites and the southeastern and southern exposures. The domaine is located further into the hills of the Northern Ardèche in the tiny town of Arlebosc, about a thirty-minute drive from St Joseph, winding through the hills. The winery is underneath the 16th century "les romaneaux" fortified farm and sits in the middle of the vines that make up the Souteronne, Syrah, and white cuvées.
Hervé works with entirely whole grape bunches and semi-carbonic maceration. His philosophy is to extract a delicate balance of tannins from the grapes, to make a wine with subtlety and finesse.
This stands in contrast to many of the storied wines of the Northern Rhône, that are made with much more extraction of tannin, designed to be practically undrinkable in youth and soften and open with time. Hervé prefers to make a wine that is drinkable right away, yet his wines have such as fantastic level of purity and acidity, that the older bottles have incredible potential to evolve into extraordinarily graceful wines.
The vineyards are located on the right bank of the Rhône, opposite Hermitage Hills. This has always been recognized as providing one of the best areas for wine production, thanks to its south-eastern and southern exposure and the hot climate of the Doux river delta. The soil consists of a strong acidic granite (base hercynien, crystalline lens) and the particular St-Epine plot has vines which are over 100-years-old.
Why we love this: Hervé's wines talk the international language of Syrah. They have a pared-down quality and beautiful cool aromatics.
If you like this: Jurgen Gouws; Intellego Syrah emanates from two parcels – one on decomposed granite, the other on soils with an iron content. The whole bunch grapes are fermented in vats and then pressed into 225 and 500 litre used barrels. The wine has delicious varietal character – rocks and herbs effortlessly meshed. Swartland in essence, Rhône in rocky restraint.

CORNAS SANS SOUFRE ~ FRANCK BALTHAZAR
Corn-nat
The knowledge that a wine is rare and produced in finger-counting quantities, ratchets up expectation but also sharpens concentration.
Franck now bottles all of his traditionally-made tiny production. The domaine's vineyards are planted on the steep slopes of the hillside amphitheatre exclusively to Petite Syrah, the ancient local clone, whose small, olive-shaped berries produce a wine of greater aromatic complexity than modern clones.
Franck's flagship wine is the Chaillot bottling, from the fruit of century-old Petite Syrah vines that create a wine of stunning depth, concentration and complexity. Grapes are harvested by hand from granite-rich soils, about half coming from the ex-Verset parcel and then are fermented whole bunch with stems, with manual punch downs. From here, the wine is moved to 600-litre demi-muids, where they are aged for about 18 months before bottling.
The Chaillot is dark purple and its highly perfumed nose reveals mineral-accented blackberry and blueberry with a background of exotic Asian spice and floral notes. The palate is densely packed yet energetic with initial explosive dark berry preserve flavours, before secondary notes of cured ham, olive and candied violet and cracked peppercorns kick in.
Equally impressive is the Cornas sans soufre. From younger vines this wine reveals a touch more agility to temper the ink-dark fruit, but it is still so satisfying and complete. The tannins have that medicinal astringency which nourishes rather than dries out the palate. Amongst the bristling blackberry and black currant fruit there is a seasoning of roasted wild thyme that is simply delightful and makes this so moreish. On my second and third encounters it was even more integrated, fruit and minerals inextricably intertwined or rather interwined, and gave constant detonations of pleasure.
Why we love this:  Yes, Cinderella, you shall drink Cornas with pleasure with less than five years age.
If you like this: Michèle Aubery's wines (Domaine Gramenon) are as colourfully evocative as her paintings. They taste of sunshine and a landscape of vines, garrigue, olive trees, hot stones and dust. Yet they also possess freshness and the energy of nature to balance the power bequeathed by the climate. Some of the cuvées exude youthful smiling fruit such as Poignée des Raisins (a fistful of grapes indeed) and On est Zazou; others such as La Sagesse, La Memée and Sierra du Sud are rooted in rock and garrigue. The last of these is pure Syrah, one of the most lyrical southern interpretations of this northern grape. Like so many women vigneronnes Michèle is behind the wine, not occluding flavours through layering winemaking technique, but painting the fruits of her amazing terroir.
*
Interested in finding more about the wines mentioned? Contact us directly:
shop@lescaves.co.uk |  sales@lescaves.co.uk | 01483 538820
*Note: We are still open for business, doing deliveries, and keen to help everyone with their booze needs in this difficult time. Natural wine lovers can visit our online shop and order online!