This is a series profiling the producers on our list who make natural wines. Within this series I will be highlighting some of the extraordinary and rare bottles and vintages that have helped to shape our appreciation of natural wines over the years. Previous posts from our 100 Great Natural Wines series: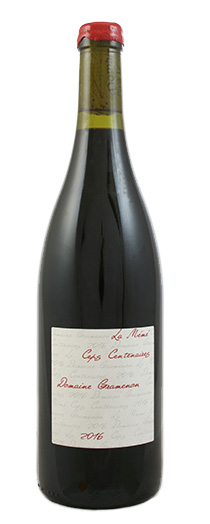 LA MEME "CEPS CENTENAIRE" ~ DOMAINE GRAMENON
Old Grenache memes
Michèle Aubèry-Laurent, a former nurse, treats her vines with the same care, conviction, and passion as she had for her former patients. She and her husband, Philippe, bottled their first vintage of Domaine Gramenon in 1990, in the far northern-eastern stretches of the southern Rhône, in the Drome Provençale town of Montbrison-sur-Lez. Philippe was a talented vigneron—both creative and edgy—and he loved to push the envelope of the regulations imposed by the I.N.A.O. In 1999 he was killed in a tragic hunting accident leaving Michèle on her own with their three children, vineyards, and a winery to deal with. Over the years, Michèle has discovered her own creative voice in her new vocation; in so doing she has catapulted Domaine Gramenon into cult wine status. Although we abhor that word! Today, she works twenty-six hectares with her son, Maxime François, farming both young and very old vines (100 + year old) alike. They employ organic and biodynamic practices in the vineyards, with a strong non-interventionist stance in the cellar.
Michèle (and Maxime) do not merely champion organic farming but incorporates the concept of sustainability into their daily lives by growing their own food and raising their own animals. The domaine bottles an AOC Vinsobres and a myriad of parcels of Côtes-du-Rhône located around the farm. Though Michèle and Maxime continue to test the confines of the appellation, the cellars are unsurprisingly old-fashioned. They use gravity-fed cuves, work with cement, and age their wines in oak demi-muids and foudres. In order to highlight the freshness, purity, and intoxicating aromas of their small production they ferment with native yeasts, do not fine and filter their wines, and bottle with minimum and even without sulphur addition.
Michèle is a striking painter. Her vivid canvasses demonstrate a desire to channel and translate her observations of nature into an emotional, energetic art form. She writes:
"Il faut dire que je suis peintre amatrice et un peu sauvage. Ce qui me passionne, c'est à la fois d'observer au maximum, puis me laisser porter par ce qui se dégage du sujet, de l'énergie qu'il déploie. Impression de pénétrer la matière. Ce qui me motive, c'est d'aller au fond d'un sentiment, d'une émotion, d'un ressenti. Effacer l'égo et la toute puissance et laisser venir les formes et les couleurs pour dire et souvent redire. Alors tout comme le proposerait la dégustation, l'émotion et le partage sont possibles… Parfois."
Michèle's wines are as colourfully evocative as her paintings. They taste of sunshine and a landscape of vines, garrigue, olive trees, hot stones and dust. Yet they also possess freshness and the energy of nature to balance the power bequeathed by the climate.
Some of the cuvees exude youthful smiling fruit such as Poignée des Raisins (a fistful of grapes indeed) and On est Zazou; others such as La Sagesse, La Memée and Sierra du Sud are rooted in rock and garrigue.
La Mémé (the grandmother) is from 120-year-old Grenache bush-vines rooted in sandstone and shell-sand soils (the sandstone, a molasse layer made by the maritime influence of tides pushing against the coast some twelve million years ago). Farming is carried out according to biodynamic principles; yields are naturally low (around 20 hl/ha) and grapes are carefully hand harvested. Partial whole clusters are macerated for 18-days in open concrete tanks with daily punching down, fermentation is done with natural yeasts and the wine is aged for 12-months in used (5-10-year-old) 225 and 228 litre barriques, before bottling without filtration, fining and usually without any sulphur added.
The wine is generally dark garnet in colour, with intense heady aromatics, full of ripe fruit, spices and earthy/vegetal notes. The palate is vibrant revealing a range of flavours from menthol, black fruits and tamarind, alongside lightly roasted herbs, bound together by good freshness and a long finish.
Like so many women vigneronnes Michèle is behind the wine, not occluding flavours through layering winemaking technique, but painting the fruits of her amazing terroir.
Why we love this: A wine that combines power with grace, old vines wisdom with fruit-energy verve.
If you like this: The wines of Domaine La Ferme St Martin come from Suzette in the Beaumes-de-Venise area of the southern Rhône. The vineyard lies in a privileged south-facing spot, on dry and rocky calcareous soils originating from the Triassic period. The rows are ploughed and no chemicals are used, neither fertilisers nor pesticides. All this work ensures healthy grapes whilst maintaining life in the soil and a balance in the surrounding nature. The powerful Beaumes-de-Venise is a blend of Grenache & Syrah (75/25), destemmed and fermented naturally in cement. An intense ruby colour and powerful garrigue-scented nose of pepper and spice and fruit dominated flavours.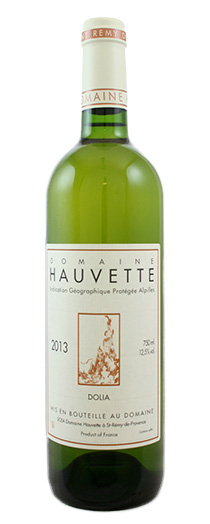 LES ALPILLES BLANC ~ DOMAINE HAUVETTE
Baux regard
In the early 1980s Dominique Hauvette left her job as a lawyer in the Savoie, re-discovered her passion for raising horses, and began studying oenology. Thirty years on she owns 17 hectares of vines in and around St-Remy-en-Provence and sells critically-acclaimed wines into many countries throughout the world.
The AOC Baux-de-Provence (only 300ha) where she farms, is located in a sheltered yet arid environment where the aromas of cistus, lavender, thyme, rosemary and savory perfume the air at the foot of the Alpilles. The vineyards are surrounded by spectacular eroded massifs with limestone scree.
When striving to make wine as naturally as possible, a focus on growing the healthiest grapes is an absolute prerequisite.
Dominique's conversion to biodynamics, starting in 2000, added structure to her intuitive organic practices, and coupled with her magical terroir, she has found an exciting recipe for success. She was even ridiculed, at first, for working organically, going against the grain of local farming practice.
In the cellar, she takes a decisively non-interventionist stance, not because she is following any natural wine movement, but to preserve the sense of the terroir in the wines. When she took over the estate in 1988, she threw out seven truckloads of chemicals that the prior owner had stockpiled, and is resolutely low-tech, yet she is not afraid to experiment as is evidenced by her being one of the first winemakers to use concrete fermentation eggs.
For her, natural wine reflects a terroir, a variety, a vintage and the individual who made the wine. And that a natural wine would be a wine where no mechanical or chemical intervention was made to alter, modify or nullify these four elements.
"Today I feel there are two distinct types of wines, the first being industrial wines. These wines are standardized as to not shock or disappoint the consumer. Every bottle tastes the same, you know exactly what you're getting, you're not taking any risks, and in turn you get a wine with zero personality.
Then there are "natural" wines: maybe a better name could have been conjured, but it's always hard to find an adequate designation for something with such subtlety and nuance. These are wines backed by the personality and the emotion of the person who made them, and when you work with this philosophy, you hope that you will give your consumer a distinct emotion or feeling they couldn't have gotten anywhere else but in that glass of your wine."
Extract of interview on Louis/Dressner web site.
Her opinions about bureaucracy are forthright: "In my eyes, the AOC system is the death of progress and evolution in French winemaking." We would heartily concur with that sentiment.
In the cellar, the wine is made in utmost respect of its terroir and virtually all the juice is fermented in the aforementioned cement betons. There is a white made from Roussanne called Jaspe, the glorious death-in-venison Cornaline is Grenache, Syrah and Cabernet Sauvignon aged in foudre for two years, Amethyste, made from Cinsault, Carignan and Grenache, and a very pretty Cinsault-driven rosé called Petra.
Dominique is fiercely independent and as craggily uncompromising as the scarped landscape of Les Alpilles. Her wines do not give themselves up easily – they have a sculpted-out-of-hard-rock minerality. We love the fact that she releases the wines only when they are ready, and that to understand them you need to carafe and cajole them ever-so-gently and be prepared to wait for their austerity to melt. And then you get it. The personality. The emotion.
Her Dolia Alpilles Blanc merits the epithet "Grand Vin." Comprising Clairette, Marsanne and Roussanne from a one-hectare vineyard plot, this is effectively a field blend. It is whole cluster pressed, and fermented and aged in the cement eggs that Dominique was one of the first to use for her wines. An initial floral/herbal nose leads gently to notes of white peach and honey; the wine is all about weighty texture and natural phenolics, showing waxy golden fruit with garrigue back notes of pine resin and lemon thyme.
Why we love this: Restraint is an undervalued virtue. Just because the wine does not confront you aromatically does not mean that it is lacking. A wine that reveals its inner beauty when it is coaxed out of its hiding place, is incredibly satisfying, like getting to know someone who has great hidden depths.
If you like this: Hervé Souhaut is renowned for his eloquent and graceful Syrahs in the northern Rhône. He also makes a very reckonable white – simply called Vin de Franc Blanc – being a blend of Roussanne and Viognier, co-fermented in open top tanks and then raised in oak barrels for 7-12 months where it undergoes full malo and before bottling with minimal additions. The wines change from year to year but flavours always centre around the peach, apricot, pear end of the spectrum with aromatics including elderflower and fennel.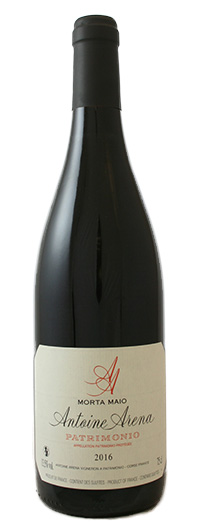 MORTA MAIO ~ ANTOINE ARENA
…The maquis co(u)rsing through his veins
Antoine Arena, like most Corsicans of his generation, grew up in a family that earned a modest living working the land on an island largely unknown to the outside world. As soon as he could he joined the mass exodus of Corsicans to the French mainland, in search of jobs and what they thought to be a better life. Several years later, in the mid-1970s, with a promising career on the mainland, the Corsican independence movement exploded with violent confrontations between nationalists and French government forces, leaving Antoine stunned.
Drawn back to Corsica by a desire to reclaim his land, he returned to his father's farm and set about transforming the 3-ha domaine into making the best wines he could from the terroir of Patrimonio.
He began by identifying the best parcels and vinifying them separately, and was one of the first growers to work the vines organically and vinify without any added sulphur. Like Didier Barral, he is advocate of proactive vineyard methods without calling it biodynamics per se. Certainly, he does not use chemicals and only sprays a tiny amount of sulphur in the vineyard.
Antoine has been joined by his two sons, Antoine-Marie and Jean-Baptiste who share his spirit and continue to work the land and make the wine naturally, as taught by their father.
The Arenas are brilliant exponents of Vermentinu, a quintessentially Mediterranean variety that flourishes on the limestone soils in this part of Corsica. Their versions exhibit lovely crystallised citrus here and
The Morta Maio vineyard was planted in 2001 to Niellucciu. There is just a single cuvée from this parcel. This is probably most approachable of the reds when young—dark, earthy, chewy and juicy.  Morta Maio translates as "The Eldest Myrtle", Morta meaning myrtle in Corsican, the shrub that makes up the bulk of the maquis in Patrimonio. This parcel, which has belonged to the Arena family for over 400 years, immediately surrounds their house and was used as brush pasture for the donkeys who worked the vines. Since the parcel has been in use for so long (longer than the 400 years it has belonged to the Arenas) the term "Maio" was added to it.
This Niellucciu is also fermented in cement cuve with its own yeasts and without temperature control, and is aged for a further period in concrete before bottling without filtering or fining.
Niellucciu is Sangiovese with a Corsican rustic twist. This version is vividly fresh, where lifted wild cherry fruit mingles effortlessly with fruit pith, lavender, fennel, rosemary, and white pepper. All the fun of the garrigue. The wine quickly develops pronounced savoury aromas and flavours of roasted red meat and pan juices and some interesting balsamic notes of herb essence.
Why we love this: Certain wines have the capacity to transport you to a place and a time. Smelling this wine is like giving your nose a holiday taking it a place, "the sun-baked, cicada-loud, ageless country of scrub and terraced hills… the archetypal Mediterranean landscape of rock & olive, wild thyme, vineyards, light" described by Sybille Bedford in her book, Jigsaw.
If you like this: Mediterranean flavours abound in the Bandol Rouge from Domaine de la Tour du Bon. Agnes Henry Hocquard is at the helm, making wild yet classy wines from mistral-cleansed organically-farmed vineyards situated between the mountains and the sea. The blend of this wine is 55% Mourvèdre, 25% Grenache, 15% Cinsault, 5% Carignan, the proportions changing every year as nature dictates. It has great aromatic complexity associated with the three or four grape varieties it contains. A high proportion of Grenache lends cherry notes as a counterpoint to the spicy, pepper accents of Mourvèdre, with Cinsault uniting the whole. On the palate, the tannic framework can be powerful in youth, mellowing to silky meatiness with age. "From Bandol, tart in the finish, a little too flinty for my companion, but my teeth appreciate a hint of limestone in a grape. There is something manly and voracious in it somehow, as though one is drinking the rocky underpinning of the planet." (Howard Jacobson
*
Interested in finding more about the wines mentioned? Contact us directly:
shop@lescaves.co.uk |  sales@lescaves.co.uk | 01483 538820
*Note: We are still open for business, doing deliveries, and keen to help everyone with their booze needs in this difficult time. Natural wine lovers can visit our online shop and order online!