This is a series profiling the producers on our list who make natural wines. Within this series I will be highlighting some of the extraordinary and rare bottles and vintages that have helped to shape our appreciation of natural wines over the years. Previous posts from our 100 Great Natural Wines series include Austria, a hefty chunk of France, and can be found, here. 
The Alsace region lies between the Vosges mountains and the French border with Germany, marked by the Rhine river. A long, thin region, it measures 185 km north to south and just 40km from east to west. The key viticultural areas here are all located on the lower hillsides of the Vosges, on slopes with east and south-easterly aspects.
The Vosges play a vital role in defining the region's terroir; they not only provide protection from the prevailing westerly winds, but also cast a rain shadow over the area, contributing to the low rainfall of its continental climate. The glacial activity which created the mountains has also significantly impacted the region's topography and soils. These vary from sandstone, granite and volcanic rock types in the foothills, to clay-rich limestone and marlstone on the alluvial plains below.
An historic attachment to biodynamics and dedication to terroir expression (farming small individual parcels) has meant that Alsace has a concentration of world-class natural producers. You will find wines of all styles from precise and poised wines to wild and experimental cuvées.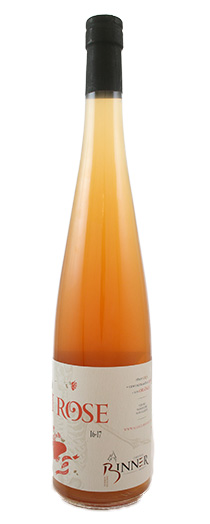 SI ROSE ~ DOMAINE CHRISTIAN BINNER
Tropical thoughts
Here's a wine to bring a smile to the most hardened wine professional's face. It starts with the transparent glass bottle, the simple bold label and the glass vinolok stopper. The wine's colour is striking – definitely somewhere between red-pink and orange – or, as the Dulux colour chart would have it – salsa red and collective coral.
First a little background. The domaine has been passed down through the family from father to son since 1770. The Binners are proud of the fact that never in their family's history has the family turned to a négociant activity- they have always vinified their own grapes, says Christian. "It is simply not in our genes to be négociants". The domaine is entirely a family-run business with Joseph Binner, Christian's father and Monique Binner, Christian's mother, and Beatrice Cotter-Binner, Christian's sister, all working together.
The family have traced back members of the Binner family who had vineyards in the Lower Rhine well, before it was settled in in Alsace. A marriage led to the family to setting up as vignerons in Ammerschwihr in Alsace. Christian's and Beatrice's grandfather, Eugene, was one of the first vignerons of the village to sell his own wines in bottle under his name before the second world war, a decision born from his determination to produce wines in the style that he wanted, and not be tied to a négociant.
Back to Si Rose. Not that this is inconsequential flimflam stuff. The grapes are sourced from fifty-year-old vines, planted in several different parcels either within, or lying next to, the famous parcel called 'Bildstoecklé', one renowned for its excellent terroir for the two grape varieties, Gewurztraminer and Pinot Gris. The vines face squarely south on gentle slopes at an altitude of between 230 and 350 metres.
The soil here contains oolithic limestone (composed of tiny little spheres of calcium carbonate, called ooids (from the ancient Greek word for 'egg' because they resemble fish eggs), and this gives a real zip to a wine that could be heavy and lacking in acidity.
Farming is both organic and biodynamic. Wild grasses are left to grow between the rows of vines, the ground is tilled, the vines are trained to a special type of training that the Binner family has designed for their own use, in order to control the yields and keep disease at bay. It involves bending one long shoot over, and retaining a number of little shoots. The support frame is a permanent one, this type of training encourages extensive canopy growth which in turn allows the Binners to keep yields low, and avoids sécateur cuts on the stems which can leave the vine vulnerable to disease.
From nature's art to the vigneron's. Si was made by blending two vintages in equal proportions, 2016 (which macerated for eight months on skins), and 2017 (eight days on skins). The maceration, fermentation and the ageing took place in the estate's one-hundred-year-old oak barrels, sans temperature control, in Binner's brand-new bioclimactic winery. Christian comments: "Even in Roman times white wines were macerated in this way, releasing tannins and colour, the natural anti-oxidants of grapes". After this the wine is matured for a further period on the lees before bottling without filtration or sulphur added.
Difficult to describe the taste of a wine that seems to vanish from the glass as soon as you pour it! Suffice to say, there are notes of roses, peaches (blossom and fruit), pink grapefruit, playful mingling between ripeness and citrus, all flavoured with pepper, dried spice, herbs and crushed minerals. The pleasure is all yours.
Monsieur Binner makes a mean Pinot Noir called Cuvee Béatrice. It is very fragrant, all rosehips and violets, and then straight into wild strawberries and raspberries. And his Riesling Grand Cru Schlossberg is a citrus and mineral delight.
Why we love this: The art of balance is crystallised in this wine. Different grapes, different vintages, different parcels coming together in joyous aromatic harmony.
If you like this: The stunningly fine pearly-pink Pinot Gris Maceration sans soufre from Jean-Pierre Frick is an example of how getting it right in the vineyard allows the winemaking to showcase rather than imprison the wine. The grapes were picked with colour in the skins and just enough ripeness for a balance between phenolics and freshness. This maceration wine has beautiful and surprising acidity, a little spice and a delicate texture. The lack of sulphur seems to liberate the wine even further and make it more ethereal.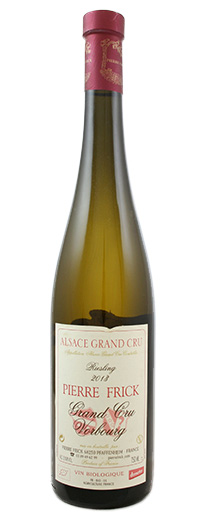 RIESLING GRAND CRU VORBOURG ~ DOMAINE PIERRE FRICK
Frick's (high) bar
Jean-Pierre Frick is a true original, an Alsatian vigneron with fascinating and provocative philosophical and political insights into the psychology of tasting, what is real and natural, what is energy, what is biodynamics, what is terroir and appellation. Deeply invested in his local culture, he brings a wider perspective to bear, for he is not only a farmer, but also a scientist, a natural philosopher and someone concerned for the future of man and the planet. His wines are profound and subtle, mutable yet powerful, with the capacity to age beautifully.
Domaine Pierre Frick has been handed down throughout the family for twelve generations and now covers 12 ha of vineyards. It is managed by Jean-Pierre and Chantal Frick, and their son Thomas Frick. At the forefront of the biodynamic movement Jean-Pierre Frick makes wines that are scrupulously natural. Frick converted in 1981 after having already turned to organics in 1970.
Altogether he farms 12 hectares of vineyards, in several plots, a third of which is rented. From promoting biodiversity in the vineyard to hand harvesting all the grapes to using little and even no sulphur during the winemaking to ageing in large old oak casks, Jean-Pierre aspires to capture the essence of the grape and also the flavour of the terroir.
Various biodynamic preparations are applied according to the Maria Thun calendar (this is the guide that most biodynamic growers use to help them do things at the right time, from vineyard work to racking to bottling). 10–15 tons/hectare of compost are spread every five years or so to maintain soil fertility. Biodynamic treatments are supplemented with other sprays, where these are essential. Bordeaux mixture is used to combat mildew, but less than 1 kg/copper per hectare each year is applied. Sulphur is used to combat odium. Bacillus thuriguensis, a bacterium, is used to protect some of the more vulnerable varieties from leaf-roller moths, where the typical biodynamic preparations would otherwise not be effective.
During the winemaking and upbringing of the wines a lot of oxygen comes into play and nature takes its course. The whites are always golden. To choose one's favourite is almost impossible; they are all linked by the feeling of natural energy, but in some vintages, you can detect a botrytis quality to the fruit, wherein the wines taste almost unctuous and rich on the orchard fruit character.
The Grand Cru Vorbourg parcel is located in the South of the Alsace region, and is protected by the twin peaks of 'Le Petit Ballon' and 'Le Grand' Ballon' which enables it to enjoy one of the driest and sunniest microclimates of the region. The soil here is marl with limestone lying on a layer of sandstone and limestone pebbles, which is in turn covered completely uphill by a layer of silt (very fine, pale yellow in colour), deposited by wind at the time of the quaternary ice age. From low hand-harvested yields, grapes are whole bunch pressed. Ferment is ambient, malolactic occurs naturally and the wine is matured quietly on fine lees in foudres for ten months, before bottling with minimal sulphur.
Vorbourg has intense yellow fruit aromas of quince and pineapple, chamomile and toast, with touches of menthol. The palate is dense, supple and fresh at the same time with flavours of ripe white peaches, sweet spices, citrus zest and limestone. Beautiful length with the minerality bringing up the rear.
Why we like this: This is Riesling à la Frick, gravid with late golden summer/early autumn fruit, mellow with gentle oxidation with an almost balsamic quality to it.
If you love this… try its alter ego, Riesling Grand Cru Schlossberg from Domaine Albert Mann. Clean as a whistle with a tensile quality. The cool to Frick's warmth.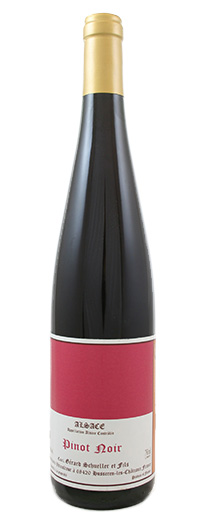 PINOT NOIR CHANT OISEAUX ~ BRUNO SCHUELLER
Quirk, strangeness and charm
Bruno Schueller is in charge of the family domaine built by his father, Gérard, in the 1960s. Over the course of two decades, Bruno has developed a style entirely his own. While paying tribute to his father's patient and meticulous manner of viticulture, he has challenged local orthodoxy in the cellar, moulding the definition of Alsatian wine in his own image.
Although Bruno is very open and positive to share his experiences and philosophy with other producers, he does not belong to any group or association.
The domaine itself is located in Husseren-lès-Chateaux, the highest village on the slope west of Colmar, on the fringe of the dense forest that consumes the Vosges. Bruno has holdings in two Grand Cru vineyards, Eichberg and Pfersigberg, and a handful of other small parcels around the village, all of which are sheltered by the mountains and are notable for their limestone-rich soils. His approach in the vineyards is loosely guided by biodynamics, but Bruno has never been bothered to seek a certification that could restrict his intuitive process.
The most important goal, he says, is slow and gentle ripening, through meticulous management of leaf cover. Bruno routinely harvests several weeks later than his neighbours, while still achieving the same level of sugar before fermentation. He believes that patience before harvest makes a profound difference in the wine's ultimate expression.
In the autumn the Schueller will migrate to the cool shelter of the winery and establish himself amongst the gigantic old wooden foudres that abound there. There he stores his wine over the winter and keeps them to a simple but nourishing diet of zero-sulphur and no other additives. Once bottled, a typical Schueller will begin to show its full aromatic plumage after three to five years.  This is when the best Schuellers take flight and present majestic soaring flavours. The Schueller may give birth to a variety of little Schuellers, some straw yellow, others deep gold.
The Pinot Blanc is beyond mad, an amber-hued lava lamp of an unfiltered wine. Bruno's wife is Italian and certain of his more experimental wines are influenced by the skin contact wines from the north of that country. A grand cru Riesling from Pfersigberg is very classy, exhibiting ripe citrus fruits and filigree acidity to balance the hint of residual sugar.
The most celebrated examples of the Schueller clan are the Pinot Noir family. Wine twitchers might easily confuse the Chant Oiseaux and Bildstoecklé with Nuits Saint-Georges, which suggests that it is forgivable not to know your Alsace from your elbow.
Chant Oiseaux comes from vines with an average age of 50 years planted on a minuscule parcel of 6,82 ares situated in the Grand Cru Pfersigberg. The grapes are fermented in whole bunches and aged for two years in old barrels. The wine is bottled without sulphur. The wine is beautifully restrained and deep. Ruby-red in the glass the nose has aromas of red fruits and flowers with a hint of brambles whilst the palate is precise, complex, charming and deep.
Why we love this: We hate the word "Burgundian" but… (what are we talking about, we love to abuse this word!) this Pinot Noir has a profundity that is utterly impressive. Schueller is the Alsatian Pinot king.
If you like this: Achillée Pinot Noir Libre, a wine that combines all the light and dark one sometimes associates with this grape. The Dietrich family has farmed land in Alsace since 1600 (mostly in this village of Scherwiller but also in an adjacent village). In the past the family farm used to be run on the basis of polyculture, however the family now concentrates on growing grape vines and other fruit. In 1999 Yves converted the estate to organic farming (at the time he would sell his grapes to the local Cave cooperative). Pierre and Jean took over the responsibility of the winery in 2016, and were the first members of the family to bottle the estate's wines.  The Pinot will benefit from being opened and left to breathe, the slightly animal notes will cede to black fruits, (e.g. morello cherries) and notes of almond and pistachio, developing into bitter chocolate and spices. Fine tannins and good acidity balance out and lighten the rich volume and weight.
*
Interested in finding more about the wines mentioned? Contact us directly:
shop@lescaves.co.uk |  sales@lescaves.co.uk | 01483 538820
*Note: We are still open for business, doing deliveries, and keen to help everyone with their booze needs in this difficult time. Natural wine lovers can visit our online shop and order online!