This is a series profiling the producers on our list who make natural wines. Within this series I will be highlighting some of the extraordinary and rare bottles and vintages that have helped to shape our appreciation of natural wines over the years. Previous posts from our 100 Great Natural Wines series include Austria, as well as a hefty chunk of France, and can be found, here. 
The woods and desert caves
With wild thyme and gadding vine o'er grown 
John Milton – Lycidas
The Languedoc-Roussillon stretches from the Spanish border where the eastern Pyrenees meet the Mediterranean to the edge of Provence. It is a geological scrapyard, a patchwork of climates and grape varieties. Old vines, the drying northern winds and a warm Mediterranean climate ensures consistently good material for the winemaker. There is a lot of energy and experimentation in this huge region: the Roussillon, in particular, has been settled by outsiders who view it as one of the best regions in France to make world-class red and white wine. Organic and biodynamic methods are used and there is a similarly low intervention approach to winemaking amongst many producers. Here you will find so many different styles of natural wine from the more gently extracted semi-carbonic zero-sulphur wines to more structured, terroir-driven and challenging ones.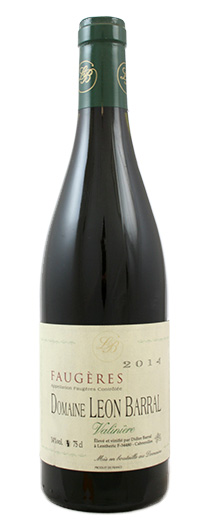 FAUGERES LA VALINIERE ~ DIDIER BARRAL
Roll out the Barral
I believe that there is a subtle magnetism in Nature, which, if we unconsciously yield to it, will direct us aright. ~Henry David Thoreau
This Renaissance man, naturalist, and biodynamic maven commands tremendous respect among his peers for his visionary approach to topics like soil management, pest control, and drought mitigation in his vineyards – Kermit Lynch
There are mavericks. Then there is Didier Barral who is a deeply questing vigneron, a farmer's farmer, if you like, whose obsession with minutiae forms the bigger picture. Didier owns 35-hectares of biodynamically-farmed vineyards situated in a forest of garrigue on slightly acid schist soils in which a little of everything grows. Everything starts from the soil which must be made as healthy as possible.
"Nowadays, farmers feed the planet but destroy it at the same time. Sometimes they think they are doing the right thing by ploughing too often for example, which eventually damages the soil structure. We have to observe nature and to understand how micro-organisms operate. Then we see that tools and machinery can never replace the natural, gentle work of earthworms, insects and other creatures that travel through a maze of tunnels, creating porosity and aerating the soil, making it permeable and alive. There's grass in our vineyards and amongst the grass, there are cows and horses: a whole living world that lives together, each dependent on the other and each being vital to the balance of the biotope." (Didier Barral)
This is an extraordinary micro-climate where the mountains on one side and the proximity of the garrigue which shelters fauna and flora create the preconditions for an excellent terroir. Didier is adamant that cow manure is the best, and not having delved too deeply into these matters, as it were, who are we to say otherwise? A photographic album of the vineyards could be entitled: My Favourite Bugs or A Diet of Worms or even A Riot of Worms, for it reveals astonishing diversity of benevolent creepycrawlydom, indication of a thriving, living soil. Natural solutions prevail: small birds make their nests in the clefts of the vines (these nests lined with the horse hair that has been shedded) and they prey on the mites and bugs that are the enemies of the vine.
But even if it feels religious, and even if Didier is a noted advocate of organic, Fukuoka-influenced-hands-off farming, nothing about Didier's discourse feels preachy. There are no exhortations; no imperatives. As he is wont to say, the earth existed before the philosophy of biodynamics was propounded.  His persuasiveness flows from the stunning beauty of his 35 hectares of vines, and from the freshness and purity of his wines. He speaks for himself, and tells his story: one of observation, of trial and error in his vineyards. There is a lot more to the process than can be described here – his views on gobelet vines, the equipment he uses in the vineyards so as not to compact the soils and of course the dissertations on worm-life.
Didier is not only a perfectionist in the vineyard; he also practises natural vinification, although he would doubtless deprecate that term. Triage is vital for the quality of the grapes which makes or breaks the wine. He dislikes carbonic maceration as he believes that it explodes the fruit and leaves nothing behind it. The fermentation is done with wild yeasts in cement cuve, pigeage is by hand, long macerations are followed by ageing in wood, and the assemblage (all grape varieties are vinified separately) follows eighteen to twenty-four months later. No filtering or fining, these are natural products, lest we forget. As Paul Strang writes: "He scorns the modern bottling plant, deploring the use of filters and pumps which interfere with the natural qualities of the wine. All you need is a north wind and an old moon."
And the wines? Well, they have a magnificent fruity intensity, but his aim is "to make something irresistible: a bottle of wine that no one would willingly leave unfinished" (Virgile's Vineyard – Patrick Moon).
Mourvèdre is the grape that gives Didier real pleasure. It is perceived as difficult to bring to even maturity, but according to Didier it's all about the health of the vine which in turn is about the health of the soil. His Valinière, named after a small stream, and made from 80% Mourvèdre and 20% Syrah (from a north-facing parcel), has deep purple colour and a glorious nose that benefits from aeration. Strong dark fruits, warm leather, dark chocolate, fine floral notes, black olives and all the spices of the orient (quite a few, anyway). The wood, evident initially, melts into the fruit leaving behind a fabulous fierce minerality. The mouth follows the nose, conveying a suppleness, where density and power are controlled and shows an acidity that completes the wine, gives it equilibrium, finesse, length in the mouth as well as a capacity to age. A vin de garde, a vin d'amour.
Why we love this: A kind of cool ferocity. Mourvèdre can be overpowering or can be over-tamed. This walks on the wild side – gracefully.
If you like this: A project managed by Pierre Jecquier and Blandine Chauchat, Mas Foulaquier is a domaine spread across several plots in the Pic-Saint-Loup region.  The method of viticulture is driven by love for this rugged environment, and respect for this magical and unspoilt landscape.  The vines are therefore cultivated and treated with biodynamic preparations applied in accordance with the biodynamic sowing calendar. The grapes are harvested by hand, transferred into vats by gravity and fermented using only indigenous yeasts, without the addition of oenological products. Treatment of the harvest is manual without pumping. Neither sulphites nor yeast are added in order to allow the maximum expression of the 'terroir'. The aim is not to obtain maximum extraction, but rather elegance and fruit. Les Calades is Grenache/Syrah from relatively young vines grown on stony south-facing limestone slopes. The wine spends 24-months in foudre. A wine that shows that opposites attract, this is an intense infusion of dark and red fruits, herbs and spices and lovely balsamic notes.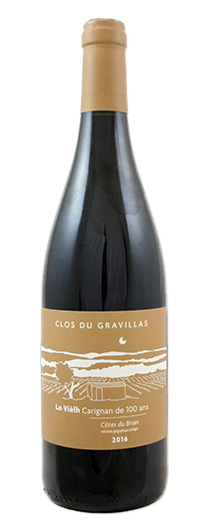 LO VIELH ~ CLOS DU GRAVILLAS
Carry on Carignan…
Lo Vielh (the old one) from Nicole & John Bojanowski of Clos du Gravillas. This is the former ugly duckling that has grown into a black swan with bags of attitude. Dismissed by several leading wine writers, who have since had to drink their words, Carignan has become recognised as perfectly suited to the warmer subregions of the Mediterranean.
Carignan – so many prestigious wine writers (you know who you are) have had to gnaw the numble entrails of what they have written regarding this grape. Previously dismissed as "a workhorse variety"; "not capable of greatness"; "should be grubbed up in favour of Syrah"; "the bane of the European wine industry" and "only distinguished by its disadvantages", it is now perceived as one of the signature grapes of the Languedoc-Roussillon, lending terroir character to blends, or standing out in its own right by expressing uniquely bold flavours.
This hardy grape, trained in gobelet, with root systems that penetrate deep into the bare rocky soils, communicates terroir adeptly, especially in terms of impressions of minerality. If you're jaded by the Merlot world (and we are, we are) and looking for a "vin d'ici" then Carignan is your man. We've chugged it in Chile, argle-gargled it in Argentina, sipped it in Spain and lapped it in the Languedoc-Roussillon, and we can say that the wines from these gnarled vines, in whatever country, deliver great terroir flavour, usually at fantastic value. Although the grape often appears in blends, bolting together Grenache and Syrah, we have some wonderful solo versions – hence the ancient vines Lo Vielh from Clos du Gravillas.
Lo Vielh, aka the old one, comes from a couple of hectares of vieux Carignan; the oldest vines should have received their telegram from the Queen already.
The work in the vineyard is paramount. The vines plunge their roots deep into the blinding white gravels and are looked after lovingly. Shoot-thinning, leaf-plucking and the ultimate sorting in the vineyard – when the grapes are picked, the mantra is whatever you wouldn't eat goes on the ground. I imagine a lot of the grapes get eaten and whatever is left comes into the winery in small cagettes.
By pigeon post. Aged in 400-litre Allier oak barrels, the wine combines power and purity, the fruit is dark and velvety and is truly delicious. Virtually no sulphur is used (the fermentation lasts around six months) and the wine seems to have soaked up a century's worth of minerals. This is wine that sits up, barks and makes you take notice. One to stick your spurtle into. The fruit is blueberry-ripe with liquorice swirls and hint of tobacco. There are also discernible meaty undertones.
Why we love this: Although we are bound to love a wine that states that it has low volatile acidity (!), we cherish even more the old vines of Carignan, whose deep root systems seem to extract maximum minerality from the fractured rocky soils. And John and Nicole's love, and indeed exaltation, of this grape variety, has ensured that its reputation has transformed from being viewed as the ugly duckling of the Languedoc-Roussillon into the robust channeler of terroir that it is.
If you like this: Jean-Baptiste and Charlotte Sénat have been working this fifteen-hectare domaine in the heart of Minervois since 1996. They are located in Trausse Minervois in the foothills of the Montagne Noir. The soils here are limestone-clay and their mainly south-facing vineyards are set in the heart of the garrigue. They are certified organic and carry out all work by hand. Vinification takes place with minimal intervention in a mixture of large and small casks (stored underground): natural yeasts, no fining, no filtration and only a tiny bit of sulphur are the recipe for living and drinkable wines. Everything is done by gravity to avoid pumping. La Nine has a cuvaison of 16 days with pigeage and spends ten months in cuve and barrels before being bottled (by gravity) without filtration. Mais Ou Est Donc Ornicar is a blend of the energetic 50-year-old Grenache (70%), 30-year-old Syrah (20%) and 40-year-old Cinsault (10%) vinified in whole bunches. Cuvaison last twelve days and then the wine goes into used barriques. A more powerful effort reminiscent of macerated fruits and dark spices and one that requires a haunch of meat or several. This wine spends six months in barrique. Mais Ou Est Donc Ornicar, by the way, is a mnemonic phrase containing the French conjunctions (mais, ou, et, donc, or, ni, car).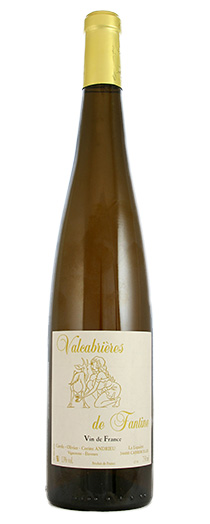 VALCABRIERES ~ CLOS FANTINE
Goat wine
This is a turbid living wine, unfiltered, unfined and unsulphured; it captures the spirit of the terroir. The Terret vines are 90 years old on poor schistous soils, yields are a measly 15hl/ha with a strict selection; the parcel of vines producing this  wine means "the  mountain  of  the Goat" in Occitan, which explains the image on the label, that of a goat being milked of its wine into a wine glass. Which is a neat trick. Bush vines, minimal intervention in the vineyards, no synthetic products are used, no weeding is carried out and the plots are ploughed occasionally to remove shallow roots thus encouraging them to grow deeper.
I love wines that are wild. As soon as I poke my nose in a glass of this, I am instantly transported to what Sybille Bedford described in Jigsaw as "the sun-baked, cicada-loud, ageless country of scrub and terraced hills… the archetypal Mediterranean landscape of rock & olive, wild thyme, vineyards, light".
Valcabrières is an intense dry golden-white releasing subtle cider apple, vermouth, fennel, lemon-thyme and honey aromatics.  Carafe it, turn down the lights and let it have its wicked way with you. Those not tuned into the orange or O2 networks might struggle with golden-yellow colour and the secondary nutty bouquet, but like the best oxidative wines it just gets better and better and better in the glass with dazzling freshness and mineral saltiness.
Why we love this: If you are ever bored with clean white wines, then this is for you. It is raw, nervous and elemental. We love the fact that it is made from Terret Gris (also known as Terret Bourret) and tastes like wild herbs steeped in wine.
If you like this: Back with Didier Barral and a white (not really white) too, a field blend of Terret Gris and Blanc (80% of the mix) with Viognier and Roussanne making up the rest. The Terret vines are 90 years old, yields are 15hl/ha with a strict triage. Fermentation takes place in cement vats with natural yeasts and a further malolactic in barrels 1/3 new and 2/3s first and second use. The grapes macerate for 3-4 hours in the press with a lot of oxygen. The juice goes brown and then naturally clarifies but retains a rich amber hue. No filtration or fining to leave a mark on this intense dry white with its mix of sherry and honey aromatics followed by vegetal/fennel notes, and incredibly pure ripe citrus-flecked palate. Worth broaching a celebratory lobster or regal turbot for, otherwise carafe it, turn down the lights and let it have its wicked way with you.
*
Interested in finding more about the wines mentioned? Contact us directly:
shop@lescaves.co.uk |  sales@lescaves.co.uk | 01483 538820
*Note: We are still open for business, doing deliveries, and keen to help everyone with their booze needs in this difficult time. Natural wine lovers can visit our online shop and order online!