Christina's piece told a story of a liberated, vibrant wine scene in Australia. Despite the obvious divides and the way the Australian wine industry is structured to favour the larger companies, the counter culture of youthful growers, restaurateurs & sommeliers, and drinkers, is thriving.
The UK is the self-proclaimed centre of the world wine trade. Historically, it has always been a buyer's market. Wines from every country are available in our supermarkets and shops. Yet, there is also a complacency that everything is for the best in the best of all possible worlds and that we are living in the best of times with access to the best of wines. This is not the case. The energy, the excitement, the sense of discovery, above all the passionate link to wines and the growers, is largely absent, and where sommeliers and wine buyers do want to spread their wings they have to work within a discouraging profit margin system decreed by bean-counters and "beverage purchasers"
With a few notable exceptions…
This is the second in our series of looks at the wine cultures of the world.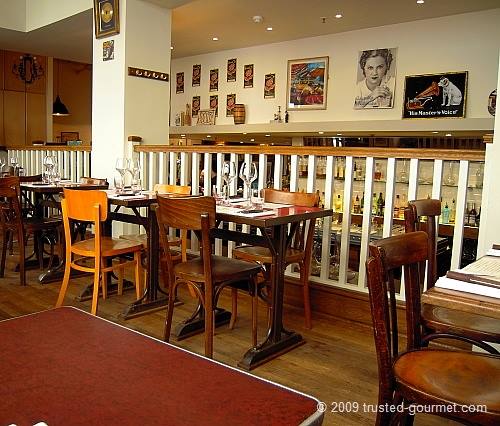 A brief history of Natural Wine in the UK
One evening, four or so years ago, I was sitting in Terroirs, a natural wine bar in Charing Cross watching a suited-and-booted businessman surveying the wine list. I heard him order the Sancerre. No ordinary Sancerre, this particular version was made by a producer called Sebastien Riffault. Sancerre, Jim, but not as we know it, an entirely new supernatural species of Sauvignon Blanc. It arrived at the table in a decanter, a liquid verging on the orange, sporting aromas (I knew from experience) of bruised orchard fruit, amontillado sherry, fermented mulch and malt. The gentleman smelled the wine, sipped it and smiled. Although there was no accompanying thunder and lightning I felt something momentous had occurred, a Rubicon had been crossed; symbolically, if you like, it was as if le tout UK had embraced the notion of natural wine in that instant.
And it wasn't only that sacred Sancerre moment – wine was being ordered in pots, whites decanted into, and served from, carafes, at cool cellar temperature rather than fridged, while youthful reds were popped into ice buckets to freshen them up and focus their exuberant fruit. The so-called usual rules of engagement did not apply; the individual wine was being respected and served with knowledge. When a particular customer questioned the colour of Elena Pantaleoni's Ageno, a deep amber Malvasia fermented on grape skins, a helpful man on a neighbouring table interjected: "Oh, but it's mean to be that colour because of the skin contact – and it is utterly delicious." Yes, in London, strangers were talking to each, passing bottles and glasses of wine to other tables across the restaurant – this was excitement, this was sheer discovery, this was wine bringing people together.
Acknowledgement is one thing, outright critical acceptance is another. For what we have in the UK apparently is a public that is more open-minded than either the majority of commentators, wine writers or merchants. As a wine educator once said to me after I presented some natural wines to her: "I can imagine that these (wines) would appeal to younger generation of drinkers. The more conservative (person) would find it difficult to accept this style of wine". It seems that if a little learning can be a dangerous thing, a lot amounts to heavy baggage. It's as if, at times, the UK as a whole assimilates wine but not its culture. Wine is treated as a product, created for a purpose with a "consumer-friendly" audience always in mind. Befuddling business jargon dilutes and ultimately dumbs down discourse, a wine vernacular that revolves around such uplifting terms as "unit sales", "gross profit margins", "retro discounts", "price points", "gatekeepers" and "food & beverage managers". We are a million miles away from the vineyard and the growers, a disconnect that occurs most likely because England has been, and still is, a wine-selling rather than a winemaking country. Many in the trade feel responsible to the hypothetical end-product-user and thus cater to the lowest common denominator of taste, preferring to operate exclusively in safe commercial havens. It's all about the business end of the market and product profiling – a spade must needs be a spade, a Sauvignon a Sauvignon – there should be square wines for square times. But, as we know, not all customers are square.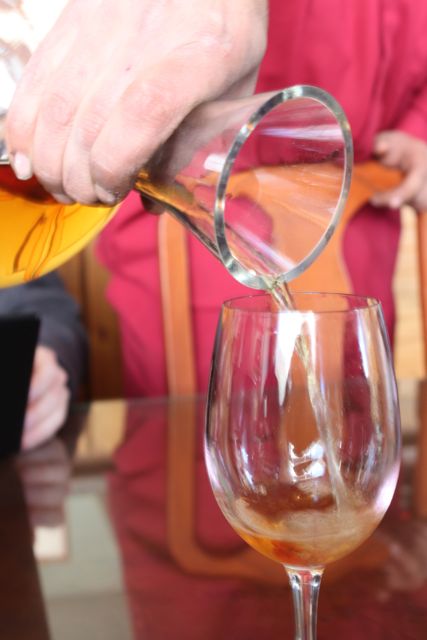 Outside of the UK the phenomenon that critics call natural wine has developed deeper roots, a definite beating heart and a fairly secure soul and is continuing to grow organically, not through myth and spin, but through trial and error, and because growers and winemakers constantly question their methods, and because the results are evidently pleasing growers and drinkers alike. The beauty of natural wine is that it is not a trend and so is not ephemeral; it lies at the centre of the pulsing debate about what is authentic.
Here the debate (which would perhaps be dignifying the level of discourse) is beset by pride and prejudice. What is it about wine that magnetises controversy? Do we have cheese or olive oil fanatics berating each other in this fashion? Do the honey fraternity start chucking hives at each other when they have a bee in their bonnet?  One critic wrote in his predictions for 2013 that natural wine would cease to be an issue that anyone discussed because people would finally see the wines for what they were. Vinegar. Prescient words? Or wishful thinking? The beauty of all this is that the issues are not only being kept alive by the systemic conservatism of histrionic critics, but the very embers of an embryonic movement have been fanned by continual overwrought mentions from self-same critics, thus politicising the movement further and making it into the roasting hot potato of wine conversation! And that, my friends, is the definition of irony. Without this public excoriation from the wine cognoscenti we few would now be quietly and contentedly in our cups supping the good stuff without realising that we were drinking evil yeast poison – and everyone else would be none the wiser.
Defenders of authenticity should support the conservation of autochthonous grape varieties, traditional farming techniques and hands-on winemaking as all these help to perpetuate a healthy diversity. Technically sound, manipulative winemaking ensures only one kind of outcome, a wine that appeals to a common denominator palate. That may be broadly desirable, but we definitely prefer uncommon wines. As our Grand Fromage Eric Narioo so aptly puts it: "There are the wines that I like, that he hates. And there are the wines that he likes, that I would never drink. And somewhere in the middle are the wines we both like drinking and we drink together."
In countries where artisan wine is produced, the vigneron is invariably involved in spearheading local wine culture. It is not unusual for a grower in Australia, for example, to leap into his (or her) ute and drive his wines directly to the wine bar and the buyer. Similarly in France the path is straight to market, shop or bar – without intermediaries. The artisanal movement is rooted in a sense of communion, in places where bottles are opened and the public actively engaged by the growers who pour their wines and relate their own personal histories. And when lots of growers want to club together and celebrate their wines then you have a great reason for a wine festival. Thus began La Dive Bouteille, La Remise, Vinicircus and all the various other fairs. Communicating the story helps to sell the wine; these guys have to be in touch with their closest markets. Australia and France are thus examples of dynamic, spontaneous and joined-up wine cultures founded on strong personal relationships and underpinned equally by graft, passion and personality of the grower or winemaker. The only gatekeepers in these countries are the ones who lock the venues after the tastings!
Scroll back about five years and we uncover a moribund wine bar culture in the UK. A few honourable exceptions apart it was not much more than a rump of corporate venues in The City flogging over-priced champagne and offering depressing digests of the usual brands, places you would avoid if you truly loved wine. Pinot Grigio über alles and chips with everything. The opening of Terroirs in 2008 was a game-breaker, being the first wine bar with an all-singing, all-dancing natural wine list. (It should be mentioned that Artisan & Vine, a cherishable artisan (natch!) bar in South London, had opened a few months previously and had become a hit with the wine trade). Not that this was purely about peddling crazy wines and trying to frighten the horses; the idea was to connect drinkers to small growers, to the vineyards, and to the lesser-seen wine regions, and to make people aware of the journey of wine from grape to glass. The success of Terroirs subsequently spawned Brawn in Hackney, Soif in Battersea, Green Man French Horn in Covent Garden, and latterly, Toasted in East Dulwich. With punchy unpretentious wine lists featuring small producers and wines made with minimal-or-no interventions, the wine bars/restaurants placed wine on a par with food. In these joints you might drink "vins de soif", wines from "maritime" or "volcanic" terroir, "orange and skin contact wines" and those made in "amphorae, qvevri and tinajas". Not that these are identikit lists. Whilst The Green Man, for example, is entirely devoted to producers who live and work in the Loire, Terroirs has a considerable Italian representation, and Brawn and Soif feature a very healthy smattering of wines from Jura. An ever-changing selection by the glass, added to the permission to open any bottle on the list (within reason) to taste, is part of the flexibility of a service that encapsulates the spirit and enterprise of the natural wine bar, proving that wine can be talked about, embraced and celebrated in a relaxed way.
The Terroirs philosophy is pure and simple:
The wines on this list are sourced from small artisan growers who work sustainably, organically or biodynamically in the vineyard and with minimal interventions in the winery. Much of the farming is labour-intensive, often done with horses rather than tractors and all of the picking and selection is by hand. Yields, usually from old vines, are low. Fermentations tend to be with wild yeasts and several wines are made without addition of sulphur dioxide and are unfiltered and unfined. In style the wines tend to be light-to-medium bodied, fresh (even refreshing), savoury and delicious to drink – but even more delicious with food. Our objective is to present wines that most sympathetically reflect the place from which they originate, the nature of the vintage itself and the personality of the grower – in short those wines that encapsulate the notion of terroir.
If Terroirs started the ball rolling others would soon pick it up and run with it. Duck Soup in Soho and their recently opened sister bar Raw Duck, Plateau (in Brighton) and 40 Maltby Street in Bermondsey have since become go-to places of you love good nosh and real wines. They exemplify "the small bar phenomenon", one which sits well with mismatched furniture, bare brick or whitewashed walls, a long bar at which you can perch, casual yet informed service, simple yet tasty food and, of course, vinyl-spinning record players! It's as anti-design as it's anti the-stuffy-approach to wine, for it is about people, what's in the bottle and what's on the plate.
These wine bars are by no means the sole domaine of natural wine. Natural wines have begun to feature heavily on top London restaurants such as Ottolenghi and Nopi, Bubbledogs (biodynamic champagnes and hotdogs by your leave!) and Newman Street Tavern. Those who are keen on provenance or seek purity gravitate to them as do those who enjoy the wines' clean flavours and simple structure or the fact that they complement food. Chef Claude Bosi was sufficiently convinced to authorise Isabelle Legeron to create a comprehensive selection of natural and biodynamic growers at Michelin-starred Hibiscus, whilst young knowledgeable sommeliers such as Emily Harman (Bistrot Bruno Loubet and The Grain Store) bring first-hand knowledge of the latest (and therefore virtually unknown over here) New World growers to bear, populating their lists with the wines they know and love.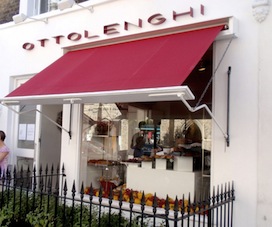 Some restaurants make a special feature of natural and biodynamic wines by allocating to them a small section of their lists – The West House in Biddenden in Kent is one and The Pendleton in Redhill another. Where the wines are simply incorporated into the body of the list you need a passionate, persuasive sommelier or manager to "hand sell" them, otherwise they will linger untouched in the darkness of the cellar. Even self-professed sceptics will include naturally-made wines that they enjoy drinking, a tacit acceptance that there is so much variety in the natural wine world (and so many of the wines are interesting and delicious), that it would be a virtual dereliction of duty to deprive customers of their delights.
Compared to Australia and the US, however, wine lists in the UK tend to be risk-averse and accountant-friendly, chockfull of the usual suspects, the same old labels, and ultimately characterised by pretentious mark-ups – everything that inhibits exciting drinking. The seasoned wine trade pros are still dismissive of natural wine; I think this says more about the need to broaden their horizons; for the younger generation have not become petrified by orthodoxy. Interestingly, we find that it is often the chefs who "get" the wines, appreciating their flavours and understanding how they might work with specific dishes.
A word for the cavistes: Noble Fine Liquor in Hackney, D'Vine Cellars in Clapham and Market Row Wines in Brixton are small but perfectly-formed wine shops that buy wines that they like and then try to enthuse their customers, rather than default to the tried-and-trusted. Online retailers such as Red Squirrel Wine are creating fascinating micro-selections to introduce customers to wines that they would never discover through the usual channels. With the market is still so dominated by the supermarkets and saturated with the same old same old, it is important that these small retailers establish their unique selling point and stick to their guns.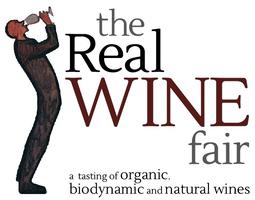 In 2010 a group of wholesalers and merchants linked up to create an event called The Natural Wine Fair which was conspicuously successful, attracting lots of participants, members of the public and the trade alike. This fair subsequently split into two even bigger shows: The Real Wine Fair and RAW, and for the past couple of years, these major events have reinvented and reinvigorated the whole notion of the wine tasting, introducing an incredible range of artisan growers and wines from around the world to this country. The Real Wine Month (part of The Real Wine Fair) has worked with over 200 + restaurants, bars, wine shops and wholesalers throughout the UK, giving prominence to natural wines in various different ways for a certain period of time, one of the biggest independent promotions ever in the wine trade.
One annual promotion, albeit a conspicuously successful one, doth not a natural wine culture make. However, the thousands who drink weekly in the wine bars and restaurants and attend the annual fairs as well as the hundreds of restaurants and bars that have dipped an experimental toe in the water show that even long journeys begin with a single step. "To dare: that is the whole secret of revolutions," wrote Antoine Saint-Just. Natural wine rose seemingly without trace in the UK. Now its green shoots have flowered, it apparently presents a clear and present danger to… whom or what? The general population? The mythical consumer on the Clapham Omnibus? The establishment? Putting aside childish arguments, let's focus on the positive. The sunny can-do attitude of our Aussie and American brethren illustrates that with the right energy we can bring the public to wine by bringing the wine to the public in imaginative and proactive ways. In this country cultural shifts are organic and incremental – change was never going to happen overnight. Those who love the wines won't persuade others by sheer force of argument. The point is proved in the glass. And the glass after that. And the glass after that. Natural wine will always appeal on a visceral level. A revolution, after all, doesn't always need a head; but it certainly needs a heart.