Previous posts from our 100 Great Natural Wines series:
Jura ~ Part Two
This is a series profiling the producers on our list who make natural wines. Within this series I will be highlighting some of the extraordinary and rare bottles and vintages that have helped to shape our appreciation of natural wines over the years.
Even the word "Jura" has a magical resonance for followers of natural wine.  This region of France has a unique winemaking history, its own special grape varieties, and a mosaic of beautiful terroirs. Small production and limited availability add to the mystique of the wines.
VIN DE PAYS DE FRANCHE-COMTE ~ Domaine des Cavarodes

Autochthonous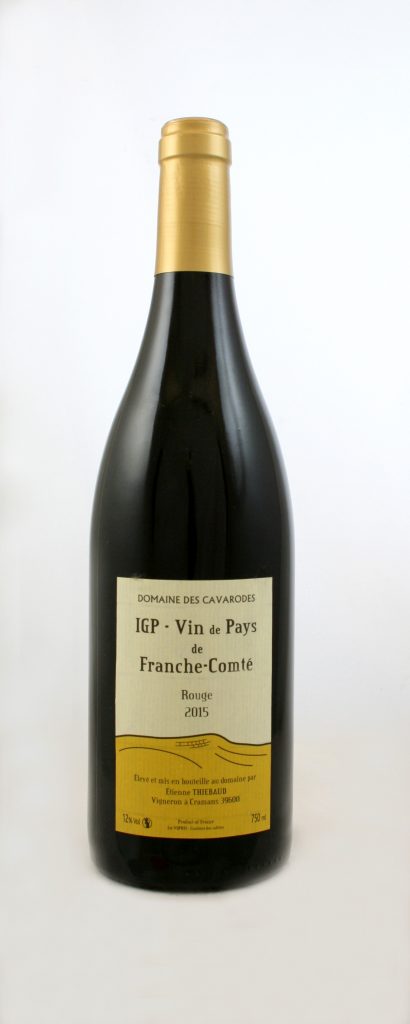 Etienne Thiebaud set up his domaine in 2007 after working for several years with Pascal and Evelyne Clairet of Domaine de la Tournelle.  He settled just north of Arbois in Cramans, by the Loue River, which marks the boundary between the Jura and the Doubs départments. When Etienne began Domaine des Cavarodes in 2007, he was fortunate to acquire a few very old parcels of vines between 60 and 120 years of age.  These vines are just on the north side of the Loue, and therefore just outside the appellation of Arbois.  The parcels are planted with several extremely old and rare Jura varieties that are great curiosities to nurseries in the Jura and beyond.  Etienne's vineyard work has been organic since the beginning, including his plots within the Arbois appellation in Les Messagelins, which he converted to organic farming upon arrival.
The domaine, in total, comprises five hectares on mainly Kimmeridgean chalk and clay with some limestone and marl in the northern part of the Jura region. Etienne is a true artisan currently working organically but is currently in conversion to full biodynamics. He uses herbal teas and vineyard activity is determined by lunar calendar. He's working with fantastic material; some of the vines are ungrafted, and, as mentioned, are venerable specimens. His philosophy is to make wine with as little intervention as possible.
Etienne makes his field blend archive of vestigial pre-phylloxera varieties. This Vin de Pays de Franche-Comte is a blend of 1/3 Pinot Noir, 1/3 Trousseau and the remainder a melange of Gamay, Poulsard, Pinot Meunier, Argant, Portugais bleu, Enfariné, Mézy…! Vinification is semi-carbonic and there is a ten-month elevage in old barrels.
The fruit has a veritable crunch think slightly sour griotte cherries, rustic, yet seductive tannins. The 2018 version of this is inky-dark and spicy.
Etienne makes a variety of other cuvees. We are exceptionally keen on his Savagnin Ostrea Virgula, which relies on beautiful grapes. Fermentation and elevage sur lie in vat for twelve months then a further two to three months in old fûts (topping up) so that the wine has a chance to settle. Sulphur is only added at bottling for stability. The result captures the essential nobility of the Savagnin grape with an ensemble of lovely pear, apricot and gentian aromas adding colour and tone to a palate of remarkable persistence. The name of the cuvee is reference to the high fossil-shell component of the soil.  The extra period of maturation makes this a wonderfully-composed Savagnin.
Why we love it: Old vines, autochthonous grapes, cheeky exuberance – the best things come in small parcels.
If you like this… Jean-Baptiste Menigoz, Les Bottes Rouges, is one of the new wave of natural producers in the Jura. He enrolled in a viticulture course and was eventually taken under the wing of Stephane Tissot in Jura. As well as working with some biodynamic practices in the vineyard, he abides by the lunar calendar. The wines, fermented in tank and aged in barrel, are fruit-driven. We enjoy his Pinot Noir Cuvee La Pepée with its red cherry, strawberry and spicy flavours.
CHARDONNAY TERRE DU LIAS ~ Domaine de la Borde
Burg… burg… Jurassien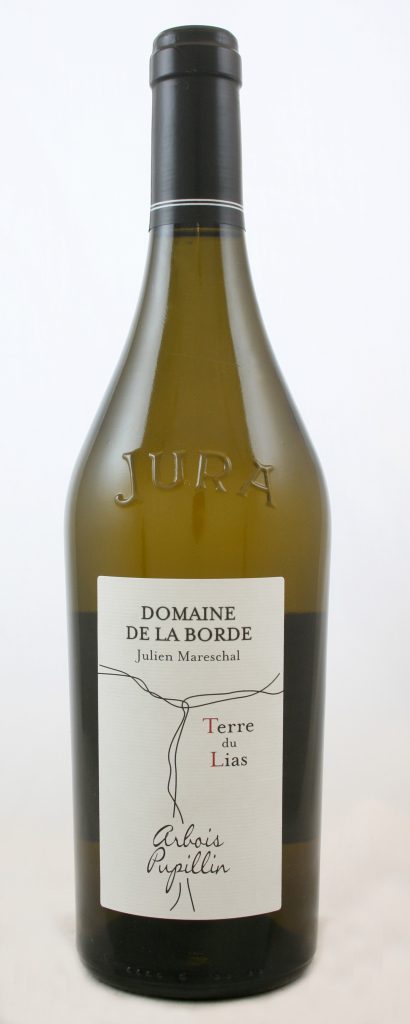 Julien Mareschal was born in, and grew up in, a village near town of Dole in the Jura region. He purchased this 5.5-hectare-vineyard from another Pupillin vigneron in 2003 and created. He carried out several work placements with Jura-based and also Burgundy-based vignerons such as Xavier Reverchon (Jura) and Maison Ambroise (Prémeaux Prissey, Burgundy), Marquis d'Angerville (Volnay, Burgundy) and Pascal Clairet Domaine de la Tournelle (Jura). He is a truly talented vigneron and his wines have a precision that allows them to express the exceptional terroir in which they are grown.
The name of the domaine- 'Domaine de la Borde' comes from the name of the little hamlet in the Jura in which Julien was born and grew up, he explains "by calling my estate by the name of my village, I just wanted to not forget where I came from".
We love Julien's Chardonnays which possess the linear quality of the best wines of northern Burgundy. The Terre de Lias vines are facing south-west, on a steep slope 450 metres above sea level. Clay-limestone surface soils lie on the deep bedrock of blue marl that makes up the geological strata called 'Lias', that is found in the Arbois area.
Grapes are harvested by hand with 30% of the grapes destemmed. After a cold settling, the juice ferments naturally with its own yeasts at an ambient temperature in used (three to six wines) oak barrels of 600-litres as well as in foudres. Twelve months' ageing on lees, with regular 'ouillage' takes place in these same barrels. Malo occurs in the spring.
With its great tension and length, this superb white combines smoothness, freshness and vitality.
The "Côte de Caillot" Chardonnay from Pupillin is grown on a very steep 30-degree south facing slope at 550 metres altitude of gravelly limestone from the Bajocien period (170 million years ago). Fermentation without sulphites and only with indigenous yeasts in 600-litre barrels. The 2015 of this Chardonnay was stunning, initially tightly-wound, tears-of-chalk dry, before revealing its density and richness with crunchy golden plum fruits and leesy-spice.
Why we love it: Chardonnay with that unique balance of intensity, minerality and tension, almost minimalistic and yet expressive at the same time.
If you like this… Cuvée de Professeur by François Rousset-Martin (based in Nevy-sur-Seille) would be your ball of chalk. Savagnin made in the ouillé style from late-harvest grapes that were just beginning to show a purple tinge. The equilibrium of this wine is startling: rich, layered, and complex, it is high in concentration and low in alcohol. It has a touch of sweetness at its core, and finishes with a salty, dry tang that is uniquely Jurassien.
SAVAGNIN DE VOILE ~ Domaine de St Pierre 
A lighter shade of veil
Fabrice Dodane took over the reins at Domaine St Pierre as winemaker and manager in 1989. In 2011, he was able to purchase the estate due to the untimely death of the owner and has since added more vineyards to the mix, currently farming 7.5 hectares in the Arbois and Côtes du Jura appellations. Having begun the organic transition process in 2002, the domaine's vineyards were certified by Ecocert beginning in 2008. Fabrice makes a variety of cuvees including "Burgundian" Chardonnays and lovely punchy semi-carbo reds and fabulous oxidative wines.
In 2012, he began to work in a purely natural vein. All wines are now fermented using only indigenous yeasts in either stainless steel tanks (red) or 400-600L oak puncheons (white), and whites aged in either the traditional sous voile (oxidative) or ouillé (topped off or Burgundian) methods. Because of the minimal use of sulphur in the wine-making, the wines generally go through the malolactic fermentation.
The wines embody the best of natural. They are transparent, showing off the site and soil, solid and stable, and utterly enjoyable and even thrilling to drink.
Chardonnay Les Brulées is from white marl and chalk soils and aged for a year in 500-litre used barrels, whereas Chapon is on blue-marls with a southerly exposition. The wines are all natural and topped up. The Melon Queue Rouge Les Dalles from older vines has weighty mouthfeel and the reds have good structure.
Most beguiling, arguably, is his Savagnin de Voile (2010) from vineyards located on grey marl with small limestone rocks. Organic farming, plus biodynamic preparations. No chemical treatment or weed killers are used. The only treatments used are sulphur and copper. Alternative rows are tilled and grass and plants grow in the other rows.
Savagnin grapes are softly pressed and fermented with indigenous yeasts in oak barrels. After malo they mature in same barrels for three years without being topped up. What a magnificent wine! The bouquet has aromas of fresh hazelnuts and other nut flavours with fresh citrus and mineral notes in the background. The palate is light, vibrant and displays a long finish with nutty aromas throughout. There is the usual savoury-nutty-cheesy element that one finds in jaune and super-jaune but one underscored with a floral element and a citrus drive.
Why we love it: A wine to contemplate, a wine to drink, the best of both worlds, inhabiting that zone between primary energy and oxidative relaxation.
If you like this… Michel Gahier's Fauquette sous voile is an example of Melon Queue Rouge (a variant of Chardonnay with red stems). The barrel in which the wine matures is not topped up. Instead, as the wine evaporates through the pores of the barrel a thin veil (voile) of yeast forms on the surface of the wine and this protects the wine from excessive oxidation. The oxygen that does penetrate the veil causes it to develop an exciting nutty spiciness that is incredibly appealing. Light (and delicious) oxidation that marks the nose, lifting and heightened nutty, savoury, and honeyed aromatics. One might go so far as to say "sesame seeds, baked apples, and wild flower honey." The palate is silky and surprisingly plush for the vintage with a long nuttiness and a fresh lift of acidity.
PLOUSSARD "COTE DE FEULE"
Hughes-Beguet
Winning the Plou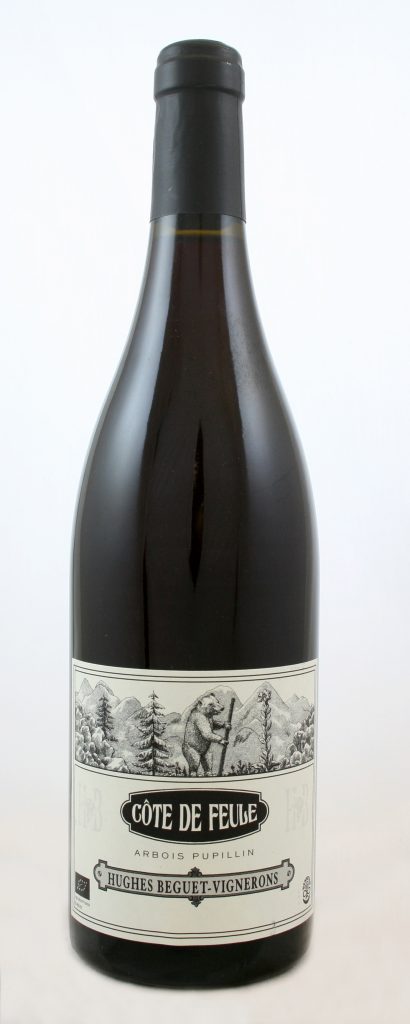 Patrice is originally from the Haut-Jura, and Caroline is British. They met while both working in the city of London. Patrice was an I.T. consultant, having studied for a degree in Applied Mathematics, he had always been passionately interested in wine. In 2009, they left their busy working life in order to start a new life as vignerons in Patrice's home region of Jura. Patrice had studied for viticulture and wine-making at Montpellier, then gained wine-making experience for a year by working as a consultant winemaker. They began their new lives as vignerons in Jura by purchasing several parcels of land in the Arbois and Arbois-Pupillin appellations, from various different vignerons. Their estate currently comprises roughly four hectares that is made up principally from Savagnin and Ploussard.
Patrice does a huge amount in the vineyard to ensure a healthy environment for the grapes. Sowing wild flowers, leguminous plants and cereals between vineyard rows, he works his vineyards biodynamically, applying yarrow, nettle, dandelion, chamomile and meadowsweet preparations. So committed to this lifestyle, he meticulously sources biodynamic straw for his straw wine and even an ancient breed of Alpine sheep graze on indigenous grasses between vines in the winter. The fruit is always hand harvested and sorted in the vineyards. The domaine is also a member of Le Nez Dans Le Vert, a biodynamic wine growers' group in the Jura.
All the wines are fermented only with wild yeasts, never chaptalised to increase the degree of alcohol and are produced from vines sprayed with the lowest possible doses of copper, thanks to the use of herbal concoctions which strengthen and regulate the vines' natural defences. The straight Ploussard is pretty pretty. A short maceration for this quaffable Arbois wine yielding a most delicate shade of red just this side of a rosé, whilst in the mouth the tannins are unobtrusive allowing the transparent fruit to express itself, where raspberry is predominant. The nose exudes hints of smoke, characteristic of Ploussard vines planted on shadier hillsides, as well the black pepper notes which Pupillin's oldest vines often confer to their wines.
The Côte de Feule is a more structured animal.
This warmer vineyard on a mixture of blue and grey marls gives low yields of ripe intensely-flavoured grapes. The wine is fermented 50% with whole bunches, pressed in a manual basket pressed and aged for eight months in an old tank and barrels, before bottling without sulphur or filtration.
Initial pungent aromas of red and black fruits mingled with spices leading into intense notes of soft red fruits (strawberry jam), pepper and, unexpectedly, cocoa. On the palate, the wine delivers a lively attack with supple, silky tannins that roll effortlessly across the tongue. The mid-palate is structured whilst the finish is spicy and balanced. This is serious Ploussard.
Why we love it: Whilst we love it when Plou-juice is glou-juice, this is a level above in terms of gastronomic wine. Dare one say a Ploussard for ageing.
If you like this… Alexis and Emilie Porteret, both from Jura, created Domaine des Bodines in 2010, when they bought a house in the centre of Arbois which had an adjacent three ha of vines attached to it. They fully converted to biodynamics using preps 500 & 501. The clay-limestone soils are ploughed by horse. Reds are made by layering (whole bunches with stems, bunches without stems, then with stems). No pigeage or remontage, no added SO2. Poulsard is in fibreglass and stainless and is as limpid as you like with ripe, red, tangy fruits, delicious aromas of sour cherry and pomegranate, and herbal notes on the nose. The palate is full of zesty cranberry fruit, leading into a lingering finish.
Further Jura wine to follow in a future blog!
*
Interested in finding more about the wines mentioned? Contact us directly:
shop@lescaves.co.uk |  sales@lescaves.co.uk | 01483 538820