Previous posts from our 100 Great Natural Wines series:
Jura ~ Part One
This is a series profiling the producers on our list who make natural wines. Within this series I will be highlighting some of the extraordinary and rare bottles and vintages that have helped to shape our appreciation of natural wines over the years.
Even the word "Jura" has a magical resonance for followers of natural wine.  This region of France has a unique winemaking history, its own special grape varieties, and a mosaic of beautiful terroirs. Small production and limited availability add to the mystique of the wines.
JA-NAI
Domaine des Miroirs
Where unicorns meet fairies at the bottom of the garden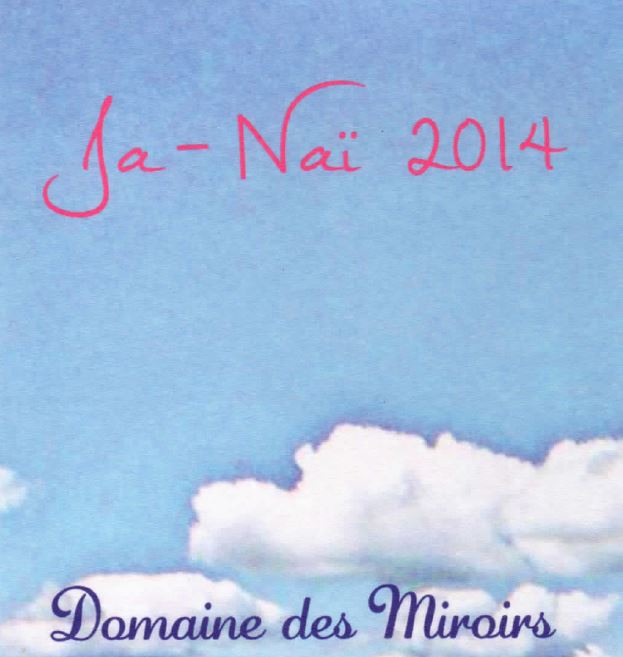 No matter how variable a wine is, sometimes, somehow, you know that it has been touched by the hand of a particular vigneron. One may even begin to "anthropomorphise" the wine, endowing it with characteristics that one believes are part-and-parcel of the personality of the grower. When you taste his wines, you surely believe that Kenjiro Kagami, he of Domaine des Miroirs, has some special magical power, a caduceus that he waves at his barrels to transform the juice into a wine that is peculiarly wild and beautiful.
Kenjiro started working in Burgundy, before a year with Thierry Allemand in Cornas and five years with Bruno Schueller in Alsace (the coeur de hard-core). With Ganevat's assistance he found a lovely property at the base of Lons-de-Saunier in Grusse. Today, he has 1.5 ha of Chardonnay, 1 ha of Savagnin, 40 ares of Poulsard and 20 ares of Trousseau. The vineyards are beautiful, a polycultural riot of flowers and herbs.
The name Miroirs is a nod towards the wine being a totally faithful representation of (or mirror to) the terroir he has chosen to work with.
Kenjiro's wines, at times, seem to embrace the concept of wabi-sabi. A Chardonnay from Grusse is initially restrained, before unveiling subtle notes of Japanese tea, and sake even, with an utterly distinctive umami quality. Another haiku of a wine, every syllable and nuance working to sublime effect, it shifts gear constantly with the sun-warmed, honeyed fleshy orchard fruit as the base, wild yeasty aromatics playfully scooting around the glass, oxidative nuttiness, salty minerality, and, yes, sake.
The second bottle (14) was completely different. Here was a wine with spine, tingling with citrus pith, mellow too but not mallowy, very complete and completely unified. Thinking back to the 13 the difference was startling, yet one felt the two wines came from the same person. 13 was wild, warm, meaty, evolving, 14 had a linear quality and vital tension.
For the rare and mutable brilliance of the white wines, it was a bottle of Ja-Nai shared with my friend Chrissie Rasmussen, that made me think about wine anew. From the 2016 vintage, a year where so many wines combined intensity and levity, it possessed that alluring mix of fragility and strength. The colour was carmine, the nose whispered (do noses whisper?) red roses, tea, and raspberry leaf, the palate was prickling, flickering, nacreous, and the overall sensation was like sucking on the most delicious cherrystone ever. Proximate tasting notes aside, it was a wine that reduced its drinkers to a state of Zen bliss.
Why we love it: Shimmering transparency x wabi-sabi squared.
If you like this… crack open a bottle of Pol Opuesto's vividly fruity Que Grande Sos! a field blend of interplanted Criolla Grande, Muscat (White & Pink), Criolla Chica (aka, País, Mission), the Cereza grape, Tempranillo and Bonarda. Qué Grande Sos' literally translates 'how great you are' (taken from lyrics of the anthem of the Peronist movement in Argentina apparently) but also refers to the grape Criolla 'Grande', which makes up the bulk of this field blend. Criolla Grande is a cross of Criolla Chica (aka País/Listán Prieto/Mission) and Muscat. The pink-tinted wine is something you can imagine drinking chilled. The first vintage we had was a dead-ringer for Ploussard, which is surely what all red wine aspires to be!
LES VIGNES DE MON PERE
Jean-François Ganevat
The cream of the top-up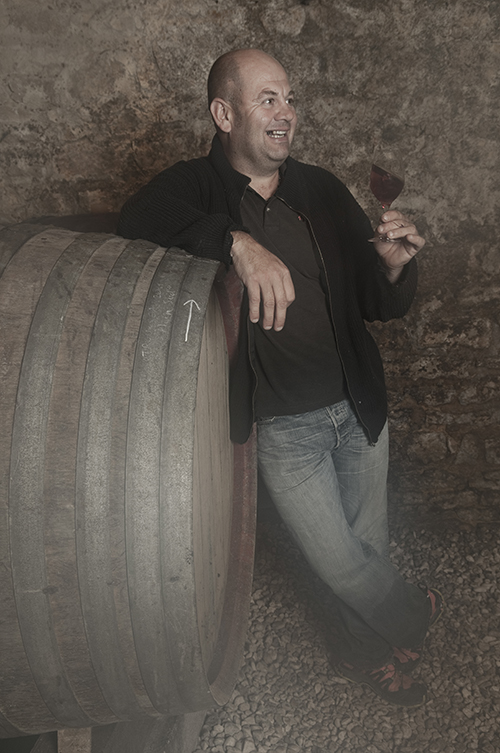 From the blue marls and schists of the Chalasses Marnes site, this wonderful Savagnin from vines planted 88 years ago, spends ten years (at least) in barrel, topped up. I may repeat that information later.
This is a wine that seems to walk straight to the wine auction houses, and the odd caviste in Paris who is privileged to leak it out in single bottle allocations.
So, is it worth the wait? Oui. Or as they say in Jura, ouille!
Jean-François (aka Fanfan) doesn't do things by halves. Although his domaine extends over a mere 8ha or so, he makes around 40 cuvées of wine and a multitude of microvinifications. Chardonnay, in particular, and Savagnin, are planted on a variety of different soils throughout the domaine and vinified accordingly. And you can subdivide between ouille (topped up styles) and flor-aged versions. The blue marl wines seem to possess a bristling energy, tension and finesse that makes them almost Puligny-esque, to coin a cliché.
Biodynamic methodology (aeration of the soil, herbal infusions, natural composts, cover crops, planting in accordance with the lunar calendar) is used to stimulate the natural immune system of the vine.
Les Vignes de Mon Père is from Savagnin Vert vines, planted in 1930, on the aforementioned marly soils.
The grapes are harvested manually, fermented with indigenous yeasts and then aged for 130 months (11 years) on the fine lees, topped up in 600-litre demi-muids. There are three releases of the wine during the process and the wine is bottled without filtration or sulphur.
As you might expect Les Vignes de Mon Père is gloriously long, with delicate notes of dry honey, cinnamon, crunchy pear-skin and that vivacious acidity. It seems linear at first, almost austere, but warms up in the glass (literally and metaphorically) to reveal wonderful textural complexity. The wine will last… and last – 15-20 years at least.
Why we love it: Nourished by its unique topping-up regime, the wine smells, tastes and feels immortal.
If you like this… Sometimes we are fortunate enough to receive some wine from Patrick Corbineau, wise with bottle age. If we are very very lucky, we also get some of his white Chinon called Helice Moteur. Described thus. "A wine in a cheap clear glass bottle with a monumentally uninformative label, as per all the Patrick Corbineau wines. That's not the story – in fact, it is not any story. The wine housed therein is that wonderful amalgam of austerity and oxidation that Chenin does so well when it does it well. The acidity is just tempered by flor-ageing and malolactic lemon-spiked buttery notes, but remains the driver of the wine. We never received a fiche technique for this wine and I'm not even certain that Helice Moteur is the name of the wine, but as Barry Davies once immortally said: "Frankly, who cares?" Anyhoo, think Chinon-Chenin-Sherry and you will get a feel for what was going on. Superb.
1986 ARBOIS PUPILLIN SAVAGNIN OUILLE
Pierre Overnoy

In the quiet village of Pupillin just north of Arbois is a sign beside the road that proudly announces: "World Capital of Ploussard." It was vigneron Pierre Overnoy who established the unyielding purist precept that wines should be made without the addition of sulphur. Pierre's father originally made zero-sulphur wine, but Pierre, who did his internship in Burgundy, experimented with it, until tasting the difference between his father's wines and his own convinced him that the zero-sulphur wine had a finer aroma.
The vines and the cellar are now in the hands of Pierre Overnoy's protégé, Emmanuel Houillon, who fully espouses the philosophy of his mentor. Without sulphur the quality of the grapes has to be exceptional; everything in the vineyard is done totally organically, yields are never more than 35hl/ha and Houillon turns the top six inches of soil, cutting the surface roots and thus depriving the plants of the topsoil's potassium which otherwise combines with tartaric acid and lowers their acidity. In the cellars the selected grapes undergo a semi-carbonic maceration in a covered vessel, with carbon dioxide added at the start before the fermentation supplies its own. To keep the bacteria from multiplying, the temperature is held to about 8C for about ten days of maceration. Then the temperature is allowed to rise and fermentation begins. The white grapes are immediately pressed and their juice is also protected with carbon dioxide. After the initial active phase some of the white wines continue to ferment a year or more, virtually all in old oak barrels of various sizes. The Ouillé is Savagnin, aged on the yeast lees in very old barrels – and topped up. Bright golden colour, green plums and figs mingled with the salty leesiness, pickled ginger and toasted walnuts. Phenomenal length.
Houillon is opposed to adding anything to the wine. No new oak barrels influence the taste – some of the barrels in use are a century old. Before bottling, the wines are neither filtered nor fined and they retain a lot of carbon dioxide, which has an antioxidant effect and helps to convey aroma. The maceration and fermentation give little colour to the Ploussard, with its fine skin. Houillon's pale, exceptionally light and piercingly fresh red is filled with flavours of morello cherry, redcurrants, wild strawberry and quince, a study in deliciousness, the avatar of purity. Wines such as these have an evanescent quality: they are unpredictable, variable, even fragile. They can react adversely to certain temperatures, location and atmospheric pressure.
Houillon's convivial red contradicts the notion that wine should be stable. File defiantly under quirk, strangeness and charm. The Ploussard is wonderful, but the heart beats even faster before the white wines.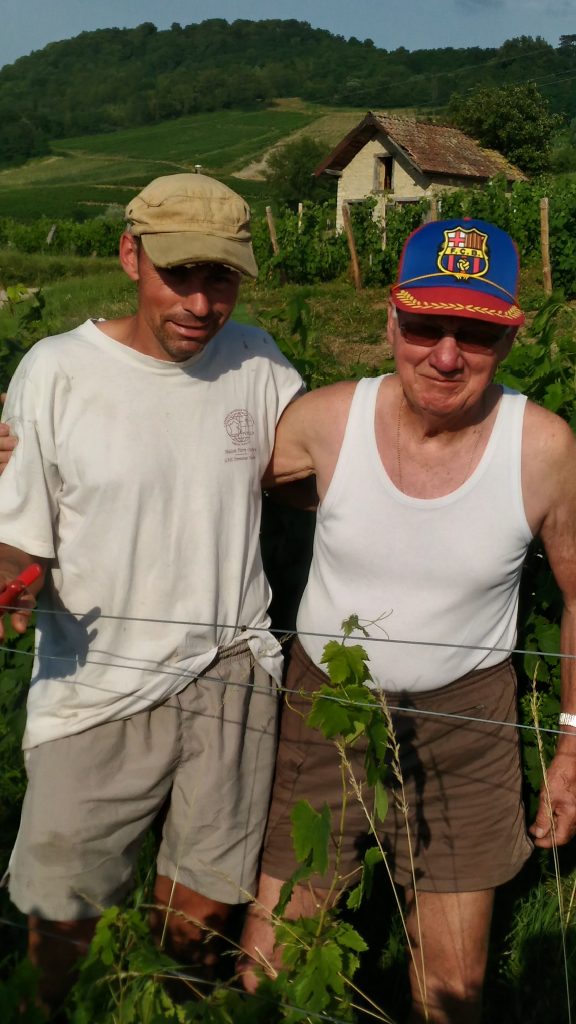 The day Pierre & Manu came to Terroirs
Here was Pierre Overnoy, who rarely ventures outside his native Pupillin alongside Emmanuel Houillon, with their family and friends – from the paterfamilias to the six-year-old on her i-pad. It was a privilege for us – not only because the wines are so desirable although they possess the value of rarity (if that has value), but because to welcome Pierre and Manu, who are true artisans, humble to a fault, into our restaurant, to offer in return the hospitality that they offer to us when we visit, then that is what makes this job special. For the wines are what they are – sans maquillage, edgy, flawed, sensitive to the vintage, deeply rooted in their place. And that is their glory. They are living wines also and thus constantly surprise you.  Both Pierre and Manu speak self-effacingly about the wines – you feel that you should no more judge a certain wine on absolute standard than you would judge a loaf of sourdough bread after it has come out of the oven (Pierre is now a master baker so this analogy has legs!).
The wines creep up on you. I find that they resist easy descriptors; sure, they evolve, but oh so slowly. It may be that they reach the ideal temperature in the glass or that they react favourably with a certain amount of oxygen or that the outer shell melts to reveal an inner core. The Savagnins and Chardonnays have the shell of reduction, then the veil of lees contact, the fruit is "yellowing". You don't feel the acidity at the front of the mouth which you do with the more driving Ganevat whites. Here the acidity is somewhere in the middle of the mix, where warmth and minerality mingle.
One wine that stood out on this special night was Pierre Overnoy's 1986 Arbois Pupillin Vieux Savagnin Ouille. Golden yellow, a nutty, oxidative nose with hints of churned cream and warm walnut and yet also some tropical fruit (crystallised pineapple), rich, yeasty and earthy on the palate with lovely acidity. Fabulous.
Why we love it: A wine of such dense purity that one stops and focuses intently on it. Not in an analytical way, but in an emotional one.
If you like this… O2 Voile is more than a nod and a wink, (Jean François Chene nods and winks a lot) to the wines of the Jura that he admires so greatly. He has a seraglio of Chenin that has taken the veil, ageing for approximately three years under those cheesy yeasts. The initial aroma is intriguing –churned butter and smoking corn on the cob mixed with oxidative notes. Carafed, the wine begins its subtle transformation, shedding primary leesy aromas and releasing hints of fruit – here are apples, slivers of toasted almonds and dried spice. Those sly salty Jurassic flavours come to the fore and the acidity reins in the funkiness. This is either a food accompanier, Comté, or a goat's cheese, or a gentle sipper, something to get down and meditative with, one of those wines that evolves as you revolve it around the glass.
VIN JAUNE OUILLE
Domaine Philippe Bornard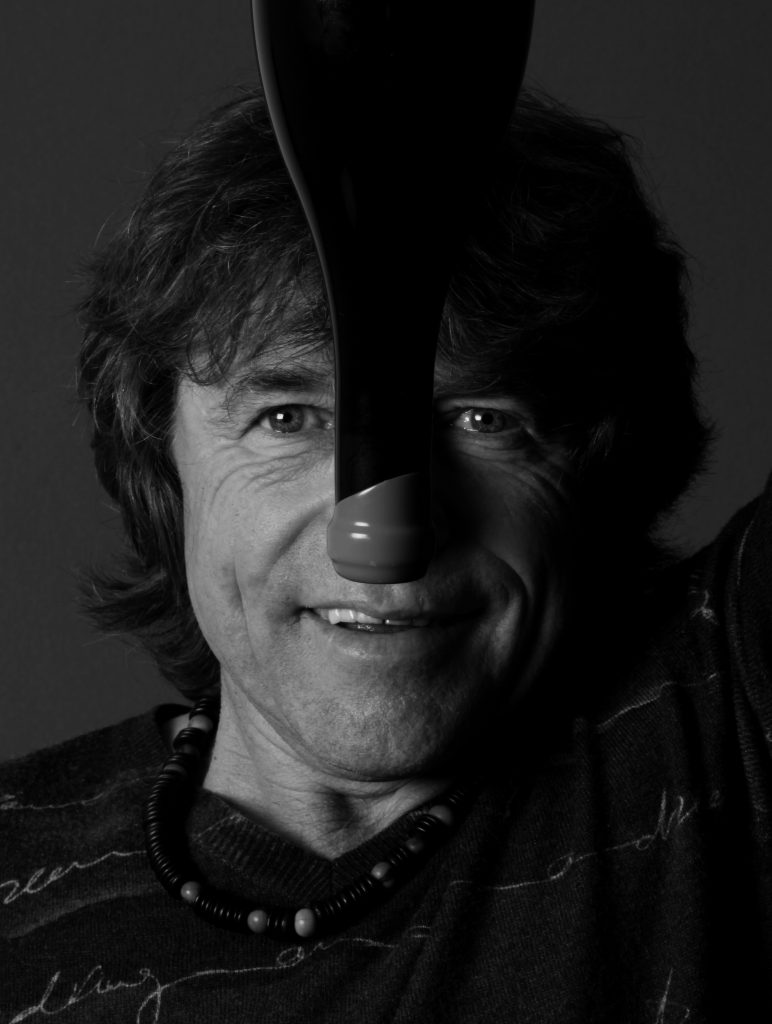 Philippe Bornard lives in the village of Pupillin near Arbois. Both sides of his family have been vignerons in Pupillin for many generations. His vineyards were inherited from his father, who previously sold only to co-ops. It was Pierre Overnoy, no less, who eventually convinced Philippe to begin to make his own wine, and now, decades later, he is working with nearly seven-hectares of 30 + year old vines and farming exclusively biodynamically – officially certified in 2012. It helps to have Manu Houillon as a neighbour, and one can see certain stylistic similarities in their farming and winemaking. The domaine today covers 11.5 hectares and his son, Tony, has taken over many of the winemaking duties.
The grapes are grown at high altitude, mainly in the Pupillin bowl, on limestone and clay soils, allowing for a long slow ripening. Typically, the wine begins a long, slow maceration in fibreglass, and then is moved to large older oak barrels and foudres for maturation, which lasts about one year. Wines are from two appellations: Côtes du Jura and Arbois-Pupillin and reflect beautifully the multiple terroirs of the Jura.
The Bornard Vin Jaune is quite exceptional.
Savagnin grapes are manually-harvested in the second week of October and pressed, whole bunch. Wild yeast fermentation takes place in Burgundy barrels; the wine is topped up in the first to maintain the fruit expression, then is aged without topping up in a cold cellar for over six years so as not to accelerate the process. A kind of veil forms on the surface of the barrel and nourishes the wine over this period. Around 1/3 of the volume evaporates. No sulphur is added.
This Vin Jaune is bright, clean and precise, with hints of spices and curry. The palate is rich and complex, with flavours of nuts, cinnamon and gingerbread. And umami in spades. A classic of the genre to which are added notes of citrus oil and crunchy apple. The length of this wine is staggering; it will age fifty years and change.
Why we love it: A meditation wine which envelops all the senses, and for all its richness, is curiously addictive and easy to drink.
If you like this… 2012 #16 Flower from Minimus. The process is very particular here: 48-hour whole cluster soaking, then pressed to neutral oak barrique for fermentation and ageing. The primary fermentation took a total of 38 months to complete. Flor veil would fall during July-September each year, and would re-appear in the autumn when the first rain would return to the valley. With its total of 41 months in barrel this wine is astonishingly complex characterised by incredibly intense semi-oxidative flavours. A rare orchid amongst unicorn wines. Flower power.
*Jura greats in one post, impossible! Further Jura wine to follow in a future blog!
*
Interested in finding more about the wines mentioned? Contact us directly:
shop@lescaves.co.uk |  sales@lescaves.co.uk | 01483 538820