Previous posts from our 100 Great Natural Wines series:
Savoie-Faire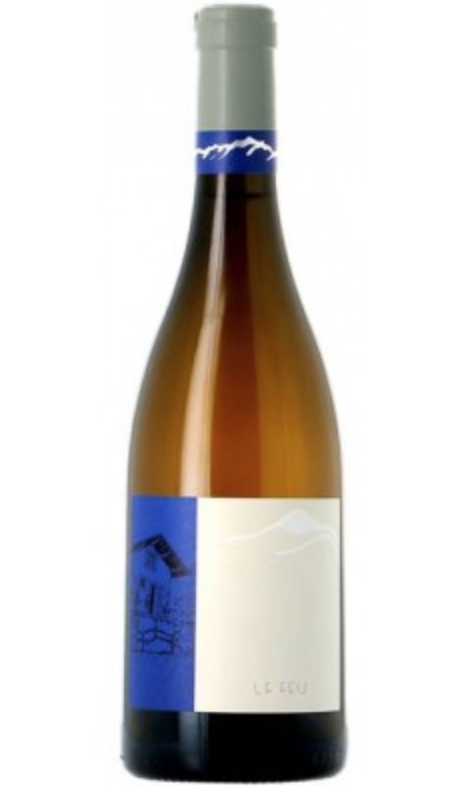 LE FEU
Dominique Belluard
Gringet rock
The village of Ayze is a little commune in the Haute-Savoie situated in the heart of the valley of the Arve between Geneva and Chamonix Mont-Blanc. Vineyards have been established here since the 13th century. The vines are between 350-450m high on exposed south-facing slopes where the soil is composed of glacial sediments, moraines (continuous linear deposits of rock and gravel). The Alpine climate ensures a big temperature difference between day and night, ensuring both physiological maturity in the grapes as well as good acidity.
Dominique Belluard's parents were farmers. They grew fruit trees, and vines, and worked their orchards and vines up until the 1980s. Dominique took a wine-making and viticulture course at Beaune, before taking the reins at the family's farm in 1988. The procedure for conversion to biodynamic farming began in 2001. Now the wines are natural. Dominique specialises in the virtually unique ancient grape Gringet and is the only person we know who makes a still version. Formerly thought to be synonymous with Savagnin, it is now recognised to be an autochthonous variety and mostly of the extant 20-hectares left of it are devoted to sparkling winemaking.
We begin with a bottle of Pur Jus drunk with friends at Mast WeinBistro in Vienna. This is a rare cuvée, made only in the best vintages, and sees no added sulphur. The wine is effectively from the same terroir as Les Alpes (see below). Every mouthful was like giving one's tongue a full career down the Cresta Run.
A unique grape variety that no-one had heard about a few years ago, and now everyone nods sagely when you mention it. All because of Belluard.
Every year I am captivated by another wine called Le Feu which comes from late-maturing old vine Gringet grapes grown on steep slopes and in iron-rich red soils– the "hot spot" of the vineyard as it were… The wine's opulence is balanced by relative lightness of alcohol and incredibly relaxed leesy spiciness. An amalgam of white peaches and little golden pears, wild mint, minerals, Le Feu is metaphorically on fire, a blazing sword of mountain minerality elegantly sheathed in its velveteen scabbard of lees-kissed golden fruit. Yes, it is the sort of wine that makes you reach for the most elaborate purple-prosy metaphor.
Belluard has run through the gamut of fermentation vessels. Now all wines are fermented and aged in cement ovoid betons, the liquid inside in biodynamic suspension.
Finally, there is the cuvee called Les Alpes. Wilful obscurantism apart, this is a wine that expresses a lungful of mountain air, heck, glacial as a Hitchcock heroine, with exuberant acidity that skates across the tongue and performs a triple salchow on your gums. The fruit is beacon-bright, crystalline and the acidity sings. Aromas of white flowers and jasmine, citrus-edged with a hint of peach-stone, violet and a twist of aniseed to finish. The brilliance of the acidity provides a profound palatal expergefaction (you heard it here first).
Why we love it: A wine that expresses its alpine origin, suggestive of meadow flowers, rocks and glaciers. A unique grape variety that no-one had heard about a few years ago, and now everyone nods sagely when you mention it. All because of Belluard.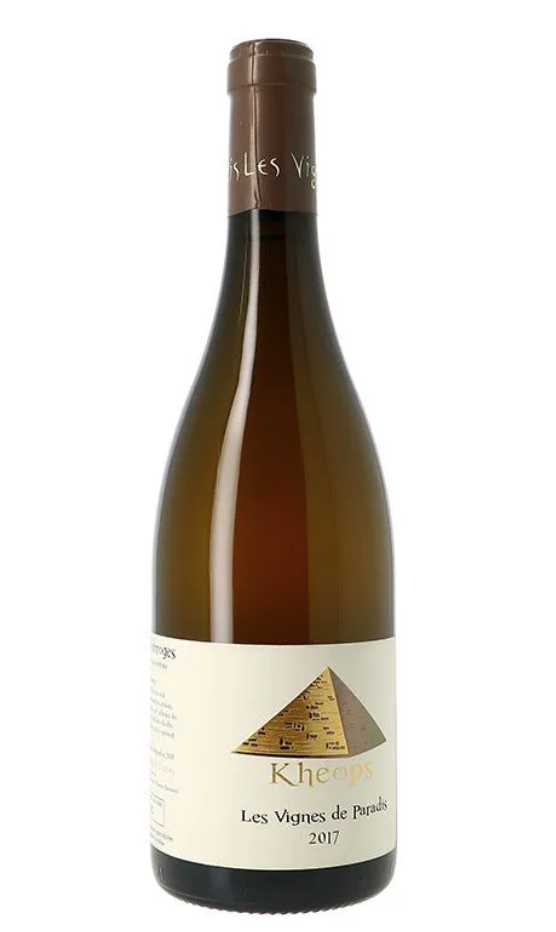 KHEOPS
Les Vignes du Paradis
Good Kheop, Better Kheop
Overlooking Lake Geneva (on the French side of the border they call it Lac Léman), Dominique Lucas farms 10 hectares (2.5 of them in Burgundy in the Haute Côte de Beaune and Pommard) of certified organic (practicing biodynamic) vines planted in rich yellow marl and granite soils with a limestone base, and some silex stones on the surface divided between the areas of Crepy and Marin. His vines are separated into 27 parcels of different soil composition, each of which is harvested by hand (he says it takes 2.5 months to harvest here as Chasselas takes so long to ripen), and vinified separately. He is deeply committed to Chasselas, and has also added tiny parcels of Savagnin, Pinot Gris, and Chardonnay. These are not old vines, but in the hands of this accomplished winemaker they are capable of producing wines of depth and complexity. Farming is the key – he employs preparations 500 & 501 as well as infusions of plants culled from the mountains and dried in the domaine.
Dominique himself hails from a family of Burgundian winemakers – he is the 5th generation – who own a small estate outside of Pommard. After completing oenology school, he opted out of returning to the family estate simply because he did not want to work within the strict oversight of the AOC, choosing instead to settle in the Haute-Savoie in 2008. Though his family's history is steeped in Burgundian ways, you won't find much of this influence in his cellar. Dominique vinifies his grapes in an array of different amphorae, barrels, and concrete eggs – no doubt a hint at his close friendship with Dominique Belluard who lives about an hour away in Ayse. Fermentations occur naturally and the only addition to the wines is a bit of sulphur at bottling.
Both white and red wines have a distinctive cut and a sublime balance of fruit and minerals, all wrapped up in a package that is as clean, textured, and compelling as anything, these wines simply offer pure drinking pleasure. As Dominique continues to experiment –the other he built a concrete pyramid out of sand, rocks, and water found on his property for future fermentations – and as his vineyards continue to mature and thrive, the wines will reach new levels, but we are already sold on their phenomenal purity.
Already fans of the C de Marin Chasselas, we were delighted to meet Un Matin Face au Lac, a Chasselas made in a mixture of amphorae and cement egg betons. It maintains a ravishing acidity and ample minerality like all of his wines, but seems a bit more open aromatically with hints of, almond milk, and zesty lemon meringue. These luscious aromas coalesce once on the palate with more succulent citrus and minerals coming forward. The word of the day is crystalline.
This Chardonnay is an example of less is more, where the wine seems to be as water that has made its fluent passage through minerals.
Kheops Chardonnay comes from baby vines and low yields – glacial moraines, molasse and yellow clay, harvested in two passes through the vineyard, then gently pressed into a pyramidical vessel made of local stone, stand and spring water, and aged for twelve months on the lees. No sulphur added to this cuvee.
This pyramid is faithful replica, in a proportion of 1:100, of the famous one of Kheops, the idea being that the special form favours the circulation of certain energies in the liquid, eventuating in wines of great intensity.
This beautiful Chardonnay has a pale gold hue with hints of green and mother-of-pearl, the nose is open with refined fruit, surrounded by floral notes: flint, bergamot, candied citrus and green tea.
Why we love it: Whether or not pyramid power allows the wine to vibrate with greater intensity (whatever that means), this Chardonnay is an example of less is more, where the wine seems to be as water that has made its fluent passage through minerals.
To be continued…
*
Interested in finding more about the wines mentioned? Contact us directly:
shop@lescaves.co.uk |  sales@lescaves.co.uk | 01483 538820