When the Kioutsoukis family migrated from East Romylia in the early 1900's, a region at the Black Sea coast well known for its wine to Greece, they carried with them the embedded knowledge and the passion for the vineyards and the wine. Unfortunately, they could not fulfil their dream to build a winery in Greece until Dimitrios Kioutsouki, the grandchild, did so in 2010.
Dimitrios received his degree as a chemical engineer and worked for several years in the medical field in order to obtain the necessary funds to fulfil a lifelong dream.
This family-inherited wine passion led Dimitrios to take the UC Davis Oenology Extension programme in order to go beyond embedded and tacit knowledge and further his understanding of winemaking. He planted, with his family's assistance, about 11-hectares of vineyards in the slopes of Mygdonia in Northern Greece, where vines had been extant since ancient times, but their cultivation had been abandoned after 1900 due to phylloxera. Now, mainly Greek grape varieties are planted (Assyrtiko, Malagousia, Roditis, Xinomavro). The low hillside along with the microclimate (a refreshing northern wind is present all year round), and the different types of soil -from clay sand to lighter with small stones and schists – help to produce delicious wines with excellent ageing potential.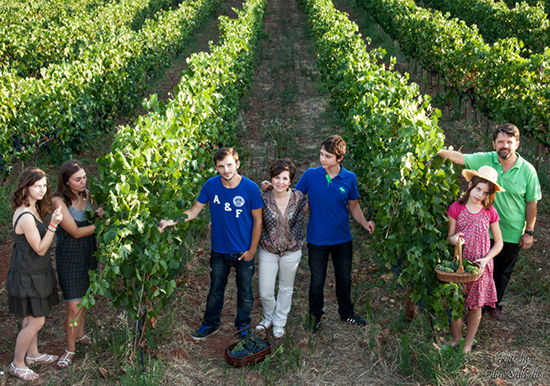 From the very beginning, the vineyards were exclusively treated with long-standing, traditional farming methods, some of which have almost been forgotten. Manual pruning – hoeing – and harvesting, deploying herb sprays, such as nettle, yarrow etc, natural fertilization with compost and manure – and newly planted vines shaped in basket crowns. The basic rule at Kamara is to do as few treatments as possible and try not to subvert the natural equilibrium. Using modern equipment, only to monitor and support (if necessary) the natural chemistry of the winemaking cycle, Kamara winery produces wines with a unique character that express the terroir without lowering standards.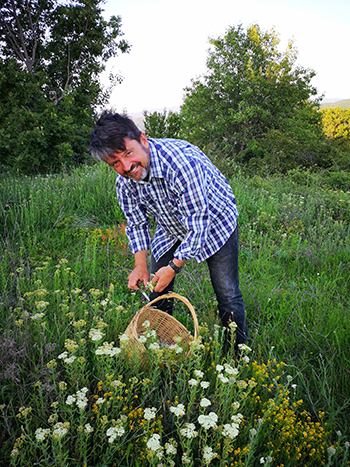 From 2015, Dimitrios, seeking the real taste of life that he learned from his grandfather, took steps towards implementing natural vinification. "Nature is the real winemaker, man is her assistant" therefore the wines are produced following the traditional way, manipulated gently and slowly in order not to shock or spoil the wine's character: no added yeasts, few or no rackings at all, wines matured on their fine lees, light or no filtration, well-integrated wood, using only old barrels etc.
The main goal is authentic vibrant wines with minimal interventions that eloquently express the terroir and reveal a broad spectrum of constantly evolving flavours and aromas.
The label of the Keramos wines are inspired by ancient Greek history and depicts the meeting between Alexander the Great and the Cynic philosopher Diogenes. The philosophy of Diogenes was "Less is more" and, for this reason he lived in an amphora instead of a house. For the Cynics, the purpose of life is to live in virtue, and in agreement with nature.
Keramos Orange is a blend of Assyrtiko and Muscat of Samos (80/20) and comes from vines grown on clay loam and silty clay loam, eastern-facing, 140m asl. The two varieties are naturally fermented separately (both in whole clusters) in 225-litre handmade Cretan amphorae with maceration on skins for 30 days, then pressed and blended back into amphorae for a further 9 months before bottling without filtering, fining or added sulphur.
The colour of the wine lives up to its name by being bright orange. The nose is opulent and intense with aromatic floral notes care of the Muscat of Samos, while the texture in the mouth is soft and gently coating, playing between citrus (mandarin) and yellow-fleshed fruit with the merest suggestion of white spice in the background.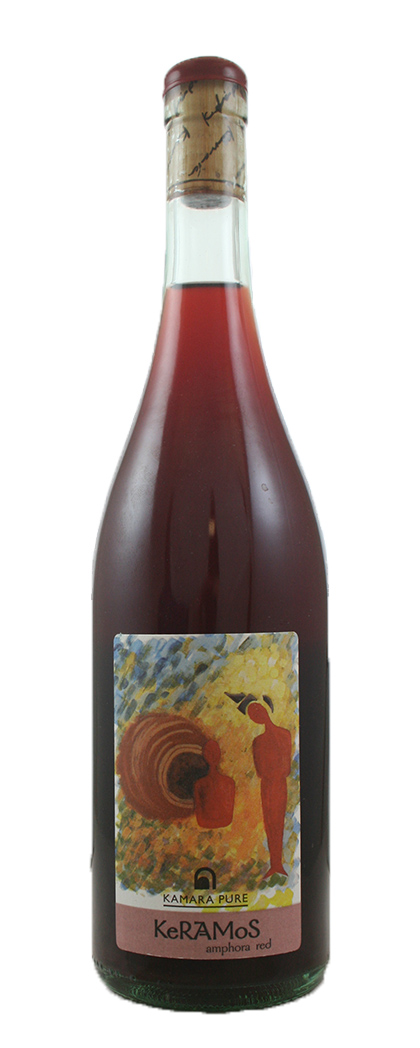 Keramos Red is a blend of Limnio and Xinomavro. Limnio, hailing originally from the island of Limnios, dates back – according to ampelographers – to Ancient Greece and may be the same variety Aristotle called Lemnia.
Whole clusters here also, but in this case the two varieties are co-fermented in amphora with a skin maceration of 30 days during alcoholic and malolactic fermentations. The grapes are then pressed and aged in the amphora for a further nine months on the fine lees, before bottling with zero additions.
The wine has aromas of dried plum and fig with a dusting of herbs. In the mouth there are sensations of maraschino cherry, black and red berries carried by pleasing acidity and integrated with very supple tannins. The wine has lovely vibrancy and delicious drinkability.
2021 Keramos Orange
2021 Keramos Red