Bojo Nouveau is vieux chapeau, n'est-ce pas? By no means! Christina Rasmussen describes how we are falling in love with a new style of new juice.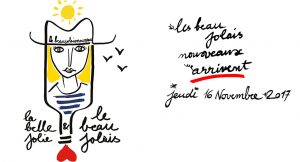 Christina works as wine pr for Westbury Communications where she has special responsibility for Wines of Beaujolais. She also contributes to The Buyer magazine on a variety of subjects.
It is that time of year again: days are cold, nights are colder. The leaves have fallen and suddenly it is so dark. The thermals have been unpacked. My feet are freezing.
At a time where I'd usually be edging towards comforting, fruity, tannic, higher alcohol reds, a familiar, yet new friend pokes their head around the corner and says, "hello, don't forget about me just yet!" Hey you, Beaujolais Nouveau. I haven't met you before, I met your sister last year though.
I wrote this blog post last year, where I spoke about the revival of BojoNuvo. There is a surge in interest for these young'uns, the Beaujolais in babygrows as you might say, both in London and beyond. So what is happening? Why are we all suddenly so keen to taste the wines that tarnished our beloved Beaujolais' reputation in the 80s?
Quality. Dedication to the cause. They aren't easy wines to make. A group of winemakers are making some fabulous baby Beaujolais minimal intervention wines. Andrew and Emma Nielsen and Emma of Le Grappin, for example, are producing Bojo Nuvo from Lancié, from the vineyard "La Pinte," and Camille and Matthieu Lapierre make their Château Cambon. Both of these were celebrated across the capital last year, and people are going mad for them this year too. Jean Foillard, Isabelle Perraud, Domaine des Nugues and Karim Vionnet are other names that also make true-to-terroir Beaujolais Nouveaux.
These true-to-terroir BN wines are our first insight into the unique conditions of the growing year. They are, in a way, a very pure and untouched insight into terroir: the soil's activity and our planet's activity of the year. Through these wines, we are able to attempt to get a handle on what happened in the vineyard this year.
We are geeks in the wine trade. This we should embrace. I will happily sit around a table and discuss granite versus diorite until the early hours of the morning. I know a lot of you will join me. If there is any chance for us to get an insight into the unique conditions of 2017, we'll take it. This in turn means Beaujolais Nouveau.
There are other stirrings. In Canada's British Columbia, Nikki Callaway made a Gamay Nouveau last year, and Val Tait of Bench 1775 made a Malbec Nouveau. Division Wine Company and Bow & Arrow in Oregon both made Gamay Nouveaux. Scribe made a Pinot Nouveau. We of course also have long-standing examples such as various Muscadet Nouveaux and the Octobre cuvee from Les Foulards Rouges in the Roussillon.
Those of us that will have these aforementioned discussions, we love a very certain group of "wine people" above all others. The guys above. The winemakers. Without these wondrous humans we would never have the means to chat and debate. A nouveau wine is a celebration of the hard work of the winemakers to create the wines that we love so much. Thus, when these wines roll in, it means only one thing: a party. And who doesn't love to party?
Interested in finding out more about any of the wines featured? Buy online here or contact us directly…
Retail: shop@lescaves.co.uk / 01483 554750