Home, home again
I like to be here when I can
And when I come home cold and tired
It's good to warm my bones beside the fire
Far away across the field
The tolling of the iron bell
Calls the faithful to their knees
To hear the softly spoken magic spells
Time ~ Pink Floyd (from The Dark Side of the Moon)
Comando G comprises Dani Landi & Fernando Garcia who plough their rocky furrows in the stunningly beautiful mountain region of Sierra de Gredos, located around 100 km to the west of Madrid. The name of the project alludes to the specialism in wines from the Garnacha variety from Gredos. More directly, it references the Spanish-language version of a cartoon series from the 1980s, known as Battle of the Planets in English (which featured a team of heroes called G-Force defending the earth against alien attack). G for Garnacha, for Gredos, for granite and for gee whiz.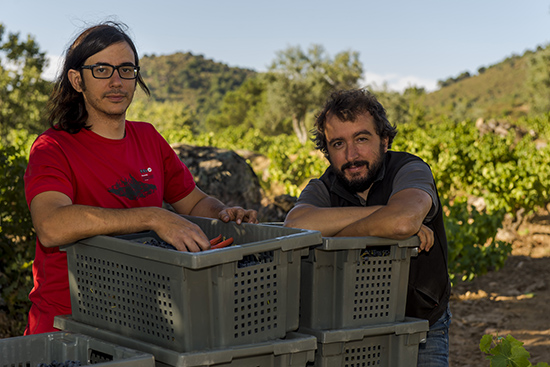 The bare facts. In total, Comando G work with around 10-hectares of vines at altitudes ranging between 900 and 1200 metres. The average age of the vines ranges between 60 and 90 years with some of the vineyards restored, having been abandoned years ago. Organic and biodynamic practices are employed with horses ploughing the soils. Each site is harvested by hand, usually in October. In the cellar, vinification is characterised by long macerations and whole cluster fermentations for red wines and gentle pressing for whites. Extraction is not sought at all. The macerations are more like infusions with submerged cap rather than pumping over. Fermentations with natural ambient yeasts take place in open vats and ageing is in a combination of 500-700L French oak barrels, foudre, cement and clay amphorae, for 10-16 months according to the wine and bottled without filtration or fining and minimal added sulphites.
It is important to know that Dani and Fernando have revolutionised the perception of a region where farmers either abandoned their vineyards or sold their grapes. Gredos, at the cusp of where the Atlantic influence merges with the Mediterranean, is home to astonishing diversity of mountain landscapes, flora and fauna. All of the wines, as mentioned, come from stunning oft-remote high-altitude old vineyards, which can only be worked by hand and with the aid of horses (and they use the traditional hand tools of the region).
In a country and wine culture where Tempranillo is regarded as king, Dani and Fernando have demonstrated how Garnacha can be the most eloquent conduit of terroir. Along with the pioneers of the Priorat, Daniel and Fernando are redefining what was previously viewed as a workhorse variety into something that can rival the elegance and finesse of Pinot in Burgundy or Syrah in the northern Rhône. It is no secret that they love Burgundy and how Pinot Noir expresses itself on the variegated soils of different climats and they discover a similar beautiful transparency in their wines, albeit one grounded in granite rather than the limestone-clay soils of Burgundy.
As a result of their endeavours (and those of likeminded souls) Gredos now enjoys a reputation comparable to Ribeira del Duero, Priorat and Rioja as a world class wine-producing region. And its potential is still only just being realised.
The two vignerons themselves are on a journey, always learning, and certainly working with a mixture of intuition and science, feeling the terroir and sensing the best expression of it. Their wines are an active dialogue between the sky and the earth; in some cuvees the voice of the sky, an aerial quality in the wine, is what sings most clearly, whereas in others the minerality is of a more deep-toned, earthy kind.
Drawn to the mountains and rumours of small, nearly inaccessible vineyard plots located high in the Sierra de Gredos, over time, Dani and Fernando began purchasing and leasing the best sites they could find, creating Comando G in 2008. The vineyards that Daniel and Fernando have assembled are all farmed biodynamically. These antique vines are planted on sandy soils weathered from granite, slate, and quartz. A combination of high altitude, freely draining soils, and a mild and fairly humid micro-climate – for central Spain – guarantees a long growing season and a modest alcohol level in the finished wines. The resultant wines are startlingly pale, extraordinarily aromatic, and intensely flavourful.
Granite is the key to Gredos. There is a granite, however, and there is granite! Dani and Fernando love it because the wines made from vines with their feet in energy have a particular fluidity and vitality. The sandier granitic soils give rounder, fruitier iterations of the Garnacha, whereas those with a higher amount of quartz seem more lifted. The presence of iron or slate also contributes to the character of the wine in question.
The Wines:
La Bruja de Rozas (the witch of Rozas) is the Comando G village wine, in effect, the grapes sourced from several vineyards around Las Rozas de Puerto Real. With up to 40% grapes still sourced from local winegrowers, most vineyards are situated in the lower part of the U-shaped valley between the townships of Rozas, Cadalso and Cenicientos. According to Dani Landi, vines closer to Cadalso show well-balanced red fruit while the style gets fresher and finer towards Rozas. Fermentation and maceration takes place in open-top oak vats with 100% whole clusters for 45 days and aged in 500-litre French oak barrels for a further 8 months. The fruit is darker in this wine (but the nose suggests red fruits) and there's a smoky finish with some fine-grained tannins.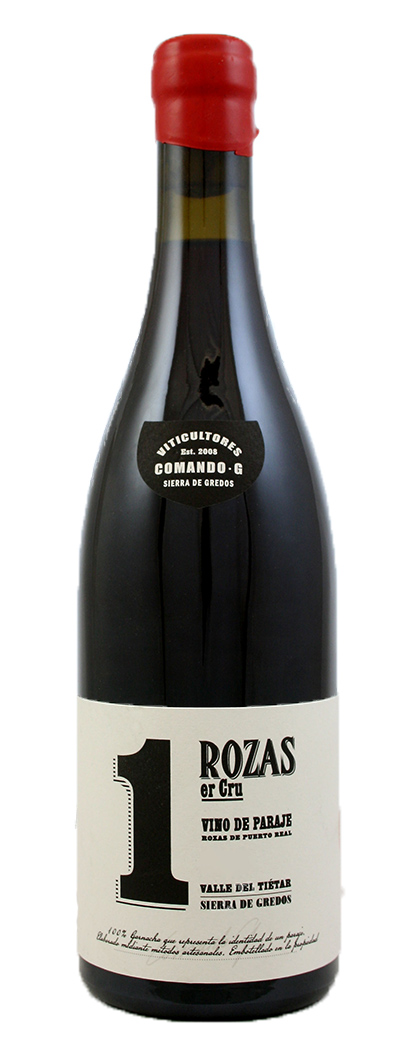 Las Rozas 1er (the 1er is another Burgundy allusion) derives from vineyards located in the foothills of the mountain and therefore at a higher altitude (900 metres) in Rozas de Puerto Real. The soils here are sandy granite and silt. As with all the reds the wine undergoes lengthy maceration and whole cluster ferment in open top followed by, in this case, 10 months maturation in a concrete and large oak vat. The colour is fabulous – like pomegranate juice. A fragrant nose with notes of cherry, blood orange, delicate floral fragrances, thyme and a hint of rose petals. The wine also has immense salinity and razor-sharp precision.
La Breña is the newest addition to Comando G's portfolio.  The vineyard was purchased in 2016. Located at altitude of 1,100 metres on a single plot of 0.3 ha in the Alto Alberche valley of the Gredos mountains, adjacent to Rumbo al Norte, with shallow granite & sandstone soil. The average age of these vines is 40 years-old. The vineyard's north orientation maintains lower temperatures and assures very long maturation cycle and great acidity. Since the 2018 vintage, the viticulture is 100% biodynamic. Ageing in wooden foudre for 14 months. The wine is aromatic and combines Mediterranean touches of aromatic herbs with cooler aspects of spice and cold granite soils.
Southern Gredos
Las Umbrías was the first wine ever produced by Comando G (in the 2008 vintage). This half-hectare, granitic, east-facing plot sits at 995m above sea level with over 65-year-old vines located at the top of the so-called Roe Deer Mountain in the southern Gredos (near the village of Rozas del Puerto Real). Practically abandoned when Comando G acquired it, it was recovered using biodynamic practices. Dani highlights the characteristic breeze in the setting. "The wind influences the fragrance of a wine and helps to set the aroma", he says. It' a more delicate style from vines on granite-based soils, mostly sandy with some clay patches." After a sixty-day maceration the wine is matured in large oak vats for 14 months. On the nose it is pure delicacy, with notes of rose petals, earthy aromas and chalk with fruit appearing in the background. In the mouth it has a seductive sweetness, without being floral, ethereal and gentle tannins. More a cloud than a wine, as Dani Landi observes.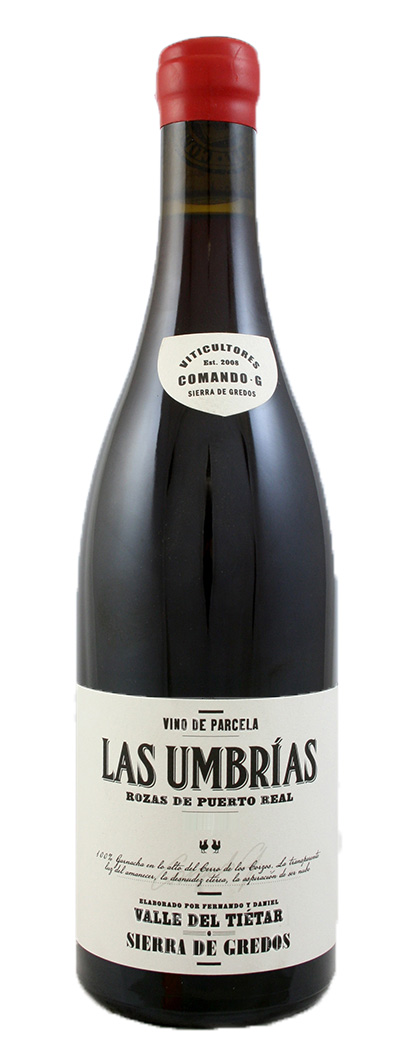 Central/North Gredos
Las Iruelas is from the village of El Tiemblo. The 1-ha vineyard, planted in 1963, is 1010 metres above sea level, facing east and the head-pruned vines have their feet in a mixed and sandy terroir of granite, slate, schist and quartz with patches of clay, the most complex soil that Dani and Fer work in the Sierra de Gredos. Las Iruelas is an apparently more muscular Garnacha due to this unique terroir with aromatics that are more Rhone-like in personality. The same delineated mineral structure that one associates with the Gredos, but more dark fruit and bass-line character than the other wines.
Another new wine (for us) is El Reventón. We are near the village of Cebreros at an altitude of 950m on a south/south-easterly vineyard plot, planted in 1943.  While sandy granite soils with varying amounts of quartz and clay are the norm in the Sierra de Gredos, there are some vineyards on schist and slate soils as well. El Reventón is planted on just such a rare outcropping of slate. This produces wildly aromatic, darker, richer wines with a firmer structure. The wine undergoes around 16-months of barrel-ageing; it feels more Mediterranean in style.
Northern Gredos
The three other cru-like wines come from a completely different area, the Alto Alberche valley in the province of Ávila (Castilla y León) where some of Gredos' highest plots can be found. Rumbo al Norte and Tumba del Rey Moro are particularly extreme.
Tumba del Rey Moro is a wild, pre-phylloxera 0.5 ha north-facing vineyard located in Vilanueva de Ávila at 1,100 metres asl. A chaotic, almost vertical terraced assemblage of vines spreads downhill surrounded by oak trees, chestnuts and fig trees.  The vineyard was until-recently completely overgrown. The soils are sandy pink granite with more quartz than others. The wine is matured for 14 months in large oak formats. Its colour, an intense garnet colour with bluish reflections, is captivating, while the nose has aromas of flint, pomegranate, and fresh watermelon. The palate is broad and juicy with an earthy, aromatic finish. Strength and delicacy combined, a wine that dances over the tongue.
The now-legendary Rumbo al Norte comes from a 0.3 ha, north-north-eastern exposure, 1,150 metres high vineyard planted in 1950, located in Navarrevisca. The vines grow among gigantic boulders, so close that not even a horse can enter some areas to farm the land; yields barely reach 1,500 kilos per hectare and harvest takes place at the end of October. Most vineyards have been uprooted in this area. The wine is aged for 14 months in 10-hl French oak barrels. Almost rose-hued, Rumbo is precise, almost angular (in the best sense) and Atlantic in spirit, with wild flowers, red stonefruit and peppery nuances and a brilliant cool minerality on the finish that we associate with granitic soils.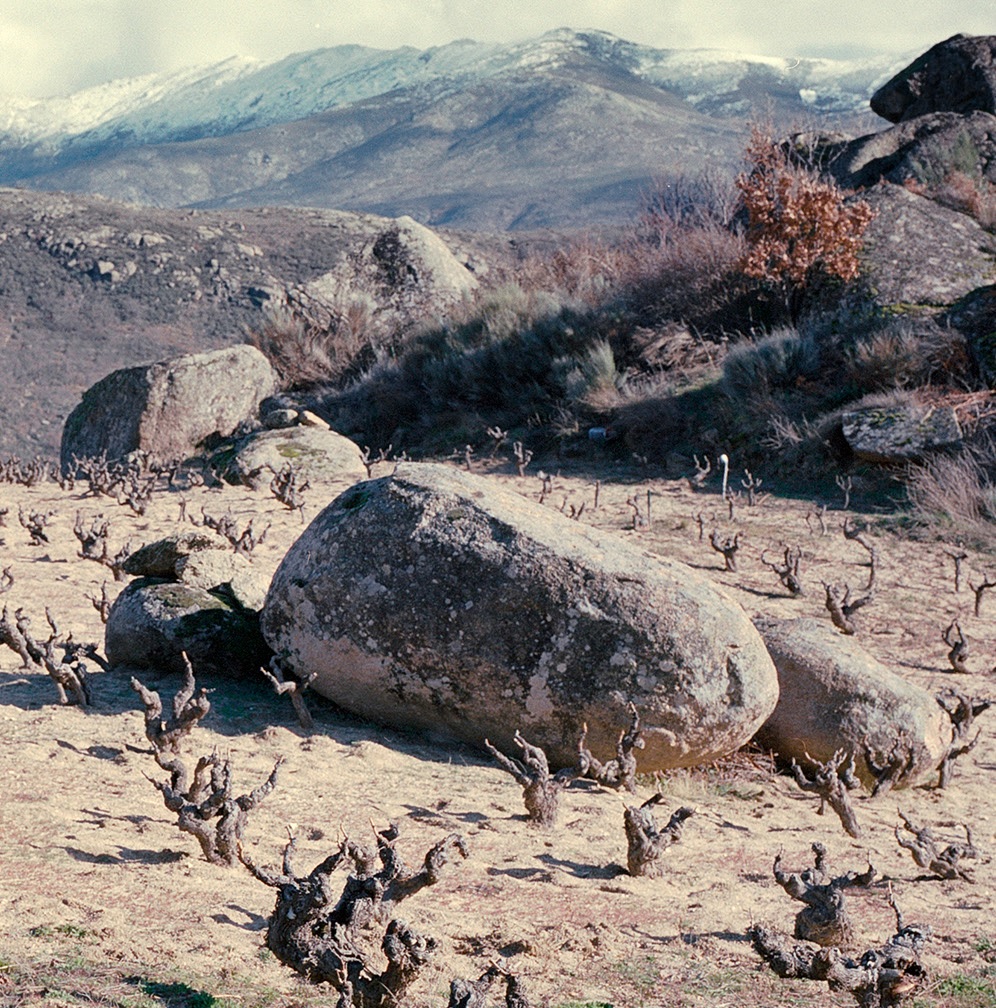 El Tamboril Tinto, also from Vilanueva, made its debut with the 2016 vintage and hails from a 0.2 ha north-facing vineyard at 1230m on granitic sand. Due to the altitude and aspect the fruit is usually harvested well into October but the wine's alcohol is always very moderate. It undergoes the usual long maceration followed by 14 months in large French foudre. The wine has a floral nose, almost Burgundian in style – sweet red fruit, earthy, herbal. Super savoury, very fresh and delicate.
When one thinks of Comando G wines, one thinks of the nuances of Gredos terroir that have been so adeptly captured and expressed. The winemaking does everything to take a back seat and allow the soils, the altitude, aspect, and vintage speak for themselves. I love the colour of the wines; they possess a delicate shiny turbidity to coin an oxymoron. The fruit is always at the red end of the spectrum, bright, bouncy, high-toned and often ethereal. The wines from the more Mediterranean-influenced part of the region or on soils which have schist or slate or red iron mix, have an earthier quality. It is a cliché to describe wines as Burgundian or Pinot-esque, but in a certain respect this has become shorthand for wines that embody a quality of transparency of, and respect for, terroir, wines that are not muddled by oak or super-technical impositions, that originate from artisan methods and an artisan mentality, that are pure and reflective, that have in their lightness a quality of profundity.