This is a series profiling the producers on our list who make natural wines. Within this series we will be highlighting some of the extraordinary and rare bottles and vintages that have helped to shape our appreciation of natural wines over the years. Previous posts from our 100 Great Natural Wines series include Austria, Spain, and a hefty chunk of France & Italy, and can be found here.  
There is a conundrum about why places that are not so distant geographically, or different geologically, or that share similar climates, can have such different wine cultures. Why is it, in this case, that two adjacent countries, both originally part of the greater Austro-Hungarian empire, both more recently submerged in the greater Yugoslavia, should be producing such radically (and qualitatively) different wines.
Slovenia has certainly always benefited from being adjacent to Italy – on one side – and Austria – on the other. The border between the former two countries, is very fluid, and even arbitrary, and as a result the Gorizia/Collio gastronomic culture spills over to the Slovenian side (Goriska Brda). The vineyards of growers literally straddle the border. The Croatian border, however, is still a firm one, as if they are metaphorically locking out/locking in identity.
Marko Kovac accounts for the differences thus: "Croatia enjoys a long coastline (1000 km) which generates a booming tourist economy. Most of its wines are sold domestically, especially during the tourist season. Visitors will buy at the cellar door, or by the side of the road, whilst restaurants purchase in bulk and, again, sell to tourists during the season. This undemanding (captive) audience may work commercially for the growers, but it does not impel them to push themselves harder to produce wines of quality or authenticity. Slovenian growers without a large captive tourist base, need to make an additional effort to sell their wines and, thus are driven to make export-worthy wines."
Slovenia's burgeoning wine culture was given a further impetus by the skin contact movement which was founded and popularised by Slovenians living in Italy, namely, Gravner and Radikon, Bensa, Kante, Skerk, and later Princic and Zidarich, with Valter Mlecnik on the Slovenian side of the border. They travelled variously to Georgia and other parts of Italy, spoke to oenologists, professionals and colleagues, researched books about local grapes and winemaking styles and set out a blueprint for future winemaking practices. One of the most influential salons and movements in Italy today, driven by the leaders of the skin contact movement in northern Italy, is Vini Veri in Cerea.
Whereas Slovenian growers, influenced again by the example of Gravner, Radikon et al, were to embrace organic farming (around the early years of the millennium), Croatian growers stuck to the tried-and-trusted. "There was simply no logical reason for anyone in Croatia to farm organically. Growers went from selling grapes to co-ops to capitalism, where you have to fight for existence, feed your family in a marginal economy, get a loan and then find ways to repay the loan. Organic farming was – and is – viewed as a luxury, rather than a necessity. Compare to Slovenia's economy, which has been stronger, more adaptable, and more diverse. (Slovenia joined the EU in 2004, whereas Croatia was the 28th member state in July 2013).
"There are some farmers [in Croatia] making natural wine for the family", says Marko. "Virtually nothing though is commercialised. When you look at the climate in an area like Dalmatia it would be so easy to farm organically and work naturally. The reverse is true in Slovenia, and even more so in Styria, where conditions are difficult, to say the least."
Many of the Slovenian producers, make very small amounts of wine, yet they attend the best wine fairs, and are trying to prove themselves in the wider wine world. They don't have a lucrative life style; they make just about enough wine to get by on and are humble enough to allow the wines to express the territory as naturally as possible. Slovenian wine culture seems rooted in these verities and will endure, whilst Croatian growers need to decide whether to look outside for inspiration (and not just to Bordeaux and the oenologists who would Parkerise the wines) but to their neighbours – and elsewhere in central Europe – for a more dynamic approach to farming and winemaking.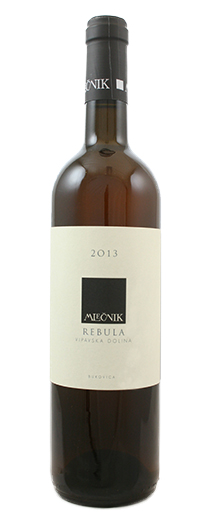 REBULA ~ VALTER & KLEMEN MLECNIK
The Call of the Deep
The Mlecnik 9ha farm, situated in Bukovica at the western end of the Vipava valley near the Italian border, is planted to a mix of Chardonnay, Rebula, Sauvignonasse (ex-Tocai Friulano), Istrian Malvasia, Pinela and Merlot, all of which produces a mere average total of 12,000 bottles a year. All the grapes for their wines come exclusively from their own vineyards which are cultivated organically. Mlecnik has been certified organic since 2005.
Their meticulous vinicultural approach is aimed at producing wines of exceptional quality. They have adopted a training method and pruning techniques leading to very low yields and which also serve to build resistance to diseases and pests.
All maceration in the winery is without temperature control and fermentation is spontaneous. The white varieties spend three to five days with the skins, the reds approximately two weeks. Maturation takes place in classical big Slavonian oak barrels with the wines aged for up to two years in these vessels, bottled and then aged for even longer before release.
These are surely amongst the finest wines (fine as in elegant) in Slovenia.
Valter Mlecnik was one of the founders of ViniVeri and also the skin contact movement – the only Slovenian to be involved with these projects. Although they are all Slovenians (discuss!). He has delved deeply into the theory of skin contact and showed us an old book (recently translated into Slovenian) – a two- hundred-year-old scientific treatise on the subject, called Vinoreja (by Matija Vertova). Valter himself is a serious philosophical man, and the wines are the same, being profound, balanced and calm. I would put them near the pinnacle of those coming from the skin-contact fraternity. The Rebula, in particular, is gorgeous, because he really gets the extraction just right. Ana Cuvée is quite lovely also.
Ana is named after Valter's grandmother and is a blend of white varieties – Chardonnay, Malvazija, Sauvignonasse and Rebula. The grapes macerate (skin contact) for three to four days without temperature control. After pressing, the juice was put in big oak barrels ranging between 500 to 3000 litres. This wine was bottled two years after the harvest although it remains in bottle for three years before release. Except for the minimal addition of sulphur and a few traditional interventions like racking and filling the barrels, there was no other method or substance used or added whilst making the wine.
Rebula is one of the principle autochthonous varieties of Vipava Valley and as such brilliantly reflects the terroir and vineyards. With its thick skin, it is always last to ripen and produces a wine with the body and tannic structure that reminds one of a red. Mlecnik's Rebula, for example, was macerated for four days without temperature control and fermented with native yeasts. This allowed the wine to extract the maximum of natural substances present in its skins, ensuring a strong natural stability. The wine is an intense amber colour with brilliant opacity. This is also the consequence of no-filtering approach. After pressing the wine is transferred into big oak barrels, where it remains for two years. During this period, the wine carries out a natural malolactic fermentation.
These are compelling natural wines. Valter laughs as he recalls his first efforts at winemaking – spending 18-hour days in the winery, constantly worried about the temperature, every detail of the process. Now, he says, the winemaking is simple, and he is making it simpler still, not worrying about things and spending less and less time in the winery. He proudly shows us his old manual press and how quick and easy it is to assemble and take apart and how simple the extraction is.
Deep and serene wines. The texture of corduroy. Refined tannins. The triumph of skin-contact. They are best served in a carafe and brought up to temperature and will match a whole range of different types of food.
Why we love this: This is the definition of "slow wine." Patience to leave the grapes on the vines, patience in the long, slow fermentation and patience in ageing in barrel and bottle. When the time is right, the wine is set on its feet. Patience is rewarded.
If you like this: Andrej Kristancic's Nando is a small winery located in Plesivo, Brda in the Primorska region, bordering with the Friuli-Collio region of Italy.  Of the 5.5 hectares, 60% are located in Italian Collio and 40% in Brda.  The favourable Mediterranean micro-climate mixes warm sea air arriving from the Adriatic Sea in the south with cooler temperatures streaming down from the Julian Alps located north of the farm. This unique climate is very well suited to white wines. The vineyards are terraced at an altitude of 100m to 200m, and planted with local (indigenous) Rebula, Tokaj, and Chardonnay, Sauvignon Blanc, Cabernet Sauvignon and Merlot. The vineyards are planted in a poor soil of friable marl or "ponka" as it's known in the local Slovenian dialect. To protect against disease, copper and sulphur treatments are used sparingly. No chemicals are used. The soil is planted with grass, and the harvest is manual with grapes harvested in full maturity from the end of September to October. Spontaneous fermentation takes place without the addition of selected yeasts, sulphur and other chemicals. A minimal amount of S02 is added only at bottling and the wines are unfiltered and unfined. Nando's Black Label range follow a more traditional Slovenian style of "orange" white wine characterised by long skin contact of anywhere between seven and thirty days before spontaneous fermentation in old wooden barrels of 500L Slavonian oak and ageing for a further 18 months. The Rebula benefits particularly from the lengthy skin contact and has distinctive earthy aromas and beautifully textured warm peachy fruit and spice.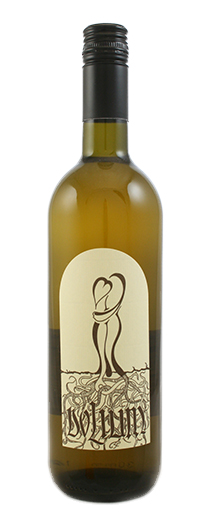 DOLIUM WHITE~ ZORJAN
Meta-biodynamics
The Zorjan house and vineyards are located in the hilly Tinjska Gora area of Slovenian Styria – this guy is virtually off the google search map, which, when one considers the quality and originality of the wines, is very surprising. Božidar Zorjan's philosophy is that there is a sacred connection between land, animals, man and nature. He does not use any chemicals, his sheep have names and come running when he calls, and their only job is to fertilise the vineyard. He believes that animals belong on the land rather than in the stables – they are as free-roaming physicians, mapping and monitoring the rhythms of nature.
The farm itself lies on the southern slopes of Pohorje, where there is a strong bond with Žice monastery. Žice monastery is an important part of European culture and history and is intimately connected with the place and people. More than a thousand years old history of the Carthusians ended in 1782, when Emperor Joseph II, in the spirit of enlightenment reforms in Europe, ordained to close down leading Carthusian monasteries which had large estates. Thus, vineyards spread out over Pohorje region from Slovenske Konjice to Maribor, where they also had stocked cellars for storing wine and residing. After the closure of the monastery, the clergy sold its land and buildings. Zorjan's ancestors bought a little land and a small cellar for wine storage, an original part of which is still preserved. The rich tradition of viticulture binds this family to continue production of natural wines with a spirit, body and soul.
Life in the embrace of Pohorje forests is exceptional. Pohorje is composed of igneous rocks, which are covered only by a very thin layer of fertile soil; therefore, there is a lot of forest. In clearings, there is a thicker layer of fertile soil, where fields, vineyards and secluded farms spread out.
Božidar focuses on reanimating the fertility of the soils each year, by ensuring that there is a range of biodynamic preparations, which are used to create composts and sprays. The cycle of continual decomposition and restoring of life is observed and encouraged. The location of the farm is exceptional, the soils rich in minerals, such as tonalite rock, which retains moisture throughout the year, the unique green marble Cizlakit, white marble, which was already used by the Romans in this area, as well as traces of gold and other elements that all contribute to the character of the wines. Today Bozidar cultivates 4 hectares of vineyard in addition to 3 hectares of high stem orchards.
The circuit is completed with mini sheep, which live all year-round in the vineyards.
A former police inspector, and as far removed from the woolly jumper brigade as you can imagine, Božidar speaks at great length and with great erudition about the philosophies underpinning biodynamics. He reminded us that Steiner himself was a scientist rather than a farmer, although he was to invoke and then codify age-old farming practices based on observations of natural phenomena. Biodynamics looks all around by looking down (at the soil, at the farm an organism, at the human being at the apex of the farming activity, as it were, and at nature – and the earth – in a universal holding pattern. At the local organic level, there can be no synthetic chemicals or mechanical irrigation, anything which diminishes, dilutes or disrupts the natural order. A true biodynamic farm must also grow a variety of fruits and vegetables, and there should be animals, either domestic or wild, to keep this miniature ecosystem in check. A biodynamic farmer is one who listens and learns, takes his or her cue from the surroundings, ritually observes and works with rhythms of nature.
Biodynamic preps arrow, chamomile, valerian, dandelion blossoms are being dried on wooden trays alongside beans, other plants, extracts (oak bark powder, for example) and dried vegetables are suspended from beams and racks. Nothing is wasted; everything is done for a reason.
Winemaking, which takes place in the small cellar underneath the house, chimes with the nature of the farming. Božidar works with old Slavonian oval foudres as well as smaller barrels, and, interestingly, with small qvevri (brought back from Georgia in the early 1990s) buried in the open air just outside the house. He insists that not only must the wine have its feet in the soil but it should also be looking up to the stars (so to speak).
And so, to the wines. They fill the glass in every sense, dense unfiltered liquid. They radiate warmth (and not just because of the temperature they are being served at). There is a Chardonnay, a Renski Rizling, a Laski Rizling. Cuve is a blend of Laški Rizling 70% & Renski Rizling 30%.  Grapes are harvested by hand, then destemmed before going into 70% barrel and 30% amphora – Laski into barrel, Renski into amphora. The length of maceration on skins depends on vintage and grape.
Finally, the Dolium is 100% whole cluster Muskat Ottonel with the whole fruit going into the amphora (juice, skins and stems) for six months. The wine is then decanted off the marc and then remains in amphora/qvevri for another six months, until the next harvest, when it is transferred into wooden barrels for yet another 12 months. This is a sensational amber/orange wine, at once hedonistic yet with a powerful deep-rooted sense of place. A living wine that changes by the minute.
Why we love this: The wine seems immortal. Born in a state of oxidation, it thrives with air. It embraces mutability and shifts constantly in the mouth.
If you like this: Andreas Tscheppe's Stagbeetle (the wine goes under a variety of names) is a wine of awesome beauty. Originally, Andreas used to press the juice into barrel and bury that barrel in the ground over the winter. Now the wine and the barrel remain above ground, although it is as profound as ever. A blend of Sauvignon with a little Chardonnay it is mid-amber in colour with a complex nose of elderberry, white strawberry and orchard fruit with notes of clover and wild mint weaving in and out. The oak tannins are fine but still apparent in youth; they integrate quickly, leaving a wine that is monumental but never heavy at all.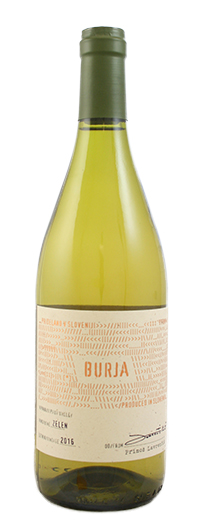 ZELEN ~ POSESTVO BURJA
VIP in Vipava
Posestvo Burja in Podnanos is situated in the Vipavska Dolina. Rich descriptions of Vipava viticulture and winemaking can also be found in winemaking for Slovenes (Vinoreja za Slovence – the first Slovenian book on viticulture) written by Matija Vertovec in 1844 and in The Glory of the Duchy of Carniola (1689) by Johann Weikhard von Valvasor.
According to location and natural geographic features, the Vipava Valley is very much betwixt and between, wedged between the Trnovo Plateau to the north, and Karst to the south, a mixture of Alpine, Mediterranean and Continental climates. The Vipava Valley is also the windiest part of Slovenia, noted for the gusts of its famous wind which blows with furious gusts – the bora (burja).
Primoz Lavrencic is a progressive guy. His wines are distributed by our colleagues, Les Caves Italia, and he is married to Benjamin Zidarich's sister, so we have plenty of things in common. The Lavrencic family moved in the Vipava Valley as far back as 1499, and like the majority of the population, engaged in agriculture and viticulture. Primoz's mother's family were blacksmiths, and also owned some vineyards.
I am indebted to Indie Wineries website for their explanation of Primoz's philosophy.
Primoz Lavrencic is a lifelong student of classical philosophy and applies it to his winemaking artistry. In the vineyard he describes his approach as being based on Aristotle's "The Metaphysics," which is also informed by his personal Spinozan Pantheistic approach.
"The key in the great amount of the wines from all over the world remains the question of dualistic paradigm – so is the idea of wine the same for all wines? So would the idea exist in an extrasensory Platonic space or is the idea expressed in each wine separately and in its indivisible part?"
Primoz believes, that wines from different places, different cellars, different winemakers, all contain their own idea, or essence. Wines should be bottled as their own individual expression, sui generis. They are bottled as their own expression. Primoz find that wines that yield to the terroir are the freest in their individual expression. The wines he crafts are meant to act as a sort of proof for this thesis. He recognizes that the experience of a wine depends on the knowledge, culture and past experience of the drinker, thus it's a fact that the same wine can generate different, even contradictory experiences.
I suspect Primoz would slightly deprecate the idea that he was a Spinozan Pantheistic vigneron. (Membership of this movement: one). Respecting the local varieties, however, Primoz adopts a holistic approach to farming and winemaking. He grows varieties that originate in Vipava Valley and along the northern Adriatic coast, namely: Zelen, Pokalca (Schioppettino), Refošk (Refosco), Rebula (Ribolla Gialla), Malvazija (Malvasia d'Istria), Laški rizling (Italian Riesling, Welschriesling), There is also some Modra frankinja (Blaufränkisch), whilst he inherited a vineyard of Modri pinot (Pinot Noir) that has become his not-so-secret-passion (as a committed Burgundo-phile).
The diversity and richness of the vineyards is impressive. He believes that a thriving microflora are an integral part of each vineyard's identity and encourages their proliferation by practicing organic and biodynamic farming. He appreciates the nuances of soil type and climate diversity in individual locations, and farms accordingly.
In the winery Primoz only controls a few things such as temperature and the degree of oxidation in the cellar. He allows spontaneous fermentation and ensures contact between grape skin and must with the white wines. The diversity of yeast strains contributes to the complexity of the wine and provides an original expression of each vineyard.
The vineyards have their roots in sedimentary flysch, the composition of which differs significantly according to lithologic varieties of the bedrock below the soil. In Zadomajc and Ravno Brdo sandstone and marlstone form the bedrock. Marlstone prevails a little, causing middle heavy ground, which retains moisture quite well. It is a similar situation in Stranice, except that marlstone is even more prevalent over sandstone, resulting in even heavier and wetter ground. In the biggest vineyard in Golavna the soil lies over tough sandstone, is thinner, lighter and dries faster. The vineyards behind the winery/house are oriented in various directions.
They are surrounded by forest and overlook the village. In the cleft of one of the vines we find a tiny owl's nest. The views are amazing and you feel good things will come from here.
The multi-floored gravity "Hollywood winery", built into the rocks under one of the vineyards and cooled by the water in the hill, is nearly finished now. One walks through a room with a formidable array of cement eggs on one side and larger concrete tanks on the other, down into the cellar room with its Slavonian oak barrels to taste Primoz's wines.
Burja Bela is based on the former glory of the Vipava white wine, Vipavec (win von Wippach). This blend comprises Laški rizling (Italian Riesling, Welschriesling) 30%, Rebula (Ribolla Gialla) 30%, Malvasia 30%, other varieties 10% and is a field blend of the two oldest vineyards: Ravno brdo over 20 years old and Stranice over 60 years old, with the different vines growing side by side. This wine is aged for one year in foudres of 20-35 hl.
Primoz's wines are playful. As befits the darting mind of the vigneron and the stony soils and the climatic and microclimatic niceties, they are sharp at their core with dancing freshness. Tasting the 2019 Zelen one can already see the considerable progress over the years. This wine from a native Vipavan grape (Zelen means green in Slovenian) is fermented in eggs and raised in cement vats. Reminiscent of citrus and apples, with undertones of green herbs, particularly sage, it is elegant and saline on the palate, while being equally rich and harmonious. Somewhere between a lees-aged Muscadet and a mini-Vitovska.  The certain amount of skin contact (approximately 8-days) imbues the Zelen with extra layers of flesh.
Why we love this: We love that this grape variety is native to this part of the Vipava Valley and that it is now being resurrected by a handful of vignerons. Even being from young vines, it is a wine that possesses a strong identity and Primoz treats it with the same respect as he does all his wines.
If you like this: Piquentum is a tale of a son of a Frenchwoman and an Istrian father, growing native Croatian grapes and making them in an old Mussolini-era concrete water tank. Born in French Basque Country (Jurançon) in the foothills of the Pyrenees, Dimitri Brecevic studied oenology in France and then worked at Domaine de Chevalier in addition to working harvests in Australia, New Zealand, Bordeaux, and Burgundy. In 2004 he decided to invest himself in his father's homeland of Istria near the town of Buzet. Istria is the northern edge of Mediterranean, and in the winter, it can be very cold when the strong bura wind blows from the north. In September, when usually vintage takes place, it is chilly during the night and this furthermore helps to maintain nice acidity and aromas in the grapes. The most significant white grape is the Istrian Malvazjia, which occupies approximately two thirds of the entire grapevine plantations extending over this area and grows on red clay over limestone. In 2014 Dimitri bought some grapes from an eighty-year-old vineyard, macerated them on skins for six days, fermented them naturally and aged them in barrels. The result? A sublime tasty saline skin-contact wine.
Interested in finding more about the wines mentioned? Contact us directly:
shop@lescaves.co.uk |  sales@lescaves.co.uk | 01483 538820
*Note: We are still open for business, doing deliveries, and keen to help everyone with their booze needs in this difficult time. Natural wine lovers can visit our online shop and order online!