A Whiter Shade of Pinot
Pinot Blanc, a genetic mutation of Pinot Noir, is often confused with Chardonnay and wineries tend to vinify it in a similar style to the latter grapes, favouring barrel fermentation and ageing. In Alsace, it is synonymous with rounded buttery wines, but this may be because the grape is actually the riper Auxerrois* (also known as Pinot Auxerrois). However, there are examples when Pinot Blanc sports a nobler aspect, almost invariably the result of excellent (organic) farming, low yields and lengthy elevage in barrels.
*Confusingly, in Alsace, the designation "Pinot Blanc" for wine does not necessarily mean that the wine is varietally pure Pinot Blanc. Rather, the designation means that it is a white wine made from one or more of the Pinot varieties. Under Alsace appellation rules, these varieties may include Pinot Blanc, Auxerrois Blanc (sometimes called Pinot Auxerrois), Pinot Gris and Pinot Noir (vinified as a white wine) may all be used, but a blend of Pinot Blanc and Auxerrois is the most common.
Here are a few of our favourite PBs: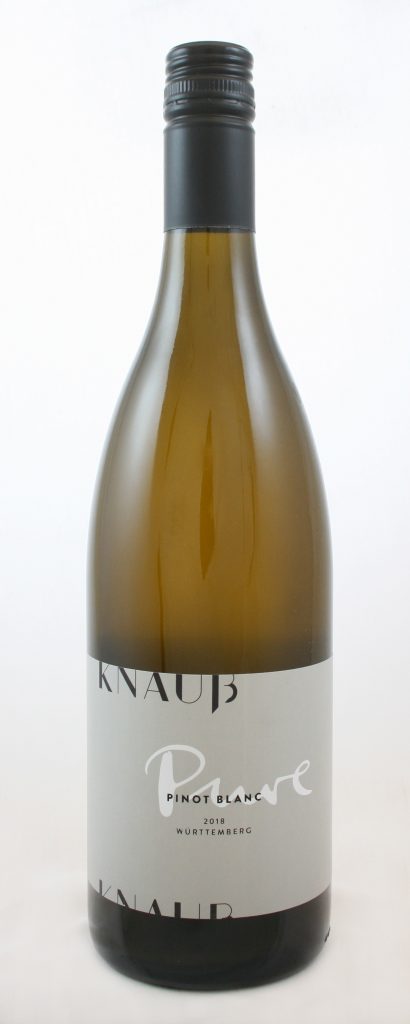 Andi Knauss Pinot Blanc Pure
Winemaking was only a hobby for earlier generations of his family but Andi Knauss knew for a long time that he wanted to become a vigneron. Having trained in Austria, where Andi learned how to work organically in the vineyard, he took over the reins at Weingut Knauss in 2004 (south of Weinstadt, east of Stuttgart) and now makes wines from over a hundred different organically-farmed plots in Strumpfelbach.
The terroir is a mix of limestone, marl, and sandstone from Schnait and Butelbach vineyards planted in 1994.
Grapes here are manually-harvested with 30% fermented for 6 weeks on the skins, the rest pressed and fermented in stainless steel. Everything is done naturally with wild yeasts and the wine is blended before ageing in barrels, amphora and stainless steel where it also undergoes malo. The wine is bottled with minimal sulphur and no filtration, is hazy and bristling with leesy essence. The tannins are chalky, the fruit dry apple and pear pith, the acidity crunchy.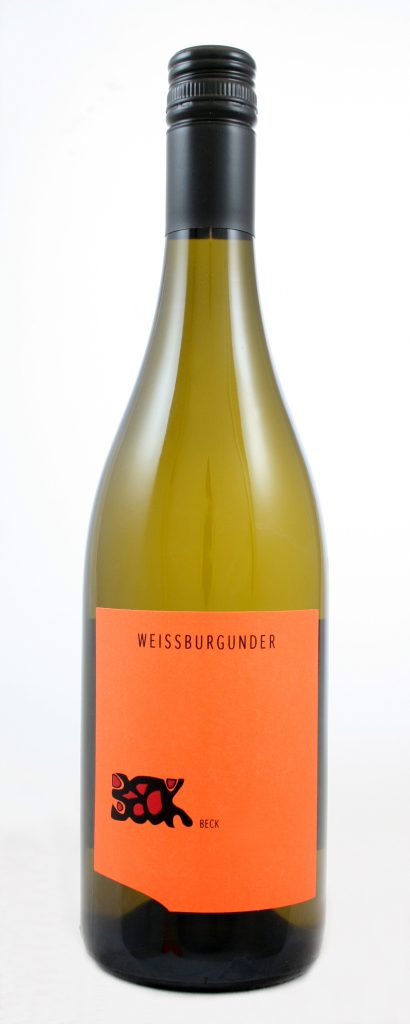 Judith Beck Weissburgunder
Judith Beck grows a variety of grapes on her farm in Gols in Burgenland and makes wines, some with pure varietal character, others with structure and ageing potential. The Weissburgunder is everything you might hope for from this grape at a price that is extremely soothing.
The vines grow on "Seewinkelschotter", black earth and gravel, at 130 m altitude, and are organically-farmed as per all of Judith's wines. Yields are normally very low; grapes are hand-harvested, whole bunch pressed and spontaneously fermented in old acacia wooden casks and then aged for six months.
Brilliant pale gold-yellow in the glass, the Weissburgunder has refreshing aromas of citrus, pear and white peach. The palate is full-bodied and well-structured with balanced fruit and acidity, a long finish and good ageing potential.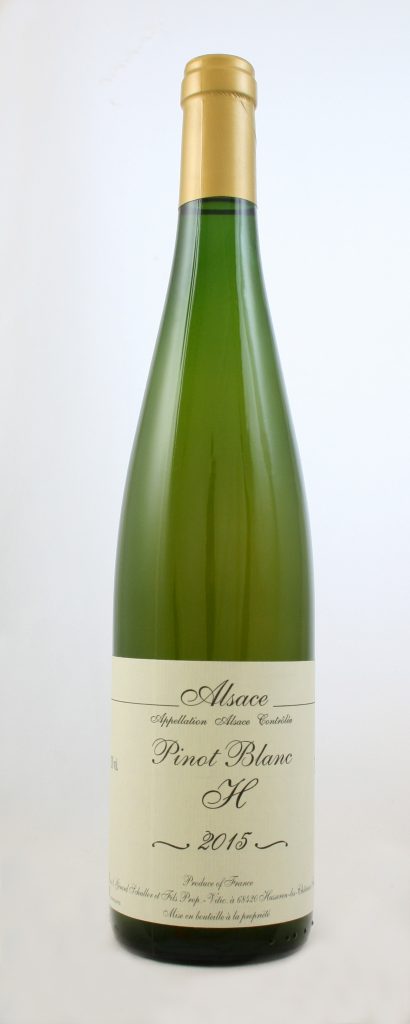 Bruno Schueller Pinot Blanc
Gerard and Bruno Schueller manage their vineyards biodynamically and haven't used herbicides nor chemical fertilisers for several decades. Although Bruno is very open to sharing his experiences and philosophy with other producers, he does not belong to any group or association. He is very independent-minded and prefers to remain free from the strict frames of biodynamics, allowing him to remain flexible to adapt to different situations in order to make the best wine.
Most of the work is done in the vineyard and the winemaking is old-style. Grapes are fermented and matured in very large oak foudre, everything is done naturally and without intervention.
This Pinot Blanc is certainly different with aromas of white flowers and beeswax, the palate is lively and fruity with a mineral frame. There is the classic background note of flor/oxidation and a surprisingly lemony finish.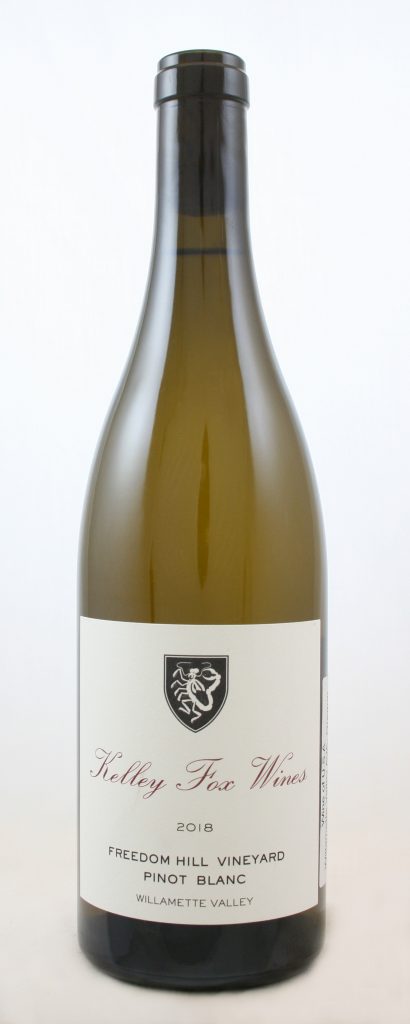 Kelley Fox Freedom Hill Pinot Blanc
After several vintages of Pinot Noir, Kelley Fox turned her hand to white wine making (a not-so-secret passion of hers) and, to that end, has produced a truly world-class Pinot Blanc from the Freedom Hill Vineyard. This is her second vintage of this particular wines. Located in Polk County, some four miles west of Highway 99W and five miles northwest of Monmouth, Freedom Hill Vineyard occupies a gentle southeast slope. The elevation is 350' to 600', allowing for cold air to drain to the valley floor yet low enough to benefit from heat radiated from the valley.
The soils are sedimentary, uplifted seabed, and among the oldest in the region. The distinctive character of this well-drained Bellpine soil coupled with the microclimate and meticulous farming practices, provide the preconditions for wines of considerable structure that age exceptionally well. Kelley whole-cluster presses the grapes, fermenting with ambient yeasts in neutral Burgundy barrels. The wine subsequently undergoes a full malolactic which lends it yet further texture.
The resultant finished wine has a transparent brilliant pale, lemon yellow with a hint of green colour. The nose is full of ripe citrus fruit and white and yellow flowers with a suggestion of buttermilk. The texture is rich but not heavy. Excellent rippling acidity, very clean on the palate, and long lacy finish on the back of the apple and citrus spine make this a stunning example of a grape that rarely attains any great quality, other than in Alto-Adige and occasionally in Austria.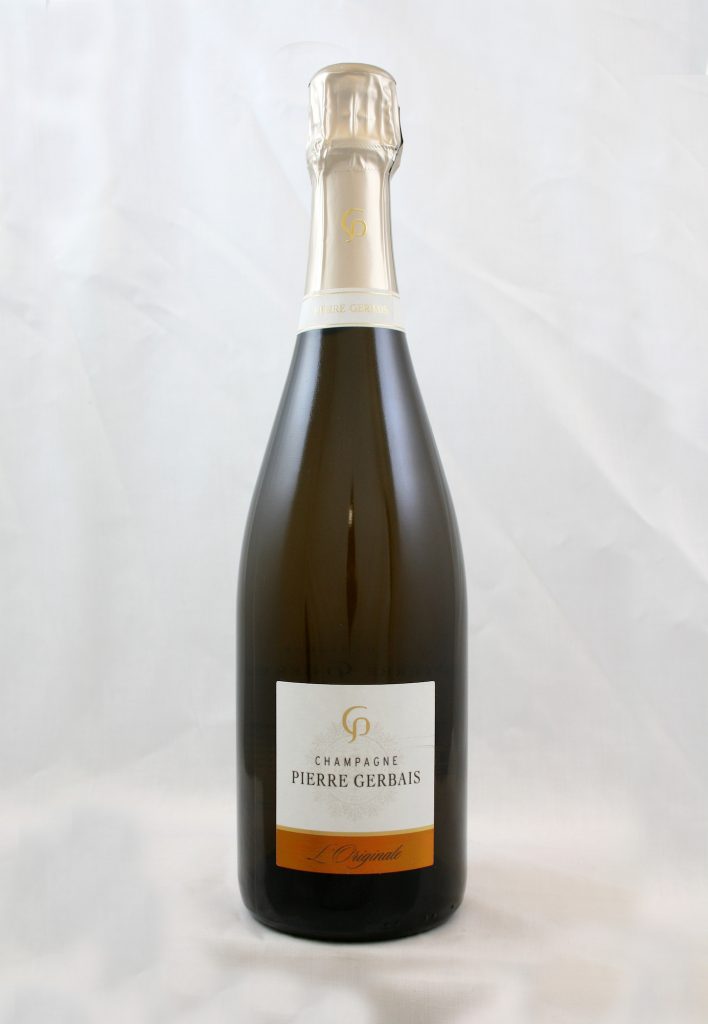 Champagne Pierre Gerbais L'Originale
The Gerbais family has owned land in the village since 1850. Aurélien is the eighth generation of the family to work the vineyard after joining his father at the family business and has been responsible for the domaine's winemaking since 2009.
L'Originale is from historical Pinot Blanc Vrai vines planted in 1904 in the grounds known as "Les Proies". The vineyards are rooted in Kimmeridgean soil, composed of marl and limestone, situated in the village of Celles-sur-Ource, in the heart of the Côte des Bar. Located at the junction of the Laignes, Seine, Ource, and Arce river valleys, this microclimate offers a variety of soils and unusual exposure.
Grapes are manually harvested, cold settled, and then undergo a natural fermentation and malolactic. After tirage, it is matured in bottles sur lattes for up to 48 months and is bottled with a very dosage. At 3g/l the L'Originale is extra brut.
This is a stunning wine packed with white-fleshed fruit and salty depth of flavour from old vines. Original by name and by nature.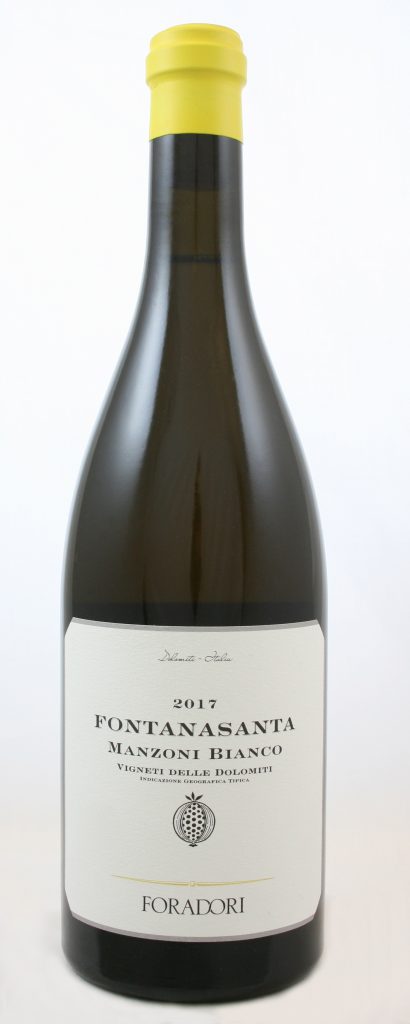 Manzoni Bianco Fontanasanta, Foradori
During a series of trials between 1930 and 1935, Pinot Blanc was crossed with Riesling to create the white Italian wine grape variety Manzoni Bianco.
Manzoni Bianco thrives on the clayey-calcareous hills above Trento, where its grapes ripen in late September. Born from the cross of Riesling and Pinot Bianco, this variety expresses the character of the Fontanasanta soil conditions. Its ability to evolve over time requires patience: Fontanasanta Manzoni Bianco is a wine that will begin to fully reveal itself after two or three years from vintage.
Elisabetta Foradori has three hectares of Manzoni in her vineyards at the foothills of the Dolomites, which she ferments for a week on the skins in cement vats, before ageing in acacia barrels for a year.
The nose of the Manzoni is pronounced with intense aromas of peach, pear, spices and jasmine flower, honey and nougat. In the mouth, it has a great structure and balance. The mineral texture and the acidity counter-balances the soft and juicy components. An elegant and harmonious wine.
The skin contact brings depth and intensity to the wine with a hint of mountain honey and chestnut providing perfect balance to the bone-dry finish. Unlike so many other more rustic wines made in this style, Foradori's Manzoni Bianco is superbly elegant.
*
Interested in finding out more about the wines mentioned? Contact us directly:
shop@lescaves.co.uk |  sales@lescaves.co.uk | 01483 538820