This is a series profiling the producers on our list who make natural wines. Within this series we will be highlighting some of the extraordinary and rare bottles and vintages that have helped to shape our appreciation of natural wines over the years. Previous posts from our 100 Great Natural Wines series include Austria, Spain, and a hefty chunk of France & Italy, and can be found here. 
The wines of central and southern Italy are powerful to say the least.  In every region there are class acts; those that work naturally in the winery are also usually fanatical in their attention to detail in their vineyards.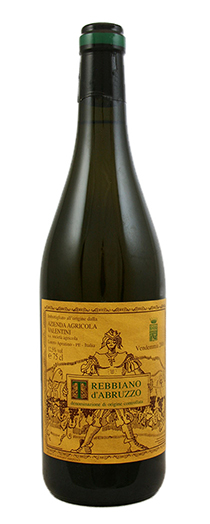 TREBBIANO D'ABRUZZO ~ AZIENDA AGRICOLA VALENTINI
Trials of Trebbiano
Edoardo Valentini was known locally as the "Lord of the Vines." This resolute old-timer, when he was alive, always disregarded all modern conventions and wrapped his operations in a shroud of mystery, fervently guarding his production techniques from outsiders. His Trebbiano took on uncommon colours, aromas, depth, complexity, and ability to age. Valentini's wines always display a startlingly natural character, their individual quirks only enhancing their profound charm.
It seems to hail from another planet; no-one has a clue why the wine is the way it is – we've found that its optimum drinking period is 10-15 years from vintage.  The theory is that in the 1950s, with the industrialisation of the Italian wine industry, the Trebbiano Toscana was imported into Abruzzo to supplement the local version. Being a more robust, high-yielding variety with bigger grapes it eventually entirely replaced the indigenous Trebbiano of Abruzzo (and thus became known itself as Trebbiano d'Abruzzo). The Valentini family, using records dating back to the 1860s, discovered the properties of the original Trebbiano and using massale selection (over a period of 40 years!) in one vineyard of 2.5 hectares have essentially recreated the old Trebbiano with all its unique qualities.
Indigenous grapes, the channelling of terroir, espousing singularity and identity, the rediscovery of traditional techniques (of farming, of winemaking), all give colourful diversity to the often-monochrome world of wine where commercial relevance and reputation are continually bruited. The grape variety itself is one small element in a larger picture. Respected, and linked to its place of origin, its purpose is more than a functional "varietal", it is that which provides cultural variety, embodying the very specific DNA of the locale and the growing season.
That Valentini's wines from Abruzzo excite even more debate (amongst the privileged few who have sampled them) is a rare quality in itself: to some the wines are a testament to passion, obsession, individuality and purity, a reconnection to terroir, to others they are "quasi-defective". One journalist told me that the Trebbiano gave her "goosebumps". (Good goosebumps!) The great thing about Valentini's wines is that they are constantly changing in the glass, shyly revealing then retreating into the shell, always suggestive, never obvious, inevitably very mineral, certainly very strange – and, because they are released with bottle age, they exhibit intriguing and offbeat secondary and reductive aromas.
We are inculcated to respect transparent cleanness, and to accept the notion that a wine that is not clean must, ipso facto, be faulty. This view is an immaculate misconception. Some of the greatest wines are borderline mad and downright impertinent.
The genius of the wine that does not surrender its secrets in the first aromatic puff is also often missed; I suppose if people want absolute consistency they won't venture beyond the tried and trusted; if they want to be touched by greatness they will risk drinking something that defies easy categorisation. We tend to search for exactitude in wine that does not exist in nature and evaluate it by a pernickety sniff and a suspicious sip. Wines, however, can evolve, or change in context; you can no more sip a wine and know its total character than look at one brushstroke of a painting or hear a single musical note in a symphony and understand the whole. In other words, with certain wines, we have to drink the bottle, to see if our initial judgement was correct. And the truth can be hard to drink.
The wine, best after years in a cool cellar, shows a kaleidoscope of flavours that are creamy and crisp at once, ranging from freshly toasted hazelnuts to coconut shavings, and has an underlying bracing acidity that lends it an uncanny capacity to age. But let's pour a glass of this beautiful wine and test the evolution. Give it a little time to open and out comes that elegant, minerally nose with ripe citrus aromas. Take a sip and experience how full and mouth-filling it is, how piquant and almost fat (but not quite). Note how refined the flavours are, how intensely they are rendered by its swathe of acidity, the sort that gives wines like this great potential for improvement with age. Observe how long the minerally finish is with its notes of hazelnut and liquorice. Today, the wine was not so shy; it was fluid and free with a lick of honey, beamish and agreeable. Young, but not in a nervy, wrought way, but in peak athletic condition.
Why we love this: To drink this wine you need to prepare for it. Get out the decanter, the best wine glasses, as oxygen is your ally on this journey to the heart of the wine. I normally carafe it, allow it to warm to room temperature and leave it for a few hours. Despite all this air, the wine remains thoroughly focused, a brilliant note of reduction strongly coiled around a core of stone fruit and minerals. A wine to mull over, to come back to after a little break and mull over again.
If you like this: Try their extra virgin olive oil! Or… try Il San Lorenzo Bianco, as it is unassumingly called from Natalino Crognaletti, who is based in Montecarotto in Le Marche region. A Verdicchio aged endlessly in concrete and stainless steel. This wine is the perfect showcase for the incredible texture, weight and ageing potential of the grape. Natalino took a risk with this wine when he decided in 1997 to vinify separately the top selection of fruit from Vigna delle Oche, one or two bunches from each plant, and then leave the wine on its lees for 110 months (at least) and another 10 in bottle. This wine is only produced in the best years and the first vintage we enjoyed was the 1991 – which was only bottled in magnums! Verdicchio, farmed well, with low yields, is one of Italy's hidden white gems, and makes wines in many styles. The vines are 70 + years old now, growing in clay-limestone soils at an altitude of around 350 metres above sea level.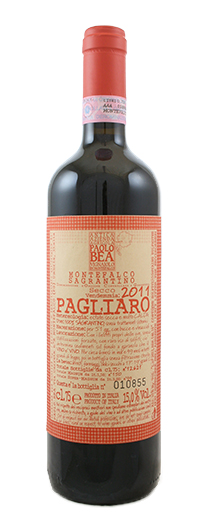 SAGRANTINO DI MONTEFALCO SECCO PAGLIARO ~ AZIENDA AGRICOLA PAOLO BEA
Here for the Bea
A truly artisan producer making organic hand-crafted wines. References in the archive of Montefalco, a beautiful Umbrian hill town (aren't they all?), document the presence of the Bea family in this region as early as 1500. This tiny estate is the classic Italian fattoria, producing wine, raising farm animals for trade and home consumption and working the land to produce olives, fruits and vegetables. Paolo Bea, the senior member of the family, is the guiding force behind the production of these intensely pure wines, assisted by his son, Giuseppe, who farms the vineyards and Giampero who looks after the vinification. No herbicides or pesticides are used at Paolo Bea. He believes that wine is an expression of nature and looks forward to the differences in each harvest (hence the Rosso de Veo in 2002). The wines are produced in the traditional way; grapes are handpicked and bottled without filtration.
Farming is certified organic; there are some biodynamic practices, cover crops are sown between the vines and annual ploughing is done to promote vineyard health. Yields are controlled through severe winter pruning and debudding.
Sagrantino is the predominant grape, covering 60% of the vineyard area. The remaining 40% is planted to Sangiovese and Montepulciano, with a small parcel planted to several white grape varieties.
All grapes are harvested manually and the reds undergo an extensive cuvaison that lasts between five to eight weeks with punch downs during fermentation. Malolactic fermentation occurs spontaneously in stainless steel.
The Pagliaro comes from a hilltop parcel of south-facing vines on clay-limestone and gravel soils and feels like it is sculpted out of earth and stone. After fermentation the wine spends around 24 months in stainless tanks and a further lengthy period on the lees in Slavonian oak botti before bottling (without fining or filtration) and, if sulphur is added, it is only a small amount and before bottling. This Sagrantino is epic with its full, powerful nose of raisined berries and smoke, and a palate that unfolds an array of blackberries, currants, cinnamon and clove, one that is mouth-filling, warm and dense.
It tastes like Nebbiolo transported to a warm region, combining precision with roasted fruits and undergrowth and spice.
Why we love this: A red wine that is beauty and the beast rolled into one.
If you like this: Previously, the La Stoppa estate was divided into two entities, La Stoppa and Macchiona. Macchiona is the name of a farmhouse found among the most traditional red grape vineyards of the Colli Piacentini, the qualities of which are most faithfully reflected in this wine. This intense red is an equal split of Barbera and Bonarda, the vines farmed organically with natural green cover between the rows. No fertilisers, weedkillers or pesticides are used. The grapes undergo forty days maceration on skins in stainless steel and cement tanks and are fermented with indigenous yeasts, before being aged in Slavonian oak barrels of 10 and 20 hectolitres as well as 40-hectolitre wooden tanks, and then aged in bottle for a further period as necessary. The wine is unfiltered, nor does it see any sulphur. Elena's top wines need time, both in the handling and the necessary maturation, but also in the respect of how we approach them as wines. Even after ten years this is an infant beast; powerful, gamey wine with notes of bruised black plum, dark cherry and leather and hints of bitter chocolate and port. It is Amarone-like in its intense darkness; a wine for the fireside and for meditative sipping with a sliver of mature hard cheese.
Interested in finding more about the wines mentioned? Contact us directly:
shop@lescaves.co.uk |  sales@lescaves.co.uk | 01483 538820
*Note: We are still open for business, doing deliveries, and keen to help everyone with their booze needs in this difficult time. Natural wine lovers can visit our online shop and order online!