Read Chapter One Parts One, Two and Three
Chapter Two Parts One, Two and Three
Chapter Three Part One and Two and Three
Chapter Four Part One and Two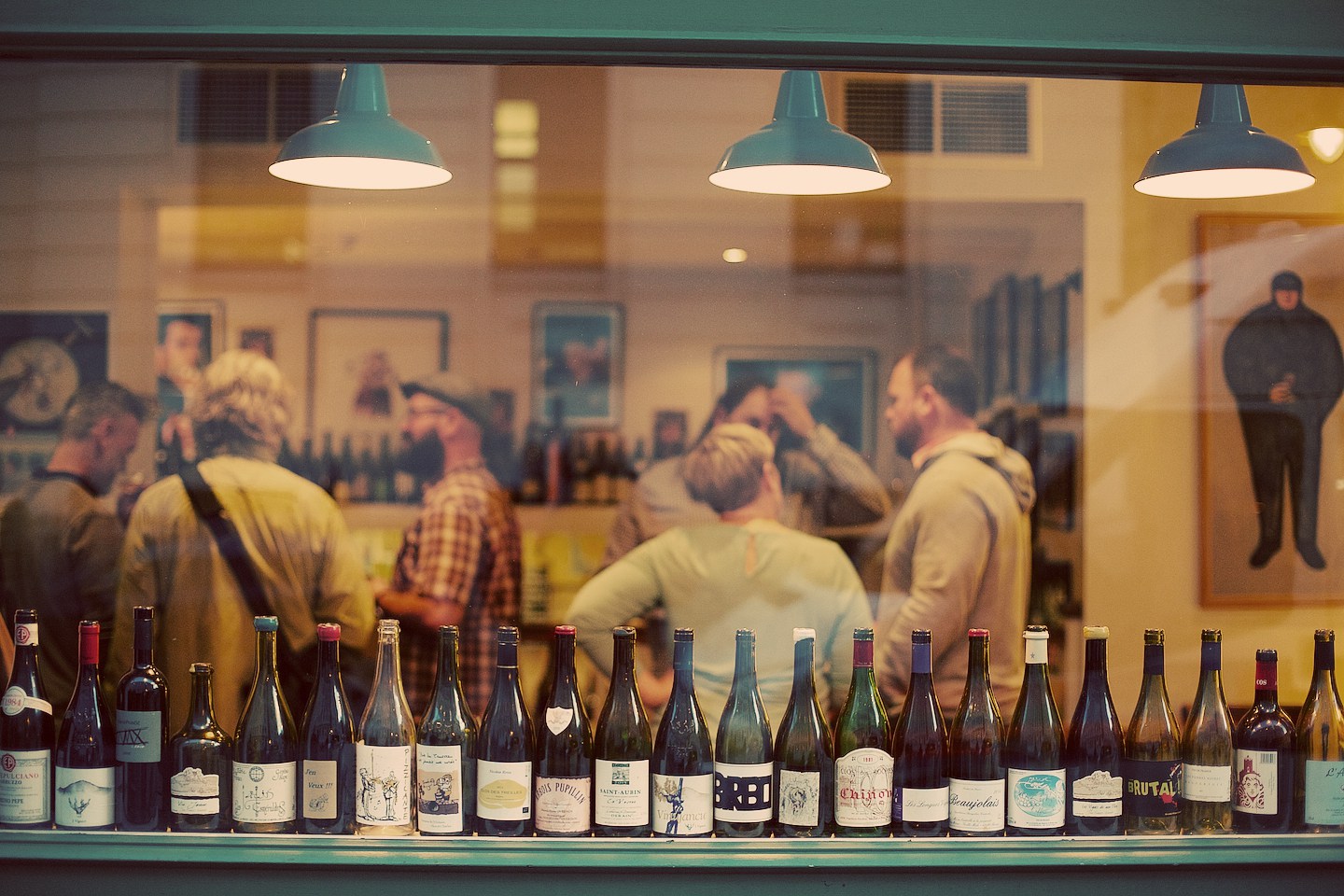 Customer: Good Morning.
Owner: Good morning, sir. Welcome to Terroirs, London's first natural wine bar!
Customer: Ah, thank you my good man.
Owner: What can I do for you, sir?
C: Well, I was sitting in the Coutt's Bank on The Strand poring over some financial spreadsheets and I suddenly came over all desiccant.
O: Desiccant, sir?
C: Cotton-mouthed.
O: Eh?
C: 'Ee, I were reet thirsty!
O: Ah, thirsty!
C: In a nutshell. And I thought to myself, 'a little fermented grape juice will do the trick', so, I curtailed my spreadsheet surveillance, sallied forth, and infiltrated your place of purveyance to negotiate the carousing of some vinous delights!
O: Come again?
C: I want to buy a glass of wine!
O: Certainly, sir. What would you like?
C: A glass of your finest Pinot Grigio, my good bar-keep.
O: I'm afraid we don't have any.
C: Never mind – Make hither with the crisp Sauvignon of New Zealand.
O: We have yet to list one, sir.
C: Tish, tish, no matter. Uncork a bottle of glorious hock and pour me a goblet of German gold.
O: No hock, sir.
C: Jacob's Creek?
O: Not as such.
C: Rosemount?
O: Not today, sir.
C: Ah, how about Rioja?
O: We don't really get much call for it around here.
C: Don't get much call for it??
Etcetera, etcetera.
Terroirs wine bar is not far from the legendary Gordon's Wine Bar, whose tenebrous basement is encrusted with the candle wax of centuries – and is probably still – in my fond imagination – serving highly geological pies and crusted port to Sairey Gamp and Dick Swiveller when those two incorrigible carousers are out on the town.
Terroirs. No lager on tap. No NZ Savvy. And the first person to order a bottle of Pinot Grigio is presented with Dario Princic's intense tannic ramato wine, swirling cloudily in a carafe. Gentle reader, he fled. Pish and tush.
A brief history of Natural Wine in the UK
One evening, eight or so years ago, I was sitting in Terroirs in Charing Cross, watching a suited-and-booted businessman surveying the wine list. I overheard him ordering the Sancerre. No ordinary Sancerre, mind, this particular version had been "made" by a producer called Sébastien Riffault. Sancerre, Jim, but not as we know it, an entirely new supernatural species of Sauvignon Blanc. It arrived at the table in a decanter, a murky Mumbai-mulligatawny fen-sucked liquid verging on the russet-brown, sporting aromas (I knew from experience) of bruised orchard fruit, amontillado sherry, fermented mulch and malt. The gentleman smelled the wine, sipped it… and smiled. Although there was no accompanying thunder and lightning to corroborate this, I felt something momentous had occurred, a Rubicon had been crossed; symbolically, if you like, it was as if le tout UK had embraced the notion of natural wine in that instant.
What we had in the UK apparently was a public that was far more open-minded than the majority of commentators, wine writers or other wine merchants might credit.
And it wasn't only this sacred Sancerre moment. Wine was being ordered in pots, whites decanted into, and served from, carafes, at cool-cellar temperature rather than fridged, while youthful reds were popped into ice buckets to freshen them up and accentuate their exuberant fruit. The so-called usual wine-rules-of-engagement no longer applied; individual wines were being respected, served and received on their merits. When one particular customer questioned a waiter about the colour of Elena Pantaleoni's Ageno, a deep amber Malvasia blend, a helpful man on a neighbouring table interjected: "Oh, but it's meant to be that colour, because the wine was fermented with its own grapeskins– and, by the way, it is utterly delicious." Yea, here e'en in London, strangers were talking to each other, enthusiastically passing bottles and glasses of wine back-and-forth to other tables across the restaurant. This was excitement, this was sheer discovery, this was wine bringing people together in wine communion.
The spark had been struck. Acknowledgement was one thing; outright critical acceptance was another. What we had in the UK apparently was a public that was far more open-minded than the majority of commentators, wine writers or other wine merchants might credit. As a wine educator once remarked to me after I presented some natural wines to her: "I can imagine that these (wines) would appeal to a younger generation of drinkers. The more conservative among us would certainly find it difficult to accept this style of wine". If a little learning could be a dangerous thing, then more than a little apparently amounted to heavy critical baggage for some. It's as if, at times, the UK wine trade is quite prepared to assimilate wine – and live up to its sobriquet as the centre of the world wine trade – but not its underlying culture. Wine is treated as a cold product, created for a purpose with a "consumer-friendly" audience always in mind. It's all about the business end of the market and product-profiling – a spade must needs be a spade, a Sauvignon a Sauvignon – there should be square wines for square times. But, as we know, not all customers are square. If you separate the wine in the bottle from the vigneron who brings it to life and from the preferences of the individual who consumes it, then you are not appreciating wine in its full context. The beauty of natural wine is that it is not a trend, and so is not ephemera. The enjoyment of these wines lies at the centre of the pulsing debate about what is authentic, and the natural wine bars provide the milieu for this enjoyment.
When I presented some wines to a group of MWs and educators I was told that wine was "a product for a purpose". In other words, its pure function is to be deemed consumer-worthy.
What is it about wine that magnetises controversy? Do we have cheese or olive oil fanatics berating each other in this fashion? Do the honey fraternity start chucking hives at each other when they have a bee in their bonnet? One famous wine critic wrote in his predictions for 2013 that natural wine would cease to be an issue that anyone discussed, because the public would finally see the wines for what they were. Vinegar. Prescient words? Or wishful thinking? A rival wine merchant devoted the major part of an introduction to their new year's catalogue to a diatribe berating very idea of natural wine (and, by implication, a thinly-veiled attack on us for promoting and selling this style of wine). Down with this kind of thing, as Father Ted and Father Dougal might say. The beauty of all this, is that the issues were not only being kept alive by the systemic conservatism of histrionic critics who keep referring to them, but the very embers of an embryonic movement were constantly being fanned by overwrought mentions from self-same critics, thus politicising the movement further and making it into the roasting hot potato of wine conversation! How d'you like them mixed metaphors! Without this public excoriation from the wine cognoscenti we few natty aficionados would now be quietly and contentedly in our cups supping the good stuff without realising that we were drinking evil yeast poison – and everyone else would be none the wiser.
Live and let live. Despite the prognostications of our friendly wine critics, the wines have become entrenched in the restaurant scene. You'll find them in your local pub, and in your not necessarily-local Michelin-starred joint. And on the shelves of independent wine merchants throughout the land, not gathering dust. There was no war, no shots fired, a few egos might have been bruised, but wines were usually accepted – or not – on their merits. This is viral assimilation. If you don't tag a wine, circumscribe it with the epithet "natural", then anyone can drink it without judging or feeling judged, even those who are supposedly viscerally opposed to the whole idea of natural wines. An ex-sommelier of Fera in Mayfair recounted to me serving a natural wine to a notorious natural wine naysayer, who was so impressed with a particular bottle that he asked for another. Twas the dogma that did not bark in the night, the philosophy that Horatio ne'er dreamed and what you don't know doesn't kill you, rolled into one! 
In countries where artisan wine is produced, the vigneron is normally involved in energetic movements spearheading local wine culture. It is not unusual for a grower in Australia, for example, to leap into his (or her) jeep and drive his/her wines directly to the wine bar and the buyer. And to support the listing of such wines with creative activity in the market. As Pat Sullivan once remarked: "It is as much our job to help you sell the wines as it is to make them in the first place." Similarly, in France the path is often straight to market, shop or bar – without intermediaries. The artisanal movement is rooted in a sense of communion, in places where bottles are opened and the public is actively engaged by the growers who pour their wines and relate their own personal histories. And when lots of growers want to club together and celebrate their wines, then you have a great reason for a wine festival. Thus were begat La Dive Bouteille, La Remise, Vinicircus and Rootstock, and all the various other fairs. Communicating the story helps to sell the wine; these guys have to be in touch with their closest markets. Australia and France are examples of dynamic, spontaneous and joined-up wine cultures, founded on strong personal relationships and underpinned equally by graft, passion and personality of the grower or winemaker. The only gatekeepers in these countries are the ones who lock the venues after the tastings!
I exaggerate a mite. As James Erskine confided to me recently, the natural scene is still very small – even in Australia. We've been thoroughly exposed to the poets and the priests and thus we fondly imagine that everyone is on the receiving end of the good-time religion. We tend to think that wine culture is elsewhere, the other being more glamourous than what is on our own doorstep.
Our food arrived…and it was…terrible. An ironic embodiment of the French bistro experience. Pluperfect beige. The wine had gone beyond vinegar, so high that I was amazed that it actually stayed in the glass.
As for Paris? Eric took Chris Galvin and myself to get a flavour of its legendary wine bistro scene in 2006. Chris was on the verge of opening his restaurant, Galvin Bistrot de Luxe in Baker Street.
A hatchet-famed grand tricoteuse surveyed us with disgust when we arrived five minutes late. Her expression suggested that she would prefer to mince us into tartare than allow us entry into her restaurant. The room itself was packed to the gunwales with diners in their plates and cups. We briefly looked at the menu, ordered respectively a bowl of tripe, some steak tartare and something else meaty and unmemorable. I glanced around to soak up the local colour. The walls were adorned with posters of Brezhnev and art-deco themes, the tables covered with classic red-and-white checked cloths, the wine list comprised three wines (all red) chalked on a board – one being a cochineal 1972 Lussac St-Emilion – a vintage that I didn't even know existed because it shouldn't – and served in a variety of pichets and fillettes (those dense bottles that assist hand-to-hand combat). At an adjacent table a gentleman sporting a moustache out of Parisian central casting (a "Landron 'soup-strainer") was slurping his tripe from a copper terrine with a beatific smile. He ordered a wine of the sickliest brown colour which came in a litre carafe. I never saw once him drinking, but the level of the wine continued to drop steadily, as if osmotically transferring itself to his belly without the requirement of lips and gulps. It all contributed to a sense of hyper-reality, the uber-faux/ Platonic embodiment of the French bistro experience.
Our food arrived. We saw it and it was…terrible. An ironic embodiment of the French bistro experience. Pluperfect beige. The wine had gone beyond vinegar, so high that I was amazed that it actually stayed in the glass.
Our contented neighbour finished his repast. He sighed, investigated his moustache for morsels of food, patted his lips with a napkin and exhaled with satisfaction as if he had dined with kings.
We gazed at our steadily maderising food with something approaching horror.
Later, like the hobbits we were, we went for "second dinner". It wasn't much better, although the wine list was big and the cellar ran deep. Unfortunately, the wines decided to be on the perfidious side of French and lined up to disappoint us. Back and forth the bemused sommelier went as bottle after bottle was ordered and assayed, but none to our taste nor to our mood. Our mood was moody. The wines recognised that.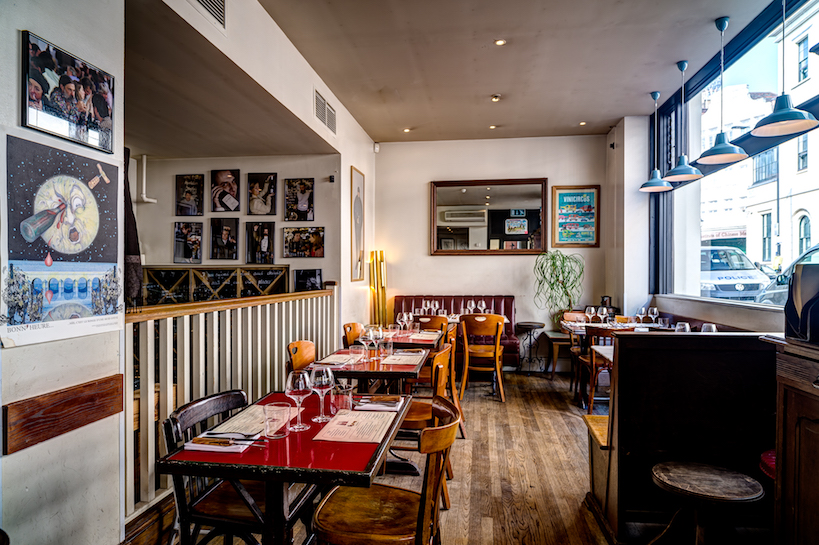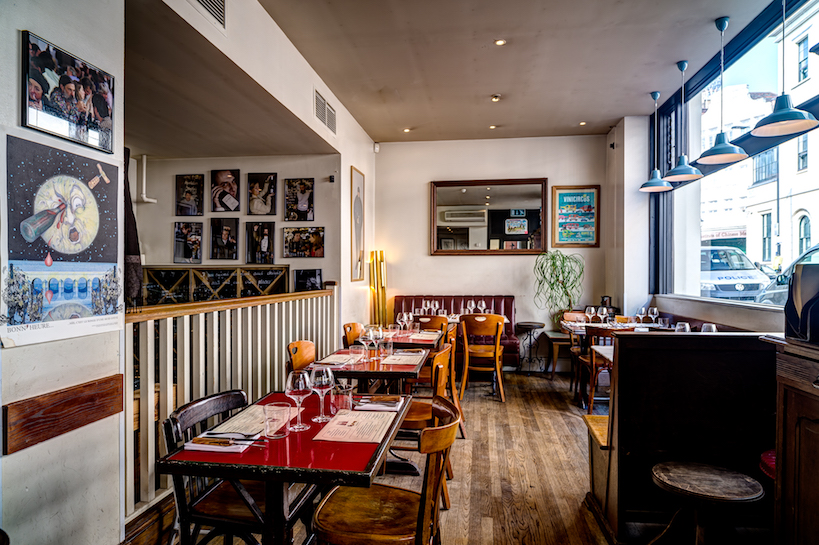 Terroirs: Where it all began
Scroll back to early 2000s and we uncover a moribund wine bar culture in the UK. A handful of honourable exceptions apart, it was not much more than a rump of corporate venues in The City flogging over-priced Champagne and offering depressing digests of the usual brands; Places you would avoid if you truly loved wine. Pinot Grigio über alles and chips with everything. The opening of Terroirs in 2008 was a game-breaker, being the first wine bar with an all-singing, all-dancing natural wine list. Not that this was purely about peddling crazy wines in a partisan manner, and trying to frighten the horses. (We even had little horse symbols on the list next to wines to denote those that exhibited a special gout-à-barnyard). The idea was to connect drinkers to small growers, to the vineyards, and to the lesser-seen wine regions, and to make people aware of the journey of wine from grape to glass. The success of Terroirs subsequently spawned Brawn in Hackney, Soif in Battersea, Green Man & French Horn in Covent Garden, and latterly, Toasted (which then became another Terroirs) in East Dulwich. With punchy, unpretentious wine lists featuring small producers and wines made with minimal-or-no interventions, the wine bars/restaurants placed wine on a par with food. In these joints you might drink "vins de soif"; wines from "maritime" or "volcanic" climes; "orange & skin contact wines" and those made in "amphorae, qvevri and tinajas". Not that these were identikit selections. Whilst The Green Man, for example, was entirely devoted to producers who worked in the Loire region, Terroirs built up a considerable Italian representation, and both Brawn and Soif featured a very healthy smattering of wines from Jura and Beaujolais respectively. Now they all happily span the natural wine globe. An ever-changing selection by the glass, added to the permission to open any bottle on the list (within reason) to taste, was part of the flexibility of a service that encapsulated the spirit and enterprise of the natural wine bar, proving that wine could be talked about, embraced and celebrated in a relaxed way. Over the years, all these lists have continued to change according to the enthusiasm of the particular bar manager/wine buyer, and now all have very different personalities as a result.
Terroirs owed much to the great Parisian wine bars such as Le Verre Volé, although it came about as a result of a random discussion between Eric and myself. I was on the number 24 bus (memory serves), and I suddenly had a vision of people sitting around a bar drinking sanguine, earthy wines from the south west of France and the Languedoc. Paul on the road it was not, but still. At that moment, Eric happened to call me and asked: "What are we going to do this year?" I outlined my nebulous desire for a place to showcase our wines in a convivial atmosphere, and that started the hare running.
I was on the number 24 bus and I suddenly had a vision of people sitting around a bar drinking sanguine, earthy wines from the south west of France and the Languedoc.
In truth, the idea of a wine bar had been at the back of our minds for a while. Eric had already been exploring the Parisian natural wine bar scene. At that particular point, natural wine was "not a thing" in London, however.
One day Eric phoned me and said excitedly: "We've found the site!" It was a former Davy's Wine Bar on William IV Street, a small cut-through between The Strand and Trafalgar Square, contriving to be, at the same time, both central and off the map. The bar was split into a ground floor restaurant/bar and a deep basement oubliette called The Tappit Hen. It wasn't a prepossessing building; its previous occupants having painted most of the interior surfaces matt-black (atmospheric dungeon-like wine bars were à la mode since the Dark Ages) and partitioned the room with false ceilings and walls. I couldn't see it, but then I had no imagination.
We opened Terroirs in the latter part of 2008. The airy ground floor restaurant had an L-shaped zinc bar as its centrepiece, and split-level seating. A tiny galley kitchen dispensed a prodigious amount of food. The décor has developed organically over the intervening years, characterised by abundant colourfully-labelled iconic natural wine bottles (empty, natch!) on window sills and ledges, and wine paraphernalia crammed into every nook and cranny of the restaurant, with a rogue's gallery of specially-commissioned photographs of the good, the bad and the occasionally ugly of the natural wine world beaming and gurning down from the walls. The cosy cellar, which opened in 2009, now hosts tastings, events, private parties, and even has a movie screen. The food on both floors is simple, seasonal and avowedly in the bistro spirit. For the confirmed carnivore the charcuterie is a must – the Terroirs homemade pork-and-pistachio terrine has become a classic (the recipe is chalked on a cupboard by the entrance) and the duck rillettes is properly fatty and rustic. Otherwise, there is ample choice amongst the range of small plates with decent vegetarian options, and no-frills main courses.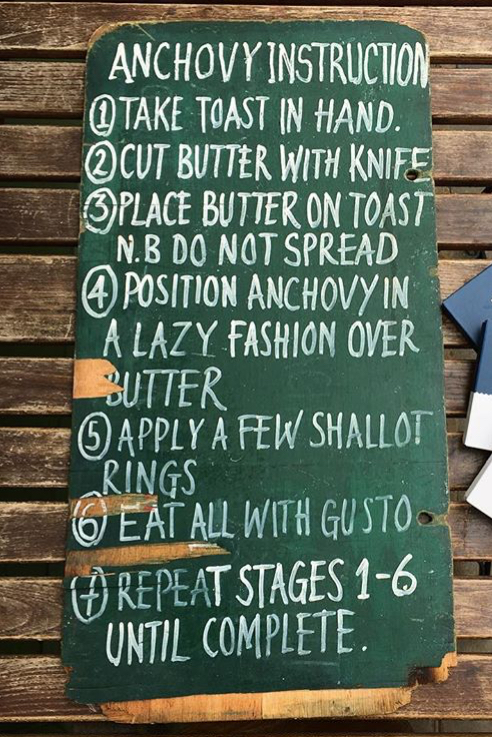 The 450 + bin wine list is stunning, of course (if we do say so), and visits all parts of the world without fear or favour, although France and Italy, allowed epic sections, are further divided by region. There is a big focus on orange wines with a special section devoted to them, a great selection of pet nats, and plenty of magnum action. The by-the-glass-offering constantly changes, whilst bottles are opened in the spirit of copinage.
The Terroirs philosophy is pure and simple:
The wines on this list are sourced from small artisan growers who work sustainably, organically or biodynamically in the vineyard and with minimal interventions in the winery. Much of the farming is labour-intensive, often done with horses rather than tractors and all of the picking and selection is by hand. Yields, usually from old vines, are low. Fermentations tend to be with wild yeasts and several wines are made without addition of sulphur dioxide and are unfiltered and unfined. In style the wines tend to be light-to-medium bodied, fresh (even refreshing), savoury and delicious to drink – but even more delicious with food. Our objective is to present wines that most sympathetically reflect the place from which they originate, the nature of the vintage itself and the personality of the grower – in short, those wines that encapsulate the notion of terroir.
…the odour of Burgundy, and the smell of French sauces, and the sight of clean napkins and long loaves, knocked as a very welcome visitor at the door of our inner man.
–Three Men in a Boat, Jerome K Jerome
Terroirs was all that. Except for the odour of Burgundy. And the smell of French sauces. Not sure about the clean napkins. Long loaves though. Yes.
Whilst the venturesome, goodie-bulging, reasonably-priced wine list was a major attraction when it opened, the food was equally as great a draw. Eric had hired Ed Wilson, formerly of Galvin and The Wolseley, to bring his brand of earthy French bistro cooking to the pass. The fare was hearty, well, meaty: Montbeliard sausage with lentils; the aforementioned pork & pistachio terrine; bavette steak with caramelised onions served in its pan; Christian Parra boudin noir; raw chopped Italian beef infused with rosemary. Other early dishes included Piperade Basquaise; a definitive French fish soup with rouille; roast chicken cooked with fifty cloves of garlic; a big roast turbot to share and an artery-hardening baked Vacherin with new potatoes and ham. We jocularly called this: "the food you want to eat," in that it was conspicuously unostentatious, filling and wholesome. If you wanted to sit at the bar with a bowl of warming chestnut soup washed down with glass of cloudy house Gamay that was fine; if you wanted to preferred to spend all evening noshing and sploshing you were more than welcome.
Not everyone was convinced by the wine bars. The late AA Gill lamented in his Sunday Times restaurant column:
I covered the fascist, eugenic philosophy of terroir in a column a couple of weeks ago, so we needn't go into all that again, except to point out that placing a French restaurant called Terroirs in the middle of London begs the question they might not have fully understood the concept implicit in their title.
Really!? To cite my favourite philosopher, Sairey Gamp: "Who deniges of it?"
Lazy writing is invariably the product of lazy thinking. The words fascist and eugenic are horribly misapplied and abused here. Terroir, of course, a term used and occasionally abused in the wine world, not just by the French, refers to wines that exhibit something of the place whence they originate as opposed to "international wines" which taste as if they might come from any country in the world. Terroir is fundamentally a positive term, connoting strong identity, individuality, diversity and traceability. We believe in encouraging those artisan growers who capture the flavour of the real in their produce. Cuisine de terroir is a common expression, hearty cooking based on local ingredients. It comes from the heart. A fascist philosophy, to use that puerile assimilating term, would insist that everything must conform and be correct, that all growers should make identical wines according to the dictates of consumer acceptance panels.
Having said that, the majority of critics were generally very kind and seemed to understand the Terroirs' homespun hugger-mugger philosophy, which was the opposite of high concept. The wine flowed, Ed's food was generous and wholesome, the restaurant throbbed with goodwill and cheerful semi-chaos reigned.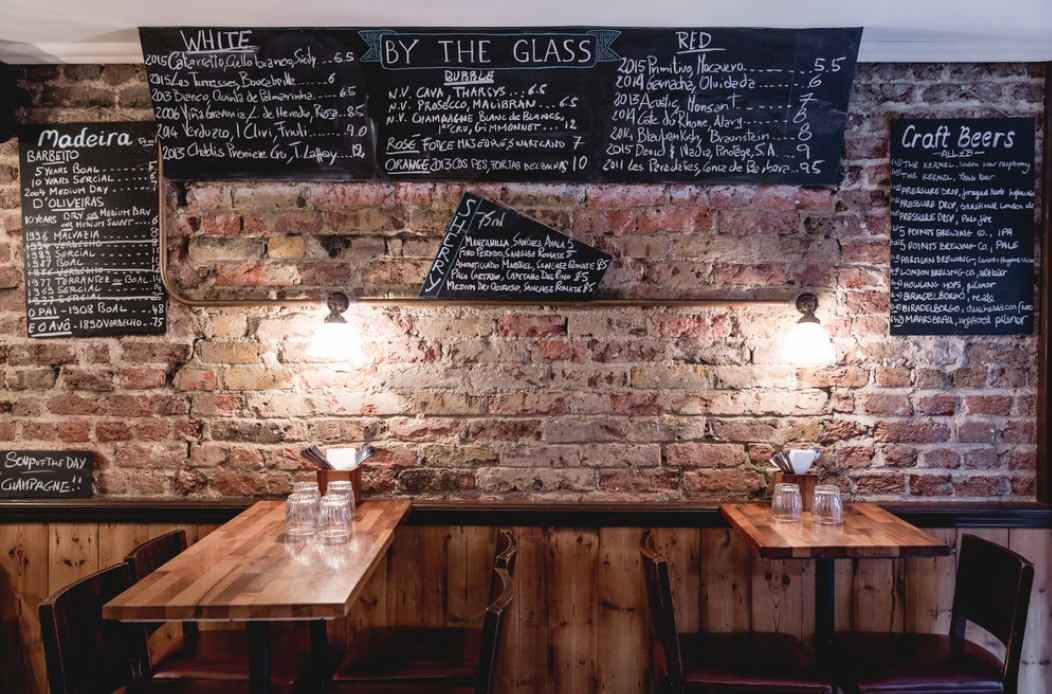 Over the years we've had some fantastic people dispensing wine, wisdom and bottled-whatnot at the bar: Max Bichon, who went on to manage The Green Man and Brawn, and ended up working for Gergovie Wines, Renato Catgiu and David Clawson who were to open the gem that was The Remedy, Margaux Aubry Sharratt who created Naughty Piglets with her husband and was then discovered by a certain Lord Lloyd-Webber (that well-known natural wine fanatic); Damiano and Alex from Brawn, who subsequently became the brains (and the brawn) behind Tutto Wines; t'other Alex and Basile who combined to create their import company, Under The Bonnet. Long-time Terroirs general manager, Oli Barker, went on to have his own excellent restaurant, 6 Portland Road; ex head chef Sandy Jarvis is currently going great guns with The Culpeper in Spitalfields and The Green in Clerkenwell, and, of course, Ed Wilson himself, is the chef-patron of utterly wonderful Brawn in Columbia Road.
The wine flowed, Ed's food was generous and wholesome, the restaurant throbbed with goodwill and cheerful semi-chaos reigned.
If Terroirs started the natural wine ball rolling, others would soon pick it up and run with it. Duck Soup in Soho, and their recently opened sister establishments Raw Duck and Little Duck: The Picklery; Plateau and Mange-Tout (in Brighton) and 40 Maltby Street in Bermondsey have since become go-to places if you love good nosh and real wines. They exemplify "the small bar phenomenon", one which sits well with mismatched furniture, bare brick or whitewashed walls, a long bar at which you can perch, casual yet informed service, simple yet tasty food and, of course, vinyl-spinning record players! It's as anti-design as it's anti the-stuffy-approach-to-wine, for it is about people, what's in the bottle and what's on the plate.
In the past five years East London has become a world-class destination for the questing wine drinker. P. Franco and Bright have glorious selections and top-notch nosh, Sager & Wilde is on every wine-lover's circuit as is Bloomsbury's Noble Rot, and you will drink brilliantly at The Laughing Heart, Lyles, Leroy, Antidote, Nuala and Westerns Laundry, amongst others. Heidi Nam Knudsen built up an appealing natural wine culture inside the Ottolenghi group of restaurants, and has continued to support small wine farmers at Farmacy.
Now to Brawn, Soif, Green Man & French Horn (now closed, alas) and Terroirs East Dulwich, formerly Toasted, formerly Green & Blue.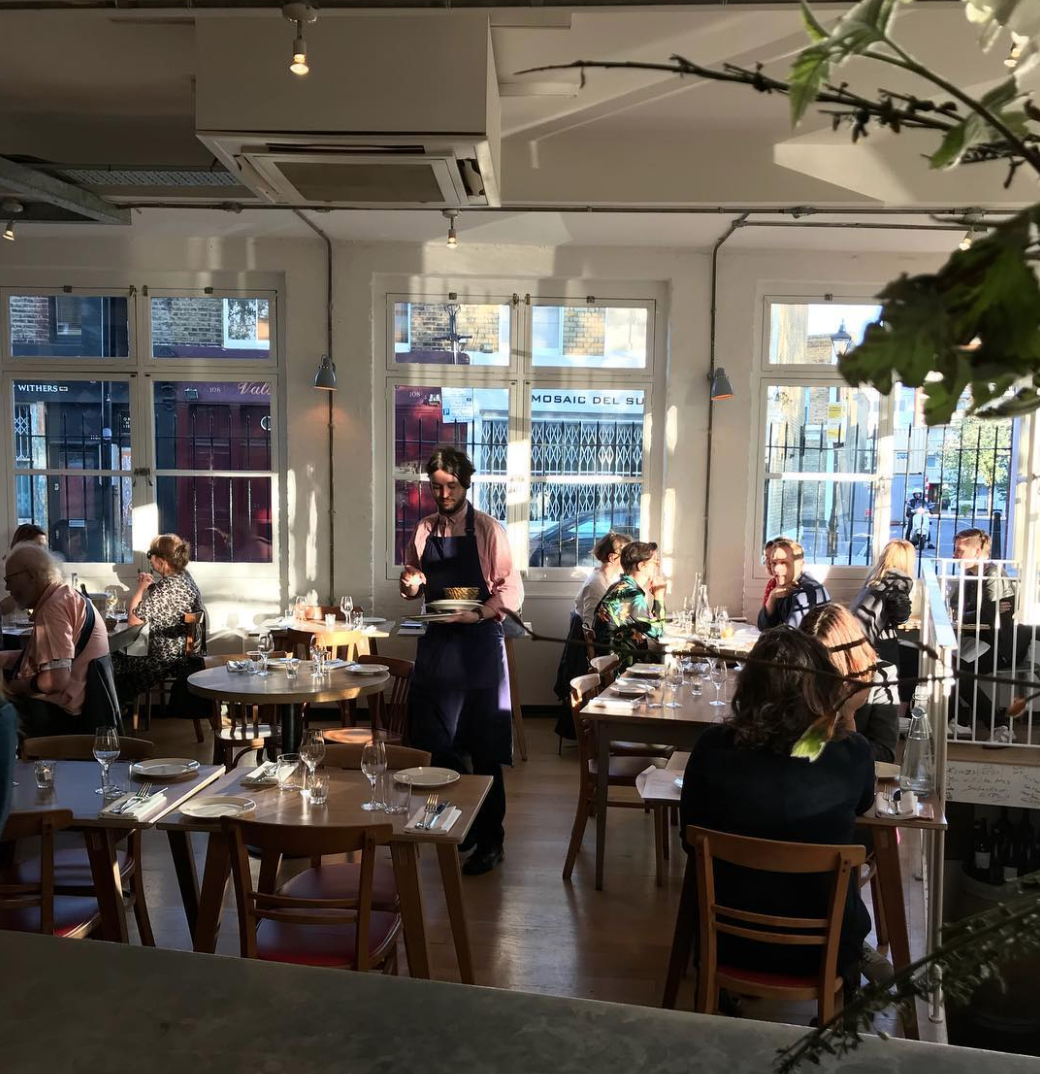 Brawn
A sibling of Terroirs, Brawn opened on Columbia Road (home of London's legendary Sunday flower market) in Hackney, and has since acquired a devoted following for its exceptionally well-executed seasonal menu of produce-driven dishes and exciting and lengthy natural wine list. Owner-chef Ed Wilson has made Brawn into a buzzy local restaurant as well as a place that is definitely worth the gastronomic detour.
The restaurant is split over two rooms with a bar in the front and the open kitchen in the rear. Both spaces are filled with diverting pictures, posters and artworks that have all been procured from customers, friends, musicians, winemakers and artists who have impacted on the restaurant since it opened. Music is care of vinyl records played on a vintage system.
The ever-changing menu comprises around eight starters, half a dozen mains, a trio of desserts and cheeses respectively. One menu featured dishes such as raw scallops, broad beans, lovage and colatura di alici; lamb sweetbreads, piattone beans and capers; cod, girolles, artichokes and seaweed butter and Panna cotta, strawberries and elderflower. Sharing is positively encouraged.
Brawn champions "real and free wines" favouring European growers, although it embraces producers who work with the same philosophy wherever they are located on the planet. Always evolving and changing seasonally, the wine list is printed as a simple, stapled document with interesting thematic sections, and contains a trove of vinous treasures with an especial fondness for certain growers. There are particularly strong sections in Jura, Loire, central France, and central and southern Italy, and if you enjoy Gamay you won't go thirsty.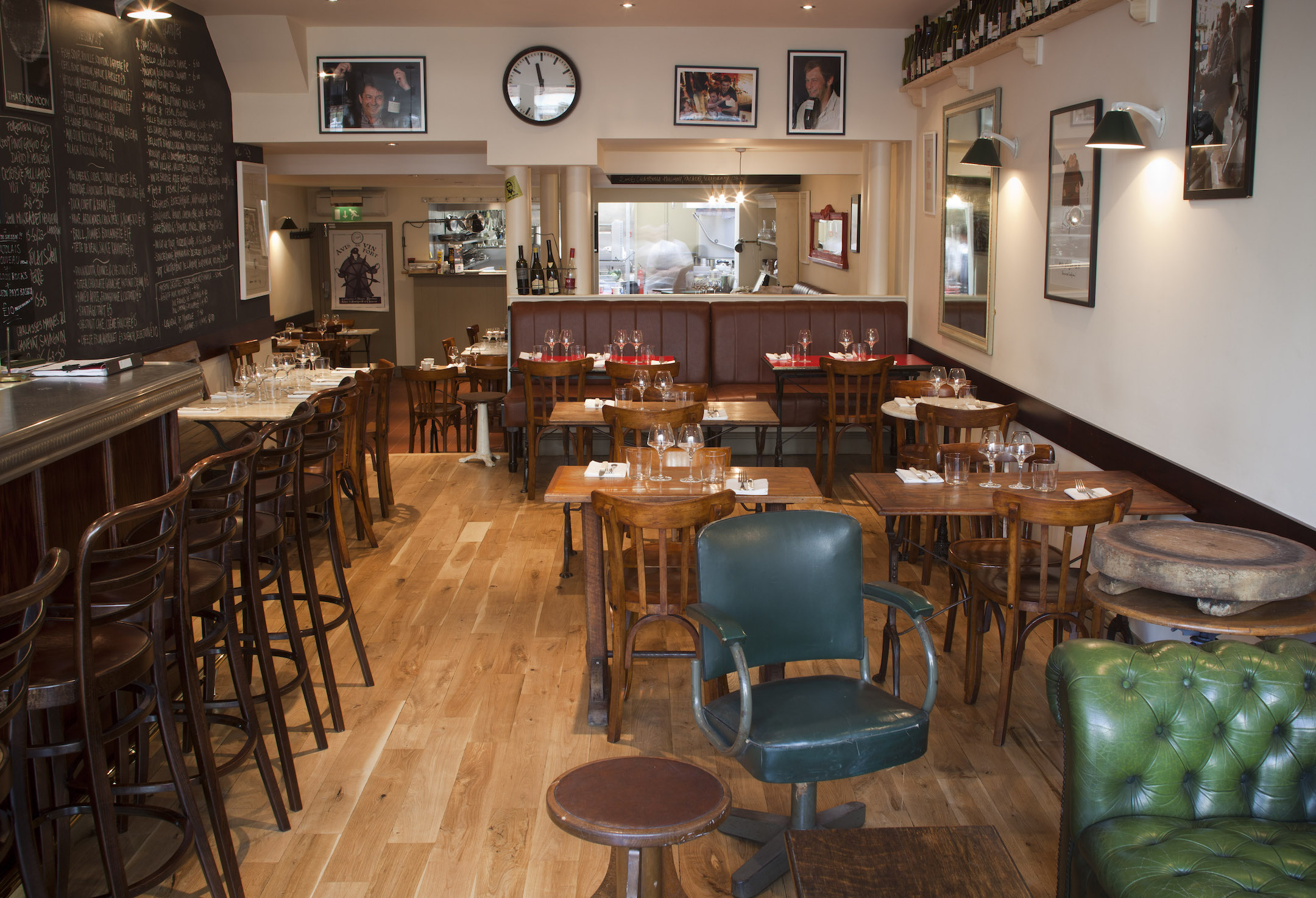 Soif
Open since 2011, Soif is located on Battersea Rise next to Clapham Common. With its small terrace for summer drinking, cosy bar area and split-level restaurant, Soif exudes a friendly bistro atmosphere. Framed photos of much-loved winemakers & humorous posters (examples of Tolmer, natch, amongst them) hang on the walls, and favourite (empty) bottles populate the barrels and shelves. Various blackboards highlight events, post daily specials, itemise the changing cheese selection, and the artisanal fruit liqueurs and digestifs from Maison Laurent Cazottes. Lighting is dimmed in the evening to create a cosier ambience, and candles are scattered around the tables. Music may be blues, jazz, reggae, dub, Latino, French depending on the day, the person or the mood…
You won't find an anaemic radish draped over the side of a fancy bespoke plate, or a polished stone speckled with cubes and foams of whatnot.
Seasonal and daily-changing with a £10 lunch special, Soif's menu comprises cracking charcuterie, small and large plates, desserts and cheese. Dishes may include citrus cured sea bass, fennel and coriander; chopped raw beef, anchovy, rosemary and lemon; roasted hake, spinach, Datterino tomato & samphire; Loch Duart salmon, beetroot, radish and watercress and Crémet Nantais, cherries and pistachio. Desserts are paired with one of the many digestifs.
Open the wine list and, aye, there's the eye-widener. Natural wine is the thing here: a veritable tome weighing in at 14-pages with 380+ wines, split into styles, regions, sub-regions and – in special cases, Vignerons. Globetrotting aside, pride of place goes to sections featuring Loire Valley (70), Jura (53) and skin contact wines (31). 14 wines are open by the glass including sparkling, champagne, white, rosé, orange and red, as well as a local artisanal draught beer. Nor are Les Soiffards averse to cracking open weird and wonderful bottles from the cellar to sell as specials on the night.
Brawn, Soif and East Dulwich would be rare gems in any city. They want to feed and water (well, wine) you. You won't find an anaemic radish draped over the side of a fancy bespoke plate, or a polished stone speckled with cubes and foams of whatnot and you won't have your murky wine served in frighteningly frangible Riedel or Zalto glasses.
For years, wine lists in the UK tended to be risk-averse and accountant-friendly, chockful of the usual suspects, the same old labels, and ultimately characterised by pretentious mark-ups – everything that inhibits exciting drinking. The seasoned wine trade pros are still dismissive of natural wine; I think this says more about the need to broaden their horizons; for the younger generation have not become petrified by orthodoxy. Interestingly, we find that it is now often the chefs who "get" the wines, appreciating their flavours and understanding how they might work with specific dishes.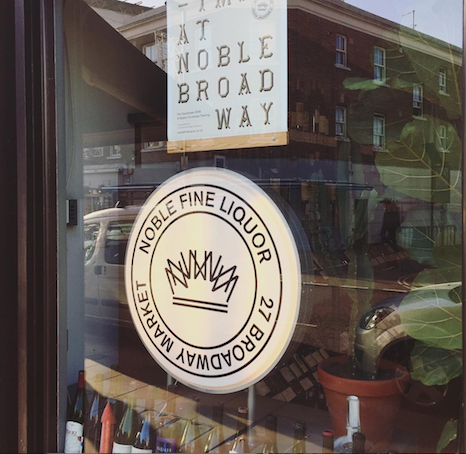 A word for the cavistes:
Noble Fine Liquor in Hackney, D'Vine Cellars in Clapham, and Yield N16 in North London are small but perfectly-formed wine shops that buy wines that they like and then try to enthuse their customers, rather than default to the tried-and-trusted. Online retailers such as are creating fascinating micro-selections to introduce customers to wines that they would never discover through the usual channels. With the market still so dominated by the supermarkets and saturated with the same-old same-old, it is important that these small retailers establish their unique selling point and stick to their guns.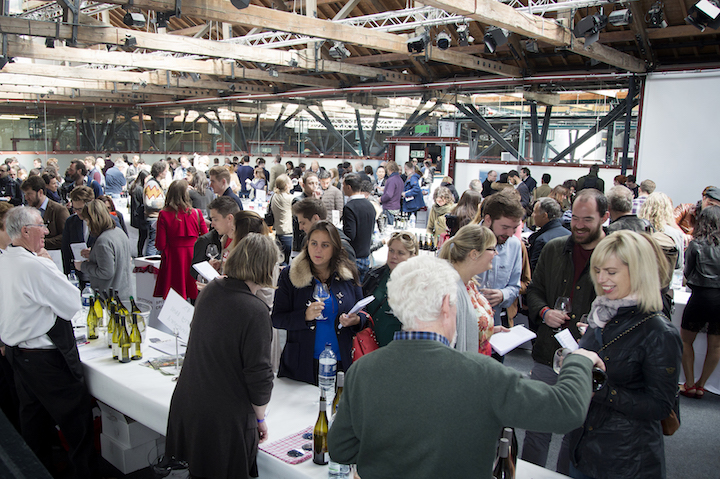 And, of course, the wine fairs:
In 2011 a group of wholesalers and merchants linked up to create an event called The Natural Wine Fair which was conspicuously successful, attracting lots of participants, members of the public and the trade alike. This fair subsequently split into two even bigger shows: The Real Wine Fair and RAW. These two major annual events (Real Wine is actually two out of three years) have reinvented and reinvigorated the whole notion of the wine tasting, introducing an incredible range of artisan growers and wines from around the world to this country. The Real Wine Month (part of The Real Wine Fair) works with over 250 + restaurants, bars, wine shops and wholesalers throughout the UK and Ireland, giving prominence to natural wines in various different ways for a certain period of time and has become one of the biggest independent promotions ever in the wine trade.
One annual promotion, albeit a conspicuously successful one, doth not a natural wine culture make. However, the thousands who drink weekly in the wine bars and restaurants and attend the annual fairs as well as the hundreds of restaurants and bars that have dipped experimental toes in the water, show that even long journeys begin with a single step. "To dare: that is the whole secret of revolutions," wrote Antoine Saint-Just. Natural wine rose seemingly without trace in the UK. Now, its green shoots have flowered, it apparently presents a clear and present danger to… whom or what? The general population? The mythical consumer on the Clapham Omnibus? The establishment? Putting aside childish arguments, let's focus on the positive. The can-do approach illustrates that with the right energy we can bring the public to wine, by bringing the wine to the public in imaginative and proactive ways. In this country cultural shifts are organic and incremental – change is never going to happen overnight. Those who love the wines won't persuade others by sheer force of argument. The point is proved in the glass. And the glass after that. And the glass after that. Natural wine will always appeal on a visceral level. A revolution, after all, doesn't always need a head; but it certainly needs a heart.
To be continued in Part Two…