Jurassic Bottle Bonanza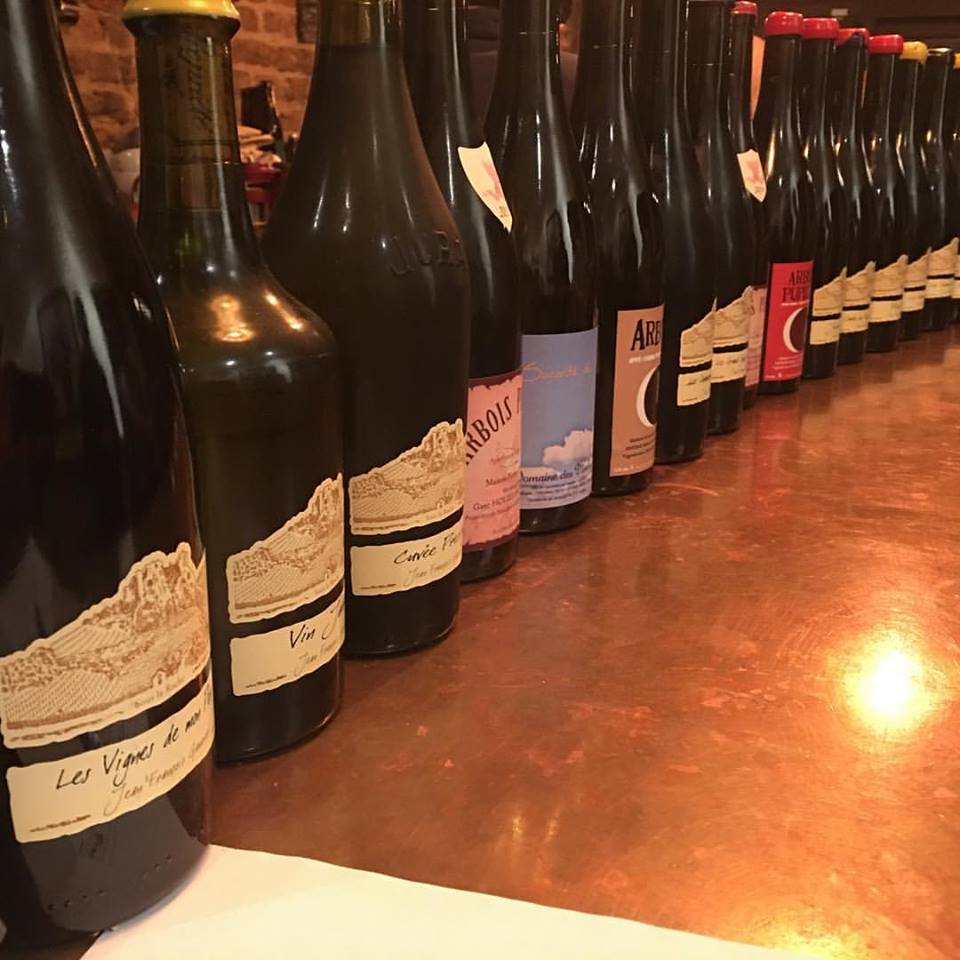 The pleasure of wine is amplified when it is shared with friends and fellow-enthusiasts. A bevy of Jurassic bottles had been gathering considerable quantities of dust (testament to my cleaning incapabilities) on my wine-rack and when I was invited by David Clawson of The Remedy to help with a masterclass meets rare/iconic Jura wine tasting/dinner, I was delighted to take out a j-cloth (special Jura cloth) and wipe off the signs of housekeeping neglect.
The focus was on Jean-Francois – aka Fanfan – Ganevat. We're fan-fans of Fanfan; these are wines appeal to all sections of society, be ye aficionados of things au naturel, or conventional from the tips of your polished shoes to the ends of your lacquered hair. J -F makes a bewildering number of cuvees – somewhere between 35-40 depending on the vintage- defined by and bristling with terroir, many reflecting the complex mosaic of soils, a patriotic patchwork of red, white and blue marls.
He uses whole grapes but destems individually by hand. The whites are largely topped up (ouille) and always aged under the lees for a considerable period which helps them to "gather", the reds, as is the Jurassic way, are bonny and bright and released in their garrulous youth. The former will age splendidly, the latter are for more immediate drinking, although the Pinot Noir often has legs for a longer journey.
Jean-Francois Ganevat, Rotalier
Crémant du Jura Nature" Non-Dosé
This pure Chardonnay Cre?mant is from grapes grown on limestone, picked early in the harvest. The wine is fermented in demi-muids and rests sur lattes for a minimum of 24 months, then aged in cellar and bottled with zero dosage. Really delicious sparkling wine, a ringer for a quality brut nature style of champagne.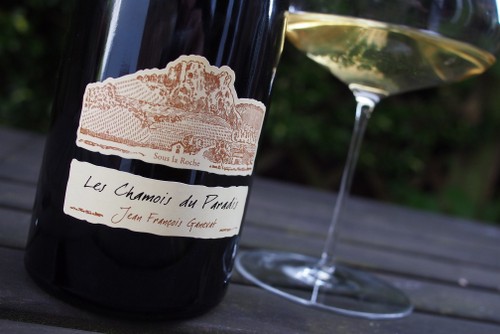 2013 Chamois du Paradis  – 1949 – red marl with gravel and limestone
2012 Chamois du Paradis
2011 Chamois du Paradis
Aged in demi-muids for 24 months and bottled without sulphur, Paradis boasts elegance and cut. It covers everything from citrus to fruits to spice and smoke. All of this is wrapped around a tense core. The wine usually exhibits the kind of saline minerality that perks you up. Chamois comes from old vines planted in red clay with gravel and limestone. The wine always stands out for its finesse and the amount of complexity that it quietly packs into its lithe frame.
2013 was a charming vintage with notes of acacia, brioche and buttery texture. The 12, conversely, was tightly wound with some smoky reduction and the 11 a very pleasing, understated style of Chardonnay.
It is now customary to show Jura reds before whites. Many of them are vinified with some degree of carbonic maceration, extraction tends to be light and focused on bringing out primary fruit flavours and the wines see a shorter period of elevage. 
2014 Poulsard Cuvée de l'Enfant Terrible – 1959 – white and grey marls
Ganevat's reds are lithe, lean, earthy, crunchy, mineral, rasping, occasionally angular, but my, how pure – and what delicious food wines! L'Enfant Terrible Vieilles Vignes Sans Soufre to give its full clunking moniker comes from 56 year old Poulsard, from yields as low as 10 hl/ha vines, is utterly transparent and conveys skittish aromas of morello cherry, redcurrants, wild strawberry and quince. Rose-hued, slithering hither and thither across the palate with the slicing angularity of a razor blade dipped in pomegranate juice or cracking a whip flavoured with raspberry liquorice.
2014 Pinot Noir Julien en Billat – 1977 & 1990 – clay and limestone and schist
In the 14 vintage the two Pinot cuvees (Julien & Billat) were combined due to the tiny yields. The character of J-F's wine shines through – taut, light of body and energetic on the palate with pure, fragrant red cherry and redcurrant fruits. Set on a backdrop of schist and stone are hints of leather, and soft spice with touches of game, dried flowers and a dab of garrigue. It has a terrific line on the palate and shows great sense of place with good complexity with a brilliant, mineral laden acid backbone.
2014 Trousseau Plein Sud – 2000 – grey marl and pebbles
The massale-selection vines face due south – a tremendous exposition but are on a very steep incline! Light-bodied as well (10%), less aromatic than the Poulsard but with greater intensity in the mid palate, the wine has cherry red colour, aromas of red fruits and blackcurrants and is lively and fresh on the palate with pronounced acidity and just a hint of musk and sous-bois.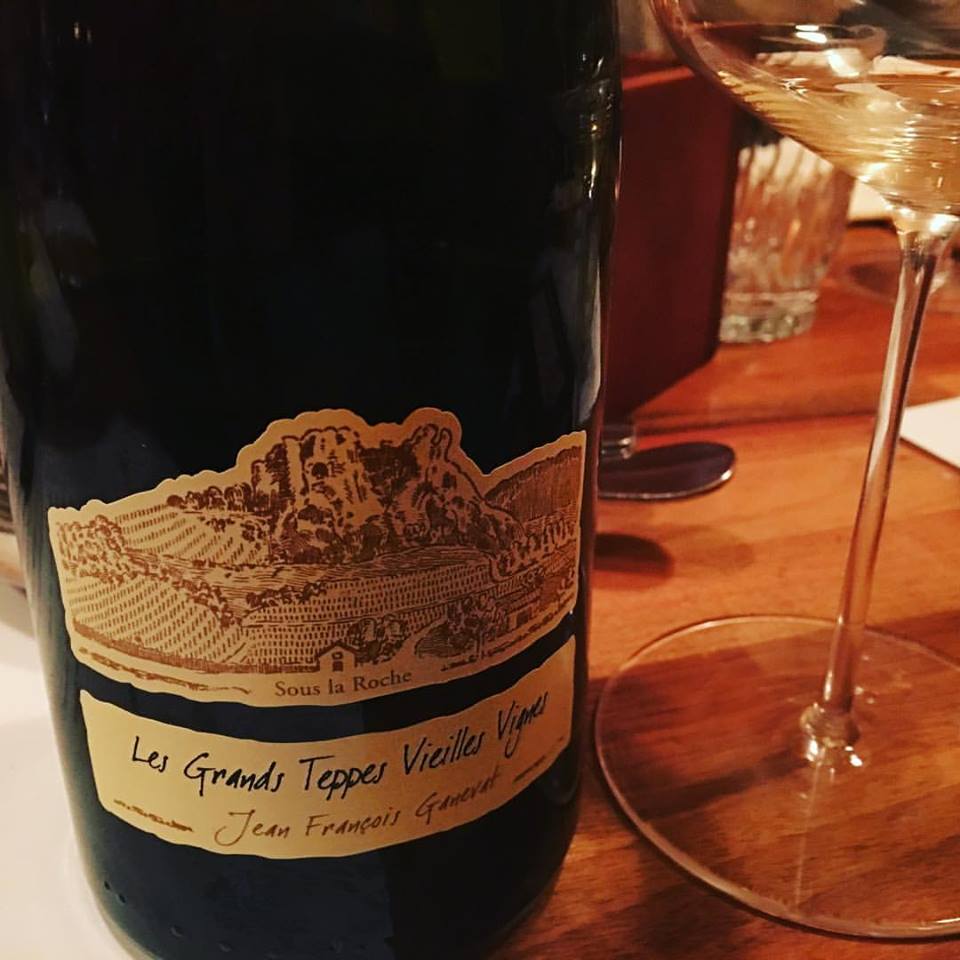 2012 Chardonnay "Les Grandes Teppes" – 1920 – white marls
From centenarian vines this hard Chard will do the hard yards. It spends twenty-four months sur lie, aged in demi-muids, and whilst it may hide initially under a reductive veil, it swiftly evolves into a stunning wine comparable to a top Burgundy. Pale gold, a scent of honey, quinces and white flowers. The complexity of the nose continues on the palate. The wine is thicker the Florine with phenomenal mouthfeel, length and mineral presence. A balance of tropical fruit (pineapple and grapefruit) with the minerality of old vines.
2012 Savagnin Chalasses Marnes Bleues – 1933 – blue marls
Ouille Chalasses Marnes is Savagnin Vert on clay soils. Topped up, the wine acquires nourishment and presence from the yeasts and reveals all the concomitant nutty/dry spicy notes that you might expect from this grape variety Here be aromas to get all seekers-after-and-snapper-uppers-of considerable-trifles to snuffle keenly. Combine golden-yellow plum, add white spice, gently toasted almond, and finish with an electric charge of withering acidity. The intensity of the wine is balanced by its freshness. The finesse that we have observed with other wines on this terroir.
2006 Cuvée Blanc Prestige – 1977 – clay, marls
48 months sous voile in demi-muid from vineyards on clay-marl soils. An old-time oxidative marvel, remarkably fragrant with hints of dried fruits mixed with walnut, dry honey, white pepper, fenugreek and a pronounced note of peatiness. Phenolic, broad beamed with the warmth of alcohol – Lagavulin 16 year old at least.
2006 Vin Jaune – 1948 – blue marl
The Vin Jaune is one step beyond with so many tangible and intangible qualities: a butteriness verging on the aroma of warm cheese (Comté, natch) yet lifted by a cachet of oriental spice, an array of toasted nuts and some eyeball-loosening acidity. This will age forever and a day. Made from Savagnin Vert (yes, there is a difference) a brilliant, saline, crisp white – all-upturned appleskin cheeks. Pleasure now and for the foreseeable future.
2005 "Les Vignes de Mon Père" – 1930 – schist and marl
From the blue marls of the Chalasses site this wonderful Savagnin spends nine years (at least) in barrel, topped up. Gloriously long, reminiscent of Meursault with delicate notes of dry honey, cinnamon, poached pear and the acidity more rounded. Language cannot do this profound wine justice, so will leave it…
Domaine des Miroirs, Kenjiro Kagami, Grusse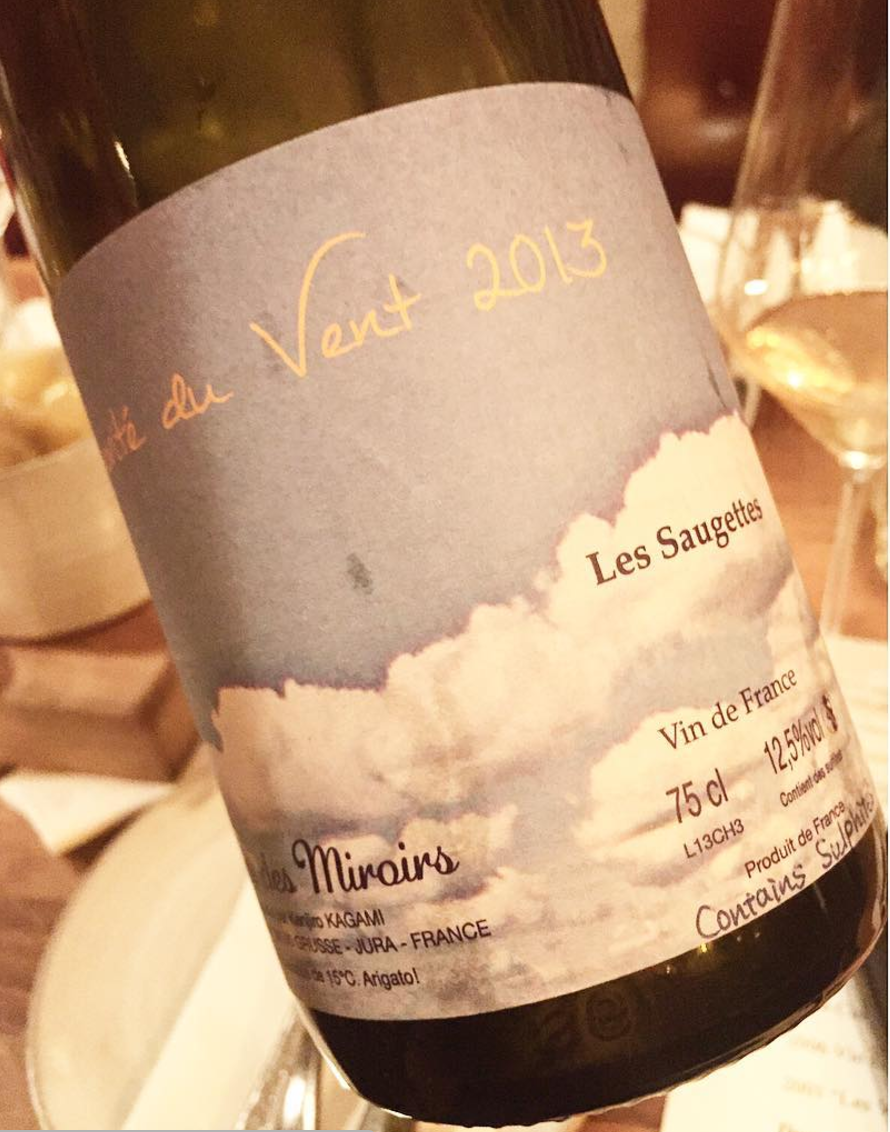 2013 Sonorité du Vent
One of the highlights of a tasting of highlights Kenjiro's Chardonnay from Grusse was intially restrained, before unveiling subtle notes of Japanese tea and sake even, with a utterly distinctive umami quality. A haiku of a wine, every syllable and nuance working to sublime effect.
Overnoy Houillon, Pupillin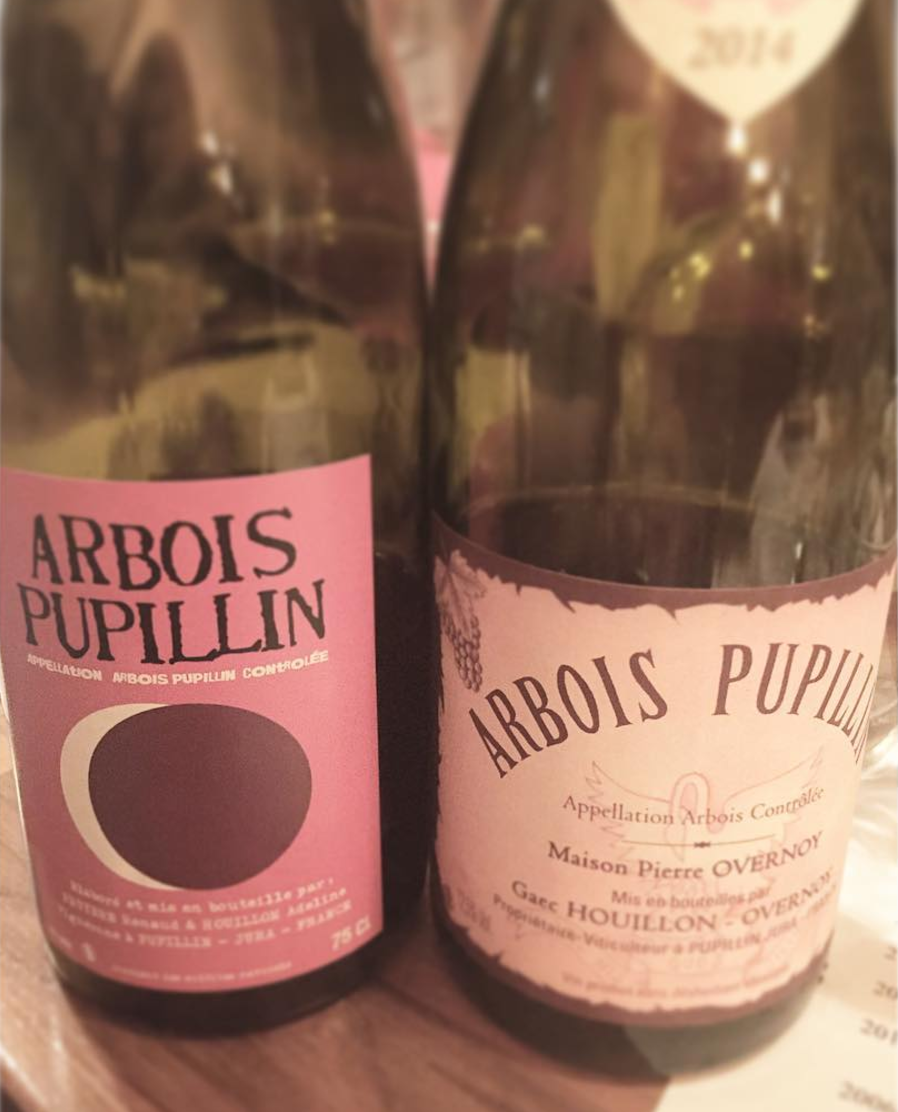 2014 Arbois Pupillin Ploussard
Before bottling, the wines are neither filtered nor fined and they retain a lot of carbon dioxide, which has an antioxidant effect and helps to convey aroma. The maceration and fermentation give little colour to the Ploussard, with its fine skin. Houillon's pale, exceptionally light and piercingly fresh red is filled with flavours of morello cherry, redcurrants, wild strawberry and quince, a study in deliciousness, the avatar of purity. Shy at first, this wine opened up beautifully over the hours.
2011 Arbois Pupillin Savagnin  
Renaud Bruyère, Adeline Houillon, Pupillin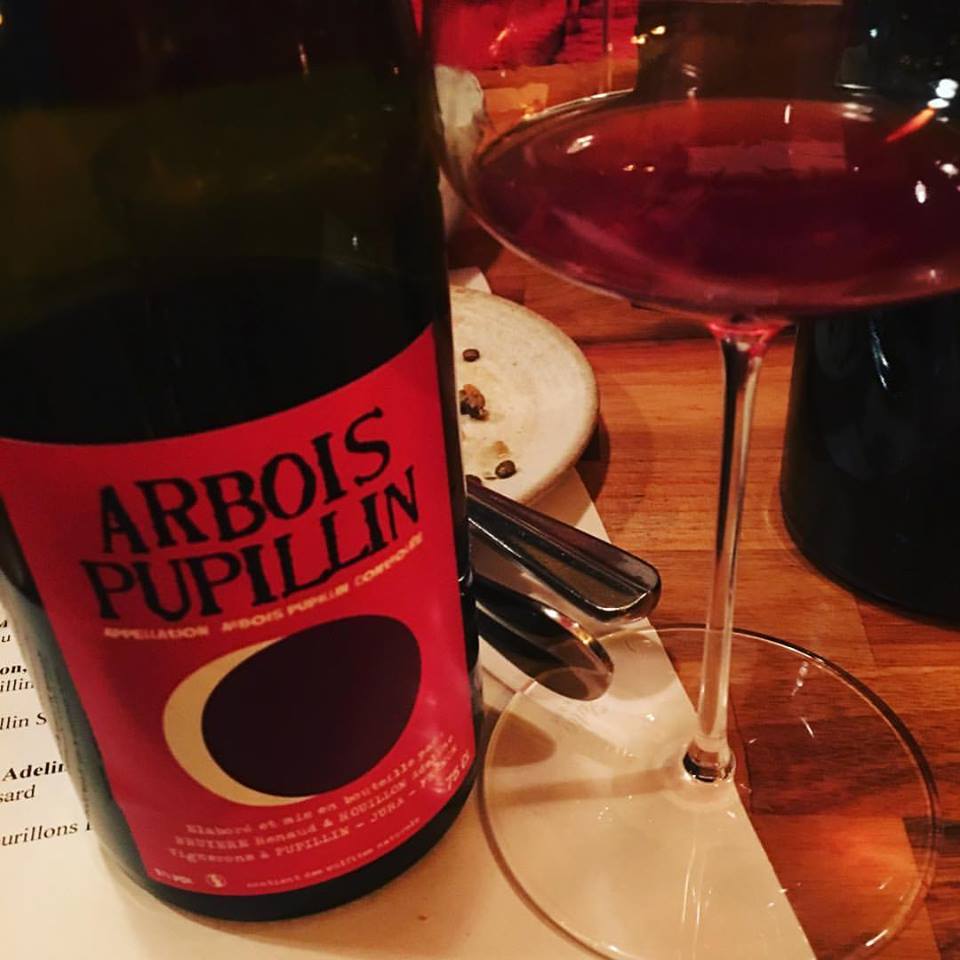 2015 Arbois Ploussard
Renaud and Adeline manage their vines biodynamically. The Ploussard is grown on "argileux du Trias" which is Triassic era clay. The grapes are picked by hand and the grapes are separated from the bunches using a screen that they rub the bunches on (criable). The grapes then undergo a type of carbonic maceration where enzymes in the grape are responsible for fermentation of the sugars inside the grape. As the grapes break down, normal alcoholic fermentation begins via the yeasts on the grapes and this occurs in a tank for 30 days. The wine is bottled without any filtration and without the addition of any sulphites. 
The wine started typically with angles aplenty, a touch of undissolved CO2, even a bit austere. Pared down, stiletto sharp, with a dimension of purity that I love this became like an energy drink and great fun to drink.
2014 Arbois Les Tourillons Blanc
Les Tourillons vineyard was the first acquired by Adeline and Renaud. It is one of the highest vineyards in the area (although tiny at only .75 hectares) and has clay and limestone soils and good exposure. This wine blends 80% Chardonnay and 20% Savagnin which are matured in old wooden barrels kept topped up to retain their freshness. As with the Ploussard the wine has been bottled without filtration or added sulphites out of respect for the fact that it is a "living" wine.
From the outset this Chardonnay/Savagnin blend crackled with energy – citrus and green apple flavours ricochet around the mouth, there is a wonderful arc of acidity to carry the fruit and minerals. Like all these wines the wine has undergone its full malolactic, so the acidity is pushing something textural and mouthfilling, but it is marvellously integrated. Superb wine!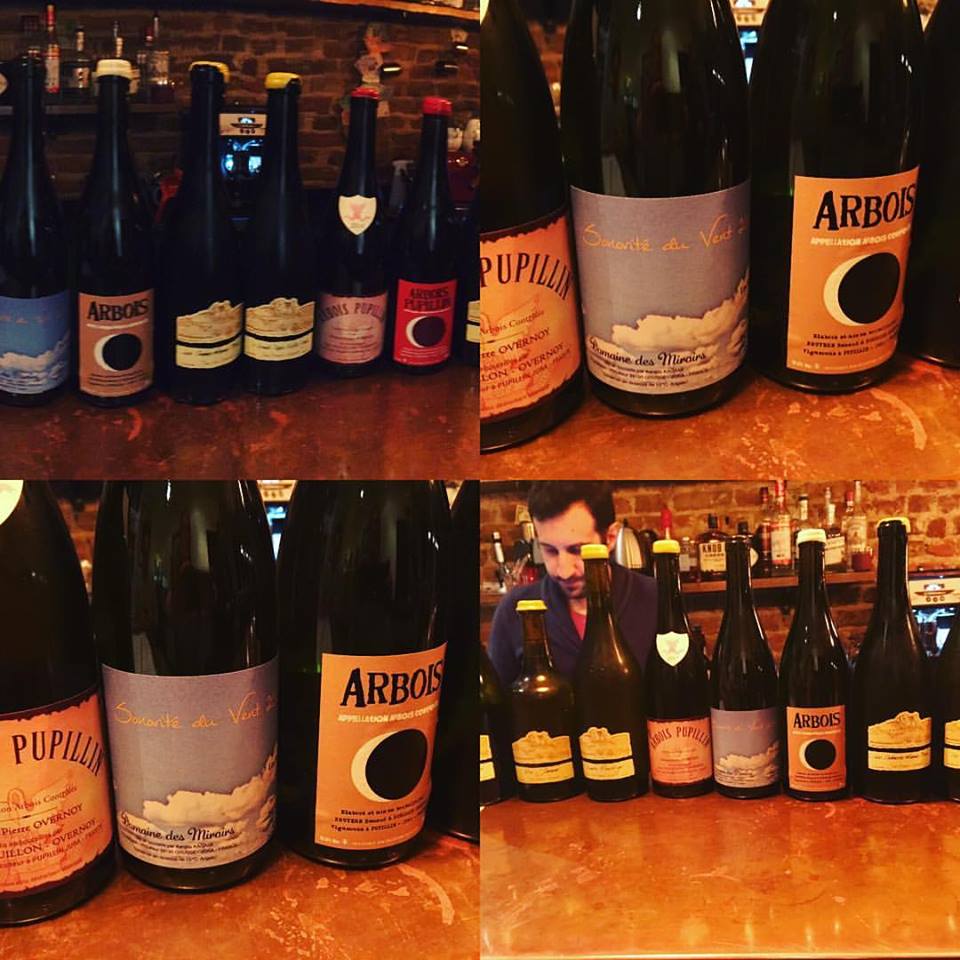 Laughter, incredulity punctuated by fair amount of gorblimeys (positive cussing) with some carefully-carafed social media wanna-induce-envy photos being posted. #wishyouwerehere. A celebration of Jura, of natural handcrafted and rare wines. One might call these "the icons of Jura", but that would be to reduce the wines to the status of luxury commodities. They are, in all (their) humility, so much more.