So what are the new wines that are fit to make it into print?
Part One – French Polishing Up
SW France ~ Languedoc~ Roussillon
Nicolas Carmarans – Maximus Rouge and L'Olto Rouge plus the return of Mauvais Temps. We're in irony country, namely the gorges of gorgeous Aveyron. The jokers wild grape here is predominantly Fer Servadou AKA Mansois AKA Braucol, an inky dark red that tastes of cool stone, herbs and red berries. Negret de Banhars is also a feature of Carmarans' vineyard (making a good proportion of the blend in the Mauvais Temps) and bits and bobs of Gamay and Cab Franc may also insinuate themselves into the blends.
2007 Rivesaltes Ambre, Château de Jau – new in, a fortified blend of Grenache Blanc & Macabeu. An orange-hued number fit for a fruit banquet.
2012 Pic Saint-Loup Orphée, Mas Foulaquier – named after the African Orphean warbler, this lilting Pic Saint-Loup sings a pretty song. Made from 60% Syrah and 40% Grenache on limestone clay soils with 12 months elevage in cement tanks, – unfiltered, unfined, a little sulphur. Gently does it, lovely is it.
Back in stock the 2012 Matassa Marguerite Blanc, a blend of Muscat à Petits Grains & Viognier. So pale and light-bodied, the pretty fragrance given lift and edge by that characteristic Matassa minerality.
Reviving the Rule of the Loire
Another success fishing edition in the Loire for CdP (cartoon by Michel Tolmer)
In these Loireless times we have accrued four dashing mousquetaires of Muscadet or Melon, given that Marc Pesnot is a d'Artagnan opting in to this group but sans appellation. Domaine de la Pépière, care of Marc Ollivier & Remi Branger, is the newest addition to the cadets and one certain to please our melonomanaics. We have a not-so-simple Muscadet sur lie sur lie that drinks itself and the old vines Clos des Briords from a deeper top soil of clay and silica over a brittle granite subsoil:. Ripening is slower, and the longer hang-time before harvest allows for optimal maturity to be reached. Because of the soil and greater concentration achieved with old vines, the Clos des Briords is a more powerful wine than most Muscadets. The wines continue to surprise and delight, challenging preconceptions about the grape and the region.
We also enjoy other grape intruders – La Pépiè Côt Rouge (from Domaine de la Pepiere) is a chicken-lickin' delight, a fundamental thirst-quencher for the most hydrophobic of chickens. This is one Côt that got my tongue when I first drank it – and sank it.  Folle Blanche aka Gros Plant aka that squeeze of lemon juice with which your Brittany bivalves are to be decked, is normally a vinegary number, but in the capable hands of Marc Pesnot (old vines, low yields, time on lees) it is transformed into a rather attractive duckling.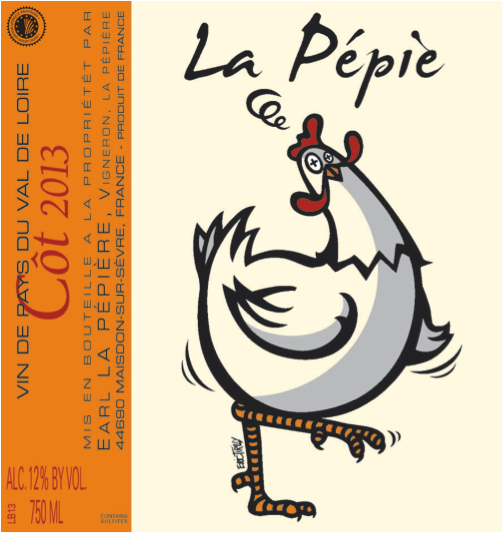 La Pépie – driven mad by a thirst for Cot
Laboratoire Garnier
Jean-Christophe Garner is based in St Lambert du Lattray, 11 km due south of Savennières, on the south side of the Layon River; a town technically in the AOP Coteaux du Layon. Originally from Brittany, J-C worked as a sommelier and naturally became captivated with fine wine.  Ultimately he migrated into wine production.  He had a stage with Marc Angeli, who helped him get settled in the region. When a number of small plots in Anjou became available, he grabbed them. And we've grabbed some of his wines.
Meet some fantastic old vines Chenin from Anjou region plus one red from middle-aged vines. His electrifying whites obey cider house rules – as with many natural versions the wines major on apple and quince fruit of the gently-bruised timbre, but their lickety-split acidity strikes the taste buds and carves a clear path for the fruit to cascade over the tongue. Orthodox wine lovers might roll their eyes at the bold flavour and texture jolts, but I love a wine that tickles my ribs whilst staying several steps ahead of my palate. Unsheathing sharp darts of spiky lemon, grapefruit and yellow peach La Roche unleashes sizzling white blossoms in the mouth then unveils layers of apple, quince and ripe greengage, brine and chalk minerality, finishing persistently with musky florality, anise, angelica, and subtle bitterness of herbs, alkaline minerality, and fruit skin. La Roche Bezigon reveals its terroir-specific origin and this wine reveals a touch more warmth to the fruit whilst covering all the angles in the mouth, whilst Les Dreuilles is more oxidative with a rich and buttery texture. The red called Les Tailles remains in quaff territory, half each of the two Cabs contributing to medicinal flavours of peppercorn and dried currants.
Cousinage.
Baptiste Cousin is a chip off the old testament block and produces a biodynamic Grolleau called Ouech Cousin also from Anjou in the same natural vein as Olivier.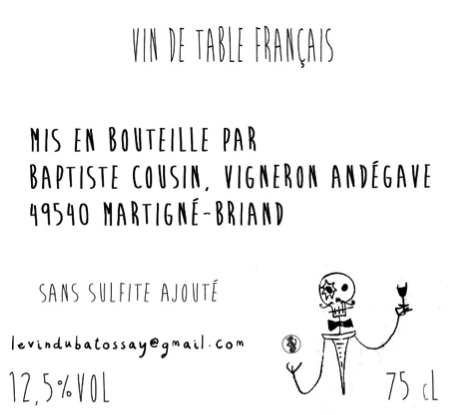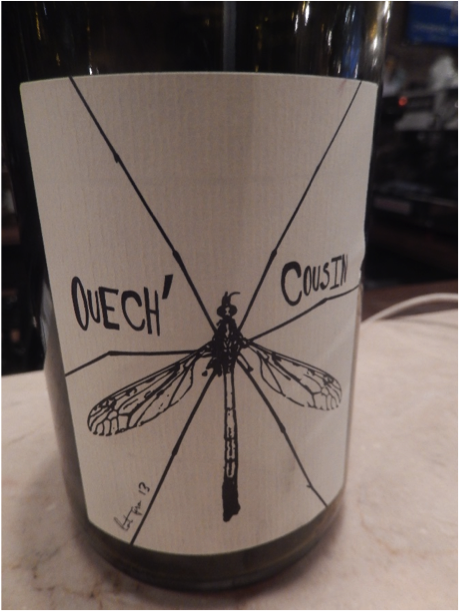 Ouech Cousin lit translated as Yo Bro (or Yo Cousin?) is a frank and friendly Grolleau (Yo Grolleau) pour soif. Tick off its nat wine credentials – three horses, BD, pas de sulphur, filtration, fining. Grolleau is back on the menu.
Chenin, You Crazy Diamond
Domaine Pithon-Paillé – a super Anjou Blanc Mozaik and a tiny bit of Quarts de Chaume Grand Cru. Chenin novices might wish to start with Jo Paillé's Anjou Blanc Mozaik, a shoulders-back, present–and-correct organic wine, before graduating to his awesome Coteau des Treilles, a massale selection version from the steep-sloped microclimate with warm carboniferous soils.  As for the Quarts de Chaume this is one of the great crus of the Loire. 80 year old Chenin on slate. Southern exposure, fully botrytis grapes10 hl/ha 196 g/l residual sugar 600 bottle production! Costs a few bucks, but cannon-loads of bang. (Technical wine term) 
Tic Toc, Domaine Le Clocher
Hey ho let's go is the Ramones battle cry adopted by Brendan Tracey from Domaine Le Clocher, and has been a constant source of inspiration since he got started out in wine making, back in 2010. The punk rock movement taught him a few positive things about getting the nerve to do his own thing in viticulture. He discovered organic and natural wines thanks to Thierry Puzelat, one of the pioneers in the Loire Valley. "In my opinion, a winemaker is a humble assistant to nature. He, or she, use their technical abilities, and their creative inspiration, to make the best of an ever-changing cosmological context. Every year, each variety, terroir, and climatic situation imposes decisions on the way grapes are grown, harvested, and fermented. In that glass of wine you behold, you can see, breathe, and taste, a concentrate of an eighteen to twenty four month cycle that is the result of passion, energy, and an alternative to standardisation." Darn tootin'.
The wines were super delicious and sold out within a couple of months of hitting the shores, so I won't tell you about them, other than we shall replenish our stocks of his limpid, almost clairet-hued reds, add a very fruit rosé pour soif.
Drove my Cheverny to the levee
We've been taking Cheverny reds and a Sauvignon from Domaine du Moulin, Hervé Villemade, but this year have added a sublime Pinot Noir dominated rosé from Loire. The simple things are the best. Hervé also makes a small amount of Cour-Cheverny Les Acacias from Romorantin vines on flinty clay soils. This is a solid citizen with waxy fruit and restrained oxidative style with a good spicy backup.
Paradise Regained
The wines of Claude & Etienne Courtois have absolute integrity. They are terroir-rather-than-grape expressive and possess the fantastic energy that only the most natural unadulterated wines seem to have. The domaine Les Cailloux du Paradis and we are delighted (and privileged) to have two new cuvées – the richly textured Plume d'Ange (Sauvignon) and Racines Blanc (multi white blend). 
The latter wine resists easy categorisation. In fact, trying to describe its subtle flavours is like trying to describe the very nature of a complex human being. Suffice to say that the wine is greater than the sum of its parts (and many grapes), it is composed and harmonious, but nervous and grippy. The fruit has a sappy length that stays not only on the tongue but its flavour impressions ricochet around the mind. It is an elemental wine, forged from rock, rain and sun – it is Racines.
Number Puzelat and Happy-Go-Lucky Briseau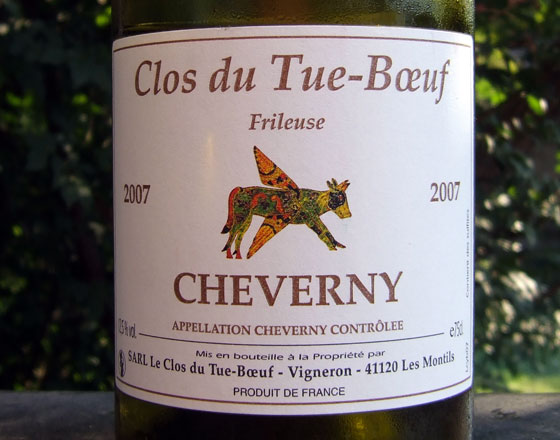 After the washout that was 12, 13 ain't going to deliver much in the way of volume but a few old friends have returned to nestle on our list. Cheverny Frileuse, Buisson Pouilleux and Brin de Chevre are an impressive trio of whites. Thierry makes his wines in the same uncompromising way
Happy Petillant Chenin Blanc. Just released an incredibly beautiful traditional sparkling wine. Very pure, very complex, like great champagne. Small quantities and then there will be none! Lucky is a glou-glou Pineau d'Aunis – at the herbal end of the taste spectrum for this grape. Les Longues Vignes is a splendidly delineated Coteau du Loir Pineau d'Aunis with crisp watermelon and red currant fruit and a pleasing seam of acidity.
Gamay, Gamay, Gamay a wine before midnight.
Loose juice in abundance from the lesser-seen Côte Roannaise, sometimes called the 11th cru of Beaujolais, or it in the Loire. Soon we will be swimming in a sea of fruitful Gamay from Richard Lapalu and Domaine de la Rochette.
Côte Roannaise extends north to south along the Loire River. Along with the Côtes de Forez, it is one of the Loire Valley's southernmost vineyards. Communes include: Ambierle, Bully, Changy, Crozet, Lentigny, Pacaudière, Renaison, Saint-Alban les Eaux, Saint-André d'Apchon, Saint-Haon le Châtel, Saint-Jean Maurice-sur-Loire, Villemontais, and Villerest. Le Roannais is at the northern most part of the département called Loire (which in itself is understandably confusing). The river divides the département in two lateral halves, with the town of Roanne straddling both sides. The town enjoys a reputation as a gastronomic centre, primarily due its relationship with the family Troisgros.
The wine region resembles middle Italy (or Chianti-shire, as we English like to call it) with its villages of pan-tile roof houses built from the local pink-red granite, which sit amid a range of low, gently rolling hills. Added to this is the luminosity that even in winter indicates that one is not in northern France; the pink light at dusk just adding to the intense colour of the rock.  —Richard Kelley
Domaine du Picatier is the project of Christophe and Géraldine Pialoux, who took over the estate in 2007, Christophe having previously studied at the lycée viticole in Beaune and worked extensively for Drouhin. Of the couple's 7ha of vines, there is 1ha of 40-year-old Pinot Noir, and another 1ha devoted to Chardonnay; the rest is Gamay. The Pialoux practice natural methods in the cellar, using only indigenous yeast and no sulphur during fermentation, and work biodynamically in the vineyard. How could one not be fond of a wine called Auvergne Nat Noir?