A rosé is not just for Midsummer's Eve…
3 perky pinks for all year and all time 
I don't know why rosé is always viewed as the Molly Ringwald of wines. You do, after all, come across versions that have the gravitas and ebullient punch of an Albert Einstein being fired out of a circus cannon. This volcanic version from Etna is as good as it gets. Which makes it the Jack Nicholson of wines:
Vinudilice, I Vigneri, Etna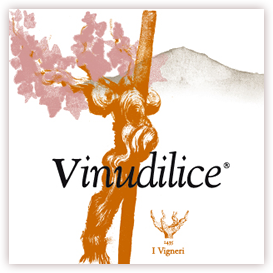 Salvo Foti, for it is he, is the leader of the natural wine movement in this volcanic corner of Sicily. While extreme in some respects (racking and bottling under a lunar cycle), he is a pure spirit of natural viniculture and if you want to understand Sicilian winemaking in the Etna DOC, start with Salvo Foti. Foti is the organizer and leader of the I Vigneri project, named after a Vintner's Guild founded in 1435 to align the small vineyards in Sicily around the cultivation of the alberello bush vine.
Five hundred plus years later, the intent of the project is the same.
Vinudilice is a rosé wine from the Bosco vineyard, nestled in a vast forest of holly oaks (quercus ilex) in the territory of Bronte (Etna North), 1300m above sea level. The Sicilian name of the holly oak, ilice, gives it its name. Vigna Bosco is one of the highest vineyards in Europe and boy do we know about high vineyards.
The indigenous mismashed grape varietals are Alicante, Grecanico, Minella Bianco, Minella Nera, Nerello Cappuccio. The 0.35 hectare vineyard is ancient with most vines being over 100 years old and a venerable third being more than 200 years old (!!), all trained according to the Etnean alberello (bush-training) system in a 1m x 1m scheme, equivalent to 10,000 vines per hectare. This tiny patch of land is cultivated by hand and with the help of Ciccio the mule. The soil is ash and sand with the volcanic rock outcrops as well. The extreme temperature fluctuations in the vineyard give rise to grapes that are ripe yet delicate and the elevation ensures that a high level of acidity is always present giving the resultant wine a freshness and vibrancy alongside density and depth.
No chemicals in the vineyard, natch, and natch winemaking all the way with no refrigeration, yeasts or filtration used. Or sulphur. For good biodynamic measure, decanting and bottling follow the phases of the moon.
Salmon in colour, the wine is delicate and extremely fine, with a core of ripe boysenberry and raspberry fruit, a nice lick of juniper, and a hint of cool wet rocks on the finish. Fresh, vibrant and long on the palate this is an incredibly pure wine from an incredible site. Open and carafe it and it continues to improve.
Etsdorf Rosé, Weingut Matthias Warnung, Kamptal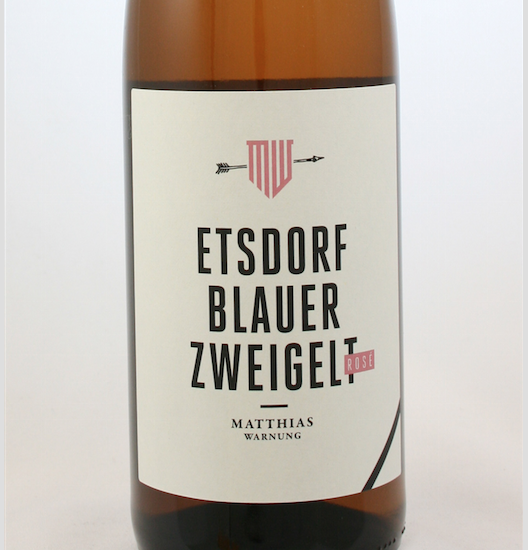 By their pink wines shall ye not always know them, and native of Kamptal Matthias Warnung, by blurring the pallet (and the palate), blurs the boundaries between serious and frivolity. We have seen it before in his Riesling Berg. Most growers abhor the idea of phenolics with Riesling. It should be unbruised, clean as a whistle, limpid, running the gamut of citrus from A to vitamin C. Yet Matthias gives it skin contact, allows the malolactic, and a long long maturation on the lees in old barrels. It works!
His rosé is no watery quaffer. It may have a pale colour but it throbs with sheer saline minerality. Remember this is a 2013 with long elevage in large old Austrian oak barrels.
Kumo To Ame, Forlorn Hope, California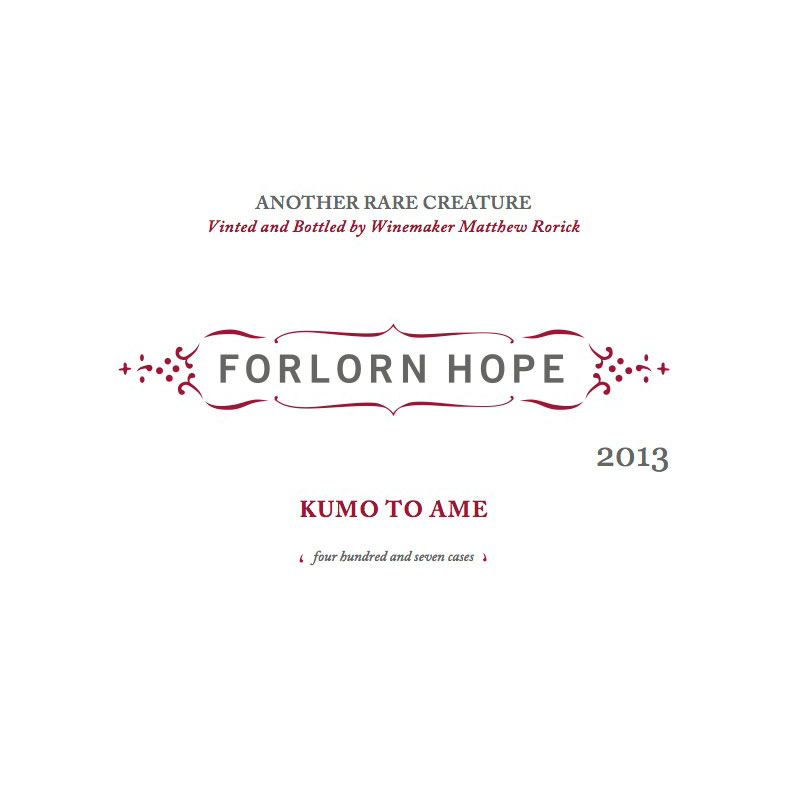 Amador County, Sierra Foothills, 1300' elevation, from Matthew Rorick. Decomposed granite soils with volcanic rock, quartz, and some clay. Field blend, approximately 50% Touriga Nacional, 30% Tinta Roriz, 15% Tinto Cão, 5% Trincadeira. Hand harvested. All varieties picked together and pressed whole cluster. Indigenous yeast fermentation in a combination of stainless tank and neutral (8+ year old) barrel. Filtered, as no malolactic fermentation was allowed. No fining. 4 months elevage in tank/barrel; one year bottle aging before release.
Matthew's wine is another to take your tongue on a rocky journey. If you're expecting fruit loops then expect again, because this has grip and bite.
*
Gaining No Control
Conventual not but conventional Gamay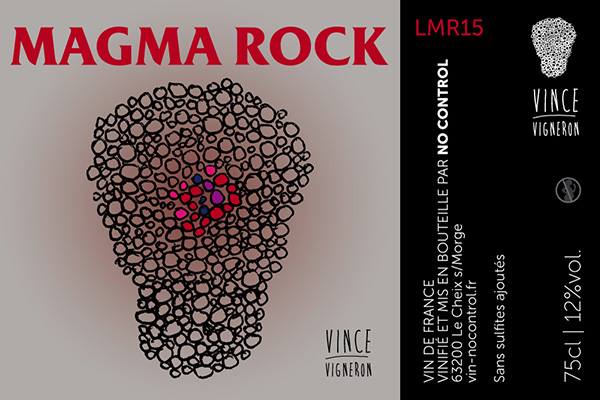 Domaine No Control (yes, really!) consists of 5 hectares of vines in Auvergne featuring the following grape varieties: Gamay, Pinot Noir, Syrah, Chardonnay, Sauvignon, Sylvaner and Pinot Auxerrois, which Vincent Marie uses to make 5-7 cuvees. No Control also has an impressive, diverse range of terroirs born from recent and former volcanic activity. This gives the wines typicity and a specific mineral taste. Farming respects living organisms, vegetable matter, soil and health. Since 2013, the vines have been in conversion to organic agriculture. Vincent's work with Patrick Meyer allowed him to gain an understanding and experience of biodynamics. Each year the plots get the basic biodynamic preps including 500 (cow-horn manure) and 501 (horn silica).
Vincent works one plot without mechanization, using animal traction – a horse – which further contributes to the microbial life in the soil.
Fusion is named after the music style, 'which I very much like for its mixing of hip-hop and energetic rock. My favourite bands are Rage Against The Machine (of course), Faith No More, Suicidal Tendencies, Body Count. Regarding wine, it is also the fusion between the Gamay style from Auvergne and that prevalent in Beaujolais and between two types of vinification.'
Located in Volvic on feldspathic sand, the Fusion vineyards are on south facing slopes 420m above sea level. Yields from the 15-110 year old vines are naturally low, the grapes carefully harvested in small crates. They are then fed as whole bunches in two fibreglass vats. In the first vat, grapes are stomped to make space in the vat and to allow maceration of whole bunches in the juice. The grapes in the second vat undergo carbonic maceration; de-vatting, pressing, blending of both vats with the free-run and pressed juice; Maceration of 3 weeks; No added chemical inputs; Half aged in vat, half in 15 hl barrels for 8 months; No filtration, fining or sulphur added. The real deal – fusion, not confusion. Appellation no control.
Magma comes from vines on the bedrock of the Beauregard Vendon plot. The soil is granitic here. The east-facing vines are 25 years old and situated at 430 metres altitude. Classic no intervention winemaking  – whole bunches in a wooden tronconic tank with daily punch-downs over 12 days. Nowt added.
As far as the taste goes, the wines have more substance than most Gamay; more nerve, more minerality. The low yields combined with the continental climate and the particularity of the soils gives these Gamays their firm spine.
*
Coming soon…
Domaine Yoyo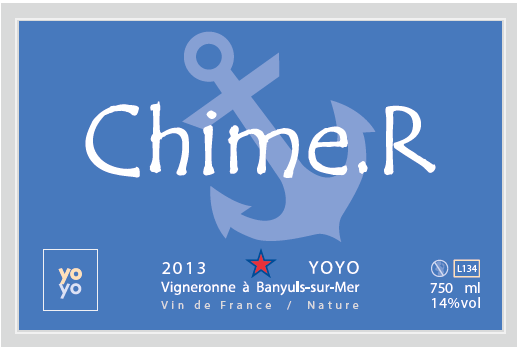 Diverting combos of Grenache Gris/Noir, Carignan and Mourvedre from the Banyuls area of the Roussillon. Micro-yields, steep vineyards, old vines, natural winemaking – a lot to love.
Champagne Marie Courtin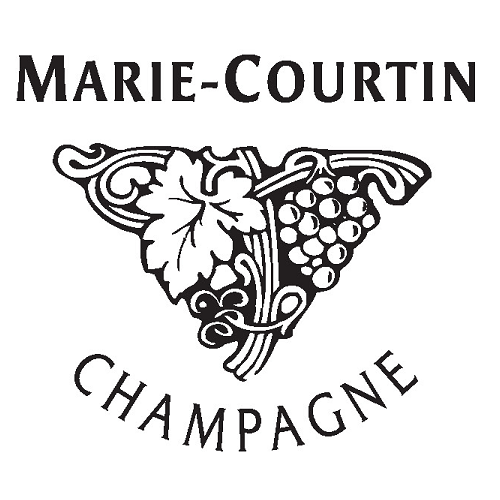 Dominique Moreau's biodynamically grown massale selection of single varietal, single vineyard, single vintage wines from the Cote des Bars are made without dosage and in some cases sans soufre. They rejoice in evocative names such as Resonance, Concordance, Efflorescence and Eloquence. Full-bodied, extremely complex champagnes.
And down in New Zealand….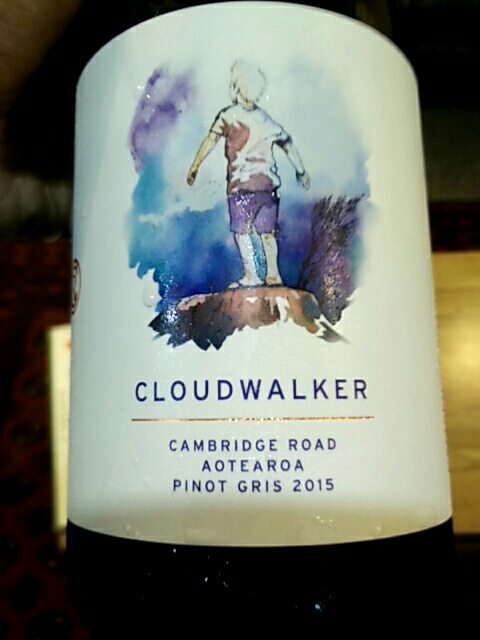 Cambridge Road Cloudwalker Pinot Gris and Cloudwalker Rouge will be soon strutting their stuff. The former, a light skin contact gives the wine a pale orangey-pink hue. Whole bunches wild fermented in barrels – it's all about the fruit 'n' spice. Rouge is a natural wine based on Pinot Noir and Syrah. Predominantly sourced from a younger hillside vineyard planted to Pinot noir on clay (2015 vintage) and married with a balance of old vine biodynamically grown Pinot Noir and Syrah from the Cambridge Road home block (2014 vintage). This is intended to be a playful and approachable, rustic yet charming red in a unique and compelling style.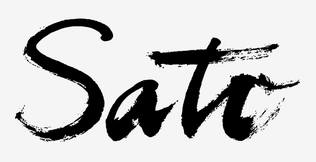 Sato Wines from Central Otago is the project of Yoshi and Kyoko Sato who source grapes from three organic/biodynamic vineyards and make them at Rockburn Winery. "Our goal is to make wines which can heal people; soft, delicate, supple, smooth mouth filling wines rather than powerful, heavily structured, aggressively appealing wines. So we decided to take the way of making natural wines – clean and tasty natural wines, but not dirty natural wines. We would like to use only organic or biodynamic grapes and would like to process them in gentle and organic way at the winery; minimum handling of juice, must or wine and, importantly, avoiding adding additives or chemicals to wine during vinification and maturation." We will be shortly be receiving small quantities of Chardonnay, Riesling, two types of Pinot Gris and Pinot Noir from Sato.

Don Winery –Run by Alex Craighead and Josefina Venturino who have settled on a new vineyard located in Upper Moutere in Nelson. The vineyard has been certified organic since 1997 and as such is one of the oldest organic vineyards in New Zealand. The Don consists of only 4 wines: two Pinot Gris and two Pinot Noirs. The idea is to illustrate the difference of the terroir from Nelson and Martinborough, the Nelson soils being Moutere clays which are the oldest and poorest soils in New Zealand, whereas the Martinborough vineyards are from old free-draining river gravels. The wines are made the same way with just the sites changing.
*
Les Caves go to Austria
It is very rare that we have the opportunity to take the whole sales team to a country to meet and spend time with all of our growers. This then was an amazing and thoroughly rewarding trip, one which showed why Austria is gaining such a strong reputation in the wine trade.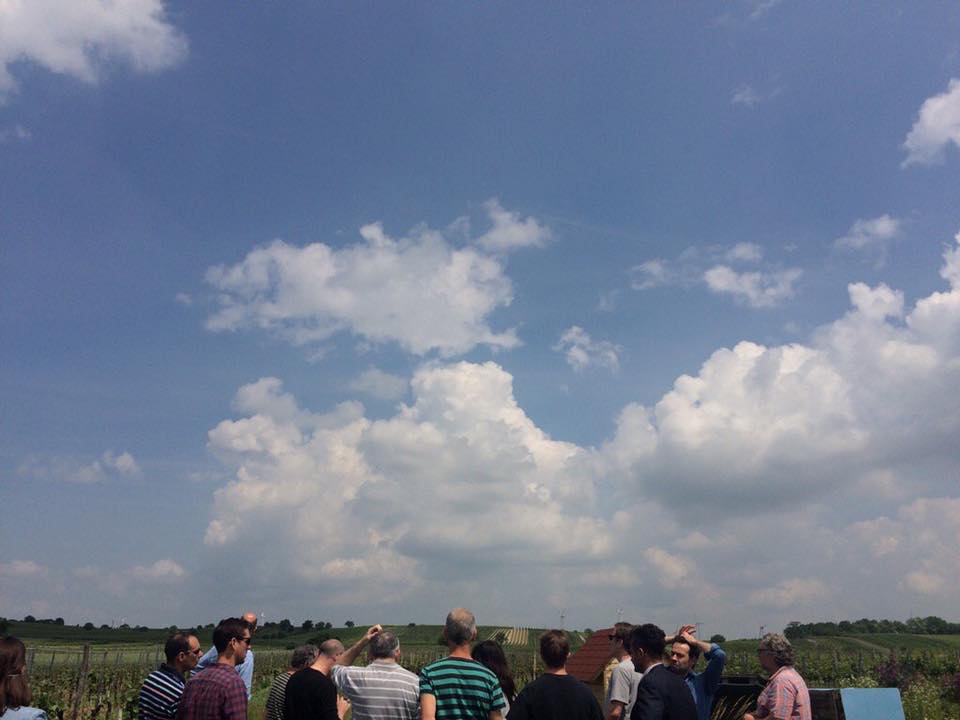 The personality of the growers is very genuine, very humble – they talk enthusiastically, but they also listen intently. They are interested in what you have to say and what you think of their wines. They also eloquently communicated their love of being in the vineyards. And no wonder! Visiting in June was propitious timing – the sap was definitely rising in the vines, the rows were covered in wild flowers, plants and grass. All the vineyards had a pulsing energy from the steep dry-stone wall terraced heights of the Heiligenstein with its butterflies and birdsong to the wonderfully overgrown biodynamic Andert vineyard near Pamhagen, in an area reclaimed from the nearby Neusiedlersee. You can only think that good things will come from such places. Diversity is further key to a country's success – from the rocky vineyards of Kamptal with their bewildering array of soil types, home to Gruner Veltliner and fabulous mineral-edged Riesling, to the wilder vineyards of Styria on opok where Sauvignon and Chardonnay (or Morillon) express themselves so powerfully, and finally to Burgenland where growers seem to have a strong affinity for biodynamics which communicates the life of the vineyard into the wines themselves. And variety of styles and flavours…We tasted light, fresh, elegant wines and wines meant for long ageing; delicate pinks, rich, spicy orange wines, juicy reds; wines made in amphorae, foudres, stainless barrels; single vineyard expressions, exotic blends and rare local grapes (Wildbacher). Above all, the wines were self-evidently the result of meticulous farming and natural winemaking, and a deep love of the place from which they emanated.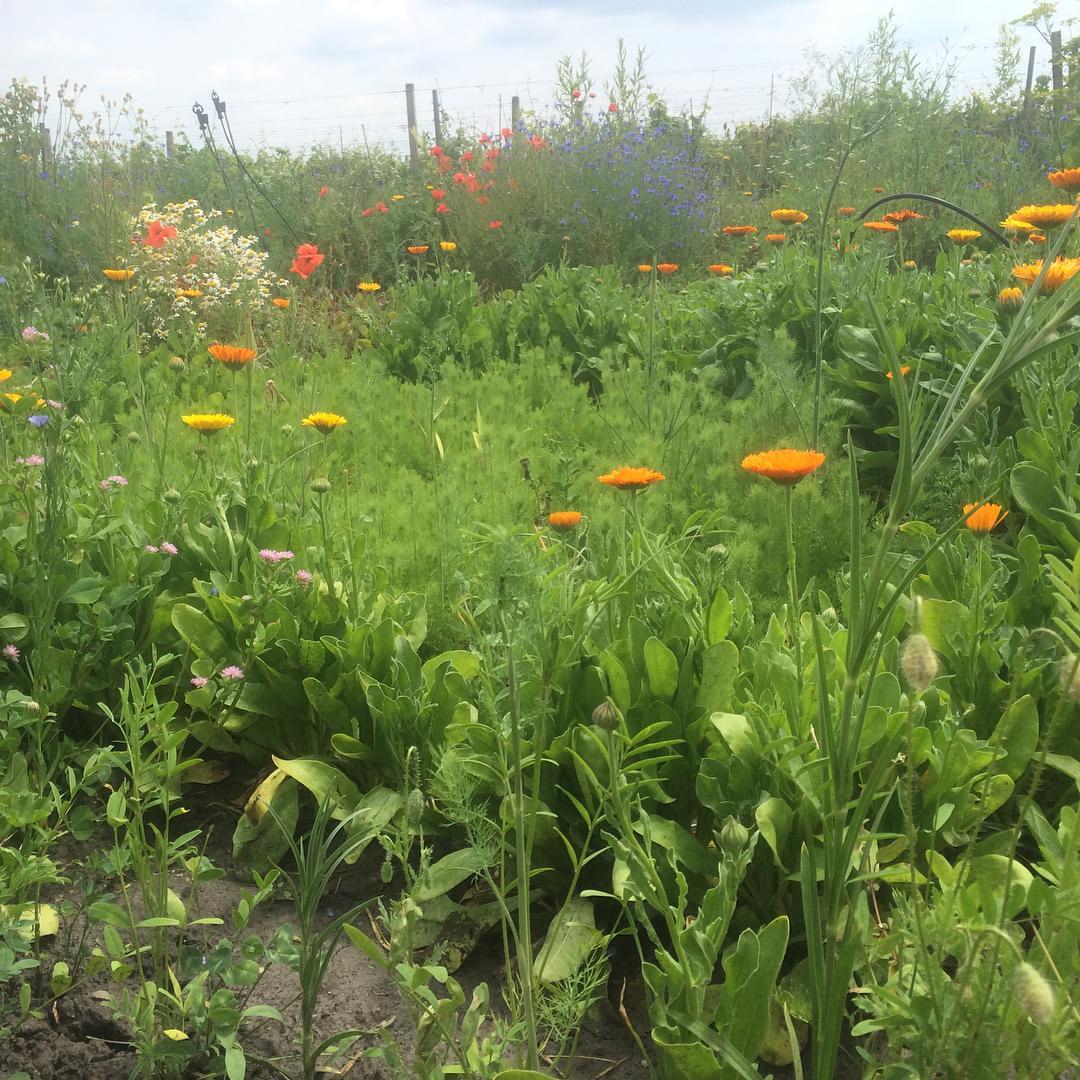 Stay tuned for a full Austrian report in our next newsletter…