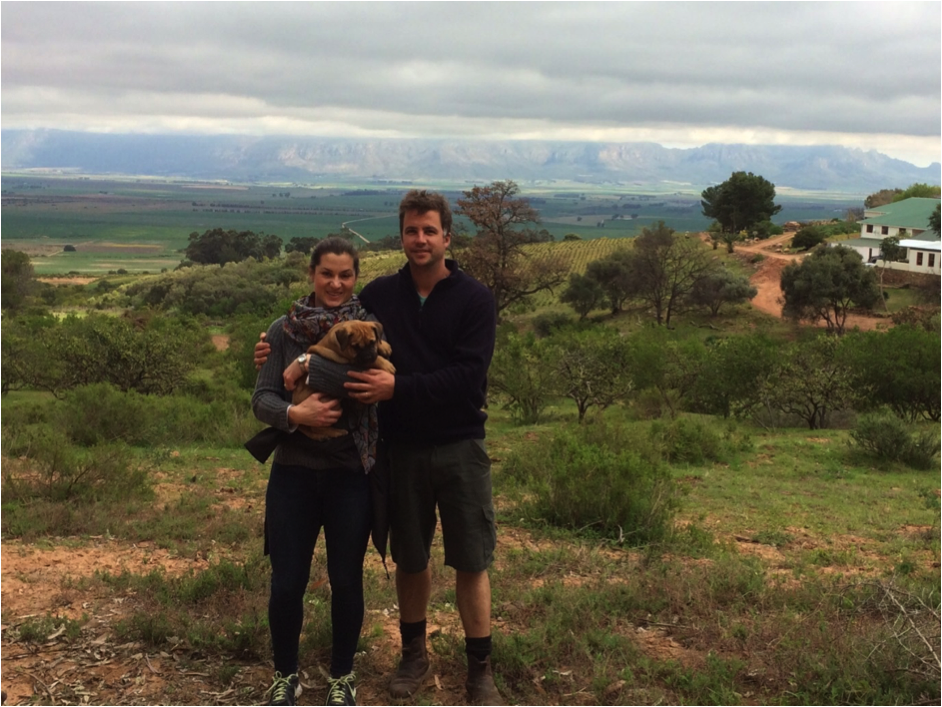 Can you give us a brief potted biog?
I got into wine as a result of my older brother Neil (who now lives and makes wine in Australia) whilst still at school, just as a way to earn a bit of extra money working in the vineyards. He then showed me the cellar and the transformations that took place. From there I had the bug. Having an Irish passport, I was able spent 6 years in Europe, working six months there and then six months with Eben Sadie who was a great mentor and opened my eyes in so many ways. But the greatest influence on me was Tom Lubbe. I spent a lot of time working at Domaine Matassa and acquiring the knowledge and experience that was to sustain me later. I came home in 2008 to make my first wine, which was a skin contact Chenin called El Bandito. My wife's (Carla) father then approached me and asked me to work for him farming the vineyards and making the wine at Lammershoek, where I spent five wonderful years learning on the job. At the end of 2014 Carla and I left the company, borrowed money and bought a property in the north of Swartland where we now live, farm and make wine.
What makes the Swartland special for you?
Swartland is a big region with many different microclimates consequently diversity is huge. It was formerly the "forgotten region" and is now in the midst of a renaissance. I'm a warm climate guy; and the Swartland is definitely warm climate. It's also what I know best. But is also the people who make the region what it is. We all make different wines yet we share a common goal of trying to improve the quality of wines and thereby advance the reputation of the region. The improvements have happened in a short space of time, and contrary to popular belief, I think this is because the guys & girls in the Swartland are actually deep thinkers and swiftly put down roots (so to speak).
If you could farm anywhere else in the world where would that be – and why?
I am quite happy where I am now in the Swartland. I wouldn't trade it for anything. I have been to many places in the world and they are all amazing, but I think in terms of freedom and opportunity there is so much here at the moment.
Why Chenin – and why in Swartland?
Like most things, Chenin came not only to the Swartland but South Africa as a whole as a high production, high acid grape used for what we did best then i.e. brandy distillation. Since we have diversified we have inherited a wealth of old vine Chenin, which has adapted over time to give the best it can from the region, and it's now being interpreted in so many exciting different ways.
Can you talk a little bit about the climate/micro-climate and soil in your vineyards? How does this combination of factors impact on the final wines?
The soils are all decomposed/ semi-decomposed granite which always seem to give a lot of character on the nose including a floral component (one can taste it particularly in our Grenache). The climate is very warm in summer and dry, with cool wet winters but never freezing. These combined factors lead to early ripening (compared to other regions we are amongst the earliest to harvest), and if you pick at right time you can obtain wines with great acidity without losing any flavour intensity.
Tell me about the 2015 vintage? Why are people raving about it?
From what I have seen and tasted the 2015s just have a more complete package, compared to the previous two vintages. Whereas in 2013 we had good flavour with low acidity in 2014 the grapes yielded slightly less flavour with more acidity. In 2015, however, we have both. It was an extremely early harvest by any standards and caught a lot of us on the hop, so there was an initial worry that the wines would lack certain flavour components. Lower phs than previous vintages have contributed to an intensity and focus on the nose and palate which I am very excited about!
Would you describe the Observatory Vineyard? How have you been able to transform it?
This vineyard (where the Cortez, Mangaliza and Sweet Cheeks come from) was not farmed nor were the vines pruned for a few years so it had become totally overgrown. We put in a lot of hard work to recover it and last year saw yields and quality that I couldn't have imagined possible. But it always gives me a low pH, great acidity and complexity in my wines. It's just a great site.
Why is dry farming so important?
It teaches a vine to fend for itself and adapt fully to its soil and climate. It also forces us to plant the right cultivars in the right places and also shows which cultivars can adapt and which belong where. It eliminates compromise.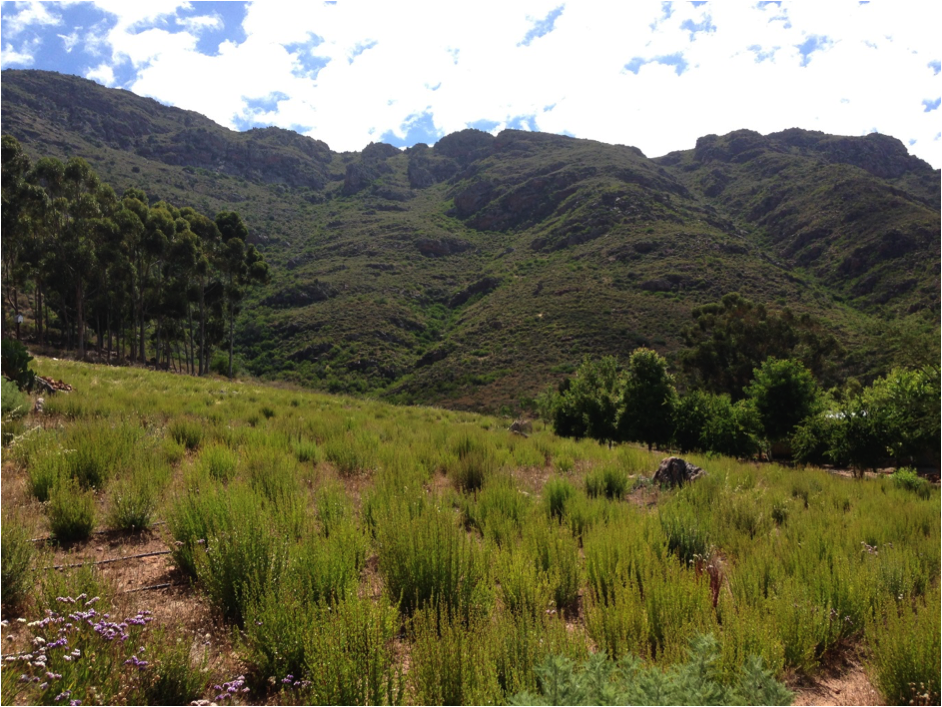 Would you ever use biodynamic preps or is that not necessary?
If you break it down biodynamics is stimulating microbial activity and discovering the natural rhythms of the vineyard.
It's not as simple as "using biodynamic preps" and then it's all done and dusted, in fact it is a long, arduous process. In my previous job we worked extremely hard for eight years with cattle (cow manure), sprays and rebuilding the soils to dynamise microbial life. It took time, but by years seven and eight we achieved that ideal balance of biodiversity and life alongside excellent yields. This was a "natural" testament to what we were doing. A friend of mine who works in France for a famous biodynamic estate came to visit over a number of years, and remarked that even though we weren't classified biodynamic we were actually more biodynamic than they were. We will definitely work in this manner on our new farm as I now understand better what to do and what not to do to improve soil life, but it will naturally take time. Luckily we are surrounded by nature and wilderness so there is life in abundance and superb raw material!
Where else are you getting grapes?
All my grapes come from the Paardeberg/Swartland. A friend of mine Andrew Wightman (my ex-neighbour) who cultivates grapes and also makes wine (one to watch – he makes a great Chenin and a Carignan blend) at Morelig Vineyards is farming a few blocks for me as well. We planted some Macabeu and Vermentino (1.5ha) this year, which is very exciting as I think these grapes will excel here. We "rent" 10ha of vineyard in total.
How do you decide when to harvest? What do you say to wine writers who say that your wines lack ripeness?
I pick on taste and acid and my definition of experience is that it is a feeling or instinct honed over time. I know my vineyards and trust fully that, because they are farmed properly and in balance, that, when I harvest, I can anticipate the flavours that will develop. If you were to harvest purely on analysis, and with a commercial imperative in mind, the wines would be polar opposites. Some writers base their judgements on a median style; they don't always take the trouble to understand where the wines come from and what decisions are being made and why.
What does typicity mean to you? Is this a useful term? Who is the arbiter of typicity – the vigneron or a tasting panel?
Typicity is not a very useful term to me as it just refers to what is happening most of the time. It's a dangerous term to use at the moment for a country like South Africa because we are only beginning to explore the potential of each region (and, indeed, our own potential). For a place like Côte-Rôtie with a strong sense of appellation the term might be more relevant. We still have a long way to go in terms of fine tuning before we can usefully describe a wine style as typical of its region.
There is a version of typicity decreed by tasting panels. That doesn't mean that it is correct, in fact it is more likely to be used to describe a common denominator wine style that is opposite of distinctive, or true to its terroir.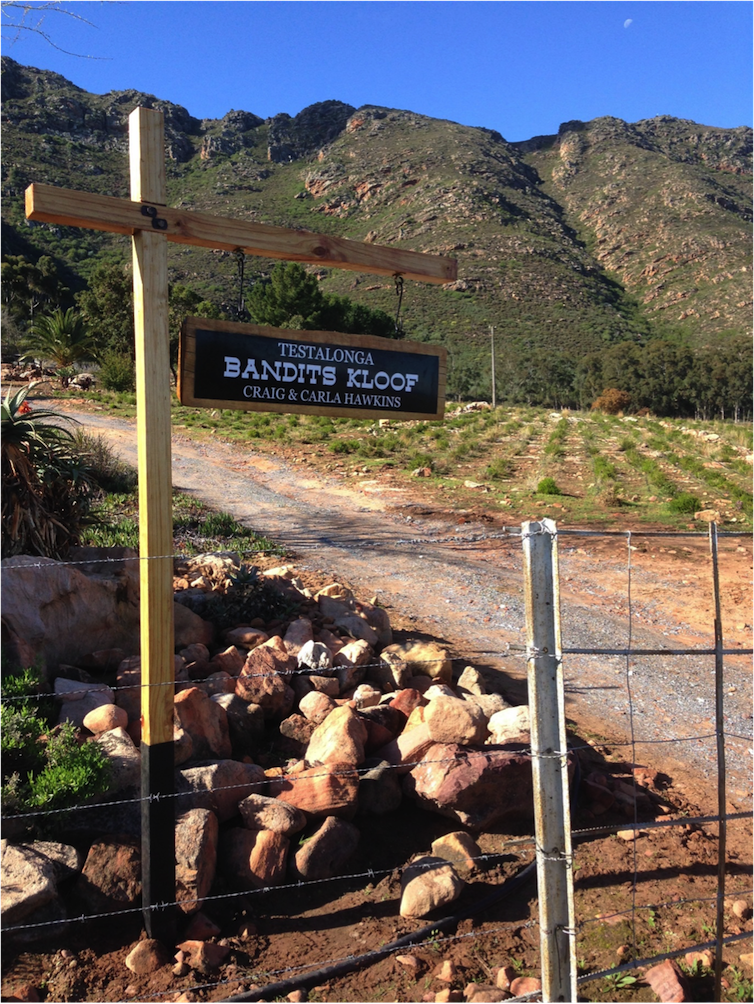 Making wine in 2015 must have been a logistical nightmare – can you describe a typical (long) day?
It was definitely one of the most difficult harvests I have ever had to do. More from a strategic/logistical point of view as everything was new and we had to adapt, and think on our feet. We were renting a cellar for the year but also utilising the press in another place for cuvees like the Pet Nat. Essentially we were spread (thinly) across two cellars. We would harvest in the morning, take the grapes to one cellar, press them, pump that juice into tanks, load them onto the back of the truck or pick-up, and then drive the juice about 7 km on dirt roads to the cellar at Observatory where I would run them into barrels or foudres or tanks – depending. All of this takes time, and, coupled with the fact that in SA we still have power cuts to "save "electricity, and that this always happens in the middle of doing something important you have to plan your activities accordingly around scheduled power outages. For example, you need to ensure that your press is not full of grapes when there is a power cut (which normally lasts around 4 hours). Sometimes, we would be pressing in two cellars at the same time, or loading grapes in one cellar from a truck into the cold room, then from the cold room onto pallets and into the cellar. Then driving to the other cellar and draining the press, then driving back and start the next press. It was utterly chaotic and therefore totally amazing that Carla and I are still married!
We are so glad to be making wine next year on our new farm in one building!
Briefly describe how you work in the winery. Do you have a fixed approach or do you change according to the vintage? Have you evolved as a winemaker?
My sole fixed approach revolves around my criteria for picking the grapes as I have a clear picture in my mind what I want to achieve, and when what I taste on the vine fits that picture, I harvest. It's much simpler in the cellar, and I have adapted over time to the process that I feel will give the best results. Because I do everything according to taste including when I press; the variations are vintage dependent, but you could say it was fixed at the same time. My winemaking is very simple; I make the reds exactly the same way, the only difference then being cultivar, vineyard and soil, so I suppose terroir is ultimate determinant (which is why I prefer not to blend vineyards or cultivars as their liaison is the truest expression of terroir) But yes, I have evolved, and will continue to do so.
Are you okay with the term winemaker?!
Well, that's exactly what I am – I make wine from grapes. A lot of people aren't happy with the term winemaker, but if they make wine then they are a winemaker. However, you can take it two ways as some people only make wine, and others are also involved in the farming, so yes, I am a winemaker, but also a farmer.
You make three skin maceration wines. In each example what does the skin contact confer to the overall wine?
If you include the red wines I make 6 skin-macerated wines. Skin maceration introduces a further spectrum of flavours and textures to the wine and these originate in the vineyard, so you might say that they intensify the expression of terroir. The maceration always confers a bit of tannin – which I like. Of the whites the skin contact Chenin reveals a depth and has a textural quality which I love about the grape. In the case of the Muscat the maceration brings much more aroma – which is terrific as I love the particular flavours of Muscat. Meanwhile in the Harslevelu it brings that degree of tension that you might characterise as minerality.
As well as skin contact wines you use the lees in a particular way. Would you describe why the lees are so important and what character they give the wine? Do you believe – as some do – that the yeast lees are part of the DNA of terroir, the life of wine itself? Or is that overstating it?
The lees are very important to the wines as they are part and parcel of the terroir. The lees are largely formed from the yeast cells and these yeasts are part of the natural signature of a vineyard. I work with the lees at the beginning of the wine's life, but have learnt – through trial and error – that it is not always for the best to leave them for too long in contact with the wine as there may be bacterial spoilage. Depending on the vintage I will remove the lees sooner or later according to what's best for the wine.
Even your more textural wines have terrific tension and linear quality. Is this acidity, ph, minerality? A combination thereof?
It's invariably a combination of these. Which goes back to your earlier question about ripeness. Lower ph values from healthy organic vineyards and good soil sites tend to produce higher acidities, which in turn give that perception of minerality.
What is minerality? Is this the expression of terroir? Is it simply an impression; can it be smelled or tasted?
Minerality is more or less that combination which I described in the previous question. It does not happen that because you plant vines on stones you will get more minerality in your wine, but rather planting the right cultivar on the right soils will give you those naturally lower pH's (better for ageing) and higher balanced acidities which leads to "the perception of minerality".
Your wines possess great intensity but are always light on their feet, almost dancing with brightness. Do you drink any powerhouse styles? If so what quality do those wines need so that you can finish a bottle (or even a glass)?
For me a wine may be only 11% or 12% alcohol but still a powerhouse in terms of intensity. Take, for instance, the Gringet from Domaine Belluard (Savoie). This wine for me is huge, but oh-so-light in touch. I tend not to drink high alcohol, powerhouse wines, but there are guys in northern Italy, for instance, who can make wines with bigger alcohols, and, because of the great natural acidity and balance they find, get it right more often than not.
Are you comfortable with the word "natural" to describe your wines? Does it really matter? What is natural in wine – can you describe what it means to you?
Yes. It matters particularly from a farming point of view, because it involves taking a position on a point of principle. The day is fast approaching where glyphosphates and many of the chemicals we currently use will be banned (having been proved carcinogenic). This is great news. Too many people, however, sit on the fence and are content to turn a blind eye when it suits them. It doesn't bother me whether people call the wines natural or not, I simply want them to enjoy the experience of drinking them. If they do they may ask themselves what it is about the wines that make them singular, whereupon they may delve deeper and discover more about the farming and winemaking processes. It is about the journey. And this is how I first came across wines like these; they possessed an intrinsic quality that made me want to investigate further.
Natural wine is simple: organically farmed at the very least in the vineyard, no added yeast or acid or tannin, in fact, nothing added except small amounts of SO2 if need be (the trick is to find natural SO2, not the heavily chemical stuff we have, but that's another debate) and no fining/filtration. (Natural winemaking also exposes poor vineyard sites and the kind of farming wherein you need the crutches and winemaking tools to support it).
It's an all-in approach – either all your wines are like that or not.
Do you strive for perfection… or imperfection?
Good question, and one that's easily overlooked. There is a utilitarian view that we should all be striving for perfection and evolve with absolute efficiency in mind, and once that is achieved look for even greater perfection and greater efficiency. It is the technical or technological definition of progress. I do strive for my own kind of perfection, yes, but here I find that the analogy with music is pertinent. If you listen to your favourite artist do you prefer the live performances (either recorded or at the shows themselves) or the squeaky clean studio renderings where every element has been polished and perfected? The live versions contain so many nuances and edges (or mistakes if you prefer) but feel so more real and enjoyable for that. My winemaking is the same; I am always striving for more, making mistakes along the way and learning from them, but never allow the wine to be other than spontaneous and never trying to make it conform to a "dully perfect style".
Can a wine be both complex… and drinkable?
Without a doubt – and this dualism describes the wines I love to drink. They seem very simple and easy on the surface, but there is layer upon layer to reveal within them. It is extremely difficult to achieve simplicity and complexity in the same bottle. This is perhaps my biggest challenge. You soon realise that the winemaking is but one part of the wine and the real complexity derives from the vineyard and the hard decisions that accompany the process of farming the vineyard.
Would you explain the inspiration and thought process behind the names of each of your wines?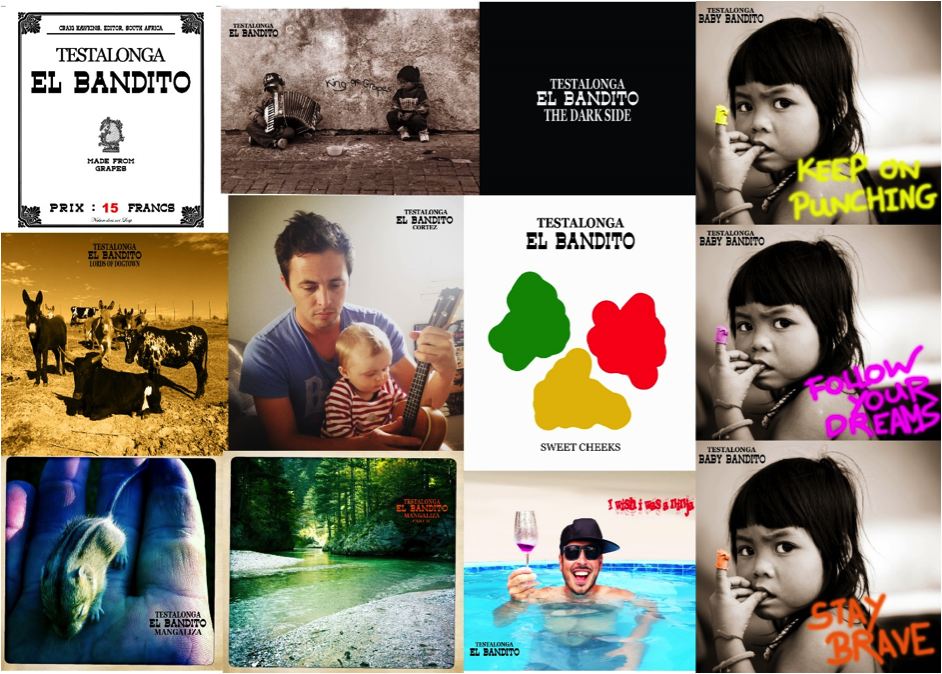 Carla and I now make 12 wines, so thanks for this question!
El Bandito Skin – The original, the first wine I ever made. It's a skin contact Chenin, aptly named Skin.
El Bandito Cortez – The second wine I ever made, named after one of my favourite live songs "Cortez the Killer" by The Dave Mathews band (Live in Central Park). I'm not a DM band fan, but the song brings back great memories of working in Portugal.
El Bandito King of Grapes – One of my French mentors, Remy Pedreino, always used to say to me that Grenache was the "King of Grapes!" It always stuck with me, so, when I made my first Grenache, it was a no-brainer!
El Bandito Redemption – This was a one-off and named in honour of a period which was really difficult and emotional for us in 2014 (hence the Raging Bull label). We have since moved on and the wine is now called in 2015 "The Dark Side" (with a different label).
El Bandito Sweet Cheeks – The farm kids who lived next door to the vineyard love eating these grapes during harvest (Muscat). Since their cheeks were always bulging with sweet grapes: "Sweet Cheeks"!
El Bandito Mangaliza – There is a Hungarian pig that looks like a sheep (called Mangalitsa). I love them, and I also love the grape of this wine which is Harslevelü (which comes originally from Hungary), but I prefer the spelling Mangaliza. These pigs are really cool.
El Bandito Mangaliza Part II – This is a skin contact Harslevelü, so same thing but a bit different, and as I like Rambo, Part II reminds me of Rambo.
El Bandito Lords of Dogtown – This is a 300-bottle cuvee of wine I make for RSA only (well, Japan as well because they asked so beautifully!). The label is a photo of our donkeys and some of our cattle that were posing photogenically for us one morning. So Carla took a photo, and they really do look like Lords. It's on our new farm which is pretty rough at the moment, so we called it Dogtown after a great movie, and they definitely the Lords of Dogtown. Also it's from a vineyard where the owner Carl is a cattle auctioneer and he's always teasing me about when I'm going to be putting a Nguni (African cattle breed) on my label, so this is also for him.
El Bandito I wish I was a ninja – Possibly one of my favourite names. Carla, Matthias Warnung and I were busy crown capping/bottling this Pet Nat during harvest and were discussing Ninjas, which was when I said "I wish I was a Ninja" and that became the name of the wine. That, and the fact my good friend Paul Jordaan (the guy on the label) said to me after I showed him the label and name: "I really do!" (…want to be a ninja) – so it all fitted…
Baby Bandito Follow your Dreams- I love street art (when it's good). I'm not sure who came up with the phrase "follow your dreams", but Banksy definitely made it famous. And there's a quote attributed to him that has stuck with me forever when he says "all art is stolen". So I stole his quote "follow your dreams". You will notice that the names for all the Baby Bandito series are also used as phrases you might use when talking to a child (in particular), basically words of encouragement. Sometimes, we all need a peppy one liner to keep us going.
Baby Bandito Keep on Punching –You may notice on each label that the finger has a plaster that is a different colour, which chimes with the street art theme or series. Also a great friend of mine (we used to play hockey together) always used to say during the half time talk, "keep on punching, the head will fall", which is a good motto to have.
Baby Bandito Stay Brave – A small batch of skin contact Chenin that I made. I like the fact that skin contact was the first wine I ever made in 2008 and now we're diversifying with "smaller cuvees/by the glass" versions of skin contact. This says a lot for the times and how they are a-changing. Hence the name Stay Brave.
Where do you get the ideas for your labels?
I have hundreds of labels already in my head. Most won't ever see the light of day, (Carla is very worried we are going to make 100 wines!) I love putting the picture and wine together. I express how I'm thinking and feeling through my labels – it's very personal. Once upon a time I used to find great photos and ask permission to use them for some of the labels, but now all the labels are either photos that have been taken by myself or by my brother (the Baby Bandito series) or, in one case, by a good friend (King of Grapes was taken by Dr Lyal White, the friend who used to say "keep on punching the head will fall"). Obviously, they will only make any sense to a few people (particularly the back labels), but, as I'm the one who sees the labels most, I might as well put something on there that makes me smile and has a particular resonance for me.
How many growers in South Africa would you say are making wines in a similar idiom to you? Is there a traditional South African style? Or is there more diversity now?
There are definitely more people making wine like this in SA, which is great, and there is a lot more diversity these days. I wouldn't say there is a traditional South African style (there probably was about 30 or 40 years ago) but there was a period when every wine seemed to be aspiring to be like any every other wine in the world. That's beginning to change; the next step is to transform the vineyards and this is also starting to happen.
Who are the young guns that are pushing the envelope a bit? Is there a market in South Africa for more alternative wine styles? If so, where?
Jurgen Gouws at Intellego is definitely going the whole nine yards in terms of winemaking and vineyards. I have learnt a lot from him, and from the end of this year all his vineyards will be organic. Mick and Jeanine Craven in Stellenbosch, Johan Meyer, Mc Stander, Craig Sheard, Tremayne Smith, Ryan Mostert and Tim Martin are all doing things which are new to SA and it's refreshing to see (and taste) such distinctive wines.
There is a market for sure in SA, and it takes a lot of hard work from the independent sommeliers and retailers who back these wines. I would say Cape Town is definitely the hot spot at the moment, and Publik wine bar (founded by David Cope who is actually Tom Lubbe's cousin) exclusively showcase the more natural wines. Johannesburg is coming and there are a lot of places up there also punting these wines.
You've had difficulty getting export approval for some of your wines) and so have other growers. What are the reasons given for withholding approval? Why does this happen so often in SA (compared to other countries)? How do you set about changing (or challenging) a conservative wine culture?
We struggled for many years, but as of August 2015, exactly two years after a group of us from the Swartland (Eben Sadie, Chris & Andrea Mullineux, Jurgen Gouws, Callie Louw and Adi Badenhorst) put together new categories of wine (such skin-macerated white wines and so forth), they were approved and subsequently recognised. These new categories are pretty much all that was missing since the wines were new (to South Africa) and not "defined" as such. The authorities needed a box to tick. Credit to SAWIS and the WSB for being proactive and working with the producers to make the change. Up to that moment thought it was very frustrating.
SA is a strict country, still bound by rules set up a long time ago, but hopefully now there is more freedom for creativity within the new categories.
You've just moved to an amazing new farm. Can you tell us where it is and why it is going to make a massive difference to the way you work?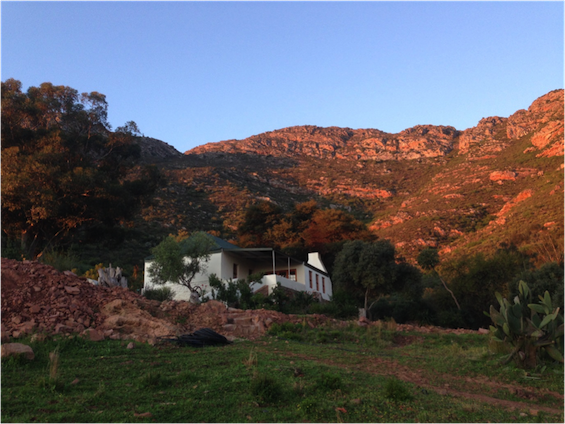 Carla and I purchased a farm on the northernmost boundary of the Swartland right in the mountains. We had been looking for a long time and were fortunate to find it as it had everything that we wanted. The soils are a combination of sandstone and shale/schist with the red mudstone unique to this part of the Cape. There are no existing vineyards in the region although there are plenty of slopes to play with, so we can plant what we want in a great location. Our aim is to gradually plant around 9ha of vineyards, which is what we feel we can manage. There is water flowing off the mountain and a large building that we are converting into our cellar. There is no electricity at present but (hopefully) by end of October it will be installed. Living off a generator for six months has its drawbacks! Our objective is to go solar. There is enough land for our cattle. We have one neighbour below us, the rest is mountain. We're doing everything ourselves – it's going to be hard work as always, but we are doing it for ourselves.
Any new projects planned? Different cuvees, ideas for wines…
This year we planted Macabeu and Vermentino, Mediterranean varieties which should do very well in our country, and next year we'll plant a small amount of Grenache and build from there. There are a few new wines from 2015 as you can see already. But the plan is just to plant the right cultivars, do it slowly and do it properly.
You have established appreciative audiences in several countries. Where do you sell your wines now?
We sell to 20 different countries as of the end of 2015. This is great; there are so many interesting people who all have different views on the wines. Most of our connections have come via word of mouth and with a few from Tom Lubbe. He has been great in sharing his knowledge and his contacts with us.
What are your everyday drinking wines at the moment?
A skin-contact Sauvignon Blanc that I made a year or so back in demi-johns that turned out awesome, so we bottled it and just use it for house drinking. Depending on what's available or who is visiting us, the wine is normally from someone local like Intellego, Craven, Blacksmith, Swerver, Silwervis, Elemental Bob… 
Do you enjoy drinking your own wines (some growers don't!)?
Yes, I make wines that I like to drink first – that's the whole point!
Do you have "special occasion" wines? What would you drink?
Well when Carla and I got engaged we drank a bottle of 2011 Overnoy Poulsard. When we got married we drank lots of things but including a few bottles from our friends Borja and Nurian from Bar Brutal, (a blend from Escoda and Valencia). It was a lovely gift so it meant that much more. But my best special occasion wines are normally very personal, so when we bought the farm I shared a bottle of Domaine des Bois Lucas 2005 Sauvignon with Carla and my brother Neil. This was the wine that completely changed my thinking and thus my approach to wine.
What do you love about your job?
That I can wake up in the morning on a Monday and look forward to the week ahead. 
Do you pay any attention to the opinions of critics and wine writers?
Only those that like my wine, because they can taste well. We don't enter competitions or solicit scores and medals. I find the whole thing silly, really silly. I suppose certain people need something to latch onto to make it tangible. Unfortunately, I don't think you can do this to wine. I've heard people get so upset because they received a bad score even though their wine was delicious. It's sad that it matters so much.
In another way I think that it's wrong when people feel the need to falsify what they are doing simply to satisfy the ego of someone else. I make wine because it's what I do. I enjoy the process and I enjoy sharing the bottle with my friends and I enjoy sharing knowledge and ideas as well. Drinking the wine makes me happy not the knowledge that it got 199 points. It's also why I like the natural wine scene where the search for knowledge is from fellow producers and not a search after the good opinion of those people who have never made a bottle of wine in their life.
Which is why Carla and I make enough wine that we can sell to the people who know and love what we do. This enables us to survive and farm and pay our way in this life. We don't need to be the richest people in the industry.
You are very confident. Is this borne of instinct or logic? I.e. do you feel that you know what you are doing is right or do you know that what you are doing is right? 
We just do what we feel is right. But the more you do something the more instinct and logic become one. 
Are you optimistic for the future of artisan winemaking? What gives you cause for that optimism?
Yes! It's happening not only in winemaking but in every facet of life this rediscovery of quality, and quality is invariably associated with artisans, individuals who master their craft and share their talents with others (be it in sport, language or agriculture). Artisans are naturally focused and passionate people.
The benefit of globalisation is that people travel more, see more, share more, hopefully understand more. Is this true of the world of wine? Do more people get your wines now because they understand the story behind them?
Good point, and this leads on to the next question nicely. I think the story is very important. I'm reading a book called Vaelin Al Sorna (it's a fantasy, but maybe it is true – you never know) wherein the hero is on a quest around the globe. He comes across a tribe (the Seodorah) who sit around a fire and tell stories of past events. The greater the story the greater the respect they receive. The same is true with wine in that we need to share more with each other and wine is one way of communicating our story (South Africa/Swartland) to people around the world. And yes I think the story has helped people understand our wines. 
Professionals (usually) don't want to know what makes the wine the way that is. In other words, the intention, the story, the personal choices of the winemaker become subsidiary to what is "good taste". Can we appreciate wine without some sort of knowledge of its origins?
I think some professionals should share a night around the campfire with the "Seodorah" – they might learn something! I think it's sad in today's commercially-oriented wine world that a lot of wines are treated like cattle in a feed lot, and graded accordingly. I really don't think we can appreciate wine without some sort of knowledge or understanding of the people and place behind it. And yet you still see people clamouring for scores of people as if it actually means anything. Make wine!
Finally, all the 2015 Testalonga wines are your children so you love them equally (so to speak), but which one surprised or pleased you most?
Of all the 2015's I was a little nervous about the Baby Bandito "Follow your Dreams" (Carignan) as this can be a very temperamental grape. I was worried it would turn reductive, but I am very happy with the way it emerged and the wine shows great promise. 
When will we next see you in the UK?
I will be back early 2016 and I'm looking forward to it!