I'd give my goddam soul for a glass of Vouvray.
–Jack Torrance
This supremely versatile and noble Loire grape makes all styles from pétillant and sparkling through bleach-bone dry, tender, moelleux and sensationally sweet. Extremely popular in South Africa, where it used to be known as Steen (for our older readers), it has acquired new credibility there owing to the efforts of a handful of growers who respect the potential of the grape variety. Chenin Blanc is also found in small pockets of Gisborne in New Zealand (the versions made by James Millton are superb), California, Australia and Argentina, and in France in the lesser-spotted Averyron wines of Entraygues et Le fel and Estaing.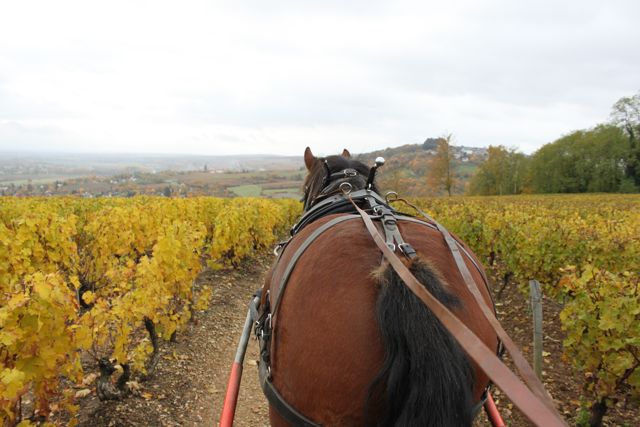 We love Chenin when it is the harmonious product of good farming and natural winemaking. Variety is the spice of life in these wines. Some are taffeta, others have jolting, sour acidity; Some are rough-skinned, others show a delicate floral side (think clover, acacia, apple-blossom); Some reveal bitter almond notes, and a fruit spectrum that ranges from fleshy quince, wild apple and honeydew melon towards more restrained citric styles. Same grape, similar – but not identical – methods of farming and vinification, yet different and highly valid styles emerge, according to terroir and vintage. Tasting the wines next to each other demonstrates the fallacy that asserts that natural wines are homogenous; these wines are evidently the result of the highly individual circumstances that exist in each vineyard, the equally individual set of circumstances that obtain in each winery, the peculiarity of wild ferments, the timing and degree of sulphur additions and the manifold marginal decisions of the vignerons. Those people who can't taste the obvious differences adhere to the strange dogma that (rather than nature and the man/woman) that the natural philosophy somehow maketh the wine. Winemaking is a journey of many detours. Natural winemaking is the detour that stays close to home.
Chenin may be all textures and angles; unlike Riesling with its floaty-ethereal thang, Chenin revels in being all over the palatal shop.
Traditionally, Chenin was always vinified in old barrels and made oxidatively. Unlike other regions where this style of winemaking is viewed as unclean and even faulty, the small artisan growers of the Loire cleave to the view that the grape should develop aromatically in the mouth and present an arc of primary-through-secondary flavours from apple through nuts to honey. Chenin may be all textures and angles; unlike Riesling with its floaty-ethereal thang, Chenin revels in being all over the palatal shop – with smells and tastes that encompass stones and earth, sweet and sour fruit, fulminating acidity, honey and spice, nuts and truffles.
The Homeland: Chenin in the Loire
We begin our Chenin journey on the Atlantic coast within Thierry Michon's biodynamic island domaine in the reclaimed marshes of the Fief-Vendée, Domaine Saint Nicolas. Our grape appears in two cuvées, namely Les Clous, a blend of Chenin, Chardonnay and Grolleau Gris from clay schist soils and Les Haut des Clous, pure Chenin. The former is beautifully distinctive with aromas of the forest and the sea; the wine has flavours of candied fruit with a wet rock element. It finishes dry with the cool-climate hallmark of refreshing linear acidity. Le Haut des Clous pumps up the volume with floral, persimmon, green almond, apple-and-pear notes stretched over a bright, elegant frame. You can almost smell the marsh in the aromas present, manifesting as heather, lavender and almond.
Winemaking is a journey of many detours. Natural winemaking is the detour that stays close to home.
Savvy Cheninjas will tremble appreciatively at the mention of Savennières (a small area south-west of Angers) where Chenin is known as Pineau de la Loire. Here the grape produces wines of immense concentration and longevity. Depending on the composition of the soil and the vintage the wines from Savennières can be nervous, with high acidity and a dry almondy aftertaste; other examples verge on the tendre with ripe flavours of honeydew and quince. The sandy schist soils and the lieu-dit of Roche-aux-Moines occupies a mere 6.85 hectares within the Savennières AOC. One of these domaines is the appropriately-named Domaine aux Moines owned by Monique and Tessa Laroche. Vineyard practices here are designed to protect the environment, yields are low, organic fertilisers are used. Thermoregulated stainless steel vats and a pneumatic press ensure that pure fruit quality and gentle extraction are the order of the day. There is also a "petit chai" with twenty-five oak barrels in which the best selections of each vintage are either fermented or aged, although the object is not to acquire a woody flavour in the wine. In exceptional vintages a doux or slightly sweet wine is produced. One can go vertical – and horizontal – with their old vintages. Whereas younger versions have verve, nerve and coiled tension, ten years down the line we may find powerhouses with still diamond-bright acidity and a beeswaxy texture, where the evident ripeness of the fruit is balanced by the muscular minerality of the wine, truly an unfiltered philtre. Try these wines with grilled wild salmon, andouillette, rabbit in white wine or veal chop à la crème.
There's old and there's older. And the older the golder. Old Savvy mellows (dis)gracefully. Some shaggy specimens will exhibit rich aromas of apple bakewell, papaya, toasted oatmeal and honey, sherry and old musk, secondary development veering towards roast mushroom. Typical Chenin – as it ages, the honey notes become drier and it acquires a bruised fruit mingled with soft nutty character. Some vignerons use chestnut to age their wines, the casks seeming to imbue the wine with that sweet flavour.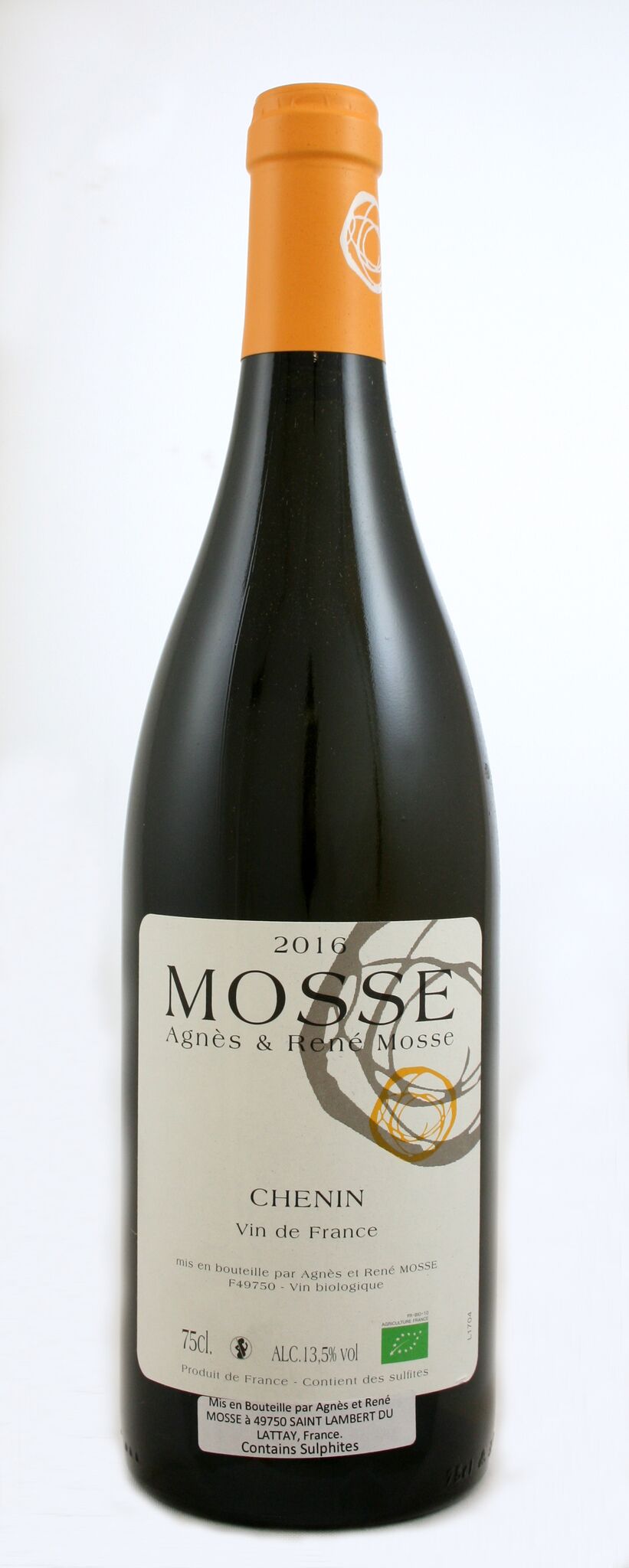 Agnès & René Mosse adopted organic viticulture techniques from the start, ploughing between and under the rows, and used biodynamic preparations to treat the vines and soil. In their area of Anjou Noir (Black Anjou, so called because of the dark colour of the soils of slate and volcanic rocks), the soils are shallow, with subsoils of schist and sandstone, and varying amounts of clay on the surface.
With all the efforts put into vineyard work, it was equally important to them to vinify in a natural fashion, and they are particularly attentive to minimizing manipulations and the use of sulphur. All the wines are barrel-fermented and aged, and usually the whites go through their malolactic fermentation. The barrels are renewed as needed: they are containers, not oak flavour providers.
The Anjou Blanc sec (Vin de France in the latest vintage) is from young selection massale Chenin vines planted in 2001 & 2002 grown on clay and gravel soils alternating with schist. Yields are sometimes less than 15hl/ha and harvest is done by hand with selection (tri) of grapes. Vinification is slow, malo takes place in barrels and the wine spends a further year in them before bottling. Wild honey, fleshy apricots, quince paste and wood-spice. Once the wine warms up in the glass it develops secondary nutty aromatics and layer after layer of rich flavour.
The Bonnes Blanches (BB) is a 2.5ha parcel of thirty-five year old vines on a special terroir of sandstone with a subsoil of decomposed schists. Ample, mineral, long in the mouth this wine has profound texture. Honeydew melon and sweet quince, candied apple, vanilla and gorgeous pineapple acidity all the way to the bottom of the glass, the back of the palate and from the top of the tongue to the tips of your toes.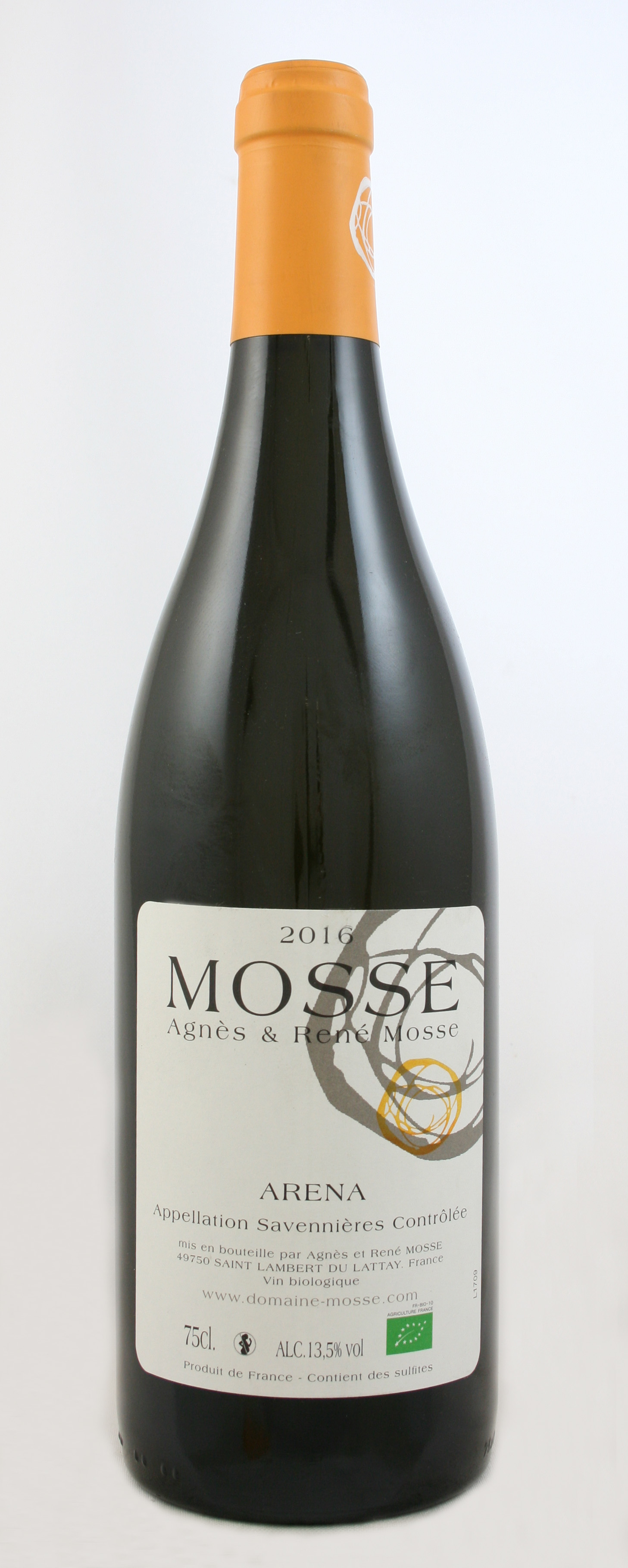 Arena is the Mosse Savennières sourced from 0.45 hectares of vines planted in 2002 on soils of wind-blown sands and schist near the Moulin de Beaupréau. The vines only came into the ownership of Agnès and René in 2007, after they purchased the land from Eric Morgat. As is the case with Anjou, the fruit here is hand-picked and the fermentation en fût with 12 months elevage topping up once a week. Rich and acacia-honeyed with a dried-fruit (apricot and quince) character yet seemingly defined and lively too, Arena presents as more youthful than the other wines with a somewhat muted palate – albeit one with plenty of substance and would benefit from spending half an hour in a carafe. Its rolling stoniness then gathers no Mosse.
Imagine ripe apples rolled in honey-coated green leaves then add cinnamon and musk and some spiky acidity for definition.
Benoit Courault is a young grower in Faye d'Anjou, another who declassifies his production into Vin de France. The Gilbourg (name of one of his plots) is pure, but not so simple, Chenin. Sixty year old vines, very low yields, long vinification, wild yeast ferment without temperature control and maturation for twelve months in three to five year old barrels, makes for a rich, earthy style of wine with bruised orchard fruit. Imagine ripe apples rolled in honey-coated green leaves then add cinnamon and musk and some spiky acidity for definition. The wine moves, sometimes more mellow and textured, sometimes sharper and delineated. His baby wine – Le Petit Chemin – crackles with electric freshness and the occasional Pet Nat of the same name does it with bubbles.
Stéphane Bernaudeau trained in the Loire region to be a 'bûcheron' (lumberjack/ logger/woodman.). It was not ok, so he ended up working for the great Mark Angeli (where have we heard this name?) in the village of Thouarcé. In 1999 he started working for himself, farming a few acres before acquiring a patchwork of parcels, partly rented and partly purchased. Currently, he has a total of 2.5-hectares of vines consisting of three parcels of Chenin, one of which is located at Aubigné-sur-Layon, another at Thouarcé and the last one in the village of Cornu.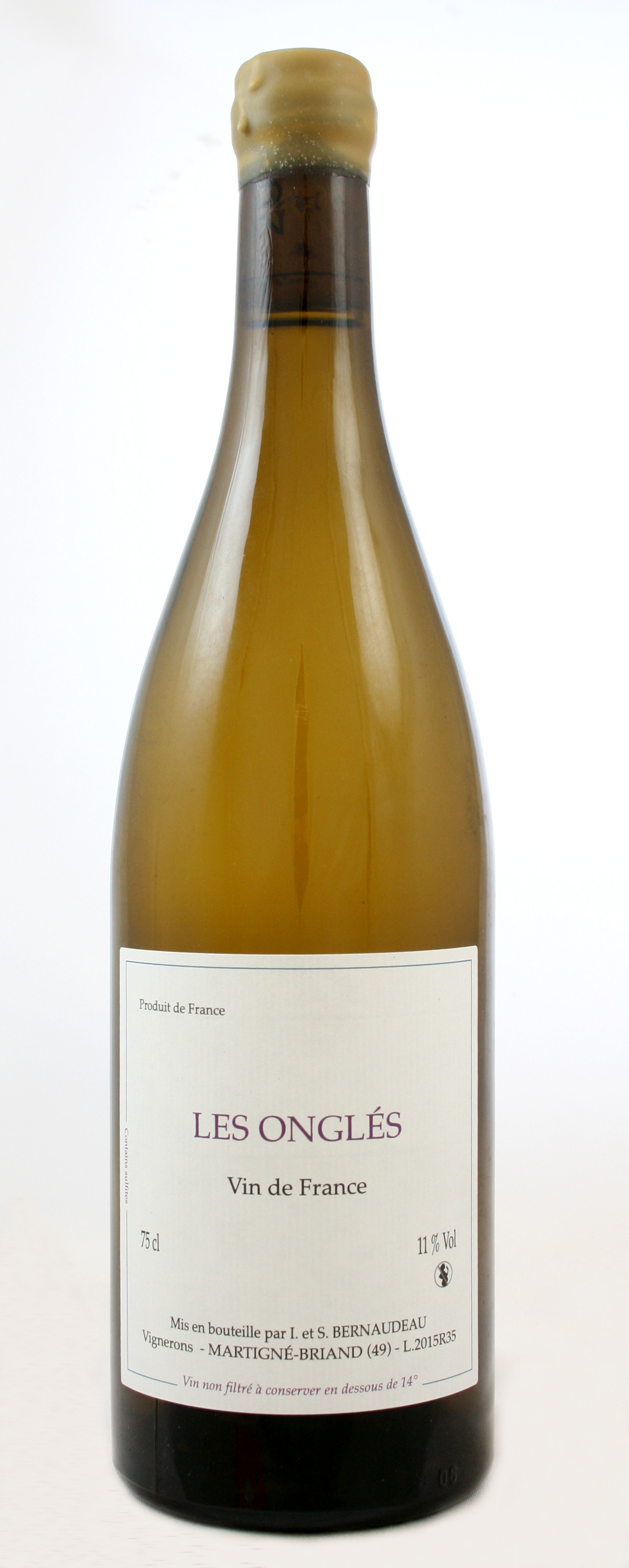 So where does this sit in our Chenin pantheon? Roasted almonds leading into beeswax, some sweet apples and quinces opening out to reveal some beautiful aromas and flavours of fresh cut pineapple and honey. Sumptuous and rich with a suggestion of waxed apples, herbs and cheese, a touch of wood tannin grip. A profound wine, this would age for fifteen to twenty years.
Les Nourrissons is a 100-year-old one-hectare plot of Chenin Blanc and Verdelho, biodynamically farmed, producing on average 1,000 bottles a year. Stéphane ploughs with a horse, picks ripe, makes a natural ferment and ages for fourteen months on the lees in barrels used for three wines. This is a wine of power, tension, acidity and fantastic length.
La Coulée d'Ambrosia is a 4-ha estate on limestone-clay soils with schists and silex in Beaulieu-sur-Layon, practising and certified for organic viticulture since 2005. Now Jean-François Chene is well on the road to biodynamics. He specialises in Chenin in all shapes and sizes and loves to make a "Jura-style" wine under a yeast veil. According to Jean-François, Paniers des Fruits is his lovely user-friendly, basket-of-fruit-wine, a flavoursome apple compote wine for easy-drinking.
J'ai choisi d'aller au bout de mes convictions en minimisant les interventions en cave et ainsi laisser s'exprimer le fruit et le minéral. J'obtiens alors des vins « vivants » éloignés des standards, des vins qui interpellent».
I chose to go to the end of my convictions by minimizing interventions in the cellar and allowing the fruit and the minerals to express themselves. I then get "live" wines that are far from standards, wines that challenge.
You might stare into the crud-rich opalescent depths of the wine and say Chenin Voile? More like Chenin Vile. There is a lot of something in suspension, a soot snowstorm in this murky, muzzy, membranous "white" (ironic inverted commas).

O2 is more than a nod and a wink, (Jean François nods and winks a lot) to the wines of the Jura that he admires so greatly. He has a seraglio of Chenin that has taken the veil, ageing for approximately three years under those cheesy yeasts. The initial aroma is not necessarily captivating– butter on the churn and smoking corn on the cob mixed with oxidative notes. Carafed, the wine begins its subtle transformation, shedding noxious aromas and releasing hints of fruit – here be apples, slivers of toasted almonds and dried spice. Those sly salty Jurassic flavours come to the fore and the acidity reins in the funkiness. This is either a food accompanier, Comté, or a goat's cheese, or a gentle sipper, something to get down and meditative with, one of those wines that evolves as you revolve it around the glass. Yes, this O2 may not be your favourite Chenin network, but it certainly connects to your inner yeast. Jardin de Chiron is named after the centaur, in Greek mythology, who discovered the use of plants for medicine. Like all his white wines this Chenin is fermented in futs de chêne with wild yeasts. The entire vinification takes twenty-four months and the wine spends a total of three years in barrels without topping up. Crazy as a soup sandwich.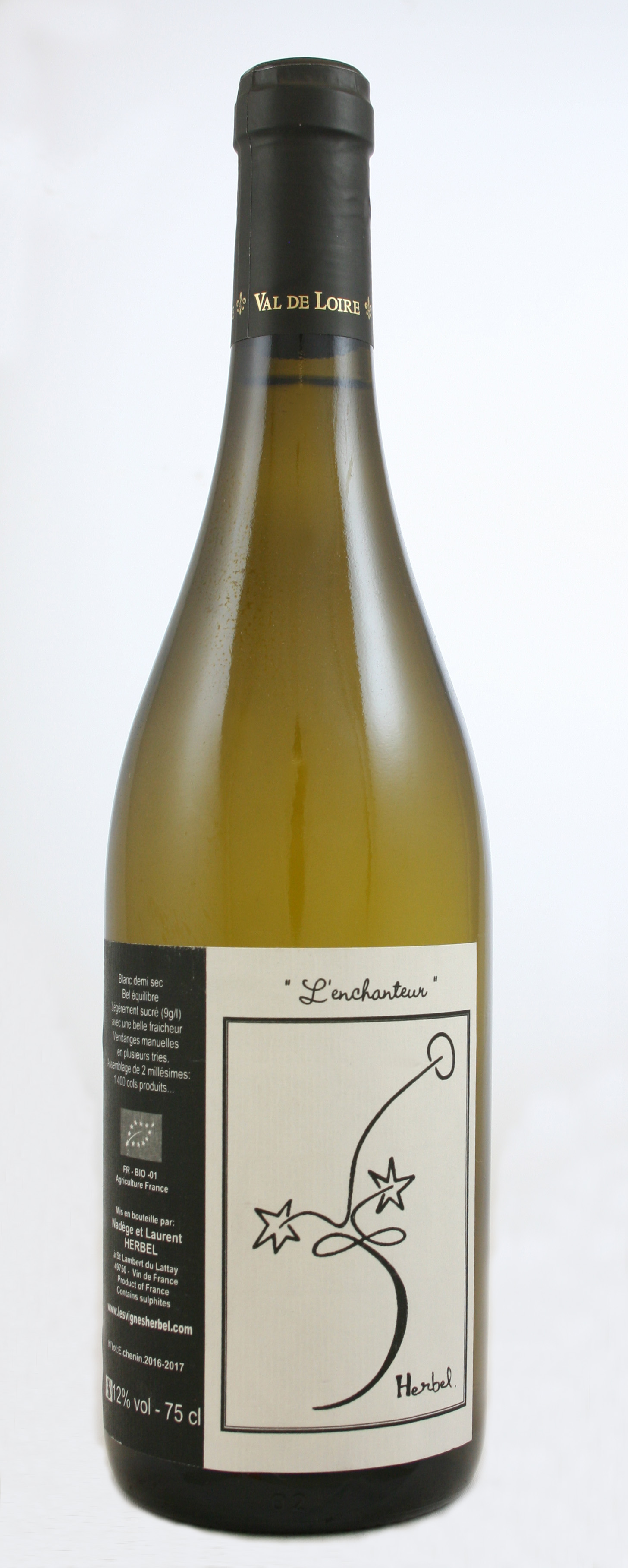 Les Vignes Herbel is the relatively embryonic project of Laurent Herbel and Nadège Lelandais who started in 2005 and now have a three-hectare parcel of vines at Rochefort-sur-Loire called La Pointe on a terroir of purple schist and clay. This includes 1.4 ha of Chenin Blanc planted in 1920 and 1.6 ha of Cabernet (70% Franc and 30% Sauvignon) planted in 1974. They farm organically and biodynamically.
La Pointe Chenin 1920 is a true vin de garde with a long elevage in wood. A beautiful wine that expresses the potential of the Chenin. Earthy and rich with a great balance of sweet fruit, acid and minerality. It smells like Chenin, fine spun wool, heather honey, punctilious acidity chiselled to an arrowhead designed to bring a bead of appreciative persp to your forehead. Reverie is a blend of two vintages (2006 & 2010) and is from botrytised grapes (5hl/ha) harvested at the beginning of November. This is the first time that it has been made and only because the conditions were propitious. The nectar is luscious indeed (215 grams residual sugar), but avoids being heavy due to the wonderful streak of lemony acidity that drives the fruit from beginning to end.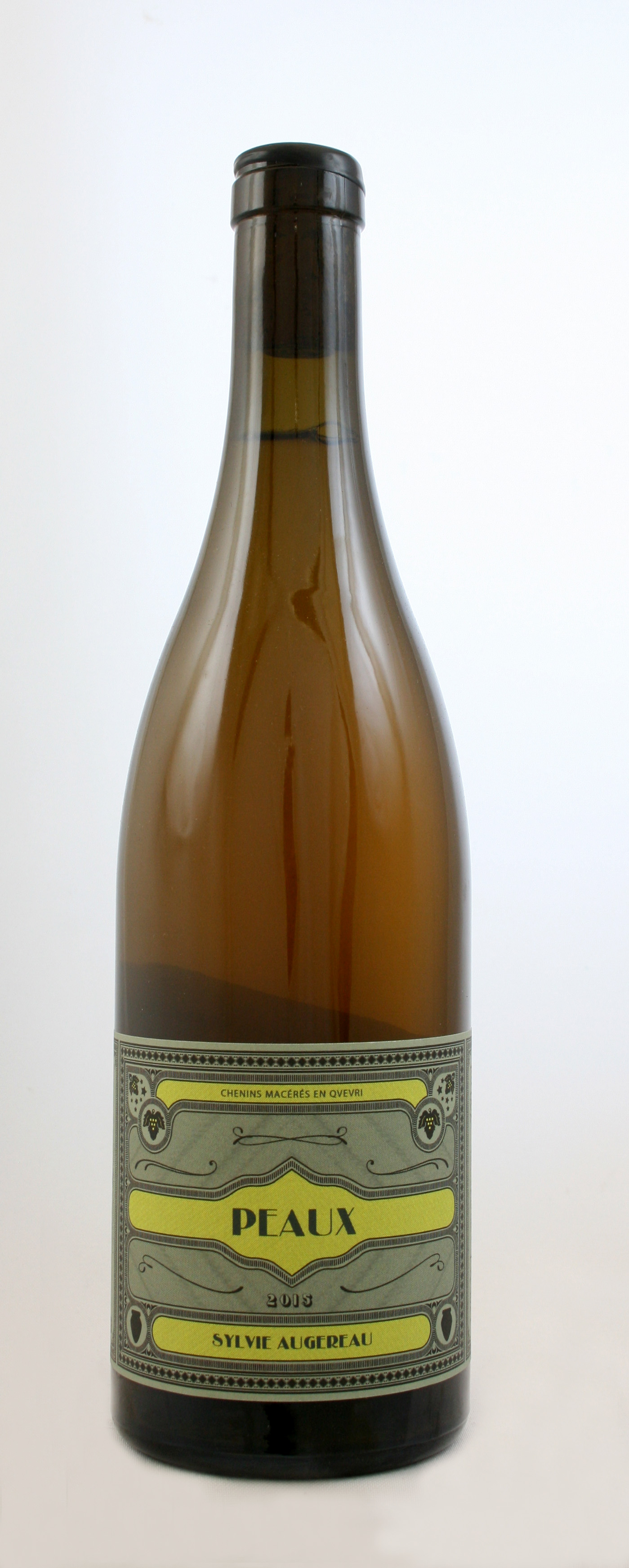 Sylvie Augereau, she of La Dive Bouteille, is walking the walk with her wine "Peaux". The vineyard site is a pretty, colourful hill on which the Loire comes knocking. The soil is rather sandy and it turns red with a little iron on the Chenin hill and the ground is strewn with large white shells. And above all, the centuries-old vines are beautiful. Sylvie works with Georgian qvevri for her white. The clay receives the grapes gently, and like magic, fermentation begins soon after, and is never violent. She observes: "I think the life (of the wine) is made more harmonious by this bulbous and pointed form. It seems to me that there is more harmony in the wine. Since the skins are macerated for nine months, the wine should be harder. But instead there is more creaminess; a velvety quality; greater unity." The wine has a fabulous bright golden colour, is dry with a beautiful aromatic complexity mixing white flowers, candied lemon and apricot with some hints of honey. The delicate tannins are supported by equally fine acidity.
The wines from Anjou tend to have a perceptible autumnal warmth that is beguiling. Most of them are rich, golden, earthy and spicy. Where the malo is inhibited the Chenin scythes across the tongue, where it occurs naturally the wines remind us of just churned farmhouse butter melting in an orchard on a warm autumn afternoon. If I had to find one word that captured the feel of Anjou Chenin it would be "russet" – that almost coarse texture allied to browning apples.
Saumur Chenin? Don't mind if I do!
Our hero, Thierry Germain of Domaine des Roches Neuves relocated to the Loire from Bordeaux in the early 1990s, and soon fell under the influence of his spiritual father, Charly Foucault of Clos Rougeard. Thierry would ultimately convert his entire domaine to biodynamic viticulture, which was the equivalent of his wine epiphany. Listening and observing his plants, allowing them to guide him, revolutionised his way of thinking and all the wines found a sense of renewed energy.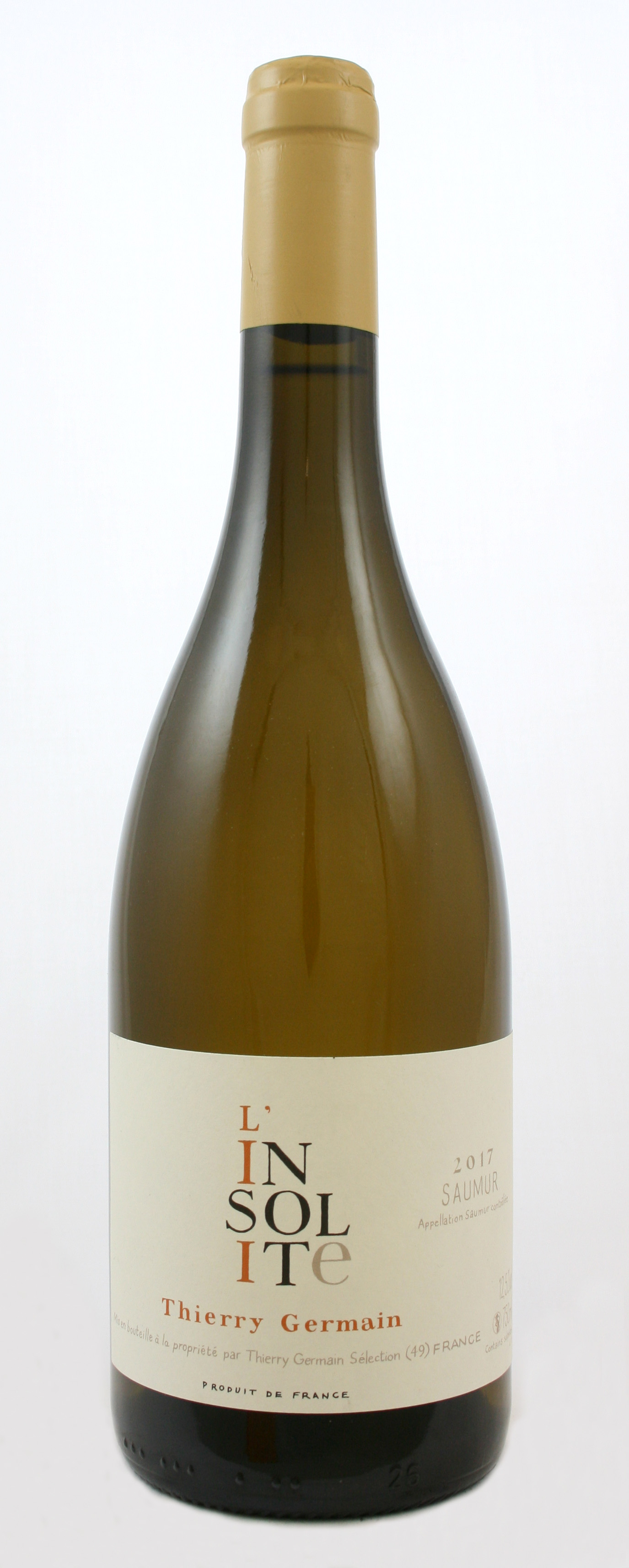 Thierry's Saumur Blanc l'Insolite skids effortless on its classy chassis. Made from 80-year-old Chenin vines – with acidity as keen as a whippet with mustard on its nose and refined mineral fruit to boot it is a very high-toned wine, its purity testament to biodynamic viticulture and the paring back of the winemaker's interventionist role.
This is dramatically tense, crystalline, mineral-bound and soaringly pure Chenin…It is epic Chenin where the limestone seems to have wept tears of joy into the wine.
And then there is Clos Romans from a vineyard in Parnay (just outside Saumur) rooted in the walled clos of a priory that dates back to the 11th century. The soil consists of a 30cm layer of sandy clay over Senonian-era limestone bedrock called Pierres de Champigny. It's the same rock that was used to build the Château Champigny. Germain acquired this historic site in 2007 and has been steadily replanting at a density of 10,000 vines/hectare. He practices selection massale, mixing plants to ensure he acquires a more diverse profile of this special terrors. Volumes are tiny with handpicked grapes whole bunch pressed and then fermented for two months in a single 400-litre oval cask for nine months on lees.
The wine it creates certainly has an enchanted feel that is hard to pin down. This is dramatically tense, crystalline, mineral-bound and soaringly pure Chenin, with dazzling, earthy and stone fruit notes, fine, old vine structure and a lifted, saline finish. It is epic Chenin where the limestone seems to have wept tears of joy into the wine – it is the cru within the cru of Thierry Germain's, all raging purity and longer than the collected works of Proust. Saumur's lease hath all too short a date.
In Vouvray Didier and Catherine Champalou make a fine array of styles. Their straight Vouvray is rounded and tender, suggestive of ripe quinces sheathed in threads of honey. The riper Vouvray Cuvee les Fondraux from older vines has an enticing golden colour which draws you to an exotic bouquet of lavender, honey, sweet grape and marzipan. Their Vouvray Brut, called by them a 'petillant naturel' (natural sparkling) is exuberant – floral with a delightful nose of honey, hay and quince, and lively acidity supporting the rich apple fruit.
Catherine Breton's brilliant natural Vouvrays are in two words – de-licious. High toned white fruit notes meld with honeycomb and goats milk wrapped in a loving shroud of sweet blossom. Dilettante Brut is equally tender. The wines are the mellow side of Chenin.
Despite Vouvray's size and historic status, it is Montlouis which is the truly dynamic appellation for Chenin. Jacky Blot, Lise & Bertrand Jousset, Ludovic Chanson, Francois Chidaine, and Xavier Weisskopf make a formidable range of wines in a variety of styles, showcasing the different terroirs from limestone-flint (fresher wines) to clay on tuffeau (multi-layered Chenin). The age of vines ranges from 30 years old to over 100 in some cases.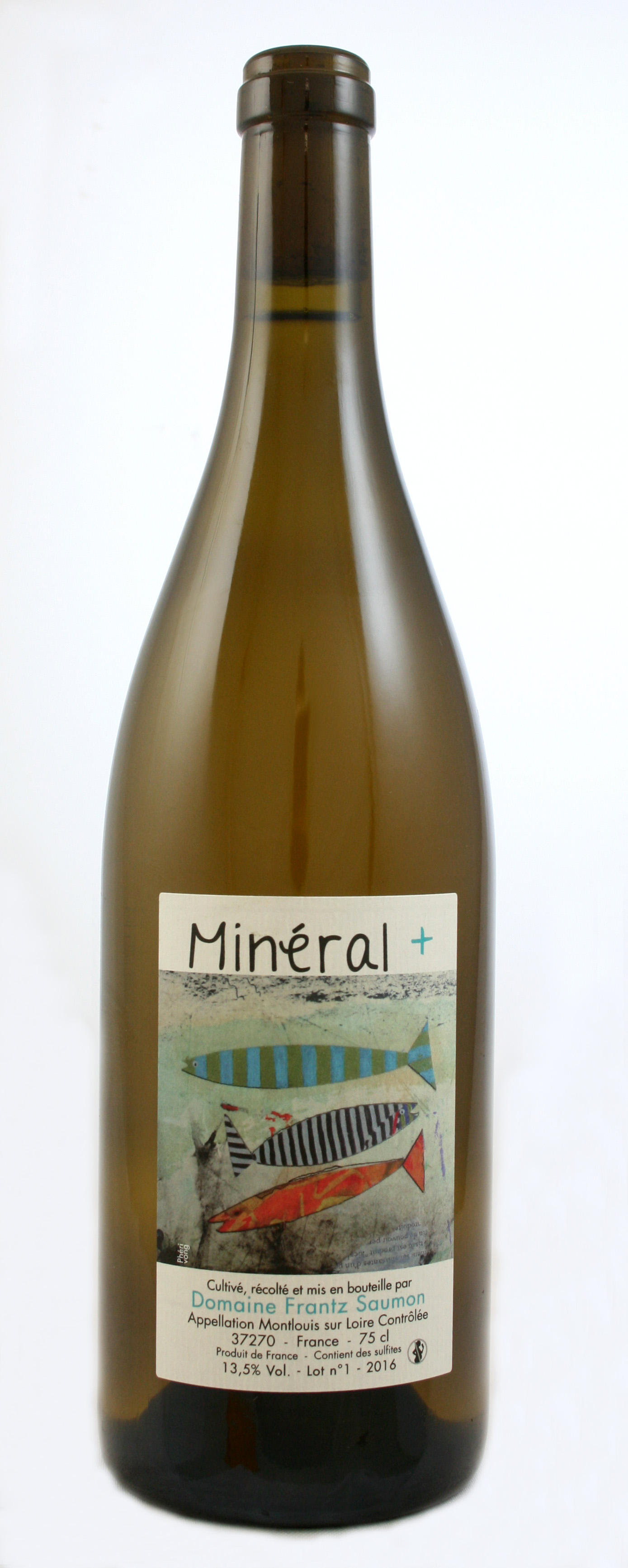 Frantz Saumon is another non-interventionist who works without chemicals in the vineyards. The winery is an underground cellar carved into the tuffeau, the ubiquitous fossil-rich clay of the region, and all the wines are vinified in barrels (some 228l, some 400l) only with the indigenous yeasts. With its spiky personality allied to a honeyed texture this Montlouis is designed for the most regal salmon that you can lay your mitts on.
Maybe three or four times a century, the appellation of Jasnières makes the greatest Chenin on earth.
It is said that, maybe three or four times a century, the appellation of Jasnières makes the greatest Chenin on earth. By earth, one also assumes the solar system, unless the red planet makes some selection marsalle wine that we don't know about! I like this notion of a terroir wine, notoriously temperamental, that unabashedly fixes you with its glittering eye and declares: "I am what I am – take me, or preferably, leave me!"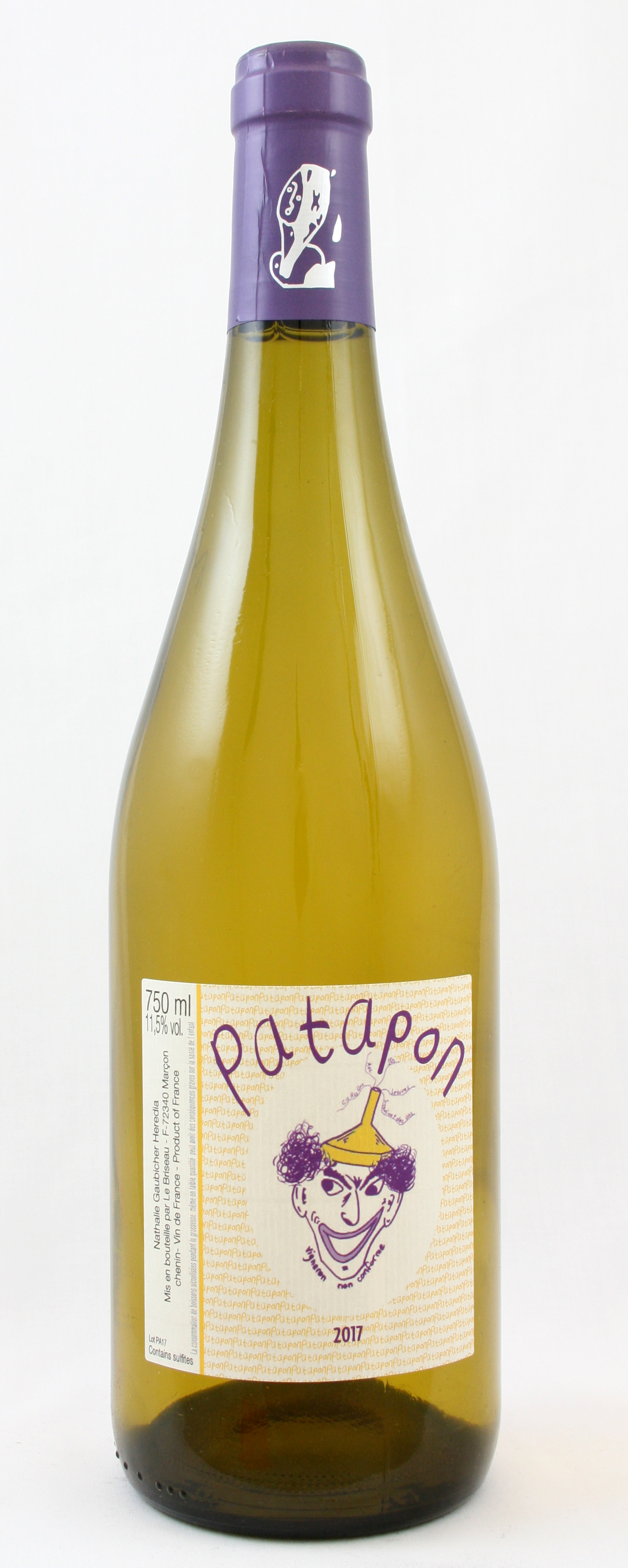 With Domaine Le Briseau the vagaries of vintage certainly determine the style of the wine: the differences between wines from successive years can be profound. Even the more sumptuous examples have an astringency that keeps your palate guessing. There's warmth, waxiness and those almond notes typical of Chenin, some sly sherry aromatics and pulped-pear-mingled with-flint-fruit. And here's the rub, the longer you leave it the more profound it becomes, so please carafe in order to allow the dry honey to become runny. Domaine Le Briseau's wines are now jointly made by Emile Heredia and Nathalie Chaussard. They have abandoned the appellation even for Kharakter (the Jasnieres) and other wines such as Patapon Blanc would be technically would be Coteaux de la Loir.
Nectar points
Our list may be lacking in unctuous examples of Chenin, but one cannot ignore the late harvest glories of the grape variety. For quintessential sweet Chenin the reference is surely Bonnezeaux – a botrytis wine that demonstrates perfectly the potential of the grape – golden yellow, complex and bursting with aromas of quinces, ripe apricots and charentais melon, as well as acacia honey and exotic spices (saffron) on the palate. Combining freshness and richness it is a wine that is seductive and sensual, a typical Chenin nose with mineral notes and behind this a core of rich, honeyed aromas and a suggestion of lemony freshness with rosemary and herb nuances. On the palate it is fabulously rich yet balanced with superb acidity and, a hallmark of Chenin, a lovely fat, round, oily texture, with a deep mineral complexity.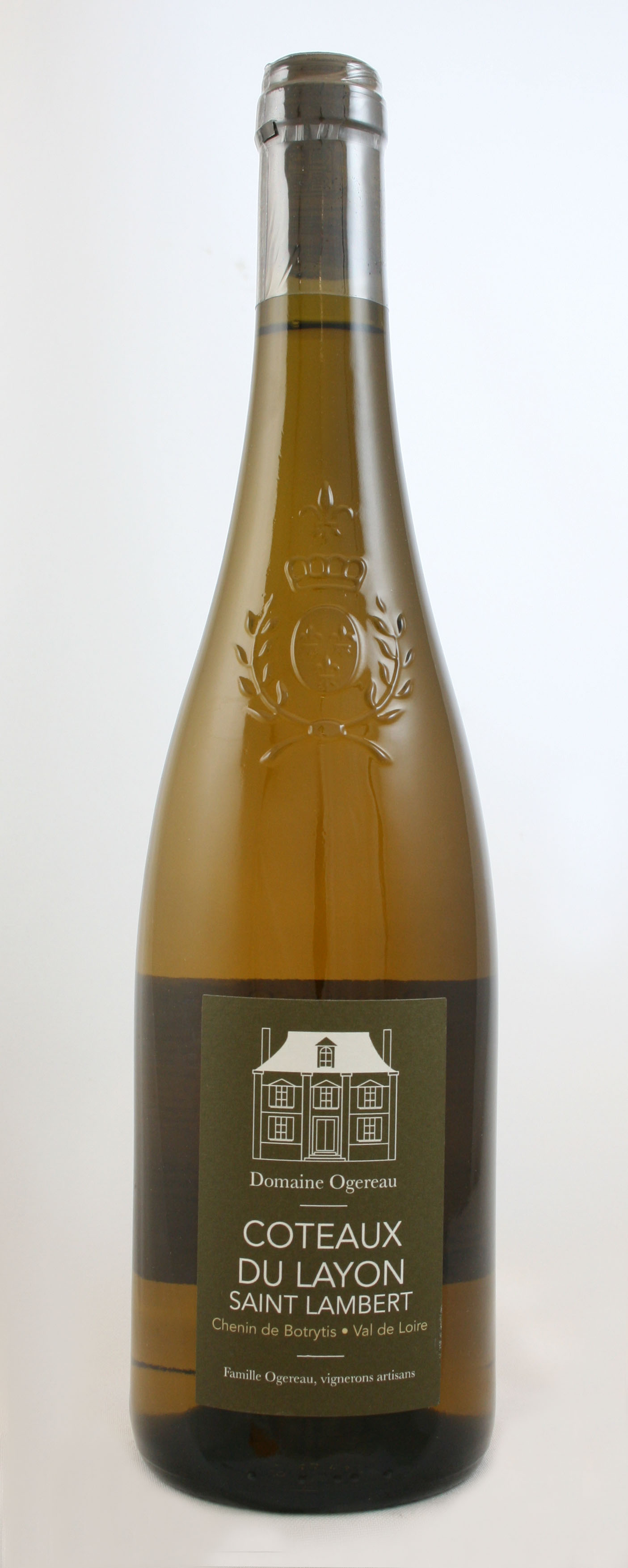 Our Coteaux du Layon from Domaine Ogereau is pretty seductive too – a mix of late harvest with botrytis grapes.
A versatile food wine…
Chenin can be drunk with so many things. The wild salmon fished in the Loire has now become a part of legend. It is now as rare as truffles would be on the daily lunch table and has been replaced with imported salmon or salmon from fish farms. The salmon is cut into steaks which are then grilled or served in fillet with sauce. Wild salmon should be drunk with Savennières, the muscularity of the noble fish pierced by the harpoon of the wine's natural acidity, the natural oils of the fish softening and enriching the angularity of the Chenin in a true regenerative mutuality. Pike is a very savoury fish that is gorgeous with beurre blanc, but may also be served roasted – as it is in Sologne. Loire River pikeperch fillet in Vouvray wine with asparagus and morel mushrooms is a classic rendering (with Vouvray, naturally). On a similar theme grilled shad with wild mushrooms and sorrel, or braised with white wine with beurre blanc are particularly good hosed down by a nippy Anjou or Saumur Blanc.
A glass of sparkling Vouvray with new season's strawberries, a rich old vines Saumur or Jasnieres with slow cooked pork belly or a rabbit stew with baby spring vegetables. A Coteaux du Layon with some young blue cheese. Bonnezeaux with apple tarte tatin. It makes sense!
Other French Cheninigans
Outwith the Loire Chenin snuggles into a relatively small enclave of SW France. A few growers use to good effect in Limoux. Gassac include it in their Heinz 57 varieties white (cuttings care of Domaine Gaston Huet, if you please) and Marc Penavayre blends it with other white grapes in Fronton, but it comes blinking into the light again on the terraces of the Aveyron.
We're in the undiscovered heart of the South West. Although vines had been established here by Burgundian monks in the Middle Ages, phylloxera wiped out most of the vine stock from the late 19th century onwards. Nicolas Carmarans, ex of a celebrated Parisian wine bar, makes a Chenin called Selves (named after a local river that flows at the base of the property). He farms organically, and also uses biodynamic treatments. The vineyards have a fair lick of altitude at 500 metres, and are on granitic sand. The fermentation is long, slow and natural and takes place in used Burgundy barrels.
Obscurity is the realm of error said the Marquis de Vauvernage in one of his many moral apercus. Perish the thought that the same wine would be made again or in two successive vintages.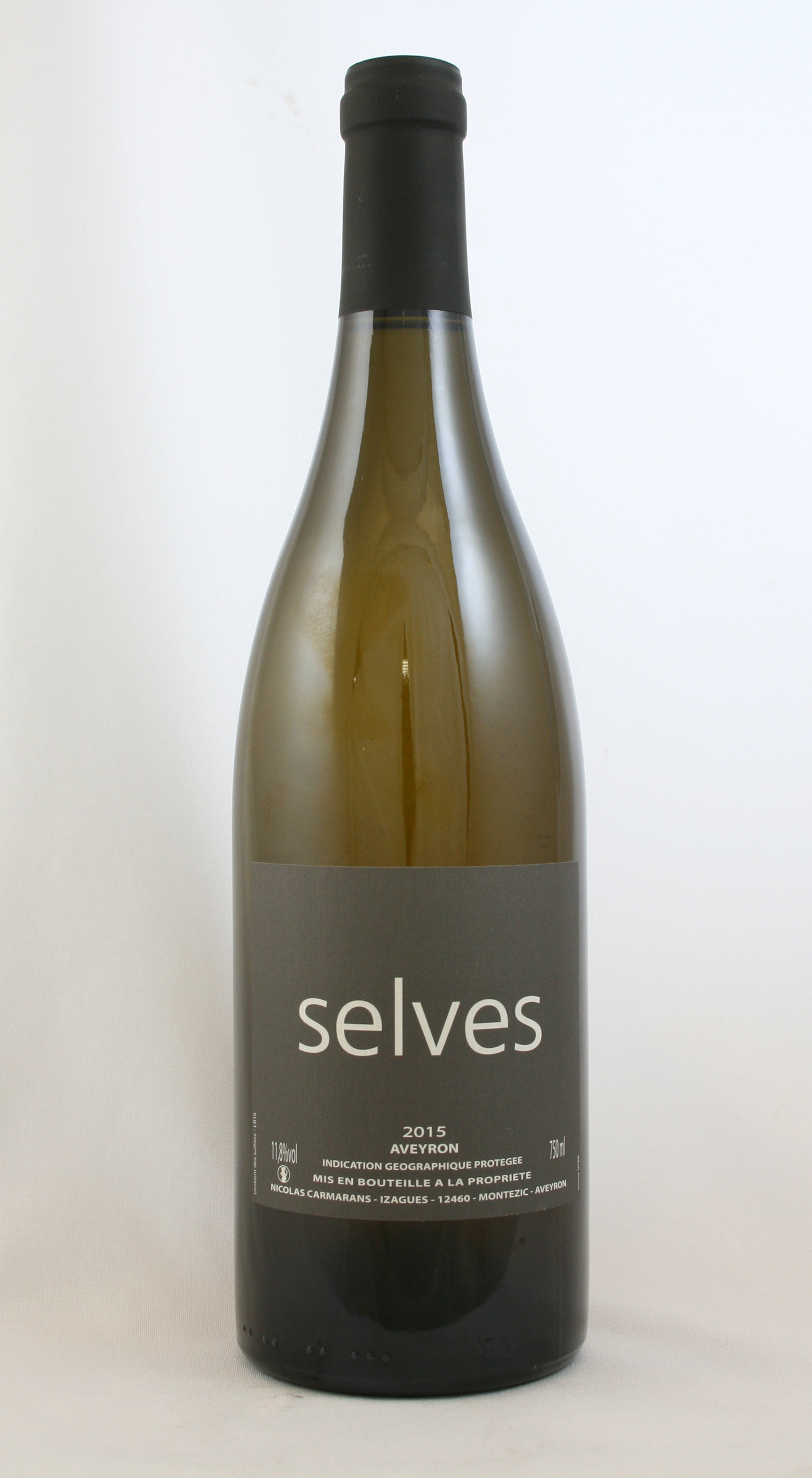 Selves, named after the river above which the vineyards sit, has renewed zip, verve and offensive quantities of fun. Orthodox wine lovers would roll their eyes (and I once saw a sommelier squirming in his straitjacket after trying this), but I love a wine that tickles my ribs whilst staying several steps ahead of my palate. Unsheathing sharp darts of spiky lemon, grapefruit and white peach this sizzling white blossoms in the mouth, unveiling layers of apple, quince and ripe greengage, brine and chalk minerality, finishing persistently with musky florality, anise, angelica, and subtle bitterness of herbs, alkaline minerality, and fruit skin. Yum.
Read the Part Two of our ode to Chenin Blanc (Out of South Africa) here.
*
Interested in finding more about the Chenin Blancs mentioned? Contact us directly:
shop@lescaves.co.uk |  sales@lescaves.co.uk | 01483 538820