Read Part One of our Ode to Chenin Blanc here.
Craig Hawkins makes wines in Swartland. His project is called Testalonga El Bandito, wherein he makes a pair of Chenins under the El Bandito label, one from free-run juice and the other with varying amounts of skin contact and "baby" counterparts thereof.
When he started his project, Craig was very much in the left of left field. And this was not just because he was based in the wild west of Swartland where young growers, who wanted to discover themselves, gravitated. Craig has never been part of the mainstream, even in Swartland, but that is because he is not imitating anyone. He has a clear idea of what he wants to do which is to make wines for his own satisfaction and to his own taste, rather than track the market. It is important to note that as his own taste has evolved so has the style of the wines. His independent and uncompromising approach has not always endeared to South African authorities and he has been shunned by various critics and wine writers.
The El Bandito skin contact Chenin was the first wine that Craig made; a defiant, elemental wine, that at the time was regarded as something freakish, an aberration. Craig changed the agenda
Hence the name Testalonga El Bandito. Testalonga was the nickname of an old Italian guy who made his white wines like red wines. Craig asked him via a friend whether he could use the name for his labels and he laughed and gave his assent. Testalonga is also the name of a bandit from Sicily. The El Bandito skin contact Chenin was the first wine that Craig made; a defiant, elemental wine, that at the time was regarded as something freakish, an aberration. Craig changed the agenda. Whilst skin contact and orange wines are not ten-a-penny, no-one blinks when they see one and a large number of South African vignerons are making a wine in this idiom.
Craig started the Bandito project in 2008, whilst he was working as head winemaker at Lammershoek (his father-in-law, Paul Kretzel owned the estate). The first vintage was a skin maceration Chenin from a block in the Lammershoek estate, the Cortez (which was to made in the following year) came from the Observatory vineyard that Craig rescued and revitalised through hard pruning.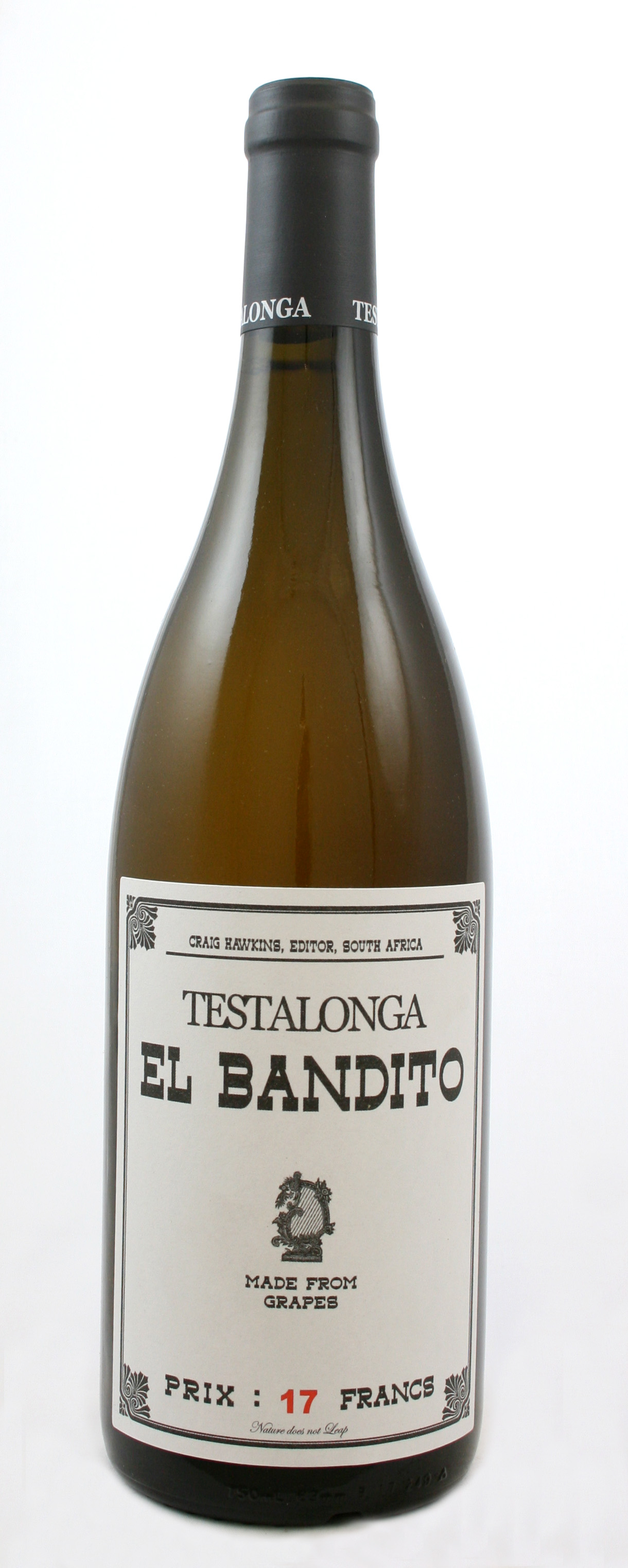 The Chenin grapes for El Bandito are all from Boschgassfontein, aka the old Observatory Vineyard, planted in early '70s. The vines are farmed organically (with some biodynamic preps) by Craig himself. They are unirrigated, cover crops are sown, and depending on the vintage, he either ploughs once between the row, or mows the covering grass. The soils consist of old decomposing granite interspersed with quartz. The microclimate is distinctive; the site is humid and cool. As Craig says: "The vineyard is a special one as it has been farmed organically since 2001, and every year, good or bad, gives a tension we sometimes don't find in our other wines (as much). This I think is due to the high percentage of quartz/silica in the soil".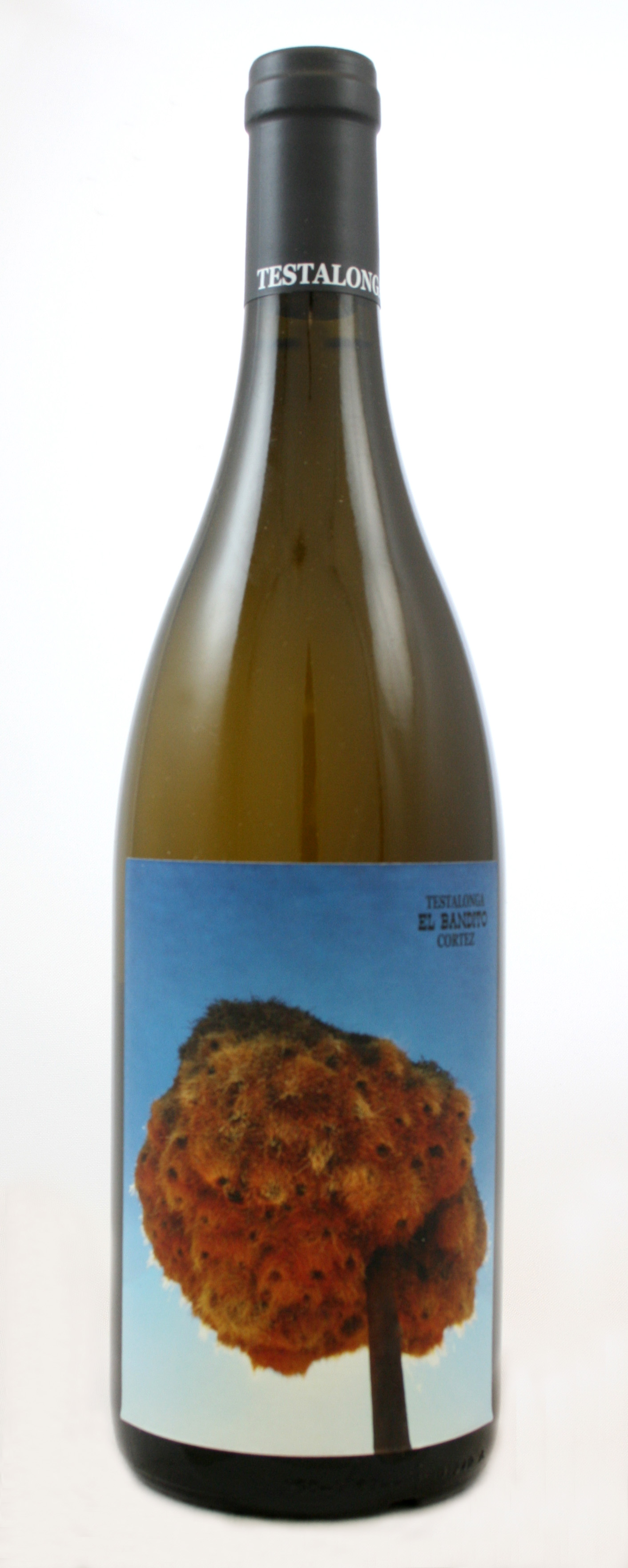 Tension is right, especially in the Cortez, although the angles in this spiky Chenin are more than mitigated by fermentation in barrels, the full malolactic, and phenolic cushioning from the lees-ageing.
The Skin Contact Chenin also comes from the same vineyard. This particular wine has come a long way since it was first made, and each year provides new aromas and flavours. Craig again: "We have toned down the extraction and have now stopped experimenting as much as we used to. We have found our sweet spot that we enjoy for skin-macerated whites and enjoy the balance we get from these flavours. This was the shortest skin contact that we have ever given to this wine, and we really feel the wine is now developing into something that is entirely on its own."
The latest version was picked slightly earlier than normal to maintain the pH/acid/alcohol balance that Craig loves. These grapes are destemmed into open top fermenters and fermented for 10 days on skins before being pressed into 300 & 500 litre used oak barrels. It is almost velvety and the maceration gives a lovely apricot/peach element to the ensemble.
Of the two cuvées the carbo Chenin (as I call it) has amazing vivacity and attack with that fresh apple bite you are always looking for from the grape. There is a wonderful underlying minerality that gives the wine its essential composure. This skin contact Chenin has more texture than the Cortez but still brims with energy. Both the wines have terrific ageing potential, but such are the tiny quantities made we would struggle to hold back even a few bottles in the interests of experimentation.
"Lees for me is the life of the wine. And I keep the wines for as long as possible on the original fermentation lees to retain the character of the vintage/grape/mood I was in. so far this has always been until I bottle the wines that I remove them from the original lees. Every vintage I blend back a portion of the older years lees into the new vintage wine, to keep this "essence", I bought back 2 litres of lees from the Douro El Bandito 08 in Portugal and blended it into the 2010 vintage. In the 09 vintage there is some of the 2008 lees and then in the 2010 wines there is a mixture of both the 08 and 09 lees, it's kind of a reverse solera system with the wines, from the inside out. Something I love and something I will always do to retain my wines identity from vintage to vintage. Lees is the soul."
What is certainly manifest is that the Testalonga wines have all the components, the wherewithal, to age fantastically. Pull a cork on an older vintage and you will see their natural energy is undiminished. And that puts them on another level.
Certain critics, especially in this country, felt that the wines were uncompromisingly lean; these commentators didn't (and still don't) appreciate that particular steely acidity which all Craig's wines possessed. I have had plenty of arguments with these critics about what constitutes electrifying tension in a wine and what is really lack of ripeness. Well, we will never agree. What is certainly manifest is that the Testalonga wines have all the components, the wherewithal, to age fantastically. Pull a cork on an older vintage and you will see their natural energy is undiminished. And that puts them on another level.
Jurgen Gouws worked for four years at Lammershoek with Craig Hawkins, but since January 2015 has solely concentrated on Intellego and renting vineyards for his project.
These vineyards are in Abbotsdale, Swartland, where the climate still has a residual Atlantic influence. The Intellego parcel is situated on a hill (200 metres altitude, east facing) and receives a constant breeze in the afternoon but gets lower rainfall than the other parcels.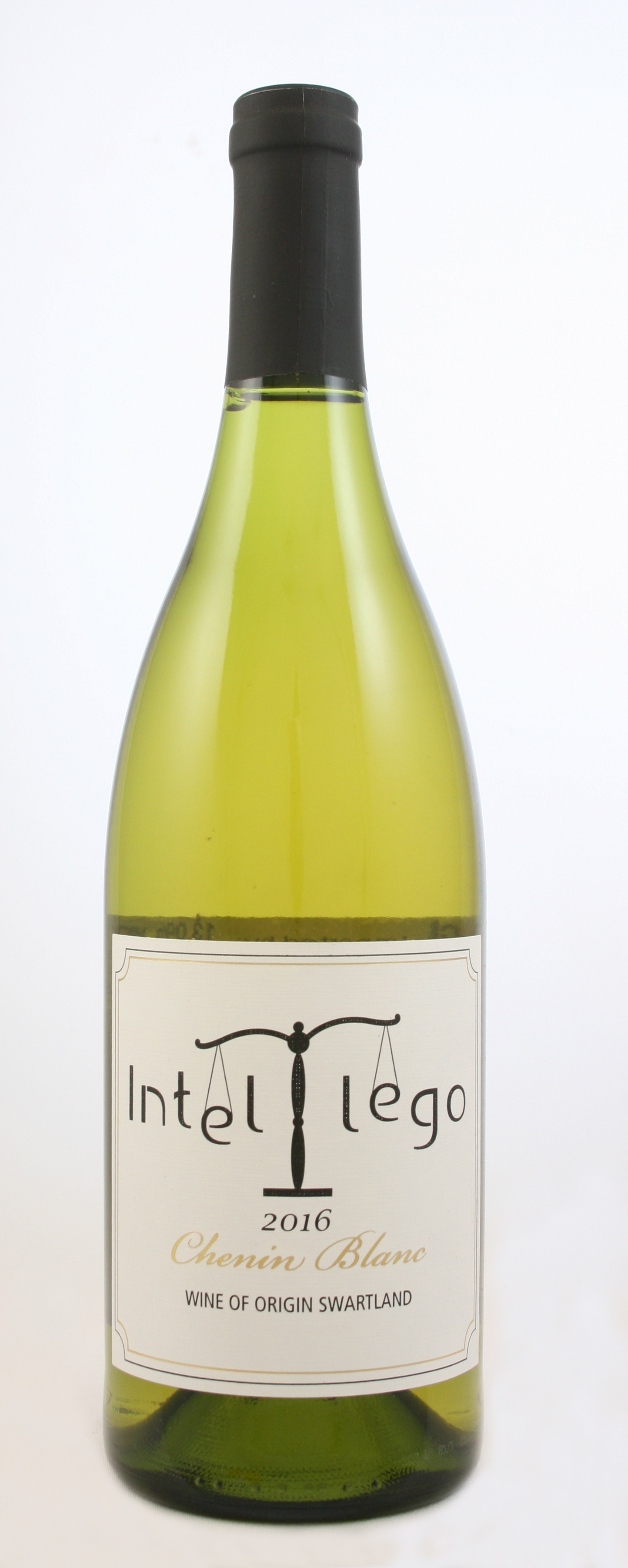 The 35-year-old dryland Chenin Blanc bush vines grow on soil with a very sandy top layer followed by gravel and clay deeper down. Farming is sustainable and organic with cow manures and cover crops planted. Sprays are copper and sulphur. Yields are low – 25 hl/ha for the Intellego Chenin and 21 hl/ha for the Elementis. Intellego Chenin is whole-bunch pressed in a pneumatic batch press, pumped straight from the press to the barrels (225L) without settling where it ferments naturally and ages for 11 months in 225 litre barriques aged 9 years old. Malolactic fermentation occurs naturally and the wine is bottled without barrel, filtration or fining. This is a Chenin of crunches and angles. Once carafe or served in a good glass the wine unwinds without ever losing its tension.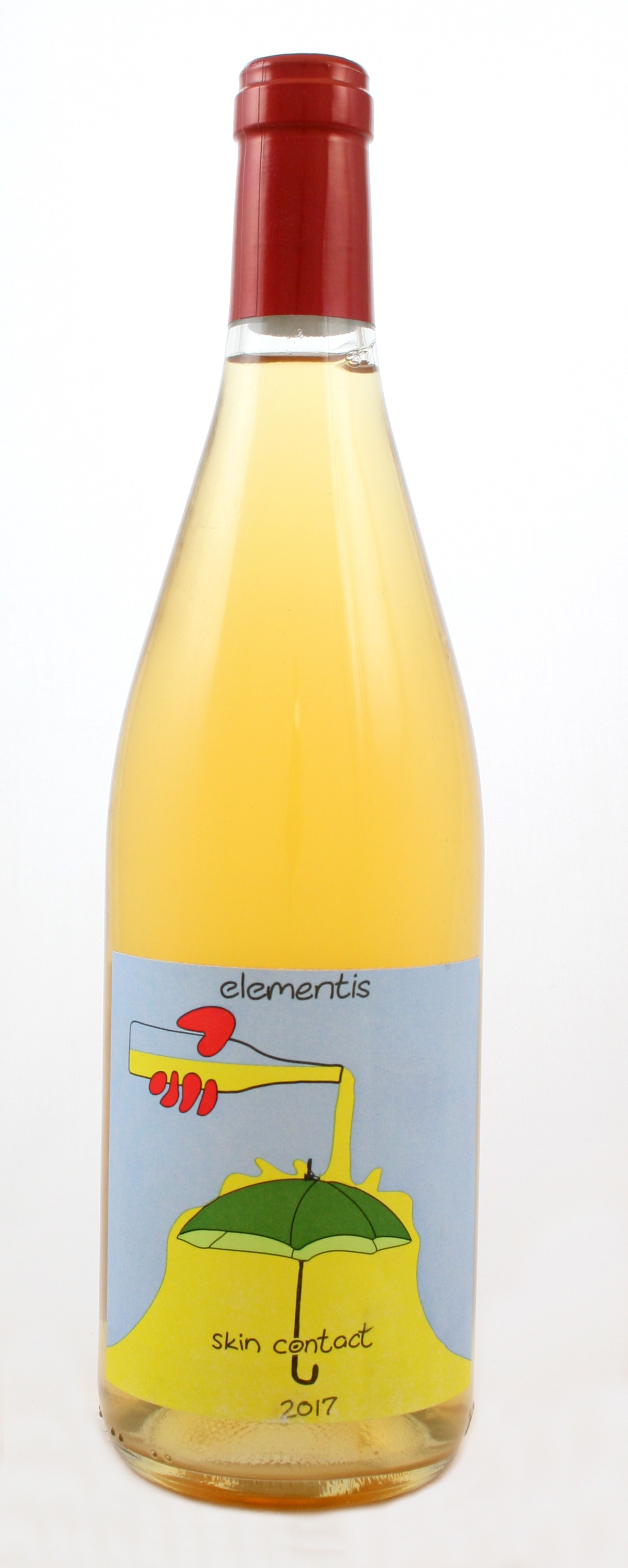 The grapes for the Elementis are destemmed, fermented in a plastic 1000 litre tank for 3 weeks on the skins. Once a day juice is drained to wet the cap. It is then pressed in a basket press overnight before maturation in 300 litre barrels aged between 6 and 8 years. The wine has deep yellow colour like cloudy freshly pressed apple juice. The nose yields wonderful aromas of apple blossom and white pear, the texture is creamy and ginger-spicy and the acidity is beautifully rounded. One for the snowstorm in a wine bottle tendency.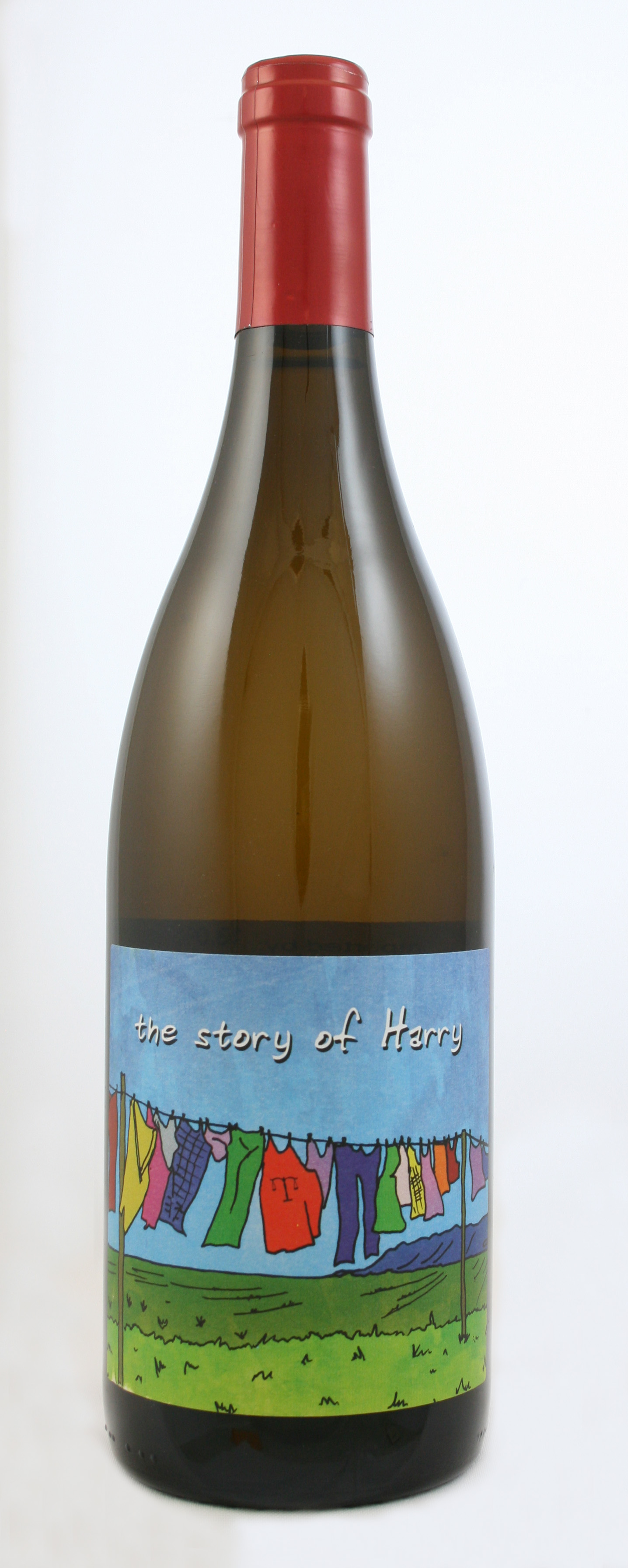 Then there is The Story of Harry Chenin from a tiny parcel of north-east-facing dry-farmed vines planted in 1965 on decomposed granite. Whole bunches are fermented and matured in used barrels and the resultant wine is released earlier than the Intellego Chenin. This is diamond-juice, crackling with purity.
I submit that Chenin is the most versatile of grapes.
It's odd that Chenin flourishes in a region that is hot and dry, considering that its home is one that damp and Atlantic-influenced. Old bush vines are the key in South Africa, their root systems penetrating the soils to seek moisture and absorb minerals. Outside of South Africa and the Loire, plantings of Chenin are sporadic. We have tasted good examples from Australia – James Erskine (Jauma Wines) makes old vines versions that are light yet super-saline from vineyards in the McLaren Vale. James Millton (Millton Vineyards and Winery), as alluded to, specialises in this grape in Gisborne, and there are some nice examples to be found in California. 
There's the evidence for the prosecution, me lud. I submit that Chenin is the most versatile of grapes. It thrills with or without oak, it can be linear and chiselled, or voluptuous and heady, it ranges from bleach-bone dry and austere through tender, off dry, sweet and nectar-loud. It can sparkle with the best of them, either methode trad or Pet Nat wise. It grows merrily on schist, clay, tuffeau, limestone, gravels, granite and volcanic sandstone all of which imbue the wines with their variegated mineral nuances. It can be made clean and lean, but is fascinating texturally, and normally reveals great phenolic potential. It can change in the glass or carafe and may develop profoundly on the palate in the way that Riesling doesn't. The wines have terrific ageing potential; when balanced, the more structured whites may last for 20-30 years and the late harvest wines 50 and longer. Chenin is the robust white variety that matches with the widest variety of food flavours – from seafood and fish (either au naturel or cooked in buttery-winey sauce), to white meats such as rabbit and pork, to goat's cheese, whilst the sweet versions will go brilliantly with blue cheese, fruit tarts and crème brulées.
What's not to like?
*
Interested in finding more about the Chenin Blancs mentioned? Contact us directly:
shop@lescaves.co.uk |  sales@lescaves.co.uk | 01483 538820