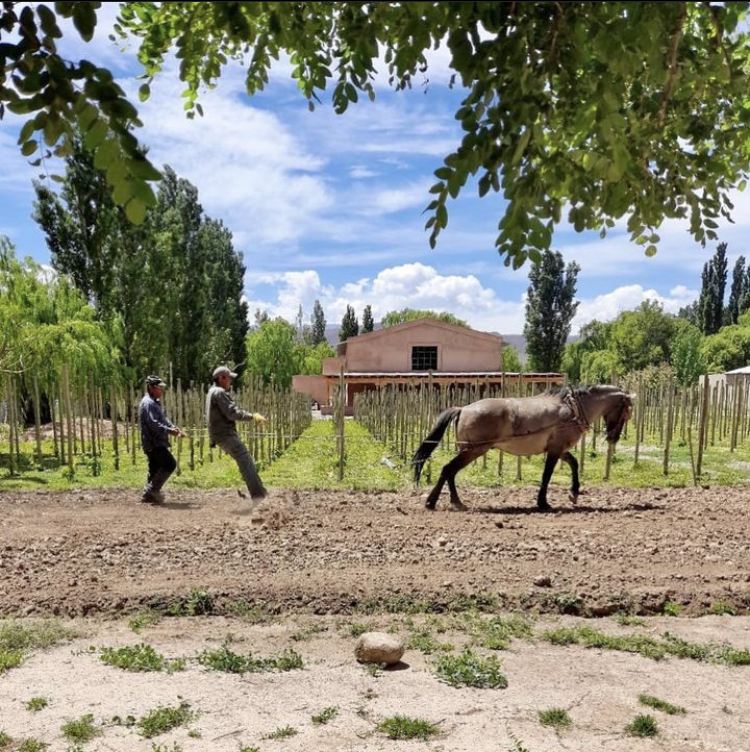 There are three levels (so to speak) of wines from Cara Sur, a collaborative project between Sebastián Zuccardi and Marcela Manini teaming up with Nuria Año Gargiulo and Pancho Burgallo, an avid mountaineering couple who live in Barreal, in the Calingasta Valley of San Juan, north of Mendoza. The aim is to resurrect vineyards of heritage Argentinean grape varieties and Criollas and make the most authentic expressive wines from them. The Pergolas white and red are multi-blends of grapes sourced from different vineyards in the valley. They are nod to traditional peasant wines. The Paraje range come from a single vineyard; some are blends of Criollas, others are expressions of variety. Finally, the Parcelas, wines from single plots, that best express the terroir, and are given extra time in bottle to reveal their complexity.
PERGOLAS WINES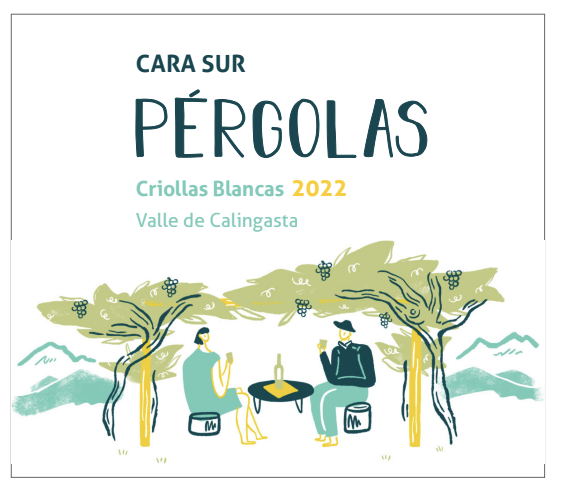 Pérgolas Criollas Blancas
The Pérgolas Criolla Blanca is produced with a blend of white varieties, including Torrontés Sanjuanino and Mendocino as well as other Criolla varieties from old pergola vines (planted between 1920 – 1970) from multiple tiny family vineyards in Barreal and Hilario on alluvial soils. The highest vineyards here are some 1,600 metres above sea level and are characterised by hot days and very cool nights. The juice is fermented with some skins for 21 days or so, and matured in concrete, wherein the wine develops a flor. The final wine is light in alcohol with low pH of 3.19 and high acidity. Very fresh, this is tasty, stony and mineral, with the extra complexity in the mouth care of the flor.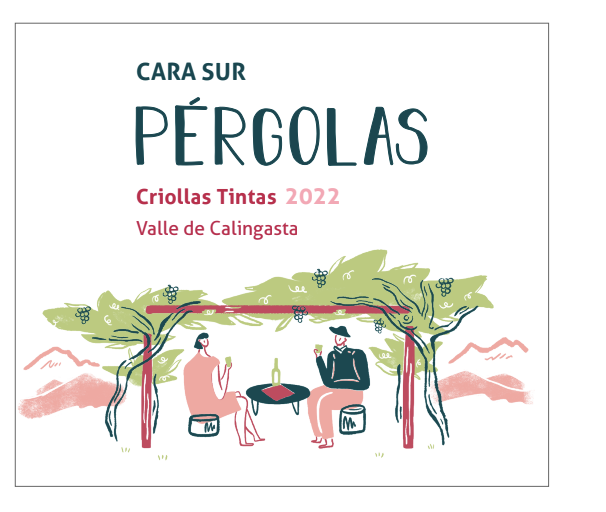 Pérgolas Criollas Tintas
Very pale red, almost a rosé, produced with different Criolla grapes (Cereza, Criolla Grande, Canela and others that are natural crosses of Listán Prieto, a.k.a. Criolla Chica x Moscatel). A primary and fruit-driven light red where the grapes are destemmed into concrete tanks, ferment with their own yeasts and mature on lees for eight months. It has a tender palate with almost imperceptible tannins, with a soft and round texture, juicy with flavours and aromas of red berries. Cereza, the name of the variety, means "cherry" in the Spanish language It's quite similar to Listán Prieto but with softer tannins.
PARAJE WINES
Paraje Cara Sur Moscatel Blanco
From a 1.2-acre parcel in Finca Maggio planted sixty years ago. After a five–day maceration, the grapes are pressed and ferment another ten or so days before being aged eight months in concrete eggs. On the nose the wine shows beautiful notes of white flowers, peach, orange blossom, and a little fresh baked bread. The palate is a little fuller due to some skin contact and a little time spent under flor.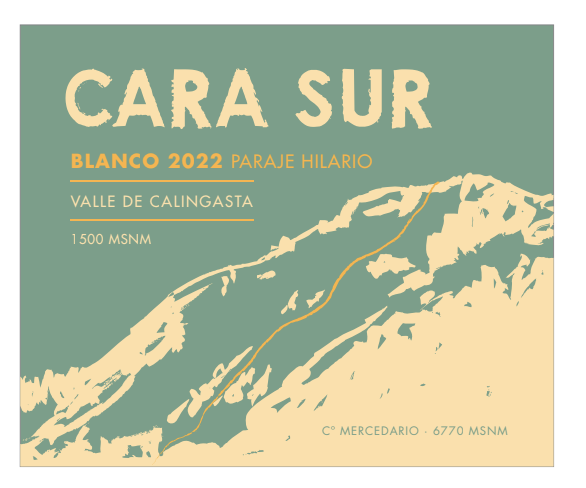 Paraje Cara Sur Hilario Blanco
Blanco Paraje Hilario is made with Torrontés Sanjuanino, a less aromatic and muscat-like variety than the other Torrontés that produces a more mineral and salty wine. It comes from 80-year-old vines in Paraje Hilario, fermented specifically without skin-contact with skins and then matured for seven months. All the whites have an austere and mineral profile, serious and with moderate alcohol and maturity, very good acidity and a long and tasty finish. This has a cleaner fermentation than the rest of the whites, although it is not filtered, and is clean, precise and bright but with a chalky texture.
 The aim is to resurrect vineyards of heritage Argentinean grape varieties and Criollas and make the most authentic expressive wines from them.
Paraje Cara Sur Moscatel Tinto
The origins of Moscatel Tinto are unclear, but one theory is that it is a cross of Muscat a Petits Grains x the Portuguese Alvarelhao. The vines from the Finca Maggio vineyard are seventy-years-old. Fermentation takes place with 30% whole clusters, and after 20 days the wine is pressed and aged for eight months in concrete eggs on the lees, and is then bottled unfined and unfiltered. Pale cherry red in colour, this is fresh and fine with notes of Campari, raspberries, red cherries and redcurrants. It has a brightness, a lightness and a fine spicy crunch on the finish. So delicious and refined, with massive drinkability, but also some elegance and savouriness.
Paraje Criolla Chica
This comes from a vineyard called Finca Maggio in Barreal. 100% Criolla Chica from 90-year-old vines that are distributed across three parcels. A majority of the grapes are destemmed, but 30% are kept whole-cluster. Grapes are fermented separately depending on their parcel in 1,000- 2,000L concrete eggs. Fermentation is spontaneous without temperature control on the lees. Maceration lasts between 25-35 days with low extraction. The wine ages in concrete eggs for six to seven months. On the nose are notes of rose petal, rooibos tea, and wild cherry, and the palate has just a hint of tannin, juicy cherry and cranberry, with a crisp, tart finish and textured tannins. Enjoy this with a slight chill.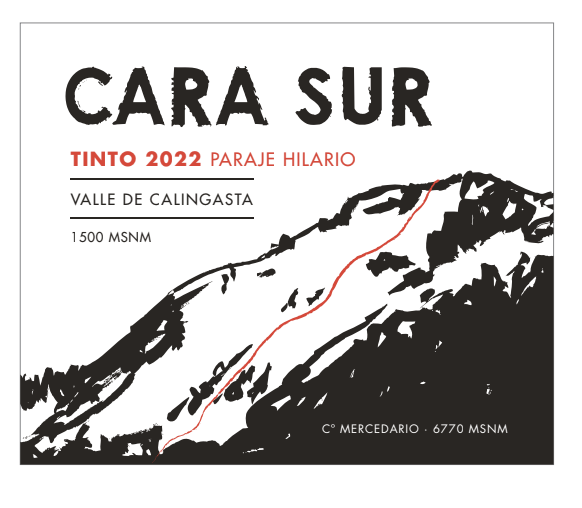 Paraje Cara Sur Hilario Tinto
Cara Sur Tinto is a blend of mostly Bonarda and Barbera with some Freisa, Cardin and Greco Nero from grapes usually picked the first week of March from a single vineyard. It ferments in concrete eggs after the whole clusters (100%) are foot trodden, and matures in those eggs for eight months. It has notes of Mediterranean herbs, aniseed, fennel and thyme, a very juicy palate with notes of strawberries, cranberries and almonds underpinned by noticeable yet fine-grained tannins.
PARCELAS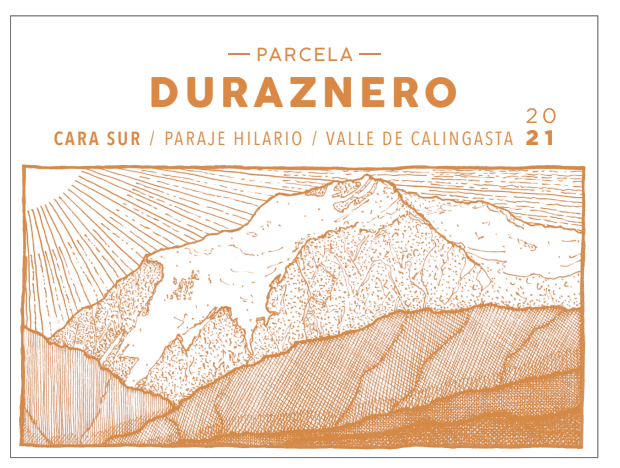 Parcela Duraznero
Duraznero (peach trees) is a 0.3 ha plot, planted with Moscatel Blanco vines that are more than 50 years old. It is located in Hilario at 1,500 meters above sea level. The soils belong to the low river terrace of Hilario, on the margin of the Los Patos River. Manual harvest of grapes in 15 kg boxes normally towards the end of February. The bunches are selected and destemmed before going into 2,000-litre ovoid concrete vessel. Fermentation is spontaneous (native yeasts) and is done with the skins and without temperature control. Thanks to the climatic conditions of the valley and the thermal inertia of the concrete, the temperatures during fermentation doesn't exceed 22°C. Maceration is gentle and lasts 21 days with the cap being wetted twice daily with a watering can. After devatting, the wine is aged in a 1,000-litre egg, for 9 months, before bottling without filtration. The bottles are held back for a further year in the cellar. The wine has a cloudy golden colour and an intense nose with notes of peach and quince, orange peel and spices. Very tasty, excellent freshness and acidity and a long, dry finish with a chalky sensation.
Parcela La Totora
"The pale red (almost rosé!) 2021 Parcela La Totora is floral, aromatic and elegant, captivating with its strong personality, complex nose and harmonious palate, a wine that really surprises most people. It was produced with the grapes from a very small plot of extremely old Criolla Chica vines (at least 90-years-old) on colluvial soils with quartz, picked in two portions, the first half from the higher part being destemmed and the second one from the lower and cooler part with full clusters (around 30% of the total). It's elegant, aromatic and fine-boned, among the best examples of Criolla Chica/Listán Prieto/País out there; it has light and energy, with lots of inner strength. There's a lovely earthy component to it and the finish is long with agreeable tannins.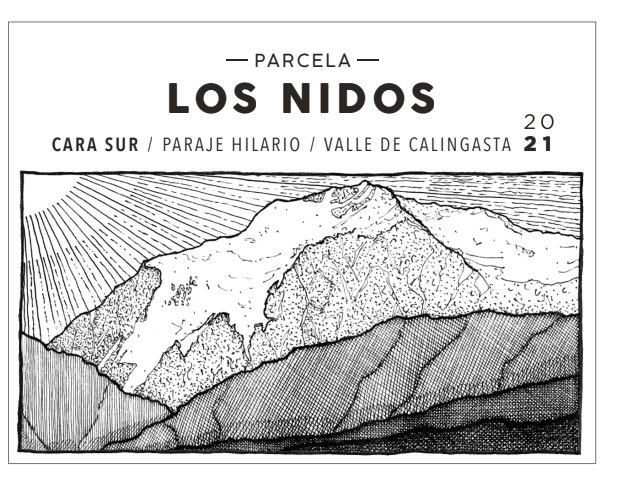 Parcela Los Nidos
Los Nidos is a 0.5-hectare plot, co-planted with different varieties of red grapes such as Barbera, Bonarda and Grignolino, as was traditionally done in the region. It is located in Hilario at 1,500 metres above sea level, comprising vines that are more than 80 years old. The soils belong to the high river terrace of Hilario, with the presence of colluvial material from the Andes Precordillera and a strong influence of the Los Patos River. Harvest in small crates takes place during March, the clusters are carefully selected and placed into an ovoid concrete container of 1860 litres. The stems are not removed and the grapes are foot trodden and crushed. Fermentation is spontaneous, with native yeasts and without temperature control. Maceration is lengthy (70 days) but infusive rather than extractive with the cap being wetted a couple of times a day. The wine is decanted into a 1000-litre concrete egg, for 8 months, until bottling without filtration and aged for a further year in the cellar before release. It has a very aromatic nose displaying cassis, cherry and nutmeg, and a palate marked by its balance and freshness, very fine tannins and dry and serious finish. Comparisons are invidious, but this reminds one of top-class Nebbiolo.
*
Interested in finding out more about the wines of Cara Sur? Contact us directly:
shop@lescaves.co.uk |  sales@lescaves.co.uk | 01483 538820