Rusticity refined from Argentina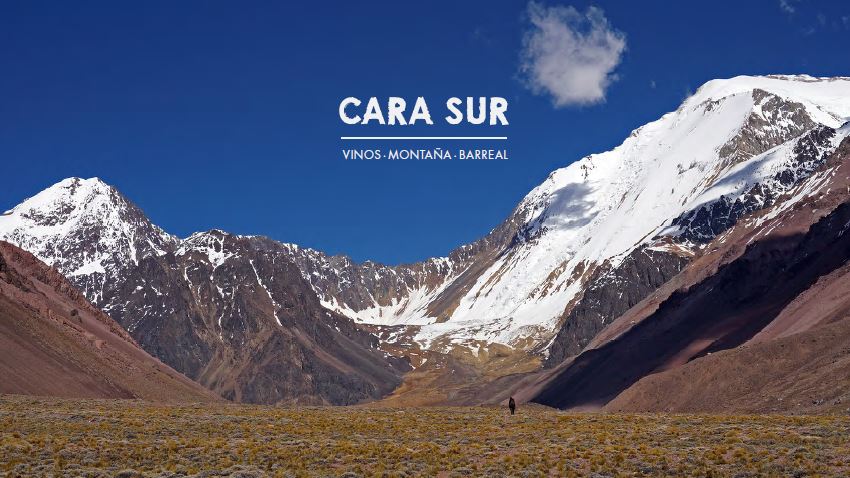 Cara Sur was formed in 2011 as a partnership between two couples inspired to revive ancestral vines and produce wines from traditional Argentine varietals. Sebastián Zuccardi and Marcela Manini teamed up with Nuria Año Gargiulo and Pancho Burgallo, an avid mountaineering couple who live in Barreal, in the Calingasta Valley of San Juan, north of Mendoza.  They produce wines from 80-year-old vines of Moscatel, Moscatel Negro, Bonarda Piedmontese, and Criolla Chica (the Argentine iteration of Pais).  The vines are Parral trained, a ceiling-trellised system that provides shade and maximises airflow.  The main vineyard sits alongside the Los Patos River on stony soil at 1500 metres above sea level.  The Cara Sur wines are made in a tiny winery next to Pancho and Nuria's home where they produce small quantities with minimal intervention.  Sebastián and Marcela regularly make the trip north to work alongside Pancho and Nuria.  The quartet are producing some of the most unique wines from one of the most underrated microclimates of Argentina.  Cara Sur translates to South Face and refers to the more challenging approach to Cerro Mercedario one of Argentina's tallest peaks, which can be seen from Barreal. Pancho notably once tried to tackle the legendary south face of this 6,720 m massif – in the middle of winter!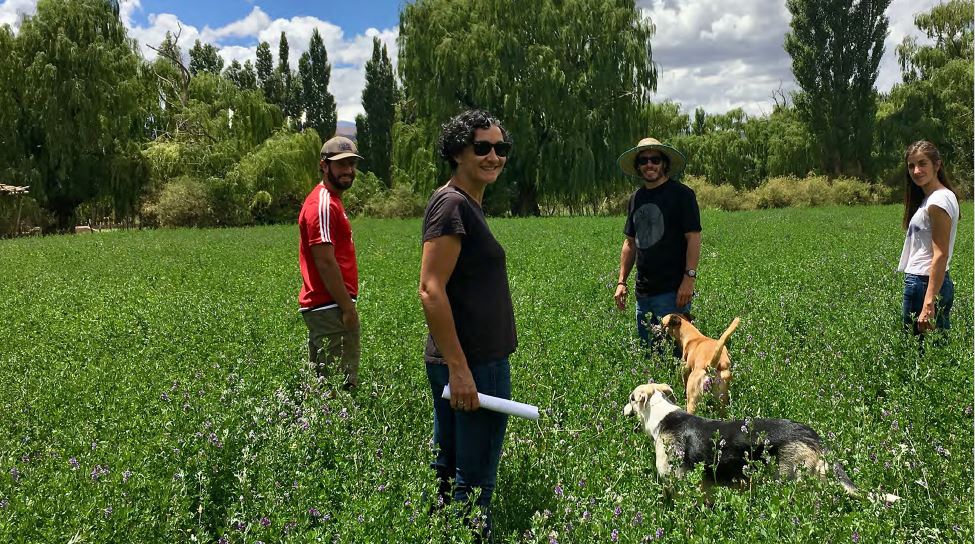 Zooming out for a moment, we are in the greater San Juan region, north of Mendoza, but that does not begin to tell the story about this isolated location. This is the north-south running Calingasta Valley, surrounded by mountains, wedged between the Precordillera and monumental rampart of the Cordillera de la Ramada that divides Chile and Argentina. The valley has the influence of three rivers: Los Patos; Castaño and Calingasta. The vineyards and winery are centred on the villages of Barreal, Hilario and Calingasta. These are tiny remote places with a narrow road and would be effectively desert, were it not for the rivers bringing glacial melt down. Needless to say, regular irrigation is used.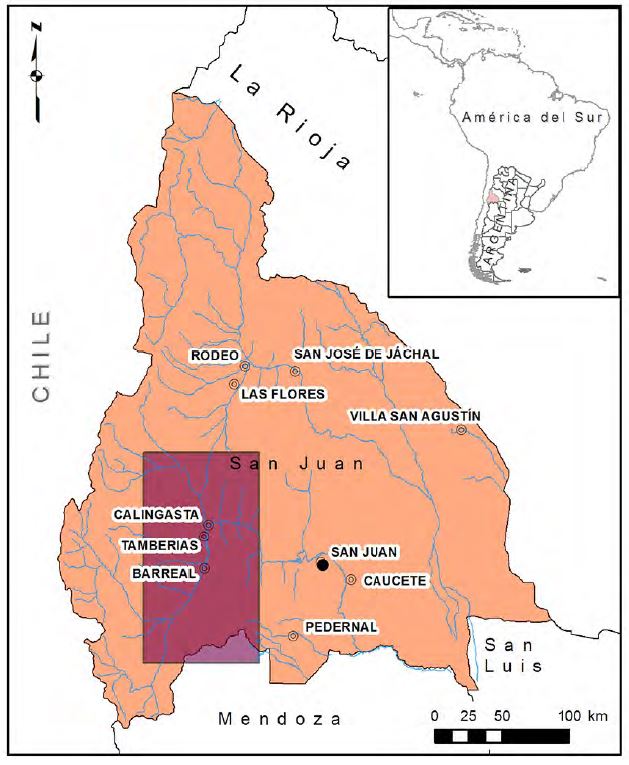 The days are hot, the nights very cold. The intensity of UV light makes the paraje system the most logical one here with its protective leaf canopy.
Vines are old (difficult to know how old with scanty records) with thick trunks and big variegated bunches of grapes hanging down randomly. The vineyards are natural and don't take kindly to hard pruning or regulating techniques. What you notice most, is the varying colour of the grapes – from purple to pink to golden and other colours in between. It is a riot of grape diversity.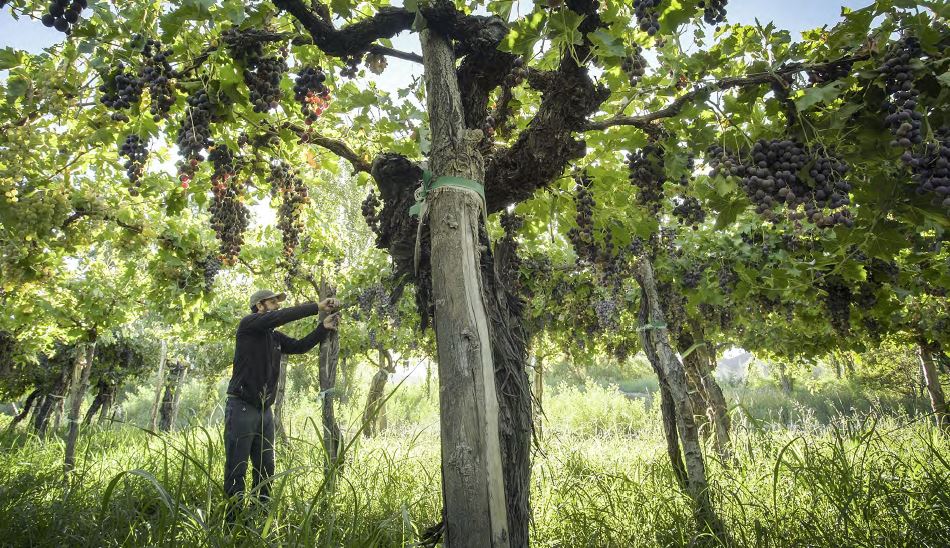 Sebastián showed us the baroque family tree of Criollas and crosses. Many descend from Muscat of Alexandria (Moscatel) and Listán Prieto (a.k.a. Mission) are the crossings of these grapes, and then is the way of things, further crossing and mutations. From these are derived varieties such as Canelon, Cereza, Criolla Grande, Malvasiá Criolla, Moscatel Amarillo, Torrontés Riojano, Torrontés Sanjuanino and many others. Each grape has its unique identity and the traditional co-plantation and co-fermentation is dedication to the heritage method of putting everything into the same wash to create wines with subtle inflections. The lighter and less intense grapes always ameliorate the darker and richer ones. It's a joyful harmony; it's rustic, it's traditional, respecting the heritage of mixed grape varieties – and it's natural.
As mentioned, this is the passion project of two families. It is probably fair to say that a few years ago, criolla wines were only consumed locally. The commercial Argentinean wine industry had hitched its colours to international varieties and winemaking was all about the maximum extraction of flavour.
At Cara Sur, just 40,000 bottles are made across the various ranges, with just over 1,000 bottles of the three single parcel wines. Sebastián, Marcela, Pancho and Nuria seek to produce wines with freshness, salinity, rusticity, texture. They are against colour, extraction and wood flavours. The vineyard itself is a palette of colours and flavours; their endeavour is to faithfully capture and translate this unique grape and terroir patrimony with the minimum of intrusive interventions.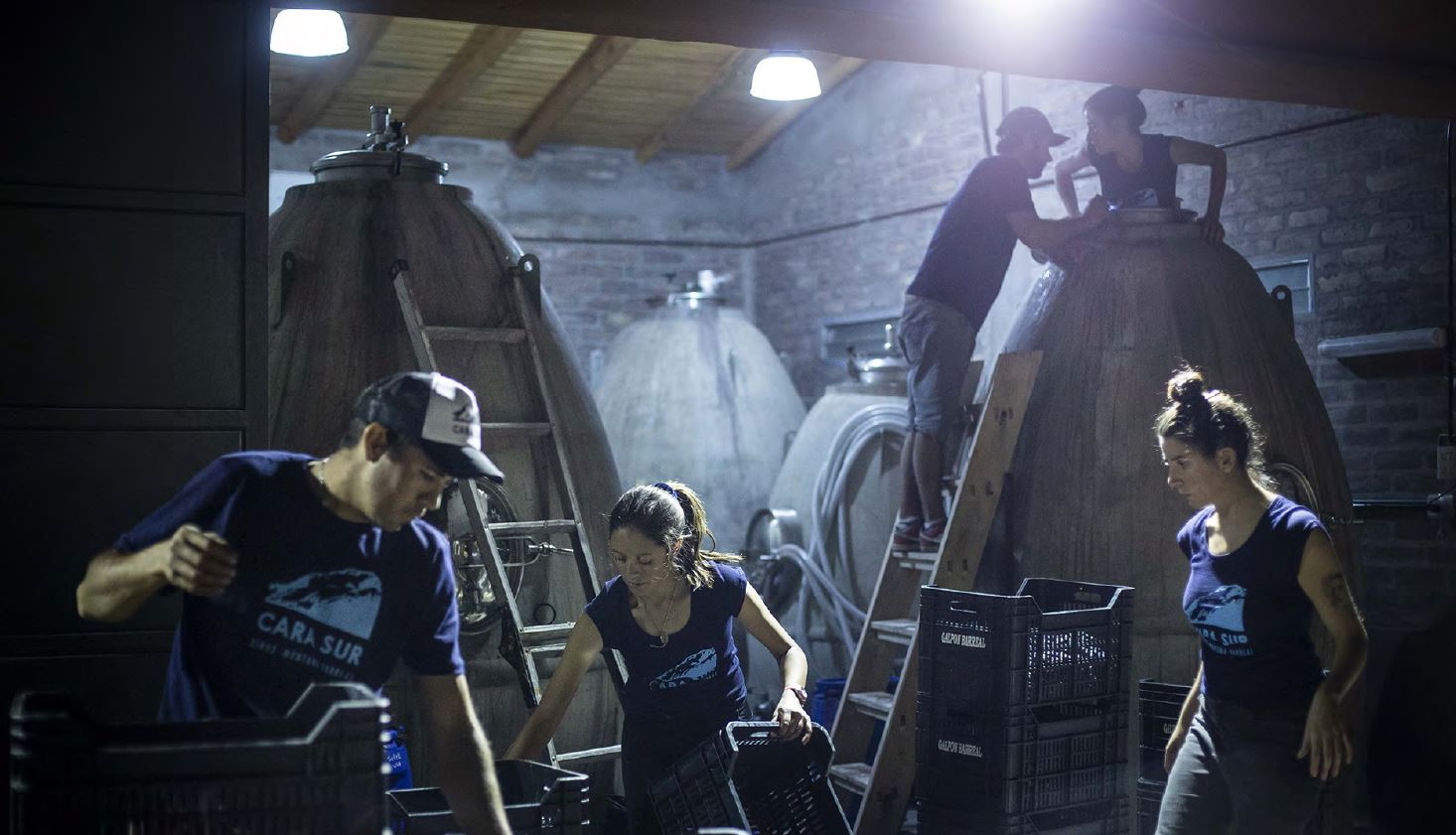 Sebastián likes to use the word rustic to describe the overall style of the wines. They are definitely not polished or aromatic. There is usually some skin contact, a degree of flor (on both whites and reds), fermentation is always ambient, malolactic invariably happens, the wines are never filtered or fined. Small quantities of sulphites are used; sometimes after fermentation finishes, usually a bit before bottling. The rough edges are deliberate, these wines are moreish and digestible. You can easily imagine them with food. The single vineyard wines are quite beautiful.
The wines are split into three ranges. The Viños del Valle (valley wines) called Pérgolas. These are blends from a multitude of tiny vineyard parcels through the valley. Then we have the Viños de Paraje (Patriminio) aka the Paraje Wines (Heritage) – divided into Cara Sur Criolla Family and Cara Sur Field Blends. Finally, the aforementioned Viños del Parcela (Parcel Wines), these last being from the sweet spots in the vineyard that give the best expression of the grapes and terroir.