Lisbonny-bonny wines
Vale da Capucha was started on the family property by Pedro Marques and Afonso Fernandes Marques within the Torres Vedras DOC, 45 minutes northwest of Lisbon, a mere 10 kms away from the Atlantic Ocean. He began his journey to running the estate when he was only a child, when he helped harvest every year. In 2003, he interned in California, and from there it was decided that winemaking would be his full-time career.
After travelling around Portugal and other cooler-climate wine growing areas, he began the process of transforming the property in 2007, resulting in the release of their first vintage in 2009/2010. They planted the whole estate, 13-hectares, with a medley of local Portuguese varieties: Arinto; Fernão Pires; Alvarinho: Antão Vaz; Gouveio; Viosinho; Castelao; Touriga Nacional and Tinta Roriz.
There were a couple of French varieties at the beginning that didn't work as well, Viognier and Syrah, both of which were regrafted to local varieties by Pedro. The estate lies on the slopes above the family estate on a vein of limestone from the Kimmeridgian era and enjoys a very temperate Atlantic climate.
The estate is farmed organically and is certified. Biodiversity is seen as a vital element of the vineyard. Sheep graze in winter, cover crops are sown, minimum tillage is the watchword. Plenty of "on foot vineyard work" too with green pruning and plant orientation in order to provide a healthy microclimate for the vines. Winter compost is added with vegetal applications and animal manure (horse, sheep, rabbit, poultry).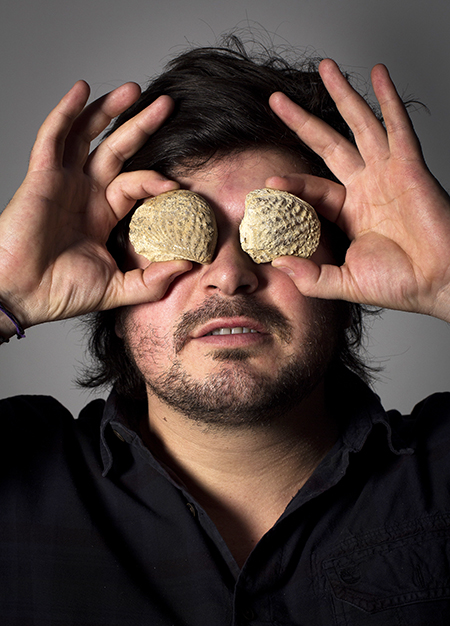 Pedro ferments all of his wines naturally and vinifications are done without any SO2 unless something extraordinary happens during harvest. The whites are pressed directly whole-cluster and moved to stainless for fermentation, before some of them are moved to demi-muids for élevage, usually lasting anywhere between 20 and 30 months. All estate grapes are between 10-15 years old, with some purchased grapes from other family members in Torres Vedras where the vines are older.
The key to all the wines is this special terroir, the grapes being conduits to show off that terroir. When you taste the wines, you are tasting the freshness and saltiness which comes from the high limestone content of the family vineyard's fossil-strewn calcareous slopes. Pedro, by the way, went fully organic in 2012, something he believed was essential for this transmission of unadulterated flavour. Hand-harvested and selected grapes and consistently low yields also helps in this endeavour.
After setting up the vineyard organically the next step was to make his wines naturally with no added yeasts or enzymes. And not only that, to exalt the lees that derive from the native ferments. The juice for Vale da Capucha's hand-picked grapes is settled and fermented naturally (with wild yeasts) on the lees at relatively warm temperatures (around 18 degrees centigrade) as Pedro values texture and body over aromatics. The use of barrels in the fermentation and the maturation process has increased the complexity of the wine, made them relaxed and less reductive. Not filtering either adds to the mouthfeel.
Moreover, he can afford to build body and texture because he has the opposite problem from most in Portugal – the high acidity which keeps Vale da Capucha wines so animated.
Arinto, which may justifiably lay claim to be a noble white Portuguese grape, hails from the Vinho Verde. It is renowned for its tears-of-limestone high natural acidity and presents a brilliantly linear chalky, mineral, citrus-crackling wine. The finish is searing, but the time spent in barrel has bequeathed it with an extra dimension. Having said that, this is also a powerful, warm vintage.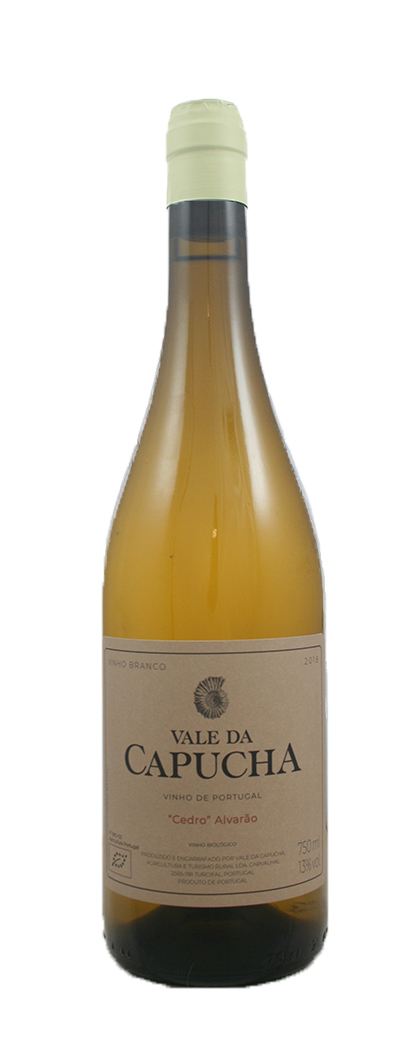 The Alvarinho Cedro works on so many levels. Banish the thoughts of Galician-style green or citrus-laden wines from your mind. The Capucha iteration spends 30 months on the lees in barrel (having been fermented in barrels) and is bottled without filtering and minimal to zero sulphites. A deep golden wine, redolent of sweet pears, juicy apple and ripe plums. Texturally, it builds in the mouth and just as you think it is going over into the lush tropical mode, a smart whipcrack of acidity snaps in.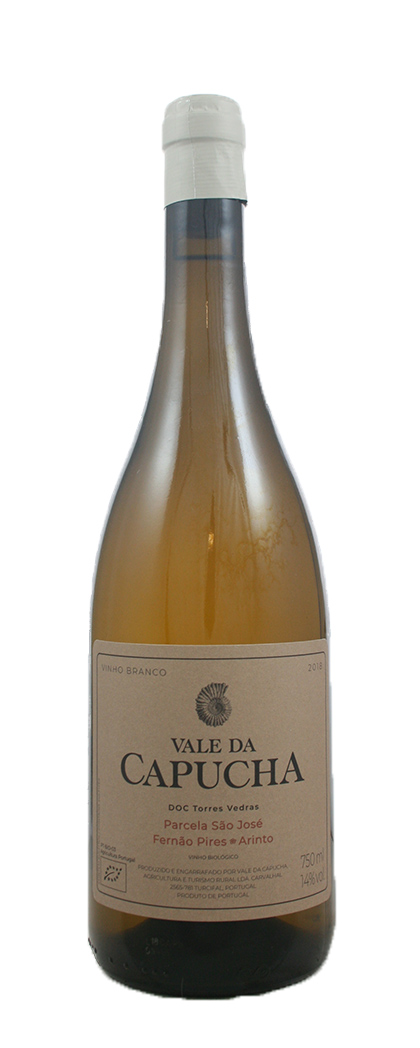 Capucha Branco is a blend of Fernao Pires and Arinto. The wine is straight pressed into a mix of tank and oak barrels, ferments naturally with its yeasts, and then is aged for a further 20 months on the lees. No racking, no filtering, no fining and only a tiny amount of sulphites added before bottling.
Palhete is our newbie from the estate, and a red. Sort of. It is made from Castelão, a hardy native grape that normally flourishes in the sandy soils of Setubal, as well as in the Douro where it is found in port blends. Also known as Periquita (parakeet). Whilst mostly robust and colourful, it is a slow ripening variety reaching phenolic maturation at low alcohol and on the calcareous soils around Lisbon, it can produce delicious refreshing wines for early drinking. In this case, Pedro is making a traditional version where the red grapes are fermented with white ones (Arinto, in this case). As Pedro says: "This wine is a popular one in our area. This is what people used to drink 100 years ago. Always white grapes and a bit of red. They would prefer it very light because it would be drunk to kill the thirst during the day outside working under the sun. Aka "Palheto" which is different from "Clarete" which is made with red grapes only."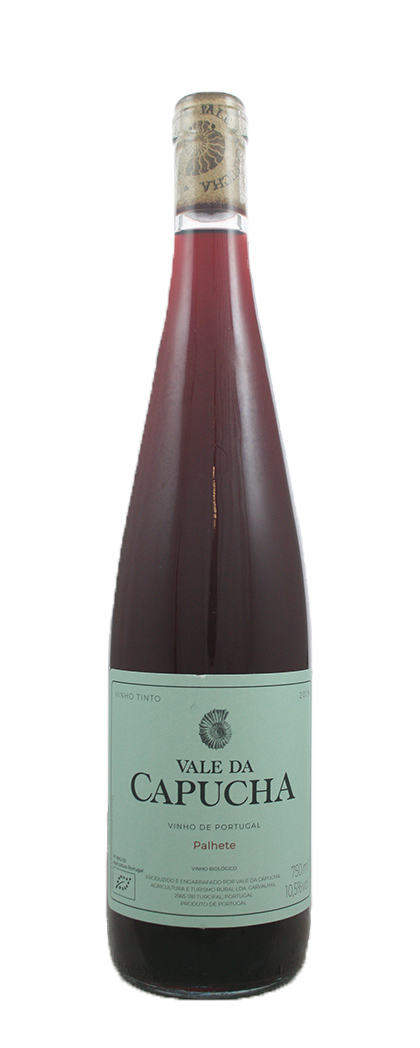 This is a lovely wine made from whole-bunch fermentation in small concrete tanks with native yeasts. The wine is unfiltered and bottled with minimal sulphites. Limber, lithe and stony-fresh with some sour cherry bite, the crispness from the Arinto kicking in at the end.
2018 Branco Blend
2019 Arinto Branco
2018 Alvarinho Cedro
2019 Palhete