This is a series profiling the producers on our list who make natural wines. Within this series we will be highlighting some of the extraordinary and rare bottles and vintages that have helped to shape our appreciation of natural wines over the years. Previous posts from our 100 Great Natural Wines series include Austria, Spain, and a hefty chunk of France & Italy, and can be found here.  
Lumping the New World, northern and southern hemisphere, into one, is a rookie error. Nevertheless, rooks must fly and thumbnail sketches must thumb.
Oregon – arguably – has the greatest concentration of vine growers working according to organic and biodynamic precepts in the world. The wine scene is positively communitarian – the majority of vineyards are within an hour's drive from Portland, the domaines are small, Oregon itself is where US Demeter originated, and the state really does pride itself on its environmental credentials. The natural wine scene comprises around 30 very small producers, but there are many more who work on the edges, are artisan in their hands-on approach and whose wines are eloquent expressions of terroir.
California is a different proposition and here history and geography play an important role in determining the nature of the wine scene. Napa and Sonoma dominate our perceptions of what Californian wines are all about, and there can be a sense of trying to outmuscle (out-Parker) the Bordelais and Burgundians and to make more architecturally-impressive wines.
The exciting work is being done at the fringes and on a shoestring, often by producers who work with old organically-farmed vineyards and who have to share winemaking facilities with a group of friends. Whereas Oregon trades heavily on Pinot Noir for historical and climatic reasons, Californian growers look to the Mediterranean as often as not for their inspiration. The younger generation of vignerons look to make their wines without the influence of oak and with minimal interventions. Drinkability is the key to the new New World natural wines.
We feature one producer from Vermont in our list of 100 Great Natural Wines. This small state has recently become a hotbed of exciting natural action, wherein hybrid varieties are elevated into making world-class wines.
MARESH VINEYARD PINOT NOIR ~ KELLEY FOX WINES
Volcanic jory story
Kelley Fox makes real wine. She takes quotidians, imperatives and impositions out of the equation. When you taste the wines, you try to respect the underlying processes and understand the place. For these are living wines, aromatically intense yet graceful, wilful and capricious, tough yet tender. They are palpably impalpable.
Formerly General Manager and Winemaker of Torii Mor Winery before working a stage at Gibbston Valley Wines with Grant Taylor. Eventually she became associate winemaker at The Eyrie Vineyards, making the wine for the late great David Lett, and moved on to become head winemaker at Scott Paul Winery in 2005. Her wines are bottled under Kelley Fox Wines and she sources biodynamically-grown fruit from the rather wonderful old Maresh Vineyards in the Dundee Hills and the Hyland Vineyard, Weber, Freedom Hill.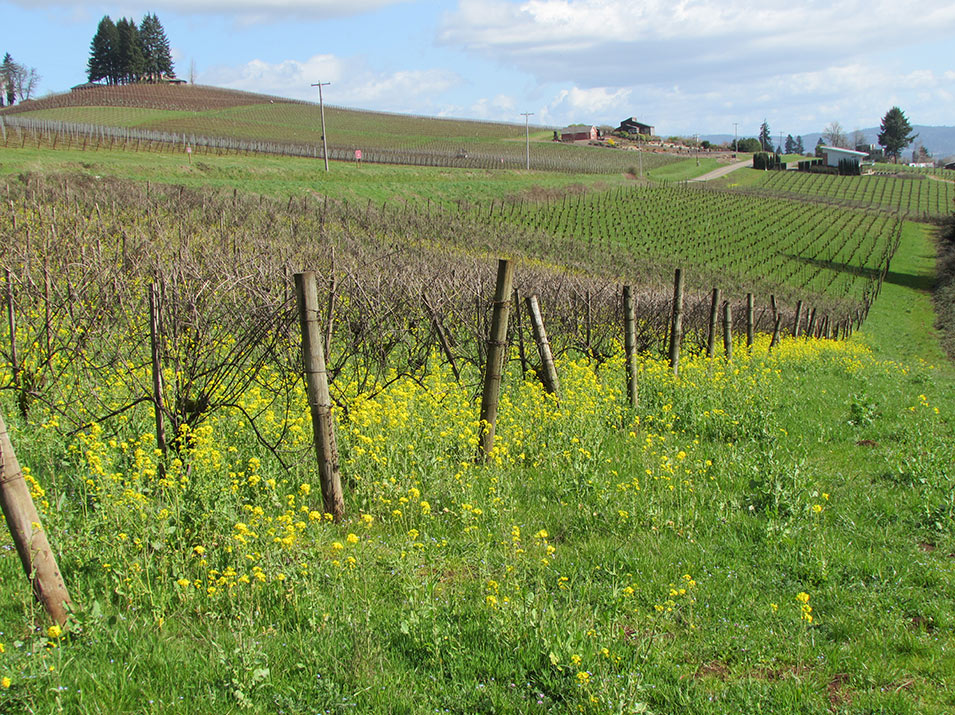 Kelley is the ultimate hands-on vigneronne, farming the vines herself, foot-stomping the grapes, overseeing every aspect of vinification as well as the nuts and bolts of winery management.  Kelley's wines are the living result of a dialogue between earth and air. She enjoys a tactile, spiritual relationship with her vines and is part of that dialogue herself. Her knowledge of them is profound; she feels the wines (almost painfully) as much as makes them.
As far as she is concerned, she exists to release and transmit the potential of the vineyard and does it most effectively when she is able to empty herself of emotion and ego. It is, at times, a painful birthing process, but there are compensations such as working in a spiritually healing environment amongst the flowers, the insects and the birds. All this imbues the hot blood of the wine and she is "the heart that watches and receives."
With this in mind to taste the wines properly is to try to sense them. With so much matter to decipher in the liquid the tools of language can be clumsy implements. True understanding lies in allowing the wine to reach out to you, unveiling its subtle art/magic by degrees, rather than straining to organise it into pat flavour compartments. The process of understanding is every bit as biodynamic as the culture within the vines, for it involves self-understanding as one of the preconditions for tuning into the natural frequencies of the wines themselves. The process of open understanding makes the wines nourishing, even healing.
And the wines are beautiful. Not in the sense of being conventionally pretty. Their feet (particularly in Maresh) stand in the volcanic red clay soils after all, but in the more provocative sense of the word. They challenge, they elicit a reaction, they connect you to different places.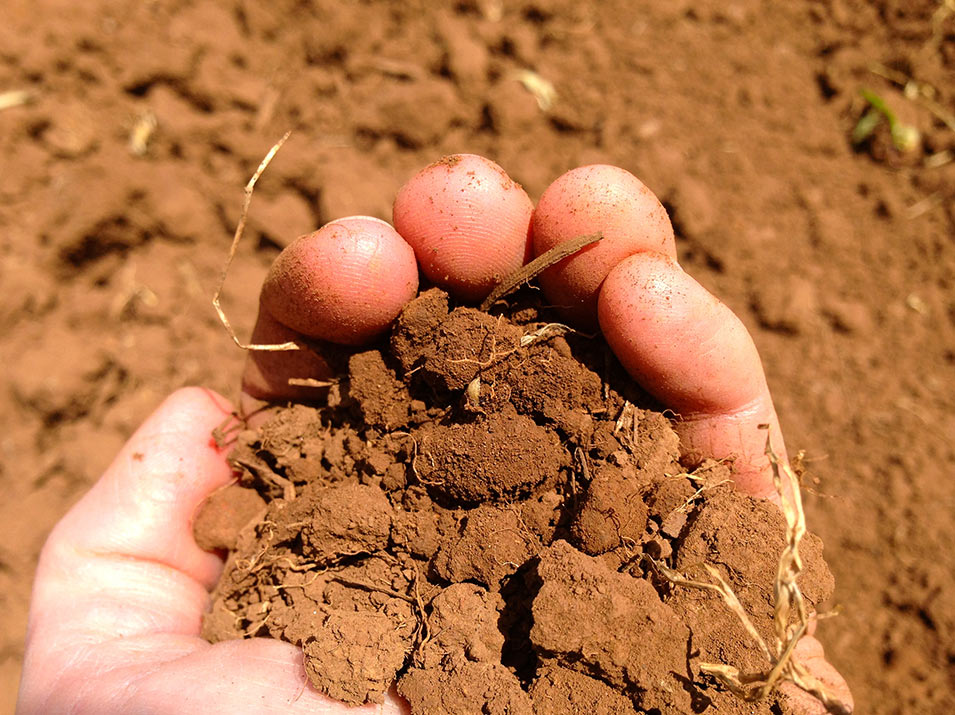 There's more. The wines are free. They have their light and their dark, their inner seams and outer delineations. They are strong without being heavy – and above all, they need time, their time.
There is no winemaking formula as such. No commercial yeasts or enzymes or additives. The fruit is harvested in the morning on favourable dates by taste or feel rather than analysis, hand-sorted at the winery. There is no cold-soaking and no pump-overs but Kelley personally does "whole-body" pigeage on the caps. Each block is fermented separately. The wines are pressed at dryness in a modern basket press and both the free-run and press wine are settled-separately-before barrelling down. Malolactic fermentations are spontaneous and bottling is about 11 months post-picking and on biodynamically-favourable dates. Normally the wines are not racked once the barrels are filled at harvest until assemblage/bottling.
The personalities of the vineyards are undeniably and understandably different and Kelley channels them into their final forms.
Maresh is on the volcanic brownish-red jory soils of the Dundee Hills – I can attest to their colour since my shoes are now permanently coated by the iron-hued dirt. The vines, planted on original rootstock, are almost venerable – one 2.29-acre block from 1970 is dry-farmed, another single acre block, similarly farmed since 1978. They teem with raw energy and the entire vineyard seems to emit a heady perfume.
The vineyard is ornery. Each vine cradles its own micro-system – some were a floral and vegetal riot. As Thoreau said:
Nature will bear the closest inspection; she invites us to lay our eye level with the smallest leaf, and take an insect view of its plain. She has no interstices; every part is full of life.
Maresh Vineyard Pinot has a delightful pinkish-red colour, its leanness and stone-fruit sparseness and al dente quality yet with something lovely and lingering shot through with wild strawberries, cherries, citrus and saline flickers. There are also background notes of wild herbs, earth, fennel, peppercorns and smoke. The herbal tannins lend a medicinal note.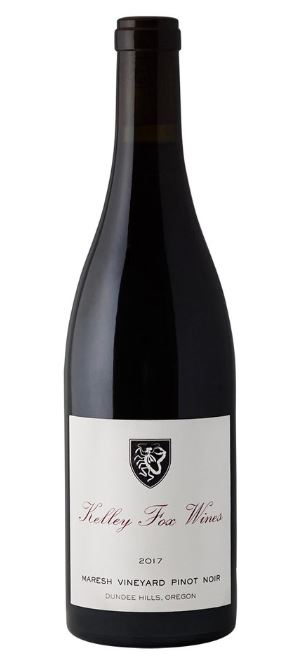 Once the wines are made, Kelley detaches from them. As the Georgians might say "she put them on their feet." She might deprecate the notion of being a winemaker. She is a combination of artisan, a communicator, a sensuous individual. She feels and understands natural beauty; she is brilliant, charismatic (yet reserved), loyal and respectful.  The wines reflect that – they make no concessions and are not polished to an easy sheen. They are what they are and isn't that the essential message of terroir?
You understand that the great wines have a natural arc of development; that the vineyards, the rows and the vines themselves are individuals and that wine is a kind of fluid music where the rhythms are always changing. If you have the wherewithal to tune in you may hear a unique song.
Why we love this: Like nature, like human nature, like the capricious Pinot Noir itself, the Maresh Pinot Noir is a wine of many moods.
If you like this: The whole farm at Pyramid Valley Vineyards comprises 200 acres of beautiful countryside in the Pyramid Valley in Northern Canterbury. Mike and Claudia Weersing developed four vineyards over fifteen years, two of Pinot Noir, two of Chardonnay. Their unusual shapes and differing sizes have been determined by describing, and then adhering to, discrete areas of homogenous soil and aspect. Each block was vinified and bottled separately, as an expression of its specific place.
It is important to talk about the purity of the wines. It takes a special farmer to channel the energy of nature and a special vigneron to give the wine space for it to express its terroir identity. As Mike said: "Wine to us is a genie, genius loci; our task is to coax it from its stone bottle. Wine's magical capacity for evoking site, we consider an obligation, as much as a gift. Every gesture we make, in the vineyard and winery, is a summons to the spirit of place. Biodynamics, hand-based viticulture, natural winemaking – these are all means we've adopted better to record and to transmit, with the greatest possible fidelity, this spirit's song."
In the end we have the memory of the wines not as products but as the voices of the people who brought them to life. They were truly world-class, not just because they appealed to me personally, but they eventually achieved global recognition that they deserved. The Chardonnays were thrilling, so different (although made in the same fashion), fine, linear, energetic and tensile. If they represented the cutting mineral force of crystalline intelligence, then the Pinot Noir represented the depth of spirit and emotion. Particularly, the Angel Flower Pinot Noir, so turbid and wild, with its aromas and flavours of wild strawberries and herbs. I consider the home vineyard wines to be an important part of my wine education, particular in regards to understanding how winemaking can channel and therefore respect the nuances of terroir.
GRACE & FAVOUR PET NAT ~ LA GARAGISTA
Grace notes & flavours granted
The project known as La Garagista Farm + Winery began in 2010. In essence, Deirdre and Caleb farm three parcels of co-planted, alpine varietals that are horticultural crosses of vinifera and native riparia and labrusca vines.  The family trees of these varietals are quite baroque and uniquely American. And in the native parlance they baroque and roll.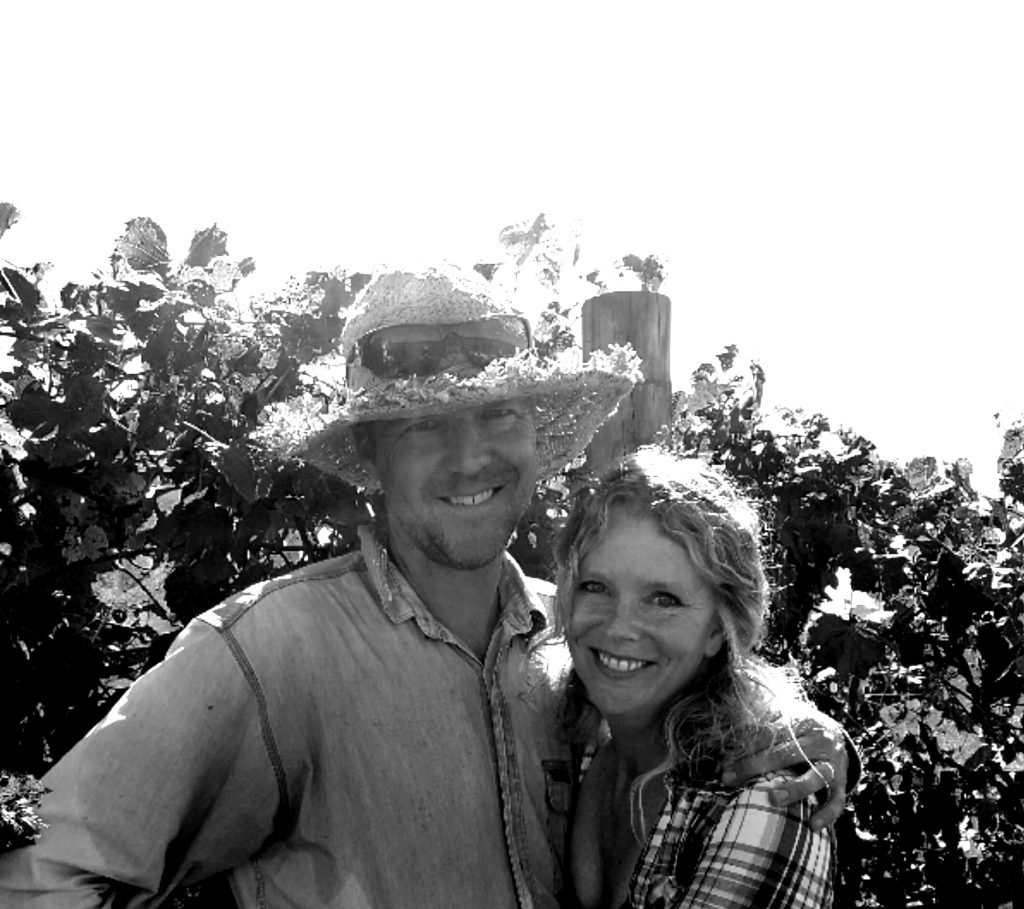 They practice biodynamics and also pull from diverse organic and permaculture concepts. Primarily, there is the home farm and vineyard in the Chateauguay, a protected forest in Barnard, Vermont (1600 feet) where they also grow vegetables and fruit and raise some livestock for their pop-up restaurant and event space, Hart. The farm is a polycultural project with vegetables, orchards, flower gardens, vines, and chickens all interplanted. The chickens are particularly interplanted. They also raise pigs on farm, utilizing them to naturally till new ground and to be the source of their farm-cured charcuterie. In the vineyard, they plant vegetables (but not chickens) between the vines focusing on root vegetables, escaroles and chicories, and flowers, all of which enrich the vitality of the soils in this parcel.
The two other parcels are in the Champlain Valley and are adjacent to Lake Champlain.  No-till and natural field cover crops are part of the farming at these two vineyards, encouraging the flora and fauna particular to each microclimate. Deirdre and Caleb use typical biodynamic preps of horn manure, silica, horsetail, stinging nettle, kaolin clay, and small amounts of minerals copper and sulphur due to intense humidity also experiment with plant medicines provided by the vineyard floor when needed.
Deirdre and Caleb's approach shows the value of biodynamics when it is practised with intuitive understanding. They have a sense of the vineyard as a whole and a sense of the vines in particular.
With their busy schedules and given the distances they need to travel the vineyards need to have healthy eco-systems and build up resistance to disease and their canny adaptation of the biodynamic remedies helps them to achieve this objective. At present the vines produce give pitifully small yields, but the quality is sublime, and when you taste the wines from say, La Crescent and Frontenac Gris, you may start to question the traditional hierarchy of noble grapes. For isn't quality really the result of responsive farming and interesting terroir?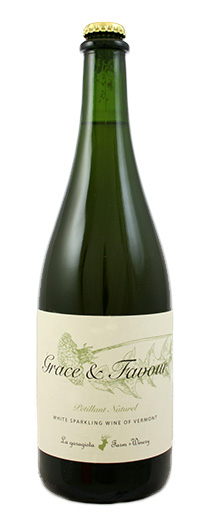 The name Grace & Favour is inspired by Hampton Court. (La Crescent is descendent from Muscat d'Ambourg, also known as Black Hambourg".  Deirdre writes: "The Great Vine at Hampton Court is Black Hambourg. "Caleb and I made a pilgrimage to pay our respects to the Vine and whilst there read some of the history of Hampton Court.  After Richelieu took over the palace from Henry the 8th, the apartments in the palace were given to ladies in waiting and chevaliers in "grace and favour".  We thought this was a perfect nod to La Crescent's parentage". 
The wine has a beautiful golden yellow colour and enchanting aromas of pollen, clover, red apples and grapes with naturally mouth-cleansing acidity.
Why we love this: There is something enchanting about Muscat-style wines when they are elevated by a disarming mixture of acidity and bitterness. The balance in this wine is terrific, the alpine meadow aromas bring a smile to your lips and the wine fills the mouth with crunchy bubbles – for want of a better expression.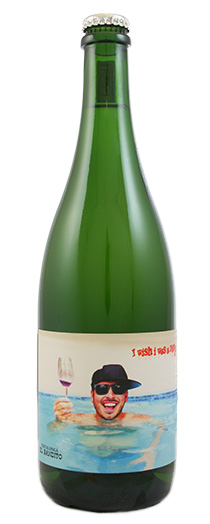 If you like this: Once upon a time, Craig Hawkins just made one pet nat. Now there are two. It is the original one that we return to with a great deal of pleasure, one called I Wish I Was A Ninja, the sort of casual observation you blurt out sometimes. The wine is from dry-farmed organic Colombard bush vines in the Paardeberg. The wine is fermented and racked several times to remove the sediment and bottled without addition. Beautifully crisp with bags of peachy fruit, its sweetness is offset by fine acidity and low ph.