Over the next few months we will be publishing diaries and journals featuring the various routines, practices and thoughts of the U.K. growers and producers that we work with.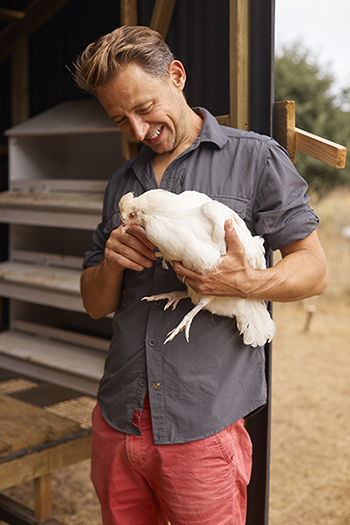 Here Richard Woodfine shares his thoughts about getting back into gear after a summer break, the challenges of sourcing grapes and the excitement and uncertainty of moving into a new winery.
Some background information about Woodfine Wine can be found here
What are you up to in September?
September is always a chaotic and busy month. We come into it after a summer of vineyard management, bottling, labelling, tours & tastings. I have a young family and my wife works, so juggling childcare in the holidays keeps us on our toes, but we love having the additional time with the kids once our heartrate subsides!
My family and I try and take a breath with a few days away at the end of August and then come straight back into a switch of gears to source grapes (for the first couple of years we do not have our own).
This is never fun and causes me a lot of anxiety as naturally there is uncertainty regarding provenance, fruit quality, volume, and even transport logistics! In parallel, we have more tours/tastings, harvesting/pressing of early apple varieties for our 'vin ed pom' skin-contact-cider (using both our own apples and those of others which means lots of scuttling around the village and nearby orchards…!). This year has been especially tricky because our new barn, which was due to be complete in June, is going to finish mid-September, meaning a winery move mid-ferment of cider, and my farm truck was written off by a man with a van, seemingly loaded with testosterone, right before harvest…meaning borrowing of vehicles to get fruit and move barn! Grrrr….
Having said all of that, it is always exciting to see the fruit developing, to pick it with friends, and then get the ferments going…after a year of not smelling fermenting juice this is the sentient element of what we do, and the beginnings of another cycle.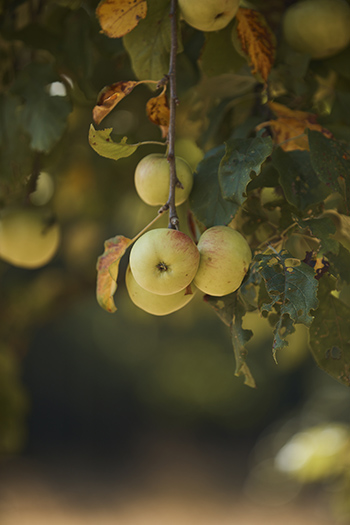 Predicted date of grape harvest? What are the grapes looking like? Potential yields? How has the year been?
We're looking first half of October for the harvest. A season of two halves, so far, or perhaps three quarters and one quarter…. Late frosts gave us a false start, and then months of heat and drought caused initial strong growth followed by stress and a need to water our two-year-old vines. It has been wet and humid since the weather broke in late August, bringing potential disease and necessitating sprays between the rains – or whenever possible. Having said that, yields look good and fruit quality high. As long as disease is kept at bay and always subject to the last month of weather…fingers crossed (for a successful vintage)!
What are you doing currently or in the next few weeks in the winery?
We have started pressing and fermenting the cider…necessarily in small tanks so that we can move them mid-ferment into the new barn. Next week, once the resin floor is completed, we will move bare essentials into the new barn as it is being finished around us! In the process, we will clean the tanks and barrels, so we are fully prepared for the reception of the grapes in a few weeks. We have purchased a new press this year (hydropress, still no electricity required!), which, once we can get it in the barn, I need to figure out how to use! We have very little equipment or consumables to purchase – one of the benefits of being a natural / zero addition winemaker.
What is going to be different this vintage in the way you do things?
The new barn, of course, and, as mentioned, some new equipment to get to grips with, but overall the ambition with the winemaking is to simply make slightly more of the same style/formats: sparkling Chardonnay/Pinot and a skin-contact-cider that is made with zero additions. I feel that I need to further develop consistency (at least in terms of direction, if not the finished product since we let the wine go where it wants), and 'consumer awareness / recognition'. As we move to using our own grapes, we will not only be working with the same ones as now, but also a few new varieties which will allow us to increase our volumes organically, and develop new and interesting styles, for instance using the PIWI grapes that have never been sprayed.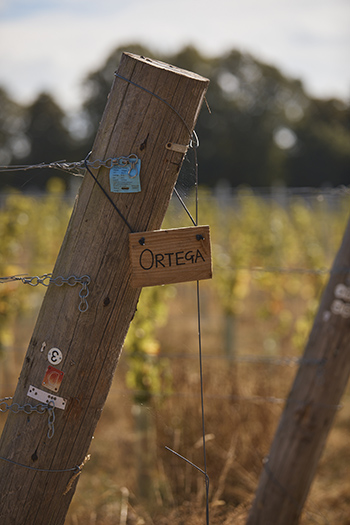 Any concerns?
Always. I am prone to anxiety by default, and whilst establishing a new business, I'm learning skills from scratch, and my inherent optimism sometimes leads me to trying to do too much. Regen agriculture requires consideration of the full breadth of crop, animal, ecosystem health…not just grapes and wine). However, I have this vain hope that once in the new barn, and we have transitioned to our own grapes and finally having established greater consumer recognition/awareness of what we are trying to do, that we may be able to plateau and consolidate for a while…which would be nice!
Who is helping you?
I am ever grateful to my family for absorbing impacts on all of us from the constant attention the farm, animals and business requires, and for helping me with my stresses and strains. In return, we all get to enjoy the ecosystem of our farm and vineyard, which is itself restorative for all of us. My wife is able to disconnect and breathe there, and our kids get to run amok in nature which we believe is good for development, independence, curiosity and [the] soul!
And then there is the volunteer army: Liz and Chris, a local family who are great friends and dedicate a lot of time and effort to supporting us, getting their hands dirty in pretty much everything. Plus, other local groups and individuals that get something from coming to help on occasion – whether it be pruning, pressing or picking veg from the no dig garden!
We are also supported by some of the local traders: the village pub, local stockists and restaurants etc. all of whom graciously spread the word of what we are doing.
Any events? Marketing initiatives? Other stuff on the farm/in the village?
We hope to run a joint event with Native Feasts, a pop up restaurant/home delivery/catering company set up by an ex-Michelin chef and sommelier combo. This is targeted for November in our new barn as a kind of 'opening'. We will have more tours/tastings and some Christmas events too. The local Christmas market in Seer Green hosted by the Jolly Cricketers pub is always a brilliant experience to meet the local village community.
Other? Things you've read? Conversations you've had that had an influence?
We are increasingly spending time/learning from the Soil Association and an ex-vet-now-nutritionist called Lucy Williamson. We are trying to add to their work focussing on understanding and communicating the importance of soil microbial health, through to plant and animal microbial health all the way through to the human gut health. The understanding is that sterilisation of that chain, at any point, could be detrimental to the human gut microbiome, which is now known to be essential to our own immunity (80% of our immunity is in our gut lining) and reduction of inflammatory disease, however that may show up. Collaborating with this team, we are trying to shine a light on how the land management, vineyard management and winemaking process can also draw lessons from the research done on foods. Essentially, the point is the fewer damaging sprays, fertilisers, and bactericides used on land and in winemaking process, the less will get into our gut, where it at best fails to feed our microbiota what they need, and, at worst, depletes and damages our existing gut microbiota.
*
Interested in finding out more about Woodfine Wines contact us directly:
shop@lescaves.co.uk |  sales@lescaves.co.uk | 01483 538820