A regenerative farming project in Bucks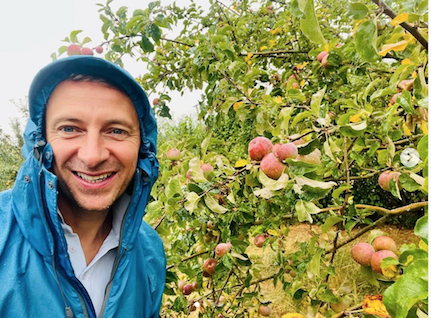 A couple of months ago we visited Richard Woodfine, eponymous founder and brains behind Woodfine Wine. He lives in Seer Green, a picturesque Chiltern village between Beaconsfield and Chalfont St Giles. After being diverted by a terminally-confused Satnav to a camping site outside the village, we eventually arrived at Newbarn Farm, a 300-year-old smallholding, backing onto the ancient and richly diverse Site of Special Scientific Interest, Hodgemoor Woods.
To understand the vineyard, you have to first understand the rationale behind the whole project.
But first a word about Richard. He studied Earth Sciences at Oxford, and His PhD, researching why coral reef ecosystems died during periods of global warming in the age sin of the dinosaurs: the Jurassic and Cretaceous, led him to travel, where he had some wonderful wine experiences. After several further years of commuting and office work, he wanted to combine his passion for wine and outdoors with his scientific background and business acumen. He taught himself winemaking initially, using Youtube videos and soon connected with other like-minded natural or low intervention winemakers, benefiting from their experience, lessons and wisdom.
The aim was apparently straightforward and that was to restore a biodiverse ecosystem to produce exceptional organic produce – with wine at its heart – for the local community and beyond.
The aspiration at Woodfine is to make natural wine, with zero additions of sulphites, yeast, or added sugar, or fining agents or chemicals of any kind. The winery itself is off grid.
Newbarn Farm is the heart of the project, now under conversion to organic status for the first time – creating a regenerative ecosystem that produces exquisite food and drink. Already, the farm is home to honeybees, wildflower meadows, hedgerows, chickens and grazing animals.
And then there's the larger ecosystem of Seer Green, the village. Almost everything they do has a local dimension – from families tending to the hens, to local artists creating the labels. Wherever they can, they keep produce, work and money flowing within the community.
The wild meadow is an indicator of the health of the surroundings and a testament to the resilience of nature when allowed and encouraged to do its own thing. We encountered innumerable and various types of butterfly and moth on our stroll, dragonflies too and other insects, as well as small birds and a hovering red kite. There were beehives (there had been a swarm there the previous night). Richard gave us a jar each of their honey as we left. And then there were chickens by the cluckful!
Woodfine use regenerative agricultural methods such as grazing animals, chickens, wildflower meadows (grazed by sheep), and bees to support natural management of the land, thereby improving organic carbon burial in the soil, eliminating herbicides and artificial nutrition, whilst also minimising pesticides and use of heavy machinery. Prunings, manure and compost is added back to land to create a circular system within the farm minimising import and export of materials. They also reduce reuse and recycle wherever possible, including bottles and upcycling of packaging.
To date, they have never used herbicide and are converting the entire footprint of the farm to organic, certified by the Soil Association. Further methods include biodynamic compost and spray preparations, including horn silica, equisetum, dandelion, yarrow, organic essential oils (thyme and eucalyptus), organic whey and more.
20% of the vineyard is dedicated to disease-resistant grape varietals ("PIWIs") that have never been sprayed with any pesticide at all. They have also never sprayed copper. And by using biodynamic, whey and bacillus bacteria-derived sprays they have reduced the use of sulphur in the remainder of the vineyard to less than 50% of all of their sprays. This aggressive reduction, avoidance and use of alternative sprays is not without risks and impact to the yield of grapes and wine, but they believe it is the right thing to do and helps to build soil health and vine resistance.
The vineyard is impressively healthy, vibrating with life and good energy with wild grasses, flowers and weeds growing between the vines, providing a good eco-system for biodiverse life forms.
Good things come from good places and real wines have an over-riding sense of place. The duty of the responsive vigneron is to listen to their vineyards and understand the nature of the grapes and the yeasts and to nurture the juice into living wine.
All this chimes with much of what we believe in at Les Caves: That small is beautiful, and that it is important to put back into the community
The aspiration at Woodfine is to make natural wine, with zero additions of sulphites, yeast, or added sugar, or fining agents or chemicals of any kind. The winery itself is off grid (in a tiny shed next to the vines) and Richard uses hand-powered equipment wherever possible, electric where it is not, with the latter running off renewable power supply. They use gravity to gently transfer wine from tank to tank, eliminating consumption of electricity and reducing the risk of oxygenation. He showed us a wonderful Heath-Robinsonian contraption rigged to the beams of the shed with pulleys and ropes designed to lift the tanks.
And the wines? It's all about natural sparkling, and mostly rosé, stemming from a belief that this part of the world has the potential to make excellent fizz. The climate, elevation, geology, soil and aspect are ideal. This doesn't mean it's easy – the vagaries of our marginal grape-growing climate ensure that.
Woodfine also give more than a nod to the heritage of England, its ancient orchards and the iconic, but much forgotten, cider apple and to make sparkling wine and cider in conjunction. Richard experiments, blends and co-ferment apples and grape skins. All in the effort to produce the best, most interesting, and most surprising sparkling wines and cider.
Currently, Woodfine make sparkling rosé four ways; all are different and natural, but connected by Pinot Noir. There is sparkling rosé, being a classic blend of Chardonnay and Pinot Noir; a single varietal Pinot Noir, a local field blend of Seyval Blanc, Auxerrois and Pinot Noir and a cider fermented on Pinot Noir grape skins.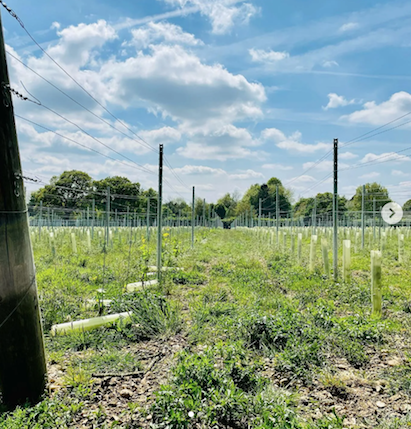 With all of the wines, the juice was left to spontaneously ferment using wild/native yeasts. There are zero additions of sulphites, sugar, fining agents and chemicals. All are then bottled by hand with zero disgorgement or dosage.
Richard talked to us about the philosophy of Woodfine wines, which one might describe using E.M. Forster's phrase "only connect." Many of the connections are visible, others occur beyond the visible world. Great wine is created in the entanglement of soil, vine, weather and ecosystem – that is a rough definition, after all of terroir.
The Woodfine labels allude to this,"Curling and flowing across our labels are mycelium threads, the fungal network in the soil that nourishes our vines and keeps this whole system connected – pulsing, communicating."
As Richard himself observes the soil, vine, grape and wine quality are all critically-dependent on these fungal networks, and so he believes they need to nourish the soil to enhance the life, ecosystem and products dependent on the land. This was evident, and even more so in the wild meadow which one walks through before one reaches the vineyard. Within a very short period of time, this has become a rich wildlife haven and one that has established an obvious eco-system. In terms of drainage and water retention, in terms of fostering micro-flora and beneficial bacteria, in terms of giving sustenance and resistance to the vines, this is the most ethical way to farm as well as the best way.
One aspect of terroir that we only tangentially allude to is the human element. Woodfine also believe that the interactions of the farm, vineyard and wine business with their community, and with all of the stakeholders, are a similarly entangled network that is exploratory, self-supporting, resilient and nourishing for those it connects. A winery gives employment to local people and businesses; it brings nature into the heart of the community, it provides an education for local people.
"Local artist Charlotte Cooper designs and hand-prints our labels. Each one is unique, with its mycelium threads connected to two others. We love the idea that these bottles go to different homes, creating invisible connections. And our handsome logo: designed by another local artist, Ellie Good."
All this chimes with much of what we believe in at Les Caves: That small is beautiful; that it is important to put back into the community; that the transactional part of the wine trade (making and selling wine) is less important than sustainability; that working towards a green agenda is paramount, and, engaging at all levels in as ethical a manner as possible is vital.
*
 Contact us directly:
shop@lescaves.co.uk |  sales@lescaves.co.uk | 01483 538820