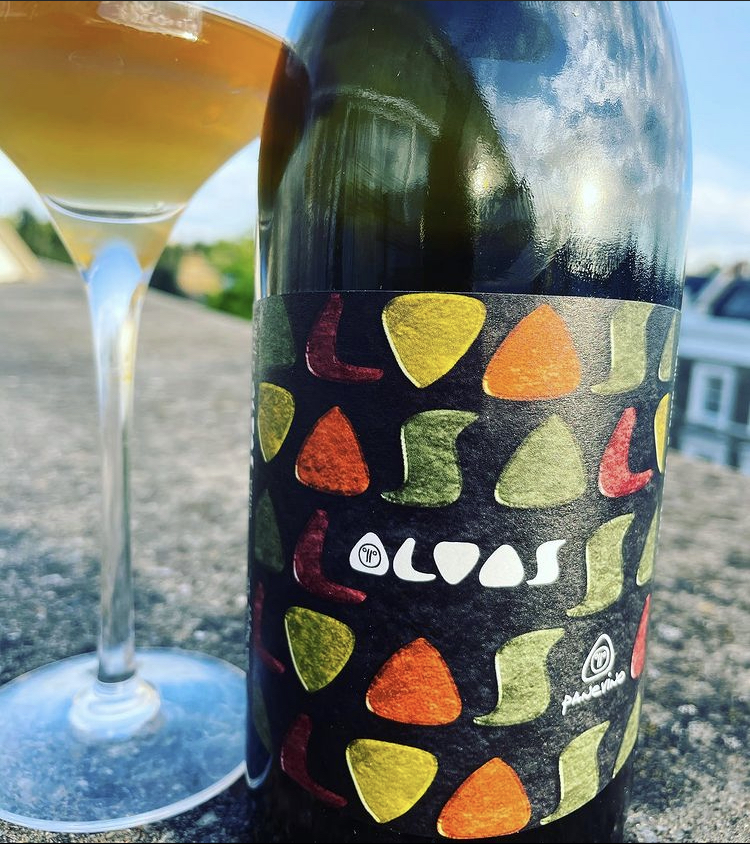 As I was supping an old old favourite t'other evening, I was thinking of formative wines, those that helped to change our perceptions and the way we think about the way we drink, serving to rearrange the very shape of our palates.
Tasting comes in many shapes and sizes and often with a lot of personal and educative baggage and a priori knowledge attached to it. We often choose to investigate the wine's antecedents, so that when we select the wine for tasting and/or consumption, it already seems familiar and accords with what we are looking for (in terms of what we like).
Wines that trigger epiphanies are a different species. They materially alter our views and leave visceral memories of the experience. Looking back at the wines that transformed me from a conventional wine-liker into a natural wine lover reveals some fascinating insights. I learned that when you assay a wine that hits the spot, both in terms of ravishing your taste buds and chiming with the psychological moment, it is usually down to a particular mood, feeling, or social context, one that can never exactly be replicated. Thus, any subsequent encounter with the wine in question may well not only lead to disappointment that is not only hard to swallow, but also makes you doubt the very emotional truth of the memories themselves.
Tasting comes in many shapes and sizes and often with a lot of personal and educative baggage and a priori knowledge attached to it.
Yesterday, with a mixture of anticipation and trepidation, I opened a bottle of Alvas Bianco from Panevino. Of all the producers we work with, Gianfranco Manca's wines are, and always have been, the lodestone of wild inconsistency. They are vintage-variable in the extreme, and extreme in the extreme! They are on the left hand side of the funk spectrum, except on those occasions when they are off the spectrum. This essential naked rusticity is what makes the wines beautiful in the eyes of certain beholders.
A little background first.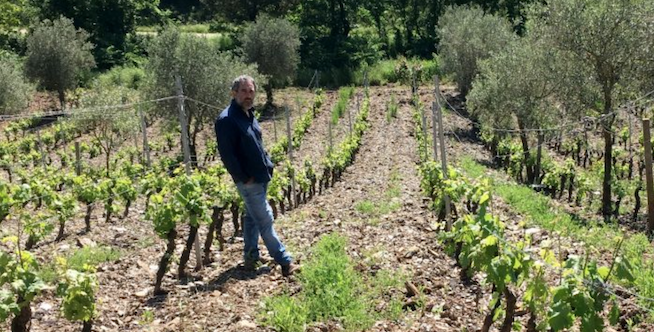 Gianfranco Manca, formerly a baker, who, having taken over his uncle's bakery, made delicious, prize-worthy Sardinian breads. With the bakery came some plots of land with some very old vines that had somehow remained despite being neglected for years. Panevino – you can see where I am going with this. The vines were trained in goblet, the traditional bush-system used on the islands of Italy, numbered over thirty different varieties, but mainly Cannonau, with some over 150-years-old. Since he was already an expert at fermentation with bread, Gianfranco believed a natural progression would be to understand wine fermentation with the help of these vines. He set about rehabilitating the old vines and planted a parcel of new vines of Monica and Carignano del Sulcis, the local strain of the famous grape. Although he started making wine in the mid 80's it wasn't until 2005 that he was ready to put a label on it and offer his interpretation to the rest of the world.
"Following the steps of my family that lives the vineyard life since over a century, "panevino" ("breadwine") is born. Why panevino? Panevino is the essence, the essential, simplicity, daily life, celebration, truth: Daily life turned into celebration, celebration every day. All that I bring it with me in the vineyard, I hoe it, prune it… The vineyard returns it in the shape of a few concentrated grape bunches. The vineyard is the heart of our farm's activity; it covers five hectares, the rest of our life laboratory is made of olive trees, corn, vegetables and legumes".

The vineyards are on exposed windy slopes with schist and limestone at five hundred metres altitude and are subject to dramatic temperature fluctuations. Yields are a fraction of the norm. Minimal intervention is the watchword – one treatment only with sulphur and lime, no fertilizers (other than what the donkey might release something once in a while!) The same principles apply throughout the winemaking process: manual harvest of grapes in small boxes, no fining, clarification, acidification or deacidification in the cellar. "We use only GRAPES (and prayers)" is the motto.
This essential naked rusticity is what makes the wines beautiful in the eyes of certain beholders.
Gianfranco Manco makes what nature gives him in each vintage. The whys and wherefores are irrelevant, you won't prise technical information from him – not even with a crowbar specially designed for the task. On one label it stated simply: "Su chi no nau" (what I do not say), a play on words with the name of its grape variety: Cannonau. What's in a name? This is a celebration of wine silence, that fantasy land where people simply enjoy wine for the sheer pleasure of it, without the usual hot and cold running commentary, without getting mired in technical detail or lumpen semantics.
Alvas is an extraordinary wine made with extended skin maceration (eighteen days). The motley cast of fragrant and spicy varieties features Retallada, Vernaccia, Nuragus, Seminano, Vermentino, Malvasia and Nasco. Nuragus has an interesting provenance: some experts believe that it was brought to the island during the XII century B.C. by Phoenicians; others believe that it's a native variety because its name is similar to the famous stone construction of Nuraghi. It's always been a resistant and adaptable variety and a good yielder: for this reason it is also known as "pagadeppidus" (pay debts), "preni tineddus" (fill up vats), and "uva de is paberus" (poor man's grapes).
Alvas (meaning white, but also alluding to the Malvasia in the heart of the blend) is hazy-amber with a subtle nose of orange flowers, verbena, ricard and apricot skin. It smells warm, like bread dough just taken out of the oven or apricots warming in the sun on a window sill. Round in the mouth, the wine picks up notes of apricot jam, ginger and white pepper (from the lees) as well as tannin and a faint nuttiness from the skin contact. More than these notes, the wine is living, gently mutating.
It smells warm, like bread dough just taken out of the oven or apricots warming in the sun on a window sill.
My first encounter with Alvas must have been around 14 years ago. In natural wine history, that is almost prehistoric. At the time, I had just made the acquaintance with the wines of Dario Princic and La Stoppa. A novice, these were my references in the amber wine world. Nor were many sans soufre wines available in the UK then. The first reds we shipped from Panevino were intense, but deceptively elegant. The Alvas was another matter. It was the wild child of the litter. The colour was extraordinary, less fixed than some, defiantly turbid and shifting in the light. The aromas were ebullient and elemental– the Malvasia aromatics were initially apparent, before the wine broadened out to show the coursing interplay between skin, lees and juice, rocks and garrigue. And then there was the funk, maybe a touch of brett on the fringes, but if anything that served to enhance the wine's wide-ranging flavour palette. And just as you thought this crazy ensemble would tumble off the cliff of good taste, it reined itself back, with brilliant insertions of tannin and spice. Whenever I wanted to show someone how thrilling and alternative a natural wine could be, I grabbed a bottle of Alvas.
And this time? The wine was as good as I remember. Good in a different way. It didn't shock me, but then how could it have the same impact? It was still, however, one of a kind; it spoke a transparently opaque wabi-sabi truth about its vintage and its terroir. I felt that even if there were technical flaws in the wine (is there brett? Is there VA? Do I care?), that they were both important and necessary in the same way that what marks us out as individuals is our deviation from the norm.
Was there a tad more finesse and freshness present on this occasion? You would not describe the wine as linear, yet there was a seam (call it minerality) which kept the wine tense and vibrating. The no-sulphur element came across as integrity rather than wanton weirdness and the skin contact like a tight canvas wrapped around the fruit, gave an impression of corduroy texture.
And this time? The wine was as good as I remember. Good in a different way.
It is not that this is a natural wine because one may categorise it as such, it is that it feels natural, a wine liberated from conventional structure, and thus a wine that is able to tap into one's subconscious.
Taste is fluid as we know. It is dependent on the wine and, perhaps more often, on one's mood. My first encounters with raw natural wines were influenced by the fact that I had no reference points, and therefore was entirely open to these novel aromas and flavours that I was experiencing. Often one is in analytical mode, dissecting wine in terms of each and every aspect of appearance, smell and flavour, and consciously or unconsciously marking it according to normative values. But taste is also what feels good or right at a given moment. And since the way we feel changes constantly, our tastes may also change accordingly.
Certain skin-contact wines force you to taste–to experience–wine in a new light. To adapt Niels Bohr, those who are not profoundly shocked by orange wine, haven't understood it!
Now, I sometimes seek a quality in wine that can only be described as tactility. It is that quality wherein the liquid touches taste-buds in such a way – both physically and aromatically – that it engenders a sense of total phenolic engagement. Although certain white wines can give me the same pleasure, I love to drink skin contact/amber wines for the very reason that they encourage you to roll them around the entirety of your mouth, to explore them as textural things, and to find a three-dimensional language to describe the sensations. A textural wine resists a glib description, it does not normally surrender its all at first sniff or gulp, and so requires sensitivity and understanding. As I tried to write notes to record my perceptions of the Alvas, I realised how inadequate they were, two-dimensional depictions in a 3-D world.
As if using all their senses to taste, rather than just their tongues, certain individuals seem to be more physiologically tuned into the tactile bandwidth of the wines. Those people may even experience a frisson, that overwhelming emotional response to stimuli, expressed in a tingling sensation.
Although, I suppose, any smell or taste sensations may take you on a synaesthetic journey or evoke a frisson, there are wines that, by virtue of their very colour or textural weave, are more likely to evoke this. The wines themselves may be complex and complete, but to appreciate them you must be receptive.
I love to drink skin contact/amber wines for the very reason that they encourage you to roll them around the entirety of your mouth.
Amber/orange wines with their textural subtlety and complexity seem to tap into other areas. The best of these wines, when we feel them in our mouth, give us the impression that we are touching them with many other parts of our body at the same time. With these wines, however, you must start with their evocative colour, which resonates on so many levels. Orange, for example, combines the energy of red and the happiness of yellow. It is associated with joy, sunshine and heat. It also represents enthusiasm, fascination, happiness, creativity, determination, attraction, success, encouragement, and stimulation.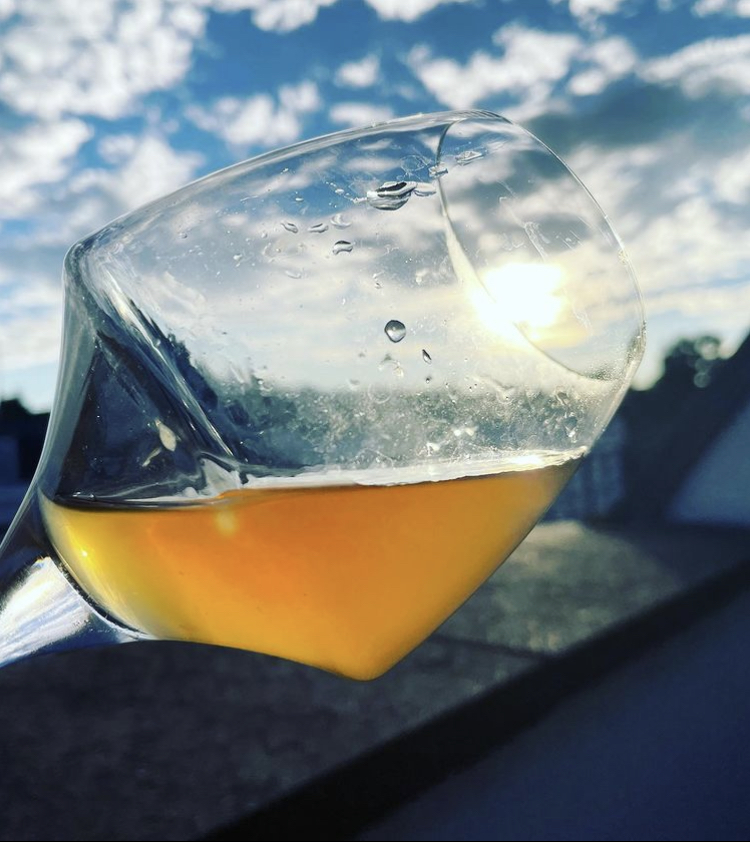 Wine-tasting notes are based on clear distinctions and precise evaluative terminology – of oppositions between white versus red, the clean skin versus maceration, and describing the relative body of the wine in question. You can call a wine unfiltered or cloudy, but that doesn't come close to describing the quality of its colour. When we have a wine that has a colour that seems to shift according to the light, that possesses a special energy of its own, aromatics that are more than primary, and a texture that is multi-rhythmic and multi-layered, then this is a wine that by its very nature has the wherewithal to bathe our senses in ambient pleasure.
If amber wines were music, they would be as live performances, fuzzy, rough-edged and unpredictable. Their tactility means that you can touch them at the same time as they touch you. And like the best live music, they may give one a peculiar frisson.
Drinking the Panevino Alvas this time was still like experiencing (being immersed in) a live performance, just a different one to the original. The fact that it impelled me to write about it, shows that these madeleine moments, these echoes of past epiphanies, are very powerful.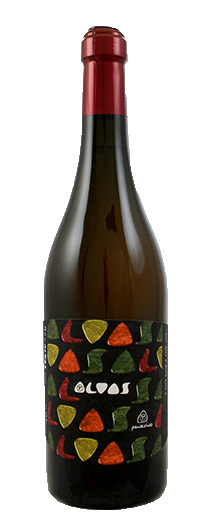 *
Interested in finding more about the wines of AA Panevino? Contact us directly:
shop@lescaves.co.uk |  sales@lescaves.co.uk | 01483 538820