We caught up with Ben Walgate at Tillingham, in East Sussex, and discussed how the 2022 harvest has gone as well as more generally how things are going at Peasmarsh.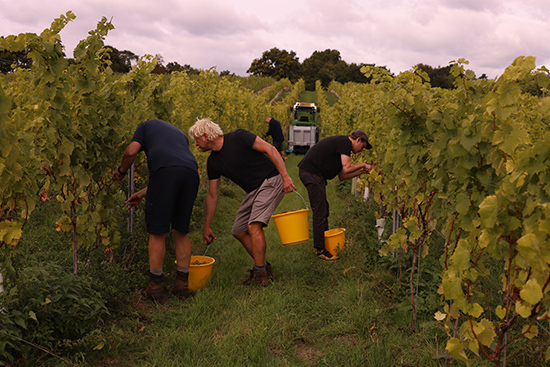 Tell us about the vintage that has just finished – quantity, quality, as well as any difficulties? Anything was going to be better than 2021 from our vine grower's perspective. We didn't see the frosts or downy mildew that marked 2021. The defining feature of '22 was drought. Here at Tillingham we had next-to-zero rainfall for June and July, the vines were visibly stressed, so much so that we hand watered all thirty-nine thousand vines. Despite doing so, in some parts the vineyard, the bunches aborted as the vines made the decision to reserve what little water they had available for their own survival. So, yield down, but quality was great and the first time we have seen decent amounts of fruit from some of our 2019 plantings.
Do you already have some idea of what kind of wines will emerge from 2022? Very much so. At the time of vintage you know roughly what you have coming in, so you'll know you'll be making some red wine, sparkling etc. – then during the vintage as the fruit actually arrives and you taste it, you need to react and what you may have thought you were going to take in one direction, you may then need to alter course. You also need to take into consideration not only what is best for the wine, but also what else is happening in the cellar, and what the commercial ramifications of your choices will be. All of this when you're often doing 20 hours a day – the mental fatigue can be gruelling. It is by far and away the time when the winemaker is of most significance in the overall picture.
Based on tasting through all of the ferments and young wines, I can see around 20 justifiable, standalone wines. Of this around nine are from grapes from own vineyards. There will be the usual repeats of established wines: Pinot Blanc, Pinot Noir, End Grain, the Qvevri wines and PN22. The domaine wines is where there will be a lot of new things coming. A real mixture of red, whites, rosé – some progressive and some very classic.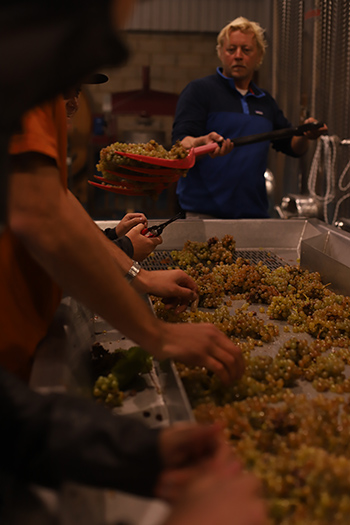 Tell us about regenerative farming and how you are applying this to the domaine vineyards. I have written a very lengthy piece on our website journal on this very subject, a no-holds-barred sort of thing. In short, our farm and our soils needed help, just being biodynamic or organic wasn't going to work. The loss of topsoil is one of the greatest environmental disasters of the modern era. This is where all the biology exists in the soil. Fungi are key to vine nutrition and immune response. We aren't going to make good wine in a viable way if we don't build healthy soil. Increasing organic matter and boosting fungal life in the soil are the mainstays of our farming approach.
The whole philosophy of Tillingham is geared towards sustainability. Can you describe in what areas you apply it? Things like field to fork eating and reducing all that we buy in and what we might have wasted are a solid start. The next step is about trying to be as good as you can be at every level of the organisation. My view has always been a holistic one and over the past 6 years the connectedness of all elements here is what makes the business as sustainable as it can be. It's more than managing waste (colour coded bins or making compost) it's about mind-set and how people can multitask and contribute in various areas of the business. People are at the heart of any business, hopefully as we start to mature as a business we are beginning to have the foundations for creating a settled and rewarding place to work.
What are we looking forward in the next few months in terms of releases? We waited to bottle the last of the 2021s until they were absolutely ready. Normally we bottle pretty much everything before the next vintage to free up all of the space in the winery. Not so this year, as I felt the Pinot Noir and the Qvevri White needed that extra few months. I'm glad I did. Alongside these releases, we have the latest End Grain, also from 21, a more delicate iteration than previous outings. One of the domaine field blends: Field Blend One 2021 – aromatic but serious. The latest edition of Flor (which is a blend of two barrels of Flor aged chardonnay, one from 2019 and one from 2020). And finally, Pinot Blanc NV – which takes one barrel of 2020 and a barrel of 2021 with some from Qvevri too. Out of the four vintages working with this fruit, this is my favourite Pinot Blanc to date.
Since your first vintage at Tillingham how would you say your approach to winemaking has developed? There have now been 6 vintages at Tillingham. A need to experiment and curiosity were the two driving forces that led me to make as many wines as we have to date (around 70 or so). I've been trying to find out what works, but also what works in any given vintage whilst grappling with a mix of growers' fruit and our own establishing vines, all that overlaid with an evolving personal taste or preference. I'm happy with our overall approach now and think that we saw some of our best wines yet in 2021, and 2022 is by far the best yet. Tasting back through the archives, some of the wines are really great, but there's like one or two hits in each vintage, and the rest were 'solid efforts' or 'nice tries'. I hope the wines now begin to reflect the fact that we're starting to find our way and are beginning to have a certain assuredness.
Which wine have you been most proud of from the 21 vintage? The upcoming Pinot Noir typifies our willingness to give new things a try and to borrow from growers that inspire us. Seb, our former assistant winemaker, was always a big fan of whole cluster and it had become a preoccupation since 2020. The vintage had been miserable and the fruit that came in, though clean, didn't suggest the levels of maturity that shouted WHOLE BUNCH, but based on trials we had done in 2020, we had the confidence to persevere with a 40% whole bunch red ferment for a little over three weeks. The results, after patient ageing in barrel, are very satisfying.
Small businesses have had a tough time in the past couple of years. What could the government do to help more? I think, especially for wine producers, creating a level playing field with our counterparts in Europe would be a huge help. The level of excise duty that is levied on UK-grown wines consumed in the UK is simply ridiculous.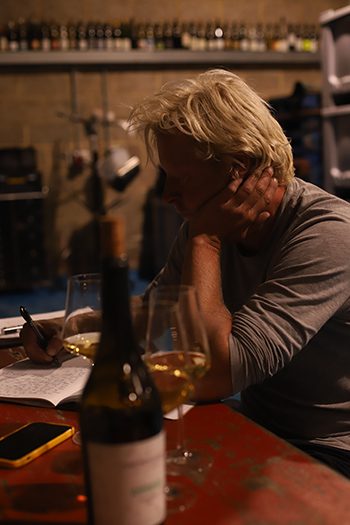 Tillingham Vintage Report 2022 (Ben Walgate)
The year got off to an early start with buds swelling in late March, with Chardonnay bursting bud by 3rd of April. Frosts were mercifully light in number and severity. Flowering went smoothly, a stuttering start but finished well: very early flowering varieties suffered a little with uneven pollination due to some showers and colder days, but on the whole flowering weather was favourable. The vintage was defined however by unprecedented drought, through June, July and August there was very little rain and looking at the bunches when we came to harvest, in areas where there was less topsoil, we saw some bunches aborting or not filling out at all. Based on comparative bunch weights from good blocks our bunch weights were 30% down. Areas where there was drought stress also coincided with some disease incidence, with some small, isolated outbreaks of powdery mildew. Heartbreakingly just before harvest, there were some significant losses of Ortega to birds, wasps and badgers, one theory I have heard is that this could be a symptom perhaps of vines in stress producing more simple (and moreish) sugars.
Overall I have been really excited to see the quality of the varieties across the 6 blocks of vineyards we have here. An exciting window into what lies ahead here at Tillingham. Bear in mind that in our previous two vintages we have only had enough fruit to make field blends, never enough of one variety to vinify it on its own. Our production this year was 20 tonnes, and plenty of volume of our major varieties such as Pinot Noir, Chardonnay and Pinot Meunier, so plenty of red and white and rosé from those three. Also the first time we have seen meaningful amounts of more experimental grapes such as Gamay and Pineau d'Aunis. Initial indications are very positive.
We bought in another 35 tonnes, largely from our main growers in Essex and Suffolk. Quality here was very high, some of the Essex fruit was significantly lighter than anticipated, again due to drought stress. While in Suffolk the yields were only slightly below what was expected.
As with 2020, the lower acidity across the board has meant that traditional method sparkling will represent only 7% of production. Interestingly, a lot more red wine than we've ever made before, with around seven wines in total. Skin contact whites have been less of a feature this year due to, a lack of availability of suitable grapes and my own personal taste changing, meaning we will be making more delicate and pristine whites. Looking at what we have in tank, barrel and qvevri etc, there's a good twenty individual wines to come, among them nine originating from our own soils.