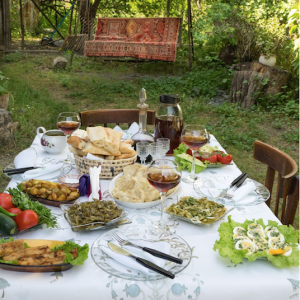 Georgian wines, that is, wines from the Republic of Georgia, have certainly been capturing the hearts and minds of the UK trade over the past few years. For seekers of authenticity and tradition, Georgia may be viewed as a place that could claim an original— in fact, THE original—wine culture, namely 8,000 years of cultivating and drinking wine.
Georgian hospitality is legendary. Sommeliers, journalists, retailers and importers have visited this small country with its sizeable wine history and fallen in love with the wines, the growers and the country itself.
Georgian winemaking methodology is intriguing and attractive, as much about instinct and ritual as scientific process. Macerating grapes for a lengthy period on their skins, fermenting and ageing in large underground terracotta clay pots (qvevri) gives these wines a different textural dimension and new flavours. And, as the wines became better-known and appreciated, their style was copied or adapted by vignerons from other regions and wine cultures.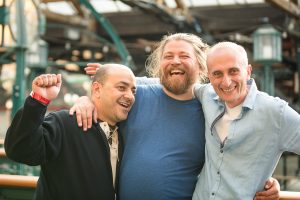 Georgian hospitality is legendary. Sommeliers, journalists, retailers and importers have visited this small country with its sizeable wine history and fallen in love with the wines, the growers and the country itself.
We have refreshed our selection with new vintages and a few new wines.
Pheasant's Tears, Sighnagi, Kakheti
Pheasant's Tears, a project run by John Wurdeman and Gela Patalishvili, was originally set up to revive the ancient traditions of Georgian winemaking. The vineyard plantings flow down the slopes of the eastern Georgian Kiziqi province overlooking the Alazani Valley and snow-capped Caucasus Mountains. The Pheasant's Tears' principal site is located near the village of Tibaani in the shadow of the 6th-century Monastery of St. Stephen. They also own several vineyards spread over several villages – there are 15 ha currently under vine, with various others in the process of being planted. In Tibaani, John and Gela are dedicating vineyards to rare white varietals.
The Tsolikouri comes from the town of Vani in Imereti in central/west Georgia, near the historical capital of Colchis (the name of the ancient kingdom). The lightest and most citrus of the PT wines. The floral minty Chinuri is from a vineyard in Kartli; this version has around 30 days on skins. The Rkatsiteli Bodbishkhevi and Buera Grdzeltevanma are more classically amber in hue with texture and tannins, the latter having undergone six months of maceration on grapeskins. Poliphonia is a light red, a blend of 417 endemic Georgian varieties from a mixed field with 1-10 plants of each of the 417 varieties. They harvest in three or so sweeps, as they all ripen at different times, so you get white, golden greenish, blue, purple, grey pink grapes at various level of ripeness that finish co-fermenting together. The Shavkapito (60% stems) and Saperavi are inky-dark and more pungent (but very drinkable) and fantastic with roast meats and mushrooms.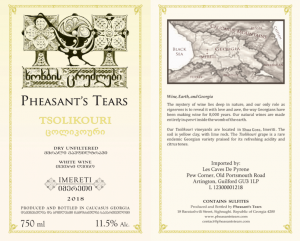 2018 Tsolikouri Vani No Skin Contact
2018 Chinuri Skin Contact (NEW)
2018 Rkatsiteli Bodbiskhevi
2018 Buera-Grdzeltevanma – £13.00 (SKIN CONTACT) – NEW
2018 Poliphonia Red
2018 Shavkapito
2018 Saperavi
Iago's Wine, Chardhaki, Kartli
This estate has been owned by the Bitarishvili family for 20 years. Iago Bitarishvili is the current owner and family member who farms its land. His family were given this vineyard by the state, following the land reforms in 1992.
His Chinuri is from a sixty-year old-vineyard (and one of the first to be certified organic in Georgia). A richer version of this grape variety, crushed and then fermented in qvevri with six months on skins. Plenty of acidity to balance the spicy richness of the wine.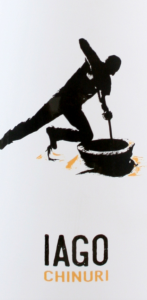 2017 Chunuri Skin Contact
Marina Kurtanidze, Kartli
A brilliant example of Mtsvane (which means green in Georgian) from a vineyard at 500m above sea level in Kakheti. This version has around seven months on its skins in old qvevri, deriving a rich dark pink-amber over that period. Flavours of pink grapefruit, exotic spice, and lovely tannic finish. Nothing added to – or taken away – from this wine.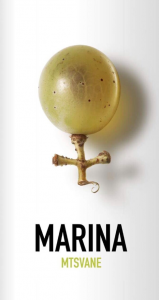 2017 Mtsvane Skin Contact Qvevri 7
2017 Mtsvane Skin Contact Qvevri 9
Zurab Topuridze, Guria & Kakheti
The appropriately named Golden Blend is a blend of 25% Rkatsiteli, 25% Mtsvane, 25% Kisi, 25% Khikhvi fermented and aged for seven months (with skins and stems) in qvevri. The Saperavi is a light and sappy take on the Kakheti inky version. This version has 2 weeks maceration with 20% of skins and seeds and then matures in qvevri for 7 months. Lots of juicy cherry, berry and blackberry fruit.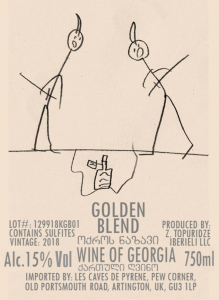 2018 Golden Blend of 4 – (SKIN CONTACT) – NEW
2018 Saperavi
John Okro, Sighnagi, Kakheti
John's benchmark Mtsvane comes from destemmed grapes, macerated and fermented two months in qvevri. His "Sap Bude" (as he calls it) has a short maceration of 15 days. This version of Sap is not as dark as the classic Kakhetian versions, being from the Budeshuri clone, one where the juice is not red (Saperavi is normally a teinturier grape).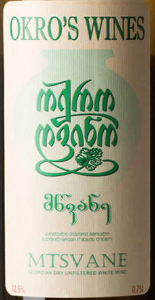 2017 Mtsvane
2017 Saperavi Budeshuri
Sister's Wine, Kakheti
Jane Okruashvili is the sister and business partner of John. A trained political scientist, Jane committed herself to winemaking after deciding that she wanted to reconnect with her cultural heritage and preserve/promote the traditions of her community. The Okruashvilis have 7 hectares in different places in the Alazani Valley below. They work with eight varieties; Tsolikouri, Tsitska, Tavkaveri, Kisi, Kakhetian Mtsvane, Rkatsiteli, Saperavi and Budeshuri Saperavi but are also planting more varieties. All wines are made in their 12 qvevri at the house plus two other cellars totalling 20 qvevri in all.
Kisi is a grape particularly suited to skin maceration (this one has seven months on skins with stems) and is deep amber in colour with powerful tannins. The Tavkveri rose (from free run juice) is strikingly peppery. The ferment is whole cluster and the wine is aged for eighteen months in 500-litre qvevri.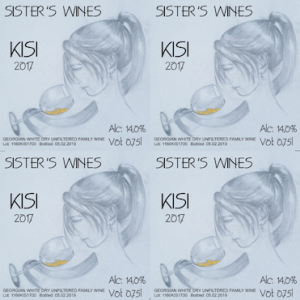 2017 Kisi – (SKIN CONTACT) – NEW
2017 Tavkveri Rose – (NEW)
*
Interested in finding out more about the Georgian wines mentioned? Contact us directly:
shop@lescaves.co.uk |  sales@lescaves.co.uk | 01483 538820