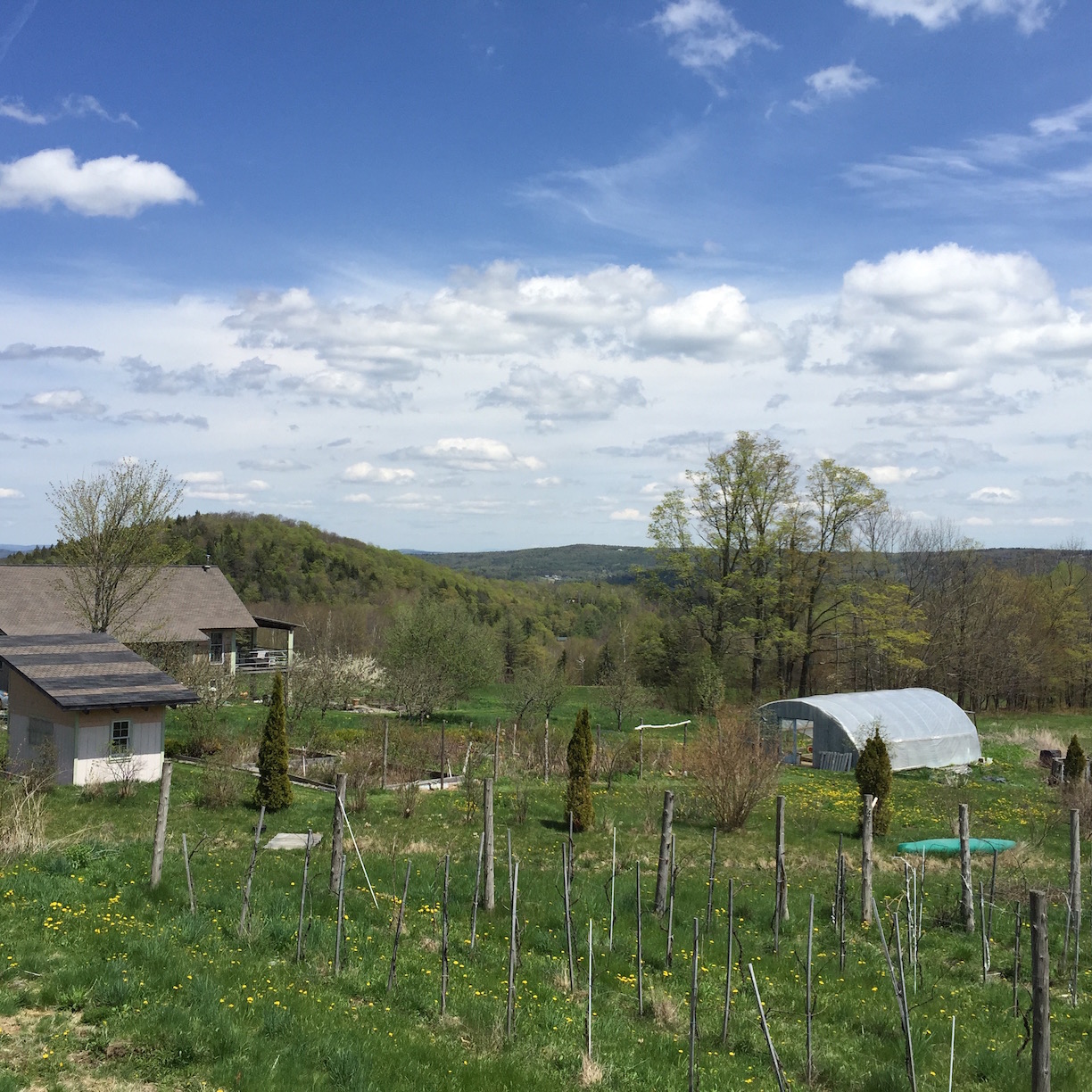 The project known as La Garagista Farm + Winery began in 2010. In essence Deirdre Heekin and Caleb Barber farm three parcels of co-planted, alpine varietals that are horticultural crosses of vinifera and native riparia and labrusca vines.  The family trees of these varietals are quite baroque and uniquely American.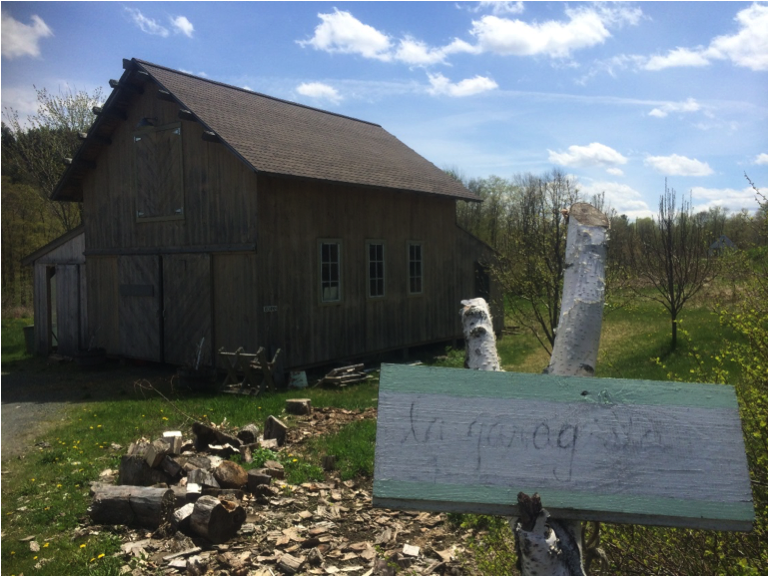 They practice biodynamics and also pull from diverse organic and permacullture concepts. Primarily there is the home farm and vineyard in the Chateauguay, a protected forest in Barnard, Vermont (1600 feet) where they also grow vegetables and fruit and raise some livestock for their restaurant, Osteria Pane e Salute.  The farm is a polycultural project with vegetables, orchards, flower gardens, vines, and chickens all interplanted. The chickens are particularly interplanted. They also raise pigs on farm, utilizing them to naturally till new ground and to be the source of their farm-cured charcuterie. In the vineyard, they plant vegetables between the vines focusing on root vegetables, escaroles and chicories, and flowers, all of which enrich the vitality of the soils in this parcel.
The two other parcels, Vergennes and West Addison vineyards, are in the Champlain Valley (184/194 feet) and are close to Lake Champlain. No-till and natural field cover crops are part of the farming at these two vineyards, encouraging the flora and fauna particular to each microclimate.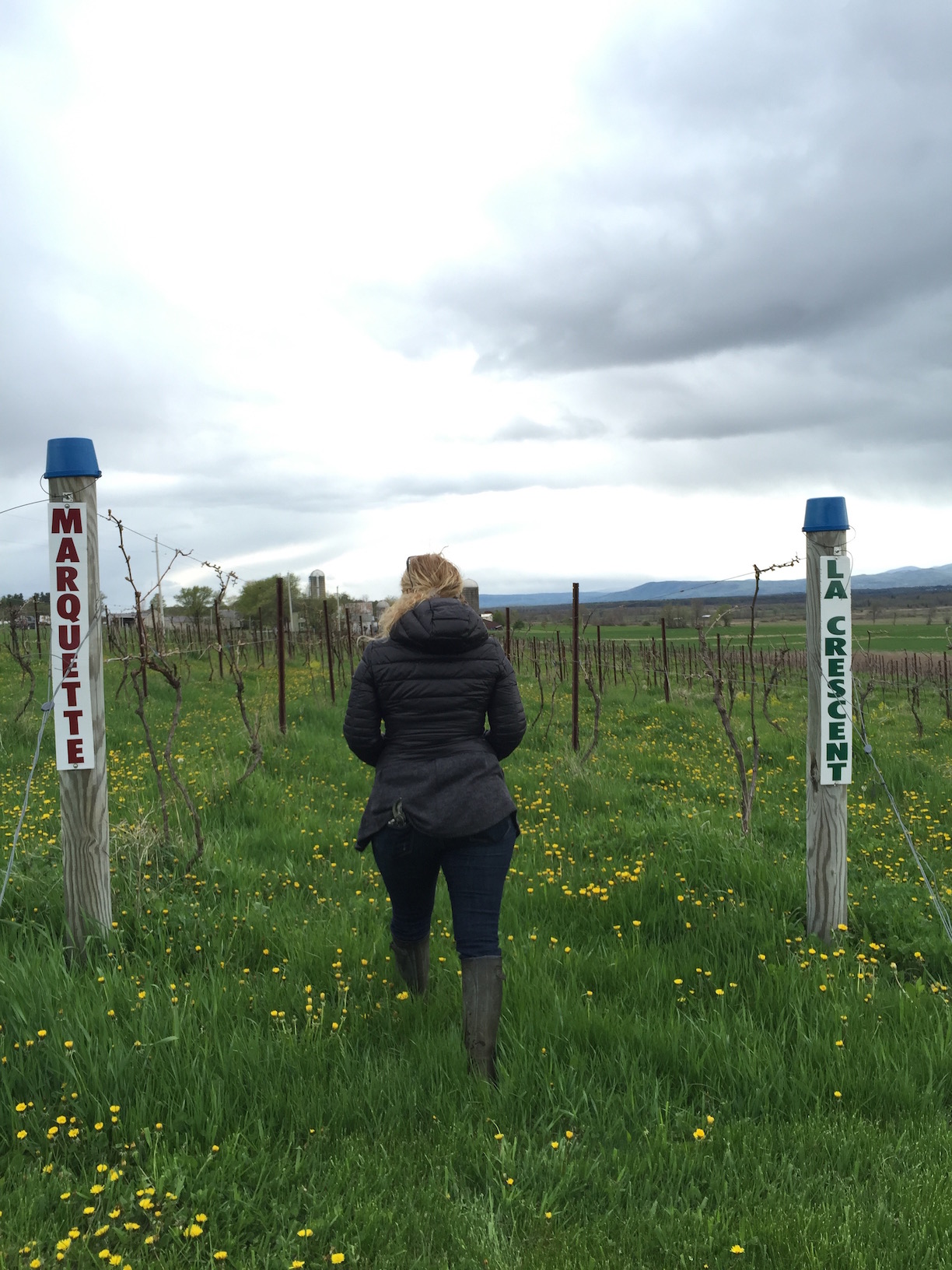 We shipped tiny quantities of five wines from La Garagista originally. The name of the Pet Nat, Grace & Favour, is inspired by our very own Hampton Court. Deirdre writes: "La Crescent is descendent from Muscat d'Ambourg, also known as Black Hambourg. The Great Vine at Hampton Court is Black Hambourg. Caleb and I made a pilgrimage to pay our respects to the Vine and while there read some of the history of Hampton Court.  After Richelieu took over the palace from Henry the 8th, the apartments in the palace were given to ladies in waiting and chevaliers in 'grace and favour'.  We thought this was a perfect nod to La Crescent's parentage."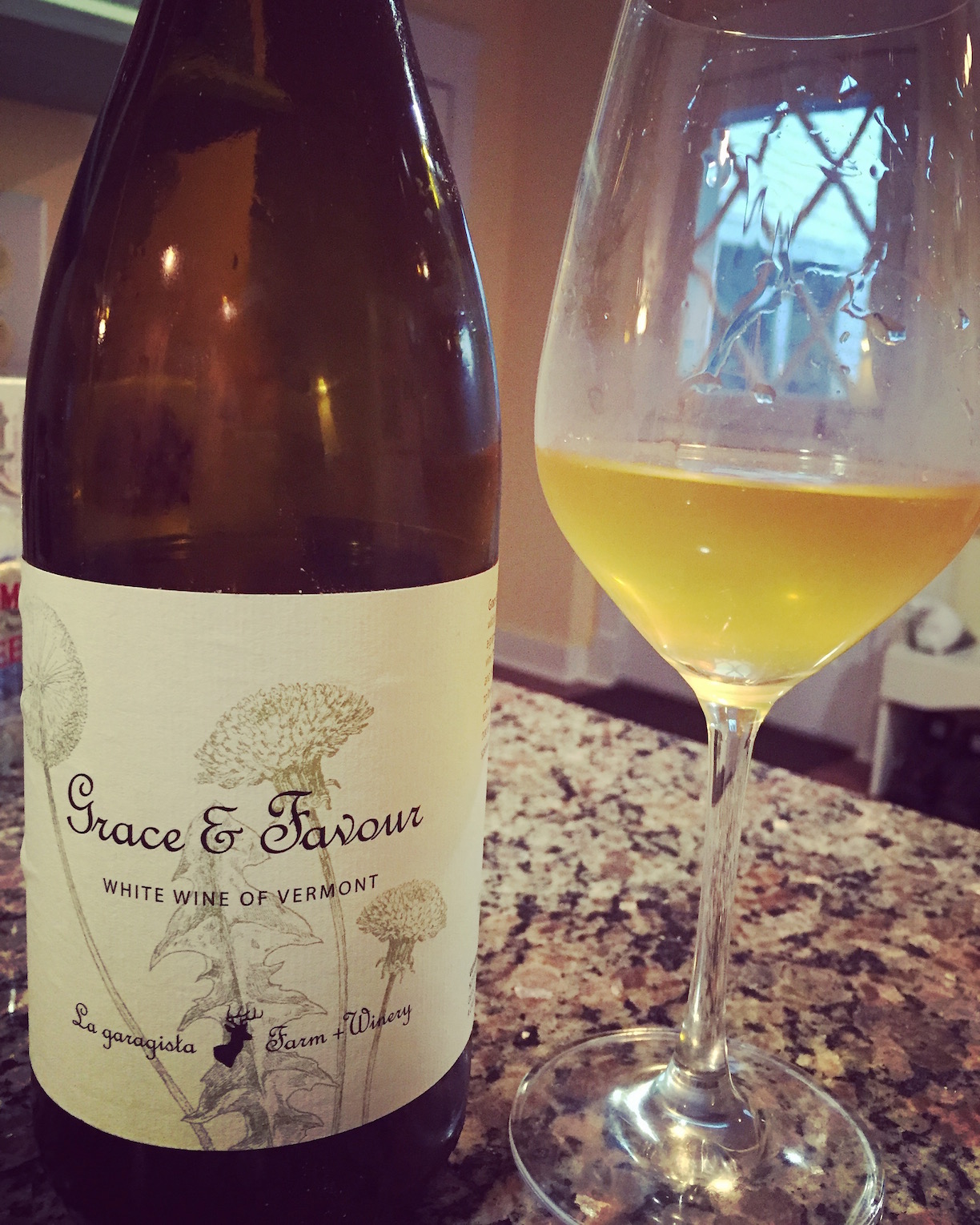 Vinu Jancu and Harlots & Ruffians each have their unique provenance. The former is homage to Salvo Foti's Vinu Jancu in Sicily. Vinu Jancu means white wine in Sicilian dialect, but also old-style white wine that was always fermented on skins.
The Vinu Jancu vineyard is right on Lake Champlain with only a tree-lined hedgerow between vineyards and water, an intimate vineyard with essentially a natural clos.  This vineyard works in a way, defying probability – one that allows Deirdre and Caleb to keep it fairly wild.  Three primary flora grow up into the canopy of the vines: purple aster, daisy fleabane, and wild mint. It is composted naturally with coyote and deer scat which roam through the vineyard in the winter months.
Vinu Jancu spends five weeks on skins in glass demi-johns.
Harlots & Ruffians is made from 50% La Crescent (descendent from Muscat d'Ambourg) and 50 % Frontenac Gris (descendent from Aramon and Muscat d'Alexandria) from the Vergennes vineyard in Champlain, a broad open field five miles from the lake. The grapes are harvested by hand, destemmed into open fibreglass vats, then five weeks on skins before press. Indigenous yeasts, ambient ferment, malo for the La Crescent before bottling with a minimum amount of added sulphur. "An Orange Omelet for Harlots and Ruffians is a medieval Italian dish that we make at our restaurant, the orange ingredient used believed to inspire the debauched to purity.  The citrus and creamy notes are reminiscent of this dish for us", writes Deirdre.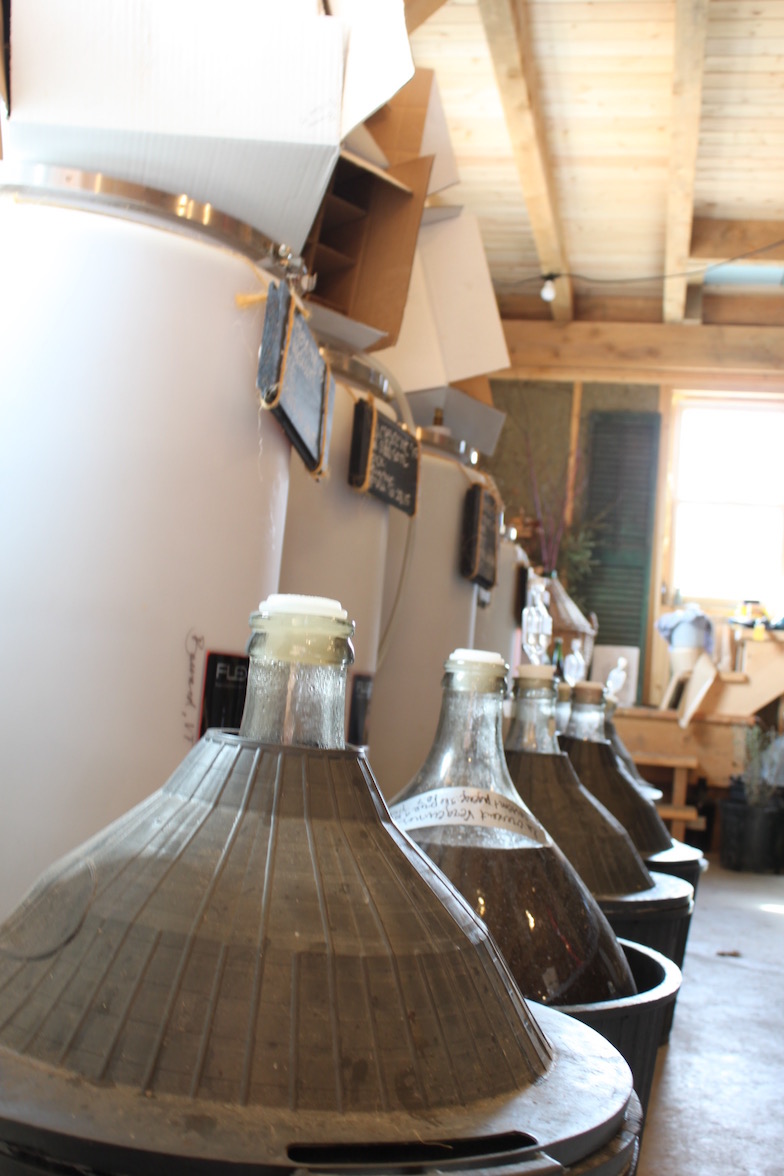 Damejeanne is 90% Marquette (descendent from Pinot Noir), 10% La Crescent (descendent from Muscat d'Ambourg) from the same vineyard as the Harlots. Yields are a mere 8.5hl/ha. The wine takes its name from the glass demi-johns in which it is fermented and aged.  The wine is pale with rasping sour-cherry freshness of a youthful Barbera or a Freisa perhaps.
Loups-Garoux speaks of the woodland and is mercurial in nature.  Deirdre and Caleb use typical biodynamic preps of horn manure, silica, horsetail, stinging nettle, kaolin clay, and small amounts of minerals copper and sulphur due to intense humidity also experiment with plant medicines provided by the vineyard floor when needed. Loups is 100% Frontenac Noir destemmed into small open fibreglass vats for wild ferment and then into 59 gallon seven year old Burgundian casks for ageing. No sulphur is used in this wine.
This wine is made essentially like a ripasso on the vine. Because of its naturally high acidity, they wait until about half of each bunch is raisined before harvesting, waiting for the tension between the raisined fruit and the fresh. This Valpol-style approach yields aromas of blood sausage, bruised sour black plums and notes of bitter chocolate and roasted herbs. This would be great with venison or meat cooked with wild berry fruit.
The wines are stunning. The whites (which are amber-hued) wildly floral with flavours of orange marmalade, cloves, wild mint and strawberry leaf. They are nourishing. La Crescent expresses the different terroirs of the vineyards in the most eloquent way imaginable. The reds are very different. All share this Alpine meadow character; Deirdre has captured something unique here.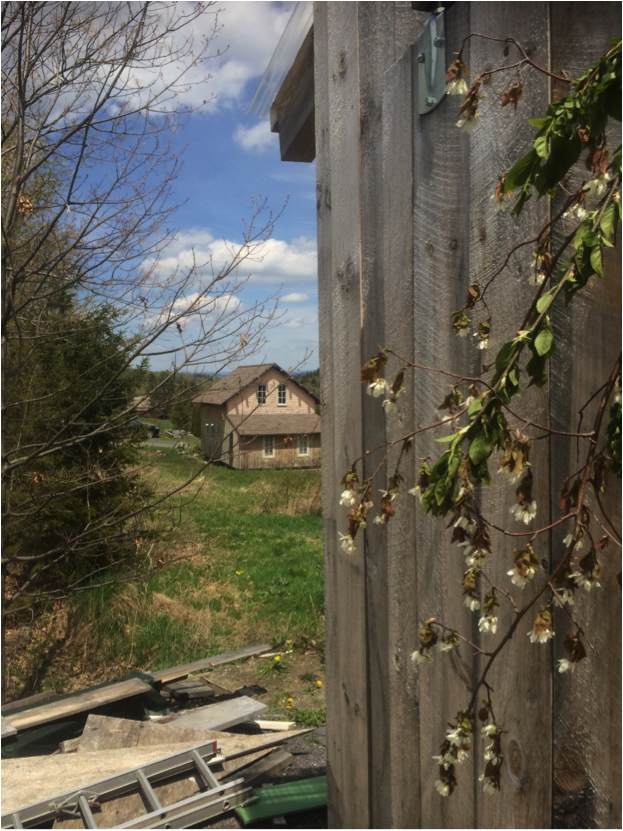 It was a beautiful day when we drove the three hours up from the mid-Hudson valley into Vermont. The origin of the name "Vermont" is uncertain, but likely comes from the French les Verts Monts, meaning "the Green Mountains". Some say that the mountains were called green because they were more forested than the higher White Mountains of New Hampshire and the Adirondacks of New York. Others say that the predominance of mica-quartz-chlorite schist, a green-hued metamorphosed shale, is the reason. The Green Mountain range forms a north–south spine running most of the length of the state, slightly west of its centre. In the northwest, near the prodigious Lake Champlain, is the fertile Champlain Valley and in the central west is Vergennes, the site of one of one of the La Garagista vineyards.
Christina's car ascended the narrow, winding road into the woods and drew up beside Deirdre and Caleb's house. A word about the house/wood cabin which has been beautifully and sympathetically stripped to its bare wood essentials and filled with tenderly chaotic love. It is small, yet its proportions are generous, it has nooks and crannies, it overflows with books, magazines, bottles (full and empty), heirlooms, desiderata. Multi-tasking Deirdre and Caleb never have a moment to relax, so it seems, but, with its log-burning stove in the living room this log cabin would be a wonderfully snug spot to be marooned.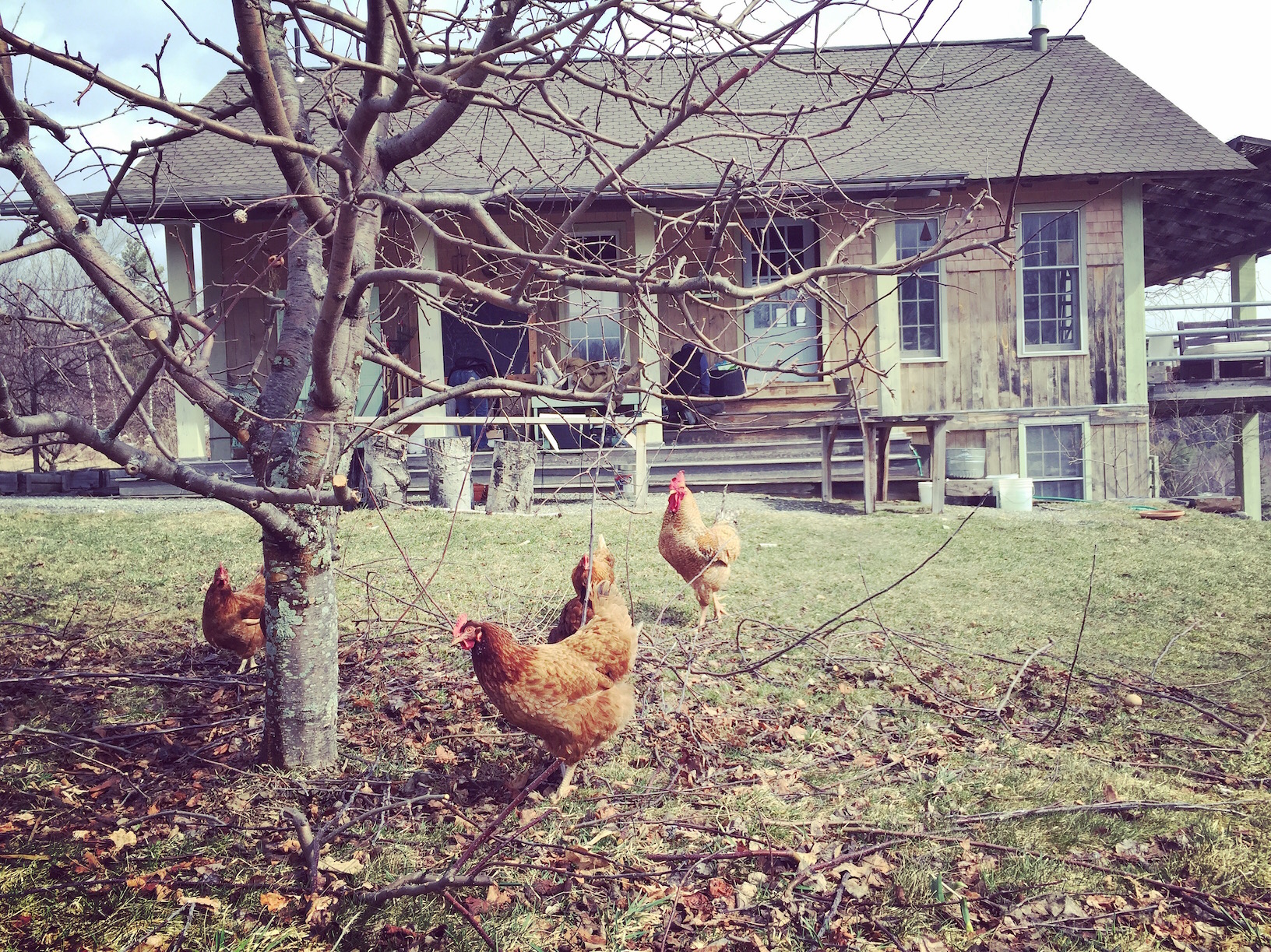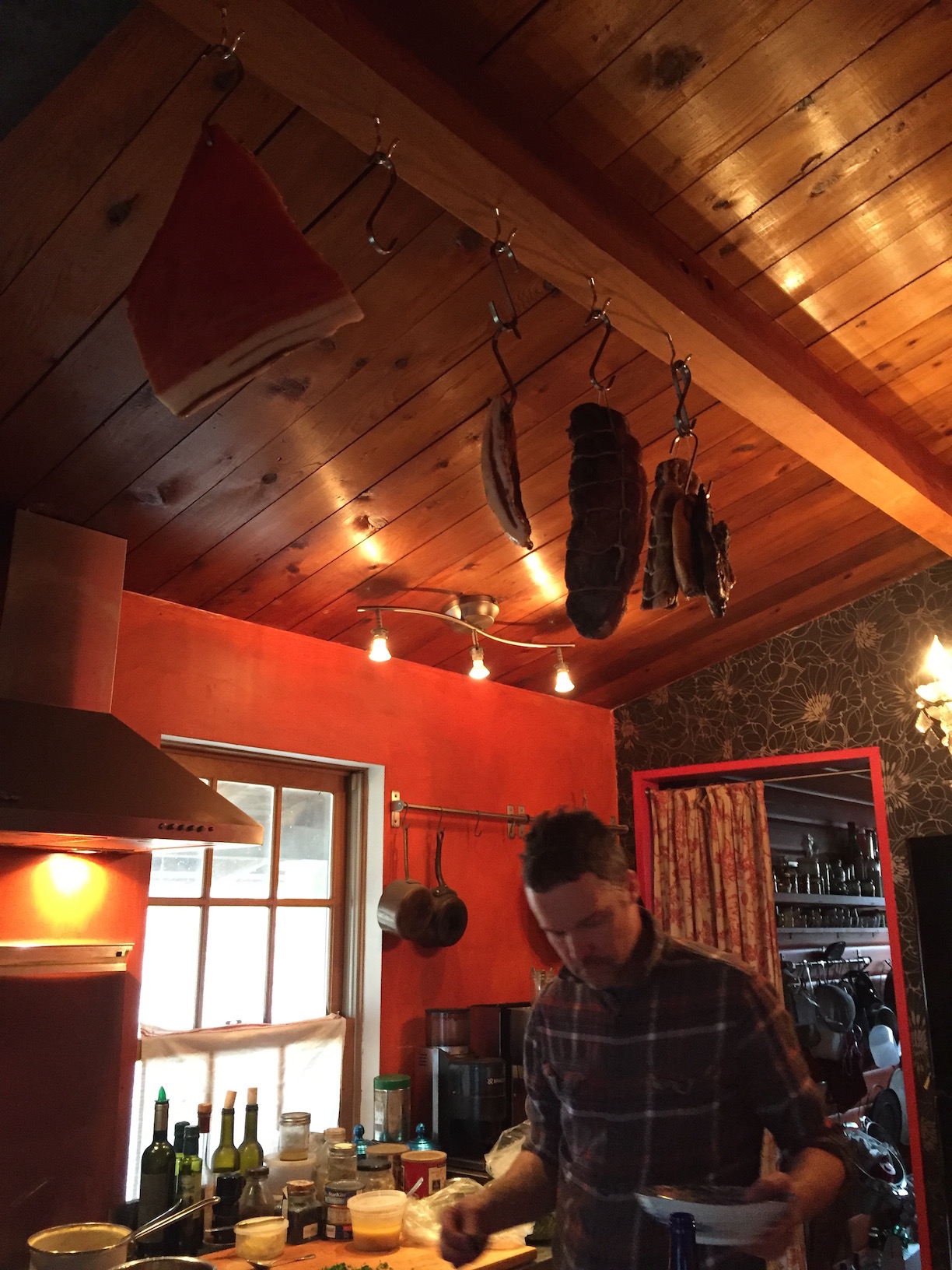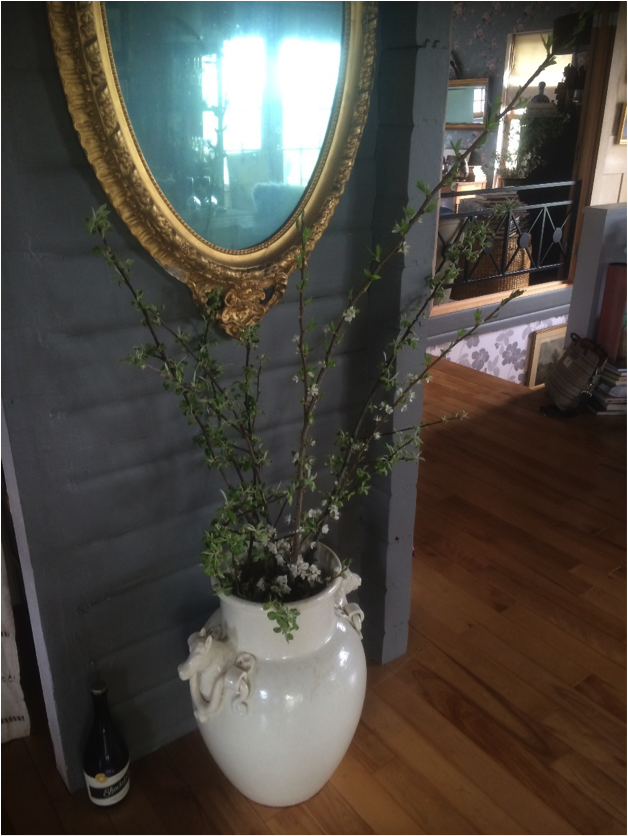 Outside, a ubiquitous gaggle of exuberant chooks – supervised by a beady-eyed rooster. When you go into the house and close the door they suddenly appear on the other side and form a feathery phalanx. Otherwise they strut around with a sense of entitlement.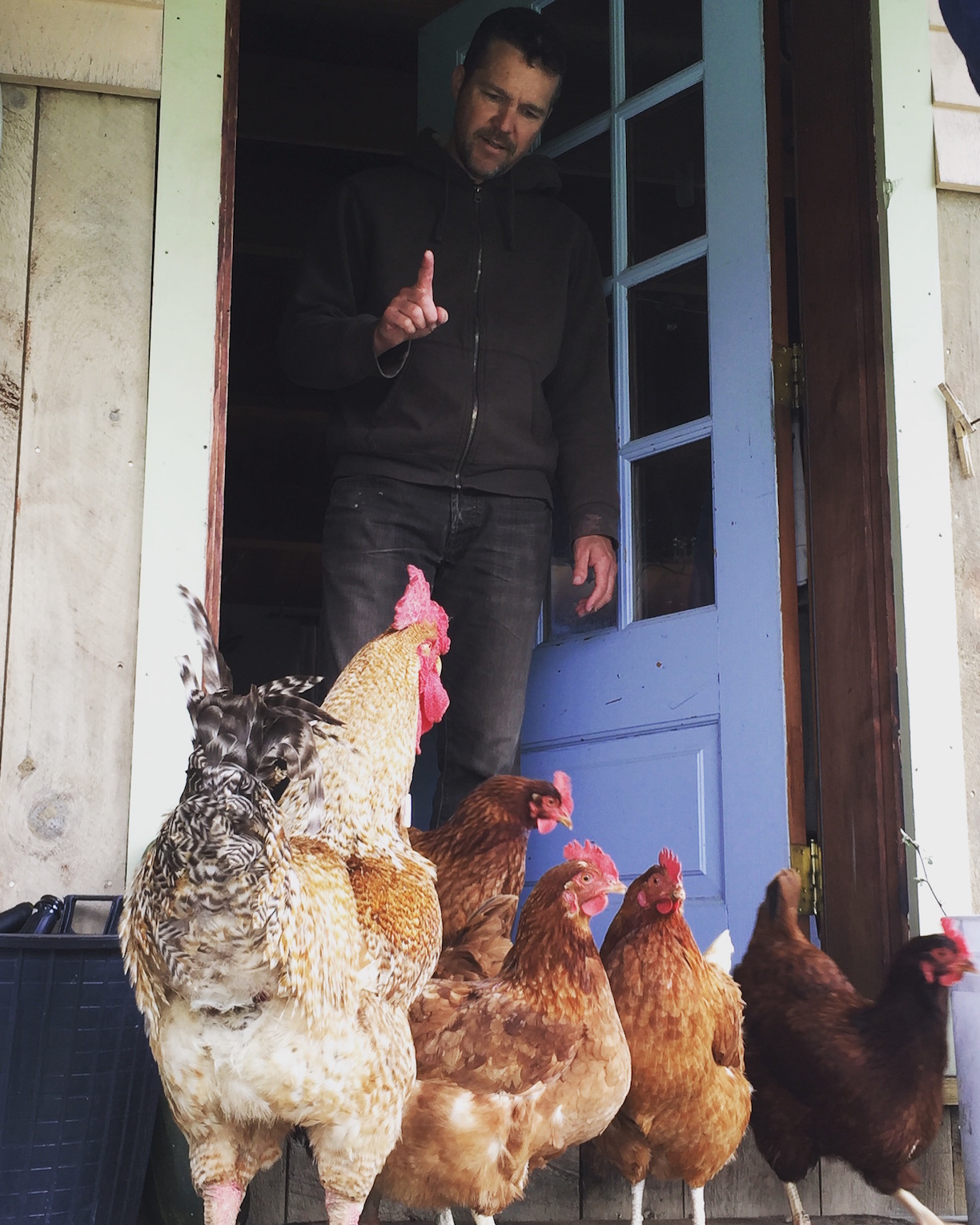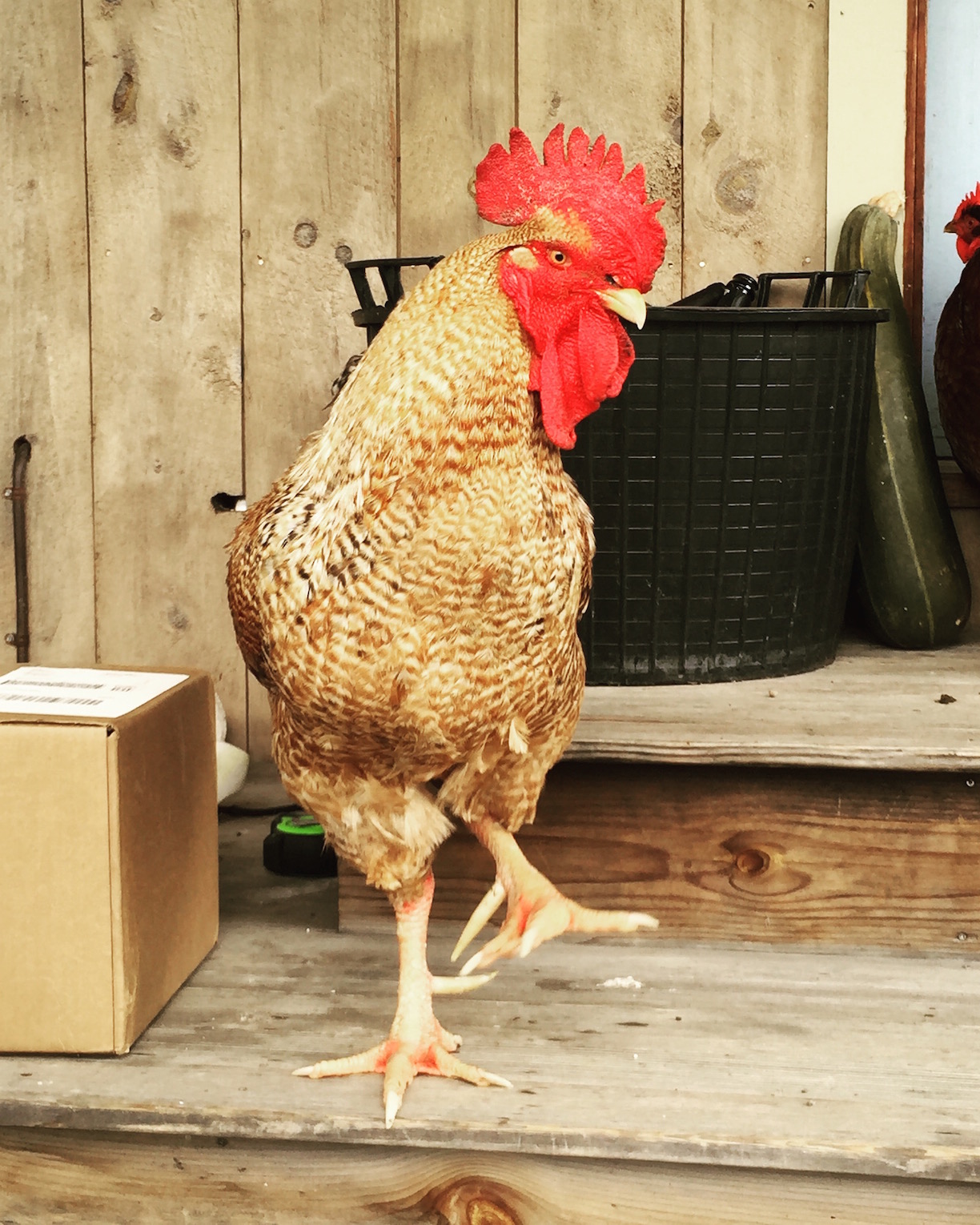 We walked the few yards to the winery/tasting room. Two basket presses occupied a corner – including a micro-one that looked as if it had a capacity to hold a single grape bunch! We wandered into the converted barn where the light streamed through the windows revealing an airy space with vertical and cross beams strung with fairy lights and a blackboard with the wines and dishes of the day chalked on it. To the left a long trestle flanked by rows of the same Flex tanks that we saw at La Clarine Farm and wine-filled demi-johns on the one side. In the middle a couple of upturned wine barrels were doubling as extra tables, and against the opposite wall more flex tanks and glass demi-johns.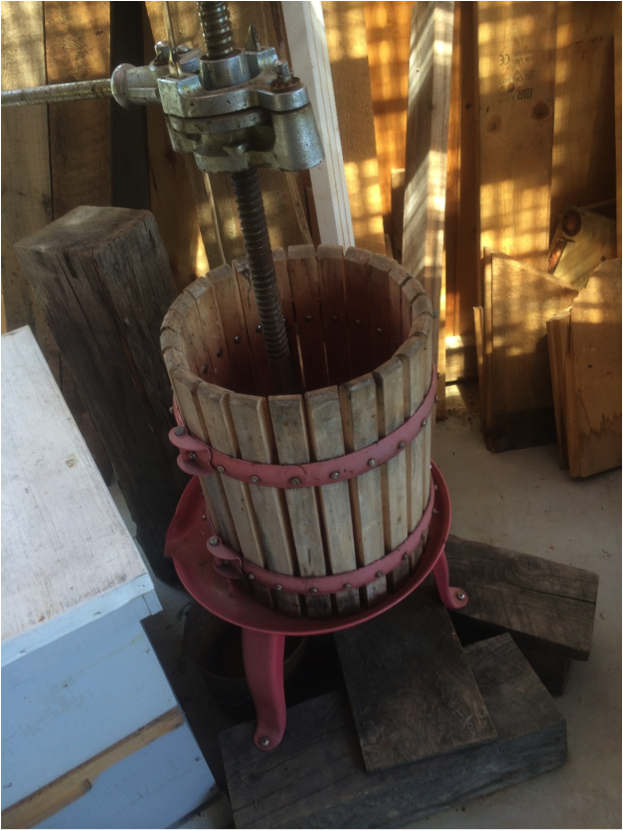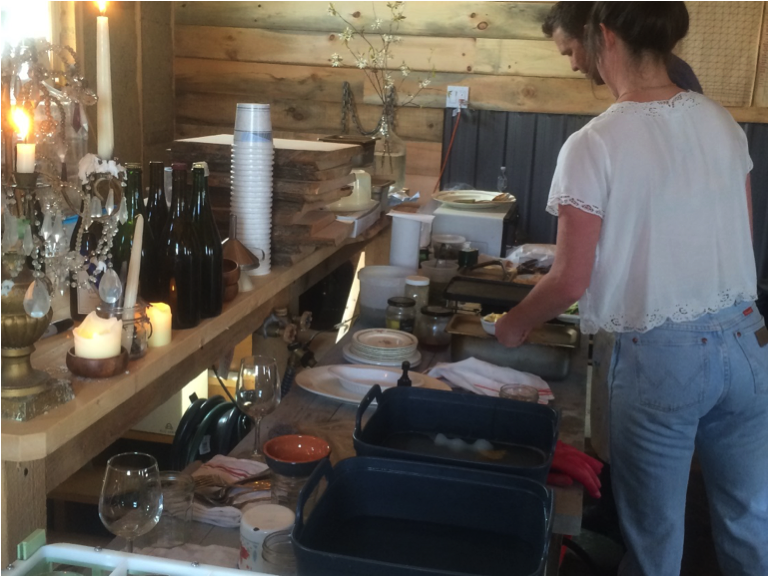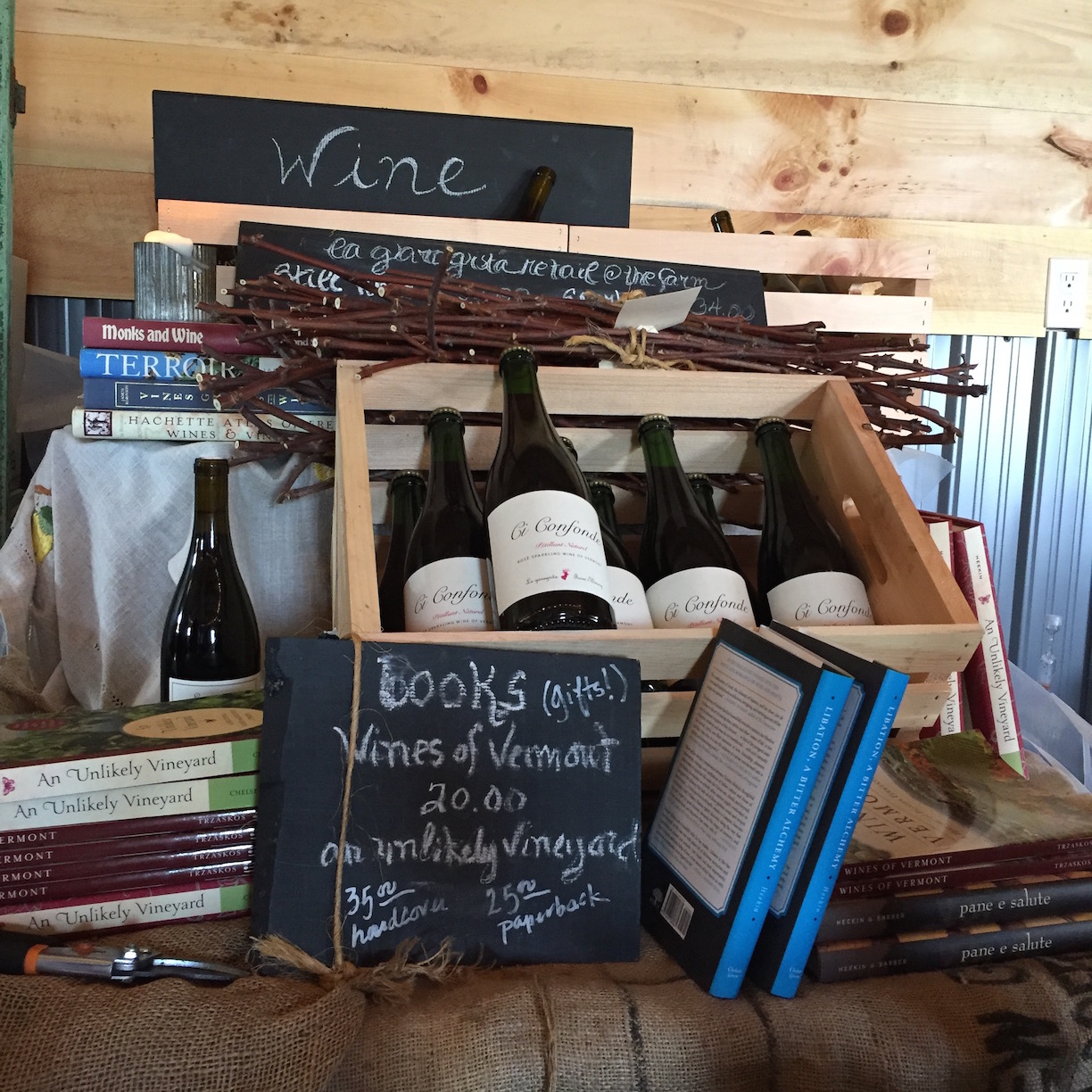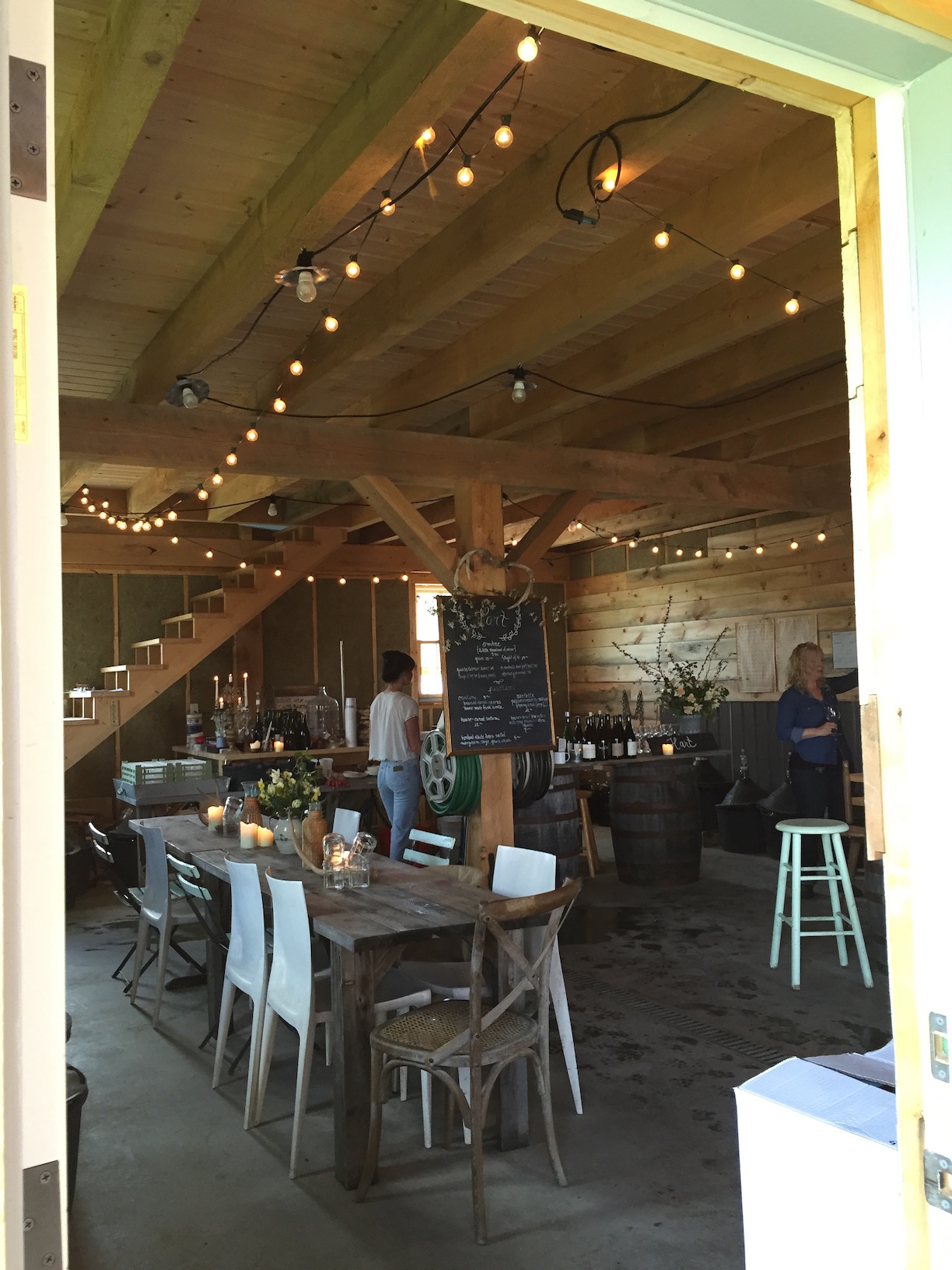 Towards the back of the building another table where five wines were lined up to be dispensed as tasters or ombre (little shadows of wine), and another table from which Caleb had created a makeshift field kitchen for assembling tapas portions of home cured salumi, crostini with homemade ricotta, herbed white bean salad with marjoram, sage and green onion, raclette, and some bresaola with spicy arugula and alpine cheese. Simple and beautiful, so fresh and digestible, as only natural home-grown food can be. We washed it down with several vinous ombre.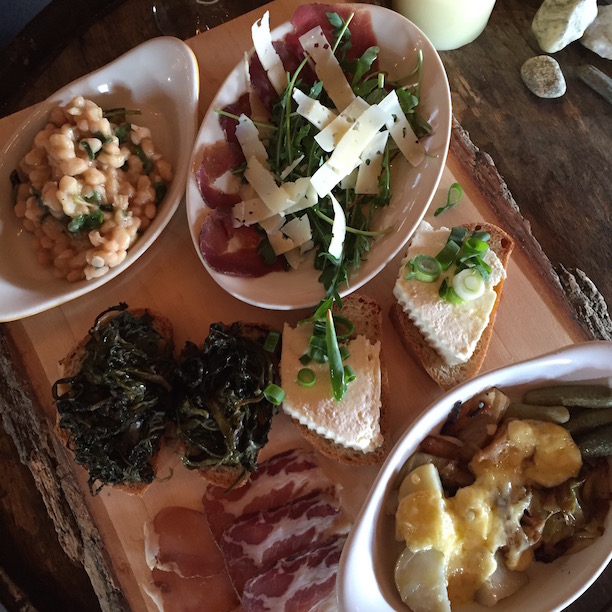 Small is beautiful at La Garagista. It really is just Deirdre and Caleb, although they do have a couple of people to help them, and no end of volunteers who would put their shoulder to the wheel for a good cause. All the materials are used constructively; simplicity is not just a virtue, it is the key to the identity of the whole project and in creating a homely beauty.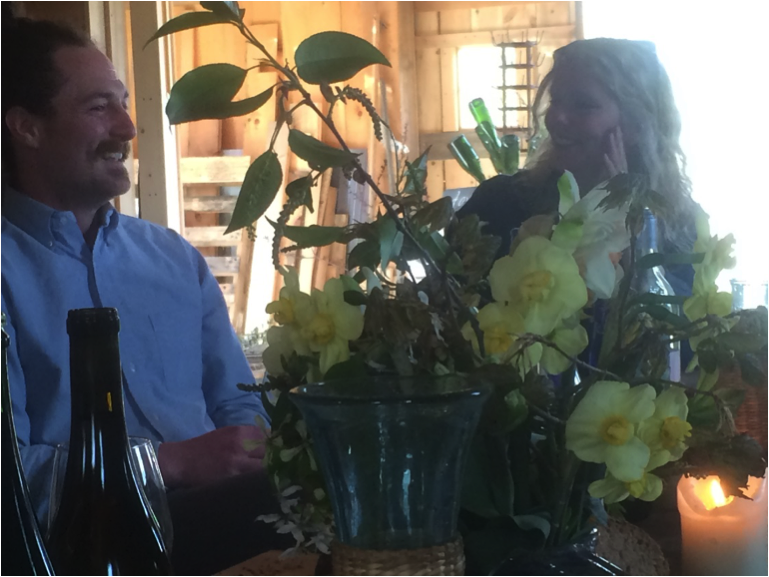 Building their home, extending their farm, making wine and hosting visitors (and, in Deirdre's case, writing books), the couple also find time, somehow, to run a restaurant in the small town of Woodstock about 20 minutes from the farm.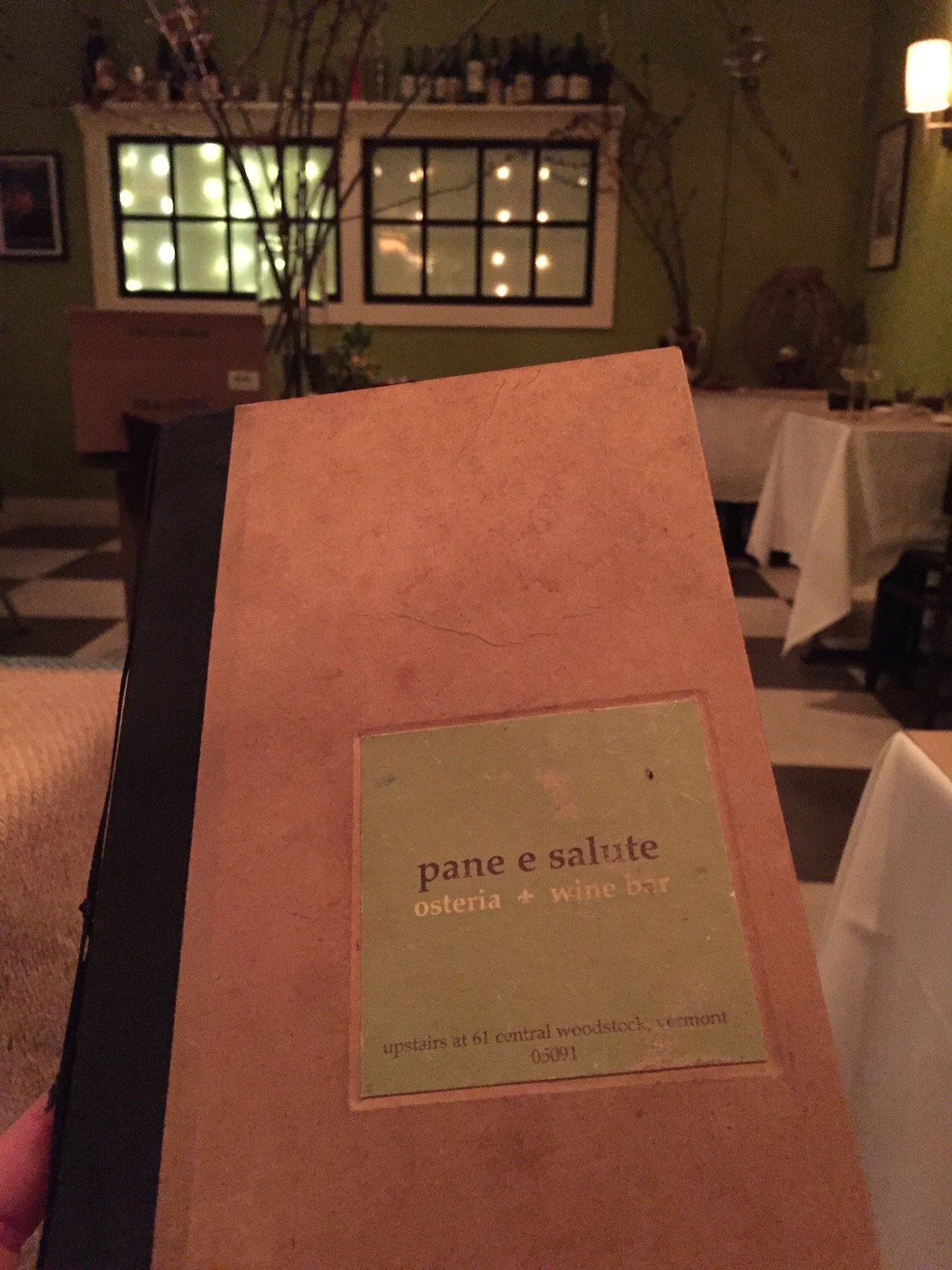 Osteria Pane e Salute was founded twenty years ago on SlowFood principles. The kitchen and wine list are inspired by the landscape and the recipes are in the tradition of cucina casareccia, or Italian home cooking. Caleb and Deirdre wish for customers to savour the food, wine, and company; their aim to preserve the experience of sharing a meal and the elegance of honest hospitality. Although we were not able to dine there we could see how intimate the restaurant was and how the warmth of the hosts would create a relaxed and civilised gastronomic environment. In the spring the menu features variations on Tuscan pizza (made with thin crust from flour, yeast, and salt).  They serve their pizza as it was taught to them at the Osteria del Circolo Ricreativo in Ponte agli Stolli, Chianti.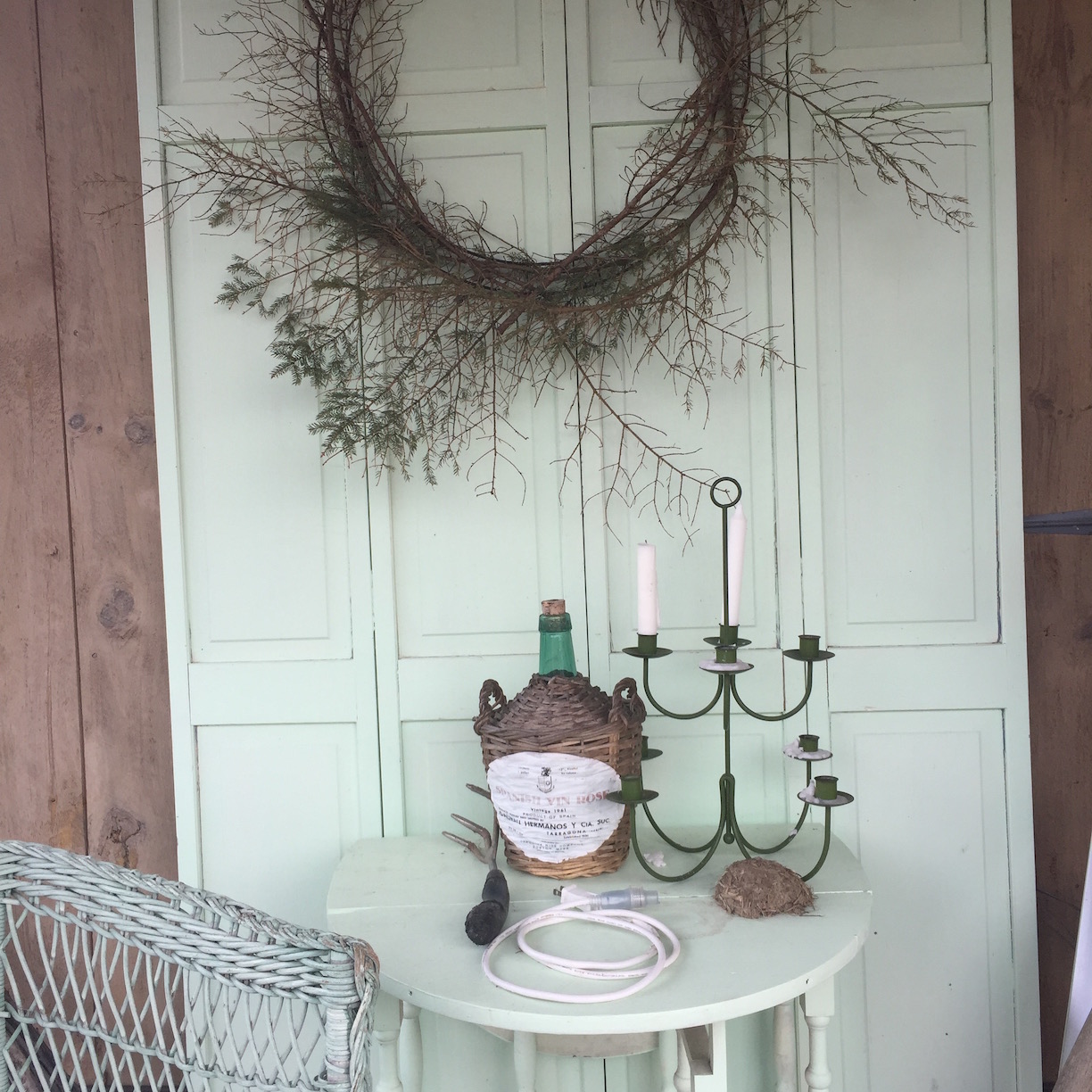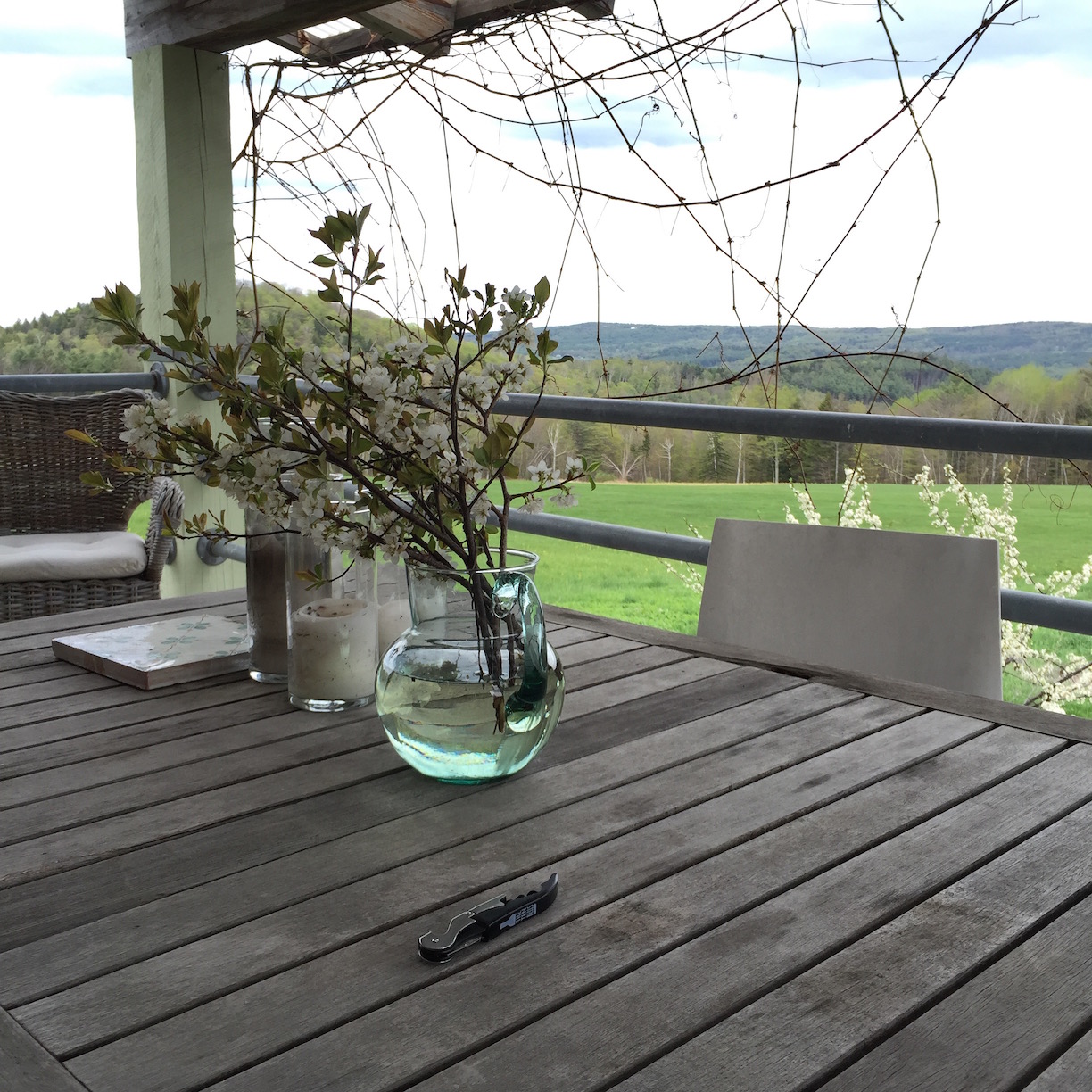 The house and farm buildings resonate with calming energy. New season's blossoms are tied to the doors, these batches culled from the snowy regalia'd plum trees in the adjacent orchard. The apple blossom will come forth soon. Horns, rocks, candles and more spring flowers are artlessly scattered on the table of the tasting room and fairy lights are draped around the beams to give an extra festive atmosphere.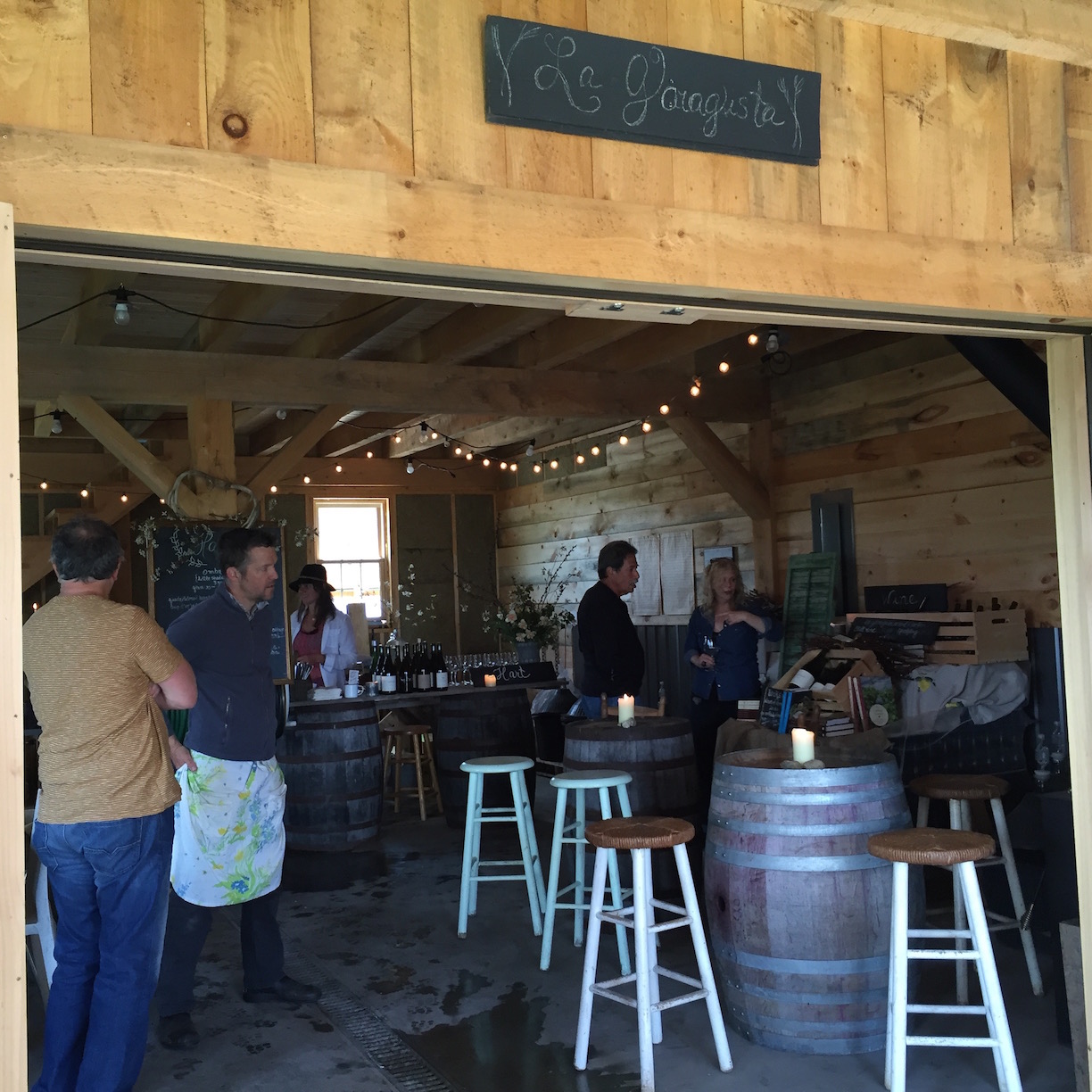 The barn feels like a focal point for the community as well as home from home. This might be a taverna on the mountainside welcoming those who are passing for a glass and a chat. There's bread – tasty sourdough rye, of course; there's wine from the vines that grow in the clearings in the forest; there's cider made from the trees yonder; there's all manner of leaves, herbs and local alpine cheeses; and you break bread and sup and sip with friends and acquaintances who share the same values and boast an amazing array of their own talents. As Christina and I remarked to each other on more than one occasion, everyone on the mountain seems to be a renaissance man or woman!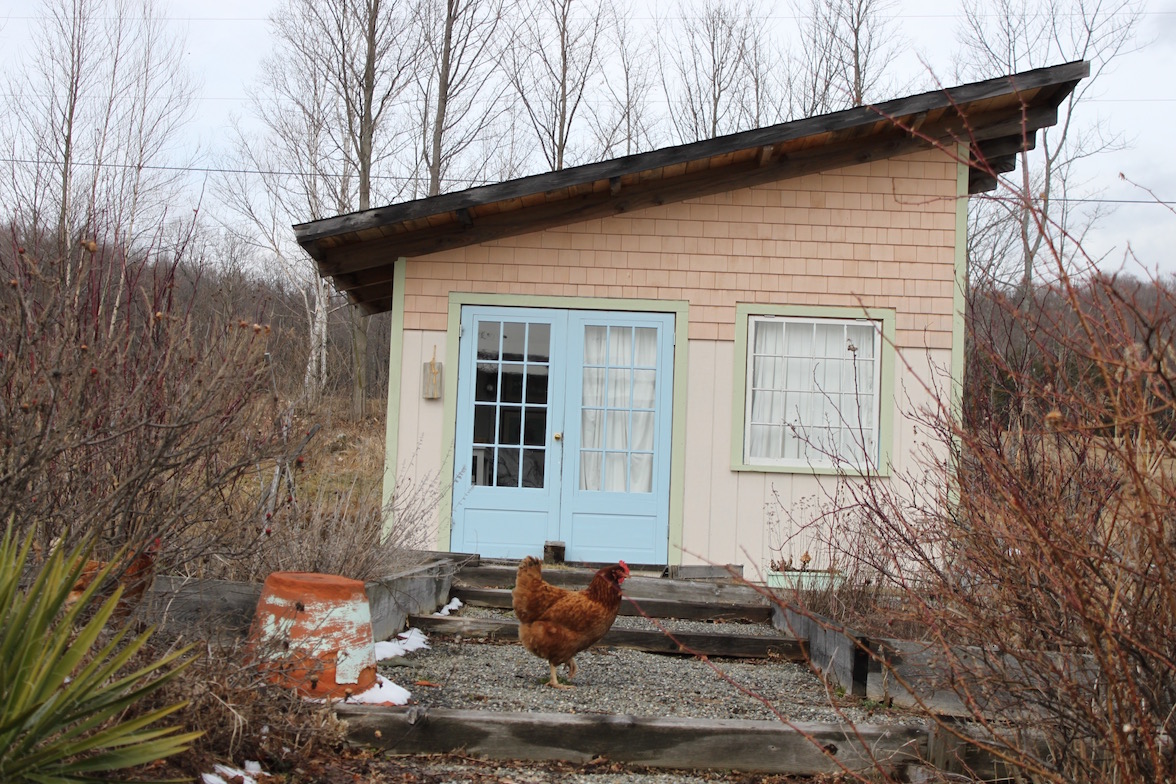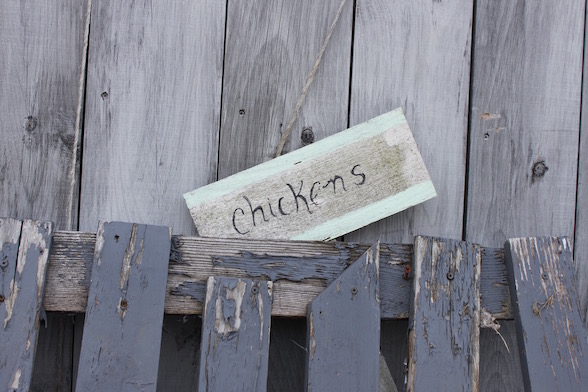 After a very pleasant afternoon of what might be termed ambient eating and drinking, we repaired to The Worthy Burger in South Royalton, a brilliant joint specialising in burgers (you guessed it) and beer (a host of ever-changing delicious local craft ales).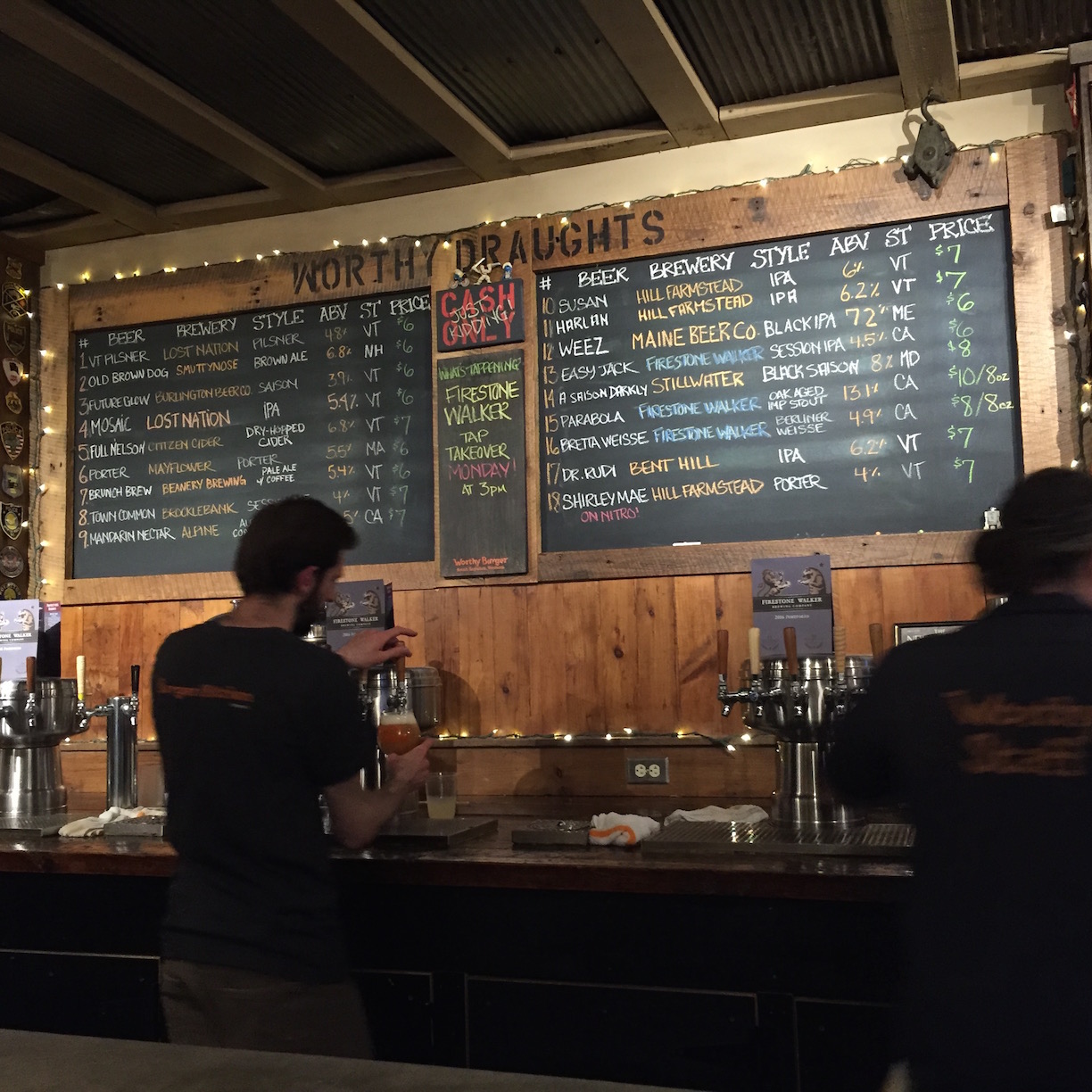 There we discovered that Arbois Pupillin Savagnin Ouille 1998 from Overnoy-Houillon does have the chops for beefy burger and truffle fries!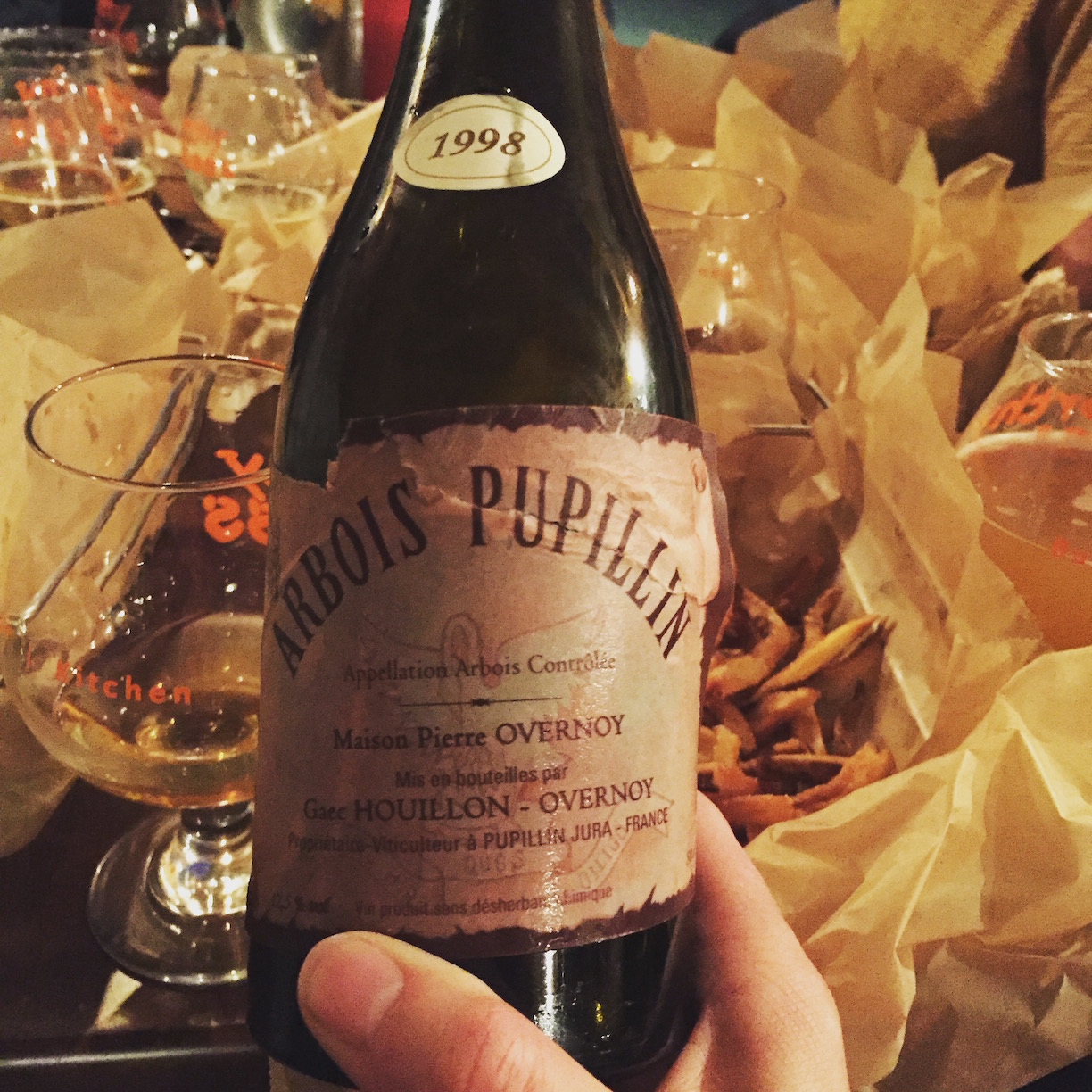 The next day the temperature plummeted by 25 degrees Fahrenheit. We tramped amongst the vines in the home vineyard whilst Deirdre pointed out the different plants growing between the vines. Then to tasting out of tank – or demi-john in this case. The Stolen Roses cider was a revelation – a kind of cider pet nat fermented on red grape skins. Remarkably vinous and utterly refreshing. I signed up for my allocation immediately. Unfortunately, I didn't take notes on the other wines I tasted other than to register a new (to me) hybrid white variety called Brianna. I was pretty well sold on all the wines, whites (or skin contact) and reds, sparkling and ciders. They share the same purity, brightness, freshness and naturalness. They uphold marked terroir differences. And, although the vines are only young, already there is depth, a certain minerality, and local garrigue notes in the resultant wines.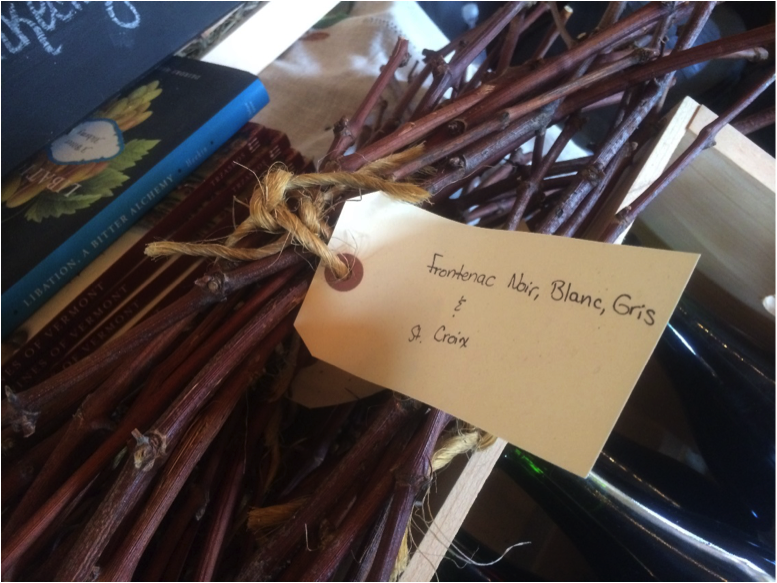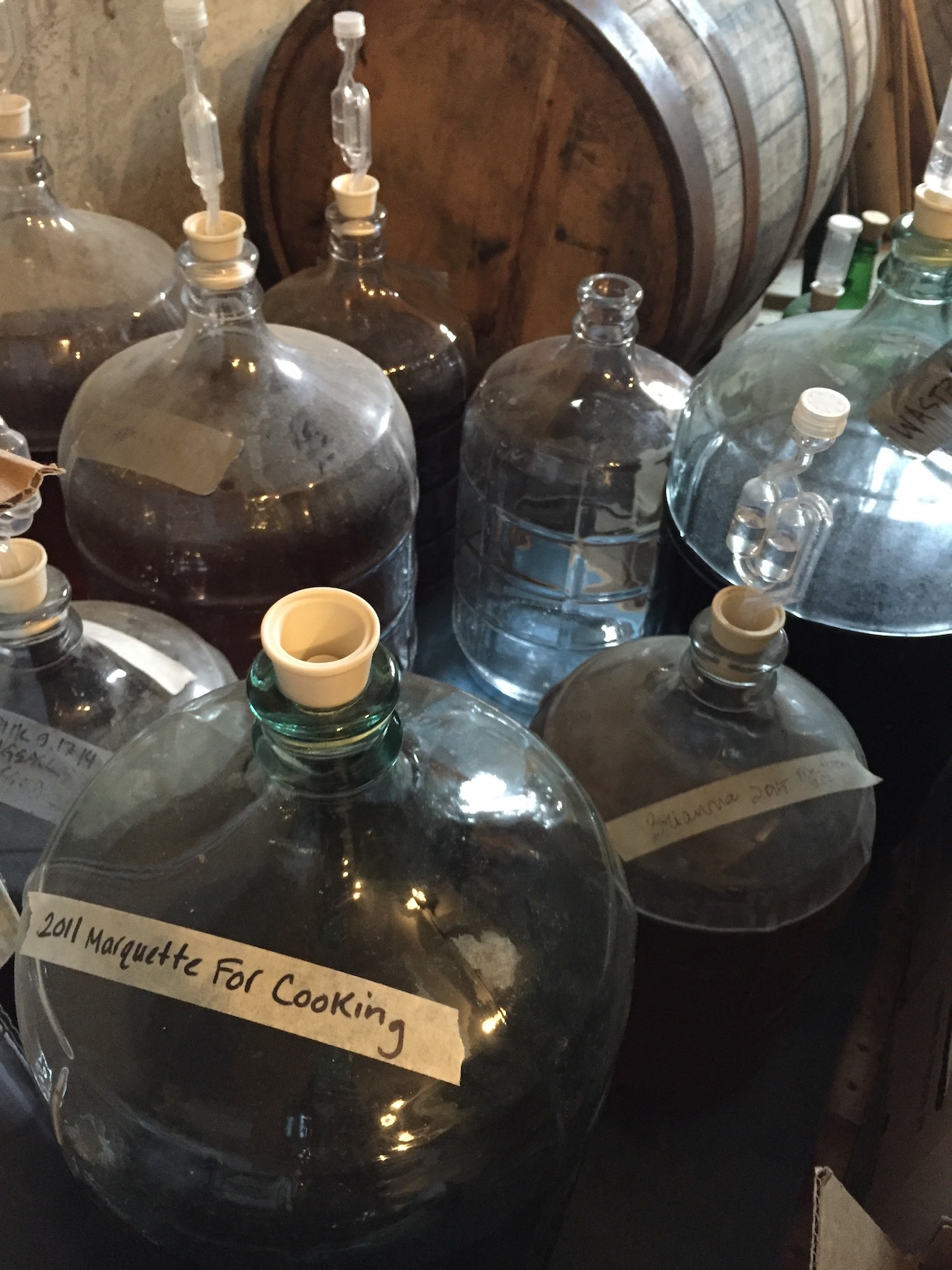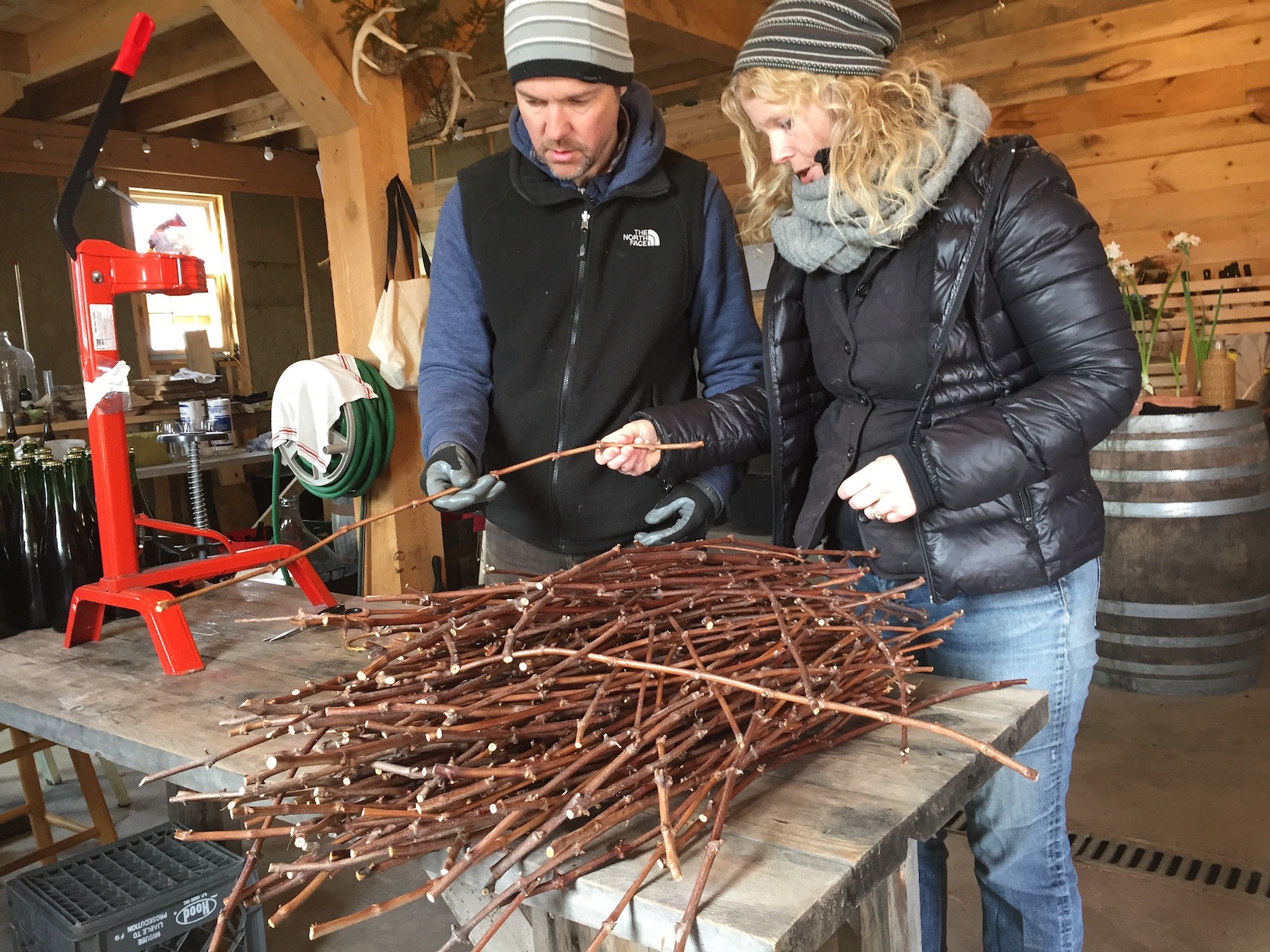 Before we left we drove to the two vineyards by Lake Champlain (about 1.5 hours from the home farm). Although it didn't necessarily feel like it at the time, these are necessarily warmer microclimates and more productive vineyards. It would be wonderful to see them – and the home vineyard – in full bloom with the meadow flowers in riot.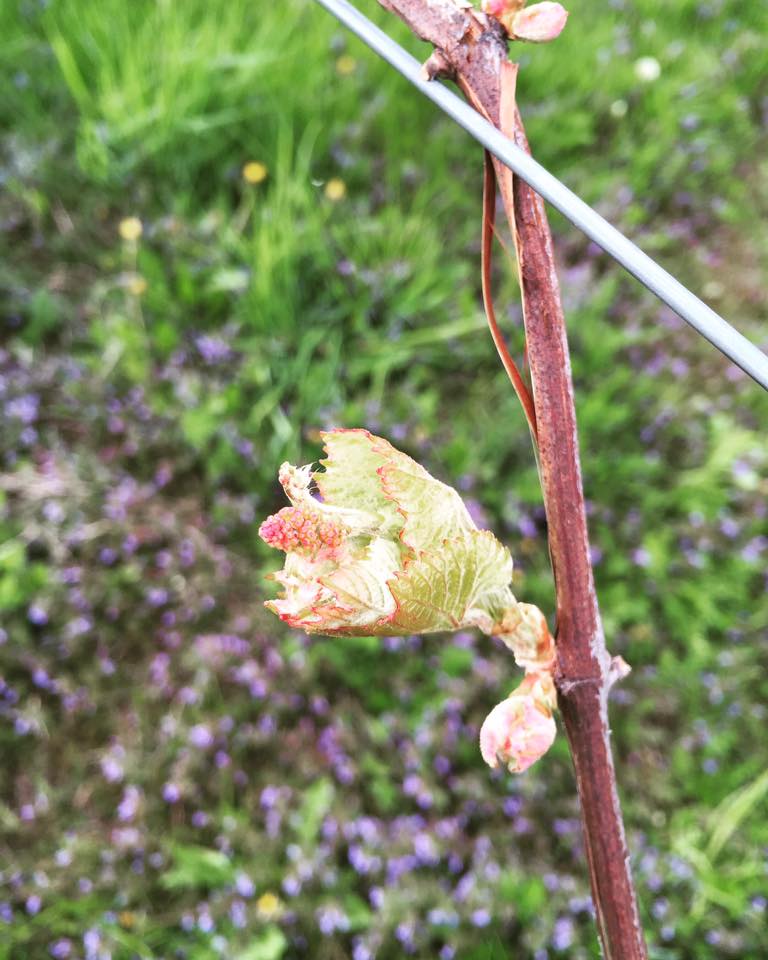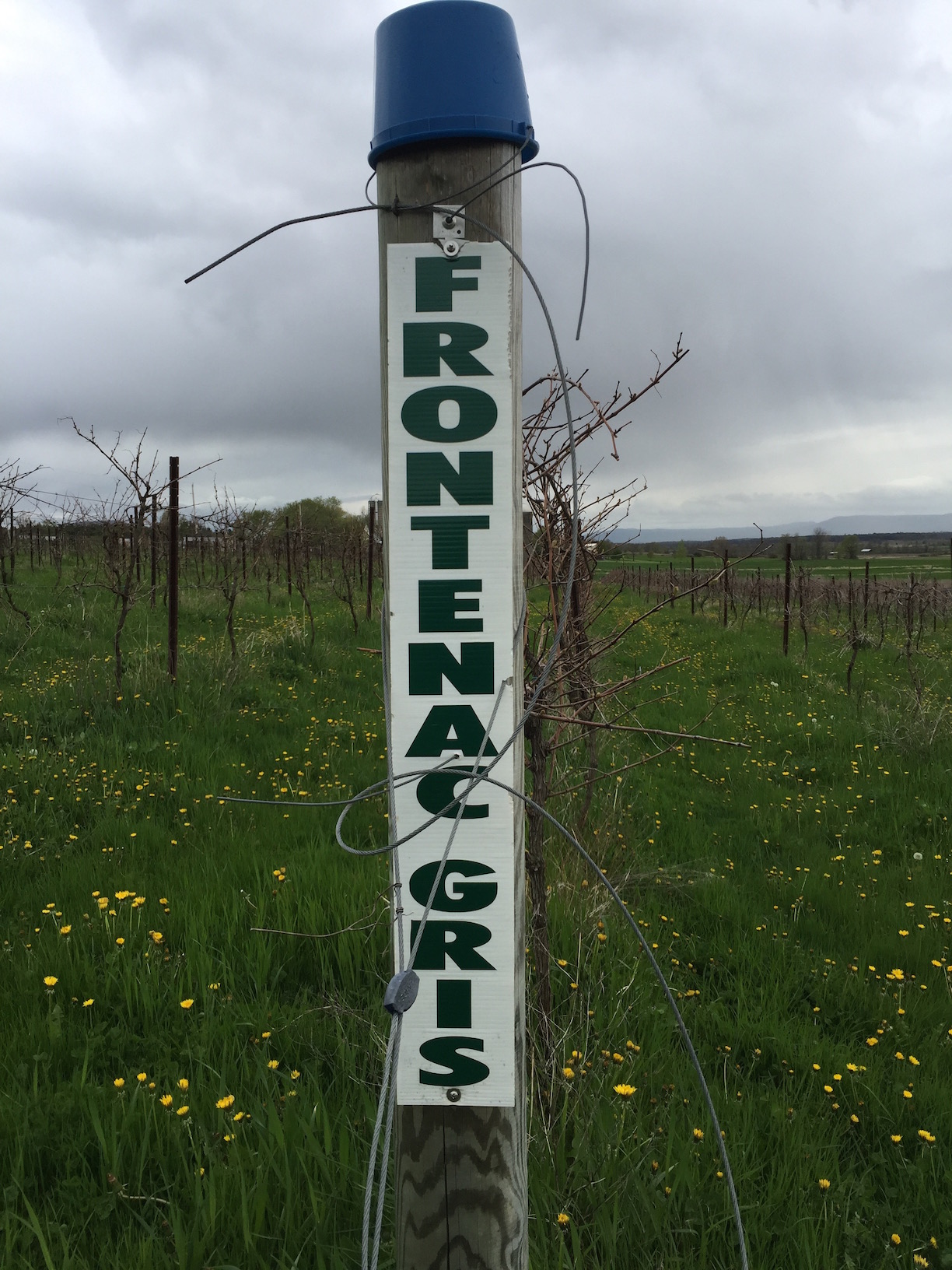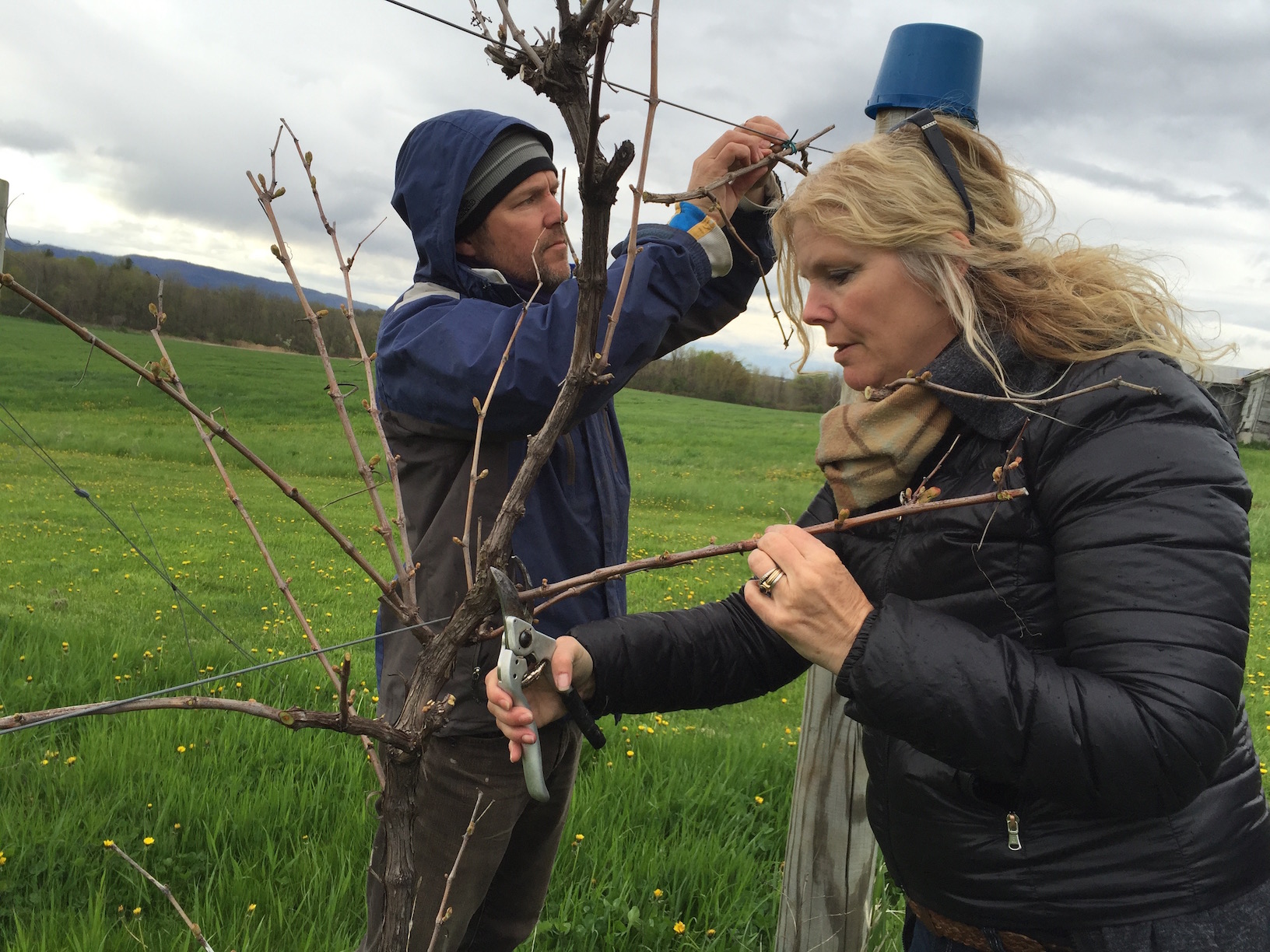 Deirdre and Caleb's approach shows the value of biodynamics when it is practised with intuitive understanding. They have a sense of the vineyard as a whole, and a sense of the vines in particular. With their busy schedules and given the distances they need to travel, the vineyards need to have healthy eco-systems and build up resistance to disease, and their canny adaptation of the biodynamic remedies helps them to achieve this objective. At present, the vines give pitifully small yields, but the quality is sublime. When you taste the wines from say, La Crescent and Frontenac Gris, you may start to question the traditional hierarchy of noble grapes. For isn't quality really the result of responsive farming and interesting terroir?