What happens when an entire family is passionate about nature? They abandon city life and move to the countryside to plant vines. This is the story of the Kioutsoukis family (Dimitrios, Eleftheria and their children). Dimitrios Kioutsoukis, with his family's assistance and inspiration, planted 11 hectares  (mainly Greek grape varieties: Assyrtiko, Malagousia, Roditis, Xinomavro) in northern Greece near Thessaloniki, an area famed since antiquity for its wines. The family are passionate about permaculture principles, and use more-than-organic methods in viticulture and winemaking. Their main goal is to create versatile wines which reflect Kamara's philosophy and express the terroir. Seeking the real taste of life, they created Kamara, specialising in low intervention wines. Their wines are all naturally fermented with indigenous yeasts, have no oenological substances added, and are bottled without filtration and added sulphites.
Their main goal is to give birth to versatile wines that express both their philosophy and the terroir.
The climate of this region is mild winters – the minimum temperature during winter being -5°c  – and dry summers with very high temperatures – the maximum temperature of the summer being 45°c during July which is the hottest month of the year. There is enough rain during the autumn, the winter and the spring. The average rain in the region is 500mm per year. During the whole year, even during the summer evenings, there is always fresh air passing through this region. Last, the relative humidity of the region during the year is from 35% -in summer – to 90% – in winter when it rains.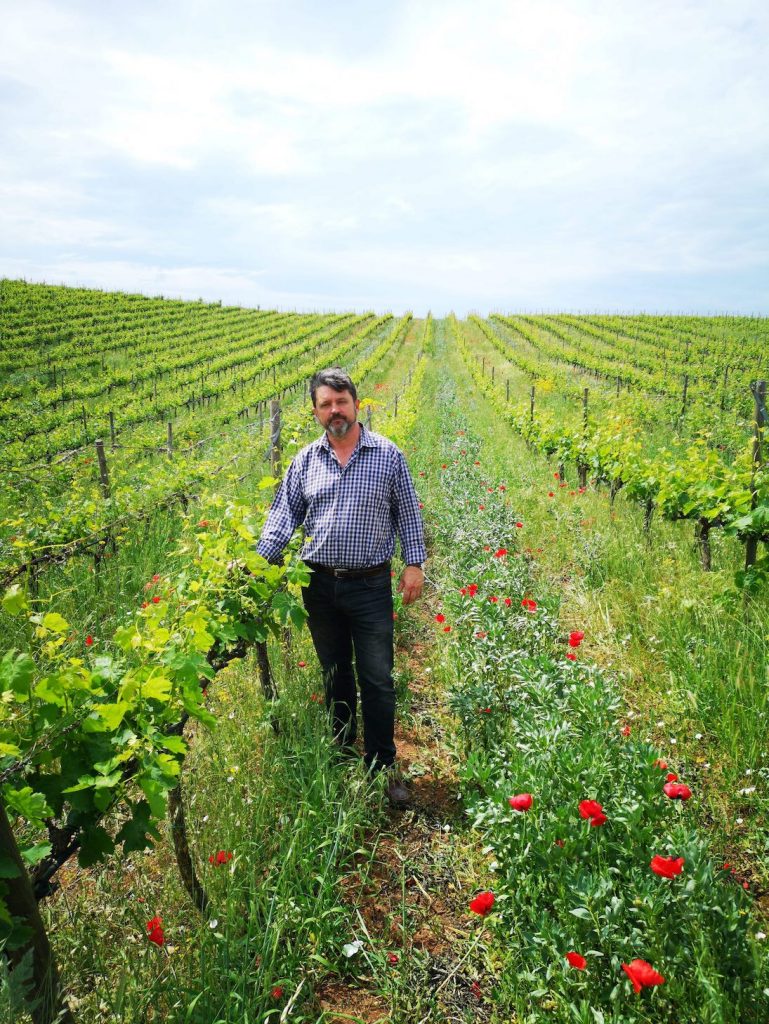 Regarding vineyard work, the family tries to respect nature as much as possible. They only do winter pruning, they do not cut the wild herbs or grass as they believe that great biodiversity in each parcel is necessary for healthy plants, which in turn will yield the best quality grapes. They use copper and sulphur just once per year and instead use biodynamic preparations to protect the vineyard from diseases and employ homemade compost for fertilising the vineyard.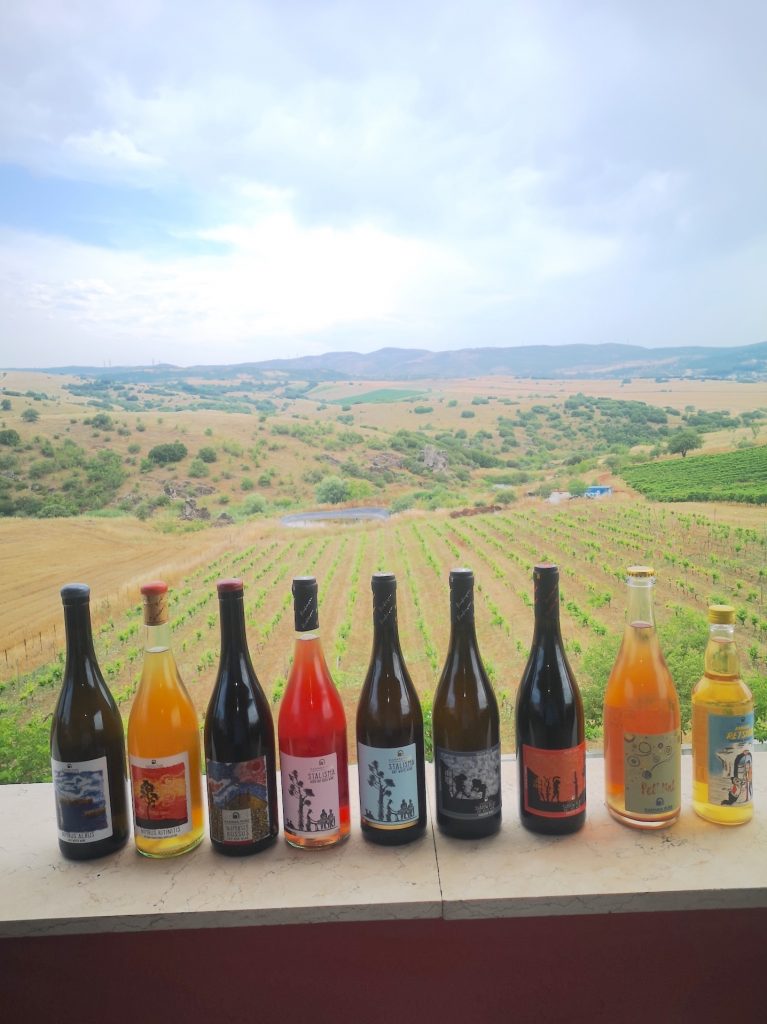 Shadow Play White is made from 100% manually-harvested and destemmed Assyrtiko grapes with two days of skin maceration prior to fermentation in stainless vats with indigenous yeasts. The wine is matured in 10 year old barrels of 225 and 500-litres, where it does a natural malolactic and is bottled without filtration, fining or any sulphur added. Bright golden colour with a rich, intense nose which evolves in the glass. The primary notes of pear and quince give way to the aromas of sage, achillea, and laurel afterwards. Harmonious in the mouth with a long aftertaste.
Stalisma Dry White comprises Malagousia 80% and Blanc de Noir Xinomavro 20%. The orientation of the vineyard is eastern. The altitude is 140m above sea level. The soil type for the Malagousia is clay loam and the parcel of Xinomavro is clay sand schist. Direct pressing for the Blanc de Noir of Xinomavro and maceration, 2 days skin contact, prior to fermentation, for the Malagousia. Native yeast fermentation, then ageing in 225-litre oak barrels of 10 years age. The wine finishes its malolactic fermentation one week after the end of fermentation. No filtration, no fining, no use of sulphur in vinification. Citrus fruits and bergamot scents, with a nice jasmine nuance and herbal characteristics (yarrow, wild herbs). Notes also of almonds, ripe fruits and mandarin. In the finish there is a long-lasting steely note (as a result of Xinomavro), with a diffuse minerality and an amazing sensation of saltiness.
Nimbus Ritinitis is 100% Assyrtiko. The skins of Assyrtiko are macerated in stainless steel tanks with the must for 8-10 days at low temperature. After removal of the pomace, the must produced by the free-run juice ferments at 18º- 21º C for 20-30 days. During this fermentation, high quality pine resin from the mountains of Evia is added, following an ancient recipe. Spontaneous alcoholic fermentation takes place with indigenous yeasts, no oenological substances added, followed by spontaneous malolactic fermentation. The wine is racked from the very dense sediments and remains sur-lie on fine lees for three months. No protein stabilization, only tartaric stabilization. Intense nose with emerging aromas of thyme, lavender, oregano and ginger.
Herbal and vegetal notes on the palate, with an intense expression of bergamot and kumquat along with resin, thyme and eucalyptus. Hints of Chios mastic at finish prove the quality of the pine resin used. Balanced acidity with fruit and herbs apparent in the long lasting aftertaste.
Pet Nat Rose is Malagousia 40%, Assyrtiko 40% and Xinomavro 20%. After stopping primary fermentation, the wine was brought down to a very cool temperature and settled off its primary lees. In the following years, fermented must of Xinomavro was added to the wine in bottle which provided the sparkle and lees-y feel when it transforms into alcohol and CO2. Not disgorging makes it hazy, creating broader palate weight, pleasing textures, and balance throughout. This special bottling is done entirely by hand. The wine is, unsurprisingly, lively and brisk with fresh citrus, red fruit, peach, plums, ginger and the snap of cool watermelon to the nose. Flavours of strawberry and yeast are predominant. The crown cap holds in the fizz.
Shadow Play Red is destemmed Xinomavro, fermented in stainless vat days with twenty-days maceration, then aged in 225-litre used barrels for 14 months. Rich dark red colour, with complex aromas of small red fruits, vanilla, plums, tomato and black olive. Full-bodied with well integrated tannins and long aftertaste. Drink with game dishes, rib eye, pork on the spit, cuttlefish in wine sauce, beef with barbecue sauce are only some of the dishes which match perfectly with this wine.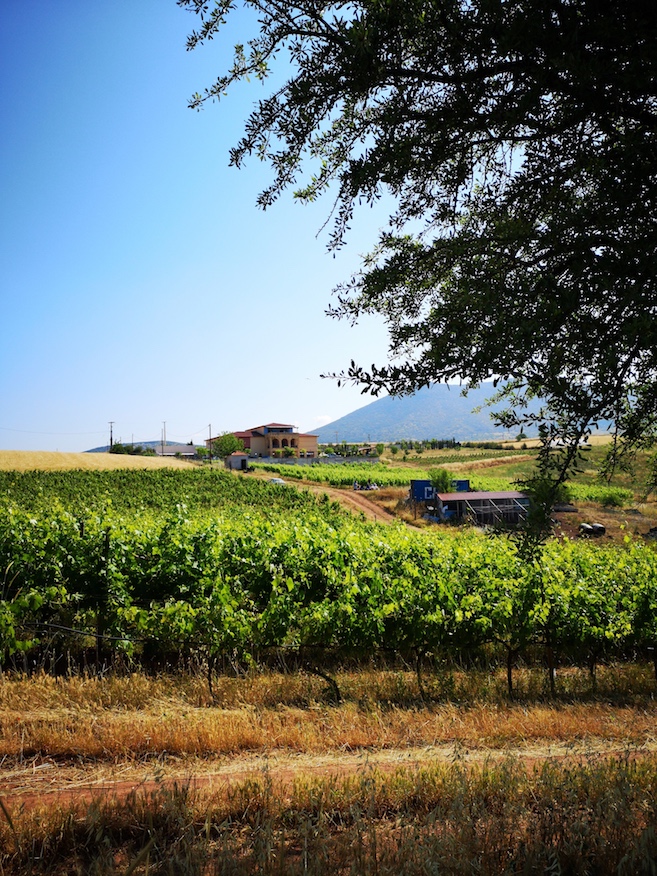 2020 Shadow Play White
2o20 Stalisma Dry White
2020 Nimbus Ritinitis
2020 Pet Nat Rose
2020 Shadow Play Red
Interested in trying the wines of Kamara? Contact us directly:
shop@lescaves.co.uk |  sales@lescaves.co.uk |
01483 538820