Leo Erazo travelled around the world making wine before settling back in his native Chile, building a winery with an enviable view over the Pacific Ocean and making a variety of wines from ancient local grapes, farmed in the traditional way, with the respect for the environment.
The old Itata Hills is a fantastic place. The terroir potential for making wines here with special character is great. The way growers like Leo work is to bring that sense of a place into the bottle. In the Itata Hills the beautiful heritage, the historic old vineyards – over volcanic or over granitic soils – has a lot to say and tell. In order to communicate the sense of place growers are reviving organic viticulture (which had been the tradition), and natural winemaking.
Leo's idea of winemaking is not to fix nature but rather enhance her capabilities, to enhance her potential. "We want wines full of life, vibrancy, tension, freshness and joy". Farming is organic, the ancient bush vines are unirrigated and since the vineyards are impossible to work with tractors all the work is done manually or with horses.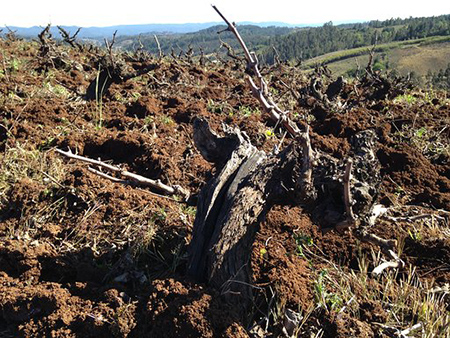 A talented young winemaker and viticulturalist with a degree in Agronomy and Enology from the University of Chile, Leo travelled the world for ten years to learn about and gain experience in classic and remote wine regions and their diverse terroirs. During this time, he studied biodynamic methods in California, soil types in South Africa, and geology in New Zealand, among other adventures. In Itata, Leonardo has worked with the scattered local farmers' old vines—many well over 100 years, still growing as dry farmed, untrained small bushes—to enhance their traditional natural practices to align with biodynamic guidelines.
His mission, throughout this journey, has been to bring a sense of place into the bottle.
Pipeño Tinto is the 'peasant' style of Chilean wine, made mainly in the South where traditional methods of viticulture and wine making for personal consumption remain. The essence of Pipeño is natural, rustic, simple and easy to drink. The wine is bottled in litre format – for the table – as it were and stylistically is intended to represent the simple concept that more is better.
In this part of Chile, the summers are mild rather than very warm, marked by the influence of the Pacific Ocean and the Itata river. A combination of sea breezes and rain (mostly in the winter) means that there is no need for irrigation here.
The vines for the Pipeño grow in marginal granitic soils which are sandy with chunky quartz deposits. The farming of these old bush vines is organic. The Cinsault and Pais grapes are harvested by hand, destemmed and co-fermented for six months on skins in tank with indigenous yeast, before being transferred to cement vats. Just a coarse filtration, no fining and a tiny amount of sulphur before bottling. As befits a Cinsault-dominated wine, there is lovely floral component to the fruit with notes of wild strawberry jam and white pepper.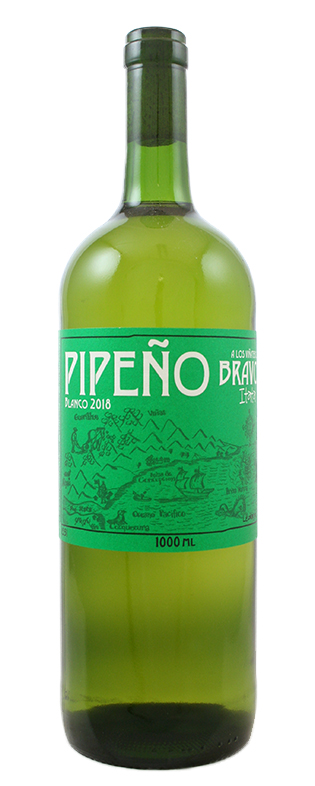 Pipeño Blanco is a wonderful snappy glass of turbid juice. Located high on a hill, the nearly seventy-year-old bush vines are on marginal granitic soils, very sandy with large quartz deposits. The wine itself is a field blend containing predominantly Moscatel but also other grapes such as Corinto and Semillon, co-harvested and co-fermented in tank with native yeasts. Bottled with minimal intervention in a litre bottle this is a turbid, natural-tasting wine with a touch of grapefruit, dried spices and a zesty tang.
Arbol Arriba is a 1er cru white wine from Torrontel: a local clone of Torrontés, but not the overly aromatic version (it is also used in Pisco production). The topsoil is derived from granite sand, but deep vine roots penetrate to the 200m year old granite mother rock. This wine comes from an east-facing vineyard planted in 1930, exposed only to the morning sun, which yields very fresh wine. Aged in concrete eggs, the wine does its full malolactic conversion. After a coarse filtration, a small amount of sulphur is added. Citrus with saline notes, long and fresh, this shows the influence of a cool climate and of the granitic rocks. The aromas are austere in the glass and there is an initial touch of reduction, but the flavours develop real intensity in the mouth and the finish has great length.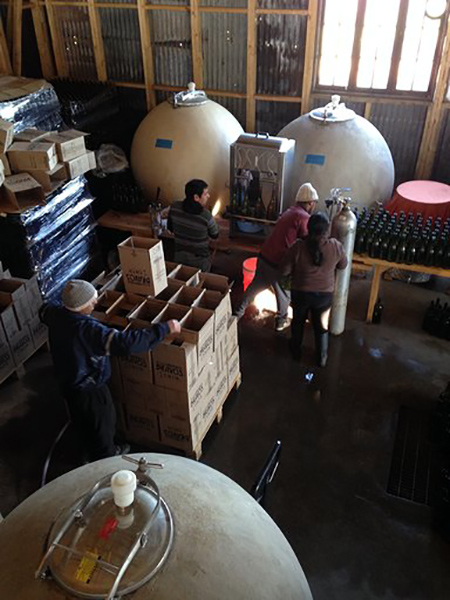 The Cru series is the result of 10 years of soil mapping across the Itata Colinas, the complexity, depth, layers and ageing potentiality are the common factor on this high-end line. Small production of each cuvee limited by the soil unit (UTB, unite Terroir de Base) gives a unique character to each wine. They are the purest expression of the soil beneath them.
Leo Erazo has been working with centenarian low-yielding ancient Pais vines grown on basaltic soils for some time. Volcanico Pais is destemmed and fermented with native yeasts in concrete tanks and pressed in a basket press. This pale red wine exhibits the delicate underbrush aromas of Itata's wild grass, red fruits and a little bit of cassis. It's fresh and delicate, ending with a distinctive mineral character due to the volcanic soils where the old vines thrive. Serve this Chilean red wine on the chilly side.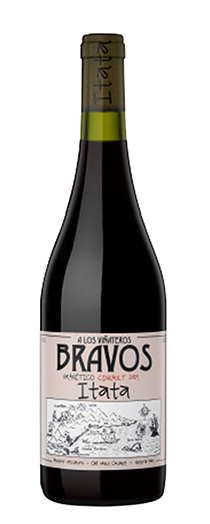 Granitico Cinsault is the sibling to the Volcanio Pais from 60-year-old dry-farmed Cinsault bush vines. Natural winemaking with ambient ferment, aged in concrete egg with only a touch of sulphur at bottling, a lovely red wine, flowers and fruit over crushed rock salt.
2020 Pipeño Blanco
2020 Pipeño Tinto
2019 Arbol Arriba Torrontel
2019 Volcanico Pais
2019 Granitico Cinsault
Interested in finding more about the wines mentioned? Contact us directly:
shop@lescaves.co.uk |  sales@lescaves.co.uk | 01483 538820
*Note: We are still open for business, doing deliveries, and keen to help everyone with their booze needs in this difficult time. Natural wine lovers can visit our online shop and order online!