Not another rosé article! No, not another rosé article – by this or any other name – to out-frivol the pink drink.
Time, wethinks, to put some perspective into the matter and rain on some sun-bleached summer parades.  Seasonal, yes, in that myriad articles every summer are rehashed, all invariably extolling the mimsy virtues of a generic colour, as if the very colour pink were a kind of clever new cocktail.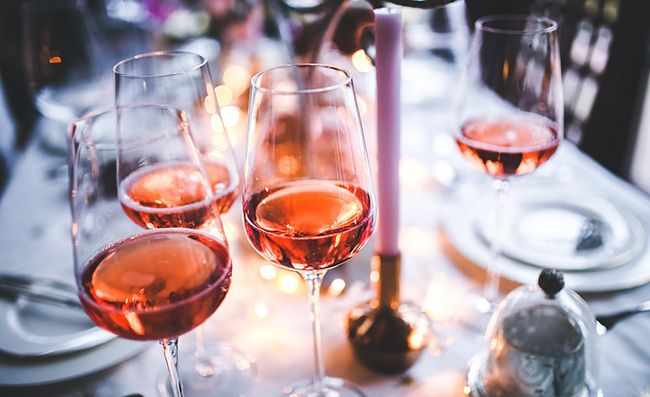 Let's look at some sales figures. This year in June we sold around 4,000 cases (x 6) of the pink stuff. Sounds impressive. More than all the mouthwash being gargled in dentists' surgeries throughout the land. Well, last year, during the long hot summer, two pink wines alone accounted for 4,500 cases per month. Shall I spare their commercial blushes? For blushes they are. Yes, thousands and thousands of cases of wine were sold, piled to the rafters in retailers, crammed into fridges and ice buckets in bars and restaurants. People were showering in the stuff. Weather has more than something to do with uplift in sales – stick a flaming ball in a cloudless sky and evidently one's wine IQ plummets.
When the heat is on, we don't really want to drink wine, but rather an approximation to alcoholic water, with just enough tinted shiny colour to remind us that there is wine in the glass.
The rehashed rosé articles talk breathlessly about how it is made – how rosé comes from red grapes rather than being a blend of red and white ones (fancy that!); how the best examples are limpid bordering on the invisible; how this class of wine represents undoubted value for money, how Provence is the home of great rosé, but how other regions and countries are catching up, and how the wines are food friendly. All for the best in the best of all possible wine worlds. Otherwise, you can ignore these wines for eight months a year.
The truth is never that pinkly simple. Some of the most stunning examples of so-called rosé wine are actually co-ferments, or whites that have a dash of red wine blended therein. The glorious pink-tinged I Vigneri Vinudilice, for example hails from a 200-year-old vineyard 1,300 m up on the Etna footslopes and is a field blend of Grecanico, Minella white and red and Alicante – a beautiful masheroo and full of volcanic salts. Matthias Warnung, in Kamptal, makes something quirkily entitled Basis Nobody, a pale pink-hued number that is actually Grüner Veltliner with a dash of Zweigelt. Pinot Gris with skin contact certainly can give a pleasing rose-tint: on our list we have thrilling examples from Dario Princic, Beckham Estate, Kelley Fox, Elisabetta Foradori and Andert Wein, with various lengths of maceration yielding wines that range from onion-skin grey to light brick red. These are powerful wines – neither shrinking violets or unassuming roses.
There's more – here a harvest wine, there a field blend, grapes simply crushed and fermented, or partially macerated, crushed and fermented. Some light reds that are so light and bright and tannin-free that they fulfill the identical purpose of a rosé (if such a wine has a purpose).
What of the wines. I have to say that the majority of them are in the lollywater bracket, neutral in flavour, albeit with tinned fruit/pastille aroma and flavour profile that one associates with temperature-controlled tank ferments and added yeasts. Sulphur features heavily in these wines; without the protection of the lees or skin-contact in the winemaking, the wines are understandably fragile and require a good dose to prevent spoilage and discolouration. The problem is that sulphur marks young wines a lot.  To achieve the kind of transparency commercially necessary for the wines, they are usually heavily filtered and cold stabilised, meaning what they gain in cleanness, they lose in character.
Nevertheless, it is possible to make pink wines in a more natural vein, to harness the deliciousness of short macerated red-berry-fruit wines and put it in a more complex framework. Here are five of our favourite examples:
2018 Basis Nobody, Matthias Warnung, Kamptal
Actually Gruner – 90%, Zweigelt 10%. Grapes are fermented together and then pressed after 10 days. A kind of white, red and rose all in one. A natural wine with only a little sulphur added before bottling.

2018 L'Apostrophe Rosé, Domaine Les Terres Promises
Jean-Christophe Comor's wine is a blend of Grenache, Carignan and Cinsault. Fermented with its own yeasts, this wine also undergoes malo. The palate is all kinds of cherry – juicy, sour and even macerated. A little watermelon and citrus round things out and continue through the long, crisp finish

2018 Canaiolo Rosato, Montenidoli
From the red-stemmed Canaiolo grapes and the beautiful Montenidoli vineyards which lie on calcareous soils. Pearly-pink, almost translucent this is the most delicate and yet strong rosé wine.  The nose suggests crushed fresh rose petals, the mouth bristles with watermelon freshness and the finish mixes minerals and herbs for that bit extra.

2018 Jeudi 15 Rosato, Vino di Anna
Three-day maceration, destemmed into plastic tubs before fermenting must was racked into a 2000-litre Georgian qvevri. 90% Nerello Mascalese with 10% indigenous white grapes (Grecanico, Catarratto, Minnella Bianco, Carricante). Pale orangey/pink, this wine displays notes of ripe tomatoes coupled with wild strawberries. It is dry and fresh with a fine tannin structure. It is savoury in style with good length and minerality.

2018 Marie Rose, Baptiste Cousin
From biodynamically-farmed Grolleau Gris vines (which used to belong to father, Olivier), a naturally made rosé (whole bunch, indigenous yeast, carbonic, malo, no filtration, fining or added sulphur) which is a joy to drink, packed, as it is, with strawberry fruit and wild herbs.

*
Interested in finding out more about the wines mentioned? Contact us directly:
shop@lescaves.co.uk |  sales@lescaves.co.uk | 01483 538820