This is a series profiling the producers on our list who make natural wines. Within this series we will be highlighting some of the extraordinary and rare bottles and vintages that have helped to shape our appreciation of natural wines over the years. Previous posts from our 100 Great Natural Wines series include Austria, Spain, and a hefty chunk of France, and can be found here. 
Tuscany may certainly be described as one of the classic wine-producing regions of the world. Even those who rebel and make wines according to their own precepts, rather than to be approved by appellation or the critics, tend not to frighten the horses in the way they work. Chianti Classico and Brunello di Montalcino producers have a choice to make: work the Sangiovese grape hard to make notionally impressive wines or favour a different kind of intensity based on organic/biodynamic farming, low yields and "slow winemaking."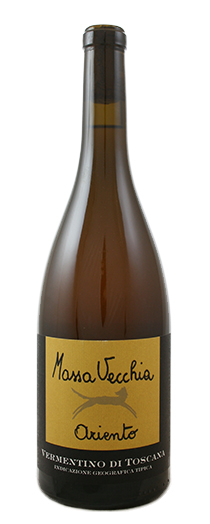 ARIENTO ~ MASSA VECCHIA
Meta-Vermentino
Fabrizio Niccolaini's wine vision is, if not unique, then original and of another era. His vineyard, which he inherited from his father and grandfather, is a mere handful of hectares. And within that tiny plot are such white grapes as Vermentino, Ansonica, Sauvignon Blanc, Trebbiano, and Malvasia di Candia (including old clones), and red varieties such as Merlot, Cabernet Sauvignon, Aleatico, Sangiovese, Alicante, and Malvasia Nera. All are at least 35 years old, including the Cabernet and Merlot, which is unusual as these two varieties are generally only newly planted in Tuscany. He has also recently planted another vineyard with only Sangiovese. The vineyard was subsequently run by daughter Francesca Sfondrini, but Fabrizio has resuming oversight over the operations.
The vineyard consists of 6 hectares, comprising 3.6 of vineyards, 1.5 of olives and 0.8 of grain. It produces around 15,000 bottles of wine each year and olive oil in small quantities.
The climate is warm Mediterranean, we are in the hinterland of the Massa Marittima here on alluvial limestone and galestro soils. Galestro is a rock formation of stone (mudstone or clay but not compact clay) and sand which will become clay, but has not yet reached the full clay stage. Others call galestro a clay-like sediment, a clay-based shale, a friable shale, and sandstone slate.
Massa Vecchia are a member of Vini Veri which emphasises the importance of organic/BD practices in the vineyard and a slow thoughtful approach to winemaking. They practice organic viticulture with some biodynamics. It is thoughtful – apparently, Fabrizio is a fan of The One Straw Revolution, which posits a philosophy that seeks to bring farming and respect for nature into balance.
Ariento is pure Vermentino, one of the quintessential Med grapes, alongside Malvasia. The grapes are harvested carefully by hand, destemmed and placed into open-top wooden tronconic vats. Maceration takes place on skins for about 14 days (up to twenty in certain vintages) with grape treading twice a day for five days and a further two to three weeks with regular punch-downs. The ambient ferment proceeds with native yeasts. The wine then matures quietly in barrels made from local chestnut trees, where it undergoes full malolactic conversion. There is no filtration or fining and no sulphur added during vinification and sometimes not even at bottling. The wines at Massa Vecchia are original and uncompromising.
Ariento is nothing short of thrilling, with its intense amber colour and a powerful scent of wild garrigue herbs amongst the notes of lemon oil and orange and just the slightest astringency (from the skins) in the finish. This is Tuscan Vermentino, burnished by the sun, drawing flavours and minerals from the surroundings, and finishing on gentle notes from the wood – sweet chestnut and fine spice.
Try with stuffed sardines (an Elba speciality) or cacciucco (fish stew) a variation on the famous dish from Livorno and most loved by Napoleon during his stay on the island.
Why we love this: It is a sipper rather than a gulper, a wine to take to a desert island and relax with. Gastronomically, it is a delight, and like so many amber/orange wines is extremely versatile. Most of all, it transports you to a place of wonderful aromas via its aromas.
If you like this: In the wilds of Sardinia, Gianfranco Manca makes what nature gives him in each vintage from windswept decomposed schistose soils. The whys and wherefores are irrelevant, you won't prise technical information from him – even with a special crowbar designed for the task.  Alvas is his extraordinary white wine made with Vermentino, Vernaccia, Retallada, Semidano, Nuragus, Nasco and Malvasia grapes, experiencing extended skin maceration (eighteen days). Meaning white – ha – the wine is hazy-amber with a subtle nose of orange flowers, verbena, ricard and apricot skin. Colour of pale ale? Tick. Almost malty nose? Tick. Ginger-flecked butter aromas? Tick. Extreme moreishness connoting natural winemaking? Triple tick. This is summer as a merger of spring and autumn – wild flowers mingling with pulped orchard fruits, a sprinkling of rock dust and cooked macchia herbs thrown in for local colour, completing a marvellous brew that quenches thirst and eats bottarga for lunch. This wine was one of the first to induct us into the joyous pleasures of orange wine.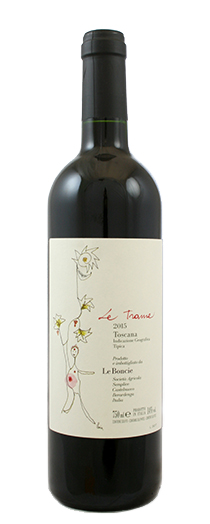 LE TRAME ~ PODERE LE BONCIE
"Fierce elegance"

Based in Castelnuovo Berardenga, east of Sienna, heart of the Classico region, Giovanna Morganti's farm is 7ha: 3 dedicated to vines and 1.5 to olives, on limestone-clay soils called galestra.
Giovanna Morganti has become recognised as one of the best of the new generation of Tuscan winemakers. Her main wine is called "Le Trame" (the intrigues) signifying the wheeling and dealing required to purchase the land. Giovanna's father was a legendary winemaker who believed in Tuscan varietals long before the flying oenologists identified this area as super pay-dirt. She studied oenology herself and went to the work in the mid-1980s for San Felice wines, also in Castelnuovo Berardenga, on a project to plant around 300 traditional Tuscan grape varieties collected from old vineyards. When Giovanna's father gave her a small farm with olive groves, called Le Boncie, she added a vineyard planted with her favourites from the experimental project – Sangiovese, obviously, but also Ciliegolo, Colorino, Foglia Tonda, Mammolo and Prugnolo. She makes only two wines – Le Trame Chianti Classico – released a year later than most winemakers, and Cinque (blend of five).
The densely-planted vineyards (7,000 vines per hectare) are at 350m altitude, Sangiovese, with a few rows of Fogliatonda for blending. Strictly organic farming practices are observed. Fermentation takes place in traditional open-topped wooden tanks. Gambero Rosso comments on Le Trame's "great, and on occasion sublime, fruit", and Giovanna's "traditional values & modern technique".
Harvest is manual – yields are naturally very low because the alberello training and this is augmented by severe pruning and debudding. Grapes are destemmed and ferment takes place in open-top Slavonian and Austrian oak barrels with punch-downs. The wine is then aged for a further 24 months in used oak barrels of different sizes, bottled without filtration or fining, and only a very small amount of SO2 (around 40 ppm total is present in the finished wine).
For years, Le Trame was a Chianti Classico notable for purity and grace. Giovanna's wine is made to the rhythms of nature, according to terroir and the vintage. As with many organic growers the objective is not to please or seduce the critics (particularly the American ones), but to present a wine that is true to itself as far is possible.
Following the voice of the inner critic Giovanna Morganti answers the famous Socratic question: "And what is good, Phaedrus, and what is not good – need we ask anyone to tell us these things?"
In 2011, she came out of the DOCG and now the wine is a humble IGT. Not so humble, even when it was a Chianti Classico, Le Trame was more of a riserva in terms of its ageing regime. Nothing has changed; the vines are older, the wine is even more structured and it smells and tastes of the countryside, with its flavours of dark cherries, wild herbs, olives and earth. Yet it also has tremendous grace and elegance. A rich stew of a wine to be drunk with the classic harvest meal at Le Boncie – pasta with meat sauce, stewed rabbit and seasonal veg.
Why we love this: It takes courage to come out of the DOCG but Giovanna has shown a passionate refusal to compromise. The wines are unique, embodying the notion of fierce elegance; they are also sensitive to the vintage and the terroir.
If you like this: Montevertine is a small Chianti estate of eleven hectares, first planted in 1967 by Sergio Manetti assisted by legendary oenologist Giulio Gambelli. By 1981 Manetti was finding the DOC Chianti too restrictive (producers were not allowed to use 100% Sangiovese and were required to blend in white grape varieties), so he decided instead to produce a premium Tuscan wine that he hoped would convey the terroir of his site, particularly with Sangiovese. Thus, he withdrew from the Chianti Consorzio, and Le Pergole Torte Vino da Tavola was born. Today, his son Martino remains committed to developing Montevertine following his father's recipe: 100% Sangiovese grapes, harvested late, fermented in cement tanks without temperature control, macerated on skins for 25 days, then matured in Slavonian oak for 18 months, with a further six in French allier barriques. Le Pergole Torte is a profound soliloquy for Sangiovese. Named after the tiny 2-hectare vineyard from which it comes, Le Pergole Torte has one of the coolest microclimates in the region, giving the wine a shivering energy, a precision to balance the wine's obvious power. If there is truly tremendous clarity to the wine, an articulation of nuance – dark berry fruit, dried cherry notes, smoke, gravel – make no mistake, Le Pergole Torte is meant to age.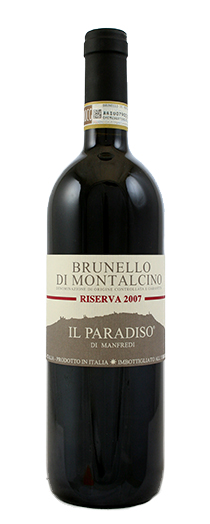 BRUNELLO DI MONTALCINO RISERVA ~ AA PARADISO DI MANFREDI
Time for a cheeky aged Bru

Il Paradiso di Manfredi is a tiny estate of 2.5 hectares in the heart of Montalcino. In the 50s Manfredi worked for the famous Biondi Santi estate. In 1958, he bought Il Paradiso di Manfredi where there were more olive trees than vines and indeed in that period in Montalcino the olive oil production was higher than the wine production.
Initially they were harvesting around 10,000kg of olives each year but, at the beginning of the 60s a big freeze destroyed all the olive trees, and Manfredi decided to replant everything with vines. In 1982 Manfredi died, and Florio, Manfredi's son-in-law, decided to work on the estate full-time.
The viticulture and vineyard rhythm is effectively biodynamic. Pesticides and weedkillers are eschewed, the waxing and waning of the moon determines activity in the vineyard and the winery.
The vineyards of Sangiovese Grosso are placed on terraces, parallel along the hill of Montalcino, with varying altitudes (approximately 330 m. above sea level) and are exposed to the north and east. The cool microclimate, the composition of the terrain, and the care the of the family give the grapes unique properties and balance.
Green pruning, cluster thinning and rigorous selection ensure that only the best grapes go into the Brunello and the Brunello Riserva.
The wild ferment takes place in concrete vats (no temperature control… ) – it is a long, slow, cool ferment, after which the wine spends 36/40 months in big casks of Slavonian oak of 25/30 hl. By law a Brunello di Montalcino may be ready for the market in the January five years after harvest, Manfredi often leave theirs for seven and the Riserva even longer.
The wines are everything you hope for great Sangiovese displaying wicked wild cherry fruit along with notes of herbs, leather, liquorice, pepper and spice and nascent prune, tar and tobacco aromas.
It's so savoury that the food you are thinking of cooks and presents itself at the table.
Why we love this: When Brunello went the way of oak and heavy extraction, Il Paradiso maintained their old-fashioned recipe. Particularly important is the long ageing in large durable Slavonian oak barrels and the gentle oxidative effect that this kind of wood has on the wine. And then the wine rests further in bottle. When the wine is finally released, it is young and old at the same time. The Riserva is magnificent, Sangiovese with maturity and development, but always with that core of grippy power.
If you like this: Try the Brunello di Montalcino, AA Pian dell'Orino. This estate is adjacent to the Biondi Santi property and the area has a long history of being particularly suited for growing grapes for high quality wines. "Our love for Tuscany and passion for viticulture binds us particularly to this land, our vines and the resulting wines". The wines come from four different vineyards that add up to a total area of six hectares.  To preserve the special identity of their vineyards they assiduously follow organic practises. The vines have never been treated with herbicides, chemical pesticides, insecticides or soluble mineral fertilisers. The immune system of the vines is reinforced by special infusions that we make with nettles, equisetum and yarrow and biodynamic preparations. Fermentation at Pian dell'Orino is induced by naturally occurring yeasts from the grape skins.  The Brunello is deep, clean, elegant, complex, "sweet", balanced, and very long. As well as the expected warmth and richness and initial flavours of black cherry, cocoa and vanilla, there is an irresistible purity of fruit launched on the back of some bright acidity and finely calibrated tannins. We have two different iterations of Brunello here: a more old-fashioned, almost sanguine version from Il Paradiso, and a modern "driven" style from Pian dell'Orino.
Interested in finding more about the wines mentioned? Contact us directly:
shop@lescaves.co.uk |  sales@lescaves.co.uk | 01483 538820
*Note: We are still open for business, doing deliveries, and keen to help everyone with their booze needs in this difficult time. Natural wine lovers can visit our online shop and order online!