If 2020 proved one thing to me it was that skin contact/orange wines were now much more than a bit-part player in our wine portfolio. In fact, they were the prime movers with three examples in our top ten fastest selling lines and several others on the margin.
Although orange wines are naturally for all seasons, the beautiful golden spring and midsummer days that we enjoyed in 2020 seemed to encourage many to drink them. Some, I suspect were amber novices (amberhorns?) wanting to see what the fuss was all about. As to the motives of others one can only speculate about the psychology of buying wine in very particular times. As specialist retailers and independent merchants came to the fore over the first lockdown, and even more so, when restaurants repurposed as farm/bottle shops, the choice of wine became both more selective and more interesting and exciting. A small punchy list might deliver up delicious pet nats, cloudy whites, glouglou reds and a small selection of amber wines. Emboldened by the enthusiastic reception to such wines, the retailers would push in yet more interesting directions, devise mixed cases and themed ones also.
The growth in sales of amber wines had been exponential even before lockdown. But deprived of the opportunity of eating and drinking out, a whole wave of diners had money to spend (and more time to do it in) on the wines that they would normally be drinking in the bars and restaurants. Sans the mark-ups.
We have over a hundred examples of amber wine in our portfolio. Each has its unique identity, its subtle nuance of style. Whereas some have the mere kiss of skin contact; others have undergone extended maceration. Some wines are bright, citrussy and aromatic; others are multi-layered, complex and phenolic.
Reducing my annual amber imbibing to a mere ten choices will omit many memorable wines. By my count, I opened and consumed no fewer than seventy-four bottles of the orange stuff throughout 2020. There were a few (good) shocks and surprises: a wild turbid Pinot Blanc from Bruno Schueller; a stunning old vines Rkatsiteli from Niki Antadze, that seemed to go lava lamp full-solids half-way through the bottle, and a stunning Weissburgunder from Bianka and Daniel Schmitt in qvevri, with partial maceration for a year. Georgia and her wines were the origin of so many taste thrills. Marina's Mtsvane, especially a bottle enjoyed at the end of the summer in the Hebrides was sublime and I drank half a dozen of Iago's Chinuris over the year, appreciating how they gradually shed their initial shyness to become something refined and grown-up. John Okro's Rkatsiteli and Mtsvane always hit the mark with shiny freshness and poise.
Whether the future is bright, the future is now probably always going to have a strong element of orange in it.
Chilion, Ruth Lewandowski Wine, California
This is 100% destemmed Cortese from the Fox Hill vineyard in Mendocino. It spends 6 months on skins before being pressed into egg-shaped fermenters. It's VERY apricot with a bit of quince and apple. Chilion is also herbal with a slight oregano note, wet hay and brassica. Cortese isn't the highest in natural acidity so the tannin structure derived from the skin maceration is a welcome component. And even after all that time on skins the tannin doesn't take over the experience but provides another facet to the wine.
In a nutshell: Old testament amber wine.
Moscatel Tinajas, Mauricio Gonzalez, Bio Bio, Chile
Muscat is one of those grapes that gains from skin maceration, its fruity aromatic toned down and the juice given some heft. Mauricio Gonzalez's version from Yumbel in Bio Bio on volcanic soils is destemmed into tinajas and ferments with skins for a lengthy period. Mid golden in colour with aromas of white flowers and citrus fruits. Vibrant and intense acidity, bitter lemon and orange and a saline finish. Very refreshing.
In a nutshell: Muscat got your tongue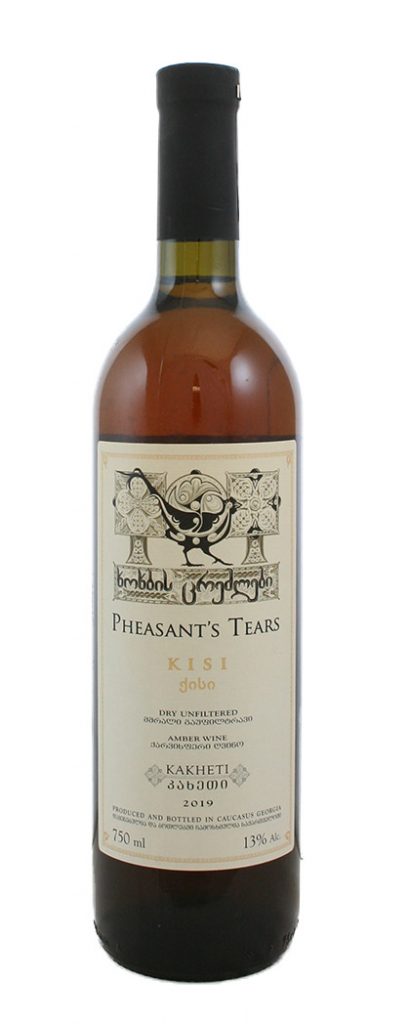 Pheasant's Tears Kisi, Kakheti, Georgia
Sometimes you just have to look at a wine to see that everything is in the right place and being held together by a powerful internal force. Extraordinary deep amber with beautiful depth of shiny colour. An amalgam of golden and yellow flowers, white tea and tropical notes of pineapple and sweet spice. Turbo-charged orange wine and the best Pheasant's Tears wine I've tasted.
In a nutshell: The giant peachy peach
Dondghlabi, Archil Guniava, Imereti, Georgia
In Archil's words:
"Dondghlabi is an old Imeretian variety of grape, it was a very common variety of grape 60-70 years ago, but now it's on the verge of extinction. My ancestors loved this wine so much that I decided to recover it. 2019s Dondglabi is the first vintage for me. I only have 400 bottles of it. It is considered as one of the lightest wines. Skin contact is 100% for 4 months, but it's still light, with different aromas."
It is more on the cloudy yellow than the full-throated amber and churns with flowers, stones and lees-spice.
In a nutshell: Quietly flows the Dondghlabi
Marto Weiss, Rheinhessen, Germany
Martin Woerner is based in Rheinhessen, working organically-farmed vines on sandstone soils. Martin previously staged with Tom Lubbe at Matassa and Steph and Eddie at Gut Oggau in Burgenland. The so-called Weiss is loud with cloudiness, light amber-hued, an old-vines field blend of various grapes such as Müller-Thurgau, Faber, Bacchus and Sylvaner, whole bunch co-fermented and aged in big old foudres. It takes the pith, big time – you can practically chew the minerals in this wine.
In a nutshell: Amber with a vice-like grip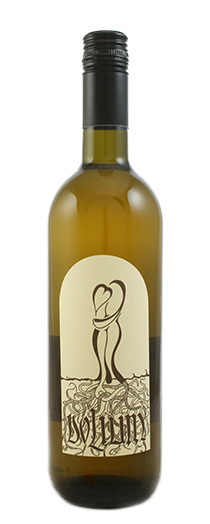 Dolium, Zorjan, Stajerska, Slovenia
The Dolium is 100% whole cluster Muskat Ottonel with the whole fruit going into the amphora (juice, skins and stems) for six months. The wine is then decanted off the marc and then remains in amphora for another six months, until the next harvest, when it is transferred into wooden barrels for yet another 12 months. This is a sensational amber/orange wine, at once hedonistic yet with a powerful deep-rooted sense of place. A living wine that changes by the minute.
In a nutshell: Feet in the earth, looking at the stars.
Andreas Tscheppe Stag Beetle, Styria, Austria
Andreas Tscheppe makes this intensely amber wines predominantly from Sauvignon with a small proportion of Chardonnay. The grapes normally come from Langegg and Czamillonberg. The foundation of this wine is built on the ripe, healthy grapes grown on the bare, poor quality soils. Grapes are hand harvested ferment in 600-litre year used Pauscha barrels as whole bunches where they ferment spontaneously, on the skins for 5 weeks. The wine is racked 2 times. The wine remains in the same barrels for 18 months and is bottled unfined and unfiltered and with zero sulphur added.  This is a wine that is close to the earth in every sense. The slow ageing gives it rich depth and almost spicy complexity. The cognac-hued marriage of Sauvignon and Chardonnay is a fine one (we see the same in Sepp Muster's Erde) and the rocky soils bequeath an intense minerality to the final wine.
Tenuta Il Grillo Baccabianca, Monferrato, Piemonte
The Baccabianca is crazy Cortese from a forty-year-old (+) vineyard, given 60 days of skin contact which confers the amber colour and grip that add texture and complexity to a wine which, aromatically speaking, swirls dynamically in the glass revealing spiced apricot and other fleshy late-summer fruit, then hints of marzipan, white flowers and wild herbs. The palate echoes this with some additional ginger and pepper from the lees and tannic crunch from the skins. Cortese has an abrasive, almost rough-hewn quality, but after the several years that Guido allows it to meld in the bottle, you get something unforgettably profound.  The colour is wonderful and healthy and holds the light. The wine has plenty of youthful energy even approaching its 10th anniversary, illustrating the wisdom of slow winemaking.
In a nutshell: Gavi not Gavi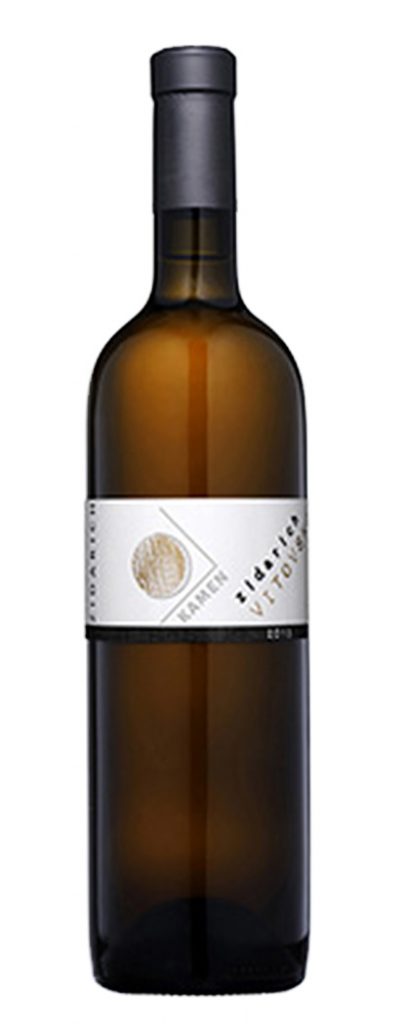 Vitovska Kamen, Benjamin Zidarich, Friuli
Kamen means stone. Benjamin has always been fascinated by the natural beauty and unique characteristics of the Carso stone. For many years, he looked for a viable alternative to oak barrels and finally decided to experiment with vinifying in stone vats, a practice that dates back to prehistoric times. By creating these stone vats, he also wanted to strengthen the winery's relationship with the region and terroirs, using a natural material and local artisans. Marko and Kristjan Zidarich were responsible for sculpting the stone into a single vat made of 5 pieces stacked one upon the next.  The Kamen has a most attractive mid-gold colour, aromas of chamomile, fruit pith and wet limestone, gentle entry in the mouth and initially reserved palate that moves between apricot-stone-fruit, cool minerals, golden spice and savoury-smoky elements. It finishes on a strong bitter phenolic note and medicinal nuances of fennel and wild herbs and spices. This is wine that defines or rather describes its terroir. It possesses a driving minerality, the essence of pure stone, capturing both the sunshine of his vineyards and the cool depth of his cellar hewn out of local stone.  
In a nutshell: Amber stone juice
Massa Vecchia Ariento, Massa Marittima, Toscana
The wines at Massa Vecchia are original and uncompromising. The Massa Vecchia Ariento is 100% Vermentino. The wine is fermented with the skins, the grapes are pressed by foot twice a day for five days then the wine spends a further three weeks on the skins, with daily punch down. Aged in small chestnut casks, the resulting wine is nothing short of thrilling, with a bright golden colour and a powerful scent of wild garrigue herbs amongst the notes of lemon oil and orange and just the slightest astringency (from the skins) in the finish. It reminds us of the wines of Princic and Gravner and even the nonpareil Trebbiano of Valentini. Try with stuffed sardines (an Elba speciality) or cacciucco (fish stew) a variation on the famous dish from Livorno and most loved by Napoleon during his stay on the island.
In a nutshell: The natural touch
Bubbling under:
Pinot Gris Maceration sans soufre, Pierre Frick, Alsace
Si Rose, Christian Binner, Alsace
AA Foradori Pinot Grigio Fuoripista, Trentino
Sister's Kisi, Kakheti, Georgia
Okro's Rkatsiteli, Kakheti, Georgia
Bianka & Daniel Schmitt Riesling M, Rheinhessen
Andert Gruner Anadjucka, Burgenland
Andi Knauss Pinot Blanc Amphore, Germany
Or Norm, Les Cailloux du Paradis, Loire
Las Cepas Paco "El Reflejo" Blanco, Vinos Oceanicos, Andalucia
*
Interested in finding more about the wines mentioned? Contact us directly:
shop@lescaves.co.uk |  sales@lescaves.co.uk | 01483 538820
*Note: We are still open for business, doing deliveries, and keen to help everyone with their booze needs in this difficult time. Natural wine lovers can visit our online shop and order online!