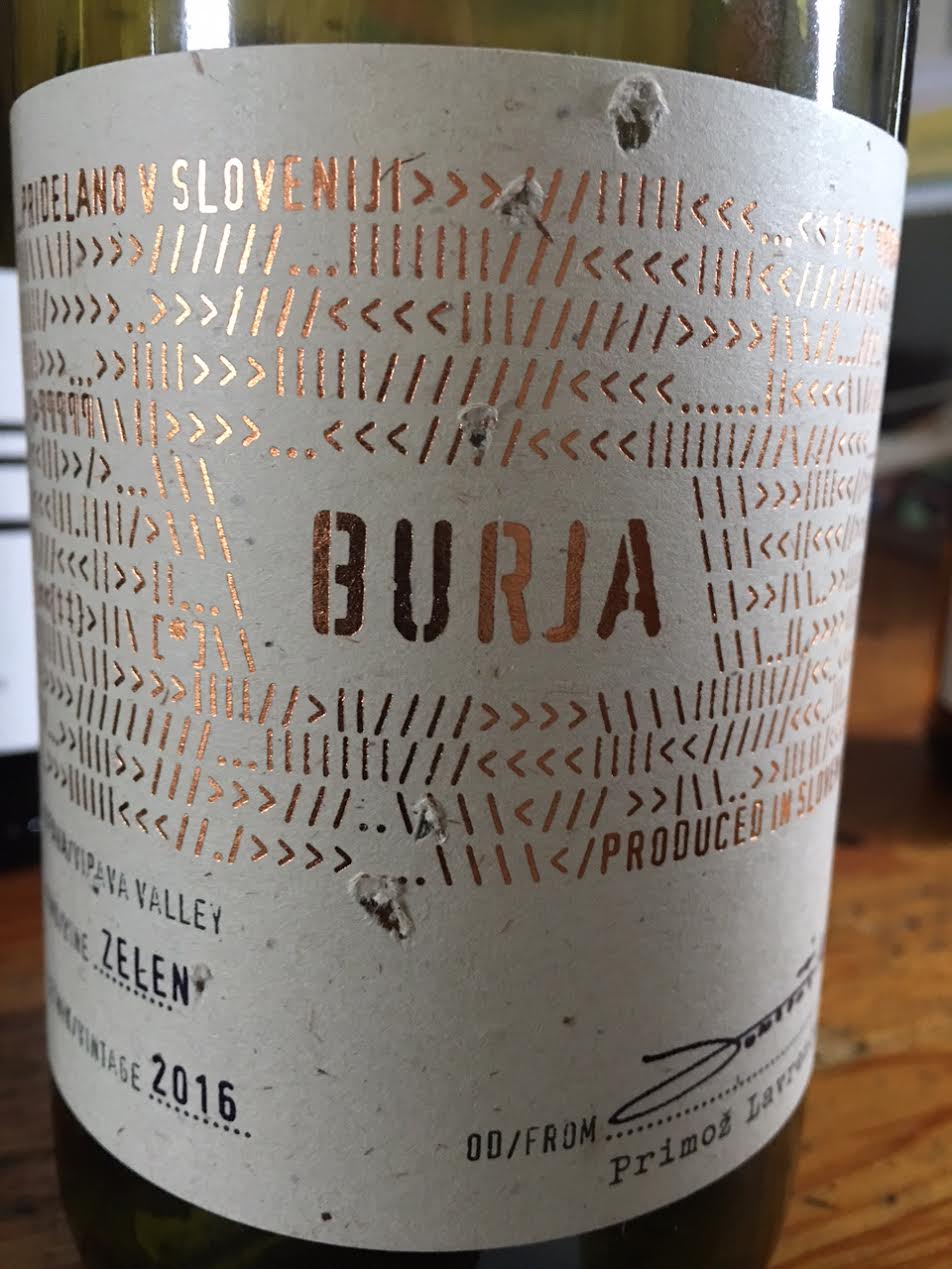 The third generation to cultivate grapes in his region, Primoz left the family estate in 2009 to start his own label, 'Burja', the name of the strong wind that blows through the Vipava Valley. The soils here are called Flysch, (a sandwich of sandstone, marl, breccia and conglomerate).
Zelen is indigenous to Vipava Valley. Historically, it was planted just in Upper Vipava Valley – the part of valley which was part of Carniola region in the Austro -Hungarian Empire. First described by Matija Vertovec in Vinoreja in 1844 Zelen was preserved in Vipavska dolina but by the 1980s it virtually disappeared with just 1 ha left. Now there are around 60-70 ha planted to this grape.
A few years ago, Zelen wine was almost inaccessible to wine lovers. Only if you were connected, was the honour to taste the wine given to you: wine of a friend who had a good acquaintance in the Vipava Valley region bringing you to the right place at the right time: into the wine cellar. Zelen is a Mass wine, wine for special opportunities, designed only for special friends and moments. It has such charisma, which other wines only try to acquire. Its bouquet is unique and incomparable to other wines and it remains forever inside of those who experience it. 
The Zelen wine's charm springs from antiquity. How exciting can be to discover something already forgotten, to search its roots. As if we uncovered the final layer of soil from skeleton of a dinosaur which became extinct a long time ago. As a matter of fact, we drink the Zelen wine of our ancestors confirming national identity and thus gaining in self-confidence. We can boast this wine in front of other nations accounting themselves for holders of civilization also by preserving a rich tradition of vine cultivation.
–Vinest Journal
'Zelen', is Slovene for "green" – because the grapes have an intensely-coloured pulp, and, if left unfiltered, the wine will emerge a vivid emerald green colour. Primoz's 2016 wine spends three days on skins, is fermented in a combination of stainless vats and cement tanks, has a delicately perfumed nose of white flowers, green apple, then jolts of grapefruit, zippy lemon, apple and floral notes on the palate. We love the intensely mineral, racy, saline edge. I would happily drink this with oysters, but I think it would be even better with lobster and mayo with a new potato salad. Sadly, with the harsh climate and the unpredictable nature of the Burja wind, Primoz doesn't make this wine every year.
Watch this video interview with Primoz at the Real Wine Fair 2017:
If you are interested in discovering more about Les Caves' wine catalogue, contact us directly…
Buy online here
Retail: shop@lescaves.co.uk | 01483 554750
Trade: sales@lescaves.co.uk | 01483 538820