Last month our Sir Wregg hosted a virtual wine tasting for Sign of the Vines, a natural wine shop in Brighton. The theme of the tasting was "Wine and Energy". Here, Doug expands upon the tasting and the talented growers behind the wines.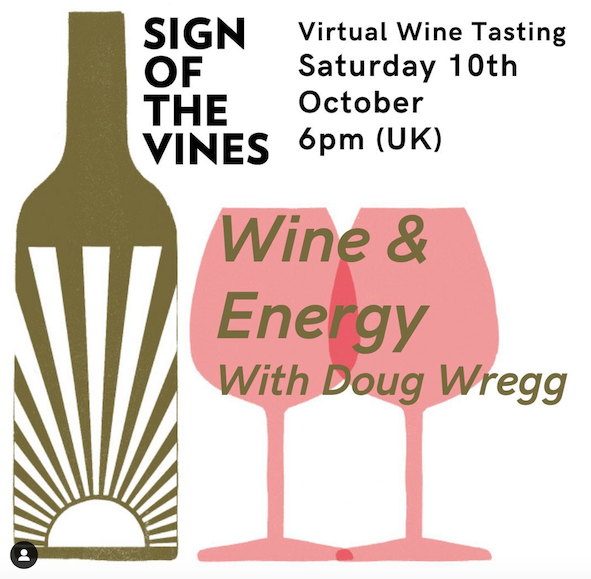 After and during my talk about the idea of wine having energy, we zoom-tasted four wines, that were intended to exemplify my thesis (such as it was).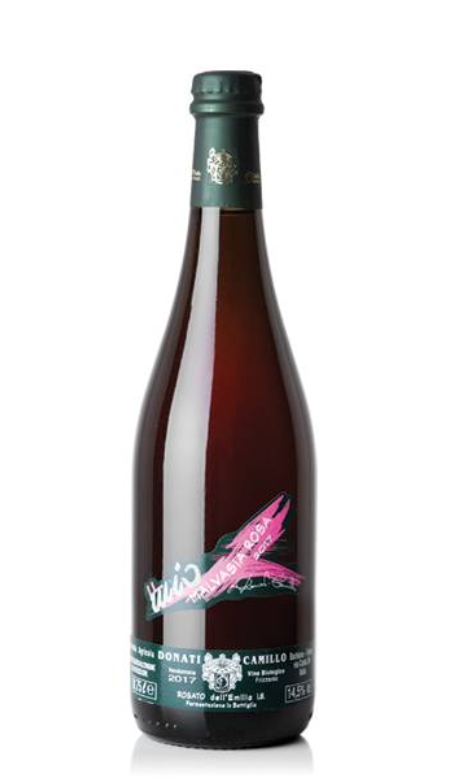 The first bottle was a sparkler from the stable of Camillo Donati. Sparkling doesn't quite describe the wine; yes, there were a few beaded bubbles winking at the rim of the glass, but the petillant factor was on the very gentle, almost tranquil, side. Some wines are a vehicle for bubbles, and indeed we may buy and drink those wines for their refreshing snap, crackle and pop. But they are either hollow wines or manufactured constructs, built not on fruit, rather on the process of getting bubbles into grape juice and retaining them, and compensating for the lack of quality in the fruit by blending or using lees and sugar to create a flavour profile.
Donati's wines are naturally-made and he would not have it any other way. When he refers to wines made by the charmat or tank method, he talks about those wines having nowhere to go and being effectively dead – lacking energy. He himself wants the essential life of the vineyard, those biodynamically-farmed vines and carefully-nurtured grapes, to be translated into the wine itself. By the way, the reason why we have bubbles and not still wines with Camillo, is all to do with the importance of the local cuisine. A former sausage maker himself, and dwelling in the land of porchetta, Camillo is versed in the lore that the traditional wine of the region must be fizzy, all the better to cut the fat of the meat and help one digest. His sparkling wines consequently are certainly not ephemeral aperitifs; instead they are intended to be gastronomic and even possess the capacity to age. Which is not to say that you can't drink on any and every occasion!
It is a joyous, perfectly uncomplicated wine, yet it makes you hungry.
The wine in front of us was his Malvasia Rosa Rosato Frizzante, a mouthful to say and a mouthful to drink. It is a pet nat usually, sometimes called metodo ancestrale. Unlike the classic method of making sparkling or the charmat/tank method referred to previously, this is the result of a single fermentation of the juice. The wine ferments with its natural yeasts and then if the juice is good and the yeasts are healthy and active, is bottled, where it continues to ferment to dry and the bubbles are captured. Sometimes, to help the process continue, a wee bit of unfermented Malvasia (in this case) is added. When the wine has completed the fermentation (usually to dry) it is allowed to settle and then is disgorged off the gross lees.
The colour is beautiful, a reddish-pink, middling hazy, there are the Malvasia aromatics but also a suggestion of something deeper, a touch herbal in the background. Then into the mouth, a melange of red fruits and ripe citrus, and a gentle phenolic aspect from skin contact (all his sparkling wines spend some time on skins) with a dusting of white spice from the lees. It is a joyous, perfectly uncomplicated wine, yet it makes you hungry.

Next up was Alexandre Bain's Pierre Precieuse.
Alexandre's passion for working the land was inspired by his grandfather who was a farmer. At 18 he decided to go to winemaking school in Beaune. He then worked for several different vignerons until he was finally able to buy a few hectares of vines in 2007. Alexandre tends his land biodynamically, works with horses (his horse is named Phenomène), and make wines with minimal intervention. He further believes natural wine is the most authentic product of terroir and for this reason his terroir must not be altered by chemicals or by sulphites, which will obscure the hard work he does in the vineyard.
Planted on soils of mainly clay and limestone, his vines of Sauvignon Blanc span across 11-hectares of variegated clay and limestone soils. Alexandre Bain's approach is to produce terroir-driven wines which express the domaine's unique parcels. When asked about his choices in terms of élevage, Alexandre Bain explains that they are "depend on the wines' needs, but last at least 18 months".
A couple of generations ago, Alex's approach would have been considered normal.
Alex's philosophy is to protect the environment as much as he can. For him, natural wines are far from being just a trend, but rather a considered approach which he cares about enormously. He is a member of the Association for Natural Wines whose aim is to put forward a cahier des charges with a view to regulating the use of the term 'natural wine'. The criteria required to become a member of this association is very strict, with 15 steps.
Alexandre Bain is more than mere winemaker; he is a market-gardener, beekeeper and farmer. He promotes biodiversity in his vines by introducing fruit trees and beehives. The aim is to promote a diversity of species in the vineyard. He uses draft-horses to till the soils between his vines. A proponent of biodynamics, his wines are neither chaptalised, nor fined nor filtered, and the sole yeasts used are those naturally found on the grapes. He combines the best of ancestral methods of vinification with the use of modern tools to follow the progress of his wines during fermentation.
He would see himself as defending the traditions of appellation, but the notion of appellation has been so abused by tasting panels and bureaucratic bodies, that working in a traditional, environmentally sensitive – and natural – fashion is not recognised as "typical of the appellation." Alex is one of the few who growers who takes biodynamics seriously in Pouilly, and works diligently to restore the health of the soil through preparations and sprays. He works by hand in the vines, uses animal traction to prevent compaction of the soil. He harvests later than most, achieving physiological maturity in the grapes and higher sugar levels (also more colour in the skins). His yields, always manual – no machine harvesting here – are between 30-40% of the allowed rendement for Pouilly-Fumé. He does not use temperature control, fermentations are wild, long and ambient; the wine is not touched, there is full and natural malolactic conversion and no filtering (just natural settling). The wines spend around two years being nourished with their lees.
A couple of generations ago, Alex's approach would have been considered normal. In the monoculture that is Pouilly-Fumé and Sancerre, with bigger vineyards, more commercial demand, farming has been mechanised, alongside the means of wine production. The Sauvignon grape has been commercially profiled – so much so, that, as a vigneron, one can buy yeasts to give you specific flavour types, or, at very least use cultured yeasts and enzymes to control the vinification and obtain homogenous outcomes. Classic Pouilly-Fumé is now the result of early harvested grapes from (often) chemically-sprayed vines, machine picking, cold settling of must, sulphur, temperature-controlled ferments, added yeasts, blocked malo, filtration, fining and more sulphur. The fact that this may be norm does not negate Alex Bain's approach; rather it illustrates the vast difference between wine as a commodity, something designed in every way to be consistent (blandly so) versus a hand-crafted living liquid.
I believe that there is a subtle magnetism in Nature, which, if we unconsciously yield to it, will direct us aright.
–Henry David Thoreau
Pierre Précieuse sees whole bunches of grapes gently pressed, the stems allowing the juice to run off the must very easily (by gravity). Fermentation takes five weeks normally, then the wine remains on its lees for a couple of years in tank (and sometimes in barrel), without stirring, until racking one month before bottling on a fruit day. No filtering or fining, just 10 mg of sulphur added before bottling.
Alexandre calls this wine "Pierre Précieuse" because it comes from grapes planted in a special parcel called "Les Courtes Echines" (the short backs or the short spines), that is that is so crammed full of little limestone pebbles that Alexandre comments "you can hardly see the soil itself". These pebbles capture the sun's heat and release it in turn back to the enabling Alexandre to harvest fully-ripe and sometimes over-ripe grapes, giving the wines in turn their richness and depth. He comments, "even though this Pouilly-Fumé is a cold region, thanks to these precious stones, my wines are "ensoleillés" (sunny) and "souriants" and gourmands.
All Alex's wines are textural, weaving together aromatics (three season's worth – from spring through summer to early autumn), golden-amber in colour, spice and butter notes from the lees-maturation, and finishing on the throbbing complex cut of mineral salts.
This Renaissance man, naturalist, and biodynamic maven commands tremendous respect among his peers for his visionary approach to topics like soil management, pest control, and drought mitigation in his vineyards –Kermit Lynch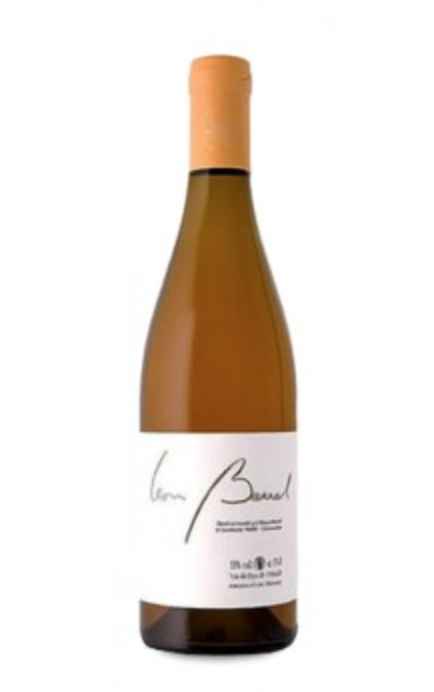 There are mavericks. Then there is Didier Barral, who is a deeply questing vigneron, a farmer's farmer, if you like, whose obsession with minutiae forms the bigger picture. Didier owns 35-hectares of biodynamically-farmed vineyards situated in a forest of garrigue on slightly acid schist soils in which a little of everything grows. Everything starts from the soil which must be made as healthy as possible.
"Nowadays, farmers feed the planet but destroy it at the same time. Sometimes they think they are doing the right thing by ploughing too often for example, which eventually damages the soil structure. We have to observe nature and to understand how micro-organisms operate. Then we see that tools and machinery can never replace the natural, gentle work of earthworms, insects and other creatures that travel through a maze of tunnels, creating porosity and aerating the soil, making it permeable and alive. There's grass in our vineyards and amongst the grass, there are cows and horses: a whole living world that lives together, each dependent on the other and each being vital to the balance of the biotope." –Didier Barral
This is an extraordinary micro-climate where the mountains on one side and the proximity of the garrigue which shelters fauna and flora create the preconditions for an excellent terroir. Didier is adamant that cow manure is the best, and not having delved too deeply into these matters, as it were, who are we to say otherwise? A photographic album of the vineyards could be entitled: My Favourite Bugs or A Diet of Worms or even A Riot of Worms, for it reveals astonishing diversity of benevolent creepycrawlydom, indication of a thriving, living soil. Natural solutions prevail: small birds make their nests in the clefts of the vines (these nests lined with the horse hair that has been shedded) and they prey on the mites and bugs that are the enemies of the vine.
"But even if it feels religious, and even if Didier is a noted advocate of organic, Fukuoka-influenced-hands-off farming, nothing about Didier's discourse feels preachy. There are no exhortations; no imperatives." (Gargantuan Wine)
As he is wont to say, the earth existed before the philosophy of biodynamics was propounded.
"His persuasiveness flows from the stunning beauty of his 35 hectares of vines, and from the freshness and purity of his wines. He speaks for himself, and tells his story: one of observation, of trial and error in his vineyards." (Gargantuan Wine)
There are mavericks. Then there is Didier Barral, who is a deeply questing vigneron, a farmer's farmer, if you like, whose obsession with minutiae forms the bigger picture.
There is a lot more to the process than can be described here – his views on gobelet vines, the equipment he uses in the vineyards so as not to compact the soils and of course the dissertations on worm-life.
Didier is not only a perfectionist in the vineyard; he also practises natural vinification, although he would doubtless deprecate that term. Triage is vital for the quality of the grapes which makes or breaks the wine. He dislikes carbonic maceration as he believes that it explodes the fruit and leaves nothing behind it. The fermentation is done with wild yeasts in cement cuve, pigeage is by hand, long macerations are followed by ageing in wood, and the assemblage (all grape varieties are vinified separately) follows eighteen to twenty-four months later. No filtering or fining, these are natural products, lest we forget. As Paul Strang writes: "He scorns the modern bottling plant, deploring the use of filters and pumps which interfere with the natural qualities of the wine. All you need is a north wind and an old moon."
And the wines? Well, they have a magnificent fruity intensity, but his aim is "to make something irresistible: a bottle of wine that no one would willingly leave unfinished" (Virgile's Vineyard – Patrick Moon).
The white (not really white) too, is a field blend of centenarian Terret Gris and Blanc (80% of the mix) with Viognier and Roussanne making up the rest. The yields here are an eyewatering low 15hl/ha with a strict triage. Fermentation takes place in cement vats with natural yeasts and a further malolactic in barrels. The grapes macerate for 3-4 hours in the old basket press with a lot of oxygen. The juice goes brown and then naturally clarifies, but retains a rich amber hue. No filtration or fining to leave a mark on this intense dry white with its mix of sherry and honey aromatics followed by vegetal/fennel notes, and incredibly pure ripe citrus-flecked palate and a super-saline finish.
If you have never tried Didier's wines before, you will be amazed by their energy and their intensity. They live their connection with their place of origin.
I write of that journey
I write of that journey
I remember how my mother would hold me.
I would look up at her sometimes and see her weep.
I understand now what was happening.
Love so strong a force
it broke the
cage,
and she disappeared from everything
for a blessed
moment.
All actions have evolved
From the taste of flight;
the hope of freedom
moves our cells
and limbs.
Unable to live on the earth,
Mira ventured out alone in the sky –
I write of that journey
of becoming as
free as
God.
Don't forget love;
it will bring all the madness you need
to unfurl yourself across
the universe.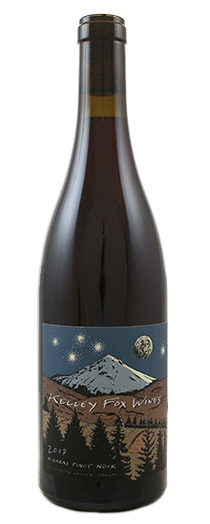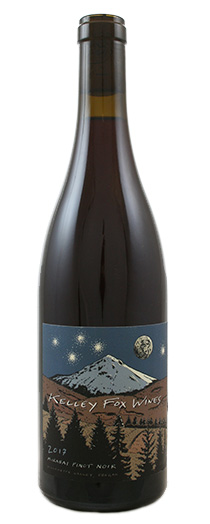 We finish our energetic journey with a visit to Kelley Fox's Maresh Vineyard via a bottle of Mirabai Pinot Noir. Actually, the wine also features grapes from the neighbouring Weber Vineyard, situated in the Dundee Hills region of Oregon.
The vines have a deep-rooted connection with place and Kelley has a connection with the vines and the same connection with place. She spends all her available hours in her vineyards; it is her special place, where she can be close to nature and feel the passage of time through the growth and behaviour of the vines.
Kelley is highly attuned to the song of each vineyard.
Most of the canopy work in her blocks at Maresh she does personally and in solitude, including the biodynamic sprays. The wines are touched only by Kelley, but they are not a personal expression as she always says… "No stylistic intentions are imposed. They are silent, living songs of these beautiful farms."
She writes: "Ovid wrote in his "Metamorphoses" that we have entered the Age of Iron, "that hard age of baser vein" (I. line 128), but farms like Maresh and Momtazi are tended with such deep respect for nature that they feel more like the previous Ages of Silver or Bronze.
Kelley is highly attuned to the song of each vineyard. She would make "spirited" wine, of course, wherever she was farming. Her approach is subtle and responsive; for her grapes are matter waiting to release the energy of the vineyard, and the wines are the liquid containers of that energetic potential.  She is a humble exponent of the personal give-and-take of biodynamics, the notion that the entire process of winemaking involves tapping into a primal cosmic energy; a process that is sharp and painful in that it often takes over your whole life, the love in your body, your integrity, and your perception of the nature within you and without you.
Nature never hurries. Atom by atom, little by little she achieves her work. —Ralph Waldo Emerson
For growers such as Kelley (and there are not many like her) nature itself is the real sublime artist, whilst the vigneron, the natural artisan vigneron, labours to capture its indifferent beauty. Like the artist in Joyce's Portrait of an Artist… she never puts herself at the forefront of the enterprise, remaining within or behind or beyond or above her handiwork, invisible, refined out of existence. Of course, she is a sensitive and sensible editor, makes myriad choices and has the technical savvy to respond to the needs of the wine. She speaks eloquently, however, about liberating the story of the wine, part of the process of channelling of the energy of the vineyard, and, that the once the wine is born, it no longer belongs to her (and becomes its own free spirit). This returns us to the notion of humility and respect, that farmers are stewards or guardians of the land. What they take they also need to give back, which is why this form of vine growing is not just physically demanding as the process of endless nurturing inevitably is, it is equally spiritually demanding. The process is two-way; the vineyard can be a healing place also.
Kelley disappears into her wines (for want of a better expression); hers is a reclusive, generative presence – she understands her wines whilst detaching from them. Meanwhile, the taster needs to approach with an open mind and an open spirit; in other words, not burdened by preconceptions of what Oregon Pinot Noir might or should be. When you drink a bottle of Maresh you should embark on a journey – these wines embody everything that is wonderful and intriguing (and occasionally frustrating) about Pinot Noir. They carry the darkness and light equally in their souls, sometimes they are temperamental and sometimes they beam with pure energy. What I love most of all is their opaque transparency. The oxymoron is justified; the wines are limpid, sans veneer, whilst the fruit is dark, volcanic, throbbing. There is deep-rootedness, but not heaviness, textural completeness but not obviousness, flowers, herbs, earth and sky, all rolled into a whole.
Mirabai (and her mother wines, Maresh and Weber) may be open or closed, eloquent or reserved, depending on the day. Today, we felt the woody, earthy-clay herbal incarnation of the wine; on other days, we might taste wild strawberries and an array of other red fruits. Wine, the living product of the soil and the sun, will reveal one aspect or another of its origin and when it is at its most sublime, will show all its elements combined in regal harmony.
Mirabai may be open or closed, eloquent or reserved, depending on the day. Today, we felt the woody, earthy-clay herbal incarnation of the wine; on other days, we might taste wild strawberries and an array of other red fruits.
The own-rooted vines of Maresh provide the grapes for Maresh Vineyard and whichever small production block wines that Kelley decides to make in a given vintage. Very near, and on the same soils, is the Weber Vineyard for which Kelley takes grapes for her Mirabai (supplementing some Maresh fruit).
All authentic and true to themselves. All articulate. The truth is in the tasting. In lieu of knowing the wines, you can certainly "feel" them.
Once the wines are made, Kelley detaches from them. As the Georgians might say "she put them on their feet." She might deprecate the notion of being a winemaker. She is a combination of artisan, a translator, a midwife, a sensuous individual. She feels and understands natural beauty; she is brilliant, charismatic (yet reserved), loyal and respectful. The wines reflect that – they make no concessions and are not polished to an easy sheen. They are what they are and isn't that the essential message of terroir?
We tasted: 
2019 Malvasia Rosa Rosato Frizzante, Camillo Donati, Emilia-Romagna
2017 "Pierre Précieuse", Alexandre Bain (Pouilly-Fumé), Loire
2017 Vin de France Blanc, Domaine Léon Barral, Faugères, Languedoc
2018 Mirabai Pinot Noir, Kelley Fox Wines, Dundee Hills, Oregon
*
Interested in finding more about the wines mentioned? Contact us directly:
shop@lescaves.co.uk |  sales@lescaves.co.uk | 01483 538820
*Note: We are still open for business, doing deliveries, and keen to help everyone with their booze needs in this difficult time. Natural wine lovers can visit our online shop and order online!