A personal reminiscence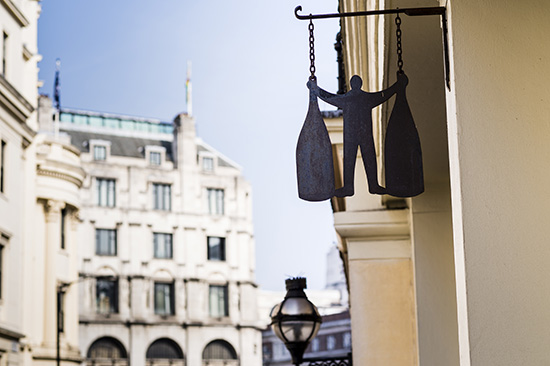 It has been officially announced that Terroirs, born in 2008 at the height of the recession in William IV Street WC2, is to close its doors and hang up its wine decanters. It may be a cliché to say that we have enjoyed the rollercoaster ride. But we definitely have. Terroirs was, of course, more than bricks and crumbling mortar; it had personality by the spade-load, and over its life beguiled a wide audience of diners and sploshers, from wine novices to seasoned unicorn-hunters. Of course, there were the wines, but Terroirs also elevated the humble anchovy and even gave you instructions on how to eat it. For this alone, it deserves a place in wine bar history!
The following extract is taken largely from The History of an Unusual Wine Company in 10.5 Chapters.
Late 2008 in a galaxy not far away from Charing Cross….
Customer: Good Morning.
Owner: Good morning, sir. Welcome to Terroirs, London's first natural wine bar!
Customer: Ah, thank you my good man.
Owner: What can I do for you, sir?
C: Well, I was sitting in the Coutt's Bank on The Strand poring over some financial spreadsheets and I suddenly came over all desiccant.
O: Desiccant, sir?
C: Cotton-mouthed.
O: Eh?
C: 'Ee, I were reet thirsty!
O: Ah, thirsty!
C: In a nutshell. And I thought to myself, 'a little fermented grape juice will do the trick', so, I curtailed my spreadsheet surveillance, sallied forth, and infiltrated your place of purveyance to negotiate the carousing of some vinous delights!
O: Come again?
C: I want to buy a glass of wine!
O: Certainly, sir. What would you like?
C: A beaker of your finest Pinot Grigio, my good bar-keep.
O: I'm afraid we don't have any.
C: Never mind – Make hither with the crisp Sauvignon of New Zealand.
O: We have yet to list one, sir.
C: Tish, tish, no matter. Uncork a bottle of glorious hock and pour me a goblet of German gold.
O: No hock, sir.
C: Jacob's Creek?
O: Not as such.
C: Rosemount?
O: Not today, sir.
C: Ah, how about Rioja?
O: We don't really get much call for it around here.
C: Don't get much call for it??
Etc etc.
Terroirs Charing Cross, not far from the legendary Gordon's Wine Bar, whose tenebrous basement is encrusted with the candle wax of centuries –and is probably still – in my fond imagination – serving highly geological pies and crusted port to Sairey Gamp and Dick Swiveller when those two incorrigible Dickensian carousers are out on the town.
Terroirs. No lager on tap. No cheapo NZ Savvy. And the first person to order a bottle of Pinot Grigio, presented with Dario Princic's intense, tannic ramato wine, swirling cloudily in a carafe. Gentle reader, he fled. Pish and tush.
Terroirs, a beautiful natural wine institution, one which helped to change the drinking game in London, a place of happy memories and great stories, has closed its doors after twelve amazing years. Its spirit will live on in our hearts and minds.
Terroirs & A Brief History of Natural Wine in the UK
You will rejoice to hear that no disaster has accompanied the commencement of an enterprise which you have regarded with such evil forebodings!
One evening, eleven or so years ago, I was sitting in Terroirs Wine Bar in Charing Cross, watching a suited-and-booted businessman surveying the wine list. I overheard him ordering the Sancerre. No ordinary Sancerre, mind, this particular version had been "made" by a producer called Sébastien Riffault. Sancerre, Jim, but not as we know it, an entirely new supernatural species of Sauvignon Blanc. It arrived at the table in a decanter, a murky Mumbai-mulligatawny fen-sucked liquid verging on the russet-brown, sporting aromas (I knew from experience) of bruised orchard fruit, amontillado sherry, fermented mulch and malt. The gentleman smelled the wine, sipped it… and smiled. Although there was no accompanying thunder and lightning to corroborate this, I felt something momentous had occurred, a Rubicon had been crossed. Symbolically, if you like, it was as if le tout UK had embraced the notion of natural wine in that instant.
Terroirs was, of course, was more than bricks and crumbling mortar, it had personality by the spade-load, and over its life beguiled a wide audience of diners and sploshers, from wine novices to seasoned unicorn-hunters.
And it wasn't only this sacred Sancerre moment. Wine was being ordered in pots, whites decanted into, and served from carafes at cool-cellar temperature rather than fridged, while youthful reds were popped into ice buckets to freshen them up and accentuate their exuberant fruit. The so-called usual wine-rules-of-engagement no longer applied. Individual wines were being respected, served and received, on their merits. When one particular customer questioned a waiter about the colour of Elena Pantaleoni's Ageno, a deep-amber Malvasia-rich blend, a helpful man on a neighbouring table interjected: "Oh, but it's meant to be that colour, because the wine was fermented with its own grapeskins– and, by the way, it is utterly delicious!" Yea, here e'en in London, strangers were talking to each other, enthusiastically passing bottles and glasses of wine back-and-forth to other tables across the restaurant. This was excitement, this was sheer discovery, this was natural wine bringing people together in wine communion.
The spark had been struck.
There is a great line in the movie Monsters Inc where the company is advertising the renewable-power ethos behind frightening the bejasus out of little children with the strapline: "We scare because we care". Terroirs also scared because it cared. In the early days, you could kick back at the bar and drink Pascal Simonutti's Vin de Table Gascon by the glass, a wine that did not hold back from spooking the frail of heart, one firmly positioned at the durian fruit end of the aromatic spectrum. If this wine were a labour of Hercules, it would be the mares of Diomedes and the Augean stables rolled into one. And yet, reader, I loved it, and so did others, for lurking amongst the funk was unmediated fruit and sweet earth and a lightness that would charm the narrator of Steppenwolf to the toe-tips of his drinking boots.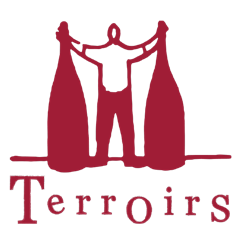 Where it all began
Scroll back to early 2000s and wine bar culture in the UK was moribund. A handful of honourable exceptions apart, it was not much more than a rump of corporate venues in the Square Mile, flogging over-priced champagne and offering depressing digests of the usual square brands. Places you would avoid if you truly loved wine. Pinot Grigio über alles and chips with everything. The opening of Terroirs in 2008 was a game-breaker, being the first wine bar in the country with an all-singing, all-dancing natural wine list. Not that this was purely about peddling crazy wines in a partisan manner, and trying to frighten the horses. (Although we even had little horse symbols on the list next to wines to denote those that exhibited a certain gout-à-barnyard). The idea was to connect drinkers to small growers, to the vineyards, and to the lesser-seen wine regions, and to make people aware of the journey of wine from grape to glass. The success of Terroirs subsequently spawned Brawn in Hackney, Soif in Battersea, Green Man & French Horn in Covent Garden, and latterly, Toasted (which then became another Terroirs) in East Dulwich. With punchy, unpretentious wine lists featuring wines made with minimal-or-no interventions, the wine bars/restaurants placed wine on a par with food. In these joints you might drink "vins de soif"; wines from "maritime" or "volcanic" climes; "orange & skin contact wines" and those made in "amphorae, qvevri and tinajas". Not that these were identikit selections. Whilst The Green Man, for example, was entirely devoted to producers who worked in the Loire region, Terroirs built up a considerable Italian representation owing to the proclivities of various bar managers, and both Brawn and Soif featured a very healthy smattering of wines from Jura and Beaujolais respectively. Nowadays, they all happily span the natural wine globe. An ever-changing selection by the glass, added to the permission to open any bottle on the list (within reason) to taste, was part of the flexibility of a service that encapsulated the spirit and enterprise of the natural wine bar, proving that wine could be talked about, embraced and celebrated in a relaxed way.
In truth, the idea of a wine bar had been at the back of our minds for a while. Eric had already been exploring the Parisian natural wine bar scene. At that particular point, natural wine was "not a thing" in London, however.
Terroirs owed much to the great Parisian wine bars such as Le Verre Volé, although it was born as a result of a random discussion between Eric and myself. I was on the number 24 bus (memory serves), and while daydreaming I suddenly had a vision of people sitting around a bar drinking sanguine, earthy wines from the south west of France and the Languedoc. Paul, on the road being hit by a two-by-four it was not, but still it was an intoxicating vision. At that moment, Eric happened to call me and asked: "What are we going to do this year?" I outlined my nebulous desire for a place to showcase our wines in a convivial atmosphere, and that started the hare running.
In truth, the idea of a wine bar had been at the back of our minds for a while. Eric had already been exploring the Parisian natural wine bar scene. At that particular point, natural wine was "not a thing" in London, however.
One day Eric phoned me and said excitedly: "We've found the site!" It was a former Davy's Wine Bar on William IV Street, a short cut-through between The Strand and Trafalgar Square, contriving to be, at the same time, both central and off the map. The bar was split into a ground floor restaurant/bar and a deep basement oubliette called The Tappit Hen. It wasn't a prepossessing building, its previous occupants having painted most of the interior surfaces matt-black (atmospheric dungeon-like wine bars had been à la mode since the Dark Ages) and had partitioned the room with false ceilings and walls. I couldn't see it, but then I had no imagination.
We opened Terroirs in the latter part of 2008. The airy ground floor restaurant now had a fabulous L-shaped zinc bar as its centrepiece, and split-level seating. A tiny galley kitchen, possessing a plancha and not much else, dispensed a prodigious quantity of food. The décor developed organically over the intervening years, characterised by abundant colourfully-labelled iconic natural wine bottles (empty, natch!) on window sills and ledges, and wine paraphernalia crammed into every nook and cranny of the restaurant, with a rogue's gallery of specially-commissioned photographs of the good, the bad and the occasionally ugly of the natural wine world beaming and gurning down from the walls. The cosy cellar, which opened in 2009, initially held the overspill from upstairs and over the years hosted tastings, events, private parties, and even has a movie screen. The food on both floors was simple, seasonal and avowedly in the bistro spirit. For the confirmed carnivore the charcuterie was a must – the Terroirs homemade pork-and-pistachio terrine became a classic (the recipe chalked on a cupboard by the entrance) and the duck rillettes were properly fatty and rustic. Another must-have dish was the aforementioned anchovies, sweet butter, shallot rings and toast. Cantabrian caviar! Otherwise, there was ample choice amongst the range of little plates with decent vegetarian options, and no-frills main courses.
It wasn't a prepossessing building, its previous occupants having painted most of the interior surfaces matt-black and had partitioned the room with false ceilings and walls. I couldn't see it, but then I had no imagination.
Nom-Nom de beurre! What was that addictive salty French butter called? It was so decadent that customers hardly tried to spread it, instead plonking on top of the bread.
The 450 + bin wine list was stunning, of course (if I do say so), and visited all parts of the world without fear or favour, although France and Italy, allowed epic sections, were further divided by region. There was a big focus on orange wines with a special section devoted to them, a great selection of pet nats, and plenty of magnum action. The by-the-glass-offering constantly changed, whilst bottles were opened in the spirit of copinage. In the final week before the second full lockdown in 2020 (and indeed in its final week of trading), Terroirs opened its cellars, dug out the treasure and joyously dispensed wines from Miroirs, Overnoy, Bernaudeau and so forth, at a small cash mark-up. The frenzied atmosphere was redolent of the opening months when customers would leave their tables with bottles and glasses and exchange wines with fellow drinkers. It was perhaps this aspect of Terroirs that I loved most, the sensation of wine discovery and informal sharing.
The Terroirs wine philosophy was pure and simple:
The wines on this list are sourced from artisan growers who work sustainably, organically or biodynamically in the vineyard and with minimal interventions in the winery. Much of the farming is labour-intensive, often done with horses rather than tractors and all of the picking and selection is by hand. Yields, usually from old vines, are low. Fermentations tend to be with wild yeasts and several wines are made without addition of sulphur dioxide and are unfiltered and unfined. In style the wines tend to be light-to-medium bodied, fresh (even refreshing), savoury and delicious to drink – but even more delicious with food. Our objective is to present wines that most sympathetically reflect the place from which they originate, the nature of the vintage itself and the personality of the grower – in short, those wines that encapsulate the notion of terroir.
Yes, Terroirs did what it said on the label. Or above the door frame.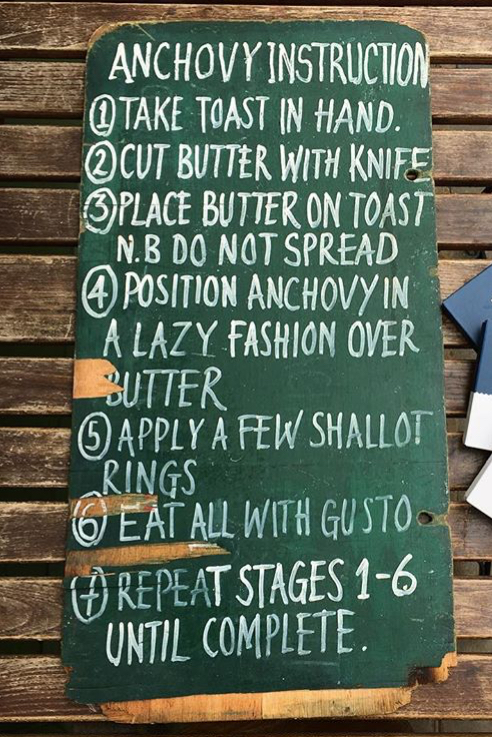 —-
… the odour of Burgundy, and the smell of French sauces, and the sight of clean napkins and long loaves, knocked as a very welcome visitor at the door of our inner man. Three Men in a Boat – Jerome K Jerome
Terroirs was all that. Except for the odour of Burgundy. And the smell of French sauces. Not sure about the clean napkins. Long loaves though. Yes.
Whilst the venturesome, goodie-bulging, reasonably-priced wine list was a major attraction when it opened, the food became equally as great a draw. Eric had hired Ed Wilson, formerly of Galvin and The Wolseley, to bring his brand of earthy French bistro cooking to the pass. The fare was hearty, well, meaty: Montbeliard sausage with lentils; the aforementioned pork & pistachio terrine; bavette steak with caramelised onions served in its pan; Christian Parra boudin noir; raw chopped Italian beef infused with rosemary. Other early dishes included piperade Basquaise; his definitive French fish soup with rouille; roast chicken cooked with fifty cloves of garlic; a big roast turbot to share and an artery-hardening baked Vacherin with new potatoes and ham. We jocularly called this: "the food you want to eat," in that it was conspicuously unostentatious, filling and wholesome. If you desired only to perch at the bar with a bowl of warming chestnut soup washed down by a glass of cloudy house Gamay then that was fine. If you preferred to spend all evening noshing and sploshing, you were also more than welcome.
The frenzied atmosphere was redolent of the opening months when customers would leave their tables with bottles and glasses and exchange wines with fellow drinkers. It was perhaps this aspect of Terroirs that I loved most, the sensation of wine discovery and informal sharing.
The majority of critics were generally very kind and seemed to understand the Terroirs' homespun philosophy, which was the opposite of high concept. The wine flowed, Ed's food was generous and wholesome, the restaurant throbbed with goodwill and cheerful semi-chaos reigned.
And the wines teased and pleased in equal measure.
Max Allen wrote a laudatory piece in Gourmet Traveller.
"I'm sitting in a basement bar just off Trafalgar Square staring at the glass of wine in front of me. It looks… well, it looks a little odd. For a start, it's cloudy, a little like pond water. And the colour? It's not white, it's not red, it's not even rosé. It's decidedly orange.
But the flavour? Oh my. The flavour is utterly delicious, with aroma of wild country hedgerows in autumn; of old-fashioned apples, all perfumed and creamy. Yes, I will have another glass."
—-
Once upon a time, o best beloved.
Nigel Sutcliffe, former GM of The Fat Duck, came on board in the first year to help nurture Terroirs through its growing pains. Here is his recollection of one naturally spicy evening service when Terroirs rocked from noon to midnight:
"It was early days of Terroirs towards the beginning of 2009. The place had become a sensation, the hottest gastronomic ticket in town, but was also a beast to manage.
On the day in question, there had been a wine fair in London and the buzz in the restaurant, even by its own buzzy standards, was palpable. We had turned over 150 covers for lunch, and it had scarcely slowed even for a moment throughout the afternoon.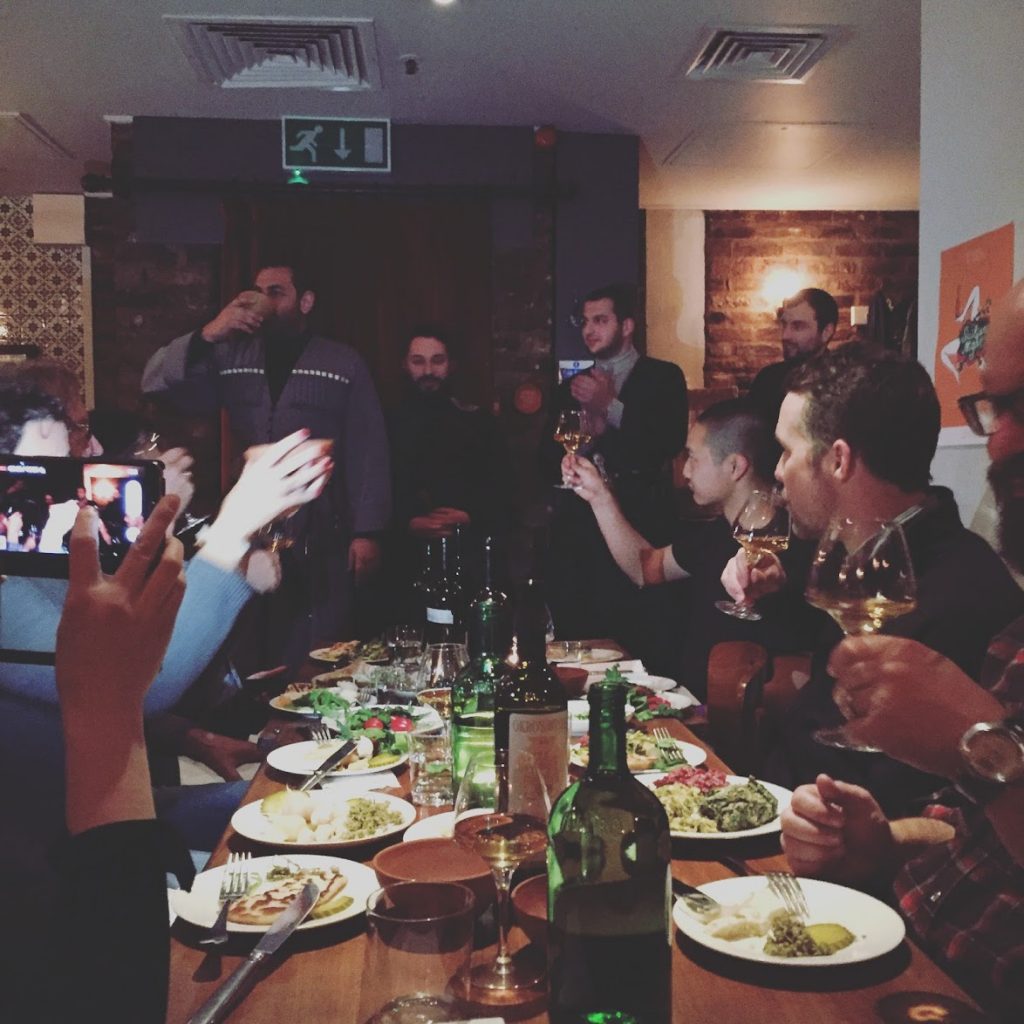 The restaurant was rammed again by 5.30, the post-wine fair crowd now mingling with a multitude of pre-theatre goers. The bubbly atmosphere was composed of an intriguing mix of the trepidatious with the knowledgeable, some folks who plainly got it, some for whom the wine experience "was a revelation", others who had mixed feelings and some who were obviously shocked and not pleasantly surprised by the general heaving informality, the bold earthy menu, and the take-me-or-leave-me wines.
The queue lengthened. I went outside to reassure the throng that there would shortly be space for them when the pre-theatre crowd vacated.
Some large fellows pushed through the melee (they had reserved a table) and we subsequently sat them in the restaurant right across from the pass. After dispensing pleasantries and menus, we brought them the table "starter pack" palate-whetter of Cervelle de Canut (the Lyonnais dip with fromage blanc), Marcona almonds, and a bottle of Frantz Saumon's Montlouis Mineral + to get them in the mood.
I turned to Ed (Wilson, head chef), giving him the usual running commentary about the crazy-busyness of it all. He smiled, nodded, was about to reply, when one of the three gentlemen shouted in a very French accent: "So, what is this Terroirs all about? I mean, why the fuss – fuck that's my Godfather, why is he there?!"
He was remarking on a picture of Paul Bocuse, the celebrated Lyonnaise 3* chef. Pascal, Ed's sous, had begun to assemble a "heroes of gastronomy" gallery on the back wall. Bocuse was the first portrait to honour that space (I'm not sure if there was ever a second!). Terroirs had always been decorated on a whim and without a budget. We would cut out pictures from magazines of famous French comedians such as Pinon, to adorn the door of the Gent's, for example, and frame them; we hung a massive Absinthe devil in the basement, and eventually populated the walls with photographs of gurning natty vignerons posing variously with corks, bottles and other paraphernalia of their trade.
I was once checking the loo, and whilst straightening things up, noticed a picture that I didn't recognise on the wall – framing nothing. I thought to myself: "When did we buy that (and why did we buy it?)", then saw that someone had actually removed the back, stolen the sheet of 50 French stamps that it had framed, resealed it, and rehung it!
Anyway, we gave our voluble Bocuse-related French visitor the Terroirs mini-tour, with Ed explaining the provenance of the various posters and nick-nacks. We then guided him back to his friends. They were all being looked after by Florian, a young sommelier whose knowledge of natural wine was compendious (he previously had his own tiny wine importing company), and now had expeditiously turned them on to a Pouilly from Domaine Valette.
A bottle of very fine Morgon Côte du Py from Foillard was also about to be broached, I suggested a few small plates to snack on, namely garlicky-buttery snails on sourdough toast, smoked eel with celeriac remoulade, clams from the plancha, and our now almost-legendary Cantabrian anchovy dish.
Thus fuelled and lubricated, the conversation became yet more jolly, punctuated by huge gusts of laughter. Each time I visited the table, our jovial friend regaled us with stories of great gastronomy.
The restaurant was now packed to the rafters, but the ever-present queue was still there, and Mariam (the receptionist) on the door was smiling happily as if she been given leave to admit all-comers into our little gastronomic funfair. Terroirs was literally rocking.
And the table of three were ploughing through literally every dish on the menu and equally making serious dents in the wine list.
Red Burgundy, pork and pistachio terrine, speck.
A bottle of Cab Franc from Loire
Morteau sausage with choucroute; roasted quail with lentils; bavette with caramelised shallots
A bottle of Bordeaux
A selection of cheese
A second Bordeaux
By now, it was time for me to work the room assiduously, easing the diners towards the conclusion of their meals, in order to pave the transition to the next sitting.
Back at our friendly gourmandising table, one of the men asked if they could have an extra portion of cheese and for the bill at the same time. He settled up, thanked me effusively for a great evening, noting with approval Florian's fantastic wine knowledge, and made his way out with his friend. I asked him, if he would be good enough to take M. Bocuse's godson with him.
He replied: "Oh, he's nothing to do with us – he just tagged on from the wine show!"
I suddenly had that sinking feeling you get when you have one glass of wine too many and you know you're going to regret it deeply the following day. Only, it wasn't me who had had one glass too many.
Our bibulous friend was now well past his sell-by date, so I politely suggested that he settle his portion of the bill and we could work from there, an idea that most evidently did not appeal to him since he poured out more wine into his glass and threw the bottle across the restaurant at the side board. Fortunately, it didn't break, but the bottle was a still a third full, and claret covered at least three other diners.
It's quite a challenge to get a drunk to settle a £200 dinner bill with an additional £50 to cover dry cleaning, remain perfectly amiable, and escort that individual out the premises without touching them or creating a ruckus.
I suggested that he was most welcome to come back in future as he'd been great fun, to which he replied: "You fucking English – don't call me a clown. You're only doing this because I'm French". I pointed out it was neither that, nor that he was drunk, but that we drew the line at abuse.
Payment was duly extracted and we edged towards the door. As we ascended painfully slowly up the stairs, passing the long queue on the way in, our friend turned around, shouted, and spat into my face, and, as a parting l'esprit de l'escalier, threw a wine glass (that he was still clutching) over my shoulder into the room.
A sudden hush descended over the restaurant. All eyes were upon us for what felt like 15 minutes, until he finally reached the threshold itself, whereupon Ed, with a sense of renewed urgency, appeared, pushing us both out of the restaurant, saying: "Look, he's said it every possible way he could – now just get out!" The gentleman put his fist square into Ed's face, to which Ed smartly responded: "Oh, and you punch like a girl – good night!" and shut the door.
"Thanks Ed, but I thought I was doing fine there," I said.
"Maybe – but if you haven't noticed, we're still full, and service is taking fucking forever."
Yes, Terroirs, we're more of the wine, love and blood school. Well, we can do you wine and love without the blood, and we can do you blood and wine without the love, and we can do you all three concurrent or consecutive. But we can't give you love and blood without the wine. Wine is compulsory. They're all wine, you see.
—-
Over the years we've had some fantastic people dispensing wine, wisdom and bottled-whatnot at the bar: Max Bichon, who went on to manage The Green Man and French Horn and Brawn, and ended up working for Gergovie Wines; Renato Catgiu and David Clawson who were to open the gem that was The Remedy, Margaux Aubry Sharratt who created Naughty Piglets with her husband and was then discovered by a certain Lord Lloyd-Webber (that well-known natural wine fanatic); Damiano and Alex from Brawn, who subsequently became the brains (and the brawn) behind Tutto Wines; t'other Alex and Basile who combined to create their import company, Wines Under The Bonnet and then opened 161 Kirkdale. Long-time Terroirs general manager, Oli Barker, went on to have his own excellent restaurant, Six Portland Road; ex head chef Sandy Jarvis is currently going great guns with The Culpeper in Spitalfields and The Green in Clerkenwell (and others), sous-chef Pascal is head-honchoing and meting out the meat at Pompette in Oxford, and, of course, Ed Wilson himself, is the chef-patron of the utterly wonderful Brawn in Columbia Road. And I know I have left out some Terroirs stalwarts, but you know who you are.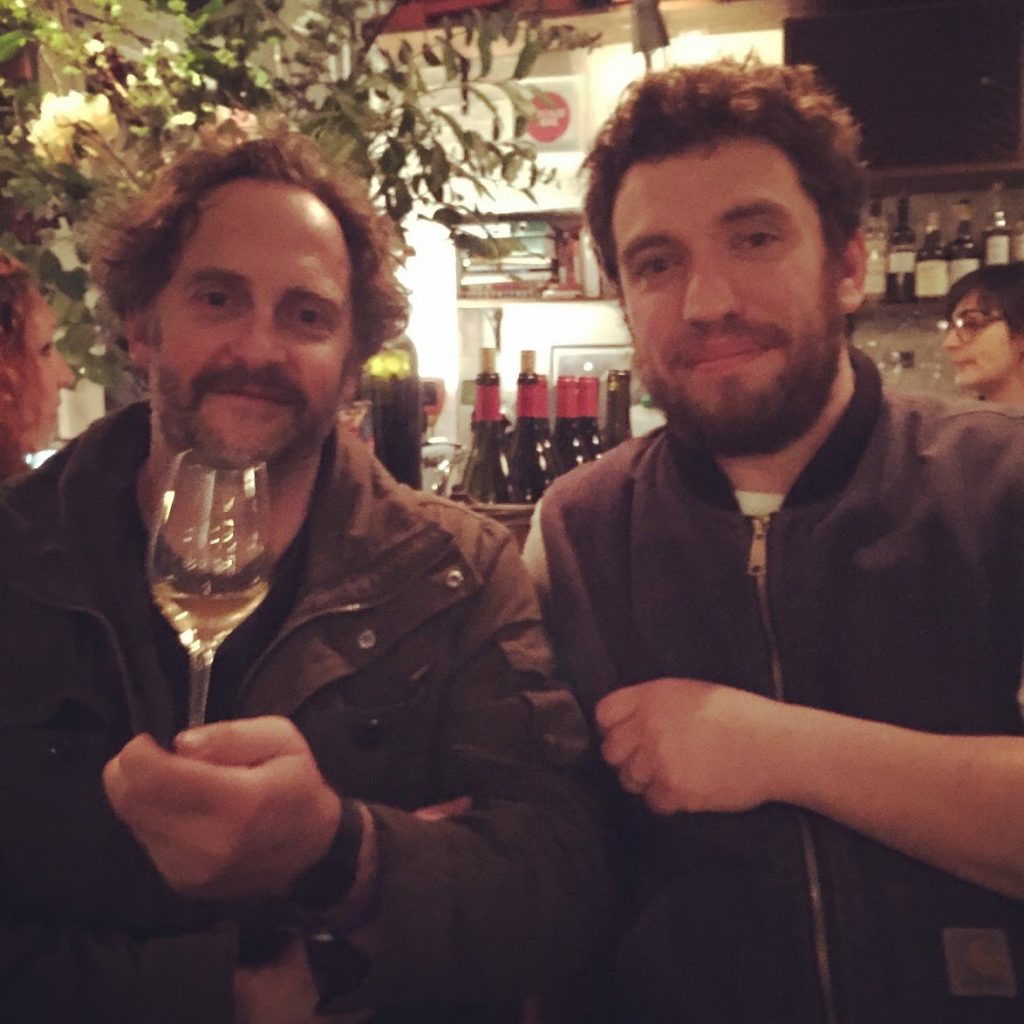 If Terroirs and its offspring started the natural wine ball rolling, others would soon pick it up and run with it. Duck Soup in Soho, and their sister establishments; the brilliant Plateau and Mange-Tout (in Brighton) and 40 Maltby Street in Bermondsey have since become go-to places for lovers of good nosh and real wines. And now there are countless places, not just in London, but throughout the UK, with a beautiful natural wine culture. They exemplify "the small bar phenomenon", one which sits well with mismatched furniture, bare brick or whitewashed walls, a long bar at which you can perch, casual yet informed service, simple yet tasty food and, of course, vinyl-spinning record players! It's as anti-design as it's anti the-stuffy-approach-to-wine, for it is about people, what's in the bottle and what's on the plate.
Terroirs, over its young life, was a natural palace of varities, and screened various movies such as Jonathan Nossiter's Natural Resistance; Skin Contact: Development of an Orange Taste (Bottled Films); hosted no fewer than four Georgian supras; witnessed guest chefs taking over the stoves with one particularly epic international natural wine bar mash-up featuring Melbourne's Embla, Paris' Le Verre Volé, Barcelona's Bar Brutal and Brooklyn's Four Horsemen; played host to many hundreds of great vignerons in pre-and-post fair parties on behalf of Real Wine Fair and RAW; conducted themed weekly barrel-tastings, individual growers' takeovers…
In an increasingly crowded wine world, Terroirs had to reinvent itself to stay relevant. Food and wine may be fuel, but eating out is also an entertainment. Almost as soon as it opened and started receiving positive, even gushing, critical acclaim, customers queued to get in, not to sit down (no chance of that), but to squeeze into cramped standing areas for the sheer privilege of taking a glass of wine and some cheese or charcuterie. These were rollicking, stack-em-high times. The trade especially adored Terroirs. I once walked in and saw managers and sommeliers from three top West End restaurants seated on different tables drinking wine and nibbling terrine(s) (having snuck out of their own establishments for a swift refuel rather than come for a full-blown dinner). Heston Blumenthal, Angela Hartnett and Pierre Koffmann, amongst other great chefs, came to sup our wares. In these moments, I thought Terroirs had achieved institutional immortality.
And for a time it was a place where you bumped into someone you know or got talking to strangers. I remember sitting at a packed bar and discovering that every person was connected by one degree of separation. You can put a girdle around the natural wine world pretty easily!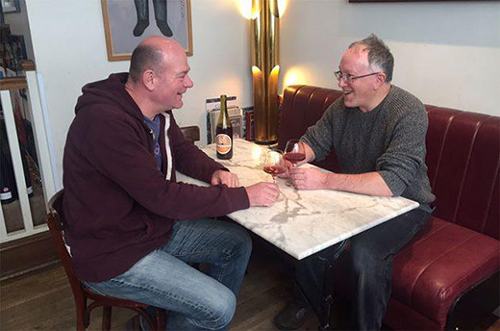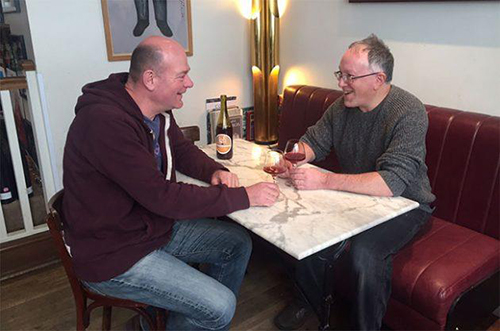 It had always been our intention that Terroirs should be about more than eating and drinking well. It should also be a meeting-place, one where one might encounter a vigneron pouring his or her wine, or to have the opportunity to have dinner with one of the "heroes" of the natural wine world.
The spirits of Werner Heisenberg, Niels Bohr and Bohr's wife Margrethe, meet after their deaths to attempt to answer the question that Margrethe poses in the first line of the play, "Why did he [Heisenberg] come to Copenhagen?" They spend the remainder of the two-act drama reliving the experience and presenting, debating and rejecting theories that may answer that question. Heisenberg is uncertain about everything, but, in the end, he realises there can be only one answer. He came to experience the natural wine bar scene.
—-
Two memorable wine bar events
When Overnoy/Houillon came to Terroirs
Most wine dinners, in my experience, are formal affairs, gilded with glistening glassware, lush napery and suffused with an air of commercial rapture. There's more to gastronomy than table furniture and awe; geniality and generosity are what makes an occasion worth savouring.
This was undoubtedly a generational affair. Pierre Overnoy, who rarely ventures outside his native Pupillin, alongside Emmanuel Houillon, with their family and friends – from the paterfamilias to the six-year-old on her i-pad. It was a privilege for us – not only because the wines are so desirable, although they possess the value of rarity (if that has value), but, because to welcome Pierre and Manu, who are true artisans, humble to a fault, into our restaurant, to offer in return the hospitality that they offer to us when we visit, well then that is what makes this job special. For the wines are what they are – sans maquillage, edgy, flawed, sensitive to the vintage, deeply rooted in their place. And that is their glory. They are living wines also and thus constantly surprise you. Both Pierre and Manu speak self-effacingly about the wines – you feel that you should no more judge a certain wine by an absolute standard than you would judge a loaf of sourdough bread after it has come out of the oven (Pierre is a master baker so this analogy has legs!).
Chef Michal prepped a five-course dinner to match with eight wines, four of which were brought over by Manu and Pierre. Michal proudly emptied many a clavelin of vin jaune into his terrine and trout dishes to lend some vinous corroborative verisimilitude to gastronomic narrative! The food was upfront and hearty; the wines conversely crept up on one unannounced. I find that they resist easy descriptors. Sure, they evolve, but oh-so slowly. It may be that they reach the ideal temperature in the glass or that they react favourably with a certain amount of oxygen or that the outer shell melts to reveal an inner core. The Savagnins and Chardonnays have the shell of reduction, then the veil of lees contact disperses, the fruit begins to "yellow". You don't feel the acidity at the front of the mouth, which you do with the more driving Ganevat whites, for example. Here the acidity is somewhere in the middle of the mix, where warmth and minerality mingle.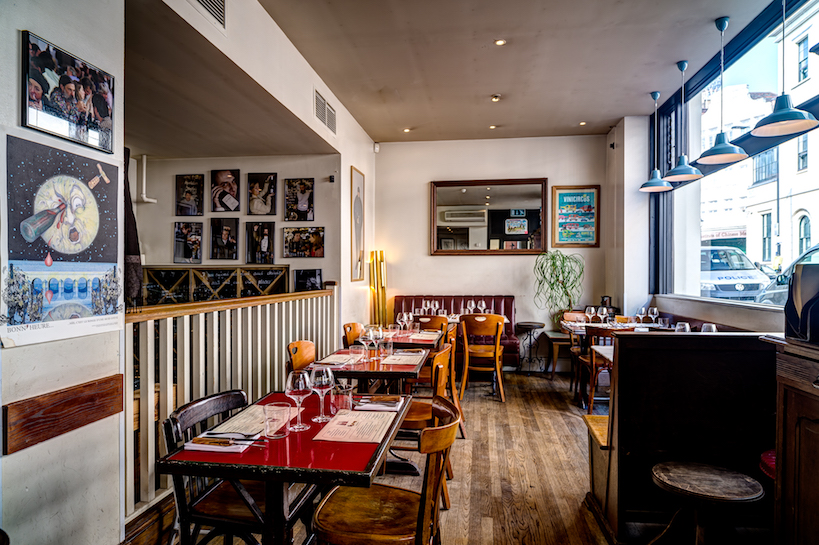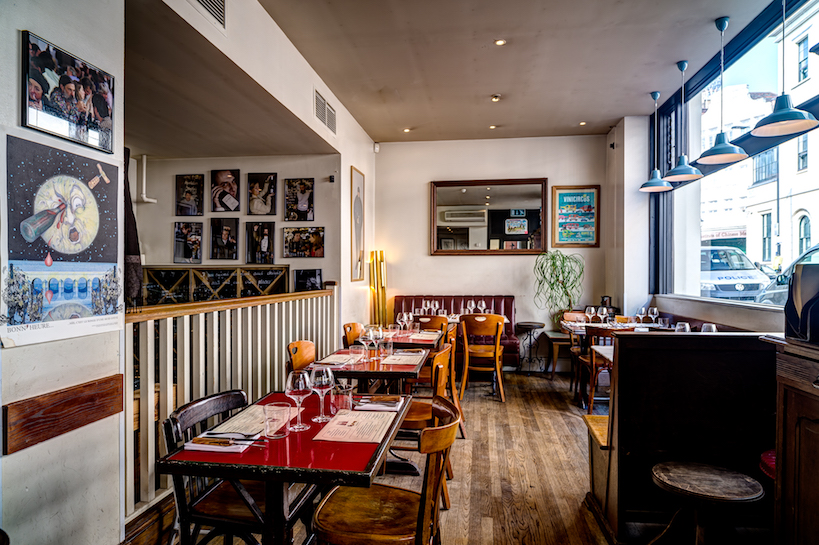 It was a privilege to welcome Pierre & Manu en famille to Terroirs. Pierre had even had a mini-stroke the previous week, but nothing was going to prevent this old soldier-vigneron-baker from coming over to London.
—-
Jean-Pierre Frick dinner at Terroirs
From terre to air
I was equally fortunate enough to attend another Terroirs wine dinner hosted by Jean-Pierre Frick who had just written a book called Du Vin, De l'Air. This slim but beautifully-presented volume with illustrations by Chantal Frick, contains fascinating and provocative philosophical and political insights into the psychology of tasting, discusses what is real and natural, what is energy, what is biodynamics, what is terroir and appellation. Jean-Pierre is deeply invested in his local culture but also brings a wider perspective to bear, for he is not only a farmer, but also a scientist, a natural philosopher (invoking Goethe), and someone concerned for the future of man and the planet.
The book was apparently inspired by observing how different people react to the same wine. If we are what we eat, we are also what we drink, and how we appreciate wine indicates (to a greater or less extent) what our values are, and the way we approach life. J-P sees various wine responses as emblematic of certain social and philosophic tensions. He implies that orthodoxies result from continuous classification and compartmentalisation. One may develop this further and examine how political systems are designed to make individuals confirm, and big corporations, by definition, view humans as consumers, cyphers to be conditioned to respond in a particular way. We need to encourage people to think of (and value) themselves as individuals, not to care what the majority thinks, and look inside themselves and to their feelings to guide their responses.
Frick begins his mini-thesis by describing two extreme types of taster: the academic and the adventurer. The academic, or professional, deconstructs wines on the basis of acquired knowledge. For them tasting is a matter of professional decorum, since they are tasting not just for themselves, but for knowledge itself, a knowledge that will be codified and organised and brought to bear at a later date. The adventurer, meanwhile, is intuitive; he or she prefers to sense the wine rather than judge it right or wrong. Normative values do not apply – the here-and-now is what matters, the very experience of tasting which excites the imagination and arouses the emotions.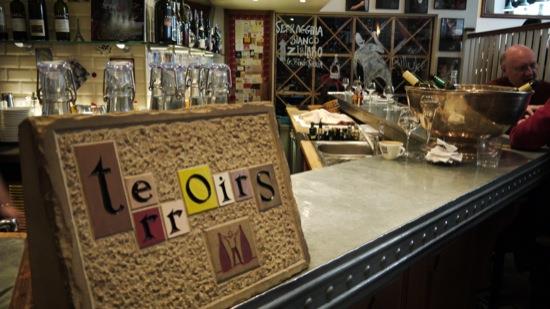 The dinner at Terroirs commenced with two Rieslings from the Steinert Grand Cru (2012 vintage). The grapes came from the same vineyard and the two cuvees were bottled a mere one hour apart. The only subtle difference is that one cuvée received around 10 mg of SO2 at bottling; the other was bottled without any addition. Jean-Pierre asked us to describe and assess the two wines. For me (and for most present at the wine dinner) the difference was startling: one wine furiously energetic, taut, mineral, prickling over the tongue, the other more golden, softer, and more developed. It was as if the wine did not like the sulphur, the juice was shocked, the message muddled. Normally, opinions would be fairly equally split amongst a random group of tasters, but here, even people who didn't identify which wine had sulphur added, vastly preferred the one which did not. I also realise more than ever at that moment that my palate prefers wines that taste liberated and natural. I don't analyse the particular elements that bring this to pass– perception of acidity or ph, dissolved SO2, reduction etc; there is an almost imperceptible point of balance where the wine "feels" right – in and of itself.
This was a revelation and a seminal moment in the natural wine education of those that attended this event.
---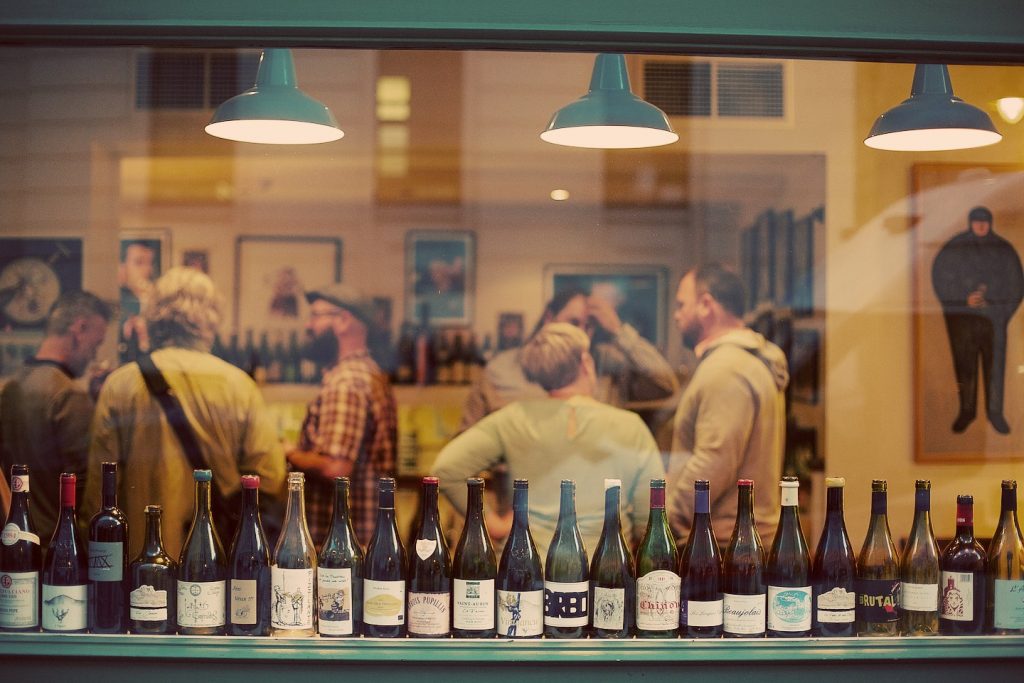 Terroirs' eve-of-Real Wine Fair growers' parties have added lustre to its legendary status. Around one hundred and fifty vignerons and their partners (and often children) from a twenty or so wine-producing countries, spread across two floors of the restaurant and spilling out riotously onto the pavement. Tables would be pushed back and would groan under a buffet of oysters, mounds of fatty rillettes, salads, and trays of slow cooked meat-and-bean stew. There would be bottles (usually magnums) everywhere with everyone clamouring to try everything. After a refreshing beer or several. The guys behind the bar would activate every crazy-shaped decanter in the house for some degustation aveugle. Someone would somehow purloin a copy of the wine list and demand our most closely-guarded natural wine treasures. Towards the end of the evening there will be much bad dancing (and falling over). Some Georgians would burst into polyphonic song. Christophe Rohr would appear with his accordion and squeeze out uproarious renditions of everything from French folk ditties, to Abba and AC/DC. A vigneron would belt out some punk anthems on his knees. There would invariably be an attack of the Poire Cazottes.
Benoit, great lunch. Can we get another bottle of Chiroubles?
Before the attack of the Cazottes Poires!
–'Snowed Under' from Mimi, Fifi & Glouglou by Michel Tolmer
Alfred Prufrock measured out his dreary life in coffee spoons. We have measured out ours in a planet's weight of terrine and rillettes, draining a small ocean of Dard & Ribo, Houillon and Ganevat all the while, and hoisting the white flag on countless occasions ahead of the onslaught of the Cazottes Poires. And the 72 green tomatoes liqueur! "Meet you at Terroirs for a quick bite of lunch" eventually meant to unbuckle your belt and strap in for the lengthy gastronomic duration. I am sure that the bar stools had a layer of superglue on them, as it seemed impossible to detach oneself once the feeding and drinking process has begun. At least in my case. Many is the time I went for one glass of lunchtime vino and ended up sashaying unsteadily out of the restaurant through the incoming pre-theatre crowd, exhaling naked eaux de vie fumes. Terroirs was a place to relax when one hadn't got a second for oneself, especially when one was snowed under, and, indeed, absolutely drowning in work. At natural wine bars, you put your priorities firmly in place.
The lock-ins are/were a thing of legend. Terroirs fed and wined people from all over the world, and became known all over the world. We feel incredibly proud to have been part of its history.
—-
A friend of ours who wanted to open a natural wine bar in another part of London came to Terroirs and, surveying the restaurant, asked me: "Who is your design consultant?" Of course, we had no consultant. The design was organic and spontaneous. There was some method, but sufficient madness. It was busy, but every object seemed to be there for a reaon. Walls were naturally festooned with obligatory charming posters (no wine bar is worth its salt without an array of Tolmers) as well as beaming portraits of vignerons, cartoons, otherwise the space was busy with barrels, books, and winemaking nick-nacks. And bottles. Dozens of empty ones, which once upon a time, housed unicorns' tears. Lovingly polished so you could see reflection of your face in the remnants of the undissolved tartrate crystals. Terroirs always looked comfortable in its shabby clothes.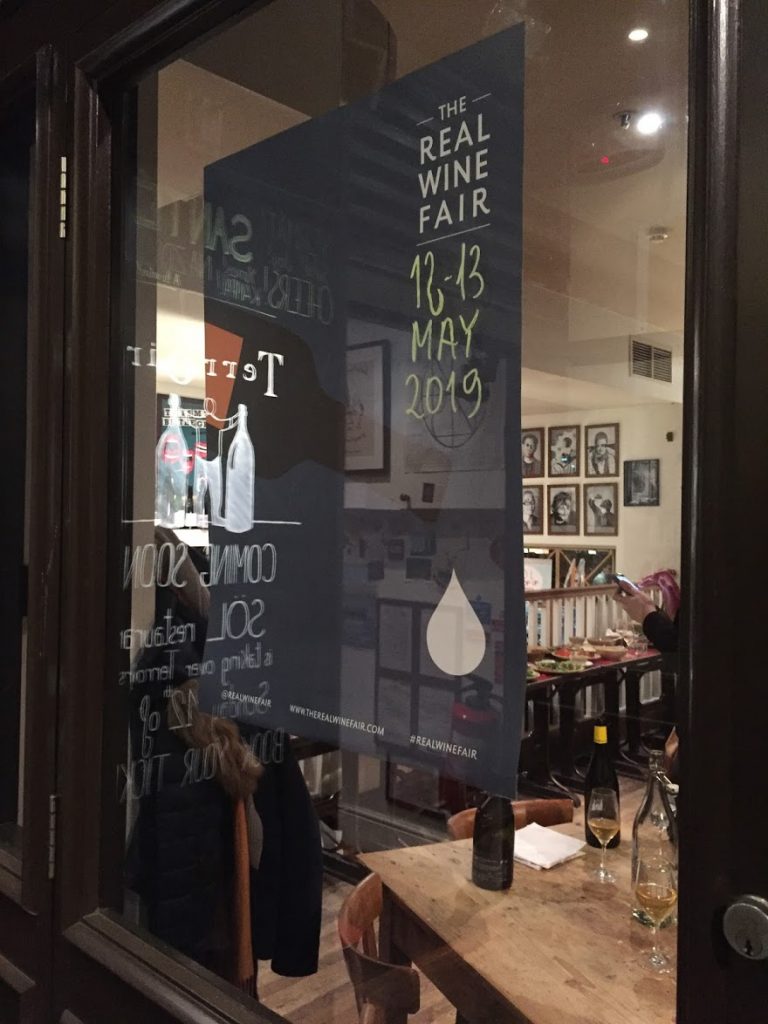 What made Terroirs for me though was the atmosphere and that unique energy, and this always comes from the people who work there and the customers who fill and animate the place. A friend of mine described it thus: "it really felt like a neighbourhood resto – nothing swanky or pretentious about it; always welcoming and reassuringly familiar but always with new things to discover, and often I'd bump into people I knew there. I think it's the place I returned to more than any other over the years; it was absolutely one of my fave spots in the world and I have so many happy memories of happy times."
So, a huge thank you to all the chefs, managers, bar staff and waiters who worked the crazy hours, and the team behind the scenes, and equal gratitude to those who regularly supped at those mismatched tables (!) or perched at the bar with a glass or three, and of course to the vignerons and vigneronnes and Real Wine folk who partied there with us on so many occasions. The lock-ins are/were a thing of legend. Terroirs fed and wined people from all over the world, and became known all over the world. We feel incredibly proud to have been part of its history.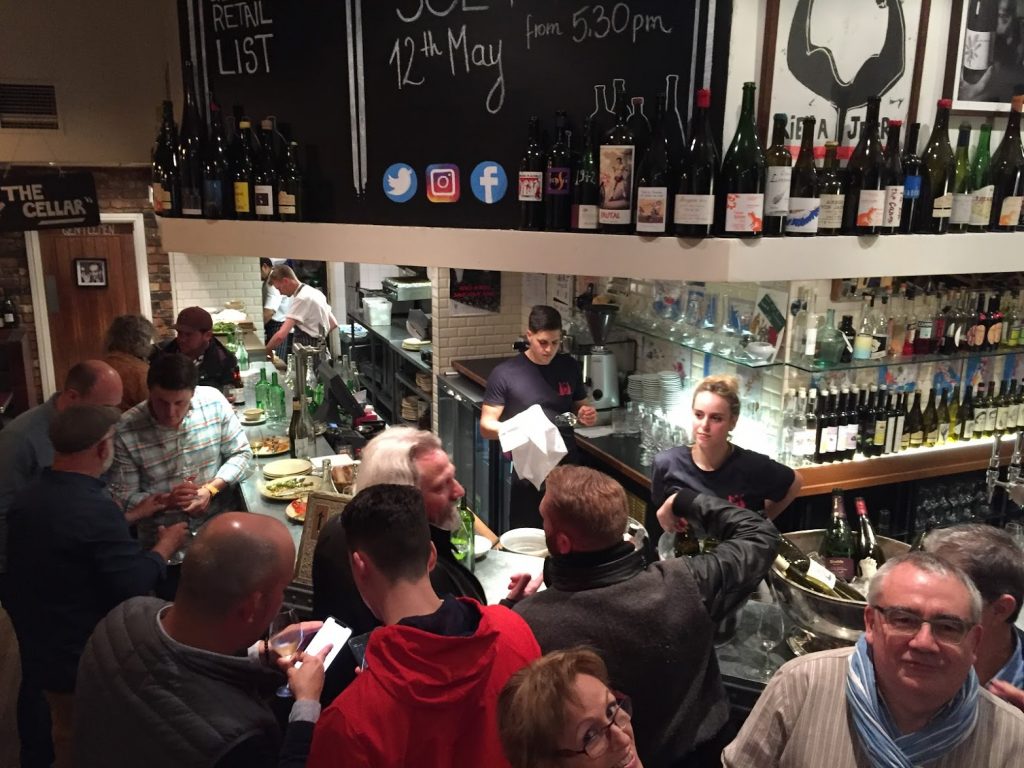 What others are saying
Just a few of the MANY notes from the @terroirswinebar Instagram page:
"You changed the wine world and we'll all remember that forever. Big love from Australia. x" –Embla, Melbourne
"Such an inspiration to so many people! I can still taste my first bite of butter and anchovy as if it were yesterday. Very sad but I'm sure many many people have joyous memories to treasure." –Nick Gibson, The Draper's Arms
"?So many memories. So much fun. So many bottles opened. So much late-night terrine ??" –Louise Sheeran
"Very sad to hear. Truly one of the pioneers and trend setters that put many of us on our path." –Winemaker's Club
"Speechless and devastated ??? so many memories, @terroirswinebar gave me and so many others the chance to grow in so many ways, and gave me my first orange wine ?!! ?????" –Emma Jenkins
"Such awful news – so, so many wonderful memories over many years! You have been an inspiration to so many people. Train rides back from London will never be the same again ?. Massive love to you all" – Kate + Ben, Farmyard Wine
"You were the first step into a world of wonderful wine and people. A place I loved going to when putting leather on the pavements of London so much so that I always chose lodgings nearby. I remain thirsty…" –James Millton, Millton Wines
"Proud to be a part of the company for five years. Worked with so many talented individuals and had the pleasure of cooking for so many lovely guests. That's what the terroirs group was always about and is to this day. Sad to see the mothership retire ?" –Oli Watson
"Sad news – such an iconic wine bar which really changed the way we drank." –Fiona Beckett
"I'm really sad to read this guys ? Terroirs was the inspiration behind L'Atitude and you played a huge part in setting us on the right path with your help and advice back in 2011. We will never forget you" –L'Atitude Fifty One
"I have so many happy memories of dinners with you here, am really sad to hear this news but grateful I live in south London and can keep visiting your other restaurants ?" –Charlotte Bland
"Awful news. The spiritual home of living wine in London and terrine gods." — @jackbotha / @winesofwhile
"This is beyond sad! I can't even remember how many times I've been here over the years & every time was exceptional. I discovered so many new foods and wines here, I'm beyond heartbroken!! It was always out old faithful, where we always knew we would have a great time!!! ???" –Jamie Lawrence Roberts
"There was never a version of London in my mind without Terroirs in it. This is awful news. But thank you. For so much." –Matt Walls