This is a series profiling the producers on our list who make natural wines. Within this series we will be highlighting some of the extraordinary and rare bottles and vintages that have helped to shape our appreciation of natural wines over the years. Previous posts from our 100 Great Natural Wines series include Austria, as well as a hefty chunk of France, and can be found here. 
Part One and a brief introduction to the wines of the Loire can be found here.
We have always had this thing about Melon. Not only do I pride myself for having foreseen the irresistible rise of Muscadet and helped it on its way, but the grape variety, when it is allowed to express the nature of the soils, and stays on the lees for a long enough period, can have the requisite intensity to be termed gastronomic. Here are some of the most beguiling naturally-made examples.
Melon de Bourgogne is better known as Muscadet and is the dominant grape of the area around Nantes on the coast of Brittany, where the Loire meets the Atlantic Ocean. Muscadet has such a bracing sea tang, and such an affinity for the shellfish of the Breton coast – especially the superlative Belon oysters of the region – that it may come as a surprise that the Melon de Bourgogne is a relatively recent arrival, and its dominance in the region was the result of one terrible winter.
The Melon has a long history but not all in one place. As the name would imply, the variety originated in Burgundy but was removed from the vineyards there in the 16th century, as other varieties proved more successful in that climate. However, the ability of the vines to withstand frost made it attractive to winemakers in Anjou, where it was also eventually edged out by other varieties.
At the same time, it caught the attention of Dutch distillers further downstream, who needed large quantities of wine with which to make brandy. The Dutch started planting Melon in vineyards near Nantes, the most convenient port from which to ship the wine to Holland, in the 17th century. At the time the area was planted primarily with red grapes but when the worst winter in recorded history devastated the vineyards in 1709, causing barrels to burst in the cellars and even freezing the coastal waters, the Melon was one of two varieties to survive and it has dominated the region ever since.
Although it was originally a rather neutral wine, Muscadet producers have refined their techniques in order to make wines with their own distinctive attributes. In particular, the wine can be designated as Muscadet Sur Lie, indicating that it has been left on the lees for the winter between fermentation in autumn and bottling in spring. This allows the wine to develop a fuller flavour and a slight prickliness that gives the wine additional freshness.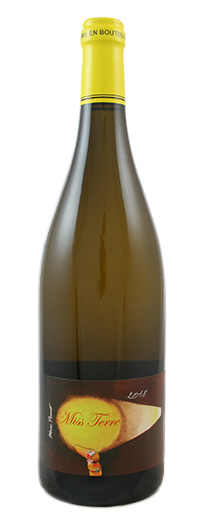 MISS TERRE ~ DOMAINE DE LA SENECHALIERE
Miss Terre Prize
We have a melange of Melons. Pierre Luneau specialises in quality Melon that is a far cry from la lavasse served up in many bars.  The domaine ages some of its cuvées like reservas to show the potential of the variety.
Today, we were tasting a wine from Marc Pesnot called Domaine de la Senechalière Miss Terre.
Marc's domaine comprises approximately 13 hectares of vines, mostly Melon de Bourgogne in Saint-Julien-de-Concelles (where beurre blanc was supposedly invented). Soils are schistous, and many of the vines well over 50 years of age; for Miss Terre the vines are up to 80 years old.
Marc works organically, labouring the soil and opting for natural solutions, essential oils, herbal teas and copper treatments over synthetic products. Manual harvest with very low yields to ensure best quality grapes. These methods are already unusual for the region where conventional farming and mechanical harvesting (with high yields) are the norm.
Such hands-on organic farming is the precursor for natural work in the winery. The ferment is with indigenous yeasts (again very unusual for Muscadet) in fibreglass lined tanks and takes a very long time. The wine is left in contact with its lees until the spring. Almost uniquely the malolactic is not blocked by sulphur addition and completes (this is not allowed in appellation so the wine must be vin de France). No finings, no chaptalisation, no acidification and only a very small amount sulphur added before bottling. As a consequence, the wine has lower acidity than one might expect from Melon, as indicated on the label where Marc has written "Ce vin est sec, mais pas acide."
Scents of pear and citrus pith, alongside elements of white pepper and also a very faint seam of bright, perfumed almond. The palate is quite exhilarating, with a deep texture, sherbetty minerality and a rich, flavoursome substance. If you are looking for aromatic and cold ferment ripe citrus, you came to the wrong Melon.
A stirring tale of the lees. And Muscadet (not Muscadet) meets Saint Malo(lactic).
Why we love this: A wholesome wine, not so much reliant for its flavour and texture on lees-ageing as good farming and winemaking practices.
If you like this: Marc's Folle Blanche vielles vignes is also on another level. He harvests 60 to 80-year-old vines when they are ripe by lowering yields. The wine is floral and delicious and made without any additives barring a little SO2.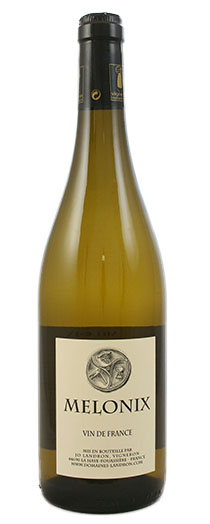 MELONIX ~ DOMAINE LANDRON
Muscadeteer of Muscadet
Domaine de la Louvetrie was established by Pierre Landron in 1945, and it was not until the 1980s that his son, who goes by the name of Jo, joined him, having first finished his studies. In 1990 Pierre handed everything over to Jo; he now farms about 36 hectares at Domaine de la Louvetrie, although he also tends two other domaines, Chateau de la Carizière and Les Grand Houx, bringing the total up to about 48 hectares. It was under Jo's direction that the vineyards were converted to 100% organic viticulture in 1999, gaining full certification from Ecocert in 2002. In 2008 he took the leap to full biodynamic viticulture, gaining Biodyvin certification.
The use of chemical fungicides and other such methods were totally abolished, fertilisation is with biodynamic compost, and the vineyards are ploughed to reduce competition from weeds. The vines see leaf-thinning to aid drying and discourage rot, and Atlantic breezes also help with this task. The vines, which range in age from 15 years up to about 70 years, are planted at a density of 7000 vines/ha and pruned to eight buds to bring yields below 50 hl/ha, although in the vineyards with a more favourable exposure a green harvest may also be employed, bring yields here below 40 hl/ha.
Melonix is where Asterix naturally meets Musca-tache. Jo calls it Le rebelle du Domaine!
The vines are around forty years old and grow on sandy-clay soils. Indigenous yeasts, no sulphur and bottled without fining or filtration having been aged on the fine lees for twelve months. The 'hands-off' approach also facilitates malolactic fermentation. It has a very expressive nose, very floral and minerally too, elegant but also open and accessible. The palate shows a very deep and sappy character, with a floral expression like that on the nose, alongside a white fruit character. A richly styled Melon, no doubt the malolactic contributing something here, with citrus fruit elements such as tangerine, and white grape. Yes, it has le crunch in abundance. Getafix of Melonix! (you know what I'm talking about). Jo recommends this wine with rillettes and charcuterie as well as shellfish, and grilled sole.
Why we love this: Explosive and almost irreverent in its ebullience, the antidote to many a milquetoast Muscadet. And, of course, a Vin de France, as Muscadet is not allowed to be made in this natural idiom.
If you like this: Scott Frank from Bow & Arrow Wines in Portland, Oregon, makes utterly convincing iterations of wines inspired by his Loire heroes, from vineyards that are farmed organically or biodynamically and have a cool climate sapidity. His Melon Blanc from the biodynamic Johan Vineyard, has terrific concentration. The Loire masters would certainly be nodding in approval on tasting this.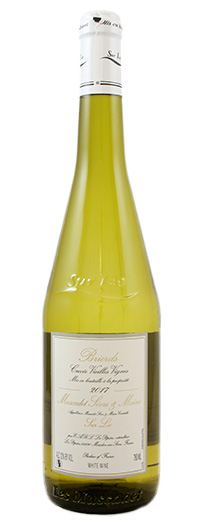 MUSCADET CLOS DES BRIORDS ~ DOMAINE DE LA PÉPIERÈ
The Pepi Challenge
Marc Ollivier of Domaine de la Pépière is an example of a winemaker who has grown with his vines. In the early 1980's Marc, who was an engineer at the time, decided to move to the country for a slower pace of life. His father owned some vineyards in the cool Atlantic-influenced zone of Muscadet Sèvre-et-Maine but was not a winemaker.
Marc took over his father's vineyards and bought a parcel called Clos de Briords from an elderly neighbour. Remi Branger joined him in 2007, followed by Gwénaëlle Croix in 2012. Marc had experience in the winemaking world from working for several years with his uncle in his winemaking estate which is in the same area as Domaine de la Pepiérè. Remi studied viticulture and then joined Marc at his estate. Gwénaëlle never had any contact with the winemaking world (she was trained as an engineer, and had worked in industry for ten years before entering the world of wine). Marc's first vintage was 1985 and his primary goal as a winemaker at the time was to simply complete fermentation. As such, he began fermentation using cultured yeasts and finished the wine off with a dose of SO2.
As Marc matured as a winemaker, he experimented with ambient yeasts and began bottling with minimal amounts of SO2. The results were extraordinary; the wines showed greater depth, richness and complexity.
Encouraged by his success, Marc began transitioning all his vineyards to organic and continued his minimalist approach in the winery. His racy, lemon-tinged, mineral-driven Muscadets have since become the benchmark for the region and have opened up a world of previously unknown potential in the area. Marc's success is a combination of good fortune (his vineyards were never touched by wine consultants encouraging new, higher yield clones) and an open minded, experimental approach to making the best possible wines.
In 2006, they stopped using herbicides, opting instead to plough and lightly rake the soil. In 2007, they took their organic work a step further by treating vines only with copper, sulphur and several plant-based preparations. They harvest nettles, comfrey and horsetail along the Maine River and use these plants by steeping them, fermenting them or in the form of decoctions. Biodynamic preparations are used to reinforce the vines against disease and help the micro-biological life of the soils. The whole estate is certified in organic viticulture and is in transition to a biodynamic certification.
Many of Marc's vines are 40+ years old and some of his vineyards are planted on granite soils, a rarity in the region. All the vineyards are from original stock: Ollivier is the only grower in the Muscadet who does not have a single clonal selection in his vineyards. He hand-harvests (a rarity in the region) and uses only natural yeasts for fermentation. Extended lees contact, often till April or May of the following year, adds depth to the wines.
Clos des Briords is located on the hillsides of the river Maine. Only 3 hectares of old vines (over 60 years old) are selected for this cuvée. The subsoil is granitic (granite of Chêtau-Thébaud). There is a filtering soil with ideal proportions of sand and clay.
Vivid aromas of dried pear, bitter lemon, anise and herbs with hints of exotic fruit, earth and mineral notes. The palate is beautifully supple with pear and ripe apple fruit, quite firm acidity and finishing with mineral flavours that linger on the palate.
Why we love this: For its old vine intensity and distinctive saline quality, a fine and elegant wine with great ageing potential.
If you like this: Another old vines sea salt is the quite brilliant Domaine Pierre Luneau Muscadet Le Clos des Allees, a cru communale Muscadet from 80 + year old vines, with 36 months sur lie, from yields as low as 30 hl/ha. Grown organically on mica-schist this cuvée shows complex aromas of bitter lemon, lime-flower, melon, pear, mint, almond and stone. The palate is silky, crystalline and dense with white fruits, lemon zest, almond, smoke and wet stone, with fabulous, enduring pear, minerals and taut acidity. You'd be ready to bet it was Burg… Chablis 1er cru (+++).
*
Interested in finding more about the wines mentioned? Contact us directly:
shop@lescaves.co.uk |  sales@lescaves.co.uk | 01483 538820
*Note: We are still open for business, doing deliveries, and keen to help everyone with their booze needs in this difficult time. Natural wine lovers can visit our online shop and order online!